An anti-inflammatory veggie-packed chicken soup that will leave you saying, "what noodles?"  Whip this up on the weekend for quick and cozy meals throughout the week.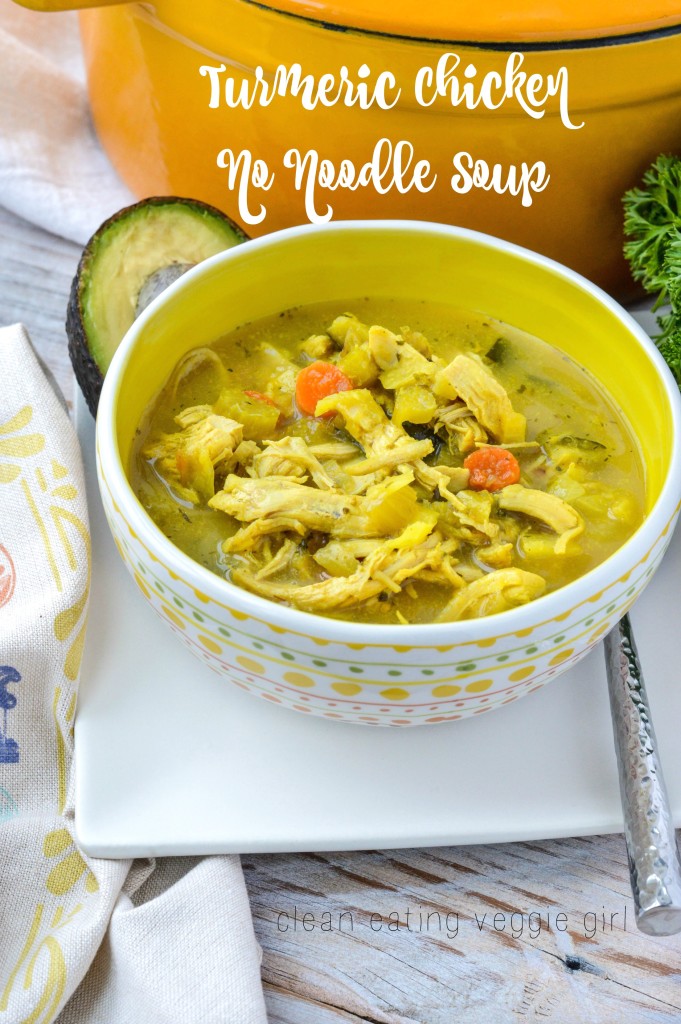 Shall we call this turmeric chicken week?  After Tuesday's recipe for Avocado Turmeric Chicken Salad and now another turmeric chicken-based dish, I think we shall!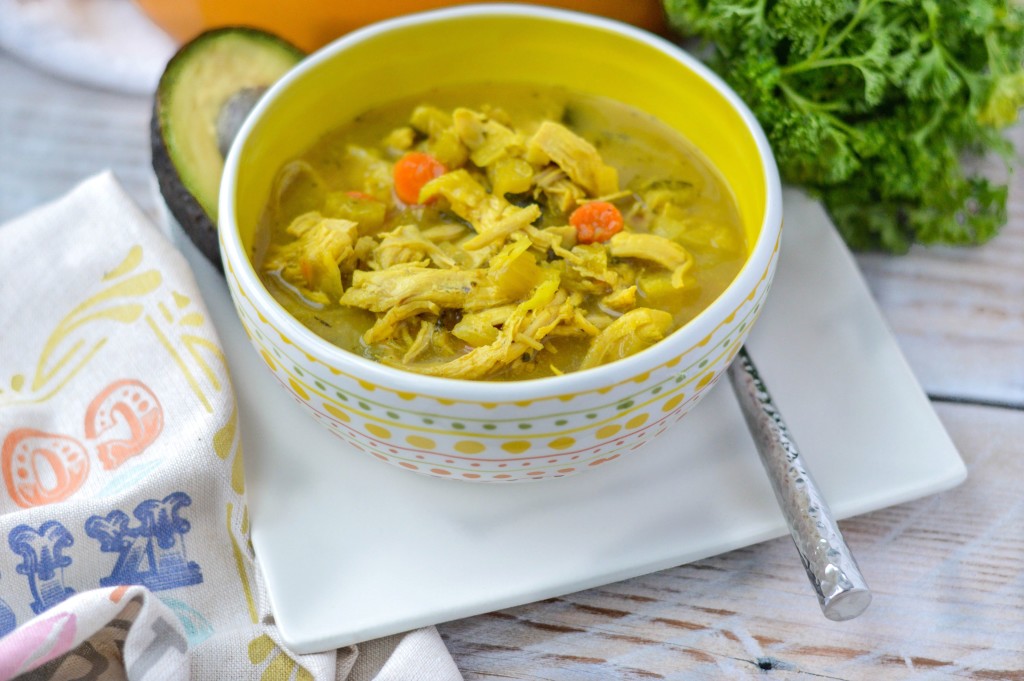 Since my Instant Pot made its arrival and I learned how to cook chicken crazily fast in it, it probably comes as no surprise that the chicken recipes just keep on coming.  But turmeric?  That one may not be such an obvious ingredient.  Or maybe it is?  <– Five of my favorite turmeric recipes all crammed into one sentence.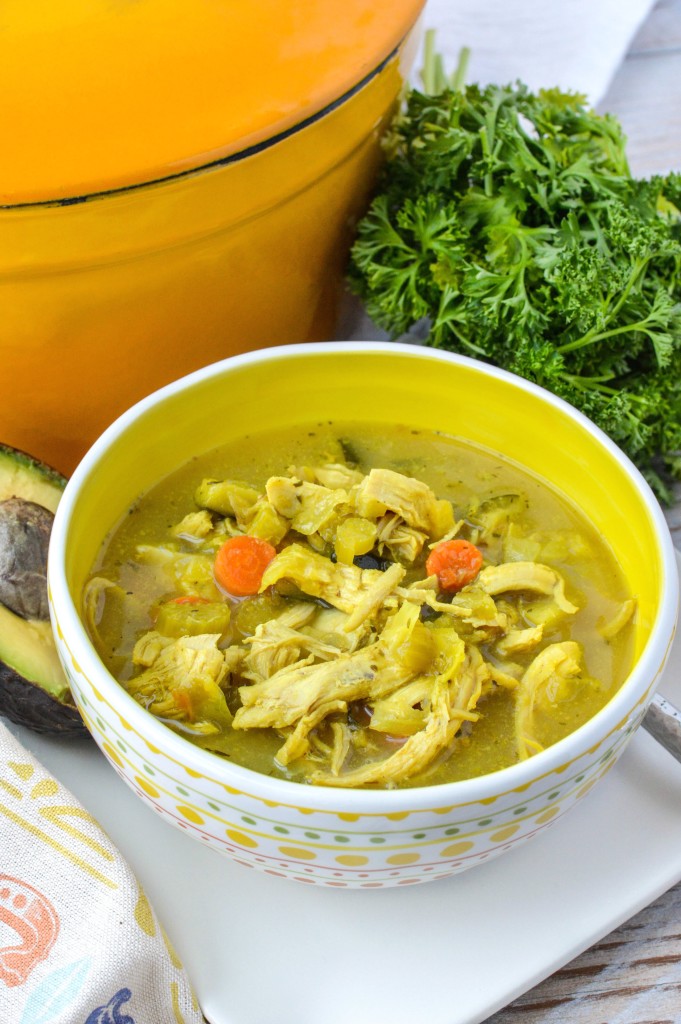 You see, turmeric is straight up amazing.  It is anti-inflammatory.  It is colorful and makes dishes vibrantly pretty.  And it packs a major punch in the flavor department.
I may not be able to eat curry powder, chili powder, cayenne pepper, and paprika right now, but ground turmeric is treating me just fine.  It is also calming all of my cravings for all of those darn nightshade spices.
Since adopting a Paleo (mostly AIP) diet, I can no longer enjoy my "No Chicken" Noodle Chickpea Soup (this is a must try if you eat vegan, gluten, and legumes).  I am lucky to have found a great substitution, but sometimes you just want some chicken soup… for the soul (sorry, I had to say it).
I like to think that this Turmeric Chicken No Noodle Soup is what would happen if those two soups had a baby and then… bam!  You just had to throw in some turmeric.  Props to this lady for giving me the idea.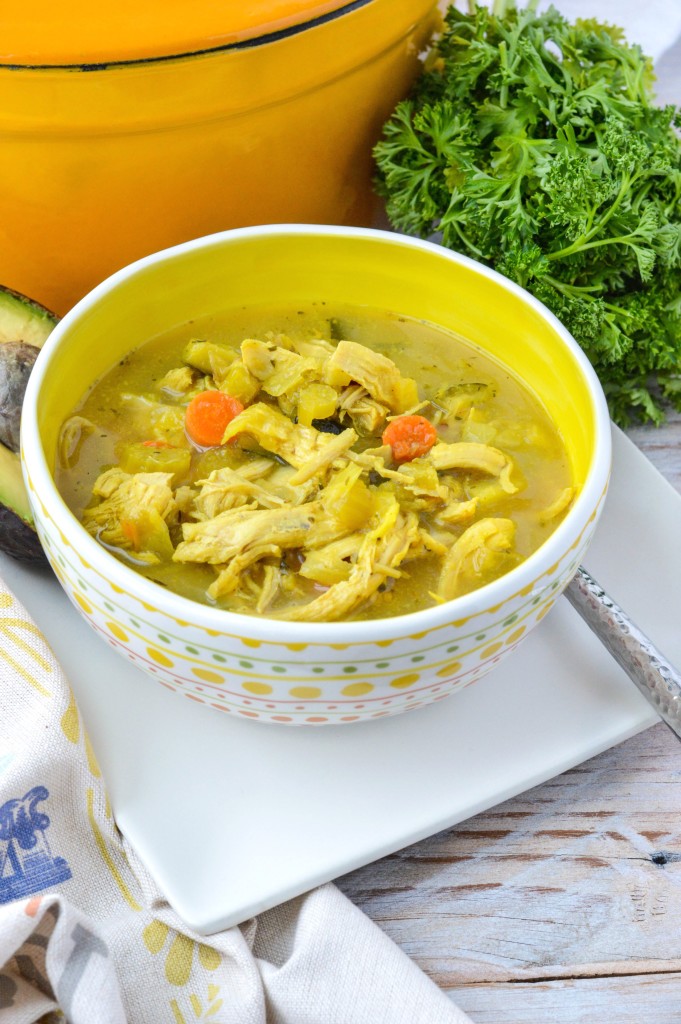 Turmeric Chicken No Noodle Soup
AIP, Paleo, Gluten-Free, Grain-Free, Dairy-Free, Nightshade-Free, Nut-Free, Soy-Free, Egg-Free, Whole 30
Serves 4 to 6
Ingredients
1 pound of organic, free-range chicken breasts
6 cups of chicken bone broth, divided
1 heaping TB of unrefined coconut or avocado oil
1/2 of a medium sweet yellow onion, diced
3 to 4 cloves of garlic, minced
1-inch piece of fresh ginger, grated
4 whole carrots, peeled and sliced
4 stalks of celery, chopped
1 medium head of green cabbage, shredded
1 medium zucchini, chopped
1 TB dried thyme
1 TB dried oregano
1 TB dried parsley
1/2 TB ground turmeric
1/2 to 1 tsp fine sea salt, or to taste
the juice from one small lemon
Directions
1. Cook chicken breasts and four cups of the chicken bone broth in the Instant Pot using this method, or your preferred method.  Remove the chicken breasts from the broth.  Set aside to cool, shred, then store in the fridge if you are not making the soup right away.  Reserve the remaining bone broth for the soup.  You can also use shredded chicken from a whole chicken.
2. In a large soup pot or dutch oven, heat oil over medium-high heat.  Once hot, lower the heat to medium and add onion, garlic, and ginger.  Cook for approximately five to six minutes, or until softened.
3. Add carrots, celery, and cabbage.  Stir and cook for an additional six to eight minutes.
4. Stir in zucchini, remaining two cups of bone broth, and the four cups of bone broth used to cook the chicken.  You may need to strain the broth used to cook the chicken.
5. Raise the heat to medium-high and bring to a boil.  Once boiling, lower the heat to medium-low, cover, and simmer for 20 minutes.
6. Add spices, lemon juice, and shredded cooked chicken, cover, and continue simmering for an additional 20 to 30 minutes.  The longer it simmers, the better it tastes!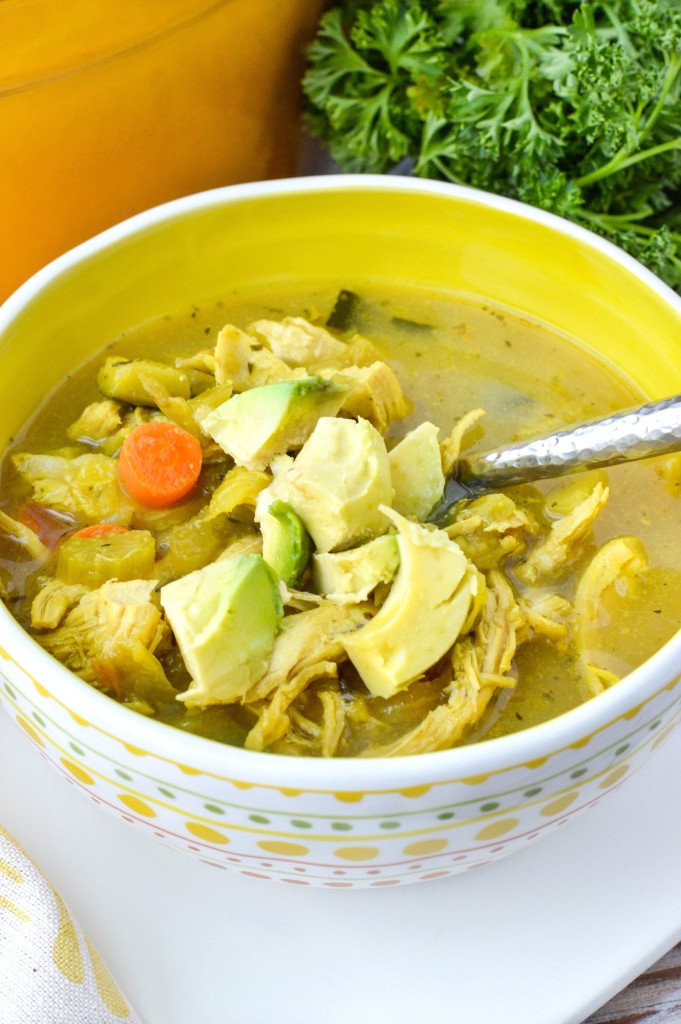 Per usual, please serve this soup with plantain chips or sweet potato chips.  Crackers = not a necessity. <– though not gonna lie, I'd love an AIP cracker right about now.  The addition of diced avocado is also super fab, if I do say so myself.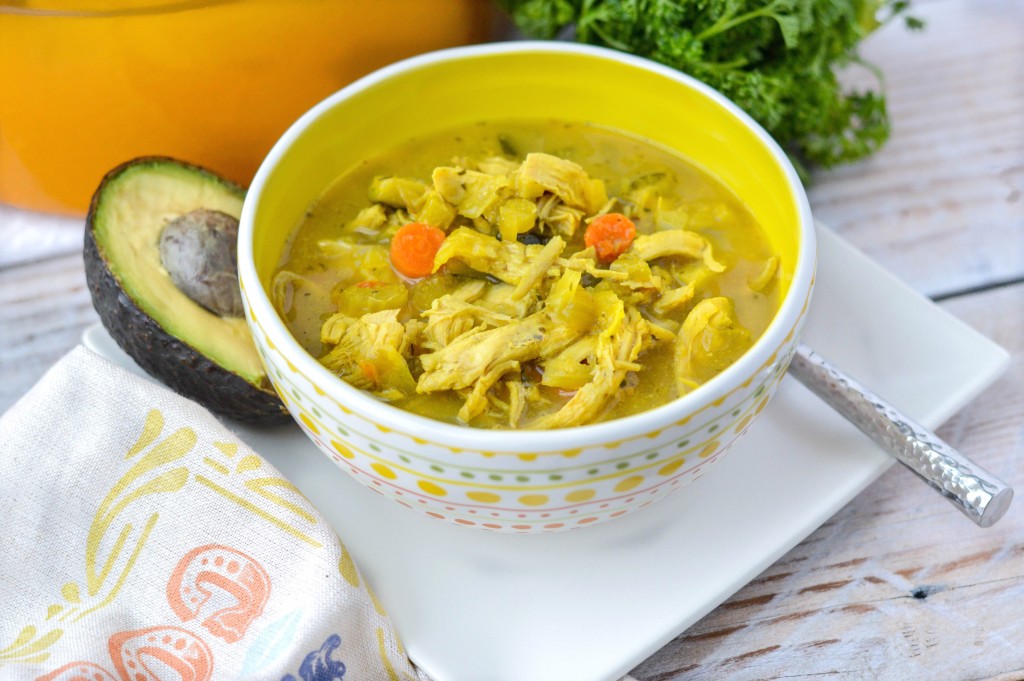 Turmeric Chicken No Noodle Soup warms the soul this #winter #Paleo #Whole30 Click To Tweet
This post contains affiliate links.  Thank you for supporting CEVG and enabling me to continue working towards better health!