Flavorful, crispy Cinnamon Turmeric Sweet Potato Fries that are both vegan and anti-inflammatory.  Pair these with your favorite (veggie) burger, or just dip 'em in ketchup for a snack!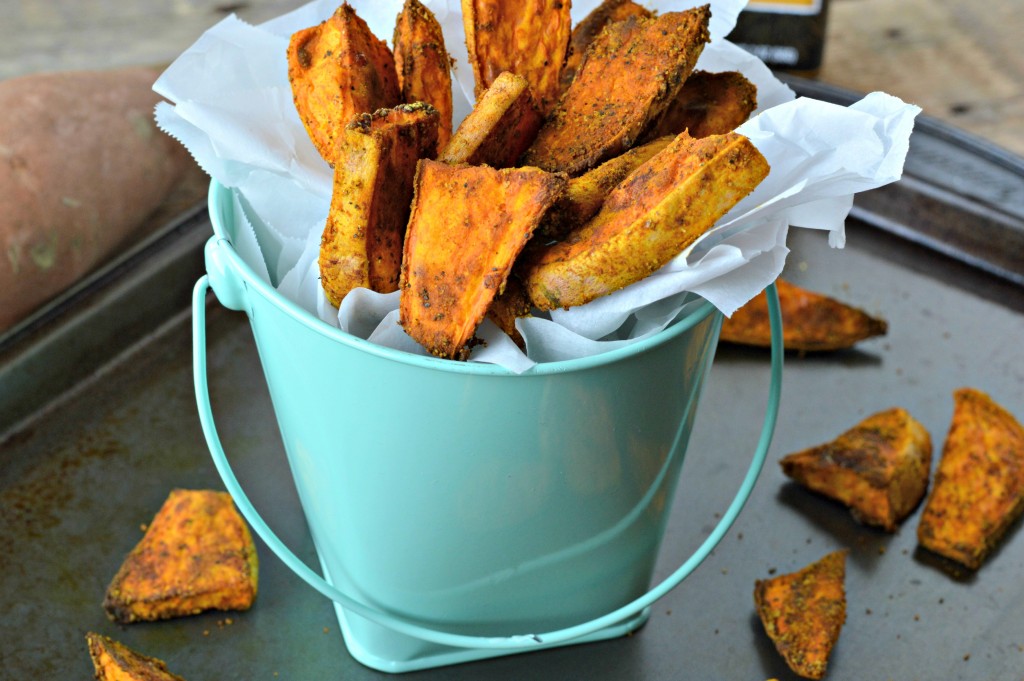 I like vegetables… a lot.  I'm sure you never would have guessed that by the title of this blog!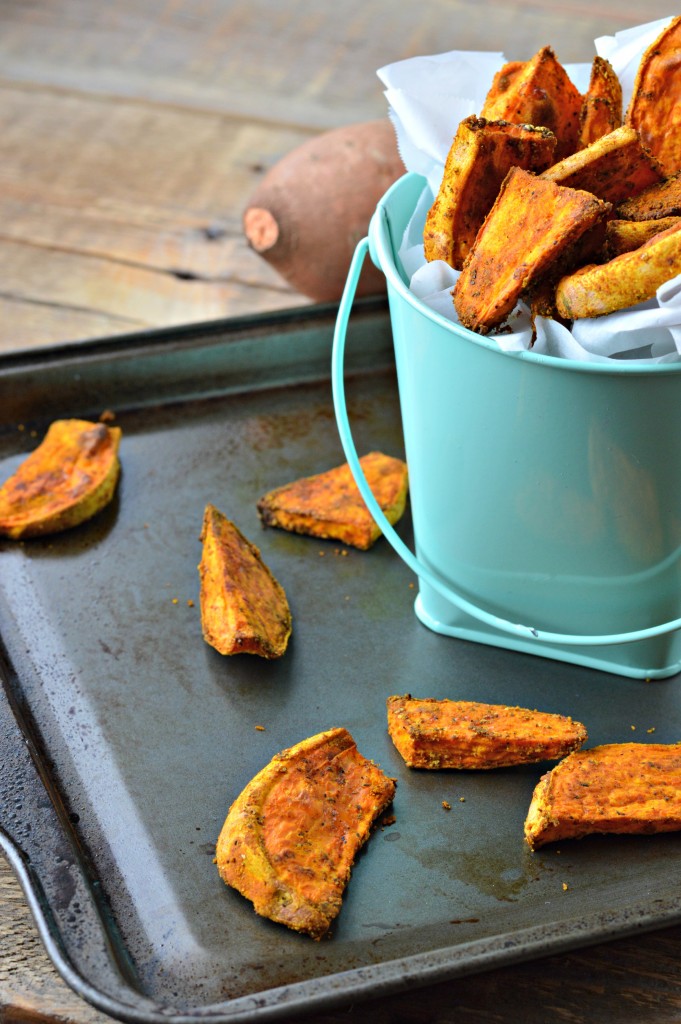 There are really only a few vegetables that I don't love– fennel (helllo black licorice), eggplant (I used to love it, but for some reason it turns me off now), and cucumbers (they taste like nothing when eaten on their own).  That leaves roughly 368 other vegetables that I love, give or take a few.
Since I have a love for so many vegetables, it is pretty  tough for me to narrow down my favorites to a top three.  Heck, even a top five is pushing it.  But if I was given that prompt, you can almost bet that sweet potatoes would be on that list!  Along with carrots, I am sweet potato obsessed.  I will surely never have a deficiency in beta-carotene!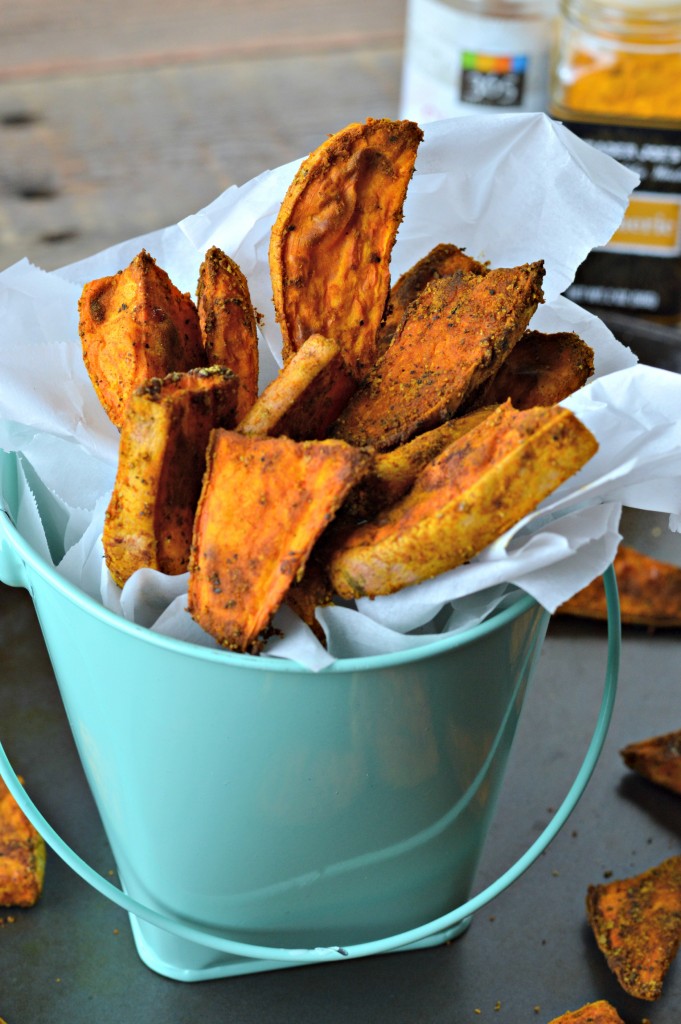 Plain baked sweet potatoes, sweet potato nachos, sweet potatoes topped with nut butter, sweet potato chips… you name it, I love it.  But my absolute favorite way to eat sweet potatoes is as french fries, especially when dipped in ketchup or mustard!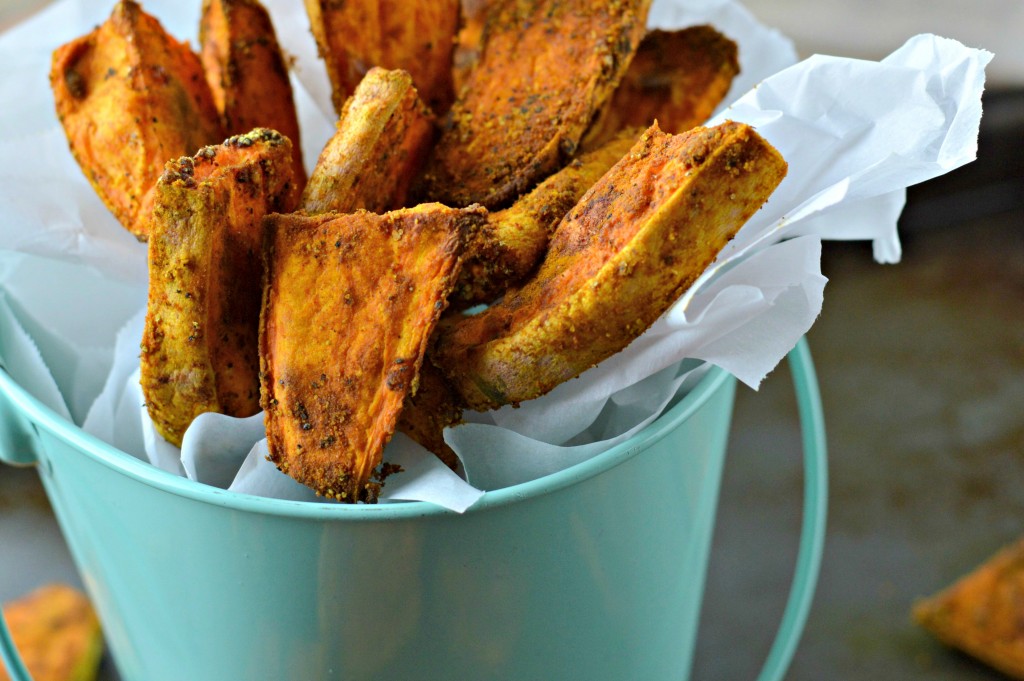 You cannot go wrong with salt and pepper on sweet potato fries, but lately I have been loving my anti-inflammatory and antioxidant-rich version.  I am all about cinnamon and turmeric right now.  The more the better!  So anytime that I can sneak it into my foods, I roll with it.  It turns out that the two make for a tasty combination on these fries.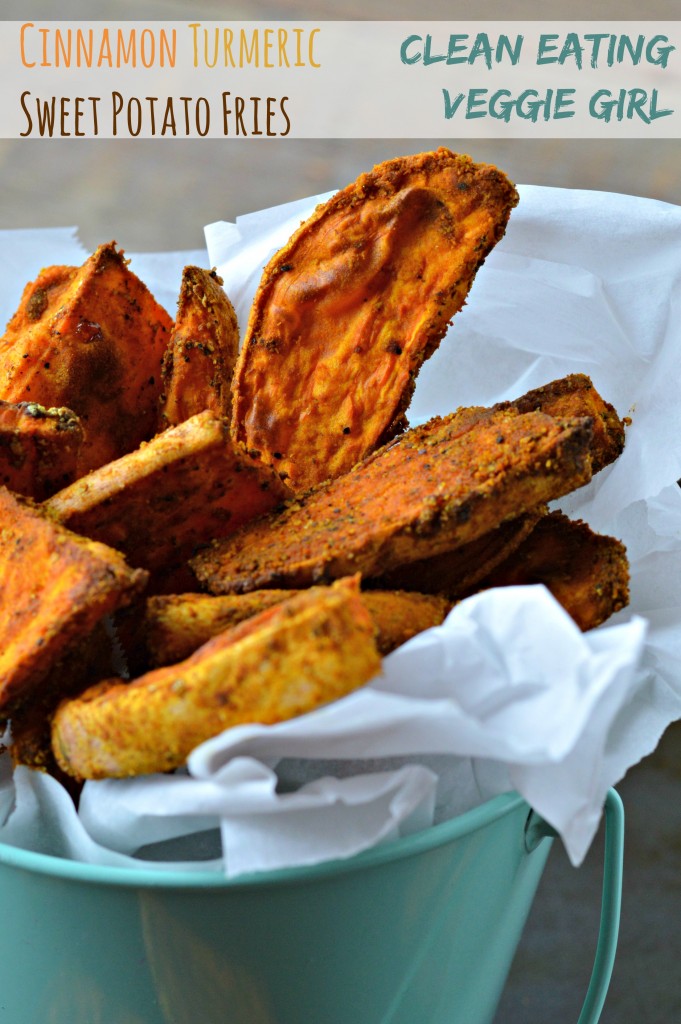 Cinnamon Turmeric Sweet Potatoes Fries
Vegan, Gluten-Free + Anti-Inflammatory
Serves 2 (or 1 very hungry girl)
Ingredients
cooking spray
1 large sweet potato, washed well and dried
2 TB extra virgin olive oil or melted coconut oil
1/2 tsp ground cinnamon
1 tsp ground turmeric
1/4 tsp fine sea salt
1/4 tsp black pepper
Directions
1. Preheat oven to 425 degrees F.  Line a large baking sheet with foil or parchment paper.  Spray with cooking spray.  I do not recommend using a silicone baking sheet, as the turmeric will stain it (and your hands) yellow.  Don't say I didn't warn you!
2. Cut potato into wedges or strips.  Place into a large bowl.
3. Add oil and spices to the bowl.  Using a large spoon or tongs, toss potato wedges with oil and spices until evenly coated.
4. Place potato wedges onto baking sheet.  Bake for approximately 15 minutes, flip, and bake an additional 10 minutes.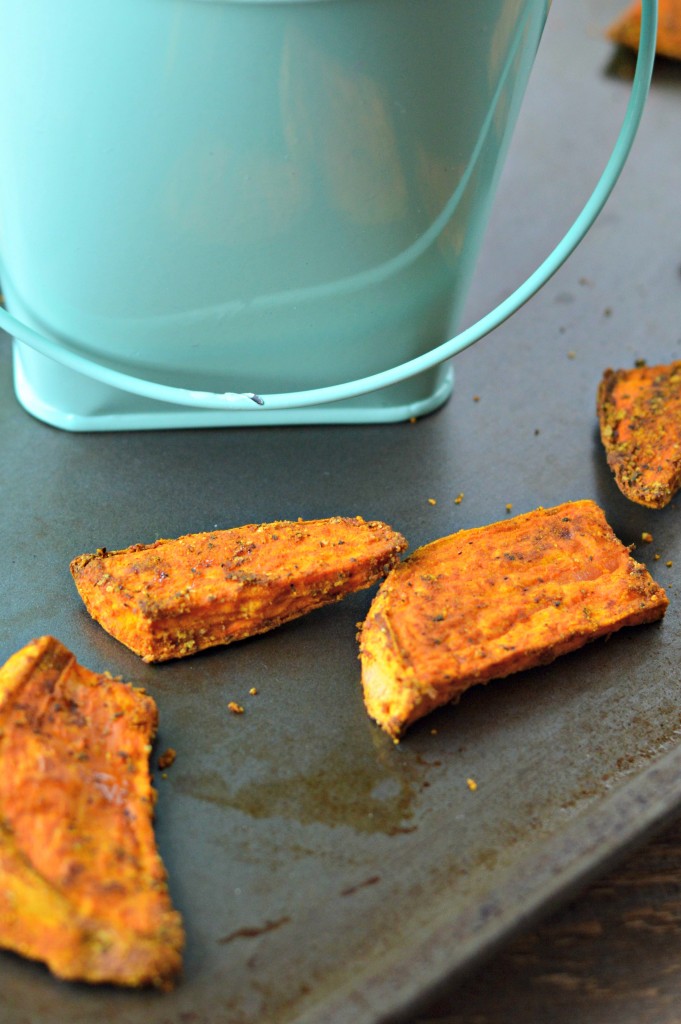 Perfectly seasoned and almost perfectly crispy.  No matter how hard I try, I don't think baked sweet potato fries will ever be as good as potatoes that are actually fried.  Does anyone have any tips or tricks they want to share?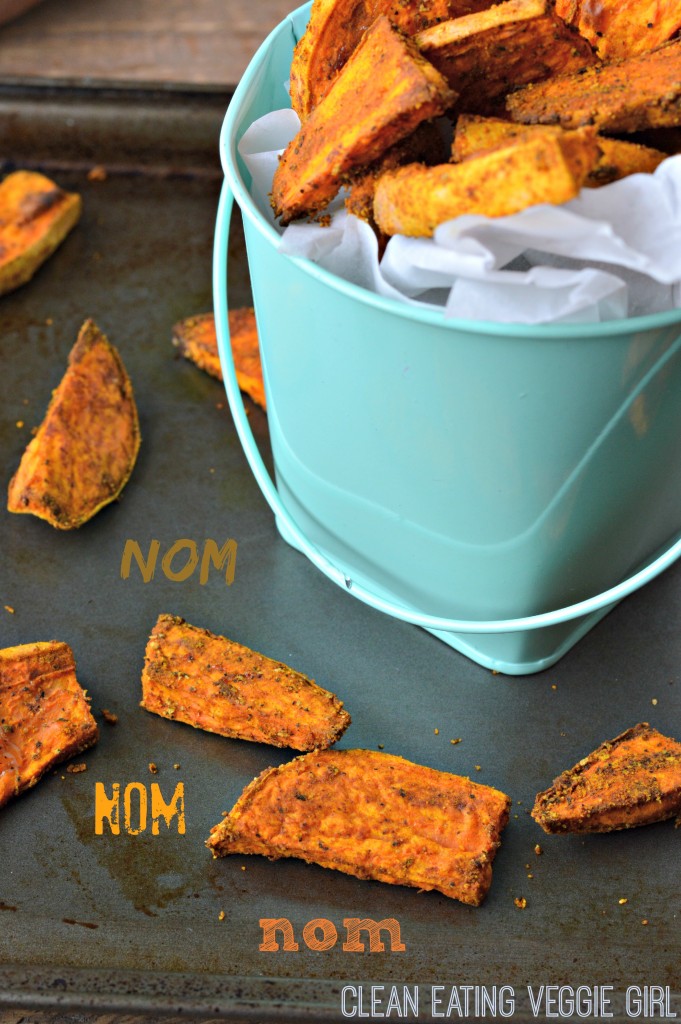 Even if they are not restaurant crispy, these will make you say, "nom, nom, nom!"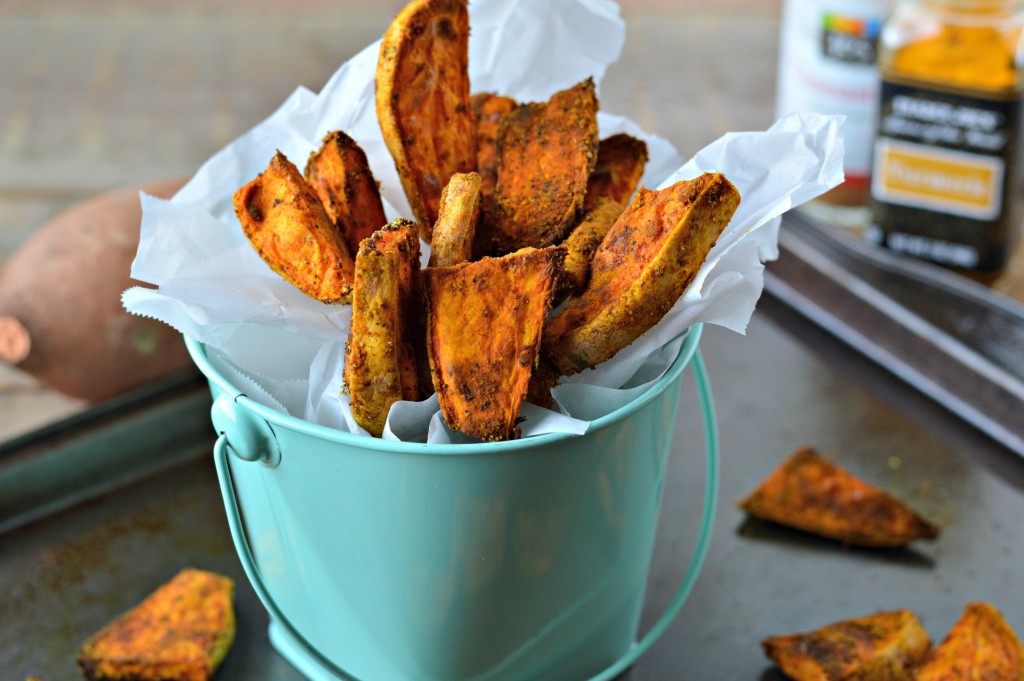 Now if only sweet potato fries always came served in a cute little pail!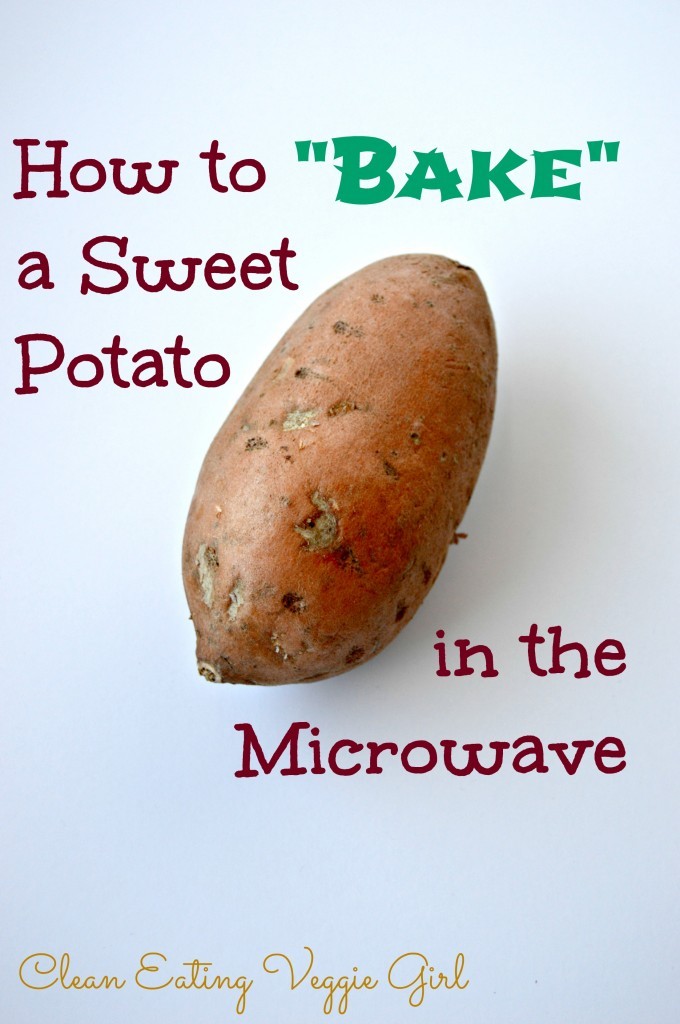 In case you prefer your sweet potatoes in their whole form, check out my post on How to Bake a Sweet Potato in the Microwave!
Sweet potato fries or regular french fries?
If you are a sweet potato lover like I am, you better pin and share these on Facebook and Twitter using the buttons below.  You'll thank me later!