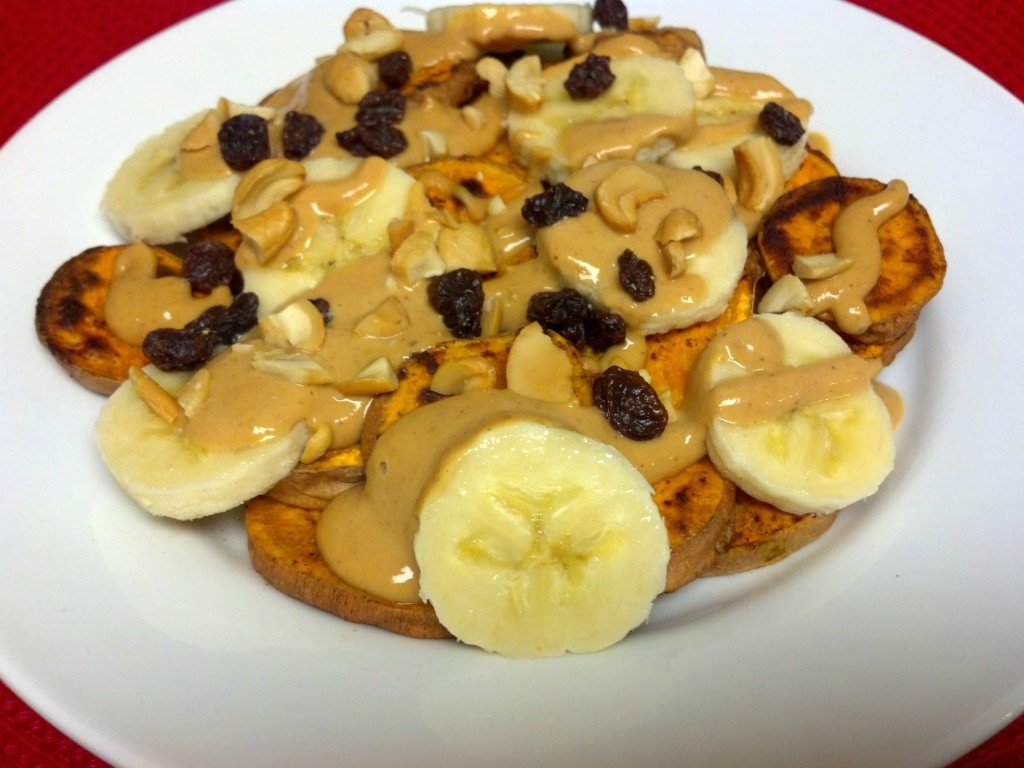 I teased you yesterday with a mention of nachos for breakfast.  Did I have you intrigued?  I sure hope so, because it is not every day that you eat nachos for breakfast.  At least I hope you don't ;).  Now, I am not talking about the traditional nachos with tortilla chips, cheese, lettuce, tomatoes, and guac (though eating guac for breakfast is fantastic), I am talking about healthier breakfast nachos made with my favorite fruits, veggies, and nuts.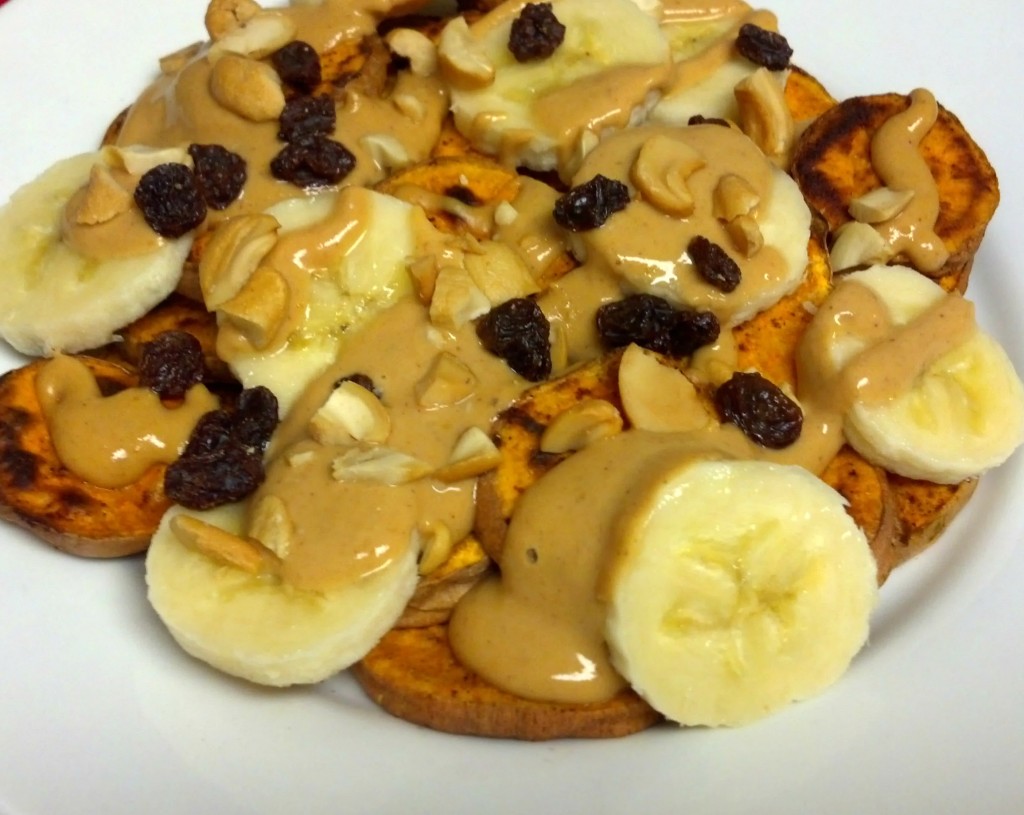 Drooling yet?  Yeah, you are probably going to need to make these…and soon!
I have mentioned before that I love to top sweet potatoes with nut butters, and you have seen the baked sweet potato topped with peanut butter for breakfast in several of my past What I Ate Wednesday posts.  I have also seen quite a few mentions of sweet potato nachos around the blogging world over the past few months.  I decided to combine these two ideas and these tasty Sweet Potato Breakfast Nachos were born!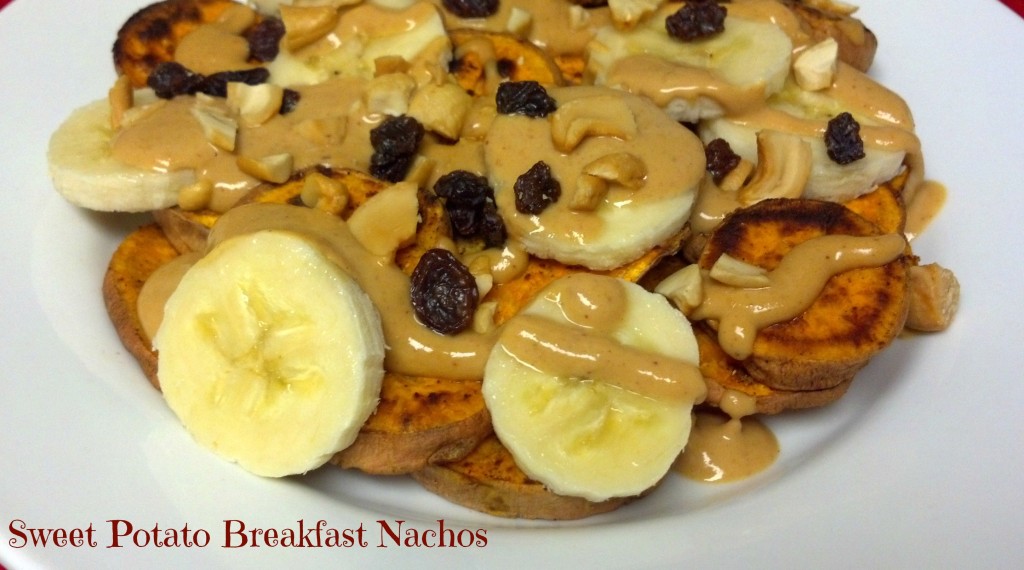 Servings: Makes 1 plate of nachos
Ingredients
1 medium sweet potato (try to choose one that is long and skinny as opposed to round and fat ;))
coconut oil cooking spray (I buy mine at Trader Joe's) or regular cooking spray
pumpkin pie spice
cinnamon
half medium banana, sliced
3 TB peanut flour (I used PB2) + approximately 2 TB water, mixed to make peanut "sauce"
1 TB raisins (or other dried fruit)
1 TB chopped nuts (I used cashews)
Directions
1. Preheat oven to 400 degrees F.  Line a baking sheet with foil and spray with coconut oil spray.  Set aside.
2. Slice the sweet potato into even slices to resemble "chips."  Mine were about 1/4 inch thick.
3. Lay the potato slices onto the baking sheet, spray with coconut oil spray, and sprinkle generously with pumpkin pie spice and cinnamon.
4. Roast the potatoes for approximately 15 minutes.  Flip the potatoes, spray with additional coconut oil spray, and sprinkle with additional pumpkin pie spice and cinnamon.
5. Return the potatoes to the oven and roast for an additional 10 to 15 minutes, or until golden brown.
6. Plate your potatoes and top them off with the banana slices, peanut sauce, raisins, and nuts.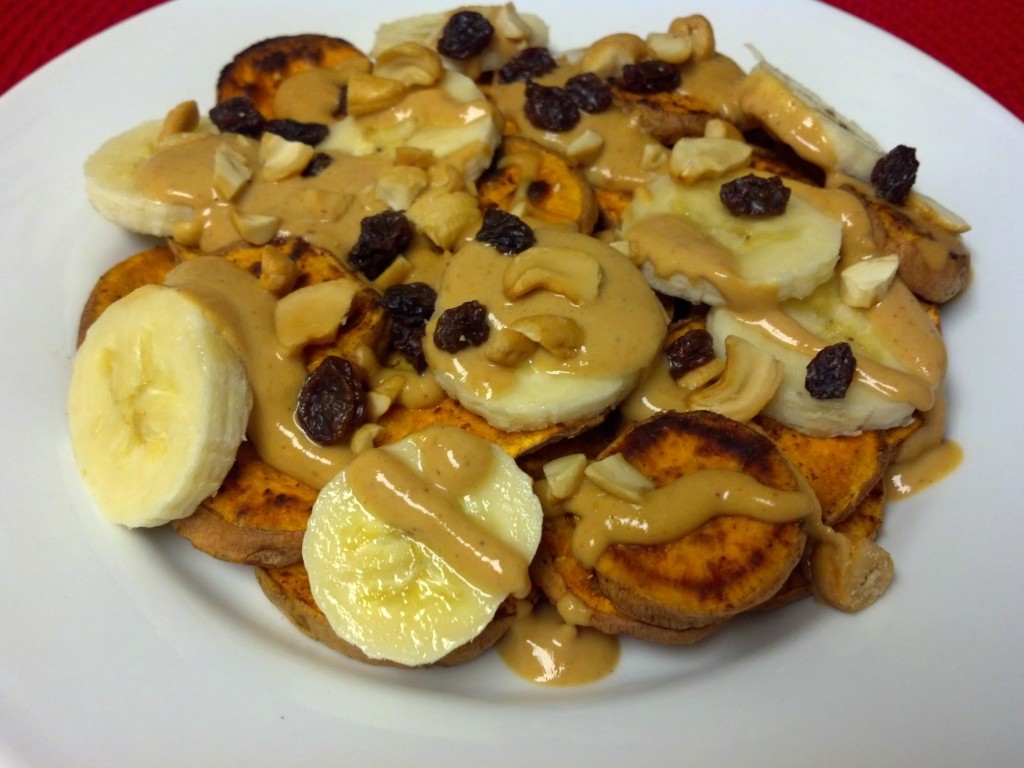 7. Dig in.
I ate my breakfast nachos with a knife and a fork (yes, I am a lady ;)), but you could certainly go at these as finger food.  But be warned, they will be messy.  Melty nut butter is messy, but oh so good!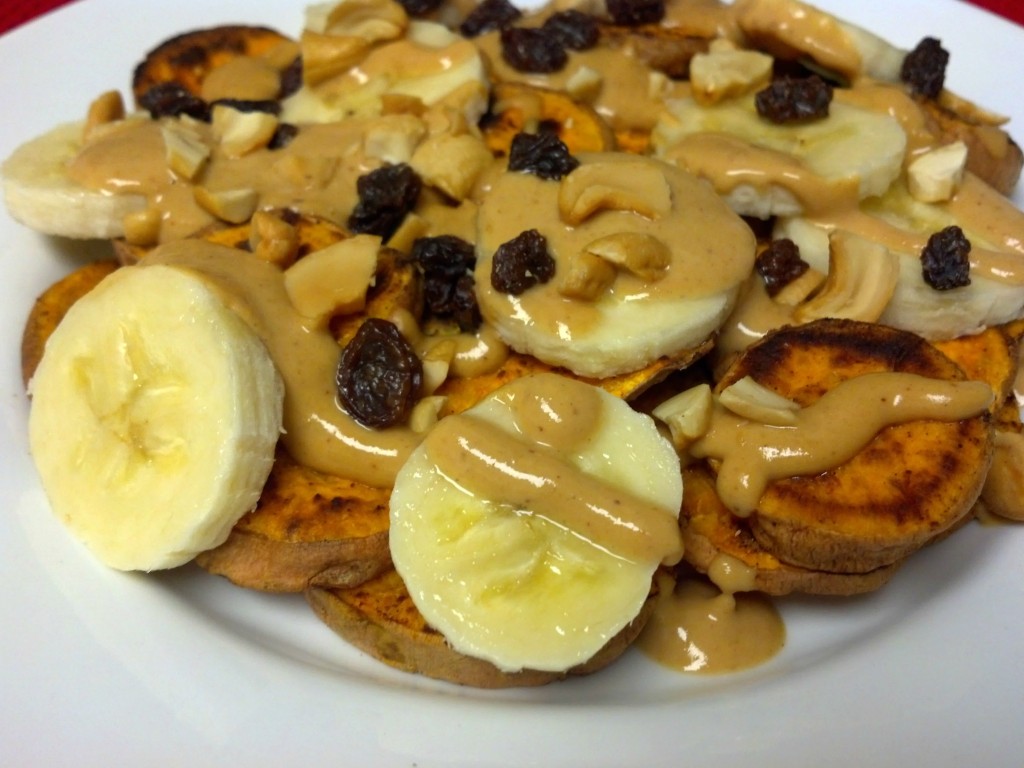 I think it is a pretty safe bet for me to assume that you are probably a fan of nachos.  Seriously, who doesn't love them?  But I also think it is a pretty safe bet to assume that you will also be a major fan of breakfast nachos.  Sweet potatoes, fruits, nuts, and nut butter all piled high?  Yes, please!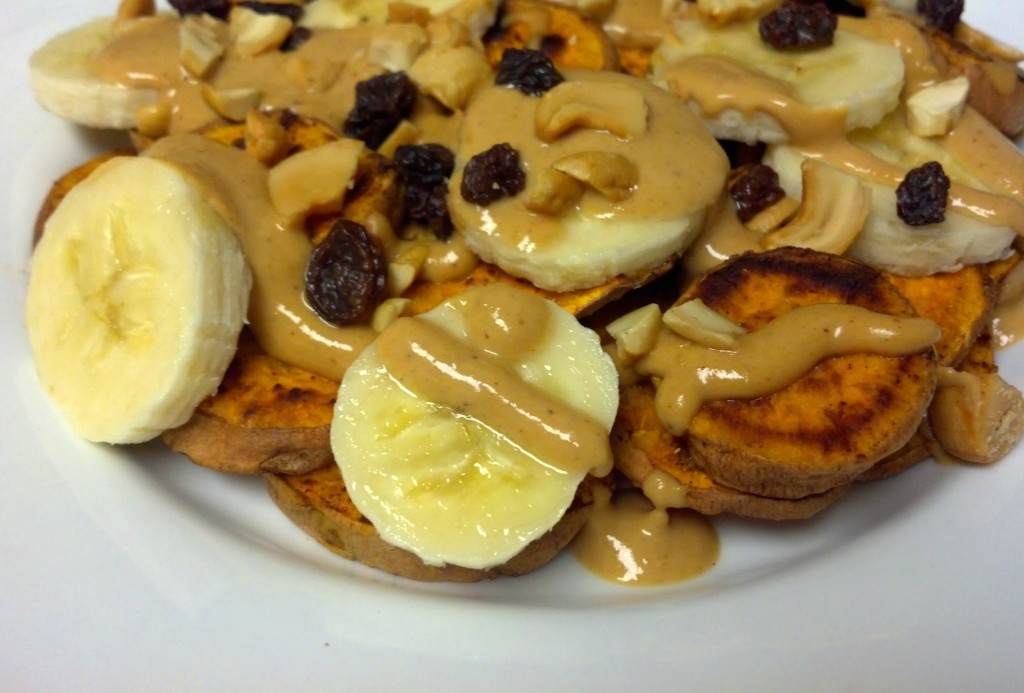 Have you ever eaten nachos for breakfast?  Were they traditional nachos or made with breakfast ingredients?
Have you tried sweet potatoes for breakfast?