Friday has rolled around again and I am quite happy about this.  Is anyone else a fan of Fridays?  No?  Haha, just kidding!  I know you love Fridays just as much as I do :).  The main reason why I enjoy Friday is pretty obvious- it means we are super close to the weekend and several days away from the working world.  Another reason why Fridays are so great, though, is because so many bloggers share some of their favorite recipes from around the blogging community on this day.  It is a great way to discover and save (as if I need to collect any more ;)) recipes to try.  While I don't participate in this Friday theme every Friday, I love it when I have enough recipes that I have tried and deemed "favorite worthy" to share with all of you.  Today is one of those Fridays!
Friday Foodie Favorites: November 8, 2013
Are you sick of squash yet?  No?  Good, because I have a couple of squash recipes to share with you today!
Butternut Squash and Lentil Curry Stew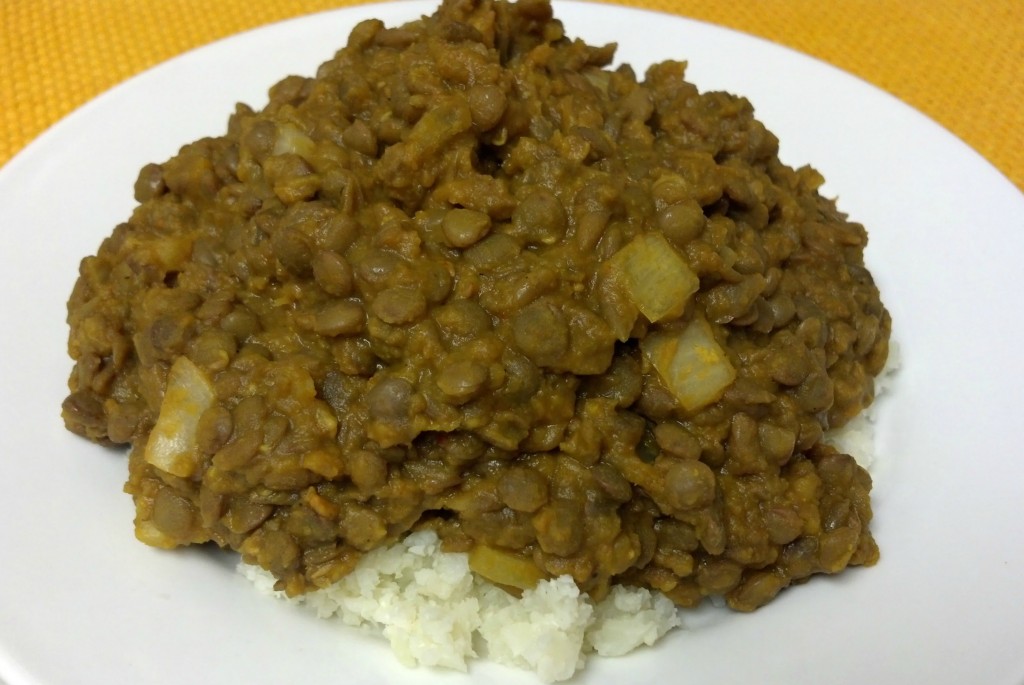 Now I know this doesn't look like it should be a favorite of mine (who am I kidding, lentils never ever look good), but it definitely tastes good enough to be one of my most recent favorite dinners.  I cooked up Becky's Butternut Squash and Lentil Curry Stew and served them over cauliflower "rice."  These babies are so delicious.  I am a big-time lentil fan, and I absolutely adore the flavors of curry.  Combine the two and I am one happy lady.  I followed Becky's recipe exactly, except I used coconut flavored almond milk in place of the coconut milk.  I think the results were absolutely fabulous :).
Apple Dijon Vinaigrette Salad Dressing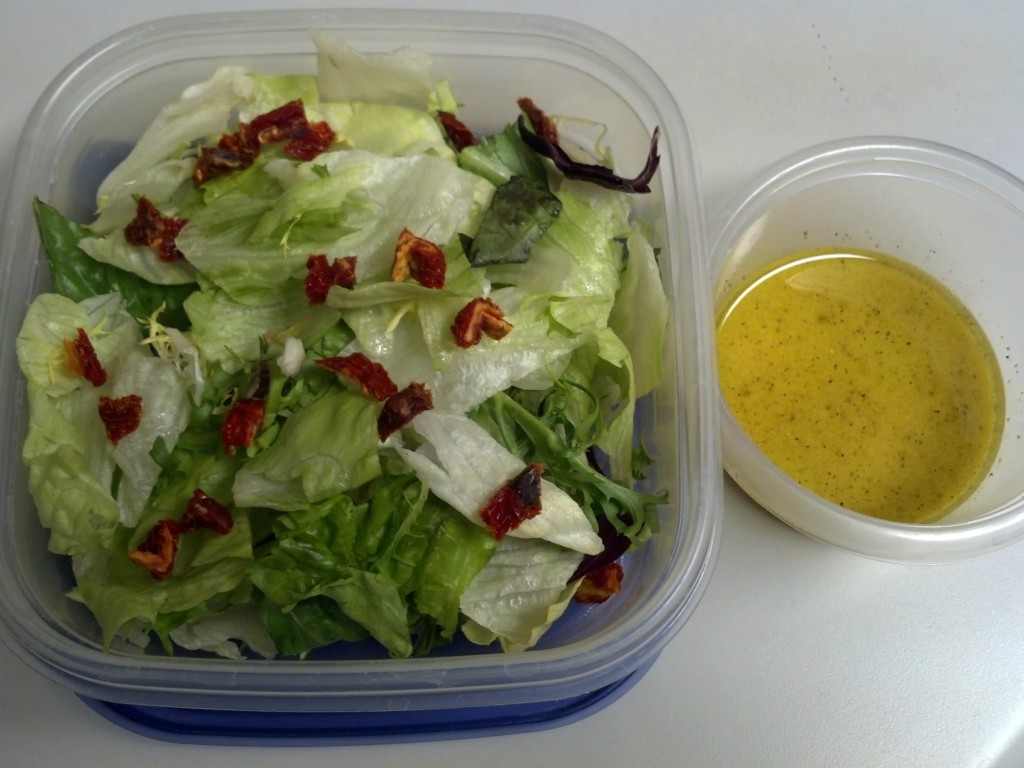 A miracle has happened.  I have officially ditched the bottled salad dressings for homemade dressings.  I have been saying for months and months that I was going to start making my own salad dressings, but it was all talk…until a few weeks ago.  I am now religiously making my own because, let's face it, they are much healthier and I actually know exactly which ingredients (whole, at that) are in them.  I made Hillary's Apple Dijon Vinaigrette Dressing a week ago (and again this past weekend) and have been loving it.  I am a big time fan of Dijon mustard, so this dressing is right up my alley.  I will say that you definitely must like the flavor of apple cider vinegar as it is quite prominent, and if you do then you will surely enjoy this.  Oh, and I can't forget to mention how easy this is to make.  It literally came together in under three minutes.  No more excuses for using those bottled dressings for me (unless it's an emergency ;))!
Butternut Squash Salad with Orange Maple Cinnamon Dressing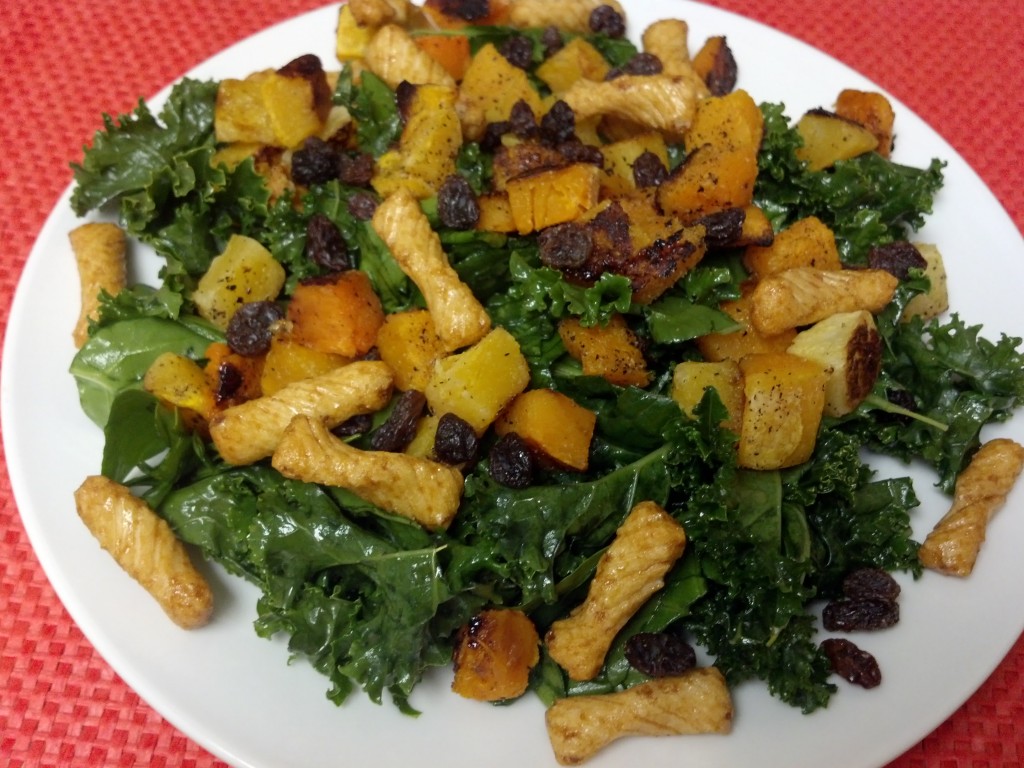 Last Thursday evening I made an adapted version of Alexis's recipe for Butternut Squash Salad with Orange Maple Cinnamon Dressing.  Instead of salad mix, I tossed the  dressing in chopped kale and spinach.  I am majorly hooked on all things kale right now, so it just made sense.  I topped my salad off with roasted butternut squash as Alexis recommended, and replaced the pecans and cranberries with raisins and teriyaki rice twists from my Healthy Living Summit swag bag (those babies are delicious!).  The dressing on this salad is super delicious, especially when combined with the dark leafy greens, the sweetness of the squash and raisins, and the saltiness from the rice twists.  This is definitely going to be one of my go-to fall/winter salad recipes!
Sauteed Greens
And finally, while this is not a recipe from around the blogging world, I have to share my current favorite side dish that I have been cooking up lately: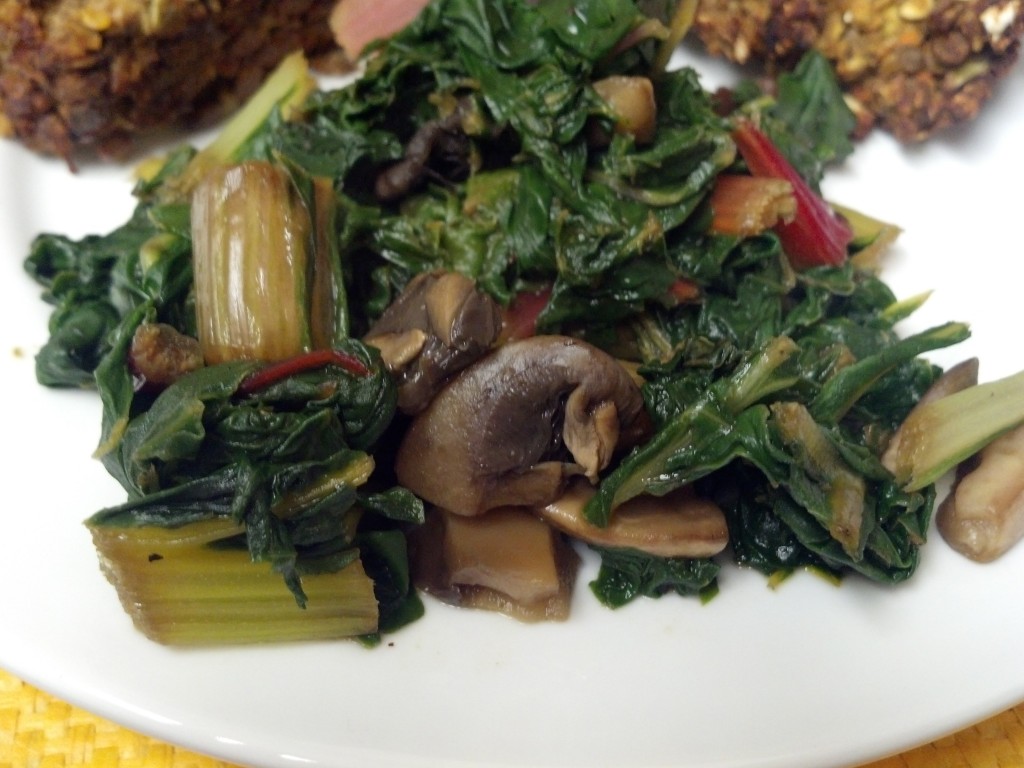 A large number of my side dishes the past couple of weeks have consisted of sauteed greens.  My go-tos are either kale, rainbow chard, or collared greens sauteed in a little bit of vegetable broth with onions, peppers, and/or mushrooms, and seasoned with salt, pepper, and a pinch of garam masala.  This isn't much of a recipe, but that is the beauty of  this side dish.  It is easy peasy!
I hope you like squash and greens because that was pretty much all that this post consisted of.  If not, then get with it! 😉
Have a great Friday bloggy friends!  I'm off to Des Moines for a weekend with my mama.  We are going to do a little shopping, eating, and then singing at the Keith Urban concert!