A warm and cozy bowl of Turkey and Vegetable Cabbage Soup for fall and winter lunches and dinners.  This isn't your grandma's cabbage soup!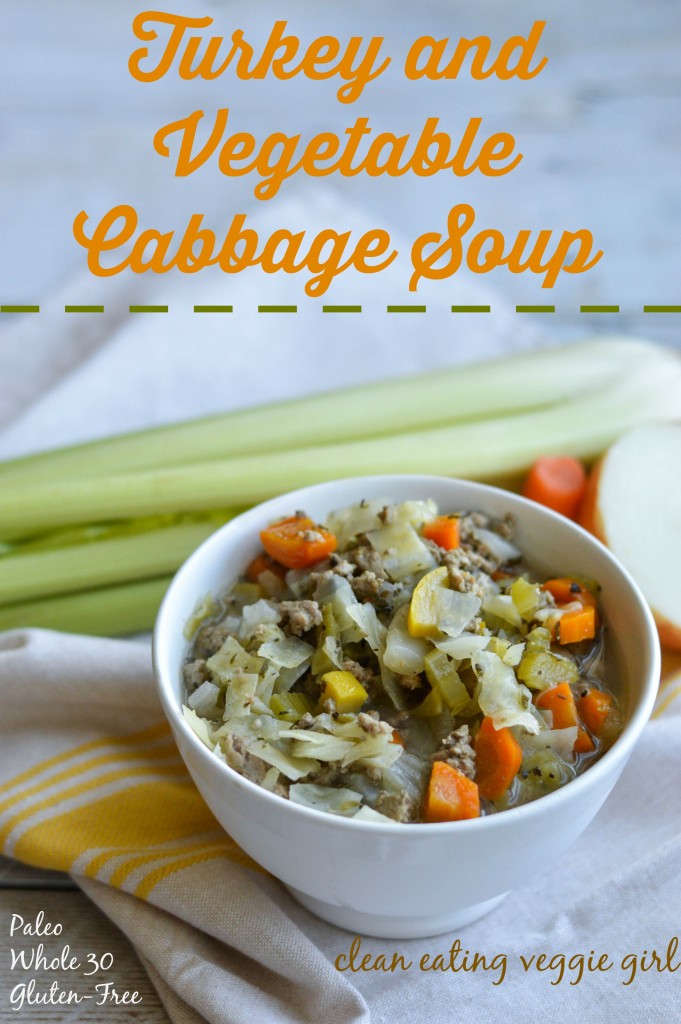 Fall is here!  October is here!  Amen, y'all.  Soup season is officially back.
While I continue to make and eat soup year round, I know many people who refuse to do so unless it is at least 60 degrees or under outside.  I cannot say I blame them since being warm is brutal enough, and adding even more heat to the mix can be like a slightly less awful version of torture.  My taste buds, however, almost always take precedence over the temperature of my body and the weather outside.  So I'm definitely going to keep on scarfing down hot soup no matter what month it is.
I actually  made this soup several months ago, likely when it was about 90 degrees outside.  I decided I had better wait until it was "socially acceptable" to be soup obsessed here on CEVG.  Now that the time has come, I could not be more excited to share this recipe with you!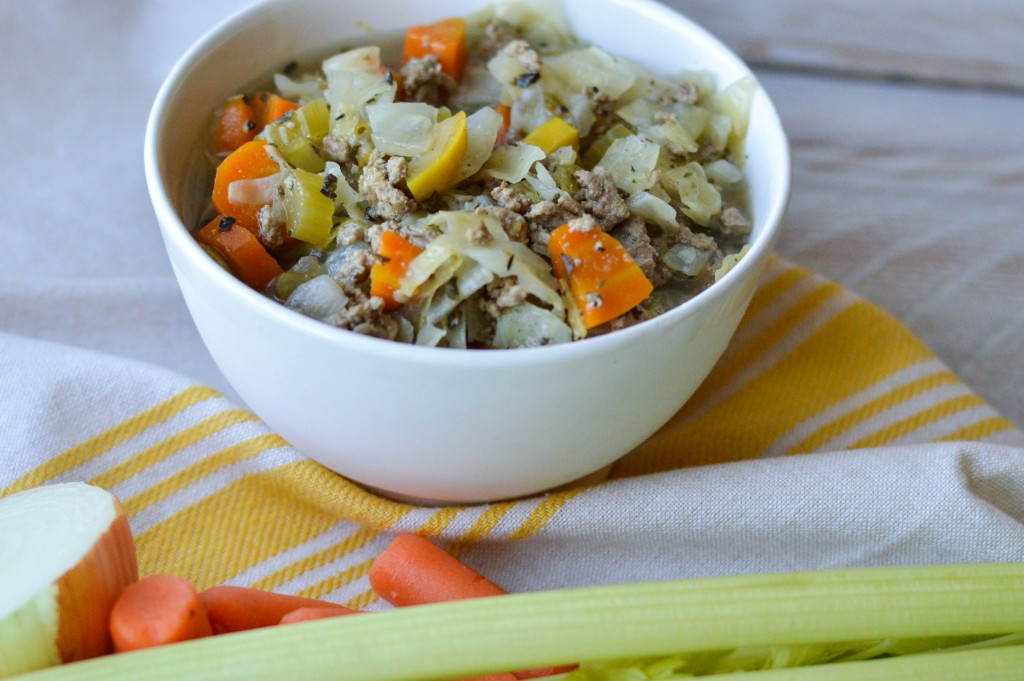 It is:
super simple
warm
cozy
flavorful
veggie-packed
healthy
filling
craving-worthy
Basically, you must add this to your meal plan at least once per month throughout this fall and coming winter.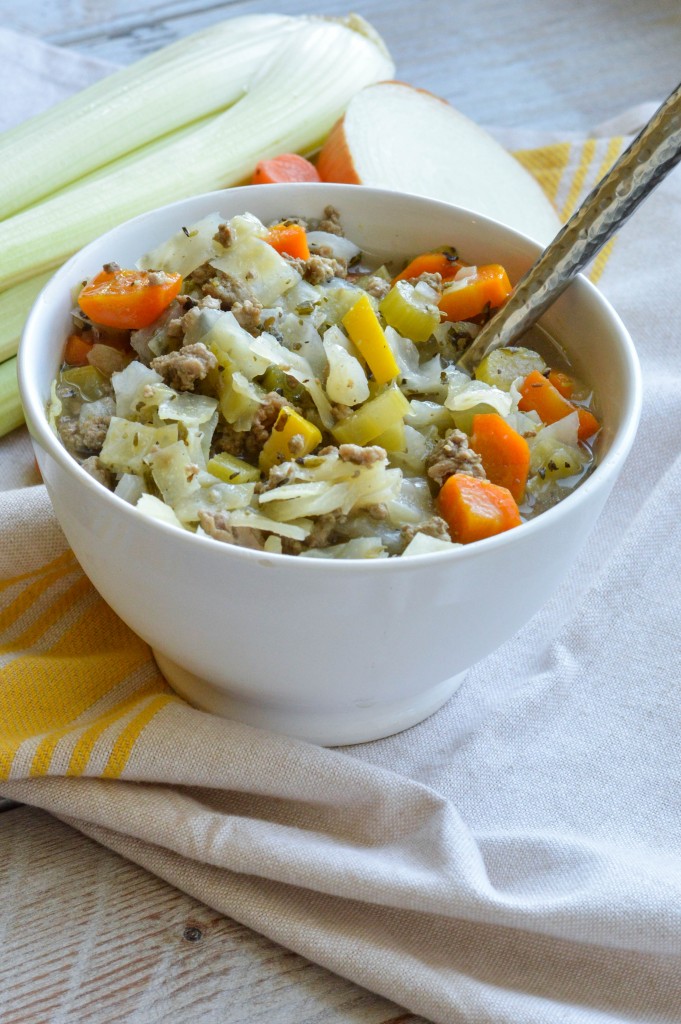 Turkey and Vegetable Cabbage Soup
AIP, Paleo, Whole 30, Gluten-Free, Grain-Free, Dairy-Free, Nightshade-Free
Adapted from this recipe.
Serves 5 to 6.
Ingredients
1 pound of ground turkey, organic if possible
1 heaping tablespoon of coconut oil
4 cloves of garlic, minced
1/2 medium yellow onion, diced
3-4 whole carrots, peeled and sliced
4 stalks of celery, chopped
1 yellow squash, chopped
4 cups of chicken broth (could also use turkey or vegetable broth)
2 cups of water
1 small/medium head of green cabbage, chopped
1 TB dried oregano
1 TB dried basil
1 TB dried thyme
1 tsp ground ginger
sea salt, to taste
black pepper, to taste
Directions
1. Brown turkey in a large skillet.  Set aside.
2. In a large soup pot or dutch oven, heat coconut oil over medium-high heat.  Once hot, lower the heat to medium and add garlic and onion.  Saute for two to three minutes.
3. Stir in carrots, celery, and squash.  Cook for an additional three to five minutes, or until softened.
4. Add chicken broth and water to the pot.  Raise heat to high and bring to a boil.  Once boiling, add ground turkey, cabbage, and seasonings.  Lower the heat to low.
5. Cover and simmer for 35 to 45 minutes.  Adjust seasonings, as desired.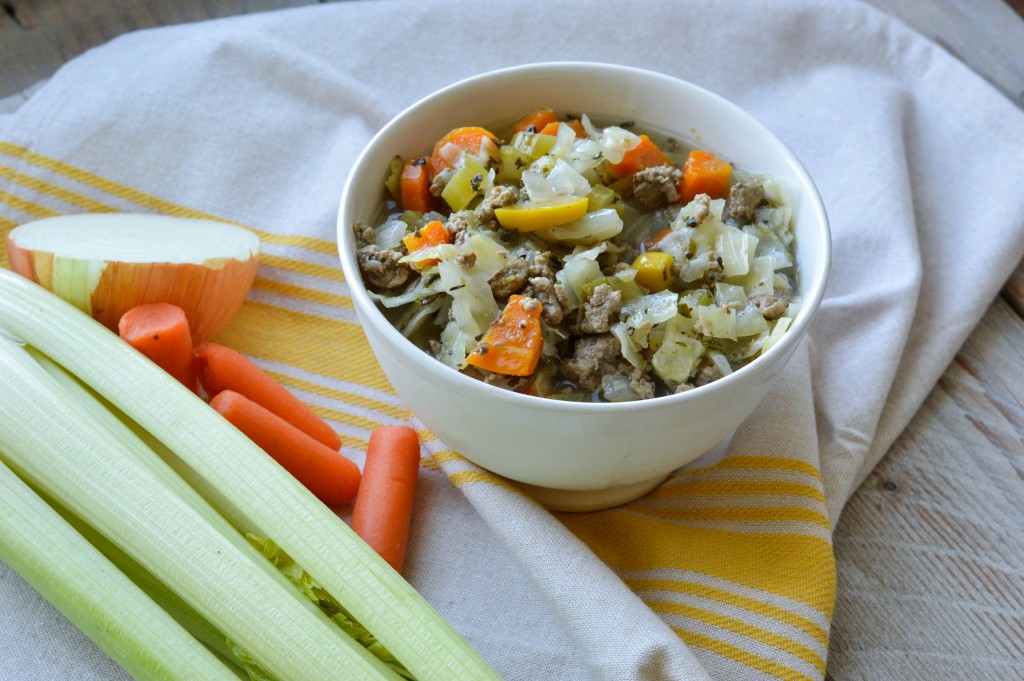 Did I mention that this recipe is Paleo, gluten-free, grain-free, legume-free, dairy-free, nightshade-free, and nut-free?  It almost seems impossible to create recipes that cover all of those areas, but it is 100% possible.  It also results in delicious and healthy flavor combinations.  Oh, and a challenge for the brain and taste buds, too.  My diet restrictions right now are absolutely requiring me to think outside of the box!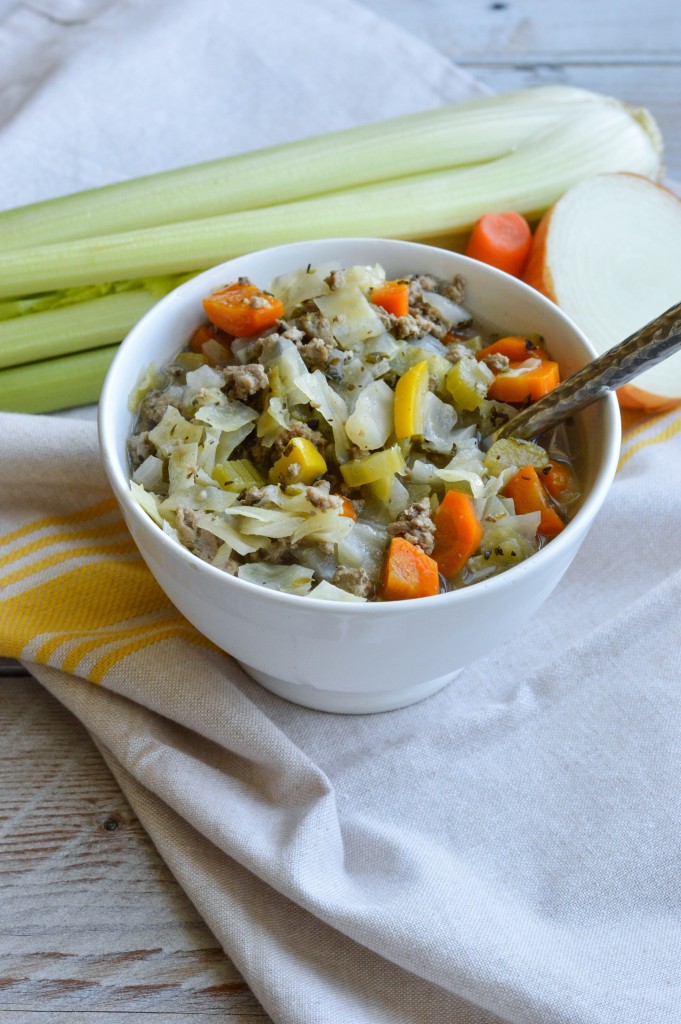 Since I am not currently eating grains of any kind, saltines and oyster crackers (my favorite) are out of the question.  Luckily, I have a great standby that I have been turning to: plantain chips!  They are salty and crunchy and totally meet and exceed all of my cracker cravings.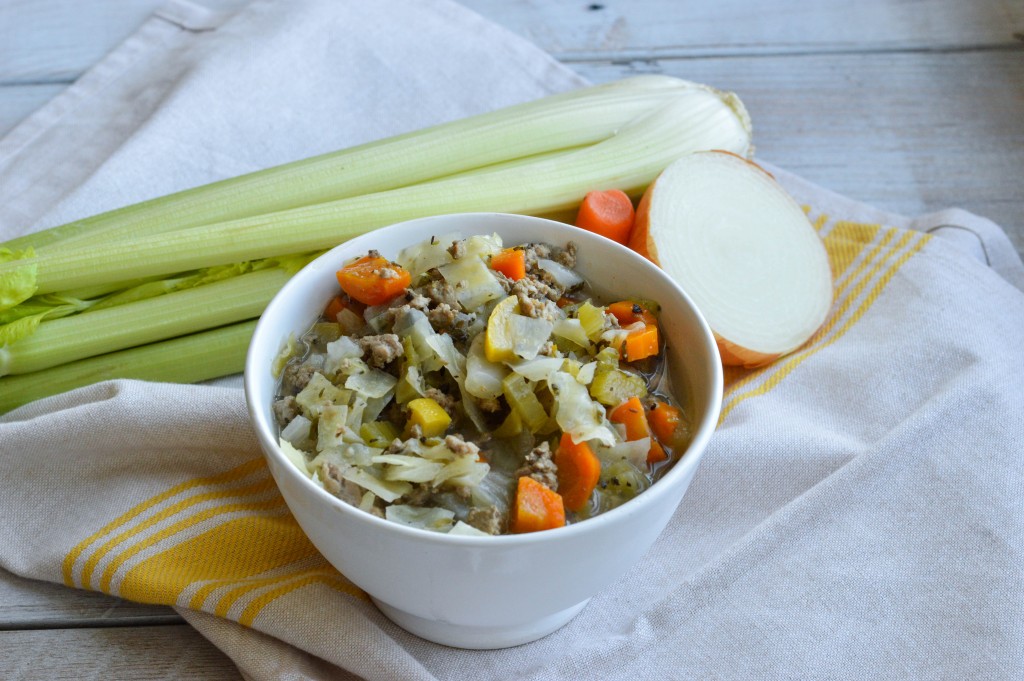 Crackers, chips, or whatever the heck you are craving with soup… it doesn't matter.  Just make this.
Who else is excited about soup season?
Have you ever tried cabbage soup?
Cozy and warm Turkey and Vegetable Cabbage Soup #Paleo #Whole30 #glutenfree
Click To Tweet