Life happens.  And holy moly has it been happening for me lately!
Three weeks is a pretty long blogging break for me.  But to be honest, blogging has been the furthest thing from my mind.  You'll soon find out why <– enter suspenseful music.  But before I get to those major life changes, I want to update you a bit on my health.  It has been a while since I last shared how I am doing, and I have a few new things to add to my sickness and health story.
Health Updates
When we last left off, I was experiencing chronic joint and muscle pain, acid reflux, exhaustion, ear fullness, acne, and an irregular menstrual cycle.  I was also following a pretty clean, gluten-free diet.  From that time until now, quite a bit has changed.
1. You saw me successfully complete a Whole 30.
2. I stopped taking my thyroid medication because it was actually making me more tired and causing pretty crazy hair loss.  Unfortunately, that hair loss has not improved since going off of the medication.  I know hormonal changes can cause hair loss and it can take a while for your body to adapt, but I will be looking into medical assistance for this issue if I don't see improvement soon.
3. I had a stool test done.  Yes, that it about as fun as it sounds.  I actually had to collect my own samples and FedEx them to the lab.  What an experience!  It was also crazy expensive.  My results showed that I had high levels of fat and protein in my stool, which could potentially  mean that I am not properly digesting and absorbing these nutrients.  It also showed high levels of certain types of bacteria.  I am now doing two things to combat this.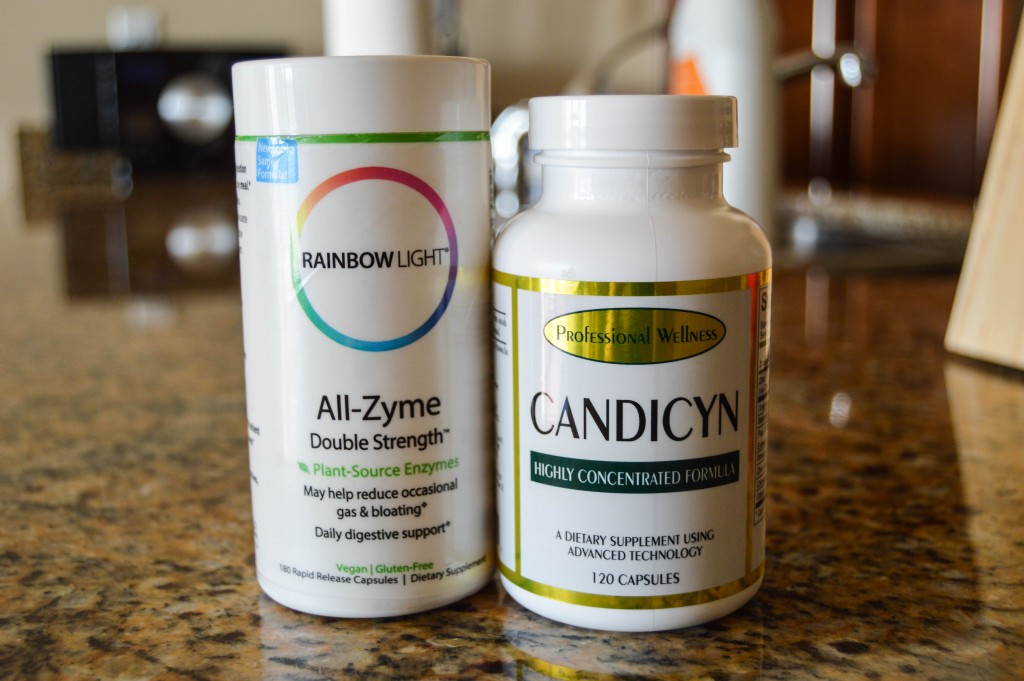 I am taking Candicyn to get at the "bad" bacteria.  I have also been taking digestive enzymes with every meal to help increase my chances of digesting as many of the nutrients I am eating as possible.  It would be a shame to eat so healthy and yet digest very little of it!
4. Since completing my Whole 30 at the beginning of August, I have continued eating a Paleo diet.  I also took it a few steps further.  Not only have I been eating grain-free, dairy-free, refined-sugar-free, and legume-free, but I have also eliminated nightshades, eggs, and nuts.  This is essentially the AIP diet, but I have still been eating seeds.  What can I say?  I don't want to give up my chia pudding!  At least not yet.
5. I stopped taking my PPI (Lansoprazole) for my acid reflux after taking it for about seven years.  Since PPI's eliminate acid in your stomach, I have a strong feeling that being on the PPI for so long has contributed some to the issues I have been experiencing.  Without stomach acid, I suspect have not been able to properly digest my food.  I also suspect that since I have had little to no stomach acid, the "bad" bacteria has been able to thrive in my gut.  Over the past almost two months without my PPI, I have felt pretty good.  I think my diet has played a major role in keeping my acid reflux under control, especially with eliminating nightshades.  When I ate them about a month ago, I felt awful for almost two weeks.  After that two weeks passed, I have not had any serious issues with heartburn, reflux, or nausea.  I also just had an upper endoscopy and everything looked great.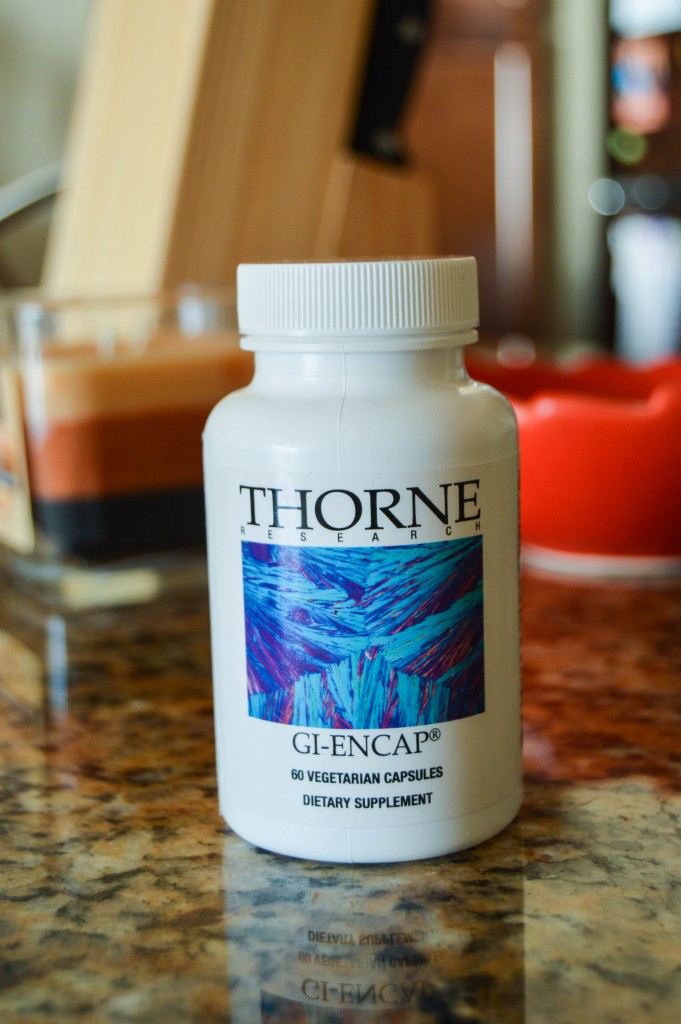 One additional thing I have been doing is taking GI-Encap when symptoms creep up, and Zantc if I feel like I need serious relief.  I have only taken the Zantac about three times over the past two months.  I don't want to jinx myself, but I look at this as a small improvement.  Is my reflux completely gone?  No.  But it is so much better than it was before PPI's and most of the time while I was on PPI's.  I am also extremely excited to hopefully be getting away from them for good.  The side effects are just not worth it.
6. I have been working hard to heel my gut.  I have been consuming fermented foods and drinks like crazy, which I am not complaining about one bit.  I am slightly obsessed with sauerkraut and kombucha right now.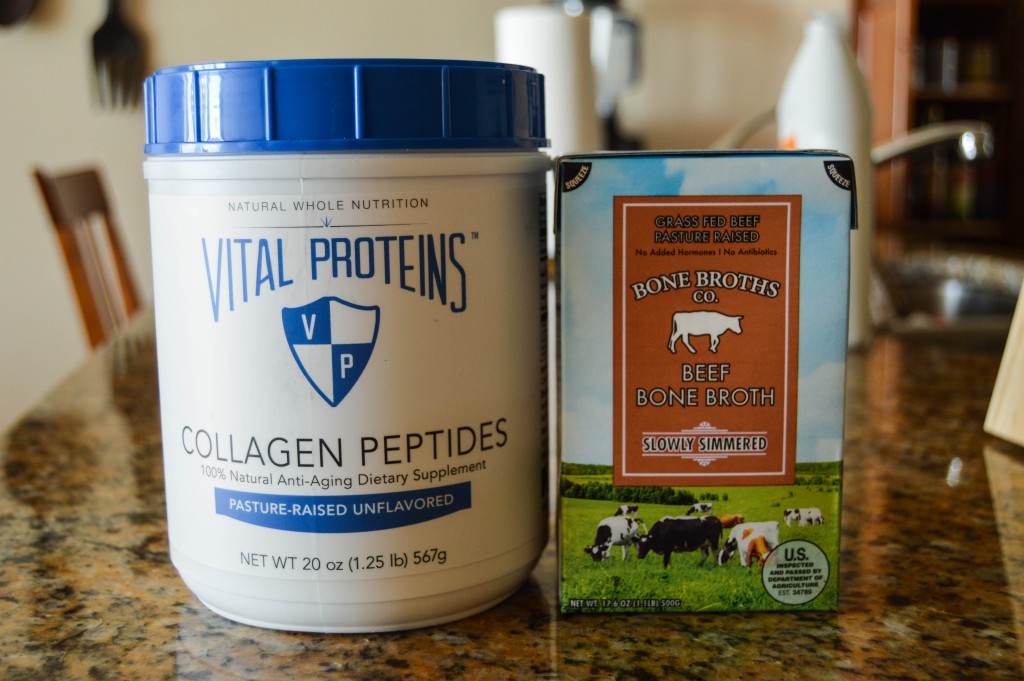 I have also been taking collagen peptides and drinking bone broth, both of which are supposed to be very healing to the body.  This has become my morning ritual.  Now I just need to learn how to make my own broth since it is certainly not cheap to buy!
7. It is sometimes difficult to tell, but I think my joint and muscle pain has improved some.  It certainly acts up a lot if I am active (I have been sticking to walks a few days per week and restorative/yin yoga), but I think the day-to-day pain has subsided a small amount.  Am I where I want to be?  No.  But it is somewhat encouraging.  I hope it means that if I continue with this not-so-fun diet, I will see good things to come.
8. My period has become pretty regular.  It is not the 28-30 day cycle that I am used to, but generally shows up around every 35 days.  I'd like to get it back to my "normal" before I went on the pill, but right now I am just excited to have it back and to be off of hormonal birth control.
9. I am working on controlling my stress levels with yoga, meditation, and simply saying "no" more often.  I know stress is pretty awful for the body and our physical health, so it is something I want to work on.
10. My acne has been pretty well under control the past couple of months.  I sincerely hope it stays this way!
That about wraps it up for the health updates.  As you can see, I have seen both some positives and negatives.  I am trying to remind myself that this is a journey and I will get to where I want to be with time, patience, diligence, and hard work.
Now to the big news…
Life Updates + My Big Move
I cut back on my blogging schedule (in fact, I basically eliminated the schedule) before these life changes even began.  But then when everything went down, blogging had to take a back burner.  August is busy enough as it is when you work in higher education, but my August was even busier than normal.
If you have been reading CEVG for a while, you know that Jeremy and I have been living five hours apart for the past almost three years.  I was in Omaha and he was back in eastern Iowa.  The plan was always for him to move to Omaha, but that was just not working out on the job front for him.  He is in upper-management within his company, and those positions simply do not open as frequently as we would have liked.  So when I was perusing higher education job openings within the Midwest and an exciting position opened up at a state school in eastern Iowa, I felt called to apply.  I have very strong gut instincts and they are almost always right.  I just knew something felt pretty perfect about this opportunity, so I went for.
I interviewed for the position in late August and accepted an offer in mid-September.  The next two weeks were a whirlwind!  I put in my two weeks notice at my former job, found an apartment, wrapped up loose ends in Omaha, packed, said very sad goodbyes to my Omaha best friends, drove hundreds and hundreds of miles, moved, unpacked, and am now settled almost four hours away from Nebraska in Iowa City, Iowa!  While leaving Omaha was tough, I have to say that I am excited to soon be an Iowan again.  I am also quite excited to be living so much closer to family and friends.  While Jeremy and I are still not living in the same city, we are a mere hour and fifteen minutes away from one another instead of five hours.  Right now, I'll take it!
Tomorrow marks the first day at my new job.  I am both nervous and excited, but I know it is right.  I am eager to learn new things, meet new people, and soak up all that the traditional college environment has to offer.  Before I leave you today (if you are still reading… this is a long one!), I want to share a few pictures from my apartment.  Mostly because I am obsessed with how beautiful my kitchen is.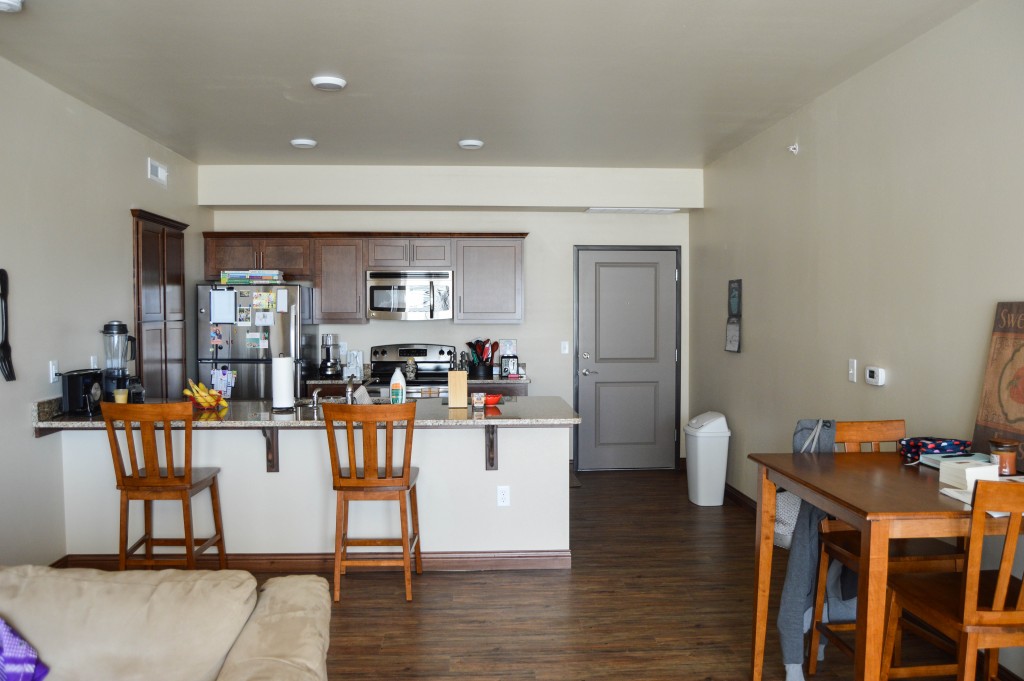 Gorgeous, right?  I absolutely love how open everything is!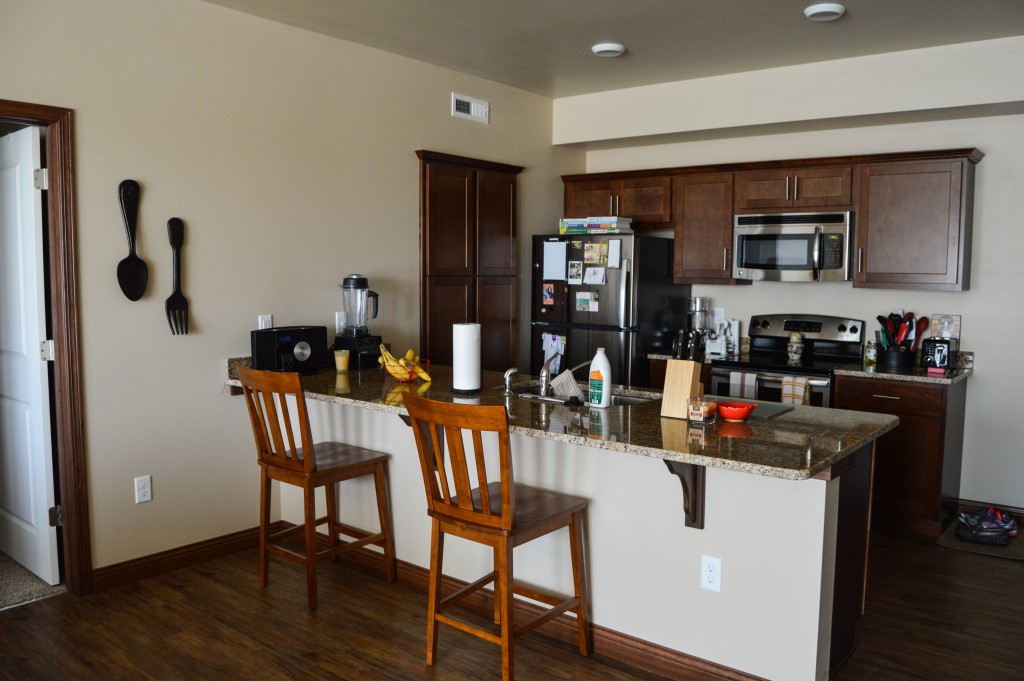 This may be the nicest kitchen I ever cook in, so I better not get used to it 😉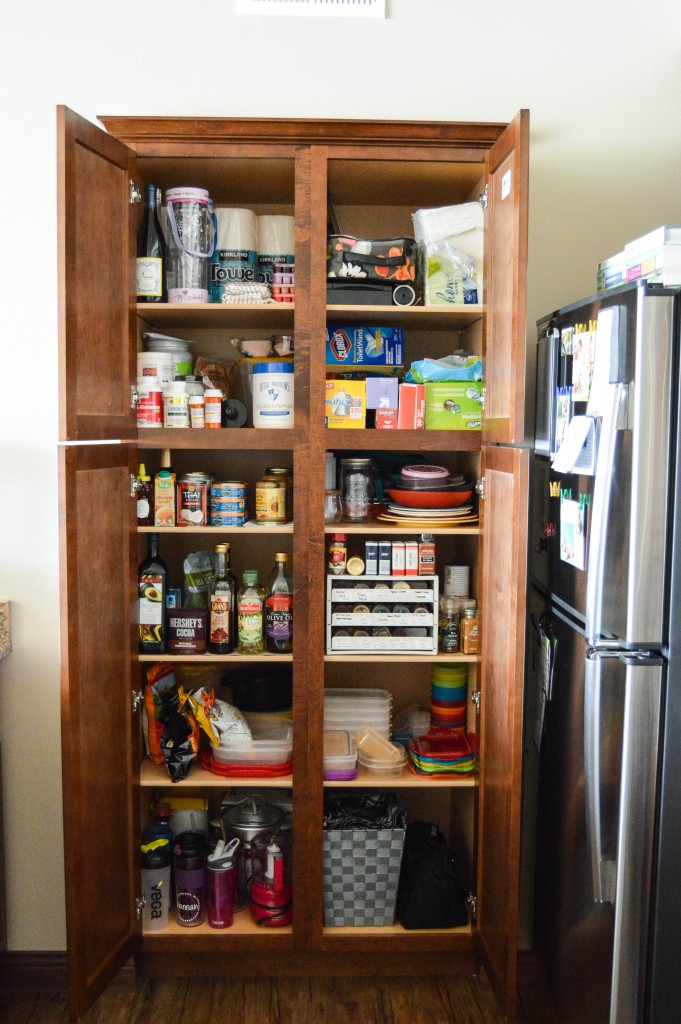 My last apartment had an amazing pantry and this one does as well.  I honestly do not think I could live anywhere without one again!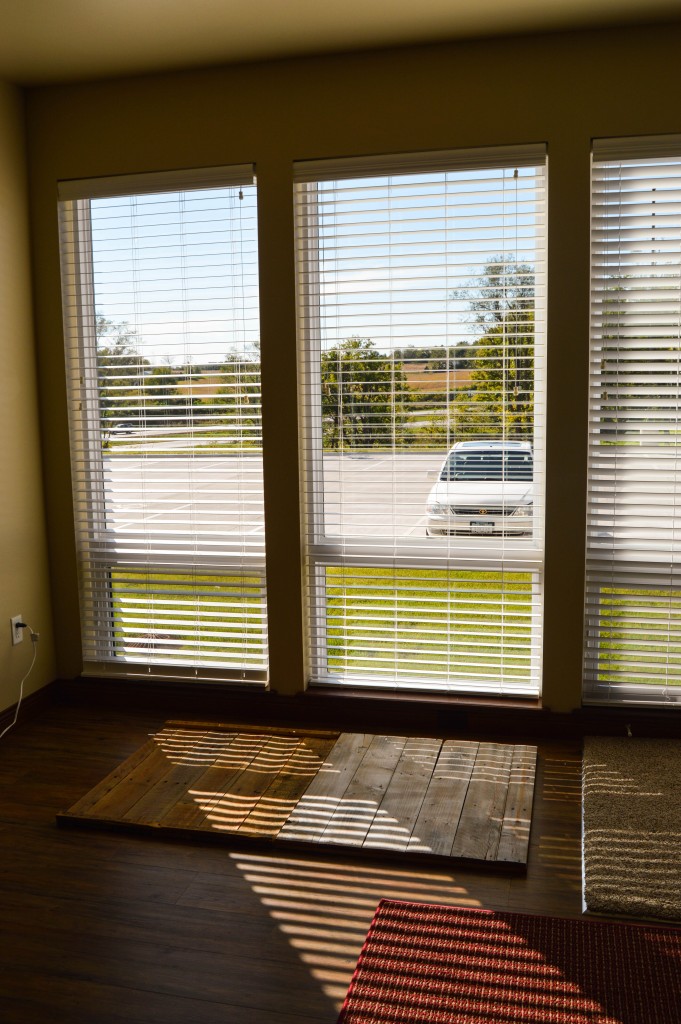 I'm closing things out with a picture of my huge windows in the living room.  I am thinking this just might be a good food photography spot, dontcha' think?
So to wrap things up, I have seen positives and negatives with my health, I was offered and accepted a new job, and I moved back to Iowa.  It has been a whirlwind these past couple of months, but I am excited to get back into my groove.  Hopefully that will mean some more blog posts, too!
Are there any Iowa City bloggers out there?
What words of wisdom do you have for me going into my first day at my new job?