Flavorful and healthy nightshade-free Paleo baked chicken strips that are kid and adult-friendly.  Whip these up for your next gluten-free lunch or dinner!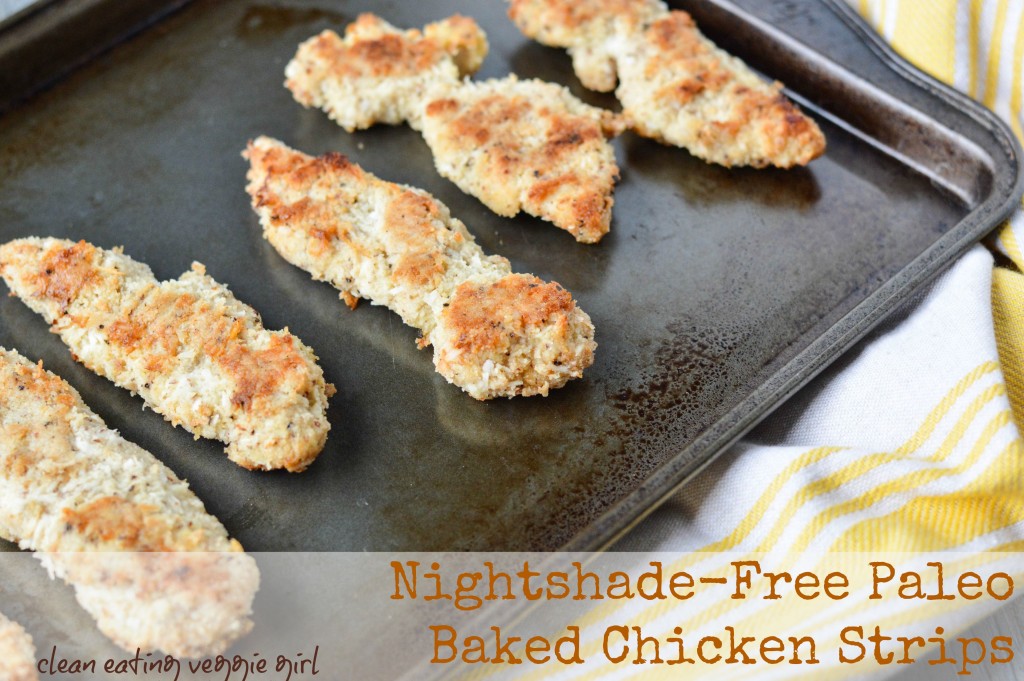 To say that life has been busy lately would be an understatement.  I have had a lot going on both personally and professionally, and I hope to share more regarding this with you soon.  But until then, let's talk about my new favorite nightshade-free and Paleo chicken strips!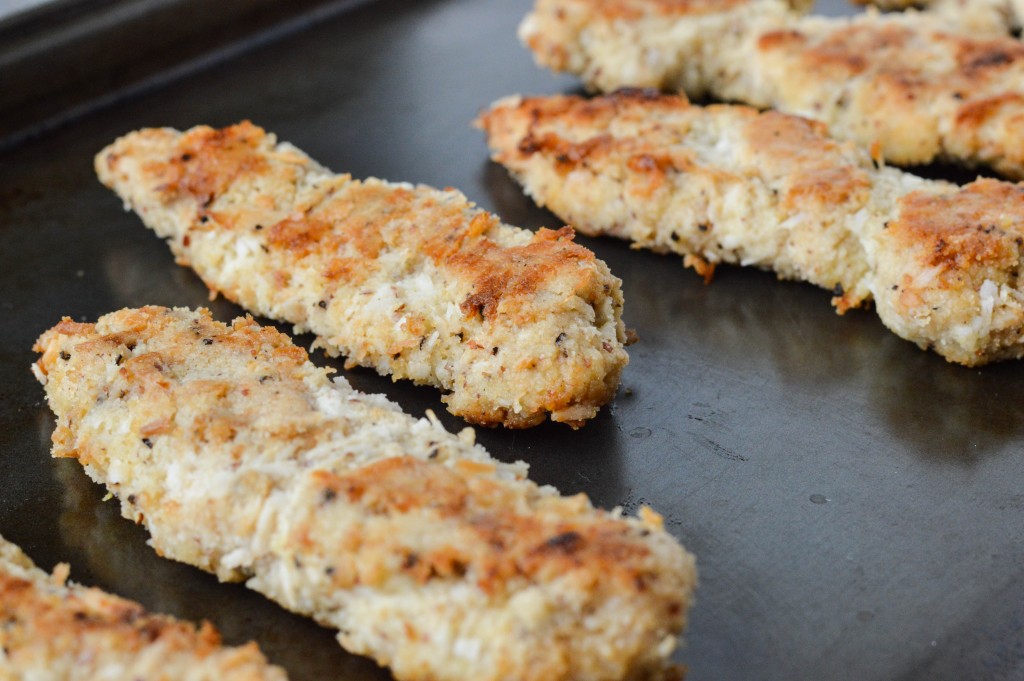 In my last Friday Foodie Favorites post about some of my favorite Whole 30 recipes, I mentioned Brittany's recipe for Baked Paleo Chicken Tenders.  Of all of the recipes that I tried during my Whole 30 in July, this was easily one of my favorites.  But now that I am eating nightshade-free, the paprika and cayenne pepper the recipe calls for do not fit in too well with my dietary needs.  Of course I could leave those two ingredients out, but who wants to eat chicken strips without some flavor?  Not me.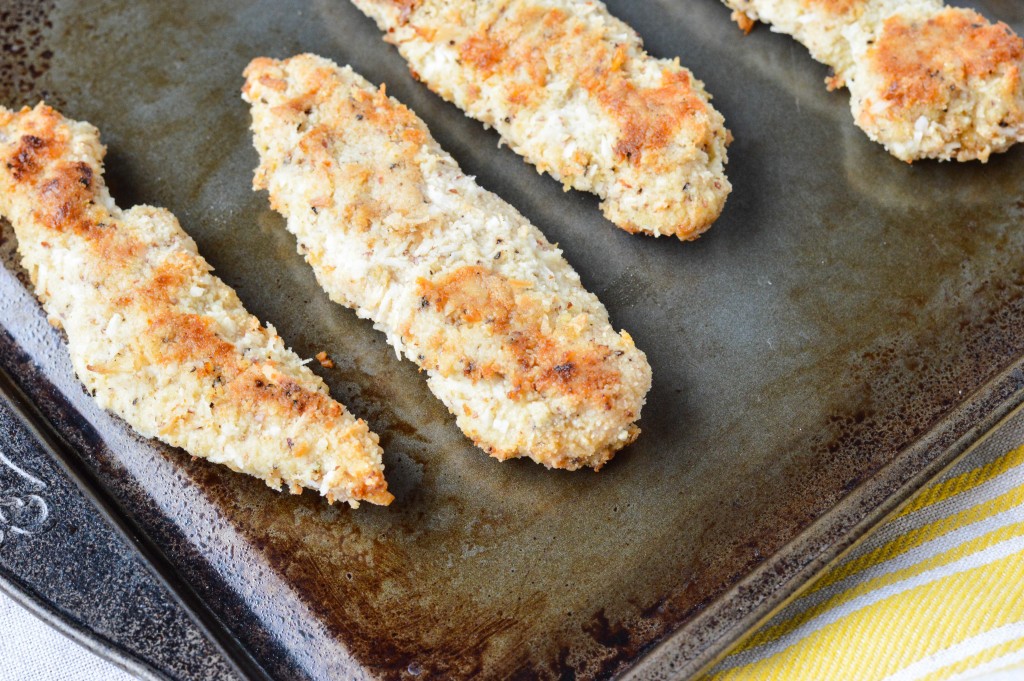 So here I am, paprika and cayenne pepper-less.  After a few days spent sulking, I got into the kitchen and whipped up my own nightshade-free version of these tasty baked Paleo chicken strips.  I stuck with the basics in Brittany's recipe, and added some pizzazz with the help of ground mustard, ginger, and onion powder.  To say that I was pleased with the results would be an understatement.  I am quite certain that you will see why once you try them out for yourself!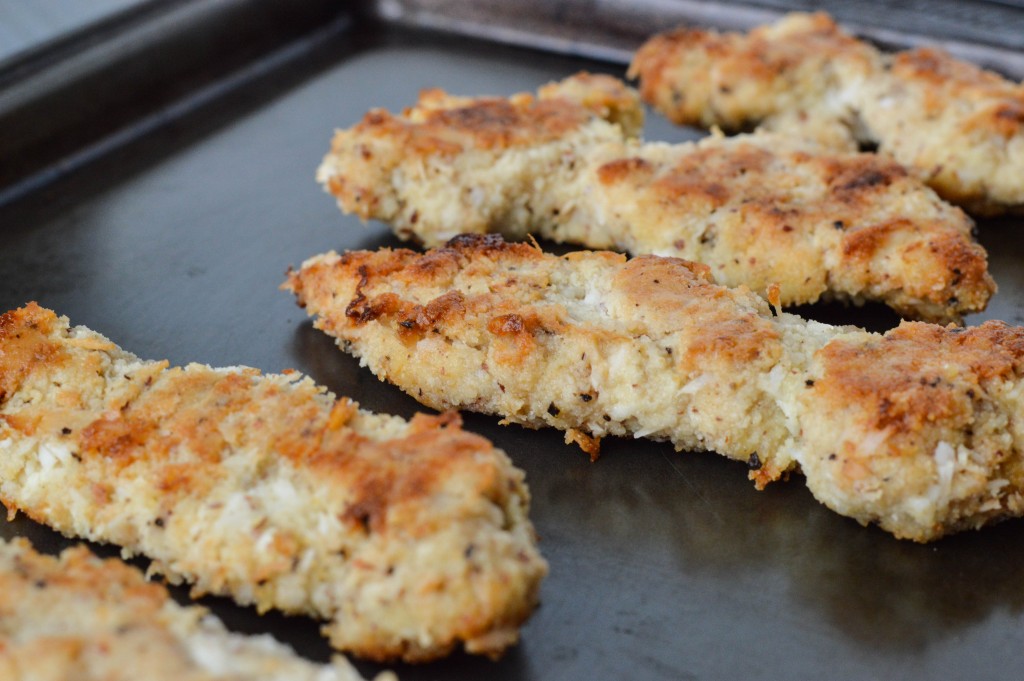 Nightshade-Free Paleo Baked Chicken Strips
Nightshade-Free, Paleo, Gluten-Free, Grain-Free, Dairy-Free, Whole 30
*Adapted from this recipe.
Serves 4
Ingredients
8 organic boneless, skinless chicken breast tenders
1 whole organic large egg
1 cup almond meal
1/3 cup unsweetened  shredded coconut
1/2 teaspoon ground mustard powder
1/2 teaspoon ground ginger
1/2 teaspoon garlic powder
1/2 teaspoon onion powder
1/2 teaspoon fine sea salt
1/4 teaspoon freshly ground black pepper
Directions
1. Preheat oven to 400 degrees F.  Line a baking sheet with parchment paper or a silicone baking mat.
2. Beat egg in a shallow bowl.
3. Mix together almond meal, coconut, and spices in a second (larger) shallow bowl.
4. Dredge each chicken tender in the egg one at a time.  Wipe off any excess egg.  Transfer each chicken tender to the almond meal mixture and roll to coat well.
5. Place each tender on the baking sheet and bake for approximately 25 minutes, flipping once halfway through.  The chicken strips should be crispy, golden-brown and cooked through.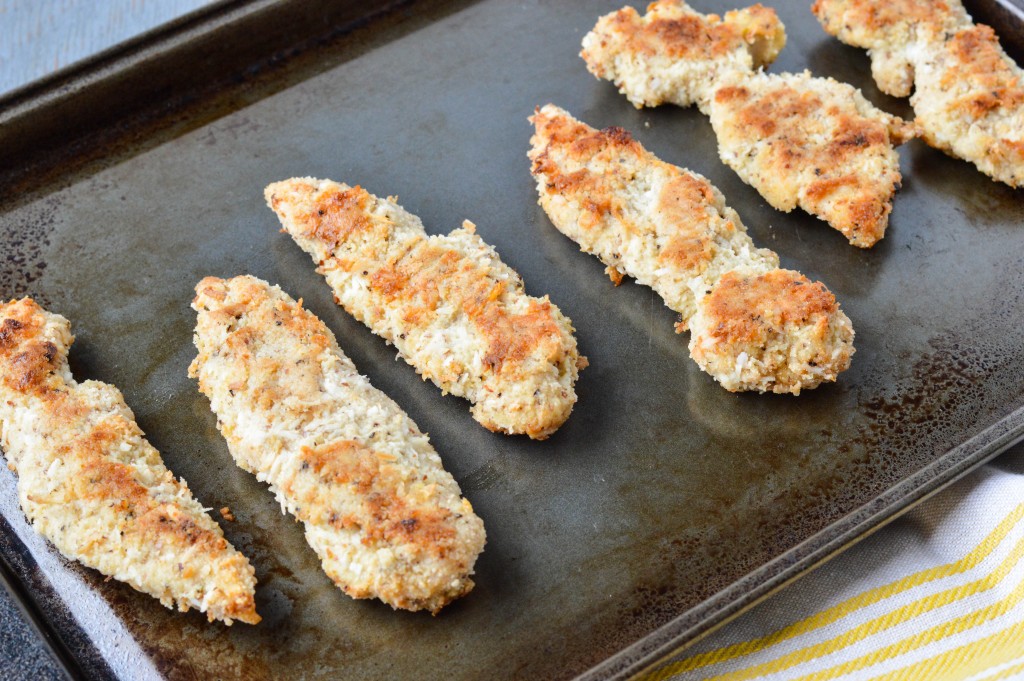 The majority of the nights that I ate these chicken strips, I ate them plain.  It turns out that dippers are pretty hard to come by when you are nightshade-free.  My favorite ketchup and yellow mustard were both out.  But a little Dijon or horseradish mustard will do the trick, and I even bet that a homemade relish-type dip would be a fantastic addition.
Delicious Nightshade-Free #Paleo Baked Chicken Strips #Whole30 #glutenfree
Click To Tweet
What is your favorite condiment to dip chicken strips into?