AIP Paleo Taco Stuffed Baked Sweet Potatoes make for a complete gluten-free, nutrient-packed meal.  Prep these on the weekend for breakfasts, lunches, and dinners throughout the week!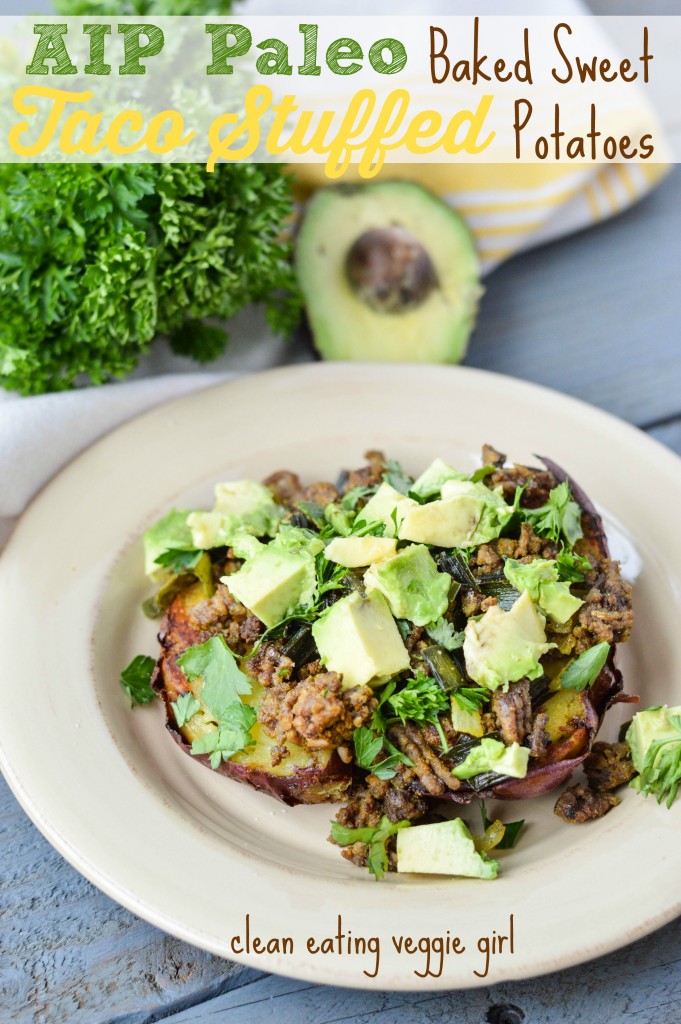 Today I am excited to be joining in on the Recipe Redux fun of monthly recipe creations.  If you are not familiar with what The Recipe Redux is, you can read more here.  Essentially, it is all about creating recipes that reinvent our favorites in a way that is both delicious and healthy.  And you know I love both of those things!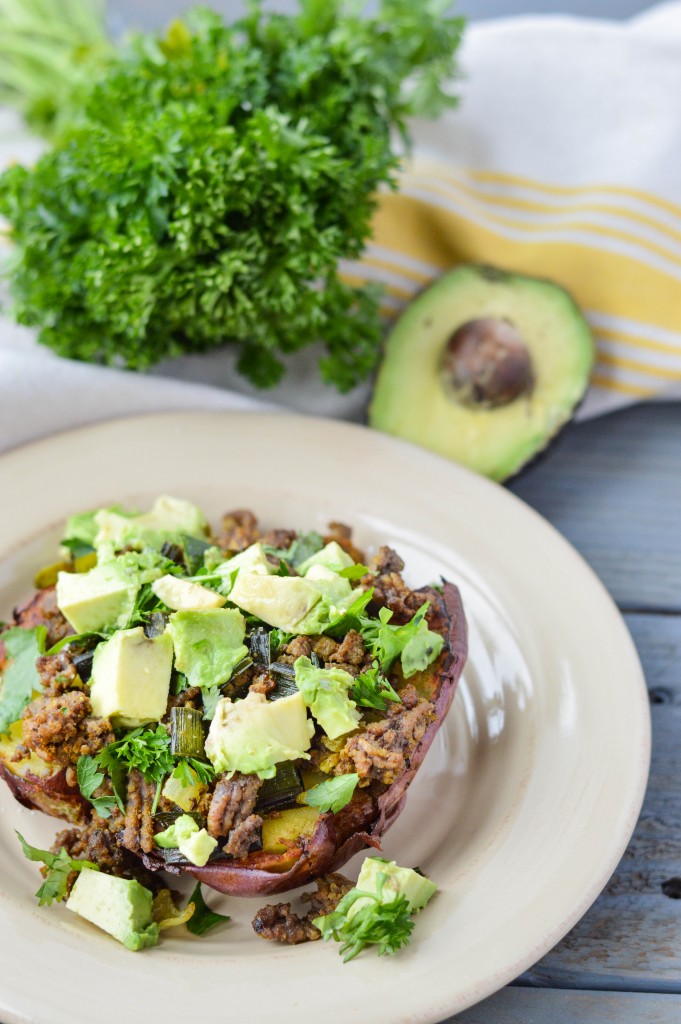 This month's theme centered around celebrating the fact that The Recipe Redux has been in existence for 54 months.  The challenge consisted of finding the nearest cookbook and ReDux-ing the recipe found on either page 54 or 154.  Since I just recently won several Paleo cookbooks in an Instagram giveaway, I had plenty of inspiration to pull from.  I flipped through a couple of the cookbooks, but when I landed on page 54 of The Frugal Paleo Cookbook, I instantly knew exactly what I was going to make.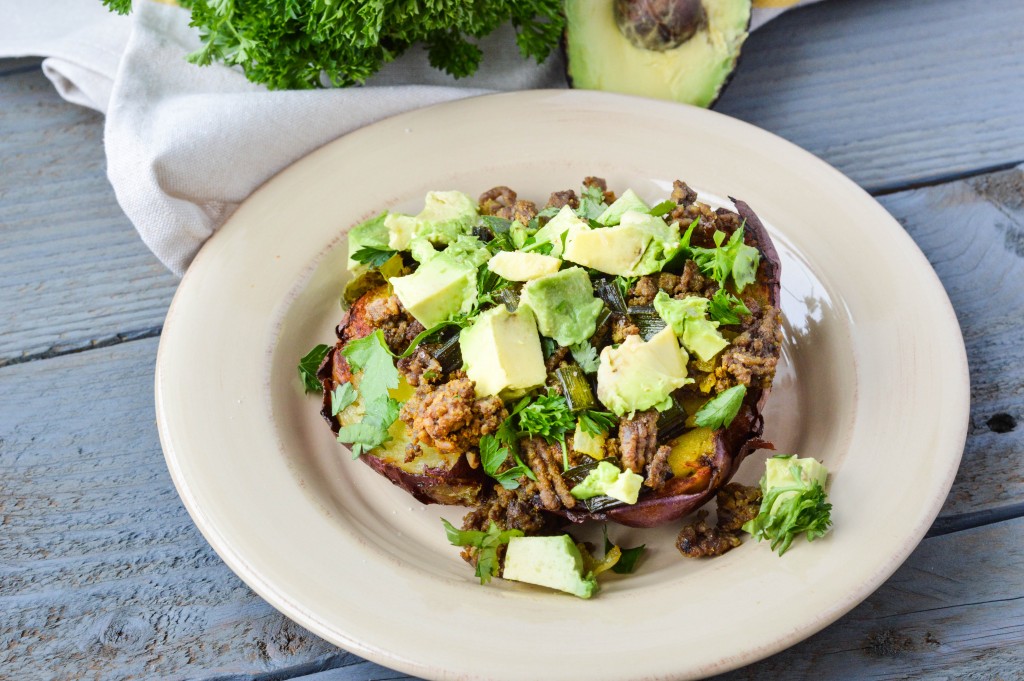 Ciarra's recipe for Irish Nachos instantly reminded me of a sweet potato-centered meal that I have been loving and making quite frequently lately.  It's a little something that I like to call AIP Paleo Taco Stuffed Baked Sweet Potatoes.  Since I have made it enough times over the past several weeks, I think it is only fitting that I share the recipe with you.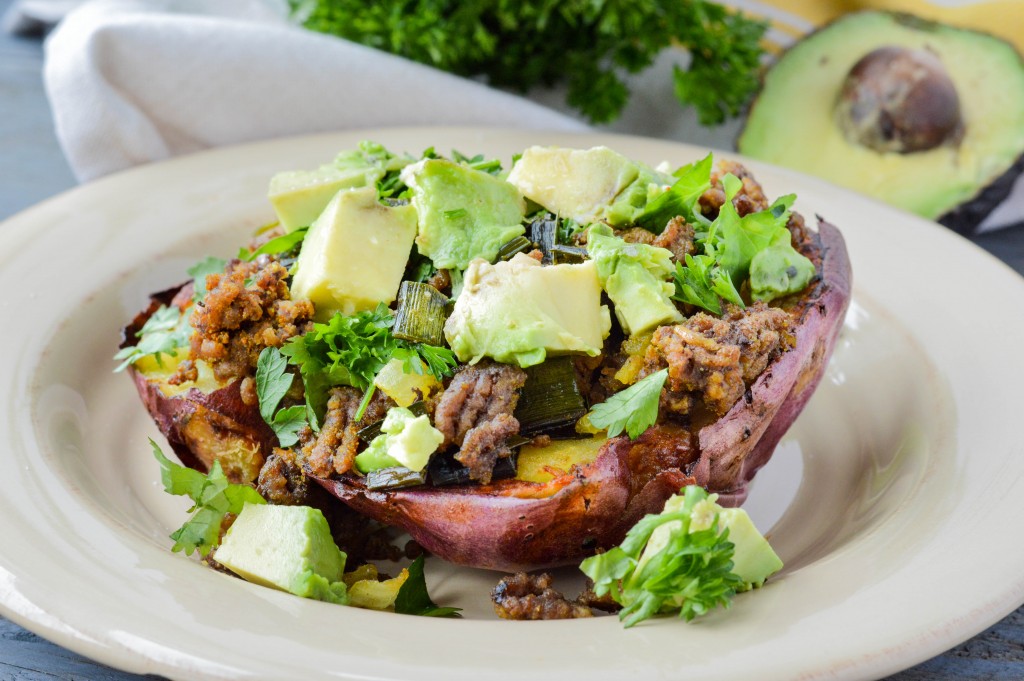 Traditional taco meat contains spices like chili powder, paprika, and cayenne pepper.  But those spices are a no-no on an AIP, nightshade-free diet.  Since I still suspect that nightshades and I do not play nice, I have been avoiding them like the plague.  Luckily, I have found the perfect way to create that spicy flavor in taco meat: turmeric!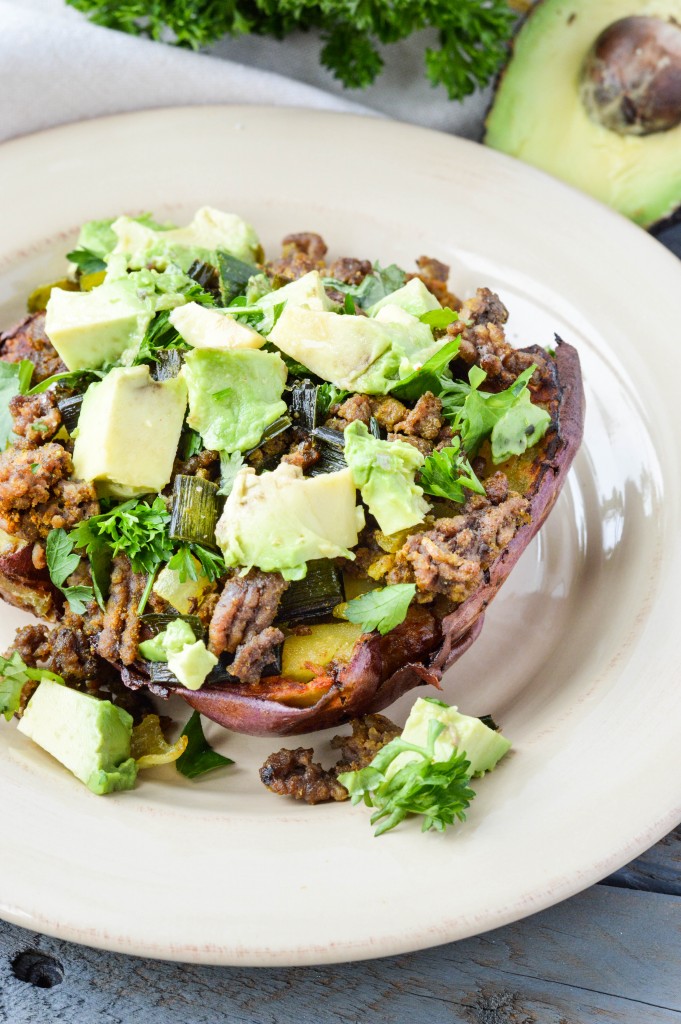 AIP Paleo Taco Stuffed Baked Sweet Potatoes
AIP Paleo, Gluten-Free, Grain-Free, Dairy-Free, Nightshade-Free, Egg-Free, Nut-Free, Soy-Free
Serves 4
Ingredients
4 medium sweet potatoes
1 pound of organic, grassfed beef
2 tsp unrefined coconut oil
greens of 4 leeks, cleaned and chopped
1/2 small yellow onion, diced
1 tsp pink Himalayan sea salt
1/2 tsp garlic powder
1/2 tsp onion powder
1 tsp ground turmeric
fresh parsley, chopped
fresh cilantro, chopped
2 ripe avocados
Directions
1. Preheat oven to 425 degrees F.  Wash and scrub potatoes until clean.  Pat dry and pierce several times with a fork.  Bake on a baking sheet for 45 to 60 minutes, or until a knife can be easily inserted into the center of each potato.  Remove from the oven to cool slightly.
2. With approximately 20 minutes left in the potato baking process, brown ground beef over medium heat.
3. While the beef is cooking, heat coconut oil in a large skillet over medium-high heat.  Once hot, lower the heat to medium and add leek greens and onions.  Cook for approximately 10 to 12 minutes, or until softened.
4. Once the beef has been cooked to desired temperature, add it to the skillet with the leek greens and onions.  Season with sea salt, garlic powder, onion powder, and turmeric.
5. After the baked sweet potatoes have cooled slightly, slice them open with a knife and stuff them with the taco meat.
6. Top each potato with fresh parsley, cilantro, and diced avocado.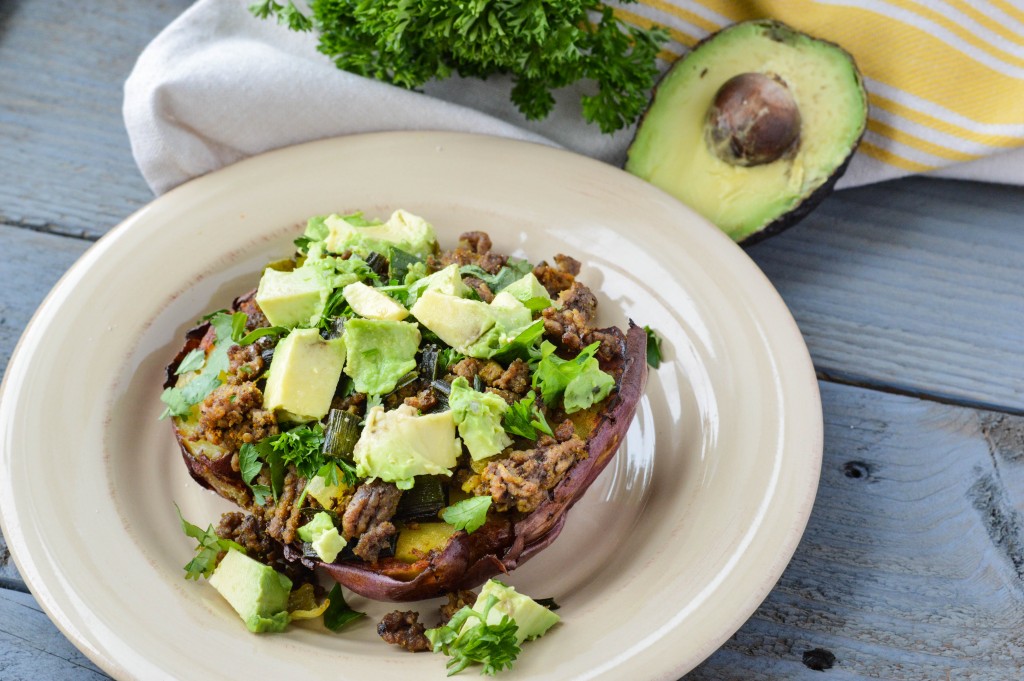 My AIP Paleo Taco Stuffed Baked Sweet Potatoes contain healthy fats, protein, and veggies.  They make for the perfect nutrient-rich meal for breakfast, lunch, or dinner, and squash all of my cravings for nachos, tacos, and basically anything Mexican-inspired.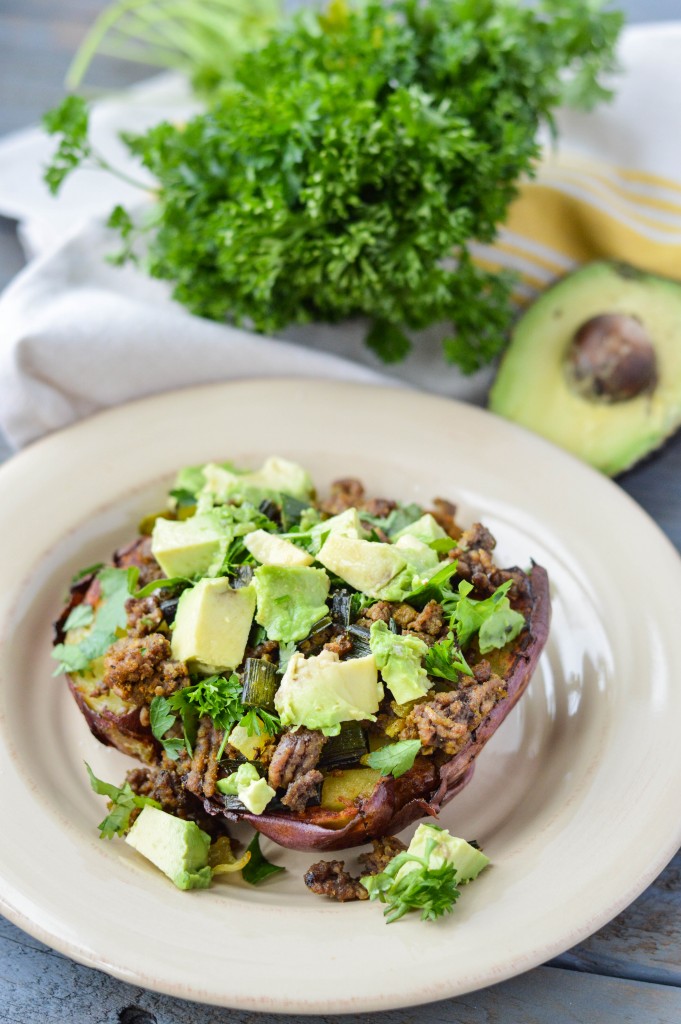 Make these AIP #Paleo Taco Stuffed Baked Sweet Potatoes! #glutenfree #recipe Click To Tweet
If you happen to be running low on time and still want to make these, be sure to check out my tutorial on How to Make a Baked Sweet Potato in the Microwave!
Which cookbooks have you been loving lately?
What do you stuff your tators with?
This post contains an affiliate link.  Thank you for supporting CEVG and enabling me to continue working towards better health!