An Easy Paleo Turkey and Veggie Stir-Fry that comes together in no time and is the perfect clean-out-the-fridge meal.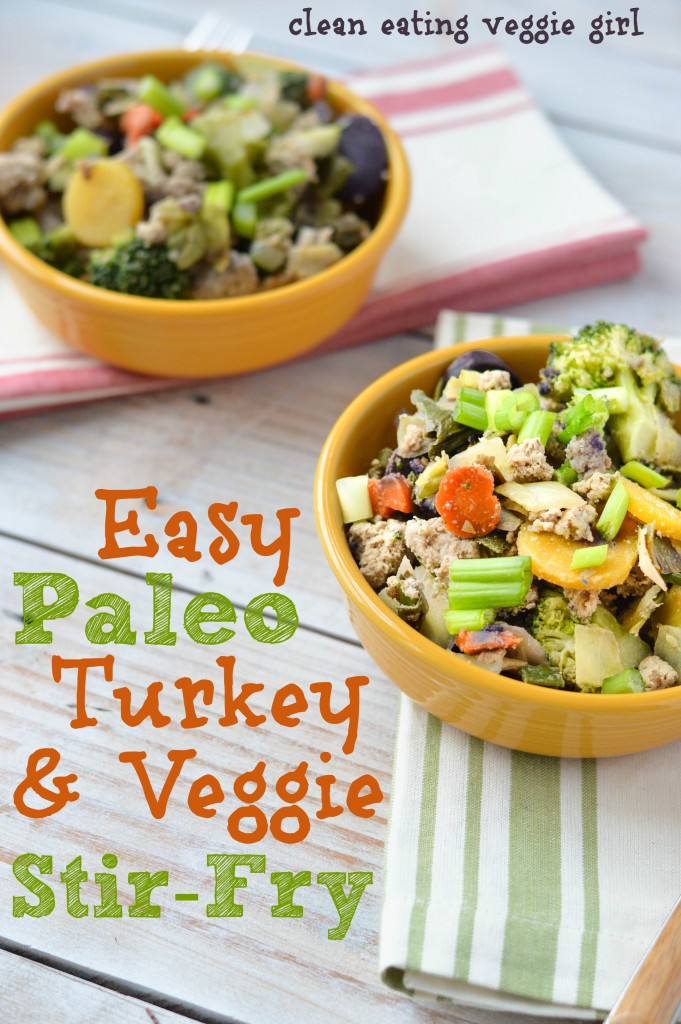 By the time Thursday evening rolls around, my fridge is bare and my creative cooking juices are lacking.  Since I do the majority of my grocery shopping on Friday and Saturday, the bulk of my fresh meat and veggie ingredients have already gone in and out of my kitchen in a plethora of tasty Paleo dishes.  As a result, it tends to be slim pickings towards the end of the work week.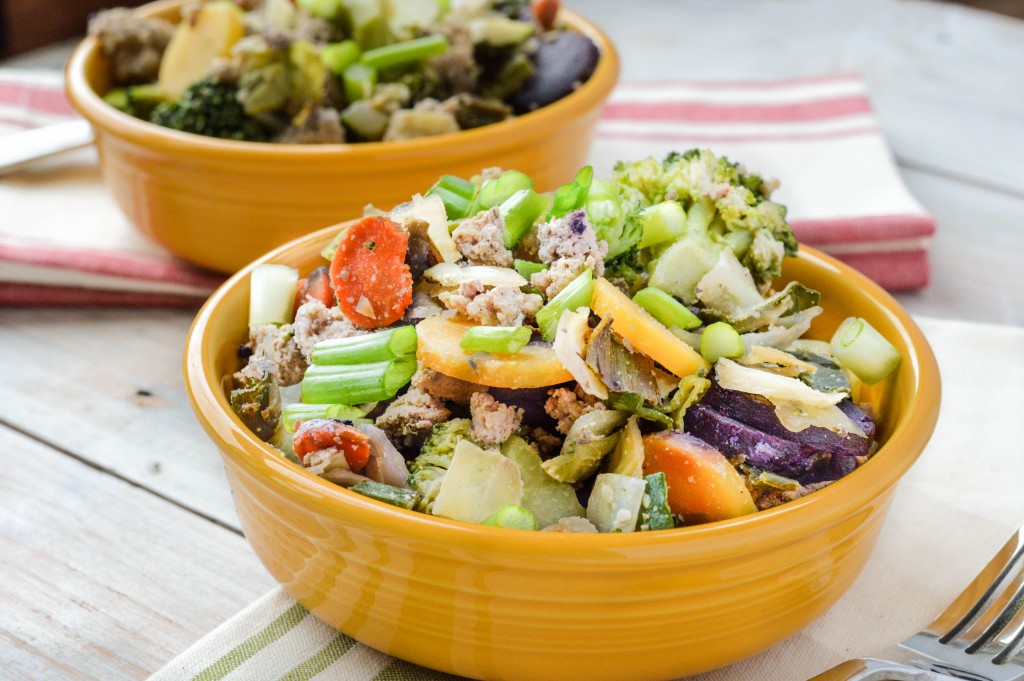 But that does not mean I'm going to be noshing on a bowl of cereal (though I'd love a Paleo version) for dinner.  Oh no.  On those evenings I take to my freezer and refrigerator to whip up a super simple, yet delicious stir-fry.  It also does not hurt that it is veggie-packed and full of nutrients.  Not bad for a quick throw-together dinner, eh?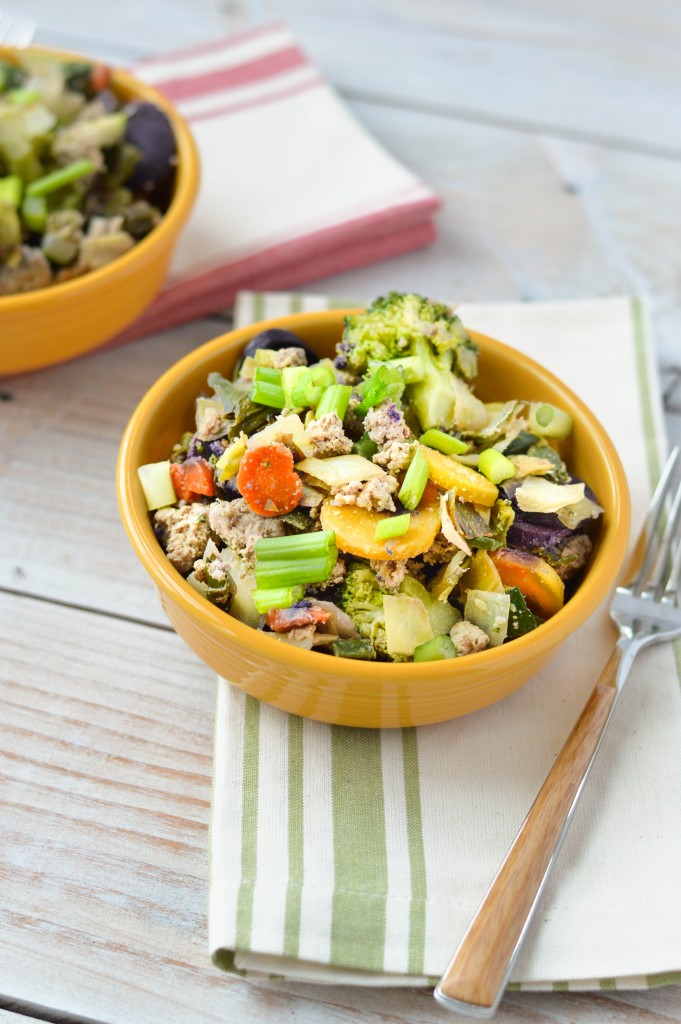 All of my easy stir-fries are made up of four main ingredients:
veggies
a meat (tofu or beans will definitely work if not Paleo)
coconut aminos (Bragg's Aminos or soy sauce will work if not gluten-free)
spices
I can almost guarantee that you already have all of these in your freezer, fridge, and pantry.  Hence, the "easy" part of this recipe.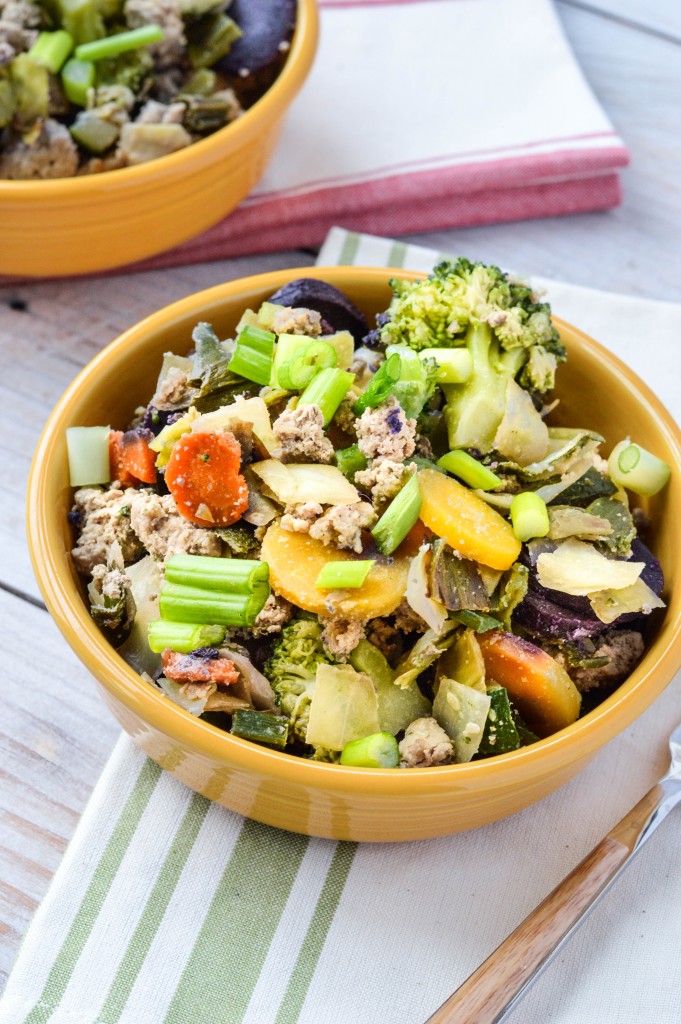 Easy Paleo Turkey and Veggie Stir-Fry
Paleo, Gluten-Free, Grain-Free, Nightshade-Free, Dairy-Free, Nut-Free, Egg-Free, Soy-Free, Whole 30
Serves 4
Ingredients
1 pound of ground pasture-raised turkey (grassfed beef works great, too)
2 TB organic unrefined coconut oil
2 leeks, cleaned and sliced
1 medium head of green cabbage, chopped or shredded
1 medium zucchini, chopped
10 oz bag of frozen chopped broccoli*
10 oz bag of frozen sliced carrots*
1/4 cup coconut aminos
1 tsp fine sea salt
2 tsp garlic powder
1 tsp onion powder
1 tsp ground ginger or 2 tsp fresh minced ginger
green onions, sliced for garnish
*Use any frozen veggies that you like.  Cauliflower, sweet potatoes, butternut squash, and green beans are also favorites of mine.
Directions
1. In a medium skillet, brown the ground turkey over medium heat, or until cooked through.  This should take approximately 12 to 15 minutes.  Drain any excess grease, if desired.
2. While the turkey is browning, heat coconut oil over medium-high heat in a large skillet.  Once hot, lower the heat to medium and stir in leeks and cabbage.  Cover and cook for approximately 10 minutes, stirring every few minutes.
3. Once the leeks and cabbage have softened, add zucchini.  Cover and continue cooking for an additional five minutes.
4. Add frozen veggies of choice to the skillet, cover, and saute for approximately 10 minutes, or until cooked through.
5. Stir in cooked turkey, coconut aminos, and spices.  Turn the heat down to medium-low and simmer for three to five minutes.
6. Top with diced green onions to serve.  Chopped avocado would be another great topping addition.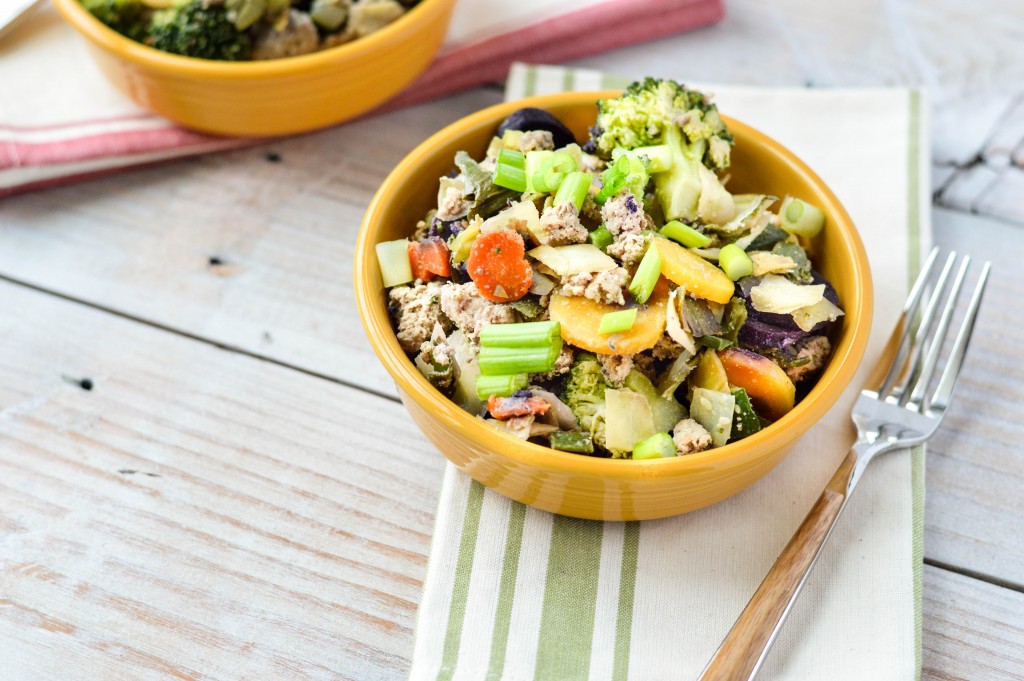 In 30 minutes or less, dinner is served and you have successfully prevented food-wasting at the end of the week.  I'd say that is a double win!
A Super Easy #Paleo Turkey and Veggie Stir-Fry for a quick week night dinner! #glutenfree
Click To Tweet
What is your go-to "clean out the fridge" meal?
Which veggies would you throw in a stir-fry?
This post contains an affiliate link.  Thank you for supporting CEVG and enabling me to continue working towards better health!