The perfect vegetarian version of a classic comfort food.  It is not chicken noodle soup.  It is chickpea noodle soup.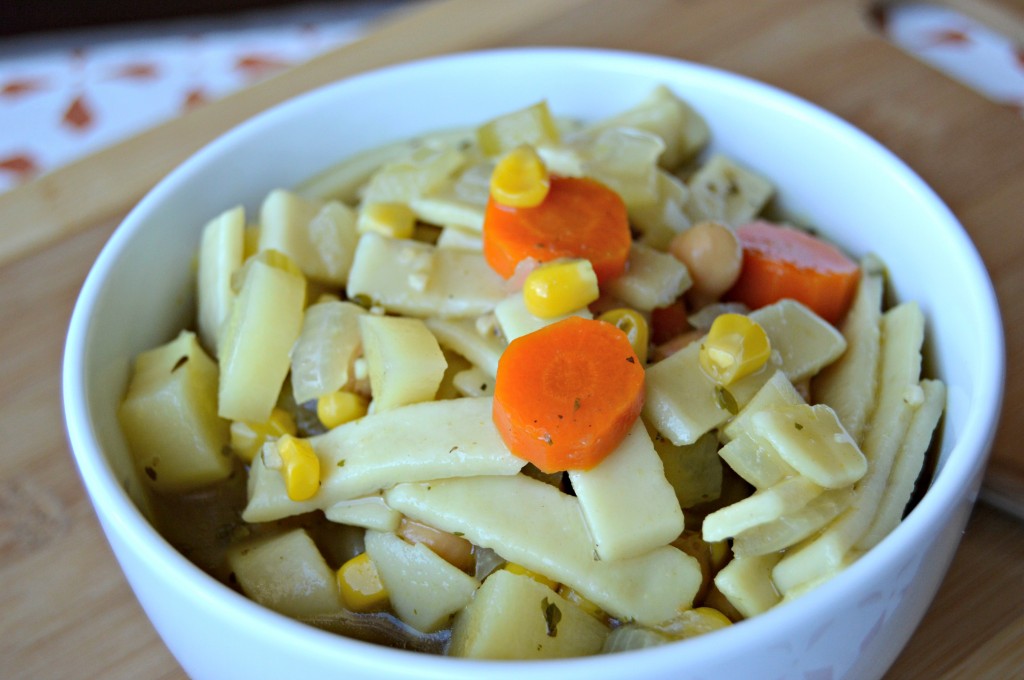 I have been writing this little blog for over two years now and have posted countless breakfast, lunch, dinner, and dessert recipes over these past 26 months.  I have a feeling, however, that some of my favorite recipes have gotten a bit lost in the shuffle, especially those that I shared within the first year of Clean Eating Veggie Girl's existence.  After much thought, I have decided that it would be fun to start looking back on some of my favorite older recipes.  I don't have any set plan on how often or when I will be posting these "Recipe Revisited" posts, but you can expect them now and then- mostly after I have gotten a craving for a specific dish and made the recipe!
The first recipe that I am going to revisit with you is one of my all-time favorite soups from here on CEVG.  And that is saying a lot because I have quite a few soup recipes.  And what better timing for a soup revisit than the month of October when the chilly weather really hits?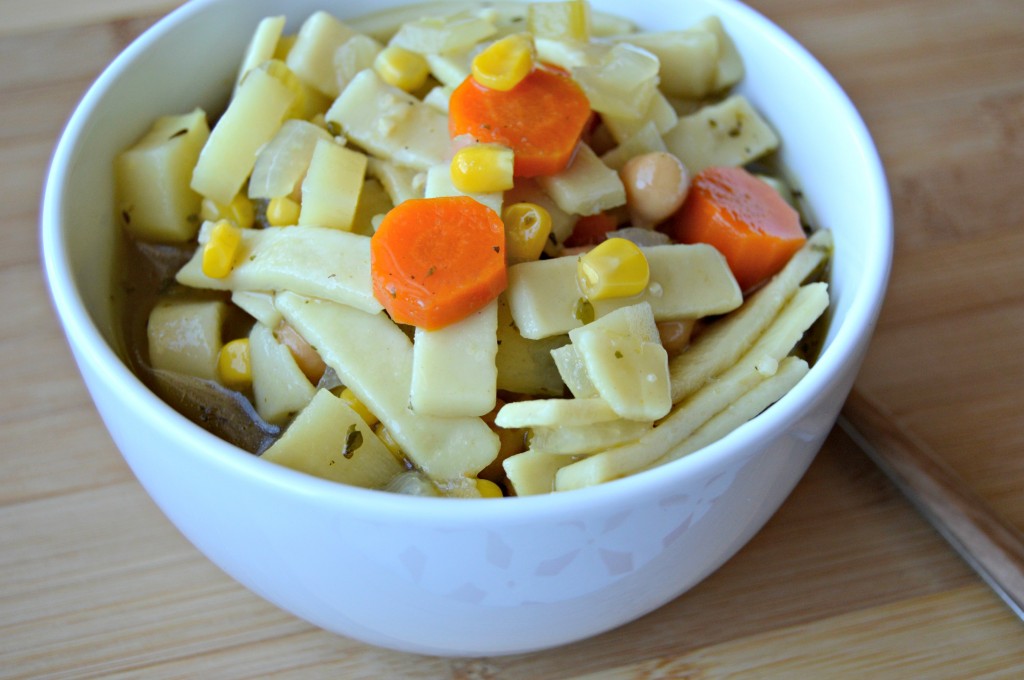 I first shared my "No Chicken" Noodle Chickpea Soup back in November of 2012.  I created it when I was still living at home with my parents and received great reviews.  We all agreed that it tasted like chicken noodle soup, but without the chicken!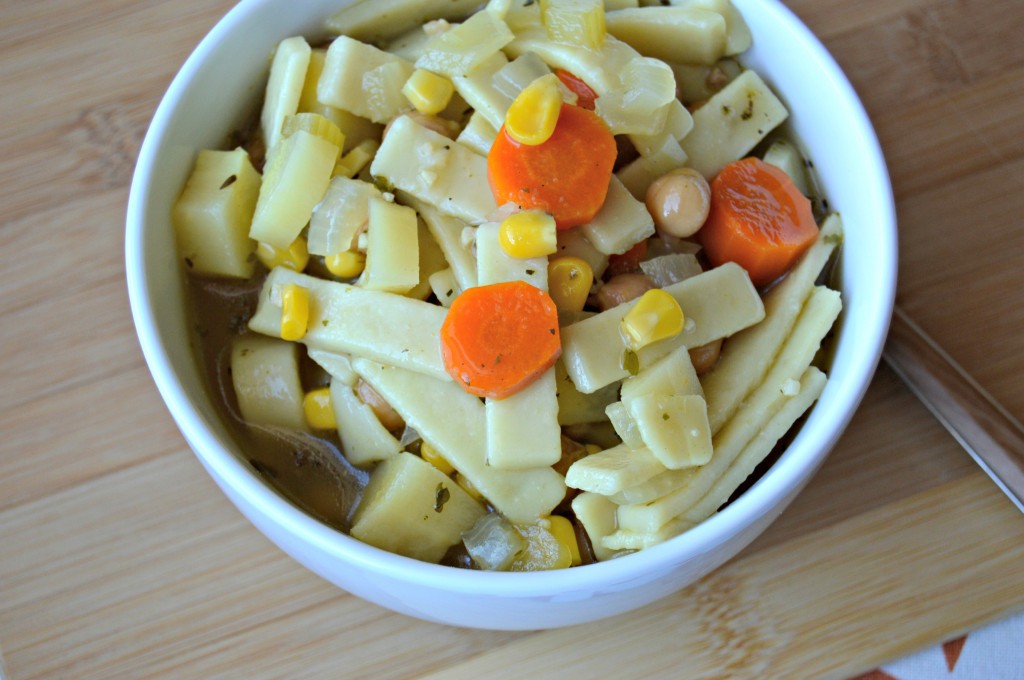 My go-to chicken replacement in 95% of the recipes that I make is always a can or two of chickpeas.  No it is not because "chickpeas" and "chicken" are almost the same word.  It is actually because the texture and taste of chickpeas are quite similar to that of chicken- or at least what I somewhat remember chicken tasting like.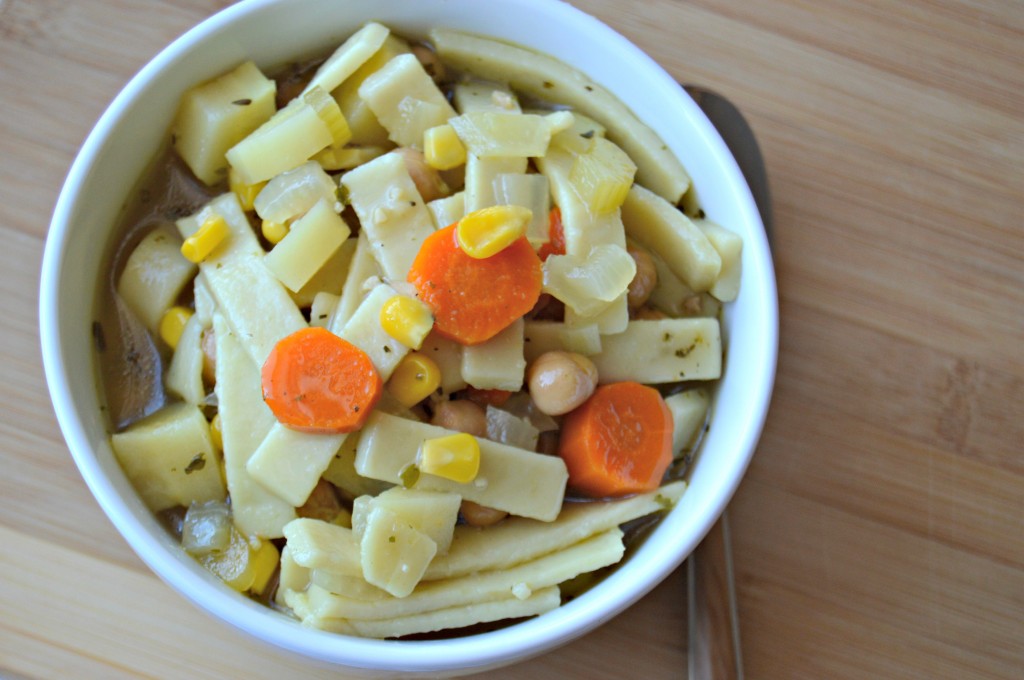 Trust me when I say that the chickpeas completely suffice for the chicken in this recipe.  Chicken noodle soup is a classic and this chicken-less soup tastes like the classic.  I promise this will become a Fall and Winter staple in your house.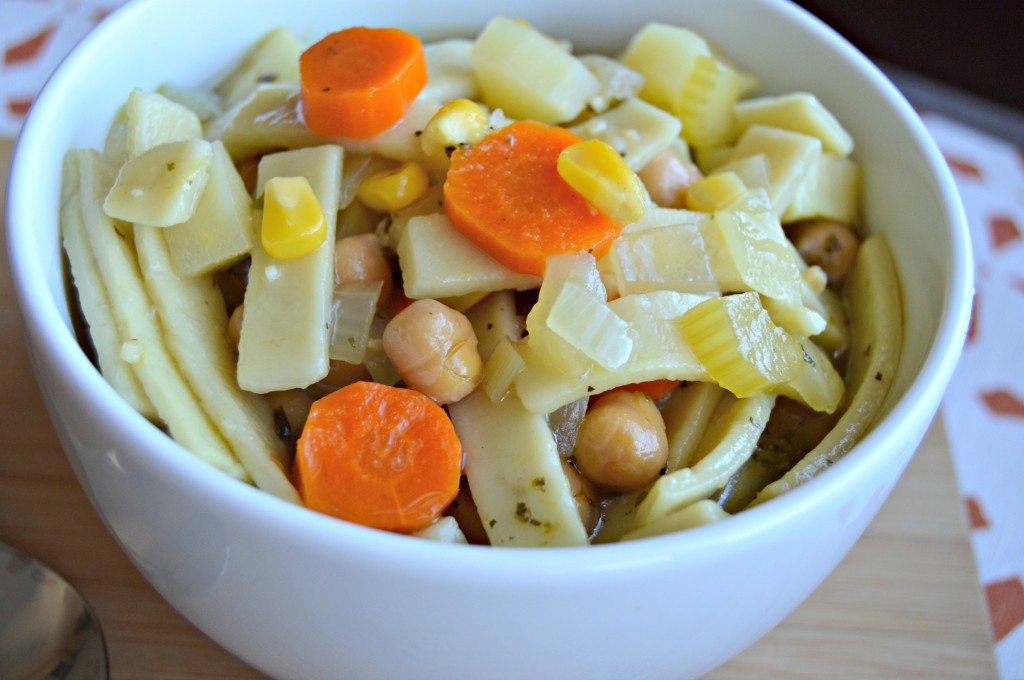 "No Chicken" Noodle Chickpea Soup
Serves: 6 to 8
Ingredients
water, for cooking
4 cloves of garlic, minced
1 small yellow onion, diced
2 medium parsnips, peeled and cut into half-moons
3 medium carrots, peeled and cut into half-moons
3 stalks of celery, cut into half-moons
2 15 oz cans of chickpeas, drained and rinsed
1 can of no-salt-added corn, drained and rinsed
6 cups of water
7 tsp of Better Than Bouillon No Chicken Base
3/4 of a tsp of black pepper
1/4 tsp of dried thyme
1/4 tsp of dried basil
1/2 tsp of dried parsley
1/2 tsp of fine sea salt
1/2 tsp of Italian seasoning
16 oz package of frozen egg noodles
Directions
1. Line a large soup pot with a thin layer of water.  Heat the water on medium-high heat until very hot.  Add in garlic and onions and cook over medium heat for approximately 5 minutes, or until the onions begin to soften.  Add additional water, if necessary.
2. Add parsnips, carrots, and celery to the soup pot.  Cook for approximately 5-7 minutes, stirring occasionally.
3. Add chickpeas, corn, water, soup base, and seasonings to the mix.  Stir, return heat to medium-high, and bring to a boil.
4. Once the soup is boiling, add frozen egg noodles.  Return to a boil, then lower the heat to medium-low, cover, and simmer for approximately 15-20 minutes.
5. Serve with crackers, tortilla chips, rice cakes, or bread.  Or heck, all four if you are feeling crazy!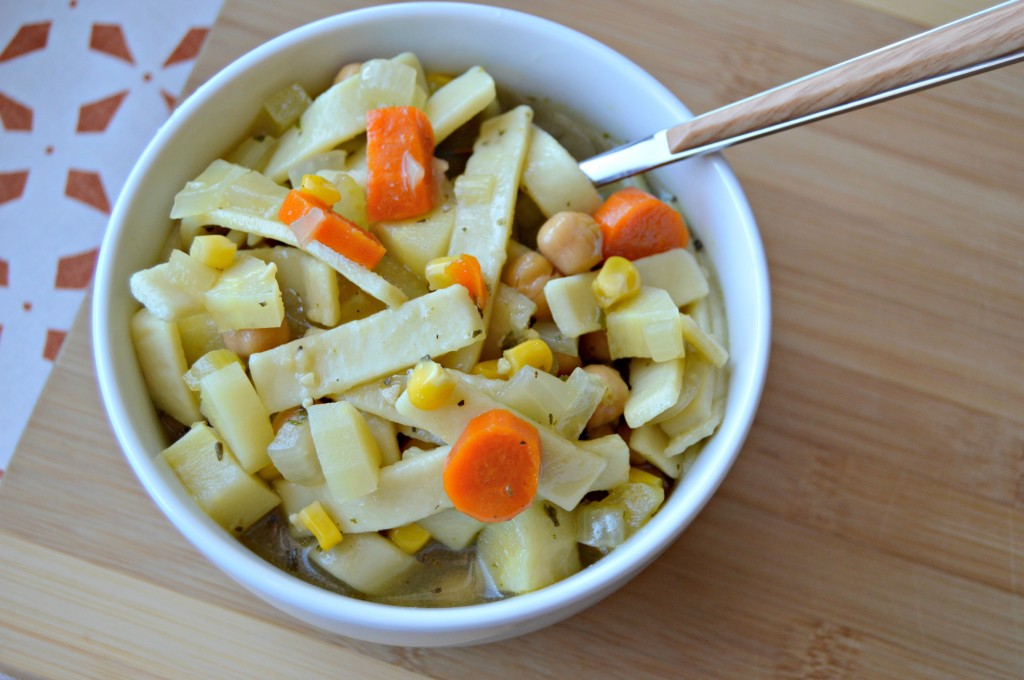 I like to go heavy on the noodles and veggies, and light on the "chicken" broth.  I am a chunky soup kind of girl.  In fact, I would be perfectly happy just eating the noodles and veggies if it were not for the fact that I need the broth as a good excuse to eat copious amounts of crackers and bread.  Soup broth calls for major carbohydrate dippage.
Please share your favorite Fall and Winter soup recipes in the comments!
If you like what you see, please pin and share on Facebook and Twitter using the share buttons below.