AIP Paleo and gluten-free Chimichurri Cauliflower Rice Burrito Bowls that will have you saying, "Chipotle, who?"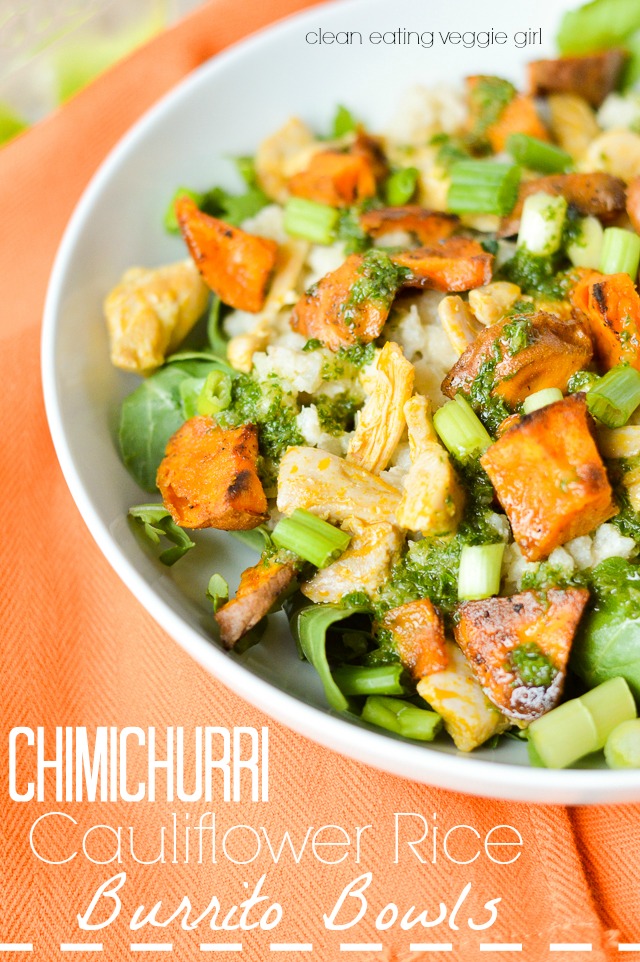 This here burrito bowl is a classic in our house.  Or, maybe I should say the original version (without my two latest and greatest additions) was the classic and this is the majorly upgraded version.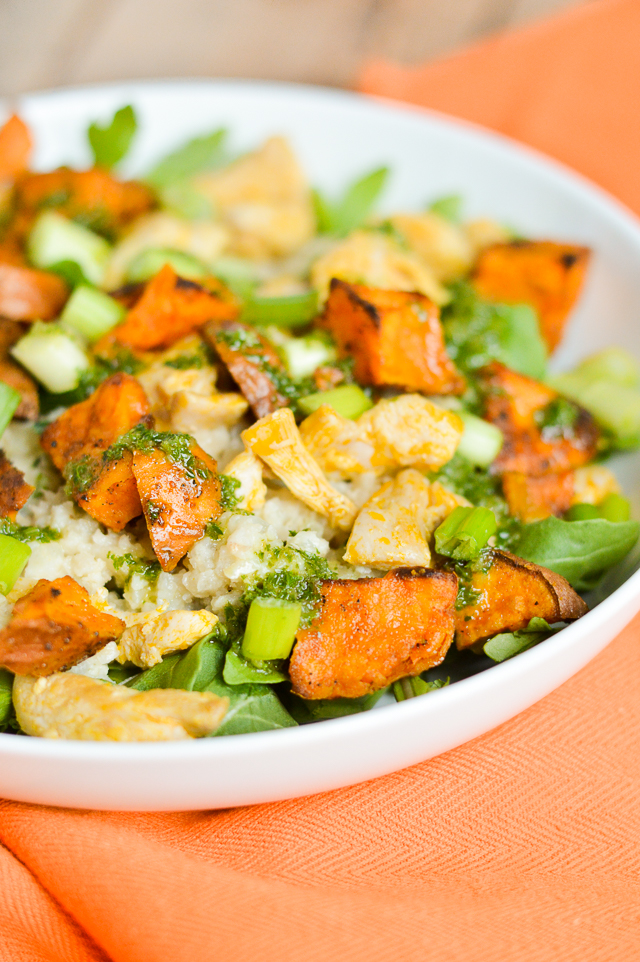 Now I am not knocking the original version because it has been made over and over again, and neither Jeremy nor I have tired of it.  But this version is just over-the-top good.  So good that I have to share it with you.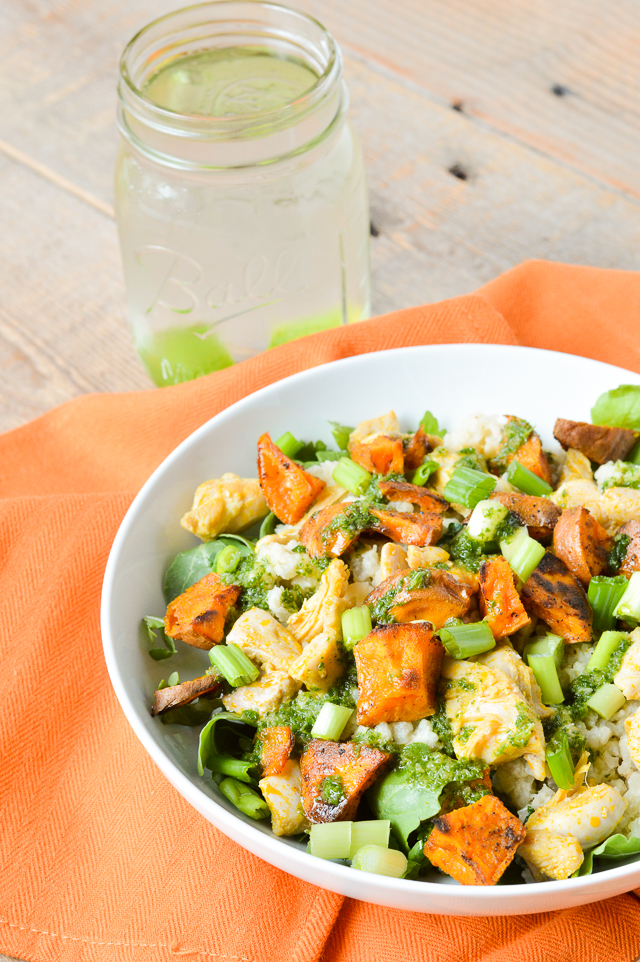 So what makes this version so special?  Two things:
Chimichurri Sauce
Full-Fat Coconut Cream
I have a feeling that you saw the chimichurri sauce thing coming (hello, it is the first word in the title, after all), but coconut cream?  That addition may sound a bit strange, but hear me out.
I 100% promise that using coconut cream in this recipe will not taste at all like you are eating cauliflower rice topped with a bunch of coconut.  It really does not add much sweetness at all, but instead makes it so perfectly creamy.  I essentially equate it to adding sour cream to burrito bowls, but without the dairy.  So in other words, it tastes just as good but is better for you.  'Gotta love those healthy fats!
Chimichurri Cauliflower Rice Burrito Bowls
AIP Paleo, Gluten-Free, Grain-Free, Dairy-Free, Egg-Free, Soy-Free, Nightshade-Free, Nut-Free, Whole 30
Serves 4
Ingredients

1 LB meat of choice (I used organic boneless, skinless chicken thighs, but grassfed beef or pasture-raised pork are great options)
2 large sweet potatoes, chopped into 1/2-inch pieces
2 TB of organic red palm oil
2 tsp of fine sea salt
2 tsp of onion powder
1 tsp of ground turmeric
1/4 cup of organic virgin coconut oil
4 cups of riced cauliflower (prepared or "rice" your own)
1/2 cup of organic full-fat coconut cream (check ingredients for AIP-compliant)
1/2 cup of fresh cilantro, chopped
the juice of one small lime
2 tsp of fine sea salt
2 tsp of garlic powder
2 tsp of onion powder
1 head of organic butter or Romaine lettuce, shredded
1/2 cup of chimichurri sauce
1/2 cup of green or red onion, chopped
1/2 cup of black olives, optional
Directions
1. Prepare meat of choice, set aside.  I simply cut my chicken thighs into 1-inch pieces and fried them in red palm oil.  Ground beef or slower cooker pork are just as delicious!
2. While the meat is cooking, preheat the oven to 425 F.  Line a baking sheet with parchment paper.  Combine sweet potatoes, red palm oil, sea salt, onion powder, and turmeric in a medium bowl.  Stir until well-coated.  Place the potatoes onto the baking sheet and roast for approximately 25 to 30 minutes, stirring halfway through.
3. Once the sweet potatoes are in the oven, heat the coconut oil in a large skillet over medium-high heat.  Once hot, lower the heat to medium and add the riced cauliflower.  Cover and cook for approximately 15 to 20 minutes, stirring often.  Once the cauliflower is cooked through, stir in the coconut cream, cilantro, lime juice, salt, garlic powder, and onion powder.
4. Create your bowls by layering the lettuce, cauliflower rice, sweet potatoes, and meat of choice.  Top them each with the chimichurri sauce, onions, black olives, or other toppings, if desired.  I have a feeling guacamole would be a great addition!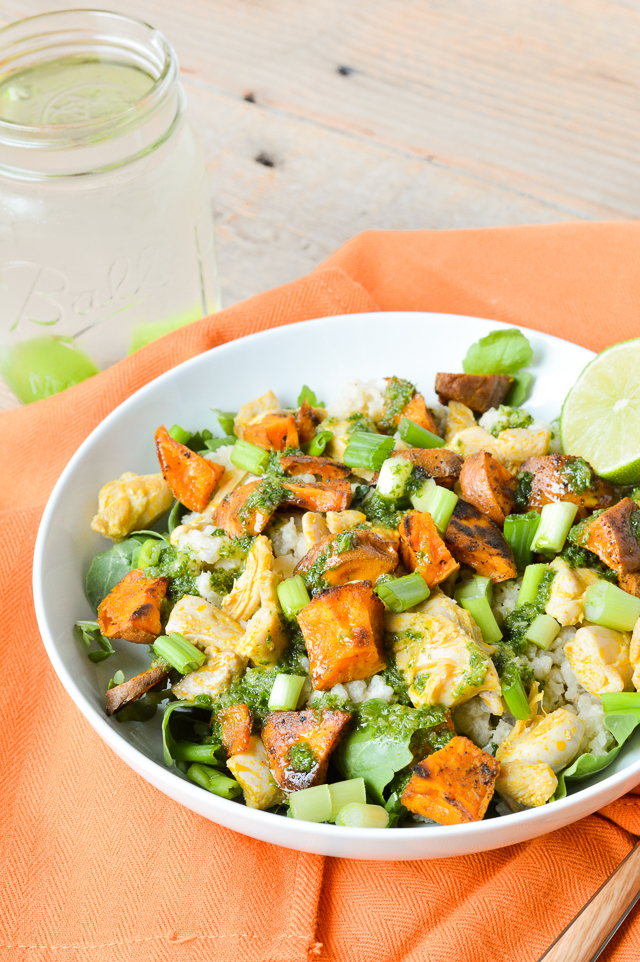 This bowl is packed to the brim with veggies, healthy fats, and protein.  It is also proof that even the most nutritious of foods are truly delicious!
Please add chimichurri sauce and full-fat coconut cream to your next burrito bowl.  Pretty please.  I promise you will love it.
Major flavors are happening with this Chimichurri Cauliflower Rice Burrito Bowl! #Paleo
Click To Tweet
This post contains affiliate links.  Thank you for supporting CEVG and enabling me to continue working towards better health!