It's The Best Egg-Free Paleo Breakfast Hash, and it just so happens to be gluten-free and Whole 30-approved!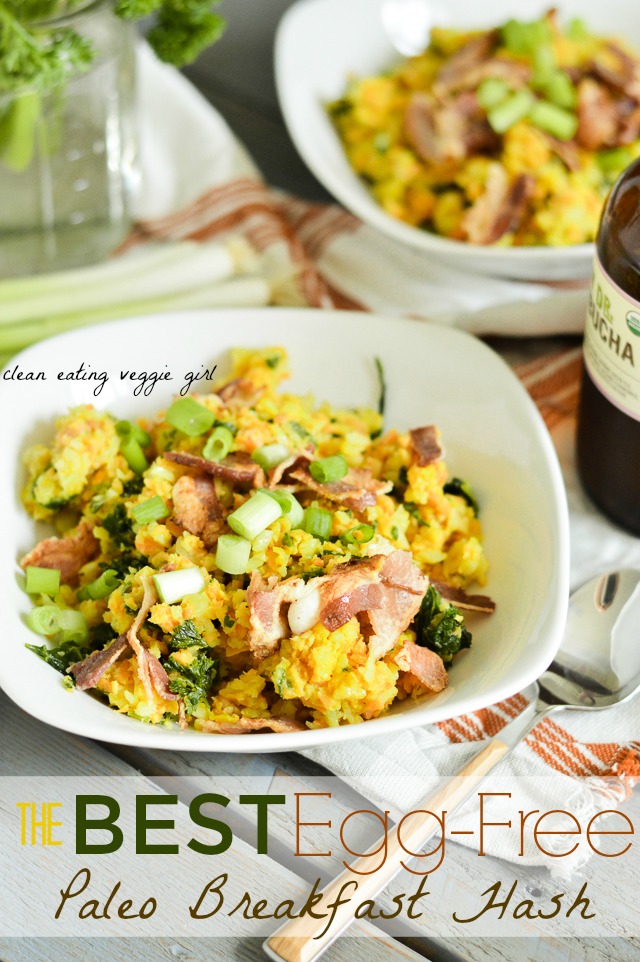 When Jeremy and I bought our first home together in June, one of the things I was most excited about was the "fun" things that come along with owning a house.  Not the bills, yard work, or house work, but the things like decorating our home and handing out treats on Halloween.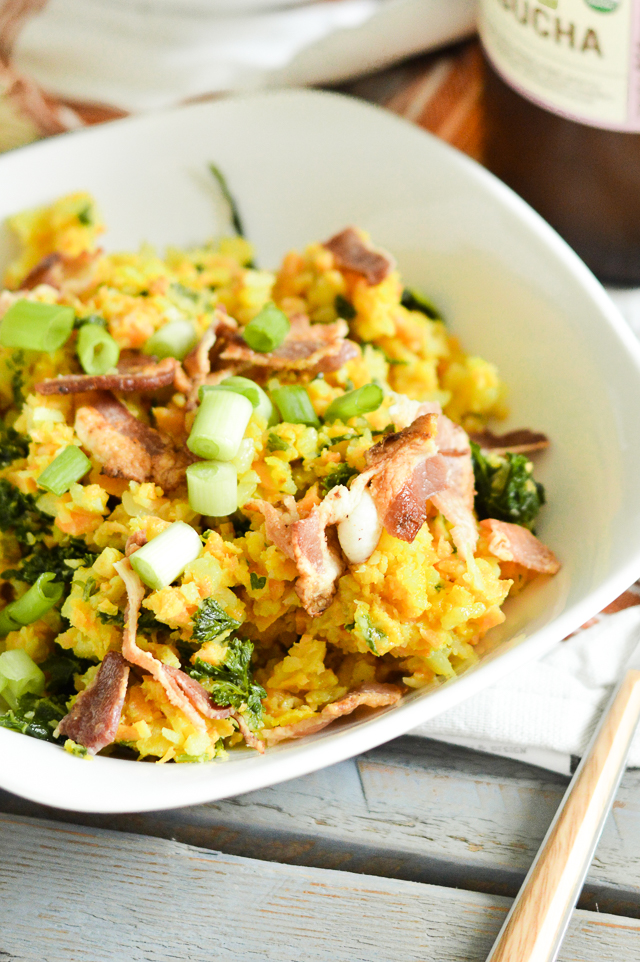 Except apparently not because even though we live in a very family-friendly neighborhood, there are not actually that many ghosts and witches (or whatever is "cool" these days) running around.  I'm writing up this recipe post while sitting on my front stoop with our organic treats <– I'm sure that doesn't surprise you one bit, and I have literally handed suckers and bunny grahams out to two children in the span of 30 minutes.  TWO!  I guess that means that if anyone else shows up, they are getting an entire handful.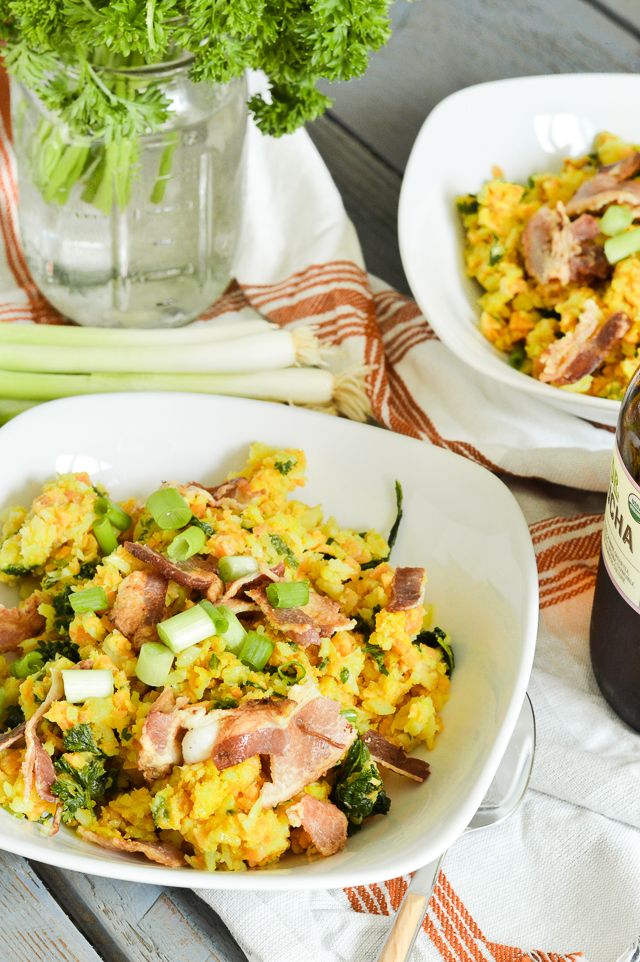 But enough about my Halloween sorrows.  Let's talk about the things I am happy about.  Like the fact that it is November, which practically means it is Thanksgiving and Christmas time.  Or the fact that the first snowfall is likely right around the corner.  But if snow isn't your thing, I bet you'll at least be on board with this breakfast recipe, which is another thing making me happy lately.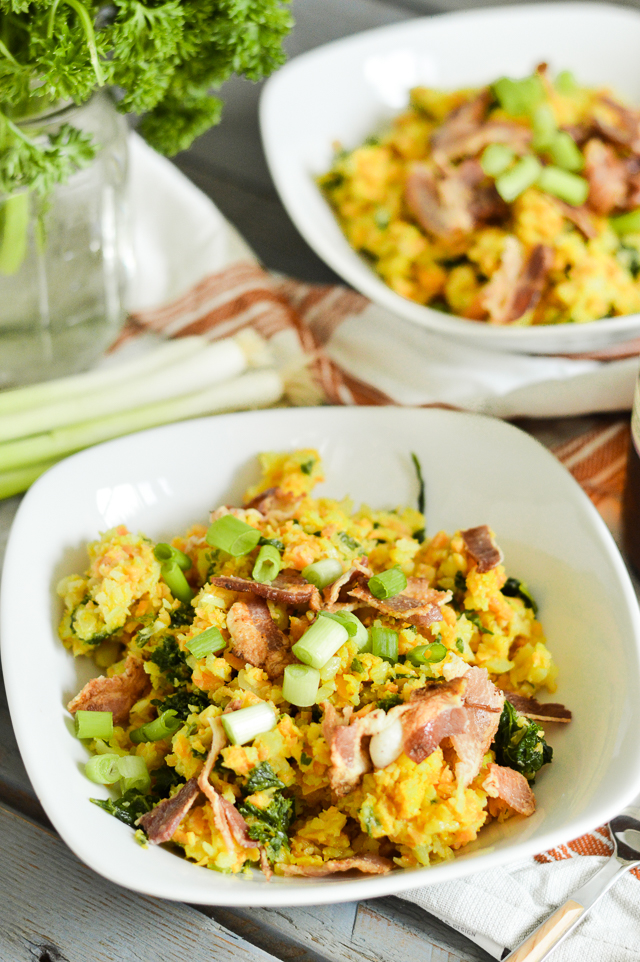 I originally had zero plans to share this on the blog since it was literally a "wing it" kind of night the first time I made it.  But then it was actually crazy good while also being the perfect egg-free paleo breakfast idea.  Lord knows those can be hard to find.  So basically what I am trying to say to you egg-free people is: you're welcome.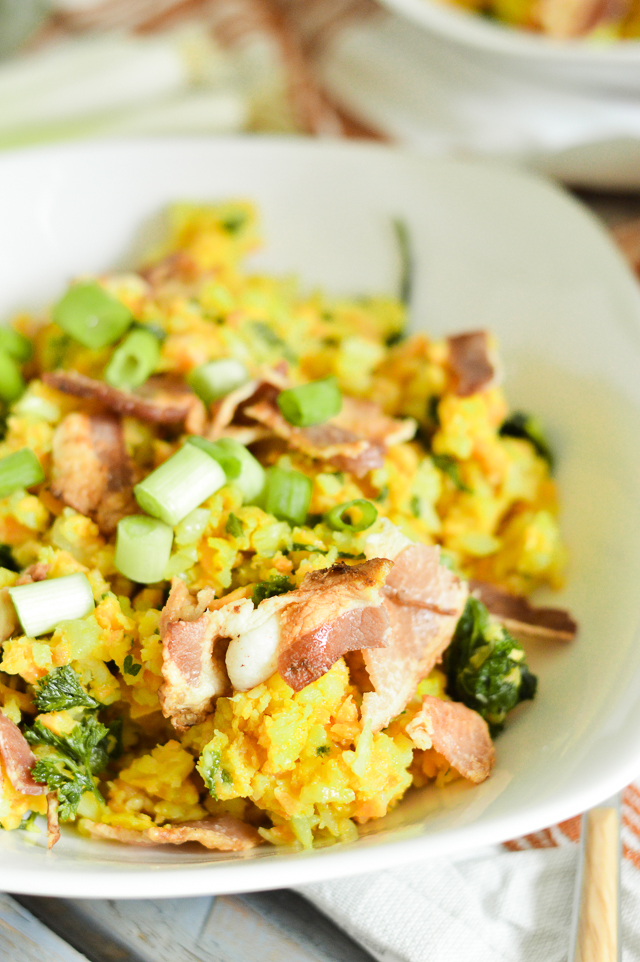 P.S. I will totally not be offended if you top this with a fried or poached egg.  Trust me, if I was tolerating eggs right now, I would most definitely be doing that!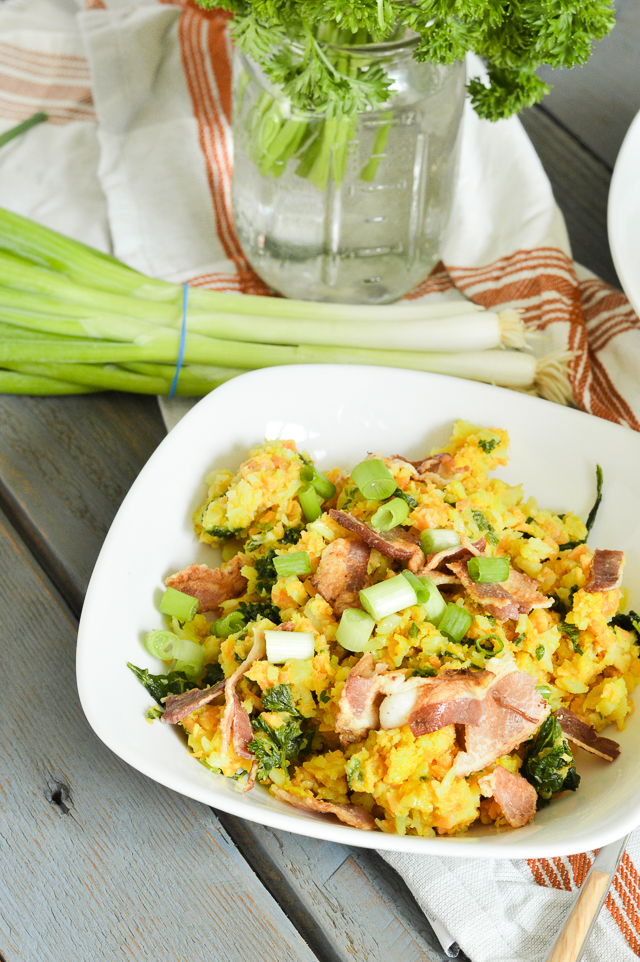 The Best Egg-Free Paleo Breakfast Hash
AIP Paleo, Gluten-Free, Grain-Free, Dairy-Free, Egg-Free, Soy-Free, Nightshade-Free, Nut-Free, Whole 30
Serves 4
Ingredients
1 10 oz package of organic, nitrate-free bacon (AIP-compliant, if needed)
4 large organic parsnips, peeled
3 large organic sweet potatoes, peeled
1 large organic rutabaga, peeled
1/3 cup of organic coconut, avocado, or extra virgin olive oil
1/2 bunch of organic lacinato kale, cut into half-inch pieces
1/4 cup of fresh curly parsley or cilantro, chopped
2 tsp fine sea salt
1 TB onion powder
1 TB garlic powder
2 tsp ground turmeric
1 tsp ground ginger
green onions, optional
Directions
1. Cook bacon according to package directions in a large frying pan.  You will likely need to do this in two batches.  Place onto a plate covered with a paper towel to soak up excess grease.  Once cooled, crumble bacon slices.
2. While the bacon is cooking, use a food processor, grater, or spiralizer to create either "rice" or "noodles" with your vegetables.  I have made both and enjoyed them equally.
3. Heat oil of choice in a large skillet (preferably with high sides) over medium-high heat.  Once hot, lower the heat to medium and add the veggies.  Cover and cook for approximately 15 to 20 minutes, or until softened.  Be sure to stir them frequently, as they will stick easily in stainless steel pans.  Add additional oil, if necessary.
4. Stir in kale, herbs, and seasonings.  Top with crumbled bacon and chopped green onions.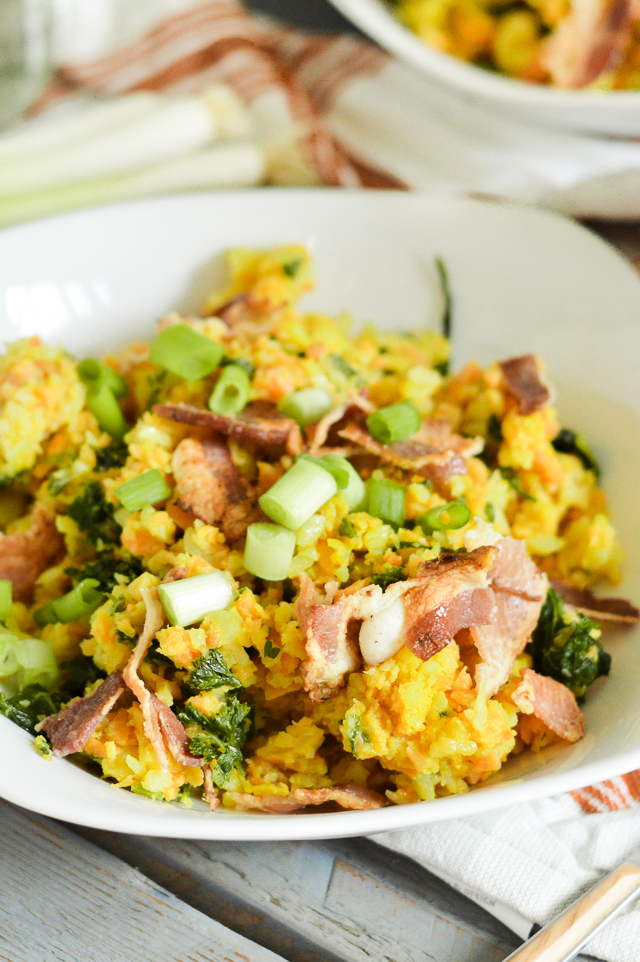 And in case you are curious, I have now handed out treats to about 25 children.  I guess we'll have to settle for that!
The Best Egg Free #Paleo Breakfast Hash Recipe!
Click To Tweet
This post contains affiliate links.  Thank you for supporting CEVG and enabling me to continue working towards better health!