Weeknight dinner is served in under 30 minutes with this Chimichurri Chicken and Veggie Stir-Fry.  It also happens to be AIP Paleo and Whole 30-approved!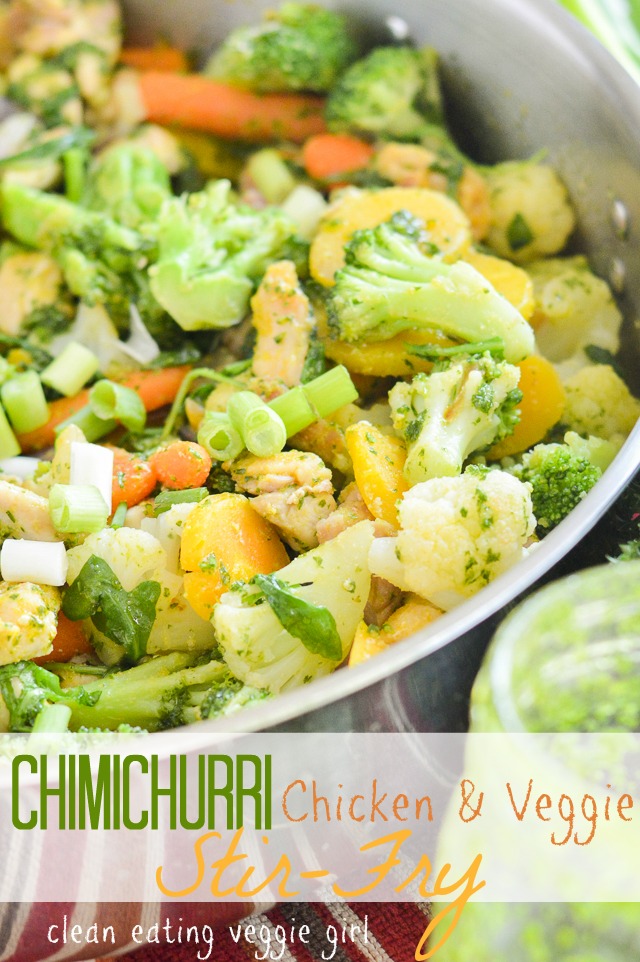 Well hello there, friends!  Things have been a wee bit quiet around here lately.  I blame it on the fact that my weekends have been crazy busy, lighting in the evenings has been terrible (and will only be getting worse), and I have entered into one of the busiest times of the year at work.  Also, to be completely honest, I have just downright not been in the blogging mood.  So in this season of business and craziness paired with my intentional work towards healing, I am feeling a-okay with saying no when I need to say no.  Lately, saying no to blogging three times per week has been needed to keep my stress levels down.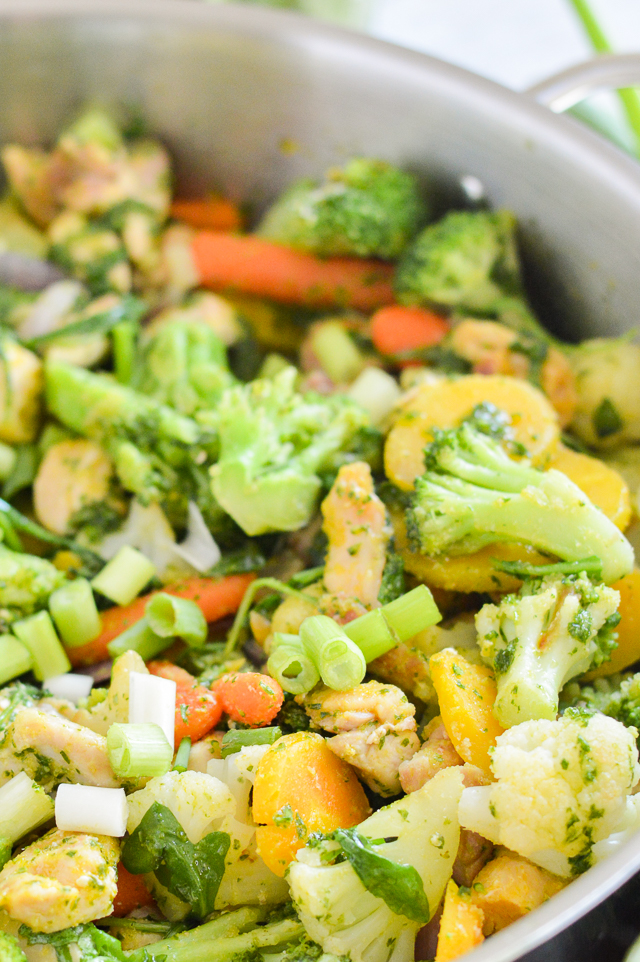 While I am hanging out around here once (maybe twice) per week for the next little bit, I promise to keep things extra awesome.  Though I am probably biased, I think this particular recipe absolutely fits that bill.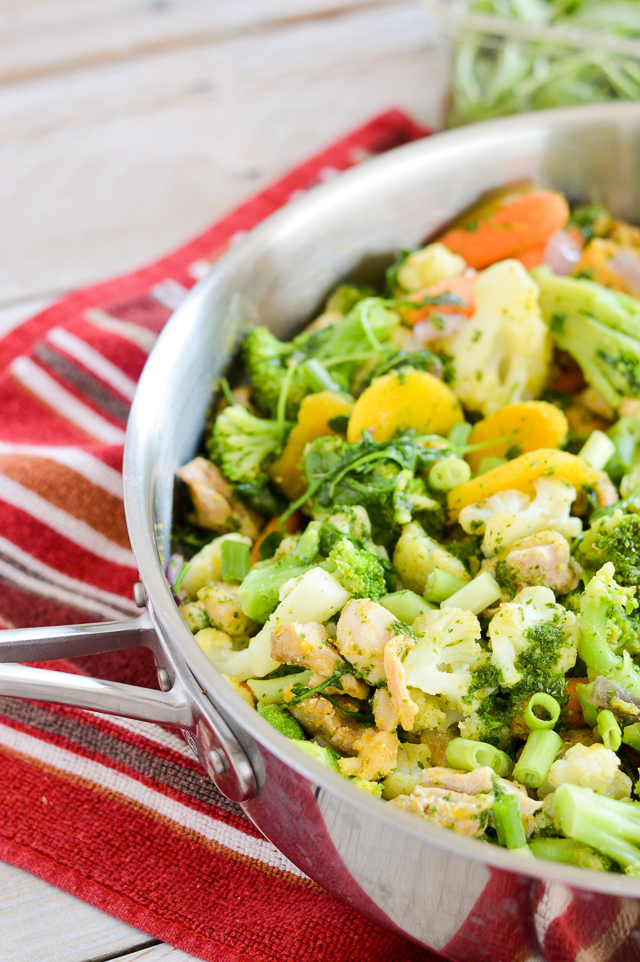 I shared a sneak peek of this dish on Instagram several weeks ago and stated that it was made with my new very favorite "secret" sauce.  Turns out the sauce is nothing out-of-the-ordinary or new.  Heck, it's probably been around for quite some time.  But it is new to me as of the past year.  That'd be my current obsession: chimichurri sauce!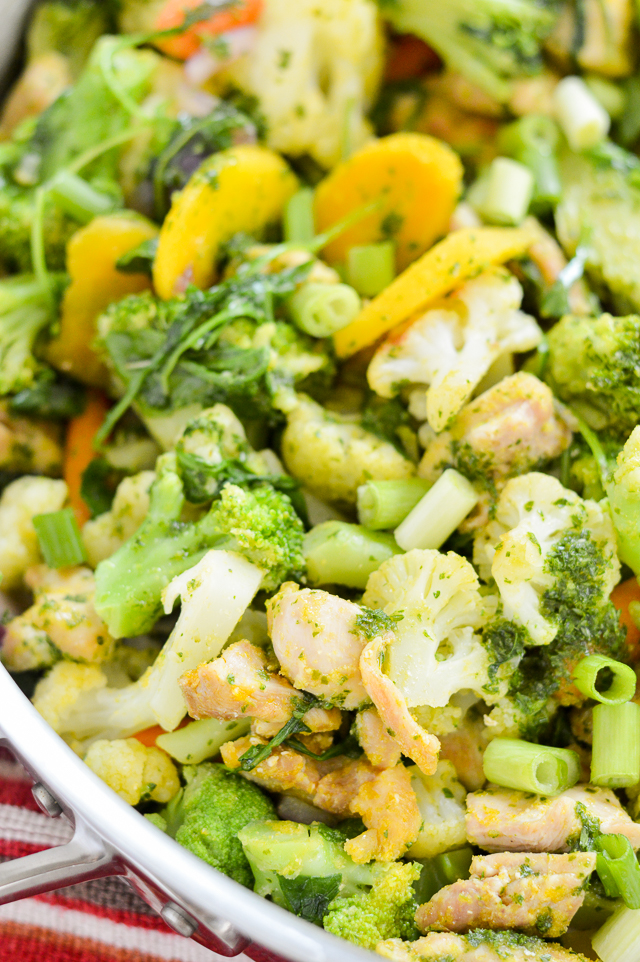 Lately I have been whipping up a huge batch of chimichurri and putting it in and on everything.  It is my new favorite salad dressing, steak topper, marinade, and sauce for nearly any dish.  It definitely has a bit of a bite when you serve it cold, but if you heat it up in a stir-fry, the flavor mellows out in such a good way.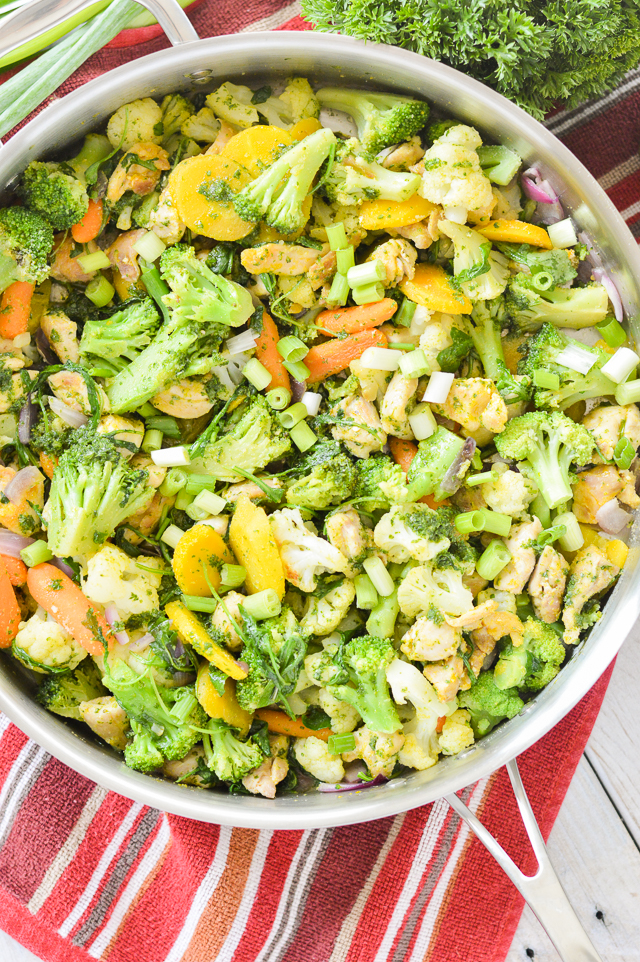 Did I mention this dish is beyond simple?  I like to call recipes like these my "lazy recipes" because they aren't really recipes at all.  I think we all need more of these recipes in our lives.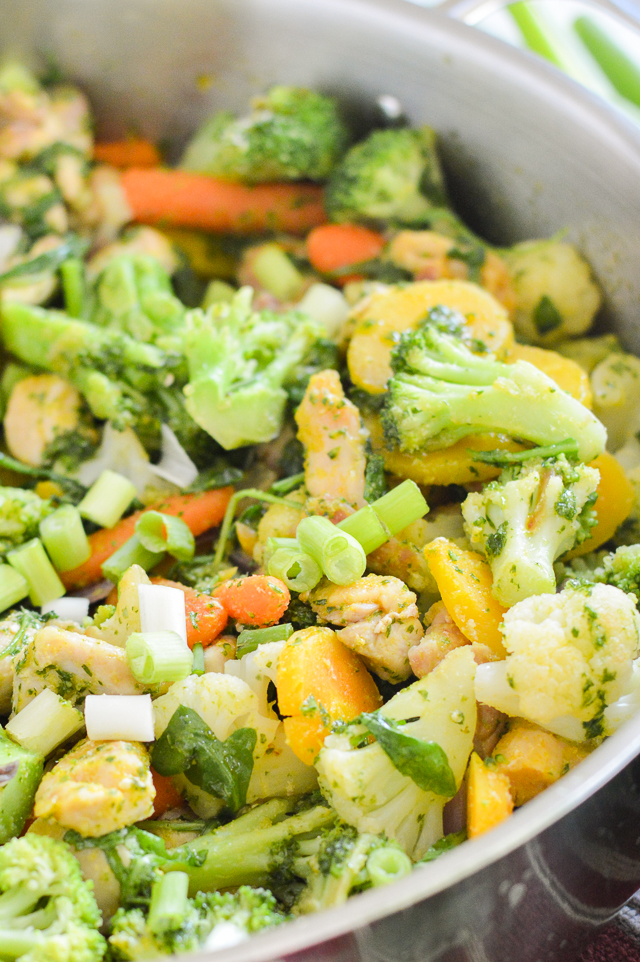 Chimichurri Chicken and Veggie Stir-Fry
AIP Paleo, Gluten-Free, Grain-Free, Dairy-Free, Egg-Free, Soy-Free, Nightshade-Free, Nut-Free, Whole 30
Serves 4
Ingredients
For the chimichurri sauce:
1 small shallot, chopped
1/4 cup of red wine vinegar
1 cup of fresh parsley, roughly chopped
1 cup of fresh cilantro, roughly chopped
1 1/2 cups of extra virgin olive oil
1 tsp fine sea salt
For the stir-fry:
1 TB of organic red palm oil
1 pound of organic pasture-raised boneless, skinless chicken thighs
1 TB of organic, virgin coconut oil
1/2 of a medium red onion, chopped
6 cups of frozen organic stir-fry vegetables
1 tsp of fine sea salt
1 tsp of onion powder
1/2 tsp of ground ginger
green onions, chopped (optional)
Directions
1. Start by making the chimichurri sauce.  Combine the shallot and red wine vinegar in a food processor.  Process for 30 seconds.  Add parsley and cilantro.  Process for another 30 seconds.  With the food processor running, slowly drizzle in olive oil and process until combined.  Season with salt.  Refrigerate.
2. Begin making the stir-fry by heating the red palm oil in a large skillet over medium-high heat.  Cut chicken into 1-inch pieces.  Lower the heat to medium and add chicken.  Fry for approximately 10 to 12 minutes, or until cooked through.  Season with salt, if desired.
3. While the chicken is cooking, heat coconut oil (or more red palm oil) over medium-high heat in a large skillet.  Once hot, lower the heat to medium and add onions.  Cook for approximately two to three minutes, or until translucent.  Add frozen vegetables, cover, and saute for approximately 12 to 15 minutes, stirring occasionally, or until heated through.
4. Add cooked chicken, 3/4 cup of the chimichurri sauce, sea salt, onion powder, and ground ginger to the pan with the vegetables.  Stir until combined.  Top with green onions and additional herbs, if desired.  Reserve leftover chimichurri sauce to use with other meals or as a dressing/marinade.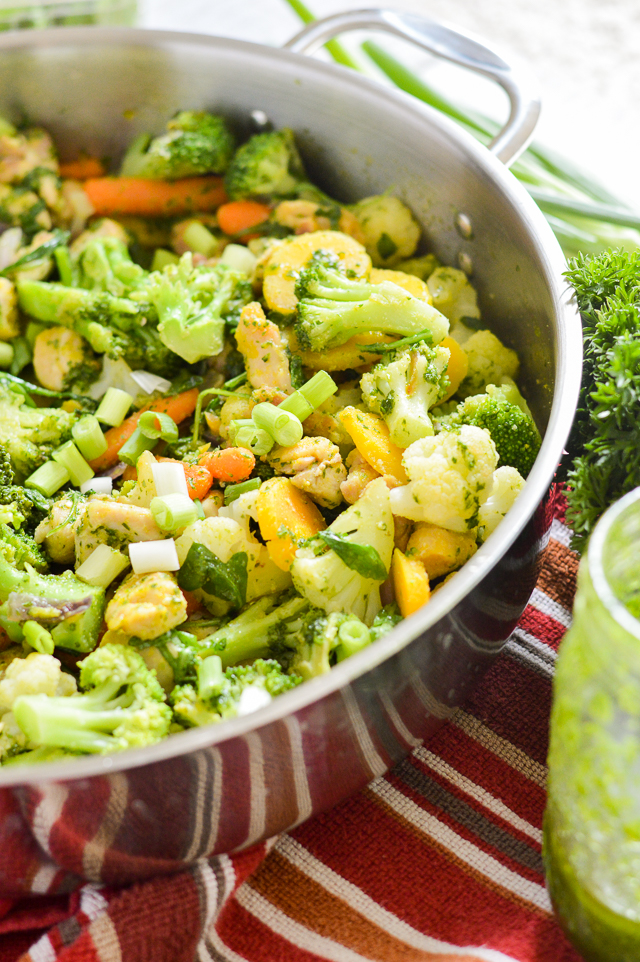 A super simple Chimichurri Chicken and Veggie Stir Fry for dinner! #Paleo #glutenfree Click To Tweet
This post contains affiliate links.  Thank you for supporting CEVG and enabling me to continue working towards better health!