Taco Topped Fried Plantains with Cilantro Lime Rice is the perfect Cinco de Mayo celebratory dinner!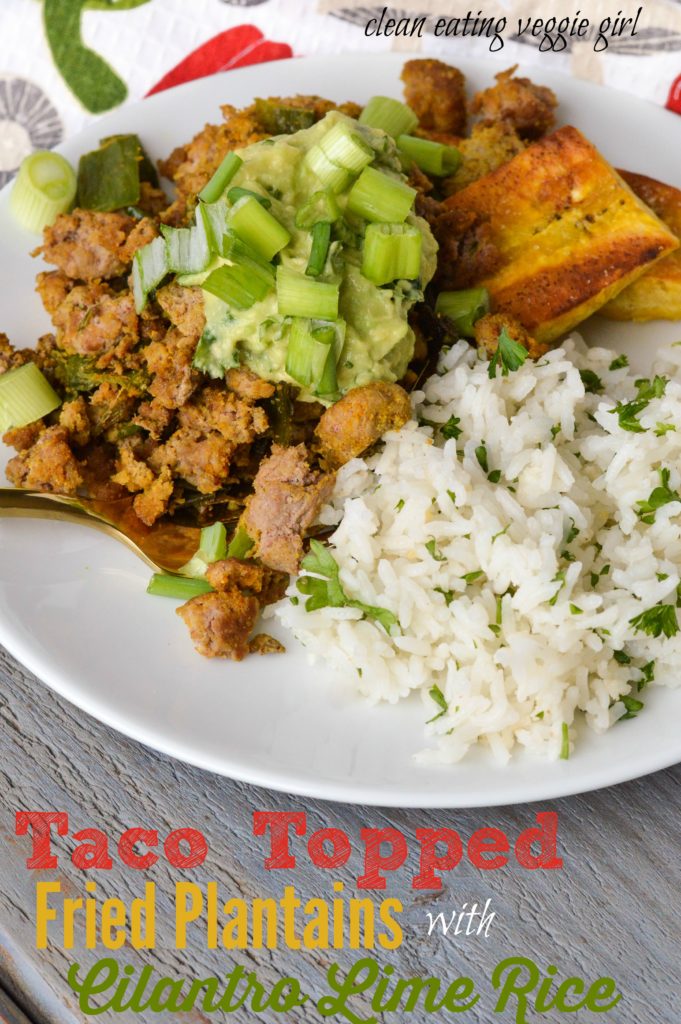 Can we please talk about the fact that I seriously planned this post on my blogging editorial calendar long before I even realized it was the 5th of May, AKA  Cinco de Mayo?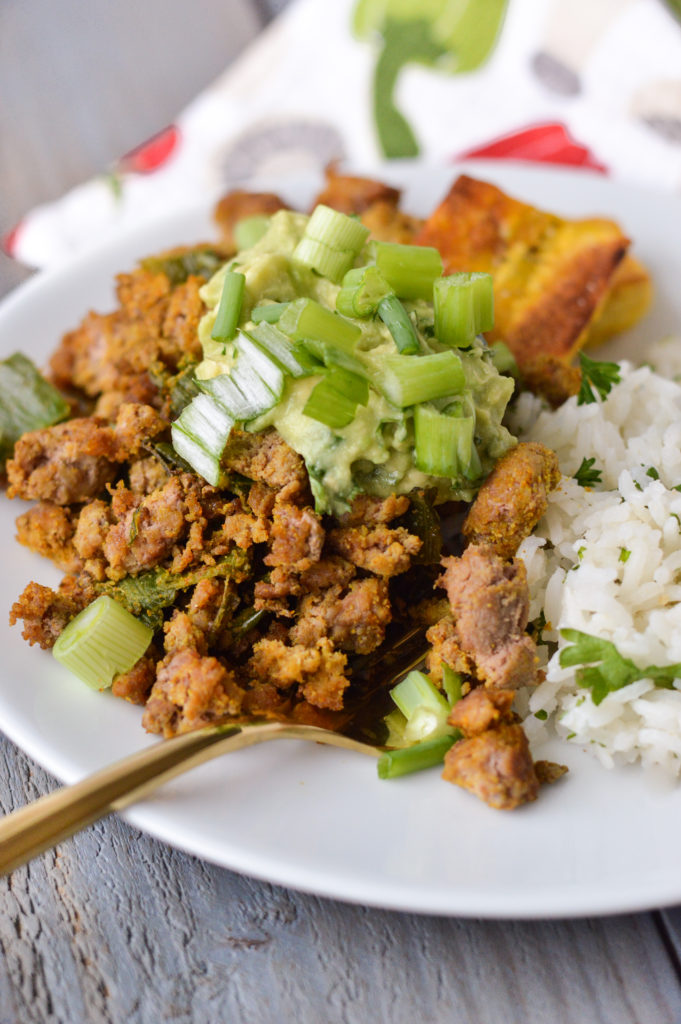 If that is not the universe saying that we all need to make this today, I'm not sure what is!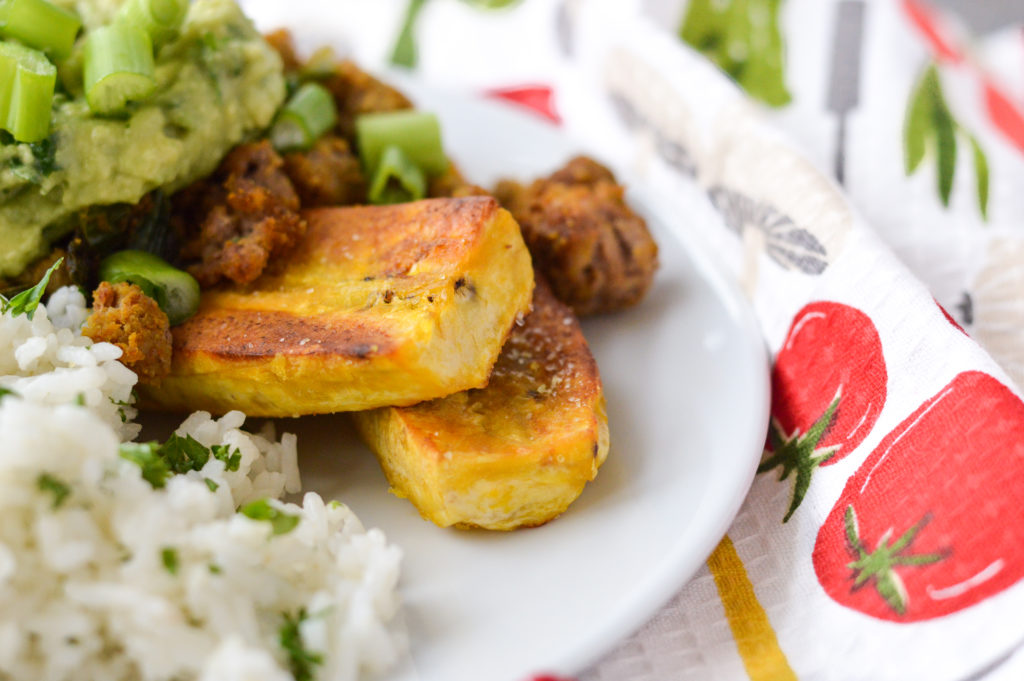 But really, do we need a reason when plantains and guac are involved?  Um, that's a heck no!  The tasty dreaminess of this is enough to head to the kitchen right this second.  Or at least put it on your next meal plan.
Whenever I meal plan, I almost always inevitably end up with something plantain-related on the docket.  Maybe it is because they are delicious when fried.  Maybe they are simply a good reason for me to eat more guacamole.  Or maybe It is because they look like one of my favorite produce items of all time (bananas) but are super sly and sneaky by not tasting at all how you'd think they would.  At least that's what I assume would happen to 99% of the grocery store clerks out there, since they almost always inevitably ring them up as bananas.  I won't complain, though, because that often means a cheaper price for me <– should I feel bad about this?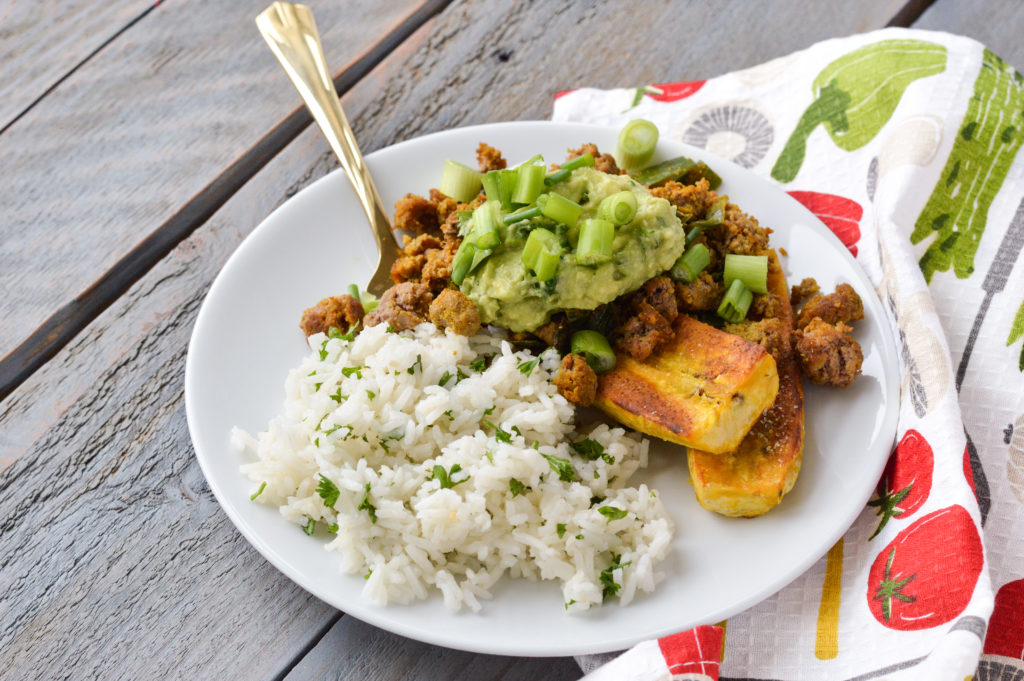 P.S. They also totally have zero clue what parsnips are.  If I was given a dollar for every time I was asked "what are these?," I'd be filthy rich!  Or my favorite, "do you know what these are?"  Why, yes.  Yes, I do know what I am purchasing! (P.S. As someone who was a grocery store clerk for 8 1/2 years in high school and college, I feel it is completely okay for me to make these generalized statements).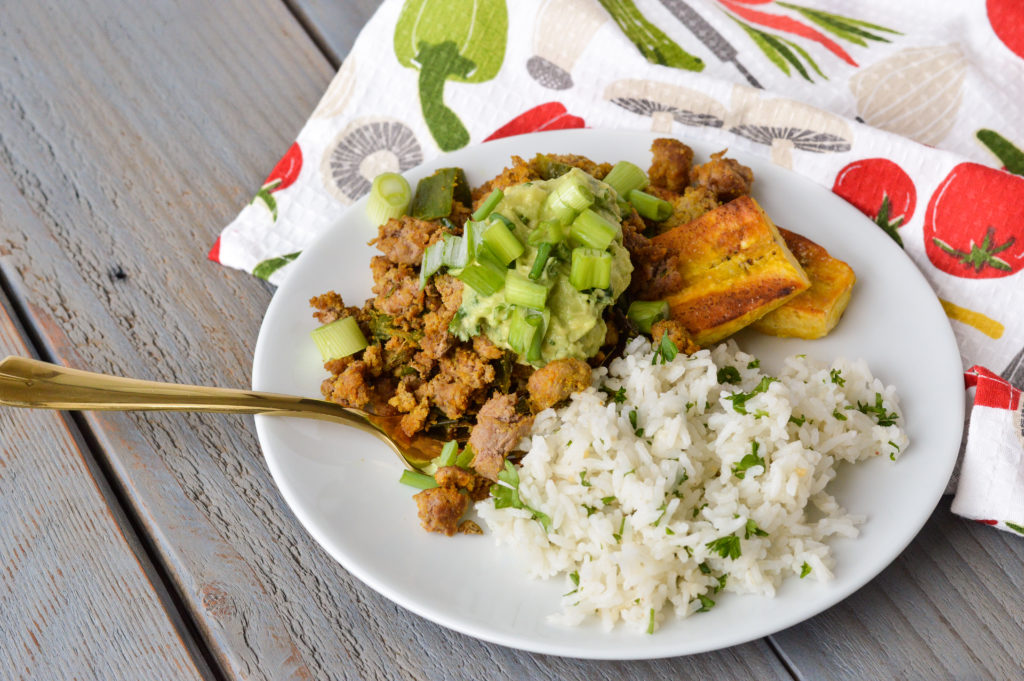 I have now made it my mission to teach all grocery store clerks their "p" fruits and vegetables. Plantains and parsnips for everyone!
Except not in this recipe, because this is just about the plantains.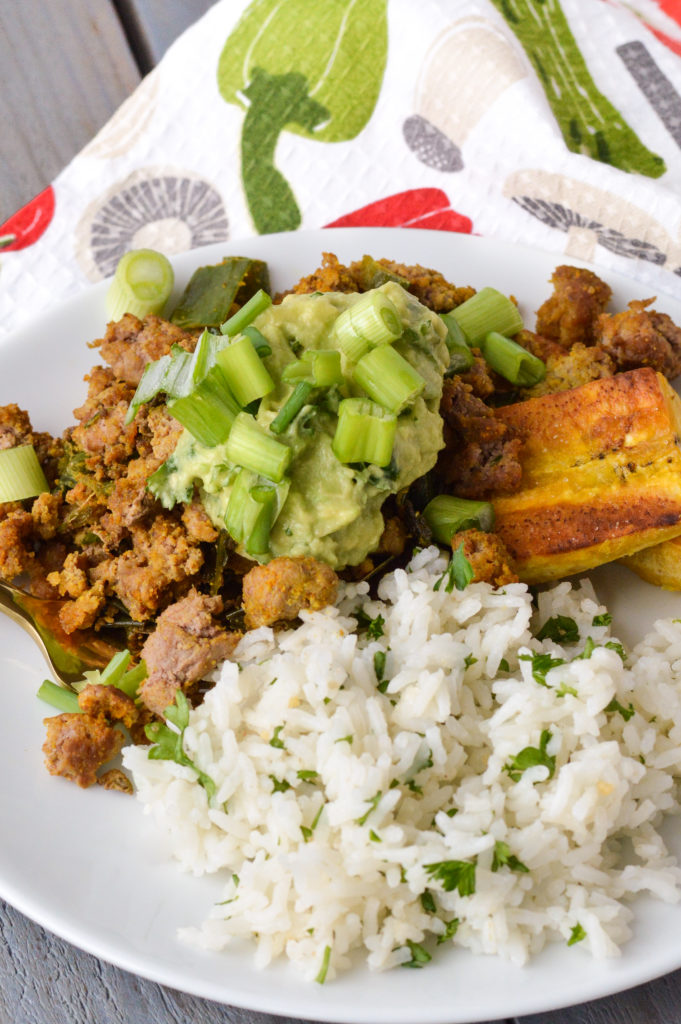 Taco Topped Fried Plantains with Cilantro Lime Rice
Gluten-Free, Dairy-Free, Nightshade-Free, Nut-Free, Soy-Free
Serves 4
Ingredients
For the taco meat:
1 TB of red palm oil
the greens of one large leek, chopped
1 lb of grassfed ground beef (or ground turkey)
1 tsp pink Himalayan sea salt
1 tsp ground turmeric
1/2 tsp garlic powder
1/2 tsp onion powder
1/4 tsp ground cinnamon
For the plantains:
2 to 3 TB of red palm oil
2 large green plantains, sliced into 1/2-inch thick strips
pink Himalayan sea salt
cilantro lime white rice
guacamole (this or this)
green onions for topping, optional
Directions
1. Prepare cilantro lime rice following Tuesday's recipe post instructions.
2. In a large skillet over medium high heat, melt the red palm oil.  Once hot, lower the heat to medium and add leek greens.  Saute for approximately five minutes, or until softened.
3. Once softened, add ground beef and cook until no longer pink.  Season with salt, turmeric, garlic powder, onion powder, and cinnamon.
4. While the beef is cooking, heat red palm oil in a separate large skillet over medium-high heat.  Once hot, lower the heat to medium and add plantains.  Sprinkle with salt.  Fry for approximately five to seven minutes, or until golden brown.  Flip, salt again, and fry until the second side is golden brown.
5. Compile your plate by topping the fried plantains with the taco mixture.  Add a dollop of guacamole and green onions on top.  Serve with cilantro lime white rice on the side.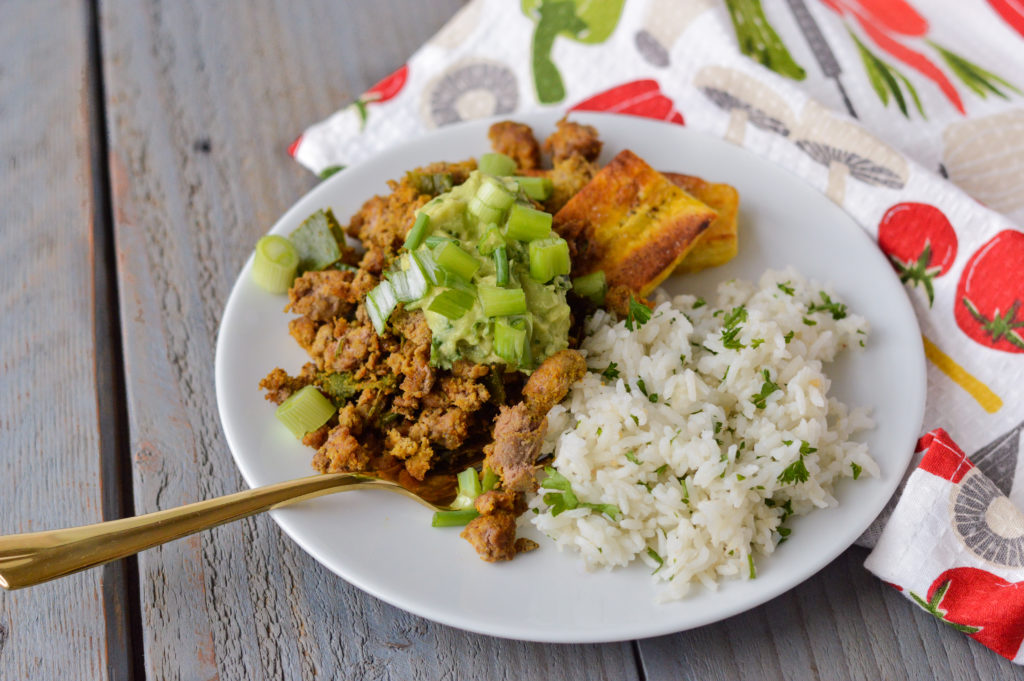 Go get your plantain frying on.
And if you use this recipe as an excuse to whip up some margaritas, I won't hold it against you.
Taco Topped Fried Plantains with Cilantro Lime Rice for #CincodeMayo #glutenfree
Click To Tweet
This post contains affiliate links.  Thank you for supporting CEVG and enabling me to continue working towards better health!