Though this past Thursday was technically my second Paleo "Thanksgiving" since my Omaha friends and I celebrated Friendsgiving a few weeks back, I still consider November 26, 2015 to be my first true Thanksgiving meal since adopting a Paleo lifestyle.  I guess to me it is just not quite Thanksgiving unless it is being celebrated with my family and fiance surrounded by a table of the cutest doodle dogs.  Yes, doodle dogs = Thanksgiving.
My Thanksgiving meal has changed in drastic ways over the past three or four years.  Throughout high school and college, I just ate whatever my family  members ate without giving it a second thought.  Then my Thanksgivings were made up of things like lentil loaf and vegan Shepherd's Pie during my years of vegetarianism.  And now, we are back to the turkey, but without gluten, grains, dairy, soy, legumes, nightshades, nuts, and eggs.  Holy restricting, right?  But actually, preparing a meal that was completely Paleo was surprisingly easy.  Today I am recapping last Thursday and letting you in on how to eat Paleo on Thanksgiving day.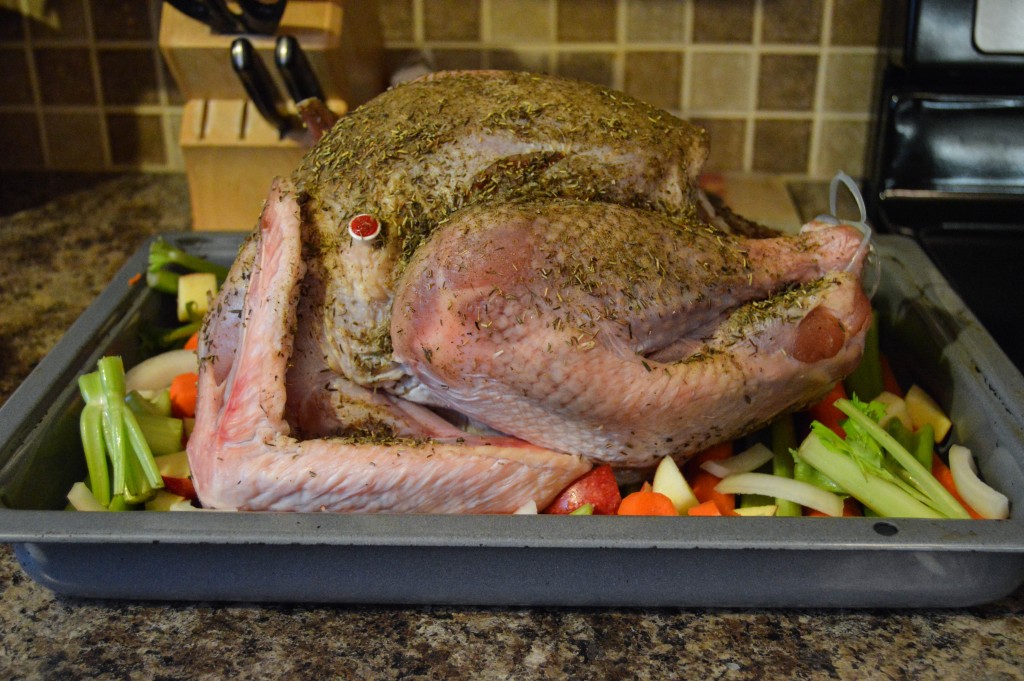 After Ben told me all of his turkey cooking tricks during Friendsgiving, I was convinced that my dad and I could work together to make a killer turkey this year.  Since I was not in town at the time, I convinced him to dry brine the turkey on Tuesday evening with salt, coconut sugar, dried sage, thyme, and rosemary.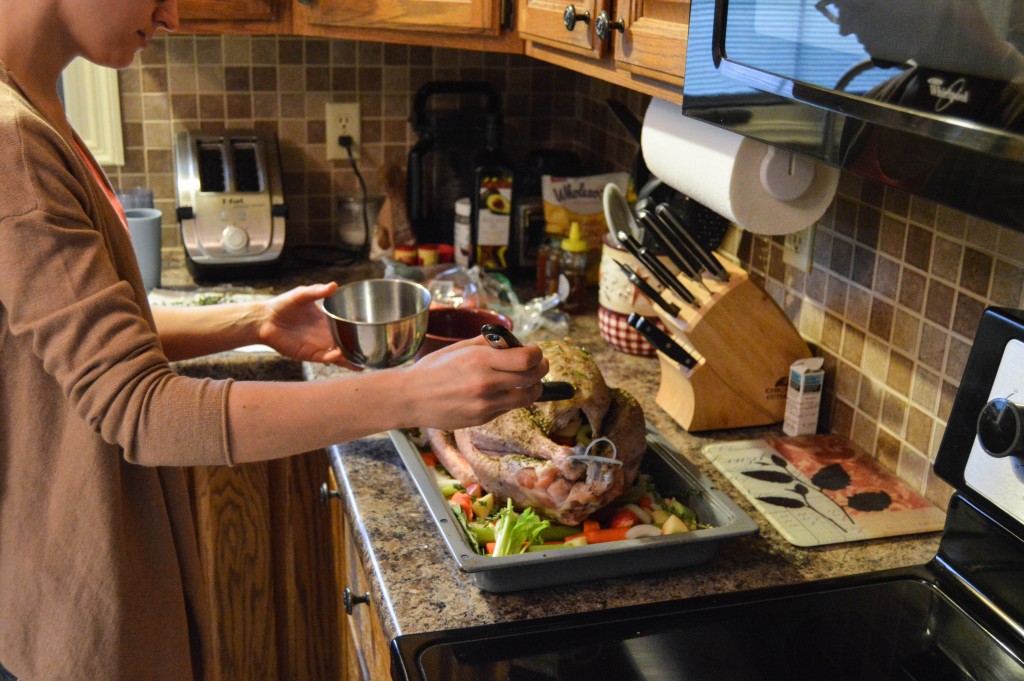 On Thursday morning, we lined the baking dish with celery stalks and whole carrots in place of a rack.  We also stuffed the turkey with celery, carrots, garlic, onions, and apples.  I coated our bird with avocado oil, fresh thyme, and rosemary, and we baked 'er up in just a few hours.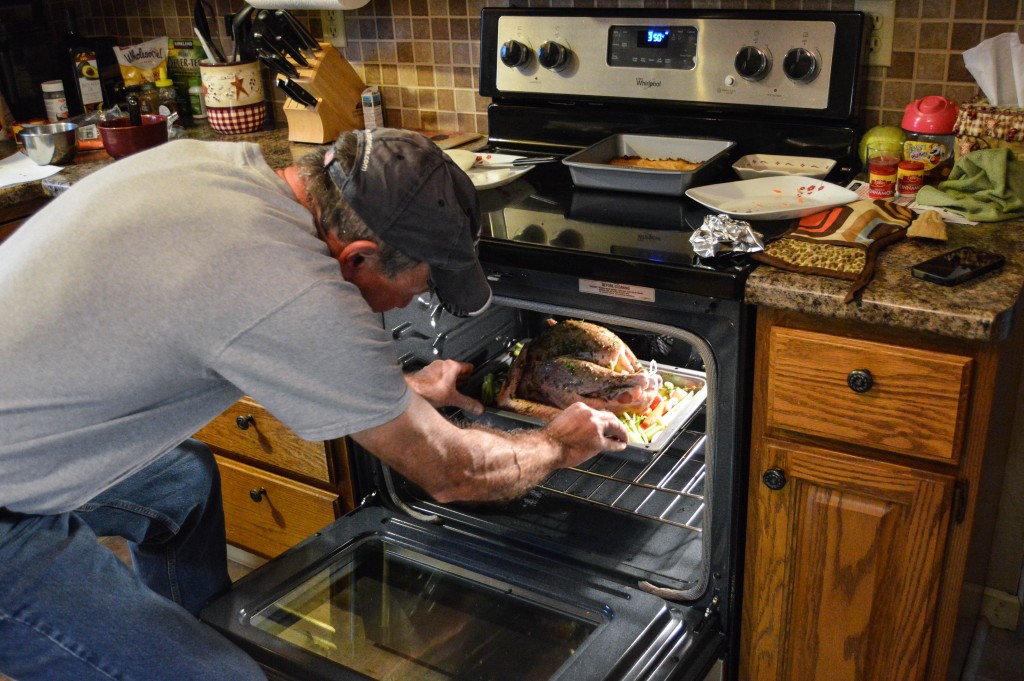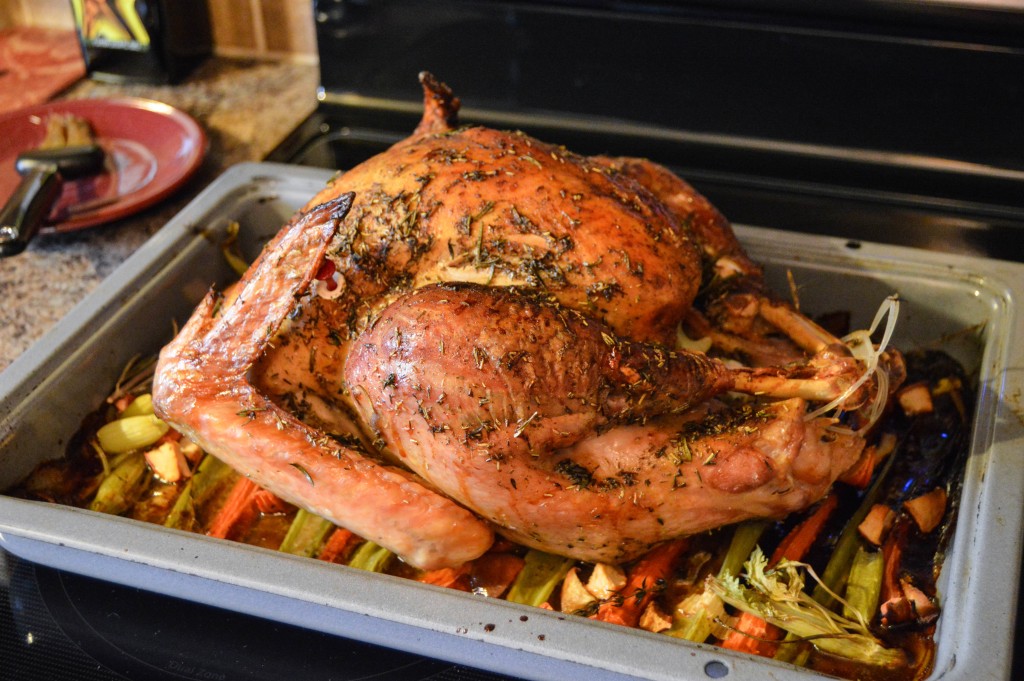 Gorgeous, right?
The dry brine totally did the trick and we ended up with a moist and flavorful turkey with perfectly crispy skin.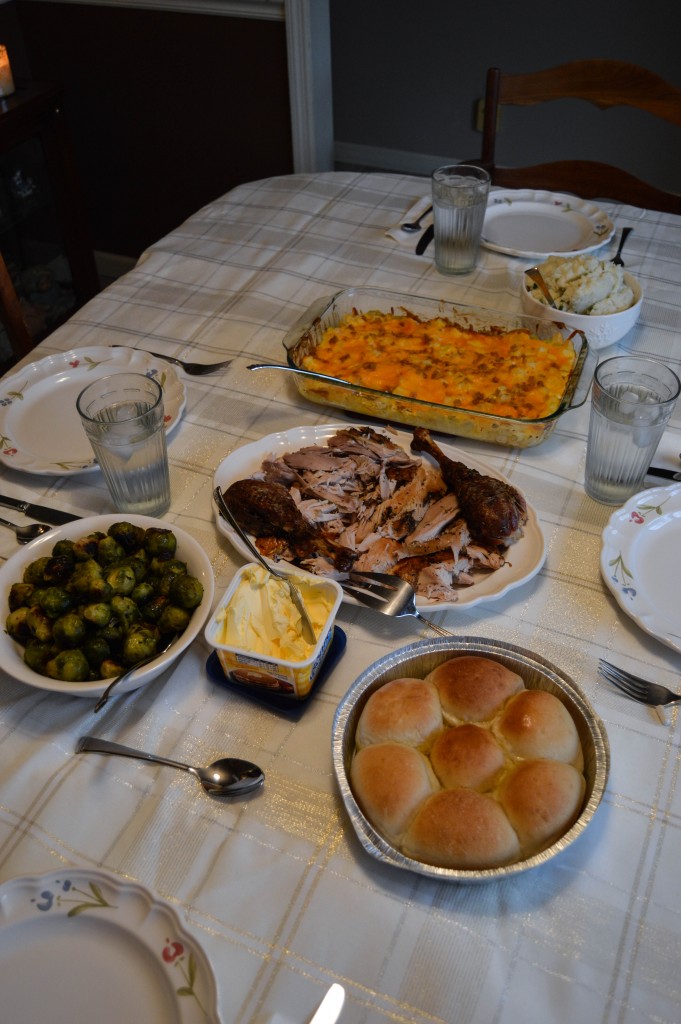 We let the turkey sit covered for about an hour while we prepared the side dishes.  And then, dinner was served!
As we cut the turkey, it literally fell right off of the bones.  It was that good.  My dad and Jeremy called dibs on the turkey legs, but I was more than satisfied with a little bit of both white and dark meat on my plate.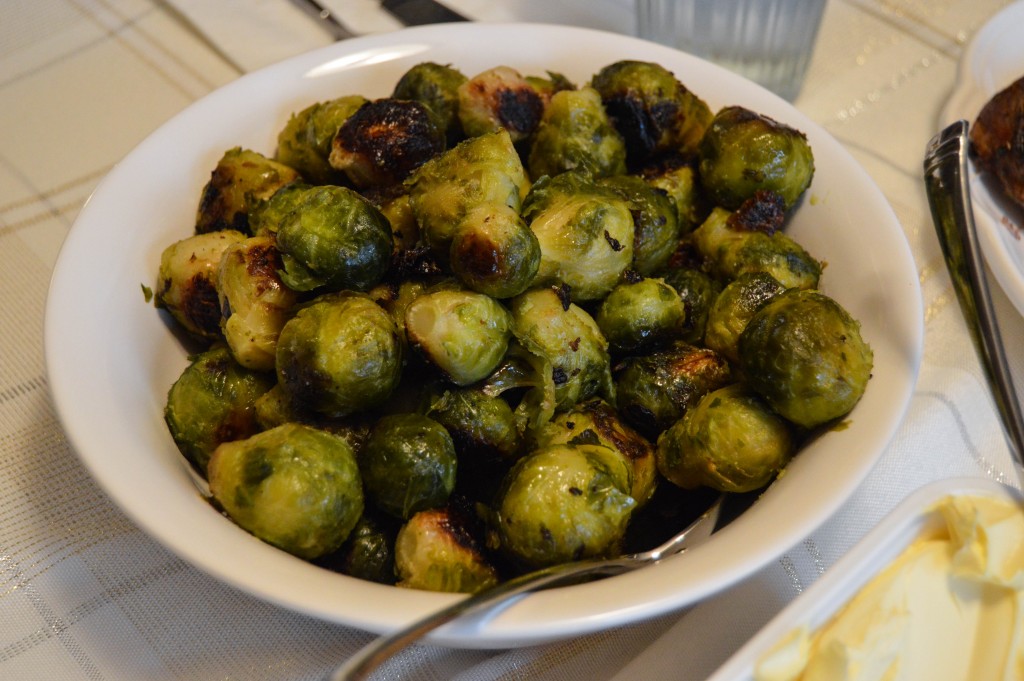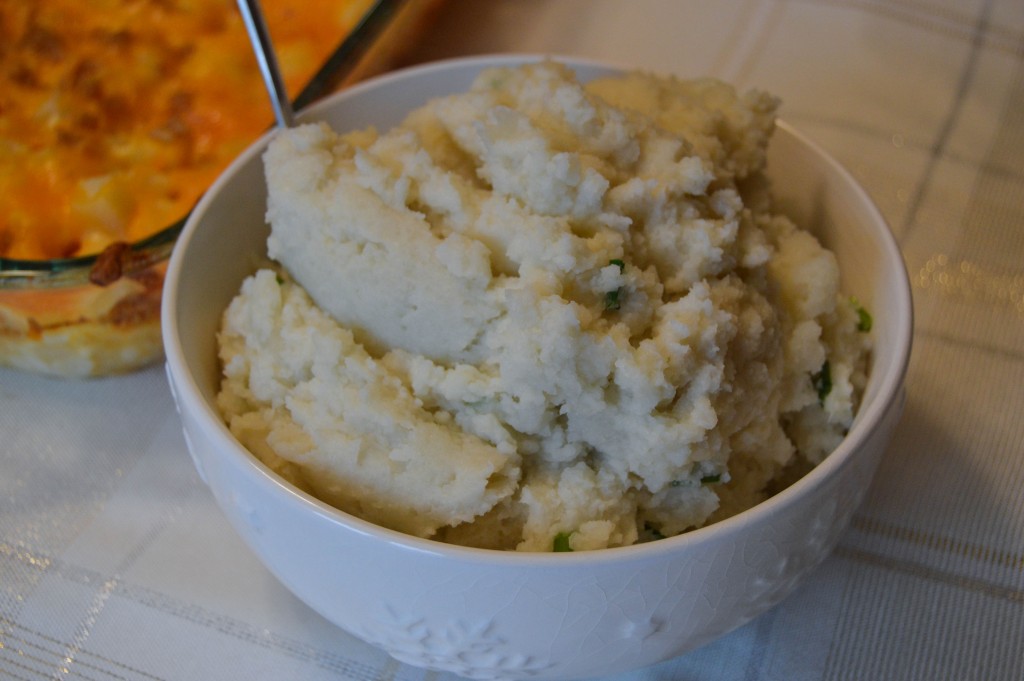 I made slow cooker applesauce, Paleo roasted brussels sprouts, and my mashed cauliflower, while my mom whipped up cheesy potatoes and warmed up dinner rolls baked by Jeremy's mom.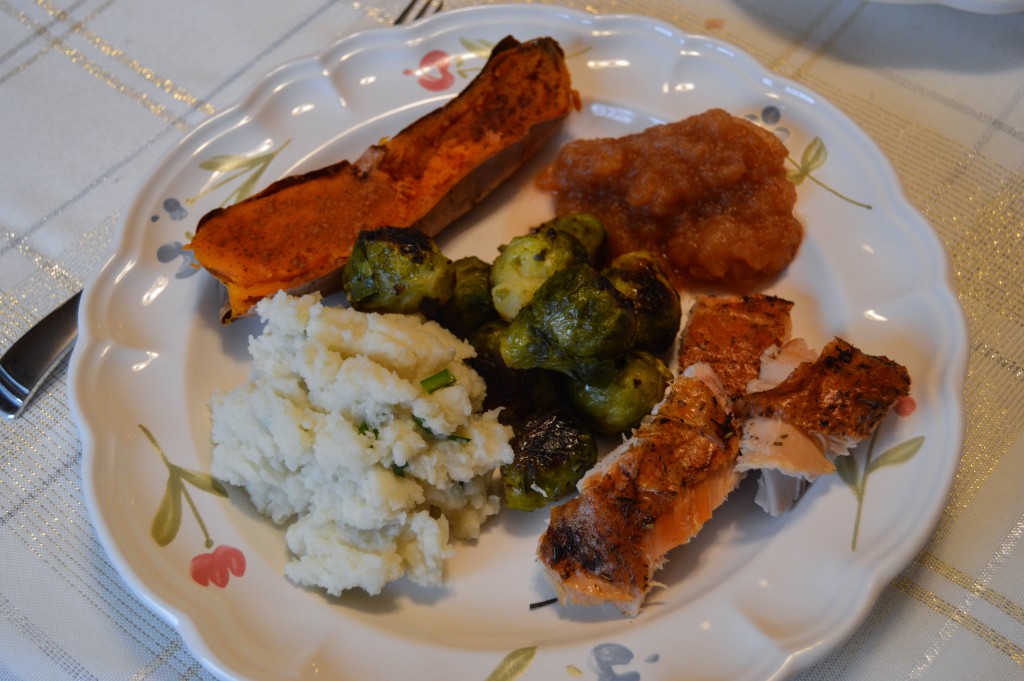 I filled my plate with half of a baked sweet potato (since I could not partake in the cheesy potatoes), applesauce, sprouts, turkey, and mashed cauliflower.  Of course I went back for seconds, too!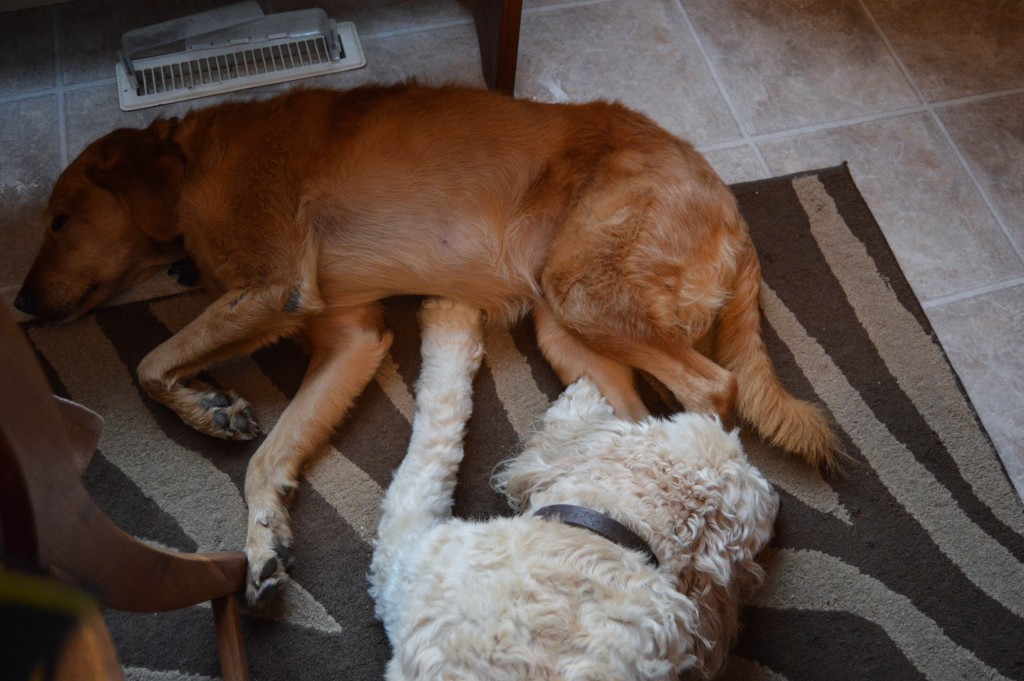 My sweet babies laid by my chair.  See, it just wouldn't be Thanksgiving dinner without them!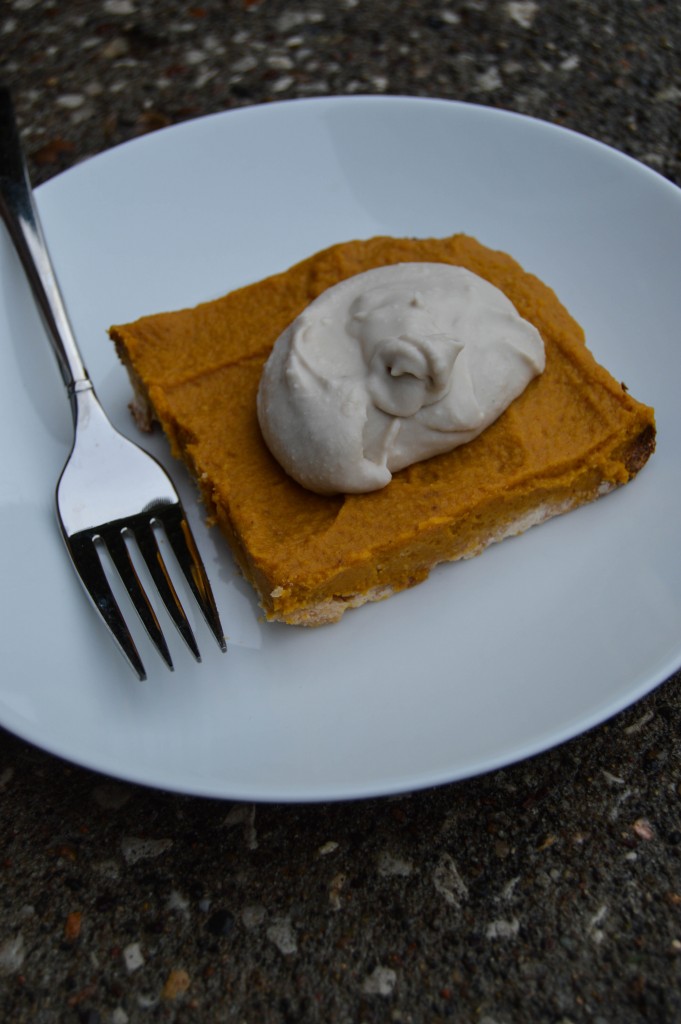 A few hours after the meal, I enjoyed a big slice of the pumpkin pie squares I made earlier in the day topped off with homemade whipped coconut topping.  When I first thought about a Thanksgiving without pumpkin pie, my soul was super sad.  But after doing plenty of research, I thought these pumpkin pie squares would be the perfect stand in.  I was right.  They satisfied every single pumpkin pie craving that I had.  I also thoroughly enjoyed the whipped coconut topping (just coconut cream and coconut sugar), and loved that I could pronounce every single ingredient that went into both.  I will definitely be making them again.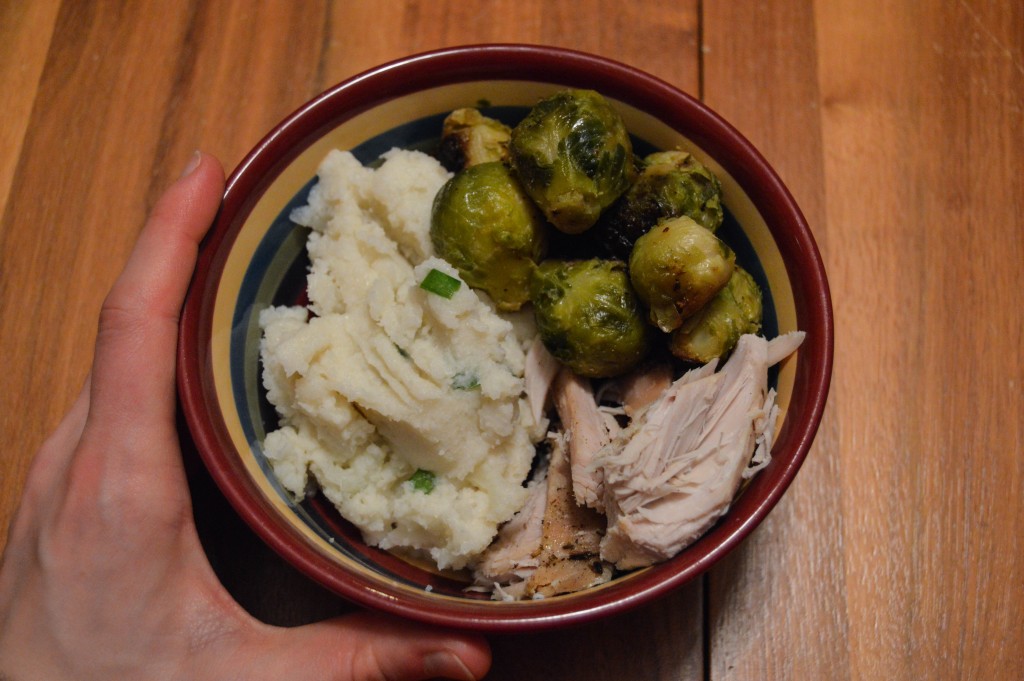 Of course one of my favorite things about Thanksgiving is all of the leftovers.  I whipped up a turkey "bowl" on Thursday night with a few of the best leftovers.  A second pumpkin pie square definitely happened, too.
See?  Eating Paleo during the holidays is actually a lot easier than one might think.  It is also just as delicious.  I should mention that this entire meal was not only Paleo, but AIP Paleo.  It doesn't get much better than that!
How to Eat Paleo on Thanksgiving #glutenfree #Paleo #Thanksgiving
Click To Tweet
I hope your Thanksgiving was just as wonderful as mine.  Now… on to Christmas!
What did you eat on Thanksgiving day?
Are you a pumpkin pie person?