Last Thursday was spent cooking, relaxing, drinking, eating, and spending quality time with my family and boyfriend.  We all definitely put a major emphasis on the eating and drinking part.  In the spirit of all things food related (since it is Wednesday, after all), let's take a look at what I ate on Thanksgiving day!
I'm linking up with Jenn from Peas and Crayons for What I Ate Wednesday.
What I Ate on Thanksgiving Day (2014)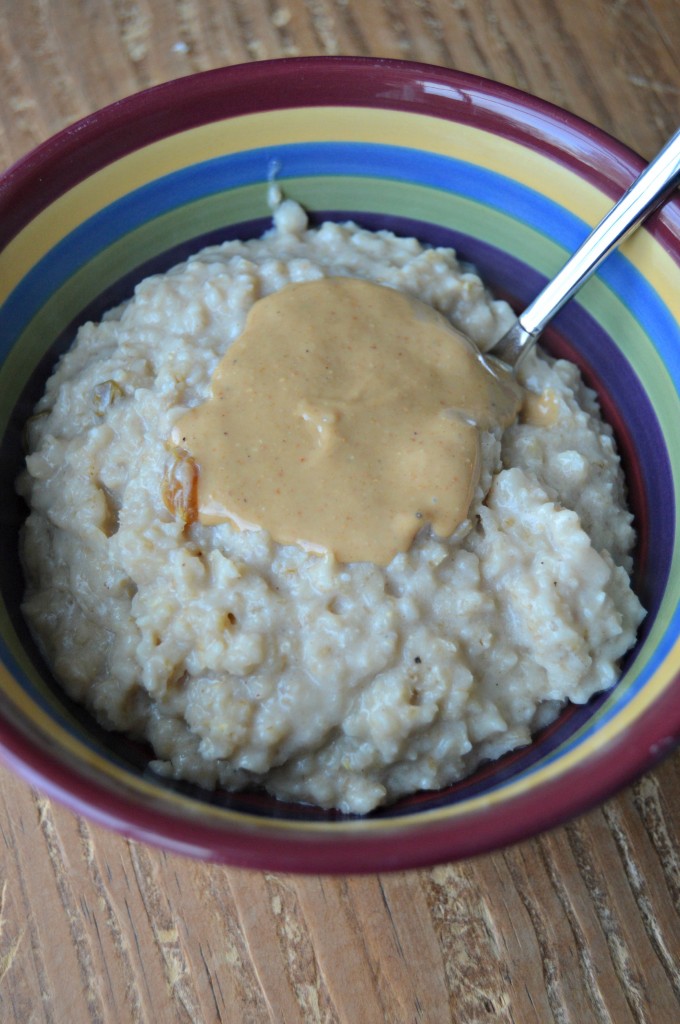 I started my Thanksgiving day off with a filling breakfast to get me through a long day of cooking.  I ate a warm bowl of apple spiced oatmeal with golden raisins stirred in and cashew butter on top.  It was amazing!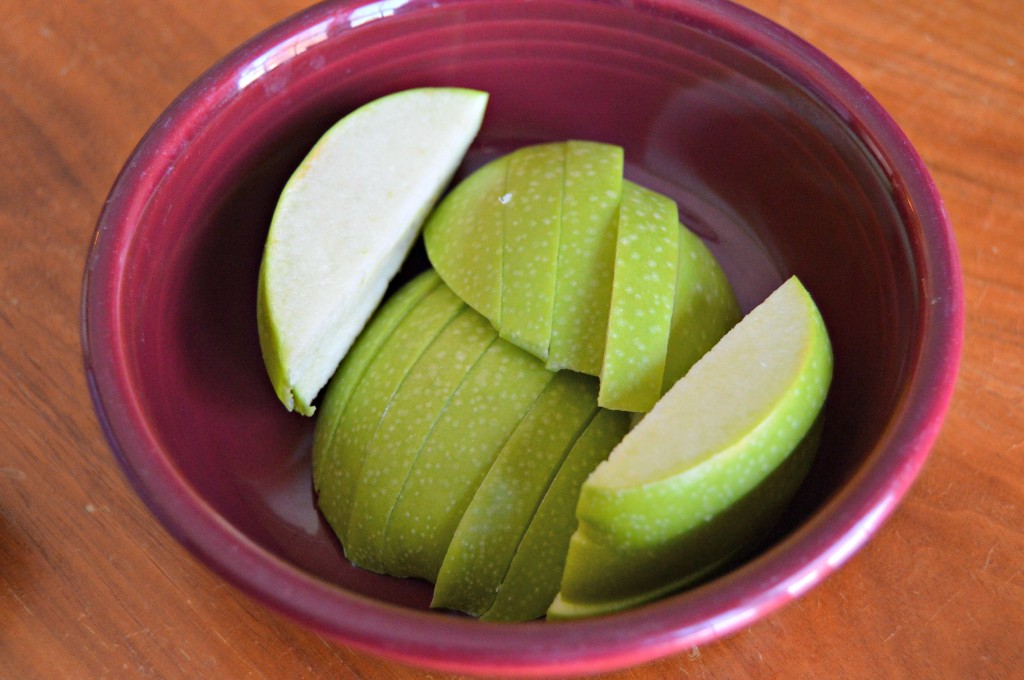 I had woken up and eaten breakfast rather early, so a few hours later I was ready for a snack.  I grazed on a sliced Granny Smith apple.
Almost as soon as the clock struck noon, I was haaangry.  I whipped up a homemade "burrito bowl" after a random craving for Chipotle popped into my mind.  I layered shredded lettuce, brown rice, taco seasoned vegetables, vegetarian refried beans, and salsa together on a plate.  It was the bomb.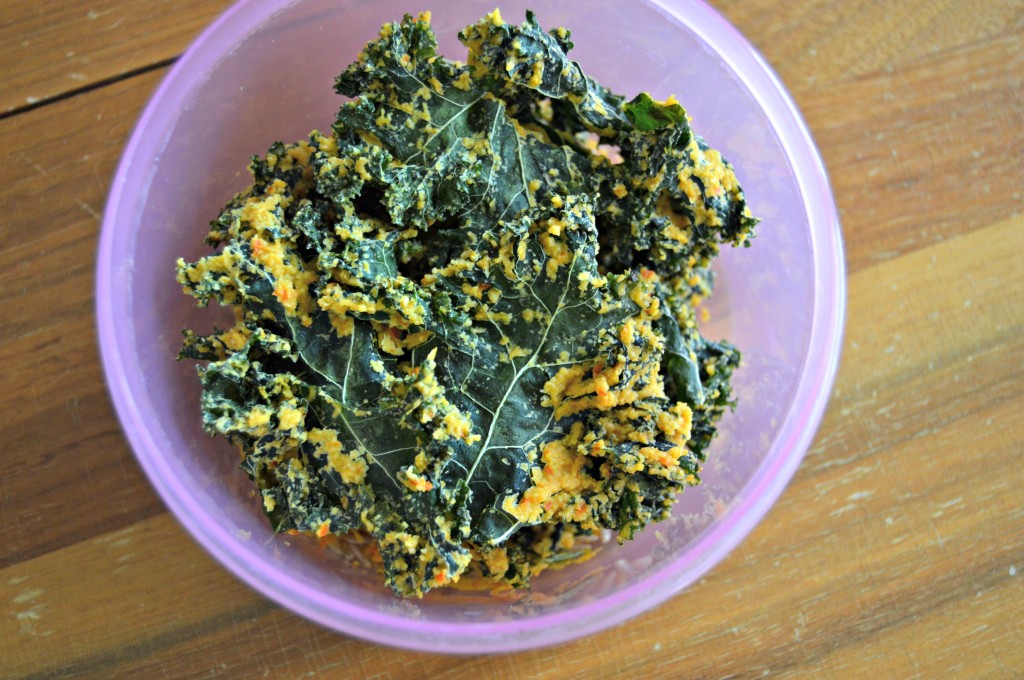 The veggie craving did not stop there… if you can even call these veggies.  When you turn kale into "kale chips" it really doesn't feel like you are eating a vegetable at all.  This was the last that was left of my batch of cheesy kale chips from the weekend before.  I was so sad to see them come to an end.  I'll be sharing more about these very soon!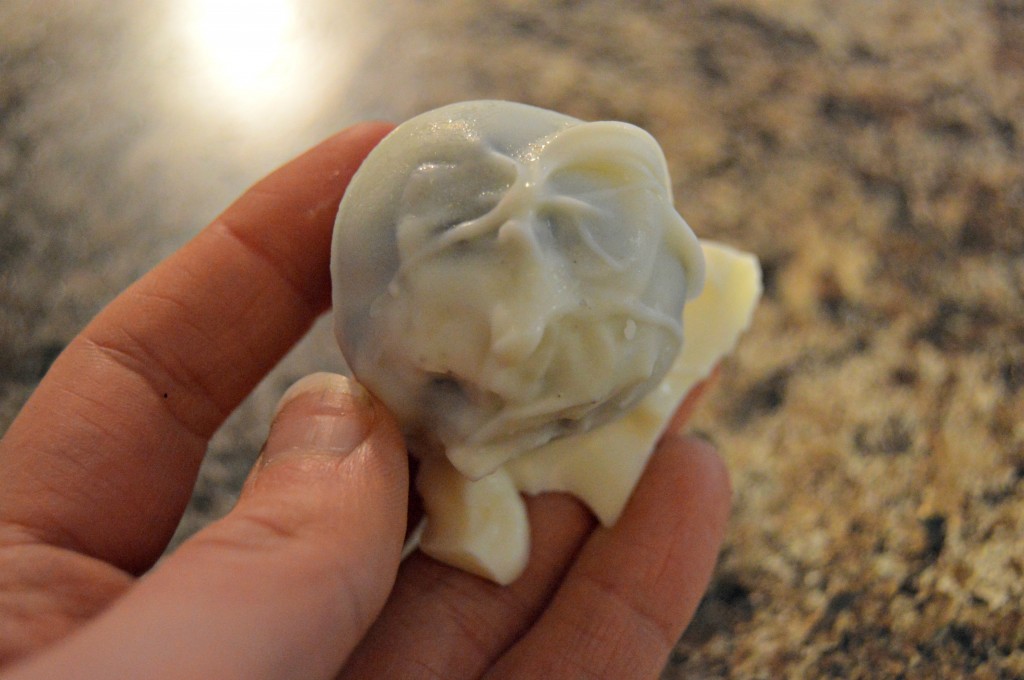 When one sees Oreo balls sitting on the counter, they must never say no.  Jeremy's mom makes the most delicious Oreo balls ever.  I attempted to make my own once and let's just say they turned out far from perfect.  Also, did you know that Oreos are actually vegan?  I guarantee nothing else about these was, though!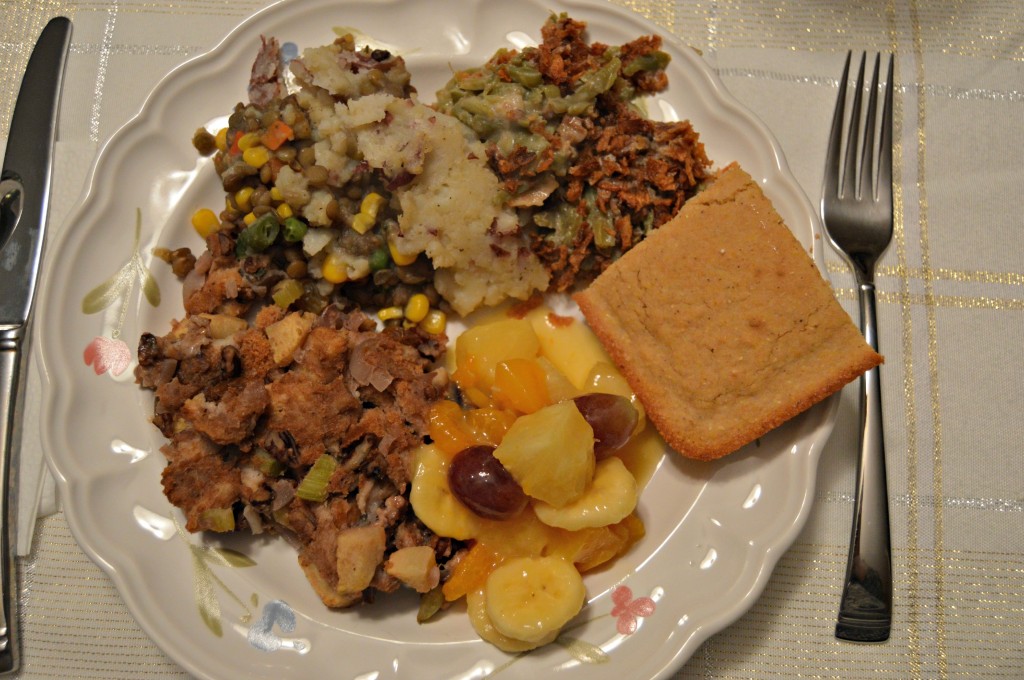 A little after 5:00 rolled around, it was eating time!  I filled my plate with almost everything on our buffet.  Clockwise from the top: Vegan Shepherd's Pie, green bean casserole, homemade corn bread (recipe from the Happy Herbivore), Holiday Vanilla Fruit Salad, and the Apple, Shallot, and Herb dressing that made an appearance in my 3C1K Friendsgiving post, which I veganized.  Everything was delicious, but I think  the cornbread and dressing were my favorite parts.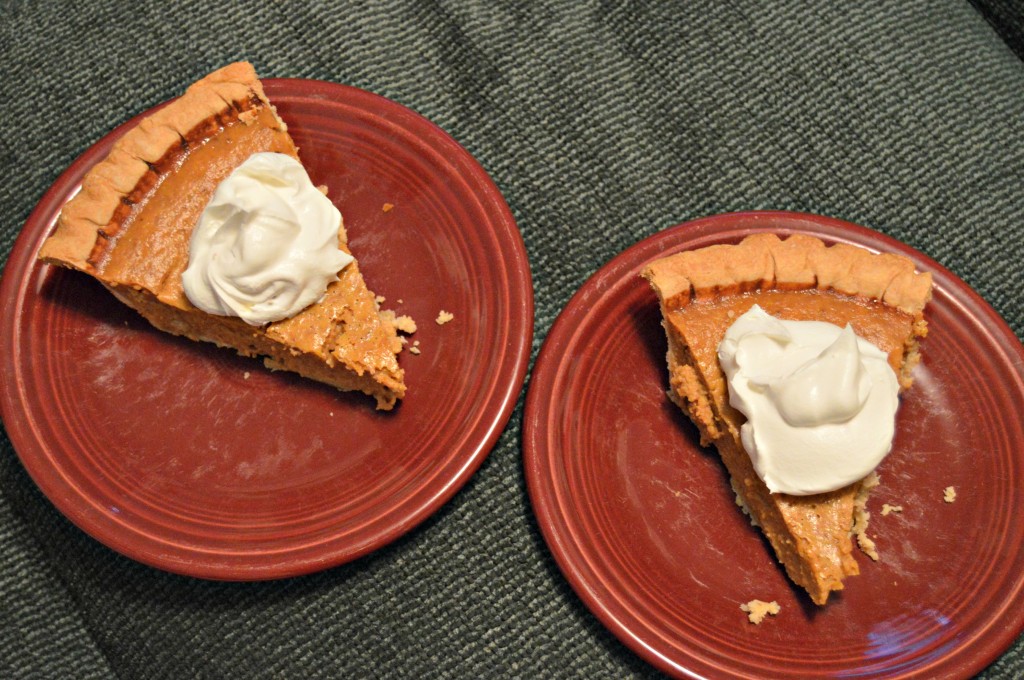 A few hours later and it was time for pumpkin pie.  My vegan pumpkin pie baking experience didn't go so well this year since I forgot my food processor at home, but I was lucky that my dad always makes two pumpkin pies the night before Thanksgiving.  Jeremy and I each enjoyed a large slice with whipped topping, of course!  The pie was the perfect way to cap off a day of delicious eats.
Happy Herbivore Holidays and Gatherings Cookbook Giveaway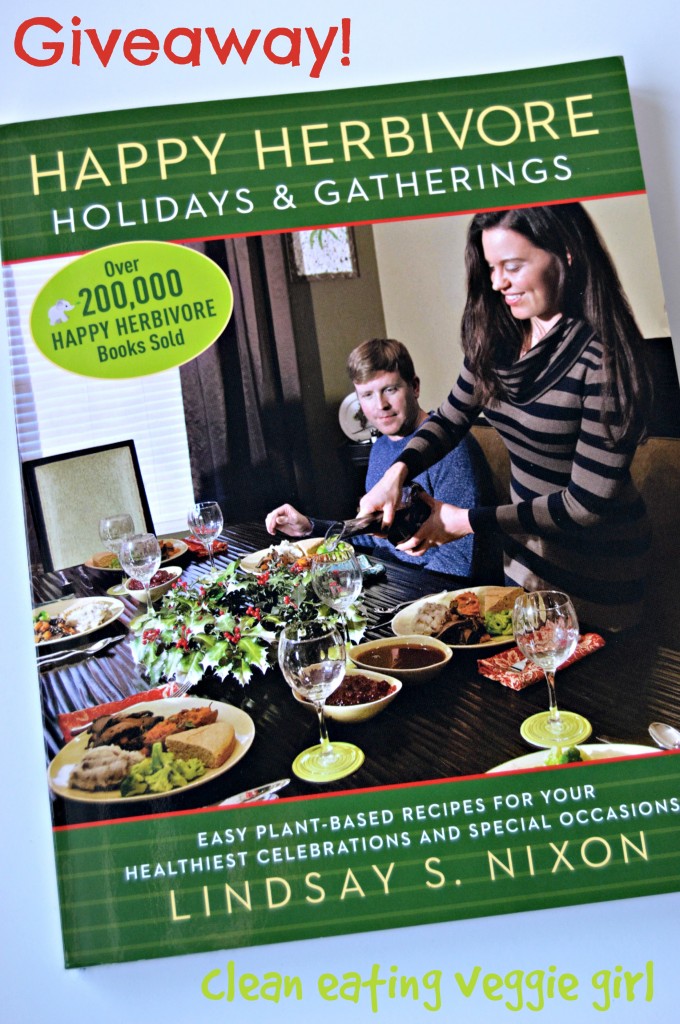 In the spirit of all things Thanksgiving, holiday, and food-related, I have an awesome giveaway for you!  I have been a long-time fan of the Happy Herbivore cookbook collection, and Lindsay's books are what first helped me make the switch to a vegetarian, mostly plant-based diet.  When I heard that she was releasing a new cookbook centered around holidays and gatherings, I jumped at the chance to get my hands on a copy.  I started with Lindsay's cornbread for Thanksgiving, but I also have my sights set on cooking up so many of the other recipes in this cookbook very soon, including the Cajun Tempeh Meatloaf, Cowboy Caviar, Cheese Ball, Sweet Pea Gaucamole, Cream of Broccoli Soup, Hot Chocolate Muffins, and many more.  The way I look at it, you don't need a holiday in order to make these recipes.  Every day is a special day when it comes to good vegan food!
Lindsay's team has graciously offered to give one of you your very own copy of the Happy Herbivore Holidays and Gatherings cookbook… and just in time for Christmas and New Years Eve!  To enter, please complete at least one of the following and leave a separate comment for each  item completed.  The giveaway is open until Sunday, December 7 at 11:59 p.m. CST, and is open to all residents of the United States and Canada.  Good luck!
1. Leave a comment letting me know which holiday or special occasion dish you would love to try making a vegan version of.
2. Follow me on Twitter.
3. Follow the Happy Herbivore account on Twitter.
4. "Like" my Facebook page.
5. "Like" the BenBella Vegan page on Facebook.
6. Tweet about the giveaway.
The winner will be contacted on Monday, December 8th.
Tell me… what did you eat at your Thanksgiving dinner?