Cauliflower, corn, and a roasted tomato red chile sauce come together to make 15-minute tacos that are perfect for Taco Tuesday!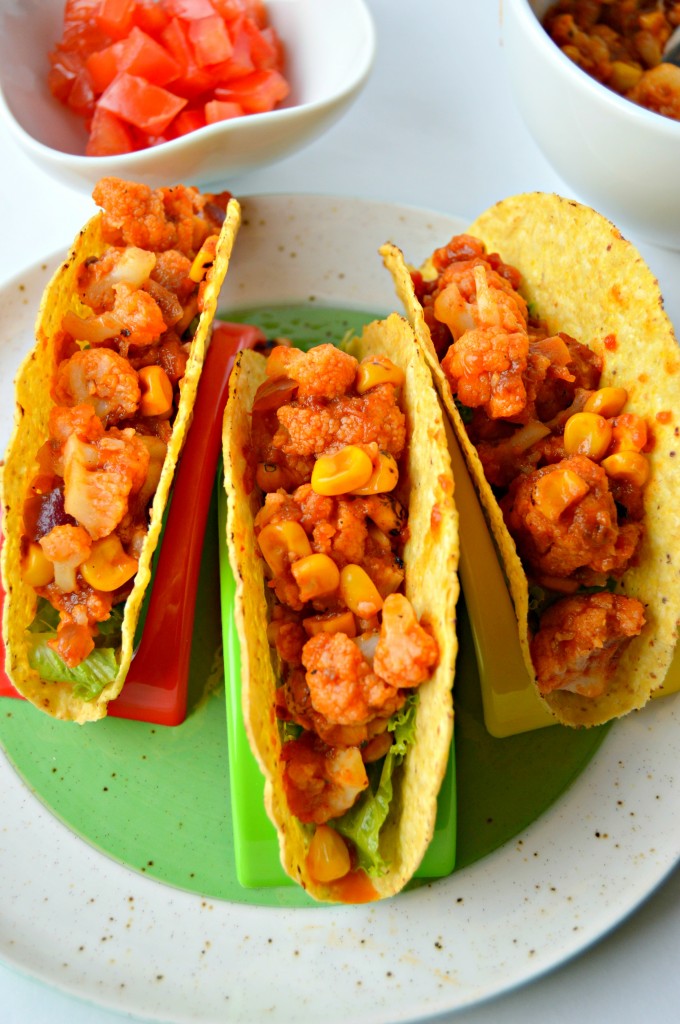 I am not a fan of Tuesdays.  In fact, I dislike them so much that it is a running joke at work that "Hannah hates Tuesdays."  Hear me out on this one.  Mondays are rough because I do not want to go back to work after the weekend.  However, Mondays are normally pretty busy because I am catching up on e-mails and voicemails from the weekend.  As a result, they tend to go by rather quickly.  Tuesdays, on the other hand, are generally one of the slower days, AND they are extremely far away from Friday, Saturday, and Sunday (my favorite days of the week).  I have explained this reasoning to people before and they simple did not "get it," but I have run across a few others who are also convinced that Tuesdays are just no bueno.  I think that my fellow Tuesday-haters are pretty smart!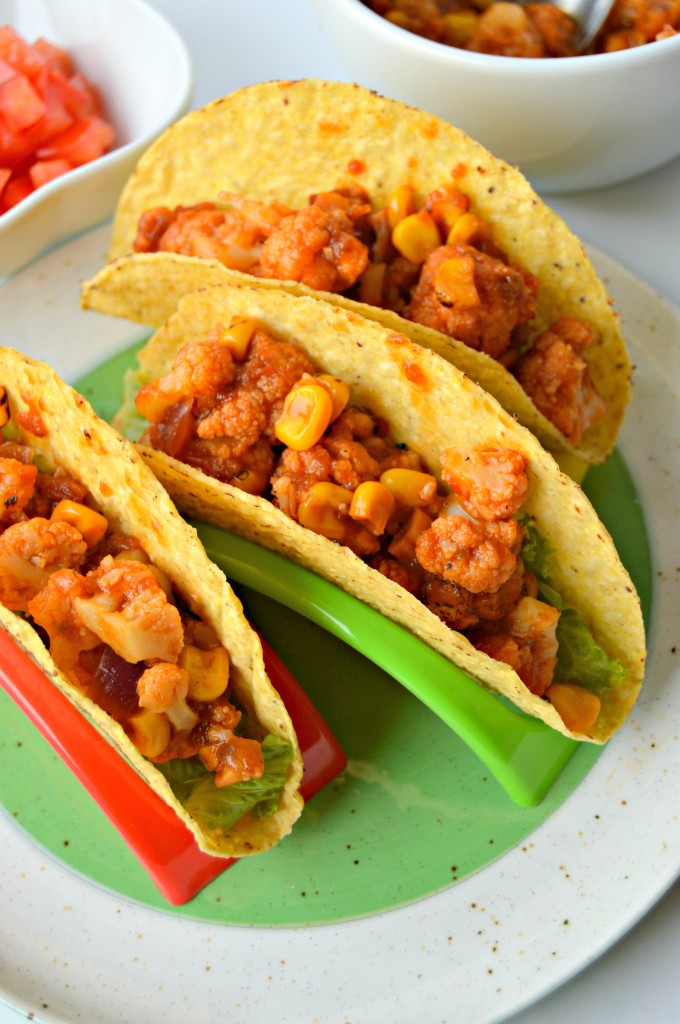 Despite my severe dislike for Tuesdays, I have come to realize that some Tuesdays are not all that bad.  Tuesdays when I am on vacation are great.  Tuesdays that are holidays are wonderful.  Tuesdays spent with family and friends are even better.  And… Tuesdays that involve tacos are the best!  I have known that "Taco Tuesday" was a thing for a while now, but just recently began fully embracing the goodness of what that day means.  It is almost as if Taco Tuesday was created for people like me who have a hatred for the second day of the work week.  It is as if they knew we needed a little something extra to look forward to at the end of the day.  Whoever invented Taco Tuesday is definitely someone who should be my friend.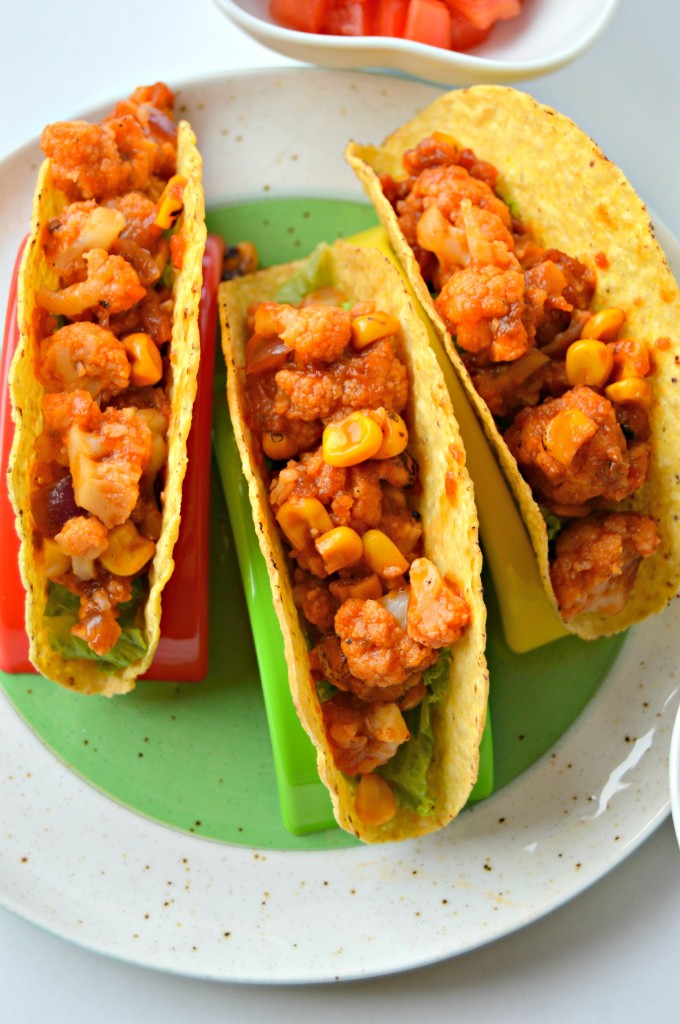 Now the majority of Taco Tuesdays probably revolve around beef, chicken, or fish tacos for much of the world.  However, my Taco Tuesday normally goes a little something like this: vegetarian refried beans, roasted chickpeas, or black beans.  And while I love all three of these taco fillings, I decided to try something a bit different during my last Taco Tuesday celebration.  I have had such fun turning cauliflower into so many buffalo "chicken" creations, that I realized how great of a substitute cauliflower truly is for dishes that normally call for chicken.  My love for buffalo cauliflower dishes has not dissipated, but this time around I wanted to make something Mexican-inspired.  Enter tacos made with cauliflower!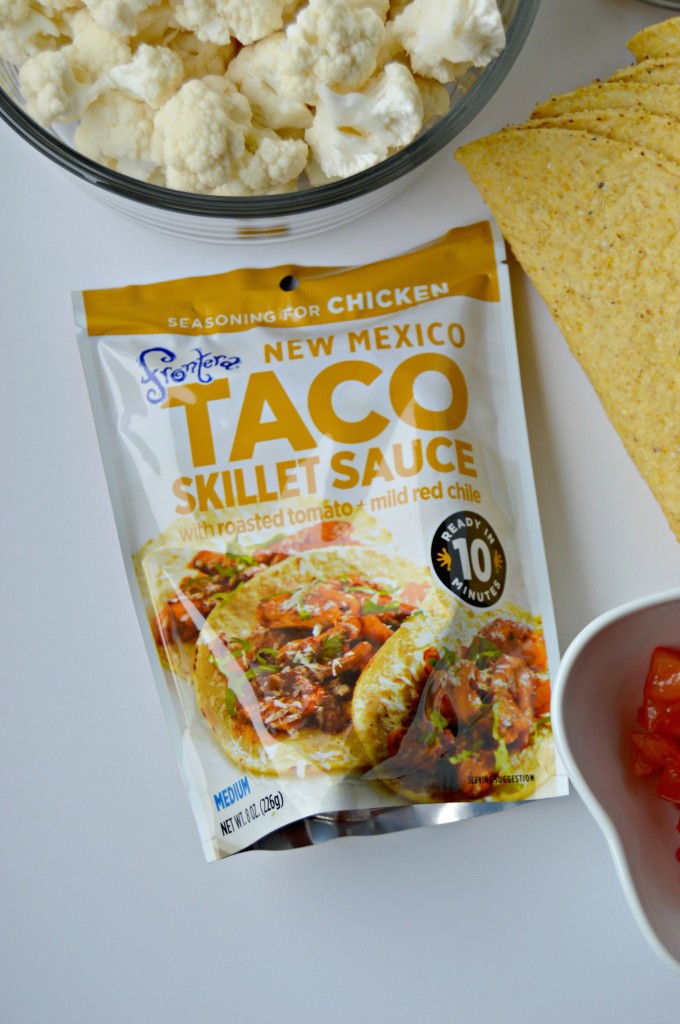 You know that I could not just throw some cauliflower into a taco shell, though.  I honestly think that would taste horrendous.  Instead, I had to find a quick and easy way to flavor it up.  Originally I thought about roasting the cauliflower with regular taco seasoning.  But when I was standing in the Mexican aisle of Whole Foods, I found something that I thought would be even better: Frontera's New Mexico Taco Skillet Sauce.  Sure, this was not quite as fancy or elaborate as seasoning the cauliflower myself.  But did I really need to be worried about being fancy when it came to tacos?  I don't think so.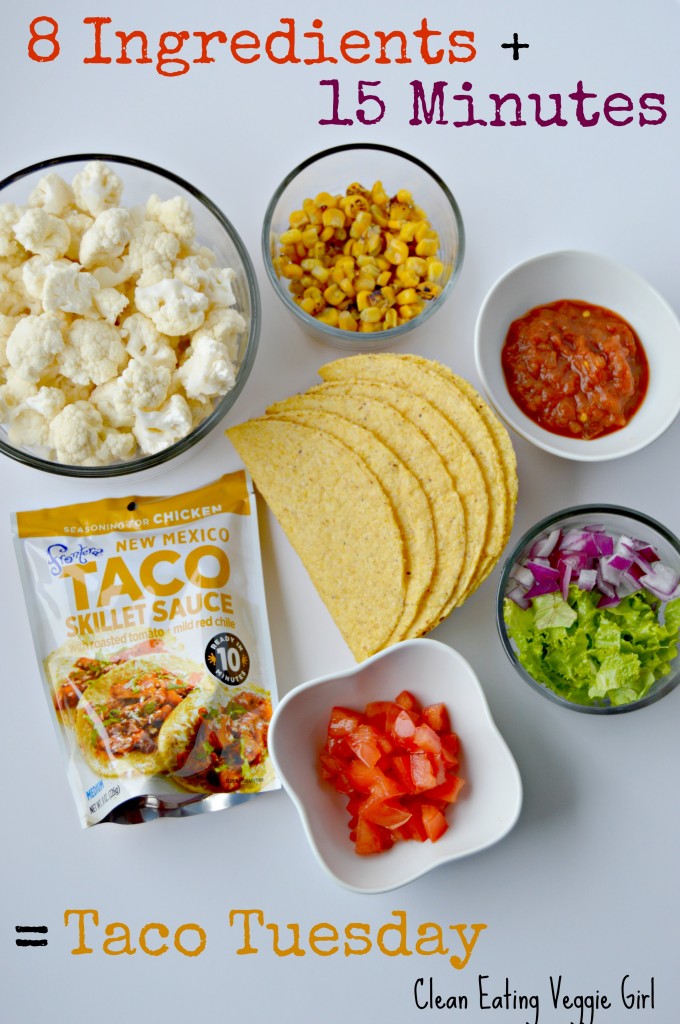 Easy 15-Minute Cauliflower and Corn Tacos
Vegan + Gluten-Free
Serves 2 to 4*
*Two for me, but with leftover filling.  You could easily serve three to four with additional shells and toppings!
Ingredients
water, for cooking
1/8 cup red onion, diced
1 small/medium head of cauliflower, chopped into bite-size pieces
2/3 cup roasted corn (I used pre-roasted from Whole Foods, but frozen roasted corn would work too!)
8 oz Frontera New Mexico Taco Skillet Sauce (they have other taco skillet sauces that would work great, as well)
6 corn or flour taco shells
shredded lettuce
diced tomatoes
salsa
Directions
1. Line a large skillet with a thin layer of water and heat over medium-high heat.  Once hot, lower the heat to medium and add onion to the pan.  Cook for approximately 5 minutes, or until softened.  Add additional water, as necessary.
2. Add chopped cauliflower to the pan.  Cover with a lid and steam for approximately 5 minutes.
3. Once the cauliflower has been steamed, stir in the corn and the skillet sauce.  Lower the heat to medium-low and simmer for approximately 8 to 10 minutes, or until the sauce has thickened to your liking.
4. While the taco filling is simmering, prepare your favorite taco toppings and heat your taco shells in the microwave or oven.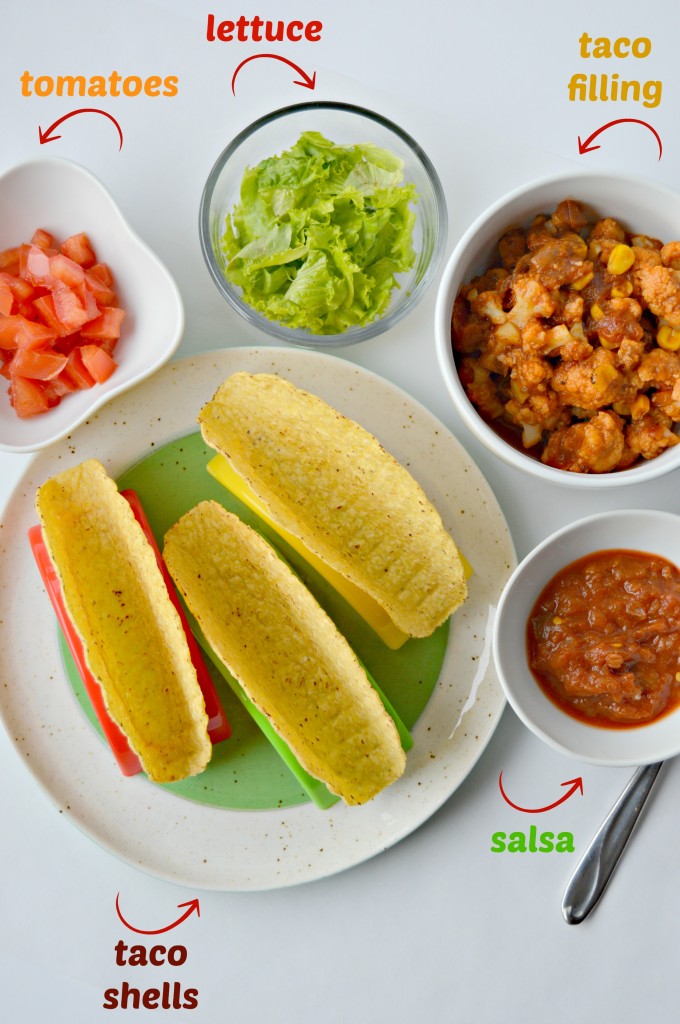 5. Once your filling is prepared, it is time to stuff your tacos!  I compiled mine in the following order: shell, lettuce, taco filling, salsa, and tomatoes.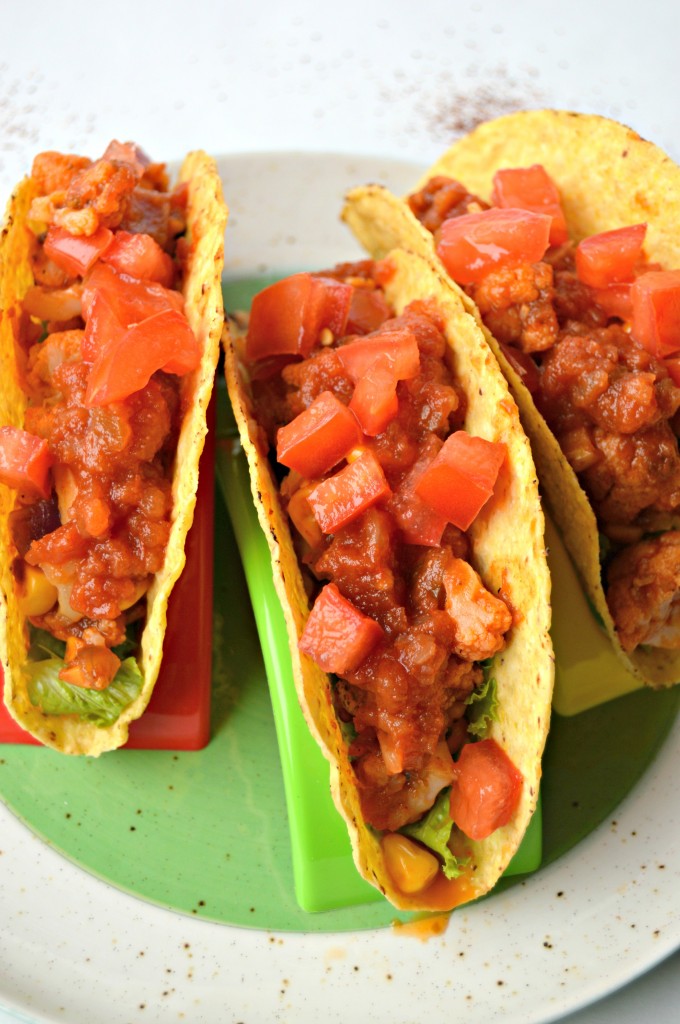 These tacos were quick, easy, and incredibly flavorful.  They were truly everything that I had hoped for and more.  When you are trying out new creations, you never quite know how they will turn it.  I am definitely counting these tacos as a BIG TIME success!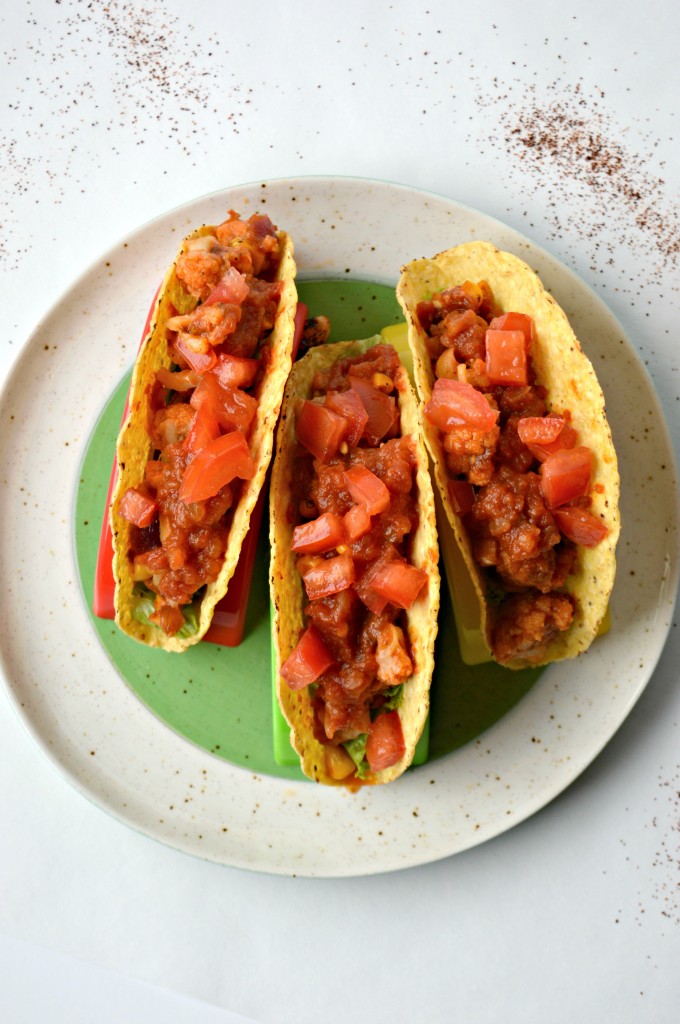 If this is what my table looked like every Tuesday, I would not be mad.  Heck, I wouldn't be mad if I saw these tacos appear on a Wednesday or Thursday, either.  It is a good thing that I only cook for myself and almost always have leftovers!
Are you a Taco Tuesday fan?  Pin this recipe and share it on Facebook and Twitter using the buttons below!
Note: This is not a sponsored post.  I just genuinely love the Frontera products… and tacos (but I still don't love Tuesdays!).