It is officially the time of year when kitchens around the world are full of three, four, five, or even more chefs at one time.  And while things can get crowded and a bit hectic, often times these cooking experiences are the most fun.  Joanna, Erin, and I have been cooking up a storm together for our Three Cooks One Kitchen monthly cooking series for a little over six months now.  Despite a couple of burnt food mishaps, we have had nothing but fun together in the kitchen (heck, even the burnt food experiences were fun!).  Food is a big part of our society, especially around this time of year, and it can truly become an experience when you cook with those you love.  I cannot think of two other people that I would rather have been cooking alongside for Joanna's second annual Friendsgiving celebration.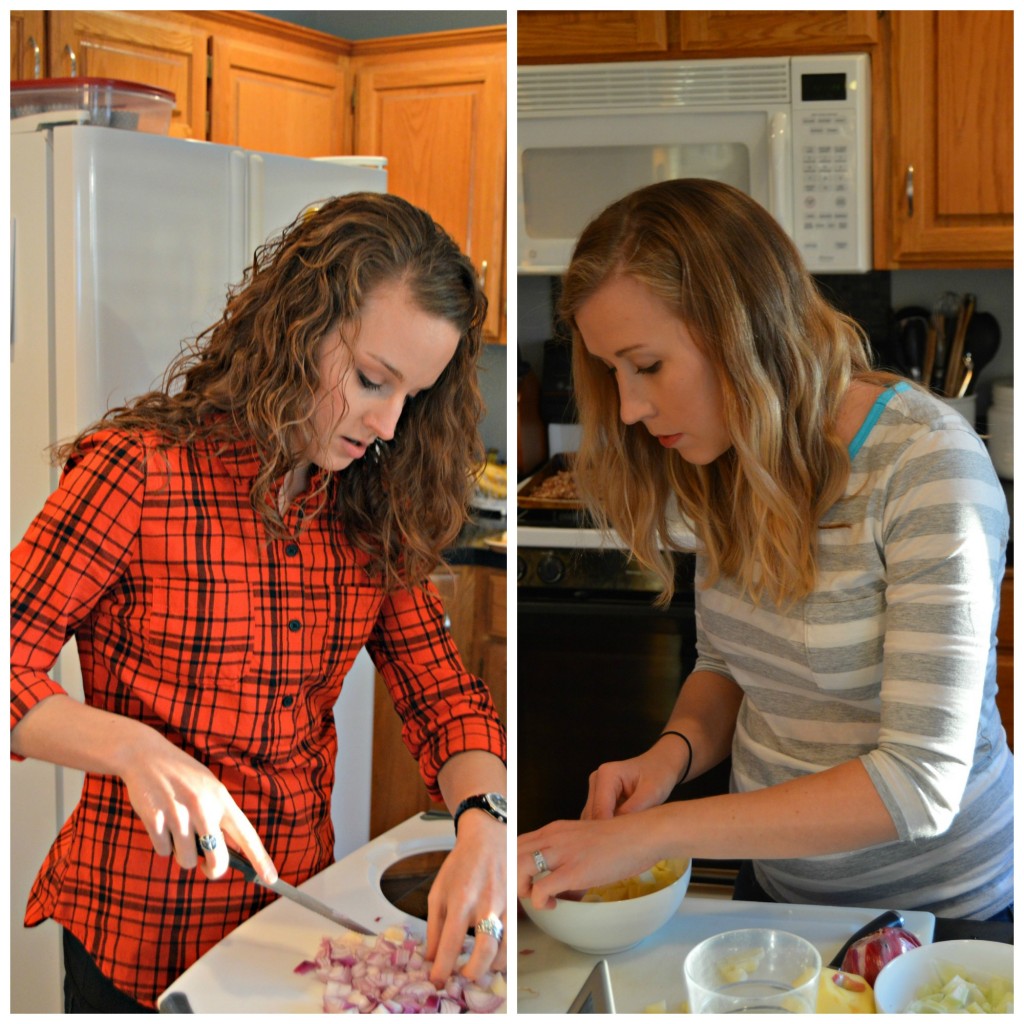 Erin and I met at Joanna's house two hours before the other guests were expected to arrive.  Joanna already had the turkey in the oven, so we immediately got to work preparing three side dishes for the Friendsgiving feast.  First up: this Apple Shallot and Herb Dressing.  At our Friendsgiving celebration last year, Joanna was gracious enough to make a vegetarian dressing for Erin's husband and me.  We all loved it so much that we decided it needed to happen again.  The fact that this recipe is a bit non-traditional- with ingredients like apples, fennel, celery root, and golden raisins- was a huge plus in my book.  I am a major sweet/savory fan, and this dressing totally fits that bill.
We peeled and chopped to our heart's content, did a little sauteeing and seasoning, and threw it all together in a big bowl to rest for 30 minutes.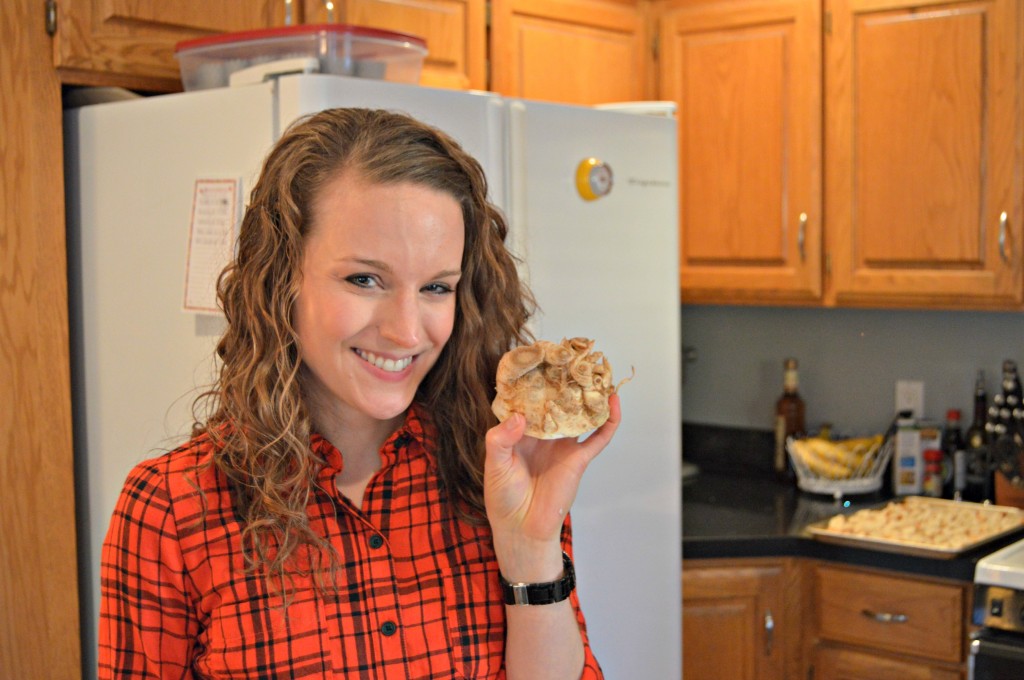 Can we please talk about how incredibly strange celery root looks?  This is the bottom of the celery root, which we all thought looked like creepy fingers.  We have officially named this the token vegetable for the Halloween season!
While the dressing ingredients were resting, we snacked on a delicious pumpkin fluff dip that Joanna made.  It tasted amazing when scooped up with salty pretzels and sweet vanilla wafers.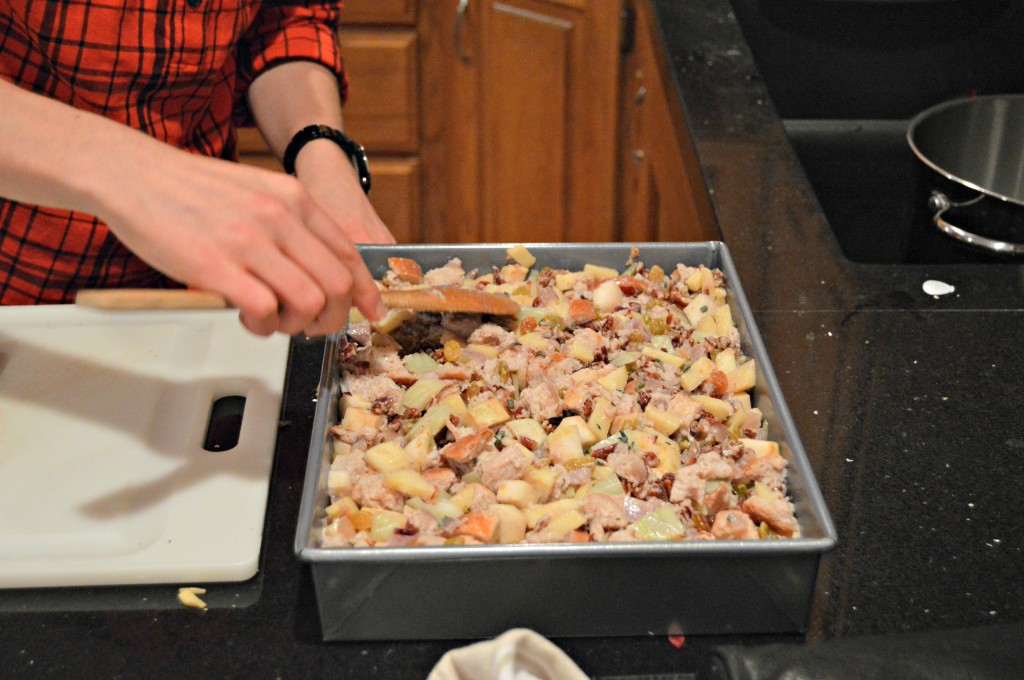 After the 30 minutes were up, we added the dressing ingredients to the pan and popped it into the oven for an hour.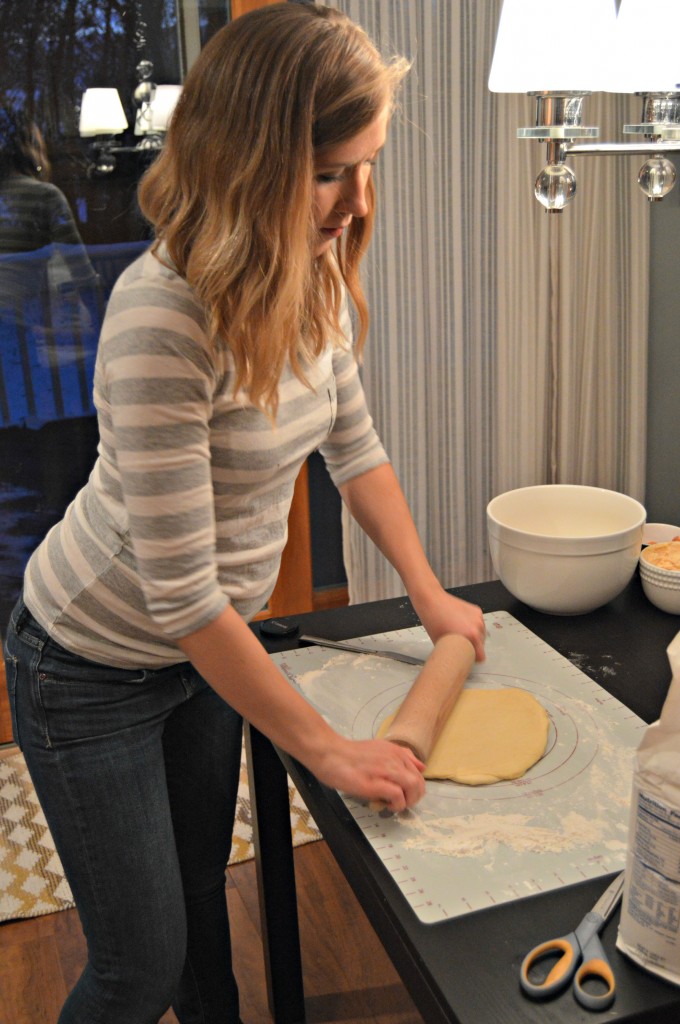 The next side that we set out to prepare was a Thanksgiving must: crescent rolls!  Joanna's mom graciously gave us her recipe to use (posted below), and Joanna prepared the dough ahead of time.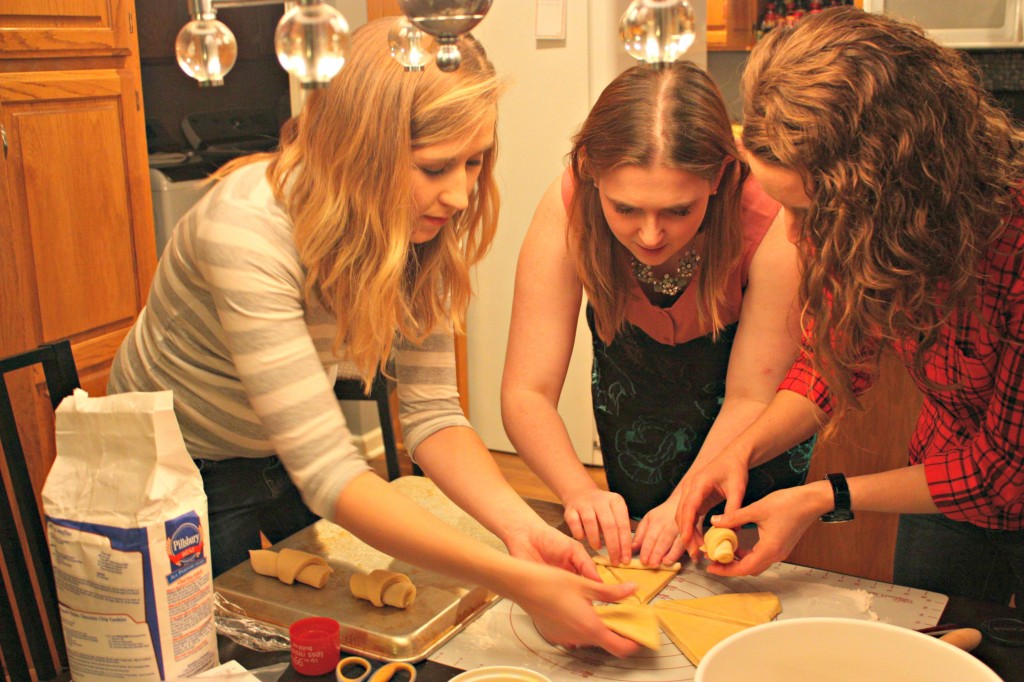 We split the dough into two separate chunks, rolled them out, cut them into eight pieces (16 total), and rolled them up into crescent rolls.  I honestly never knew that making homemade crescent rolls could be so easy!  It may or may not have helped that I didn't actually have to do anything to get the dough ready!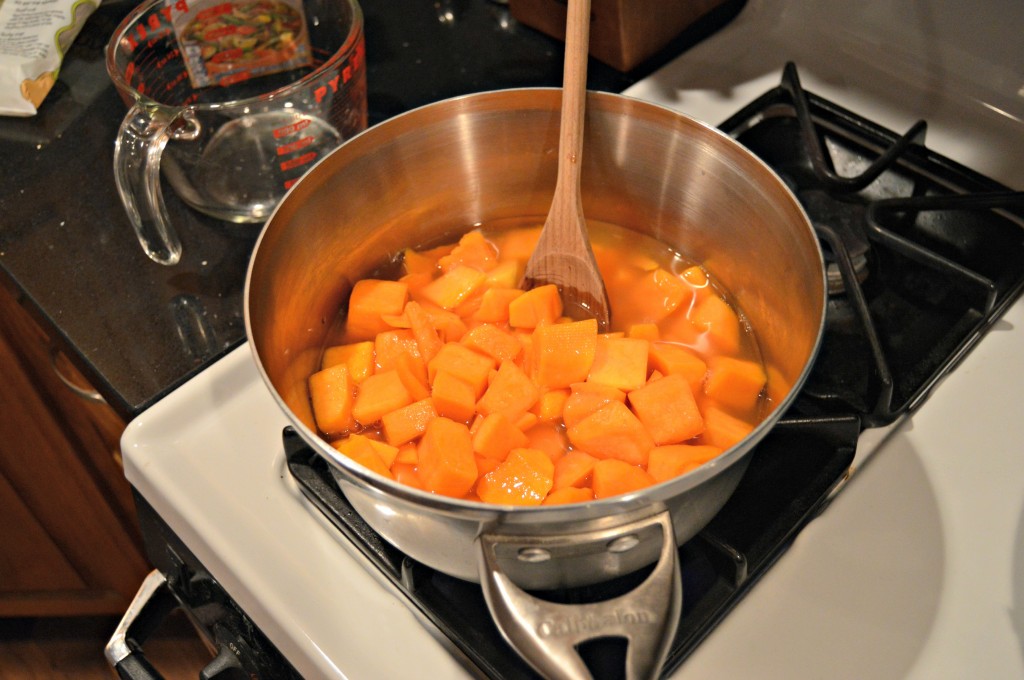 With the crescent rolls all prepped and ready for the oven, we got to work making Kelly's Butternut Squash Gravy.  Joanna and I saw Kelly's post a few days before our Friendsgiving celebration and decided that it needed to make an appearance on the table.  What could be better than a gravy made with vegetables?
It was incredibly easy to make, and simply required mixing, boiling, and blending all of the ingredients together.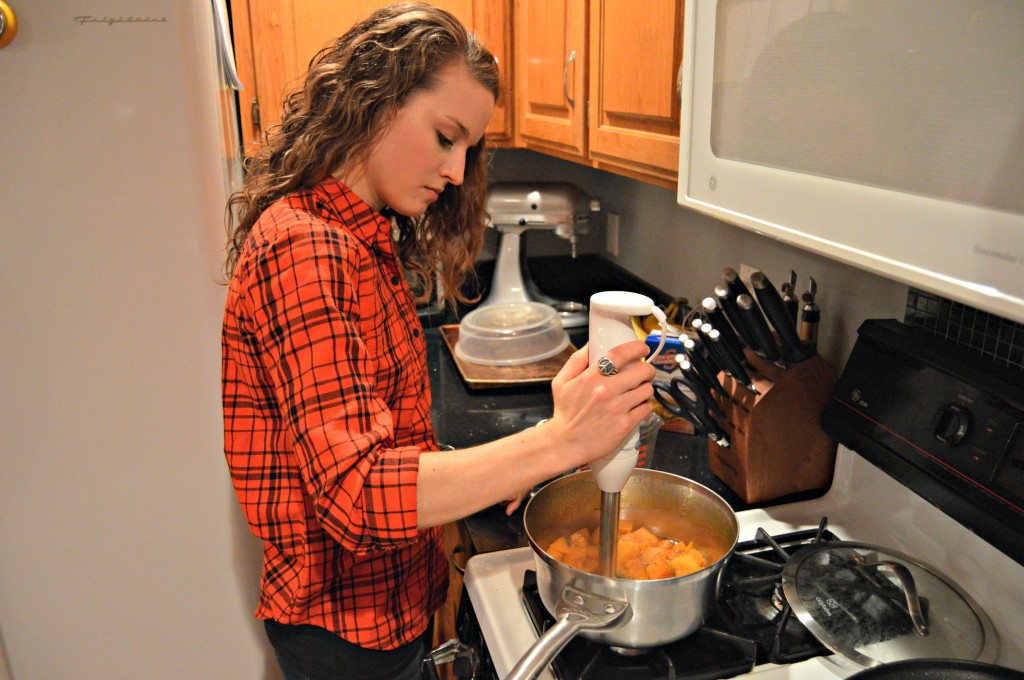 This is me attacking the squash with the immersion blender.  Like Joanna, I also have an immersion blender, and I have to say that it is one of my favorite Christmas presents from last year.  It makes preparing soups and gravies a breeze!
With the dressing and rolls in the oven and the gravy warm on the stovetop, we stopped to take a quick picture of the three chefs.  Also, I feel like I should have been wearing a light pink/coral shirt instead of red and black.  I totally threw off the color scheme! 😉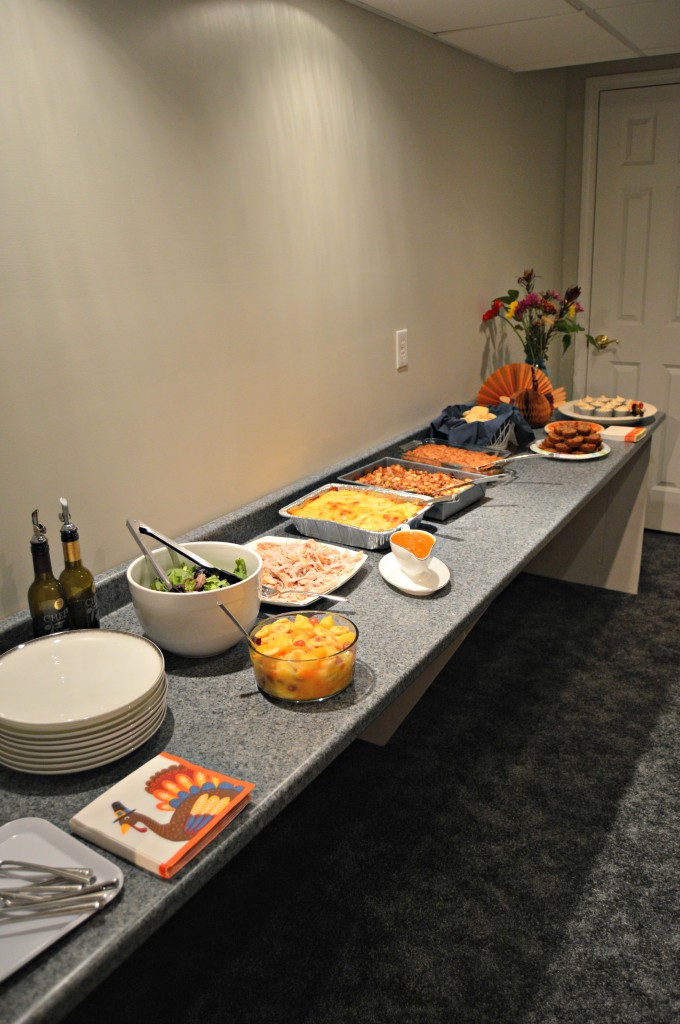 After the other guests had arrived and our food was out of the oven, we set up the buffet table and got ready to dive in.  In addition to the dishes we cooked together, everyone contributed one dish of their own.  We had mains, sides, and desserts.  Basically, we had all of the essential fixings!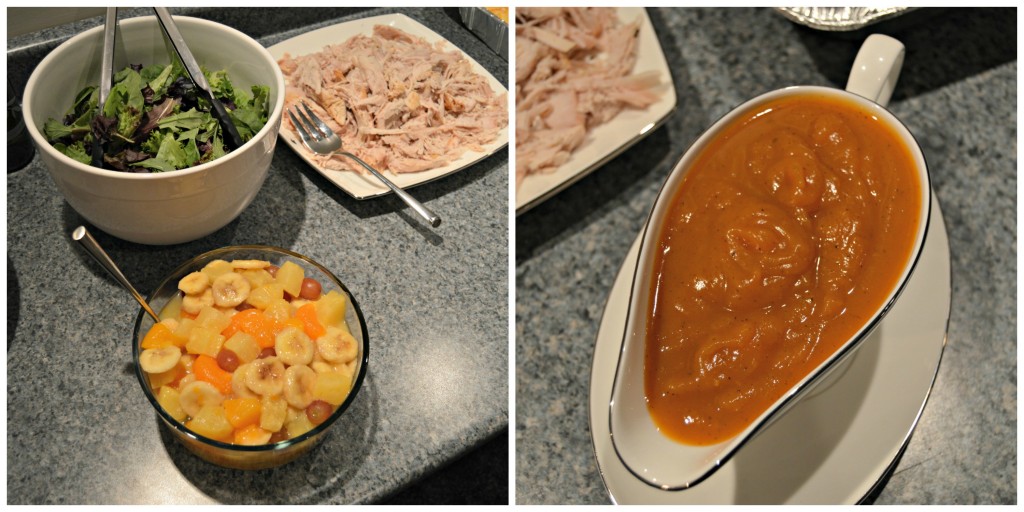 On the left is a salad with blood orange and blueberry balsamic vinaigrettes, turkey, and my family recipe for fruit salad.  On the right is the perfectly thick and seasoned butternut squash gravy.  It was a smart move on our part to make a double batch of the gravy because it was a huge hit!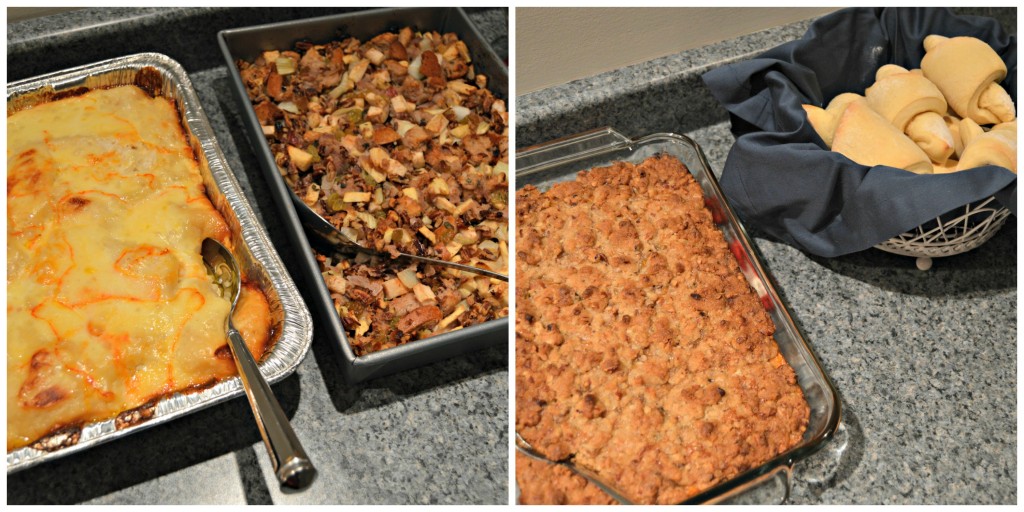 On the left are creme brulee potatoes from Wheatfield's (so good) and our delicious dressing.  On the right was an amazing sweet potato casserole that Jordan made and our crescent rolls.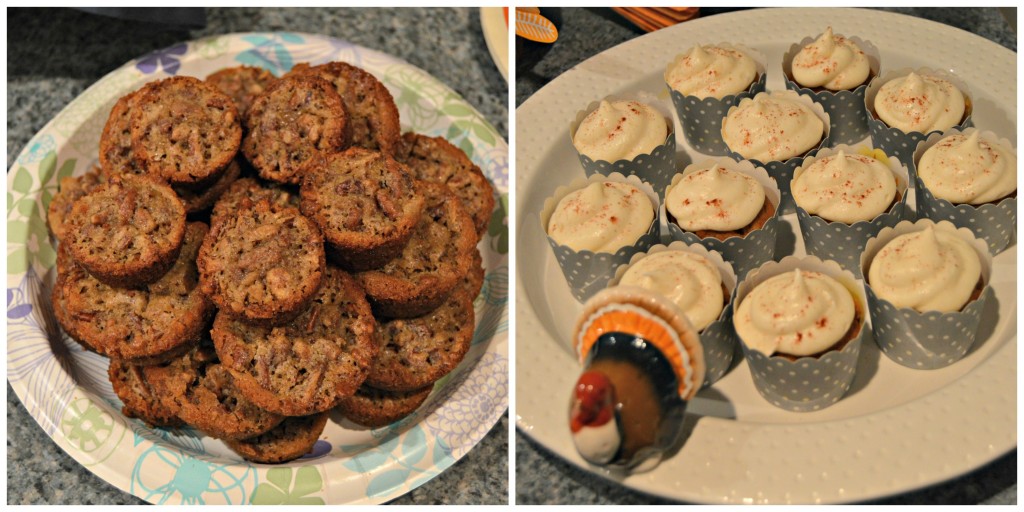 It is not Friendsgiving without dessert!  Molly brought the cutest mini pecan pie muffins, and Joanna (the master baker) made pumpkin spice cupcakes with cream cheese frosting.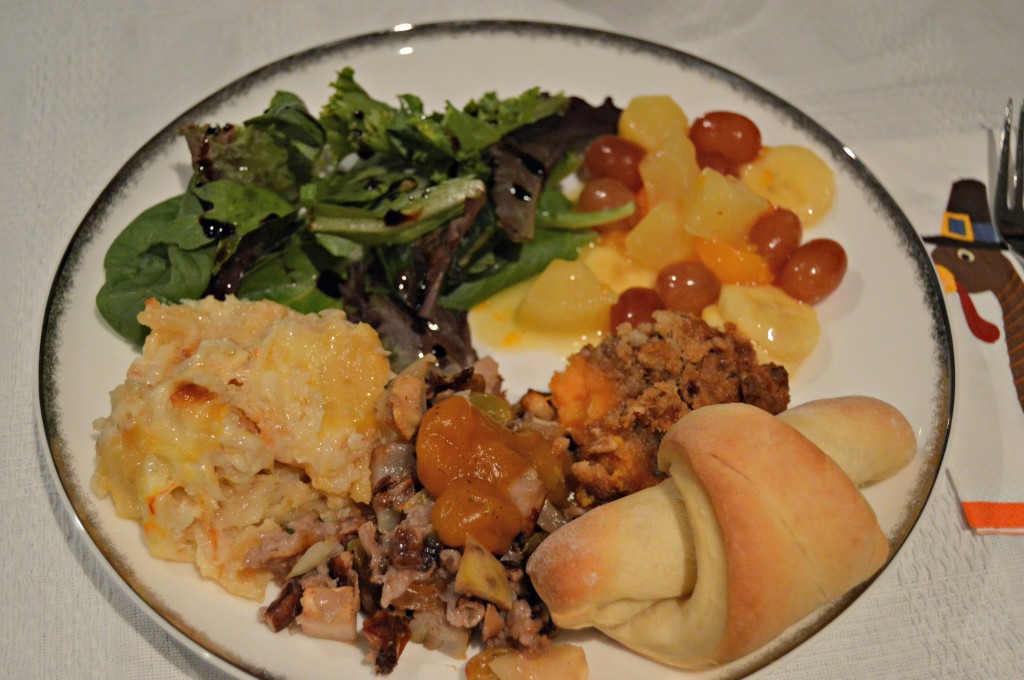 I filled my plate to the brim with everything- except the turkey, of course!  I loved every single dish, but I thought the stars of the show were Jordan's sweet potato casserole and the butternut squash gravy.  Apparently I have a thing for beta carotene.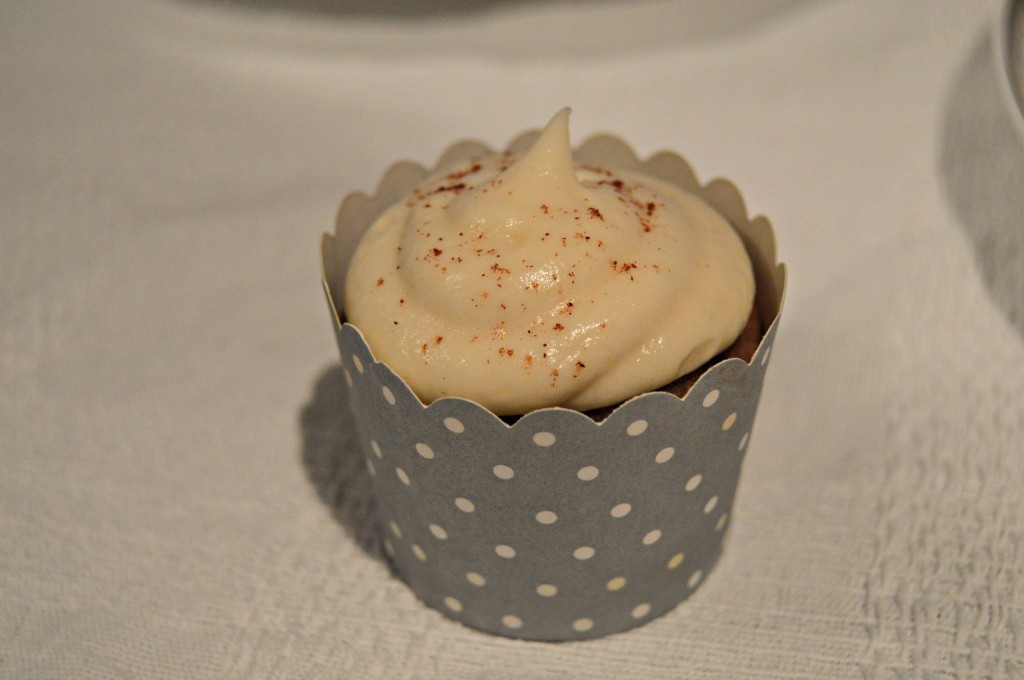 You knew this was coming, right?  It almost looks too cute to eat…  hah, yeah right!  I can never say no to pumpkin.  I have never ever been disappointed with anything Joanna has baked.  I am convinced she should open up a bakery!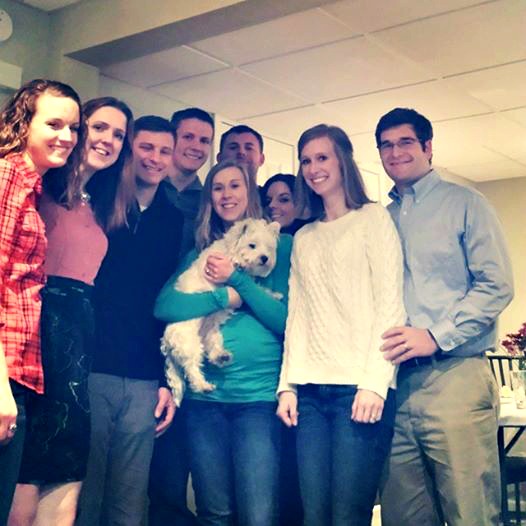 How awesome is this picture?  We decided we need a picture of the whole gang before the evening was over.  And since neither Joanna or I knew how to use the self-timer on our DSLRs, we used Jordan's cell phone.  After about three million tries, we ended up with this one.  The fact that we are all in the picture makes it a success!
I think we would all agree that Friendsgiving was a hit, and we all left with very full and happy tummies.  I was so grateful to have spent this Friendsgiving night with my Omaha family.  I'd be lost without them!
Crescent Roll Recipe
Makes 16
Ingredients
1 package (1/4 oz) of active dry yeast
2 1/2 TB warm water (110-115 degrees)
4 1/2 cups flour, divided
1 cup warm milk (110-115 degrees)
1/2 cup shortening
1/2 cup sugar
3 large eggs
1 tsp salt
2 TB buter or margarine, melted
Directions
In a large mixing bowl, dissolve yeast in water.  Add half of the flour, milk, shortening, sugar, eggs and salt; beat for 2 minutes or until smooth.  Add enough remaining flour to form a soft dough.  Turn onto floured board; knead lightly.  Place in a greased bowl, turning once to grease top.  Cover and let rise in a warm place until doubled, about 2 – 3 hours.  Divide dough into two equal parts.  Roll each into a 12 inch circle; brush with butter.  Cut each circle into 8 pie-shaped wedges.  Roll up each wedge from wide edge to tip of dough and pinch to seal.  Bake on greased baking sheet (point side down) at 375 degrees for 12 – 15 minutes or until lightly browned.  Remove from baking sheet and serve immediately or cool on wire rack.
Check out the other two cooks' Friendsgiving posts here:
Joanna's Post
Erin's Post
Have you ever hosted or been to a Friendsgiving celebration?