Today is Tuesday, and I am linking up with Becky's Treat Yourself Tuesday link-up in celebration of having attended my very first Friendsgiving this past Sunday night!  Becky is a firm believer in treating yourself well, and I definitely think I accomplished that this weekend.
When Joanna invited me over for her Friendsgiving celebration I was super excited!  I had heard of the "Friendsgiving" concept before, but did not experience it firsthand until Sunday.  For those of you who are not familiar with what a Friendsgiving is, it is essentially a Thanksgiving celebration with friends.  Cool right?  I was excited to spend more time with Joanna and to hangout with Erin (both of whom I met through blogging!).  It was also a lot of fun being able to see Erin's husband Josh again, to meet Joanna's husband Jeff, and to spend time with some new faces.  Oh, and I can't forget to mention Joanna's adorable daughter, Eleanor, and her cute dog, Ruby!  Those two just may have stolen the show ;).
Now that you know all about the people at the Friendsgiving celebration, let's get to the food!
(P.s. I was a bad blogger, so all of the credit for these photos goes to the wonderful Erin! :))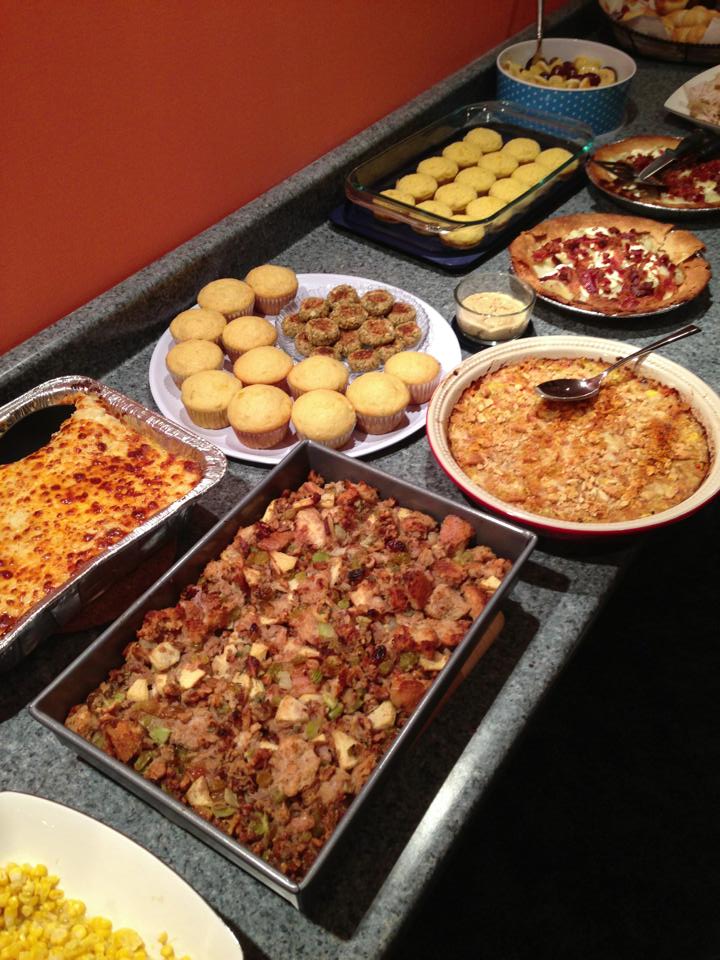 And boy, was there a lot of food!  That always seems to happen with the pot luck style, right?  But hey, the more food the better.
Joanna and Jeff did a wonderful job hosting.  They provided the beer and wine, made the turkey (which obviously wasn't my thing ;)), prepped a tasty salad, baked up cupcakes, and made an absolutely delicious apple and herb dressing.  You can find out more about what they cooked here on Joanna's blog.  There were several vegetarians in attendance, and Joanna was incredibly thoughtful by preparing a vegetarian stuffing.  I am so glad that I was able to eat it because it was tasty!  The rest of us chipped in and brought sides and desserts.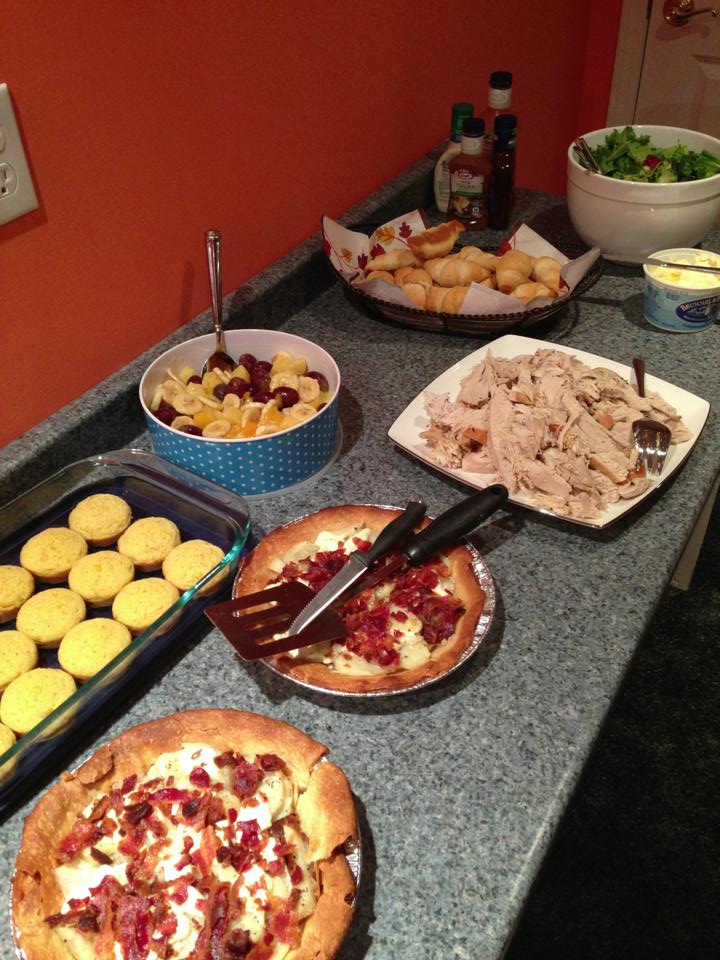 Some of the other food that made an appearance included crescent rolls, creme brulee potatoes, a squash and carrot casserole, falafel and hummus, and of course LOTS of desserts.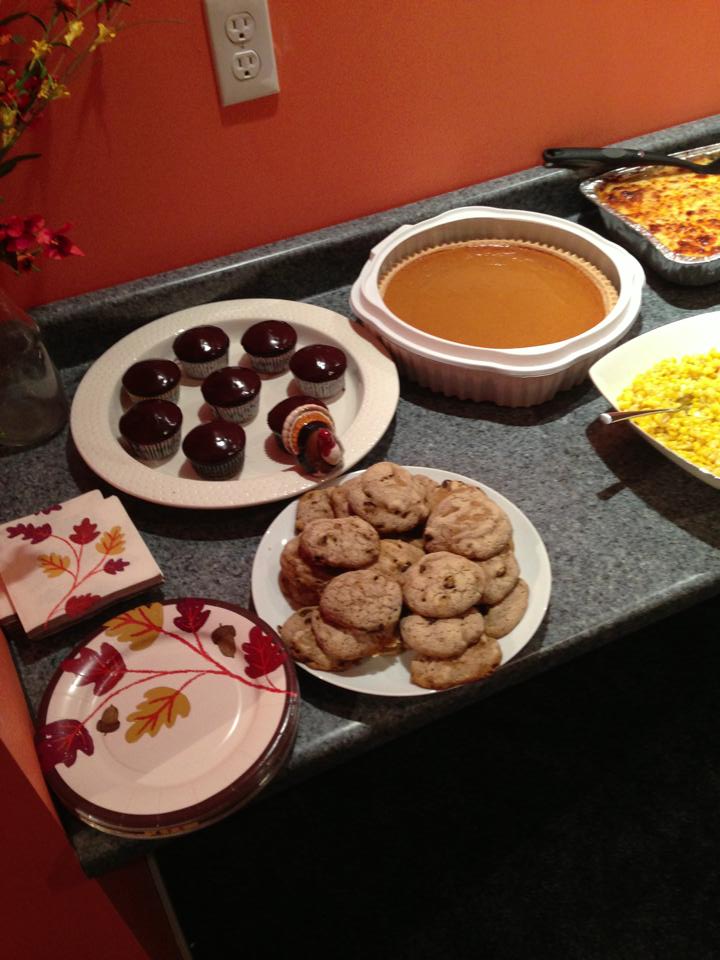 I brought cornbread muffins (as did someone else!) and my family's fruit salad.  I grew up eating this fruit salad during the holidays, so I knew it would be the perfect thing to contribute.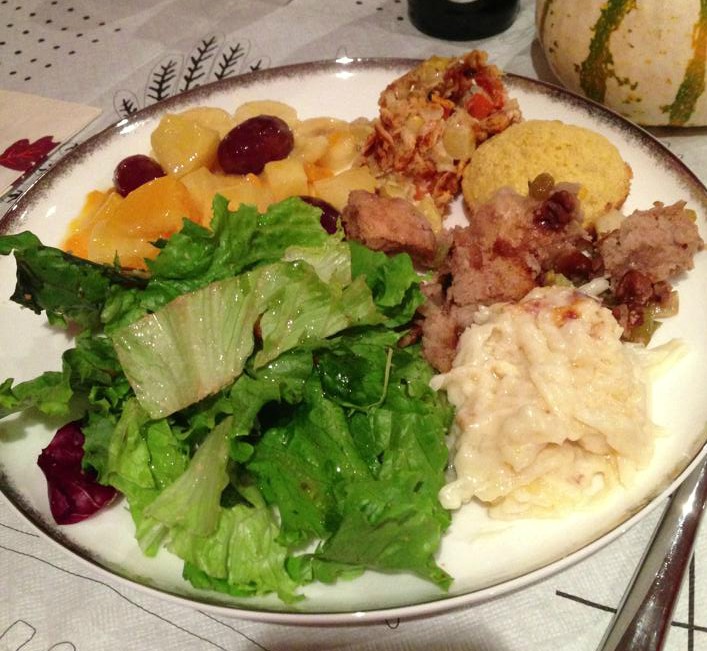 I piled my plate with salad, fruit salad, the squash and carrot casserole, a cornbread muffin, the stuffing, and the creme brulee potatoes.  And I obviously had a slice of pumpkin pie with a bit of whipped topping.  I seriously LOVE pumpkin pie :).  As you probably know, I generally stick with a plant-based diet about 90% of the time, but I make exceptions during the holidays.  This is where that other 10% comes in when I just stick with a vegetarian diet.
And finally…a picture of Erin and me to round out this post.  Unfortunately, I did not get a picture with Joanna :(, but I think she was a bit busy being an awesome hostess and taking care of her adorable daughter.  Seriously, you must go check out her blog.  Cutest baby EVER! 🙂  Thanks again for inviting me, Joanna!  It was a successful and fun first Friendsgiving.
Happy Tuesday, friends!
Have you ever been to a "Friendsgiving" celebration?