A Three Cooks One Kitchen edition featuring a Nebraska staple-Runzas.  I made my healthified version vegetarian-style.

We stepped away from the grill this month and got back into the kitchen.  Despite experiencing wonderful weather this past weekend, Joanna, Erin, and I wanted to devote our latest edition of Three Cooks One Kitchen to a staple here in Nebraska: Runzas!  If you are wondering what in the heck a "runza" is, you are not alone.  If you already know what a "runza" is, you are probably either very well-educated, from Nebraska/Western Iowa, or have family from Nebraska/Western Iowa.  I had never heard of runzas until I moved to Omaha two years ago.  Runzas are actually the basis of a popular fast food chain that originated in Omaha called, you guessed it, Runza!  That's right.  A fast food restaurant introduced me to the concept of runzas.
With Erin being a transplant from Pennsylvania and me being a transplant from Eastern Iowa, we were clueless about how to make homemade runzas.  Joanna, however, grew up eating runzas that her parents made and now makes them herself.  Erin and I thought this would be a perfect opportunity to learn how to make this Nebraska staple, seeing as how we are now officially Nebraskans and all.
It turns out Nebraska cannot take all of the credit for runzas, though.  With a little help from Wikipedia, we learned that runzas originated in Russia, spread to Germany, and then arrived here in the United States.  Traditional runzas consist of a bread pocket that is filled with beef and/or pork, cabbage or sauerkraut, onions, and seasonings.  These savory bread pockets are then baked.  Some variations also include cheese.  Since Joanna, Erin, and I all tend to have different food preferences, the three of us each decided to create our own versions (links to their versions are at the end of this post).  Joanna stuck with the traditional version that she has used for years, Erin made a chicken version, and I created a vegetarian version using lentils.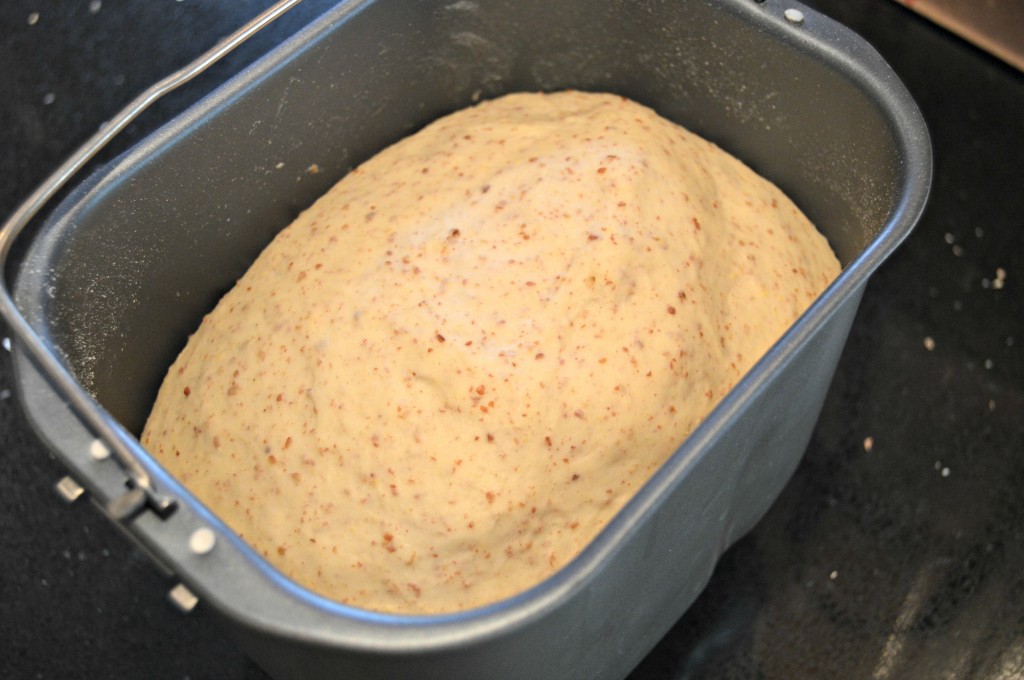 Joanna was gracious enough to prepare the dough for the runzas (recipe below) before Erin and I arrived at her house.  She has also convinced me that I probably definitely need to own a bread maker.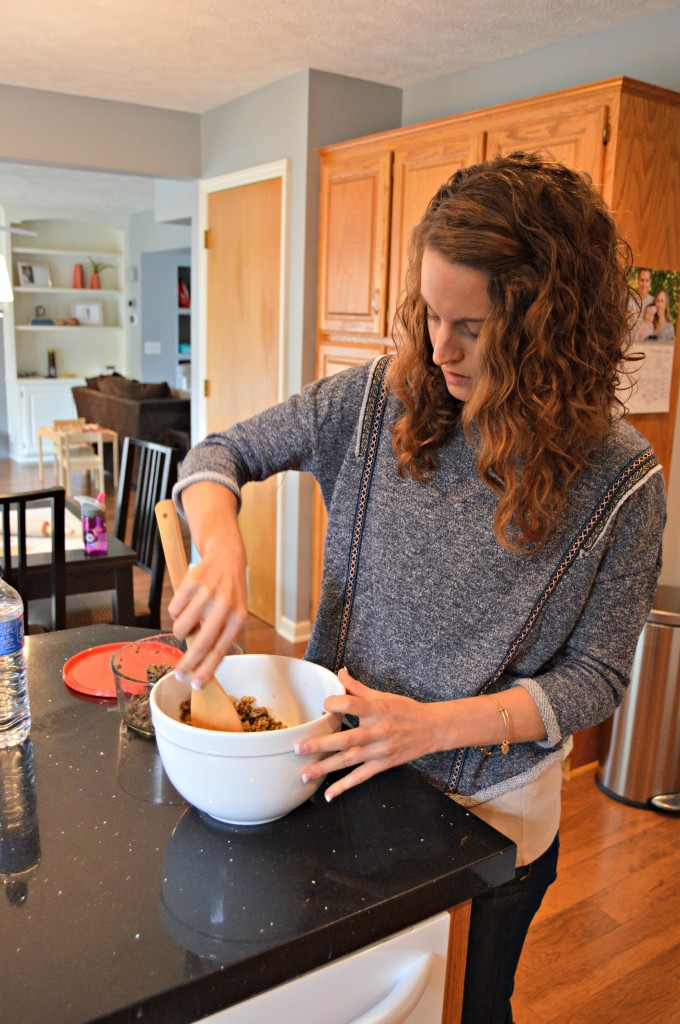 With the dough all ready to go, we got to work on preparing our fillings by adding the specificed shredded and cooked vegetables to our protein of choice.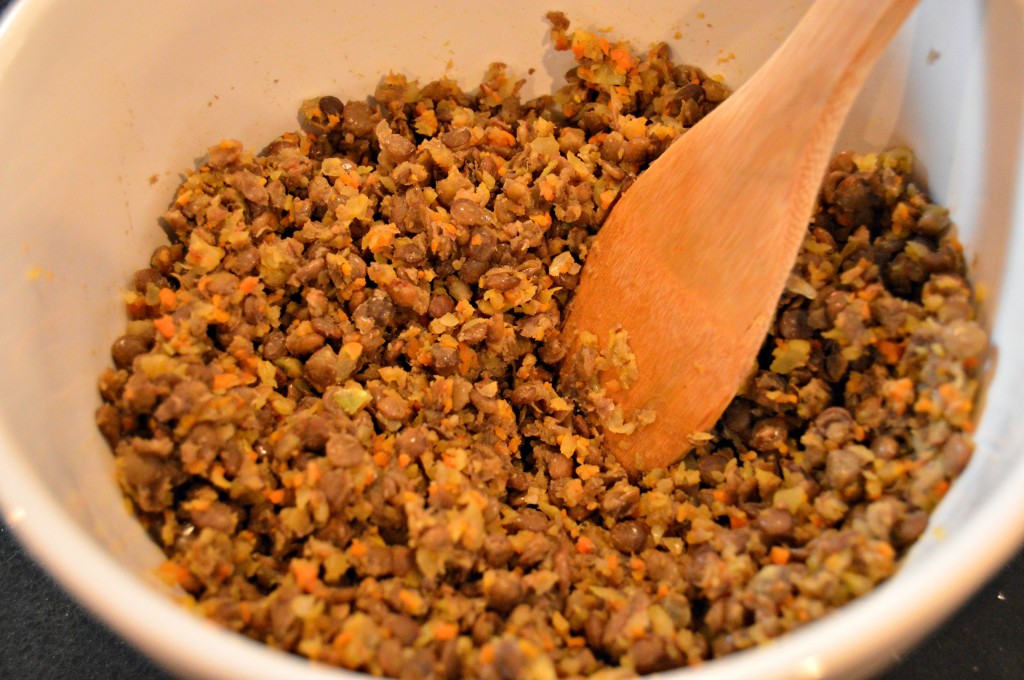 My filling consisted of cooked lentils and cooked shredded cabbage, carrots, and onions.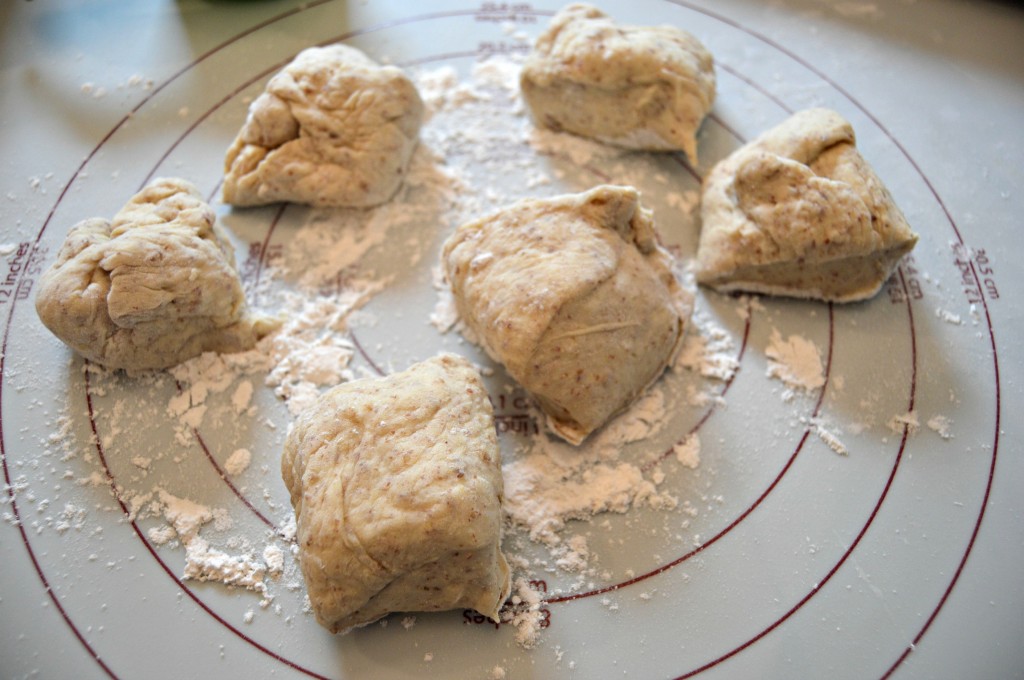 Next up: assembling the runzas!  We started by splitting the dough into equal pieces.  Joanna made twelve runzas, while Erin and I split a batch of dough and assembled six each.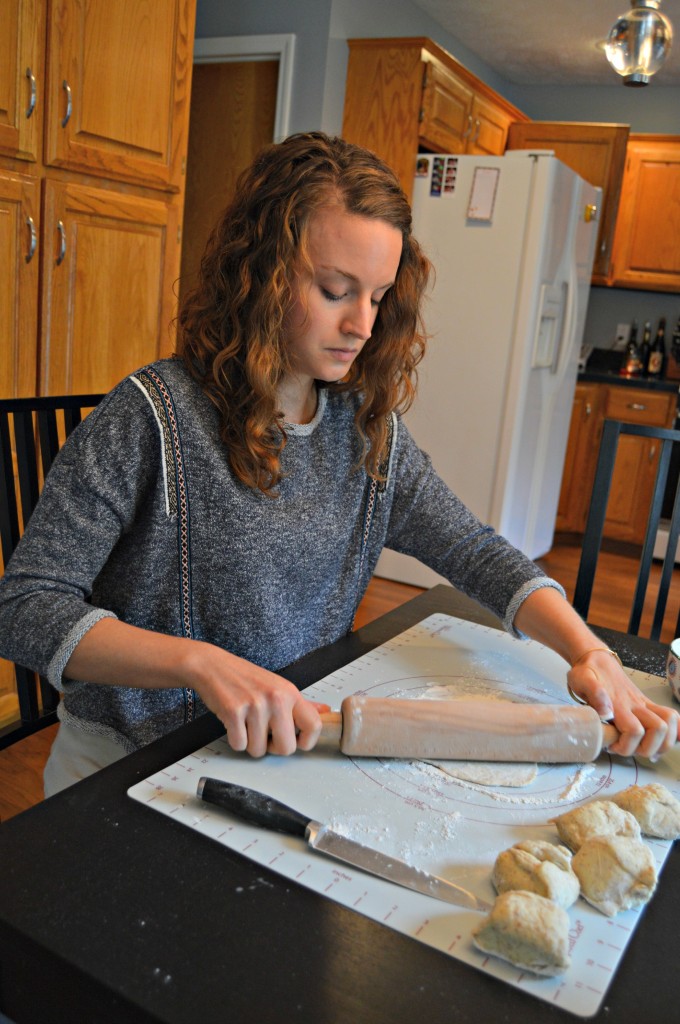 After the dough was separated into equal pieces, we rolled out each piece into very thin ovals.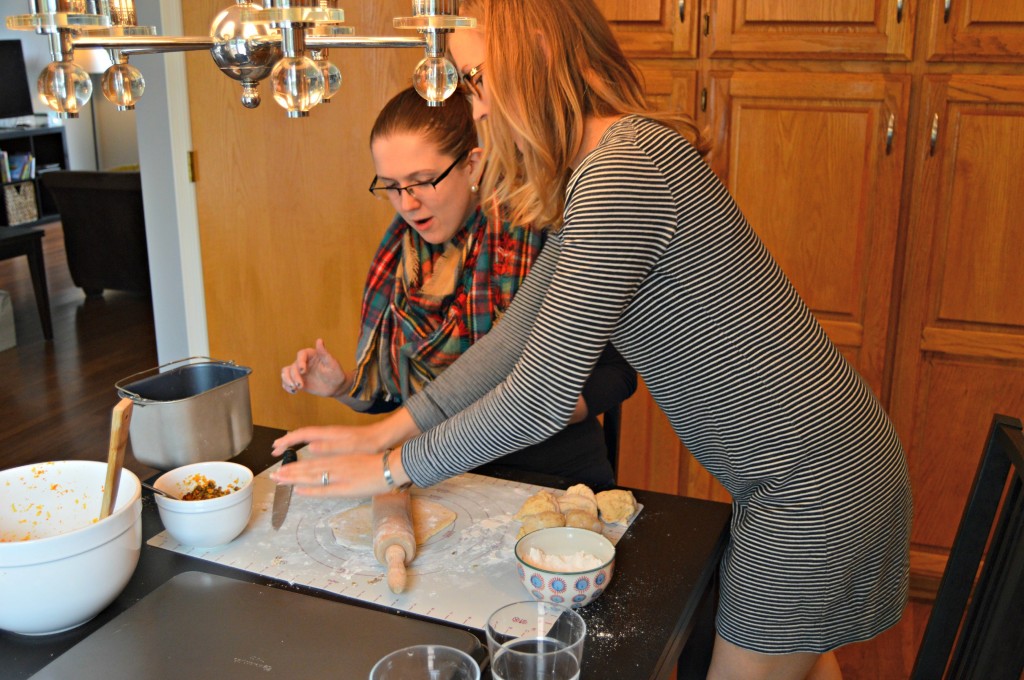 Some of us had to be taught how to use the rolling pin (sorry Erin!) 😉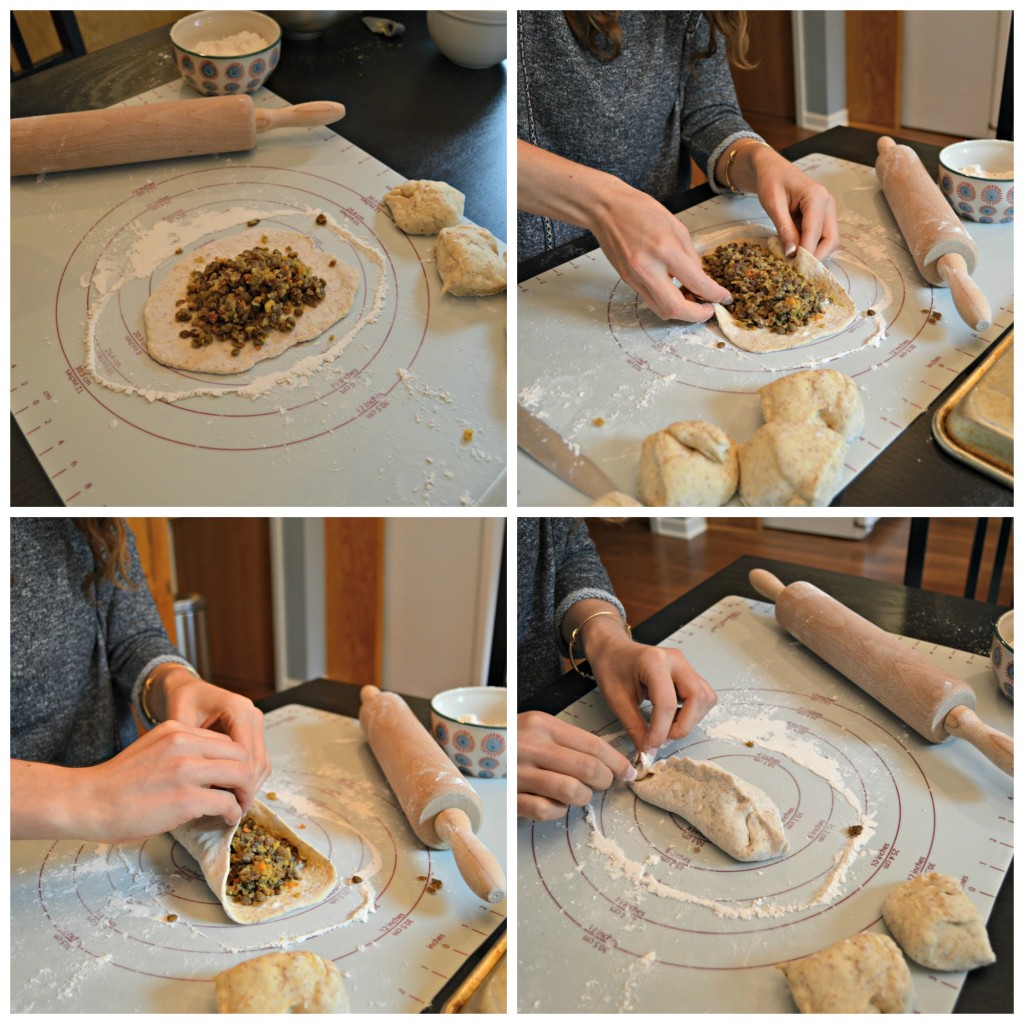 Once the dough was rolled out, each runza was filled with 3/4 cup worth of filling.  To close the runza, we brought the centers of each side of the dough together and pinched the pockets closed.  We continued this process until the dough was pinched closed around the entire portion of the filling.  Finally, we folded up each end of the runzas and pinched them closed.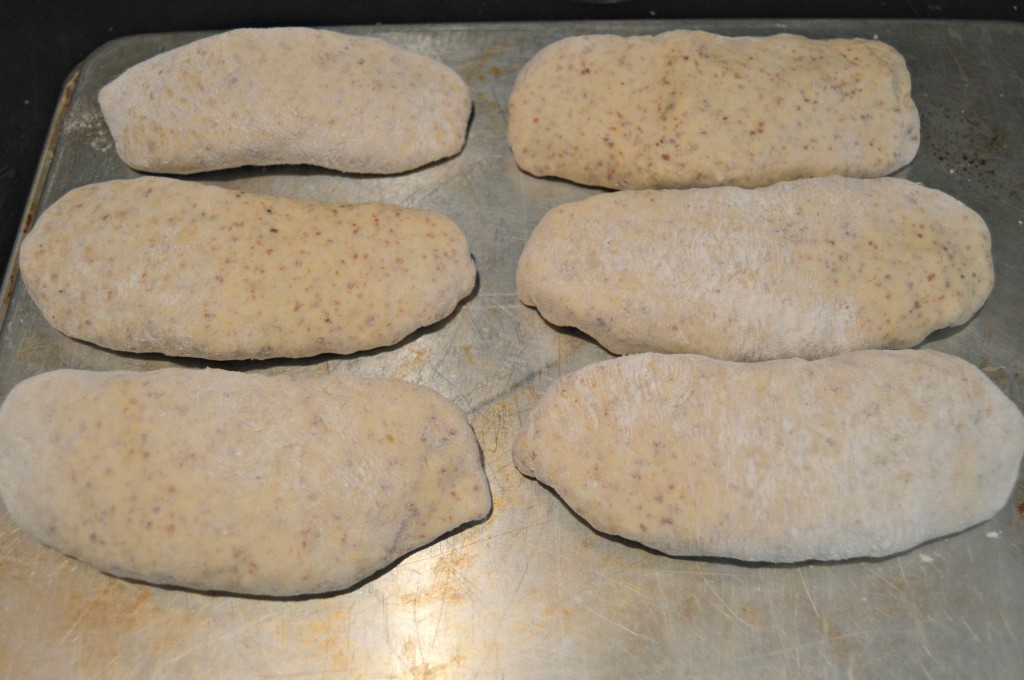 The runzas were then placed seem-side down onto a nonstick baking sheet.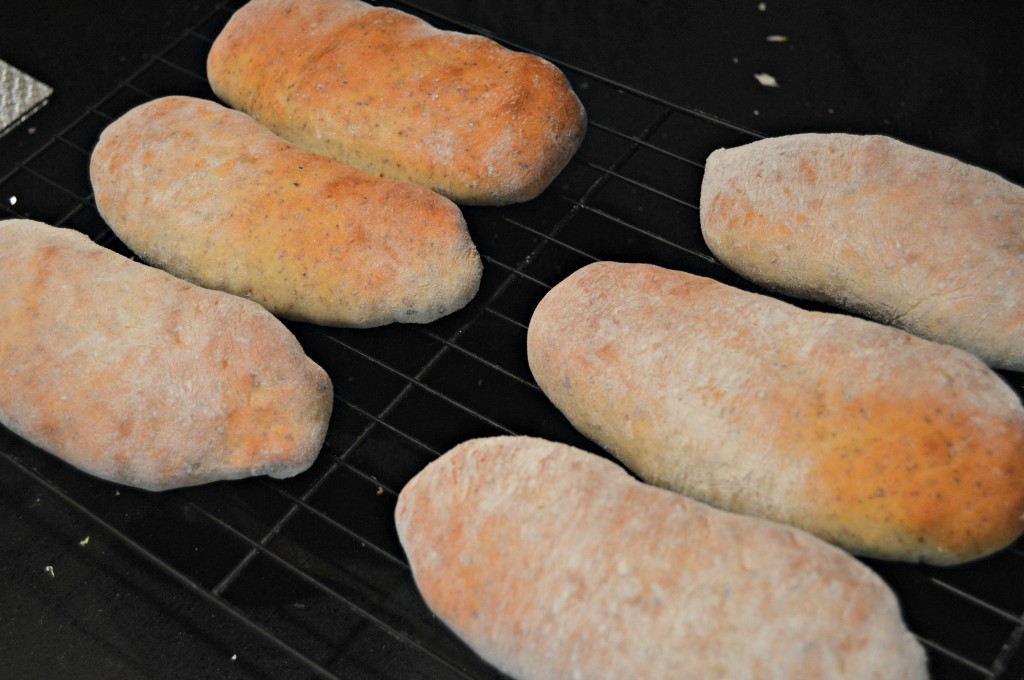 Our runzas spent about 20 minutes resting and then cooked in the oven for another 20 minutes.  They came out golden brown.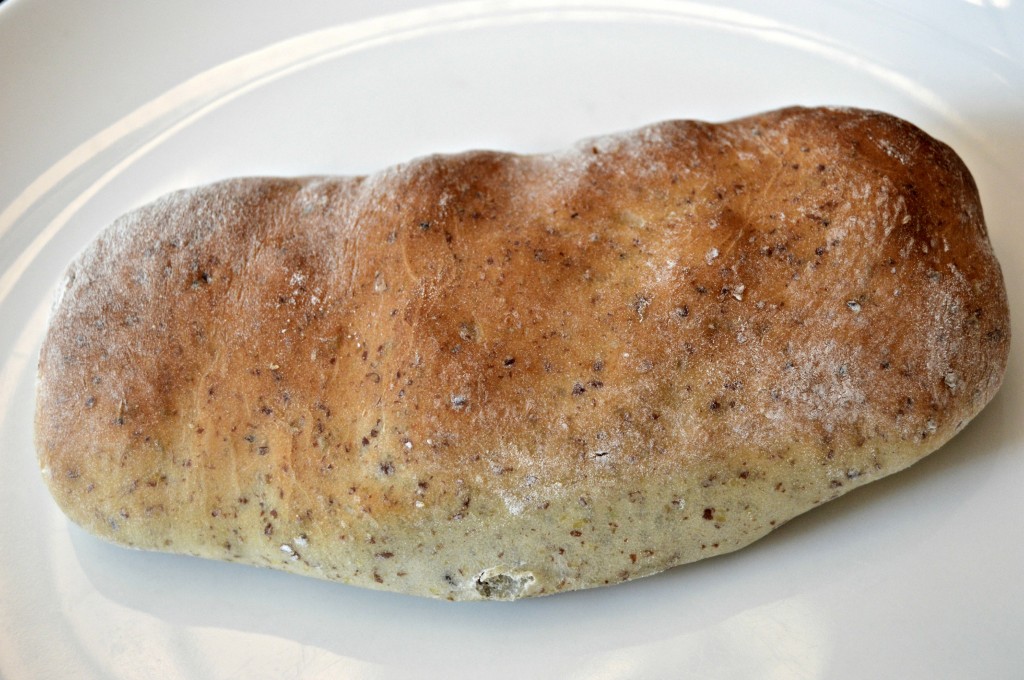 I started with one and probably could have easily eaten two… or three!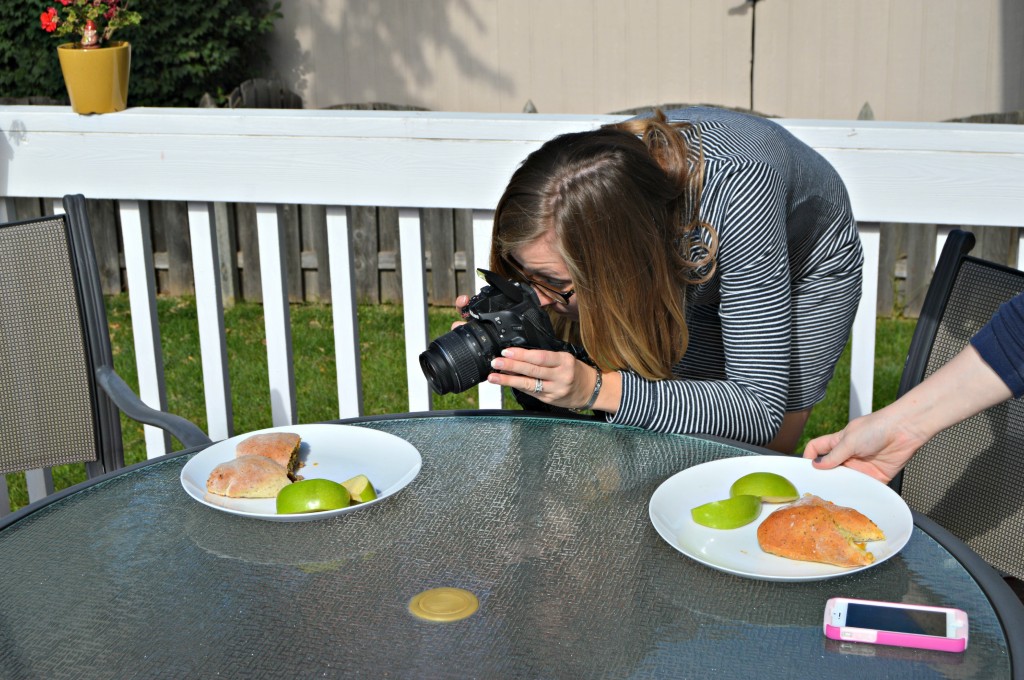 Picture-taking prior to eating was a must, of course! #foodbloggerproblems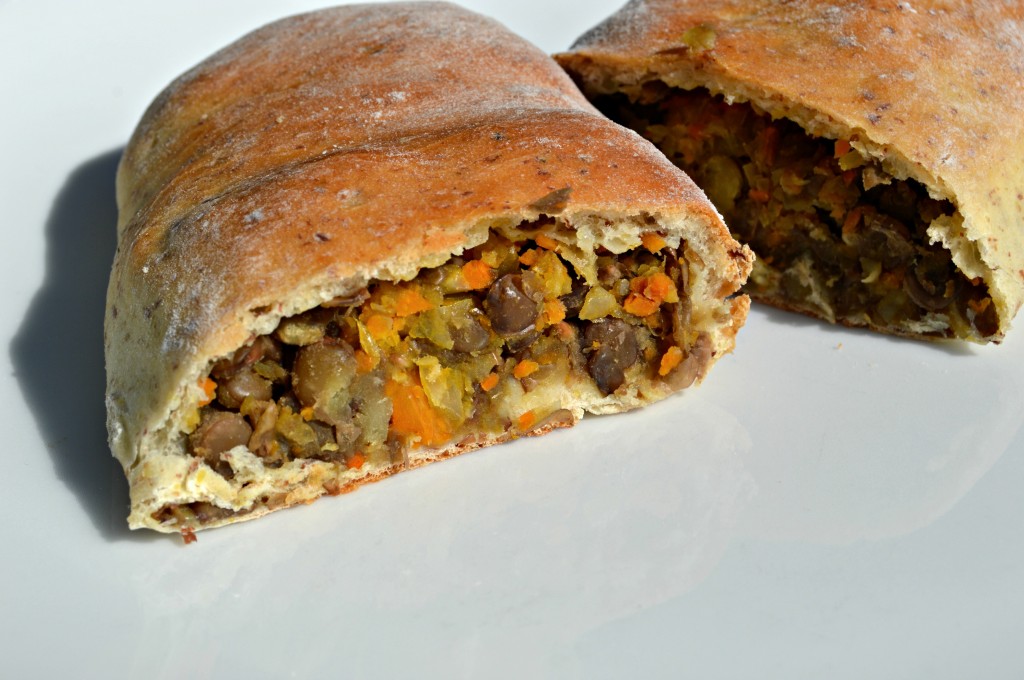 Not too shabby for my first runzas, don't you think?  Joanna, do I get your approval?
P.S. I dipped mine in ketchup and have also dipped some of my leftovers in barbecue sauce.  Both condiments are delicious accompaniments!
Vegetarian Runzas
Makes 12
Ingredients
Dough:
1/2 cup milk
1/2 cup water
1 large egg
1 TB butter
3/4 tsp salt
3 cups bread flour
1/4 cup flaxseed meal
2 TB sugar
2 tsp yeast
Filling:
2 1/2 cups brown or green lentils, dry
5 1/2 to 6 cups vegetable broth
1/2 cup grated onion
1/2 cup grated carrot
2 cups grated cabbage
salt and pepper, to taste

Directions
1. Combine ingredients for dough.  Follow bread-maker instructions to prepare the dough.
2. Once the dough is in the bread maker, prepare the lentils for the filling.  Heat vegetable broth over medium-high heat until boiling.  Once boiling, add the lentils.  Lower the heat to medium-low, cover, and simmer for approximately 45 minutes to an hour, or until the lentils are cooked but not mushy.  Set aside to cool.
3. Once the dough is ready and the lentils are cooled, sautee onions, carrots, and cabbage over medium heat until softened (add oil or water to the pan to prevent sticking, if necessary).  Season with salt and pepper.
4. Combine the lentils and vegetable mixture.  Stir until mixed well.
5. Preheat oven to 375 degrees F.
6. Split your dough into 12 equal-sized portions.  Spread flour over your rolling surface and on your rolling pin.  Roll out each piece of dough into a very thin oval shape.  Add additional flour to the rolling pin before rolling out each piece.
7. Place 3/4 cup of lentil and vegetable filling onto each piece of dough.  Bring the centers of the right and left side of the dough together and pinch in the middle.  Continue this process along the filling to create a "pocket" of dough.  Fold up the ends of the pocket and pinch together (see step-by-step pictures above).
8. Place the runzas seem-side down onto a nonstick baking sheet.  Let rest for 20 minutes.
9. Bake for 20 minutes, or until golden brown.  Cool for 5 to 10 minutes.
10. Eat with a fork or just pick them up with your hands.  I highly recommend some dippage in either ketchup or barbecue sauce!
11. Refrigerate or freeze leftovers.  They reheat beautifully in the oven or microwave.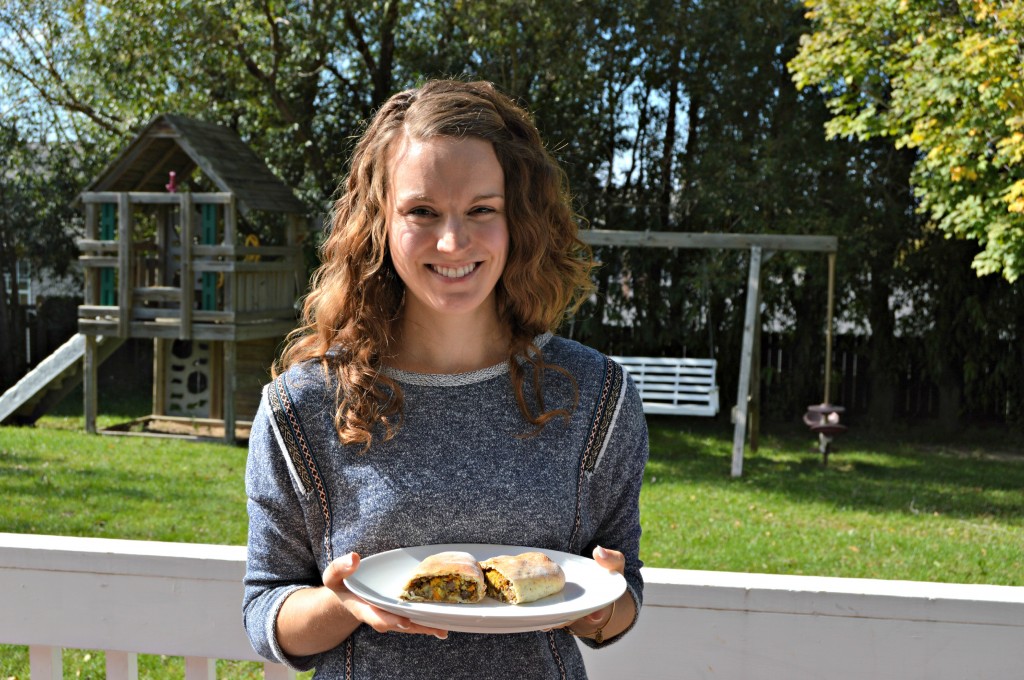 Another successful Three Cooks One Kitchen is in the books.  This just may have been my favorite one yet!  If were weren't officially Nebraskans before, I'd say that we defintely are now!
For Joanna's Traditional Runzas (made with beef), click here.
For Erin's Chicken Runzas, click here.
Have you ever eaten a runza?  Better yet, had you heard of runzas before this post?