Happy Cinco de Mayo!
While I am less than thrilled about the fact that it is Monday, I cannot help but be a little bit happier than I am on the average Monday since today is the kind of day where you can literally consume as many tacos, enchiladas, nachos, chips and salsa, and margaritas as you want… and not have to feel guilty about it.  That sounds like a win-win to me!
I am extra lucky in that I was able to celebrate all things Mexican food and drink-related twice over the past week.  Erin, Joanna, and I got together a few days ago to create a delicious recipe for you, cook, drink, eat, and just all around have way too much fun together.  Oh wait, that is really not possible.  I never ever have too much fun with those girls.  Nope, just a whole 'lotta fun.
I have to admit that we were not just getting together for those reasons alone.  Instead, we came to party and to kick off a new monthly feature that we will be bringing your way starting today.  It is a little something that we like to call:

As if you could not figure it out from the name, we will be blogging monthly about our experiences with recipe creation, prepping, cooking, and eating some downright delicious food and drinks.  And we hope to document and share it with you along the way.  Sounds fun, right?  Because honestly, what could be more fun than putting three bloggers/cooks in one kitchen and seeing us do all of the things that food and lifestyle bloggers do- but with a lot more talking, laughing, and goofiness involved?
When the three of us began working on a "theme" for our first get-together, we knew that nothing we be more fitting than a Cinco de Mayo-themed dinner.  I created a taco recipe and we whipped up a batch of green Mexican juice.  Oh, and did I mention that we had a lot of fun together?  Yes.  A lot of fun.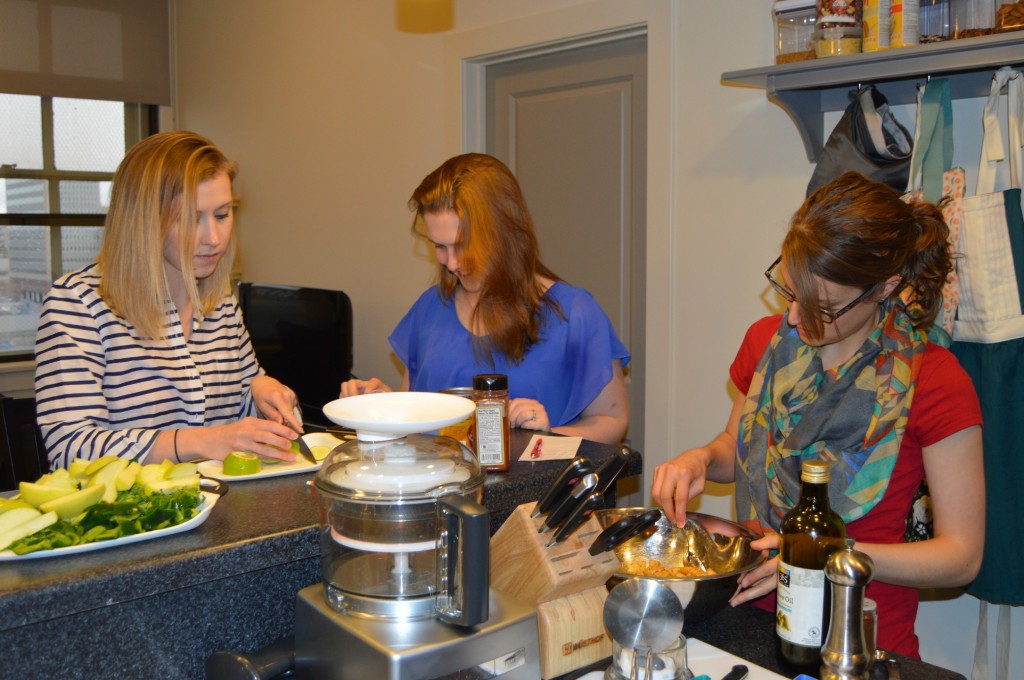 After we decided on a juice recipe and developed a general idea for what we wanted to create for dinner, we got to work on prepping the ingredients.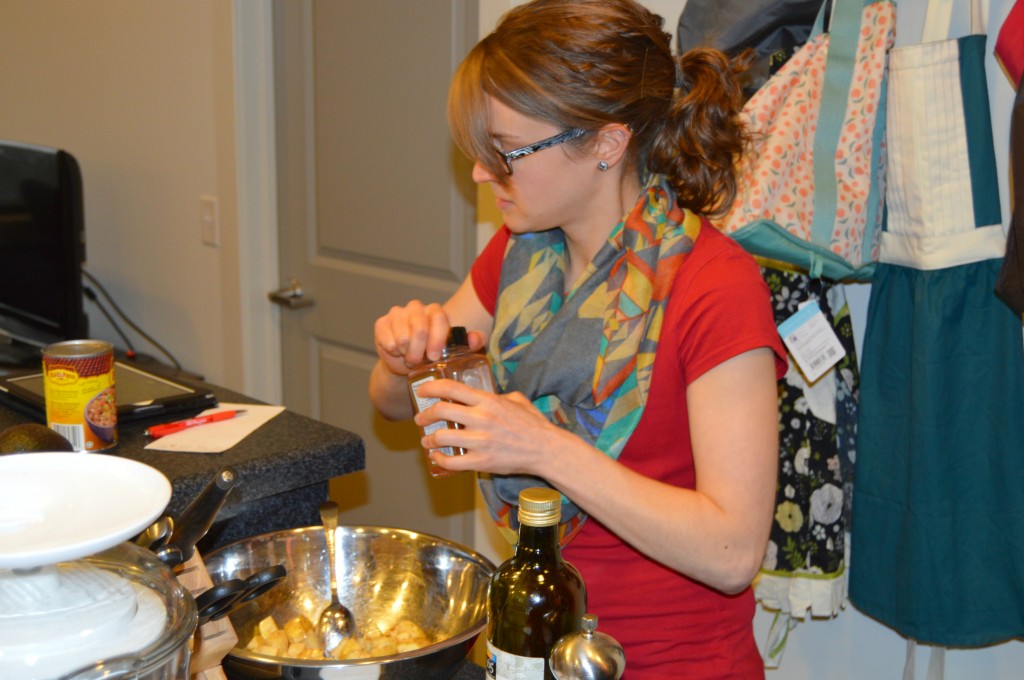 Most of time when I am creating a recipe I will go against my type-A/planner personality and will just wing it.  That is what I set out to do with our Mexican-seasoned potatoes.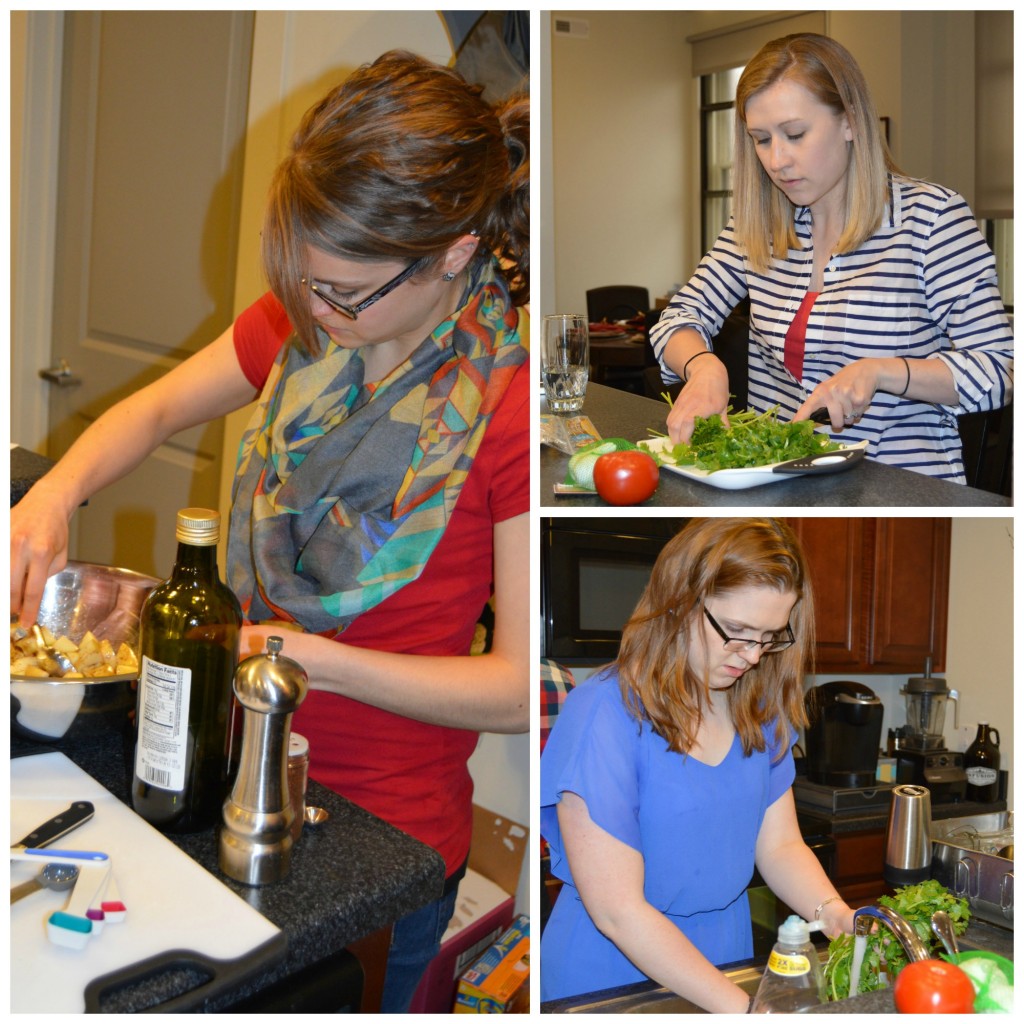 While I was chopping and seasoning the potatoes, Joanna and Erin went to work on prepping the ingredients for our Mexican-Style Jugo Juice (which we realized is essentially titled "juice juice") and the taco toppings.
Erin does not like spicy food nearly as much as I do, so I made her scope out the potatoes as I prepped them to ensure that they did not look or smell too spicy.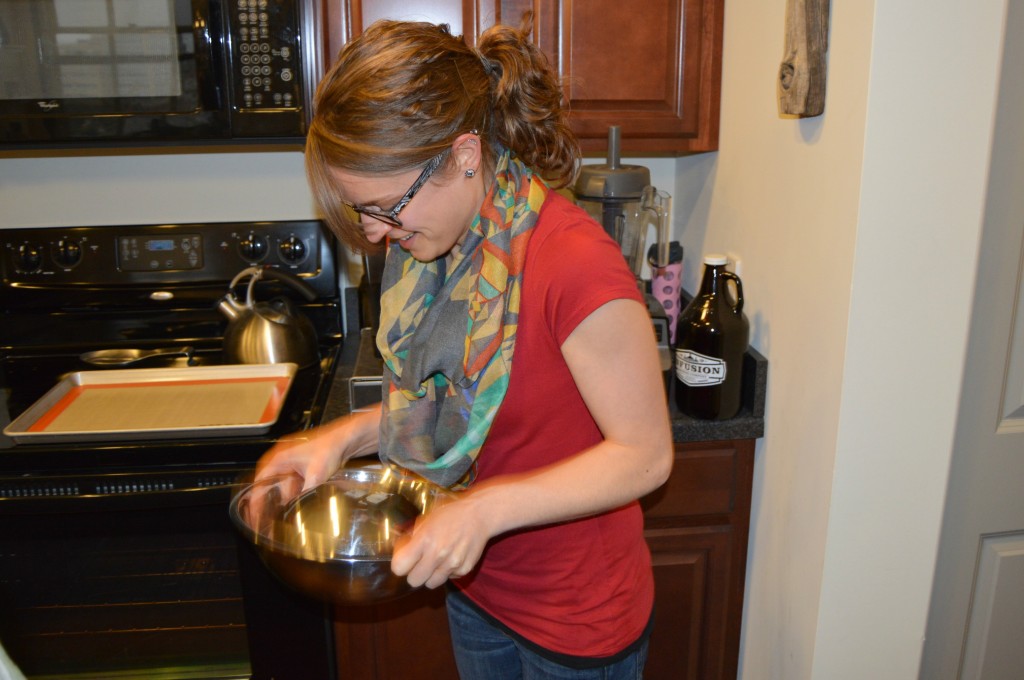 Random side note: Erin's husband, Josh, taught me a trick for easily removing the peel from fresh garlic.  Place the cloves into a large bowl, cover it with a smaller bowl, and shake the bowls as hard as you can for about 30 seconds.  After getting an arm workout in, you will also be able to very easily peel the cloves of garlic.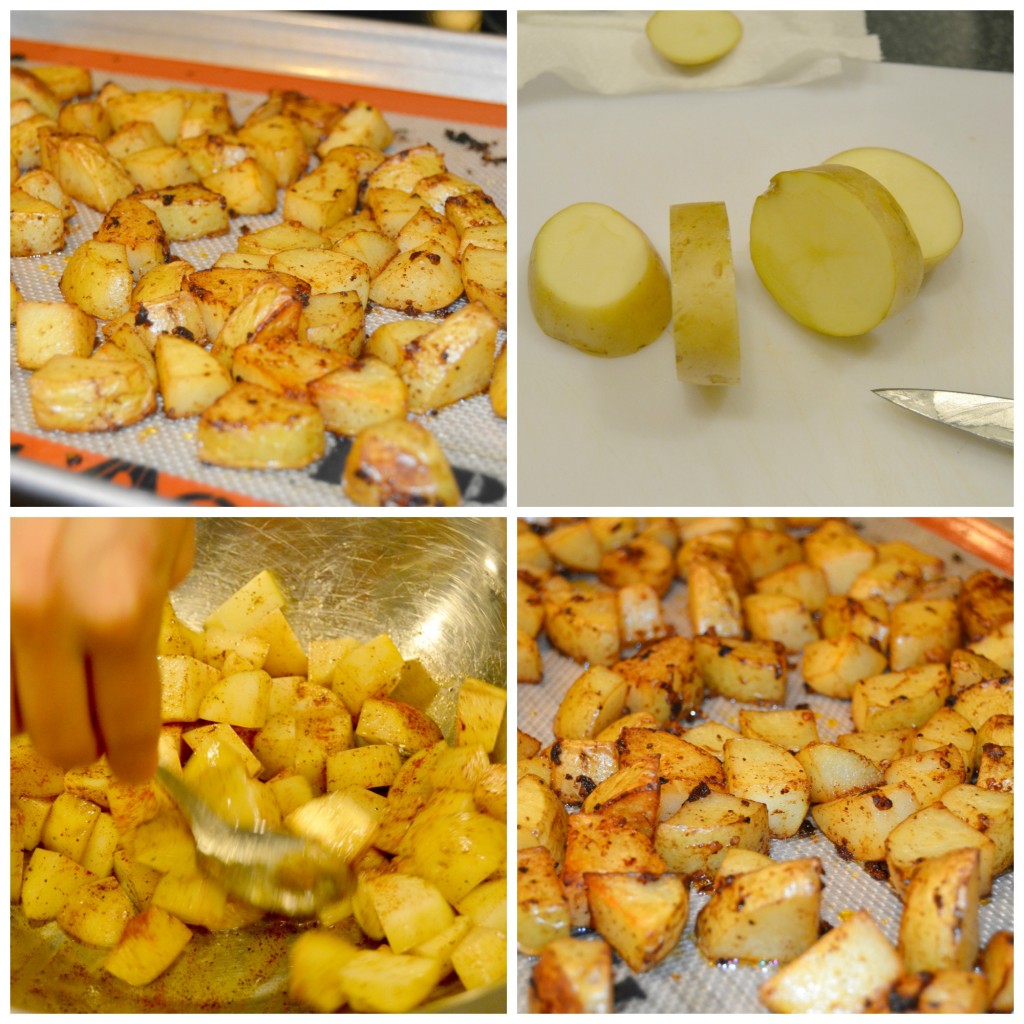 I'd say they turned out pretty darn good.  Do I get your approval, Erin and Joanna?  But more on these babies later…
Now it is juicing time!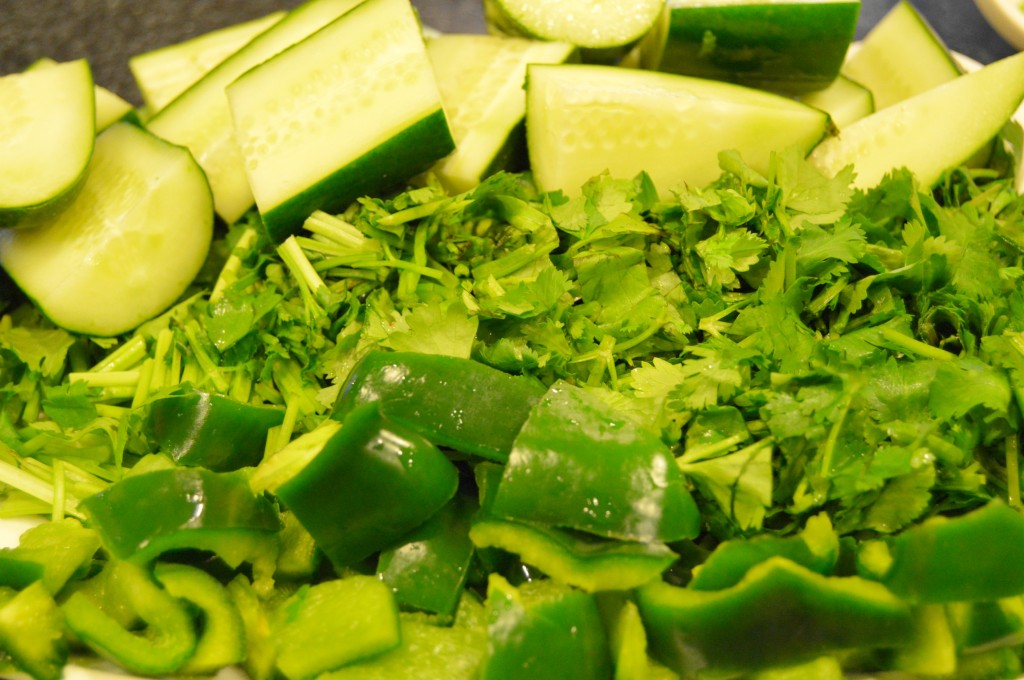 Cilantro, apple slices, cucumbers, a poblano pepper, and a lime all went into the juicer.  To say we were a little leery about the combination would be an understatement.  But none of us consider ourselves to be experts when it comes to juicing, so we went with it.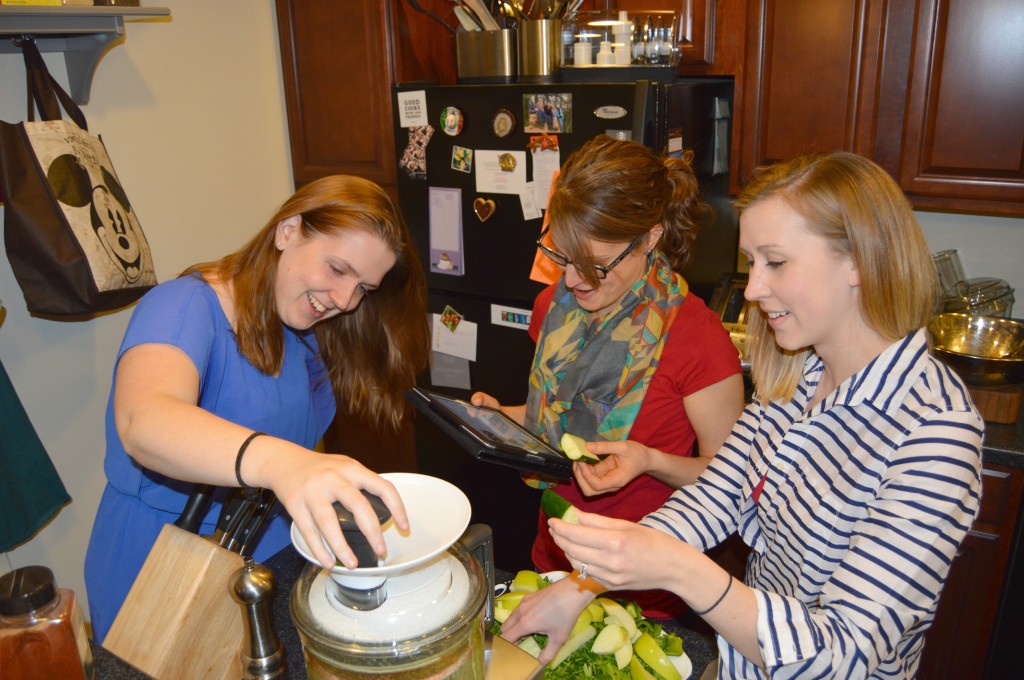 We juiced.  And yes, it does take three people to make juice.  This is complicated stuff, folks.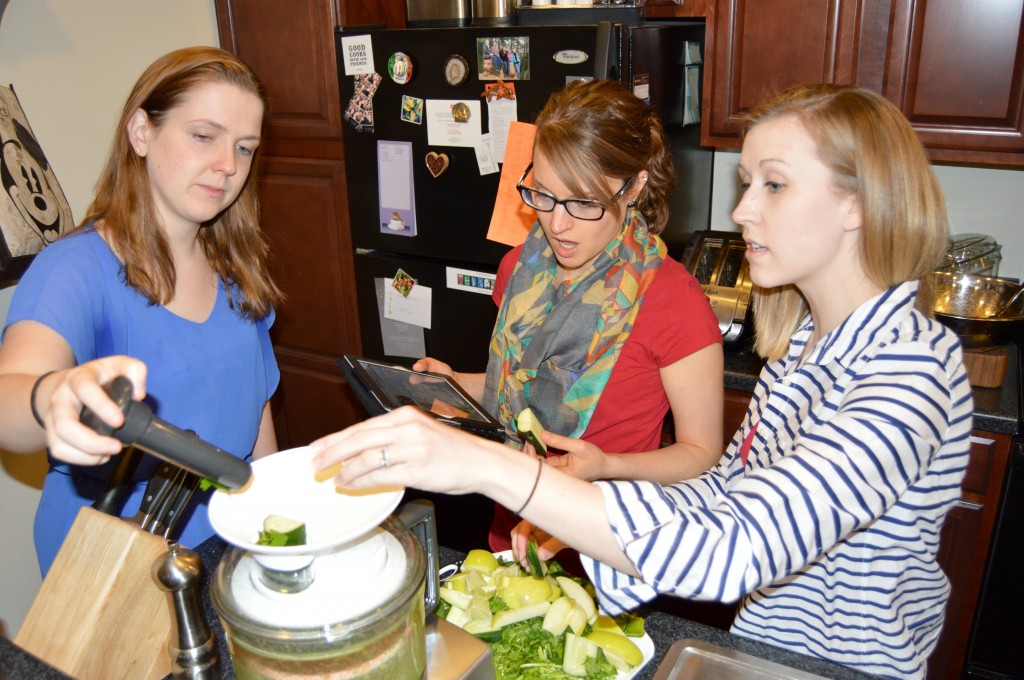 Apparently it is quite amazing, as well, by the looks of my face.  Yyyeahhh… who knows.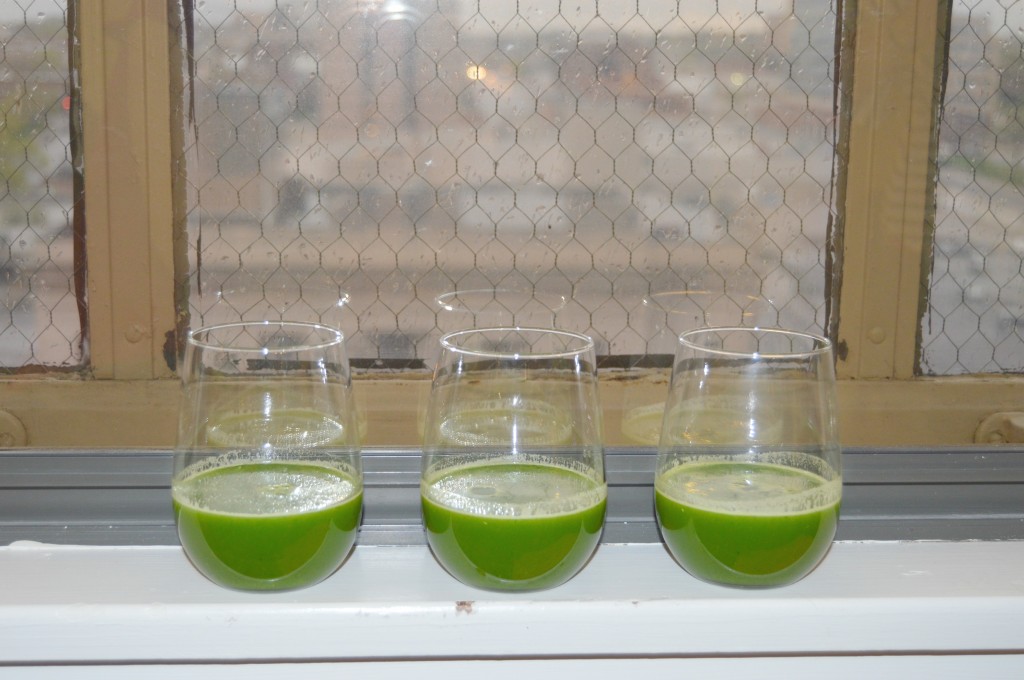 But we did it!  We made a gorgeous green Mexican-style juice.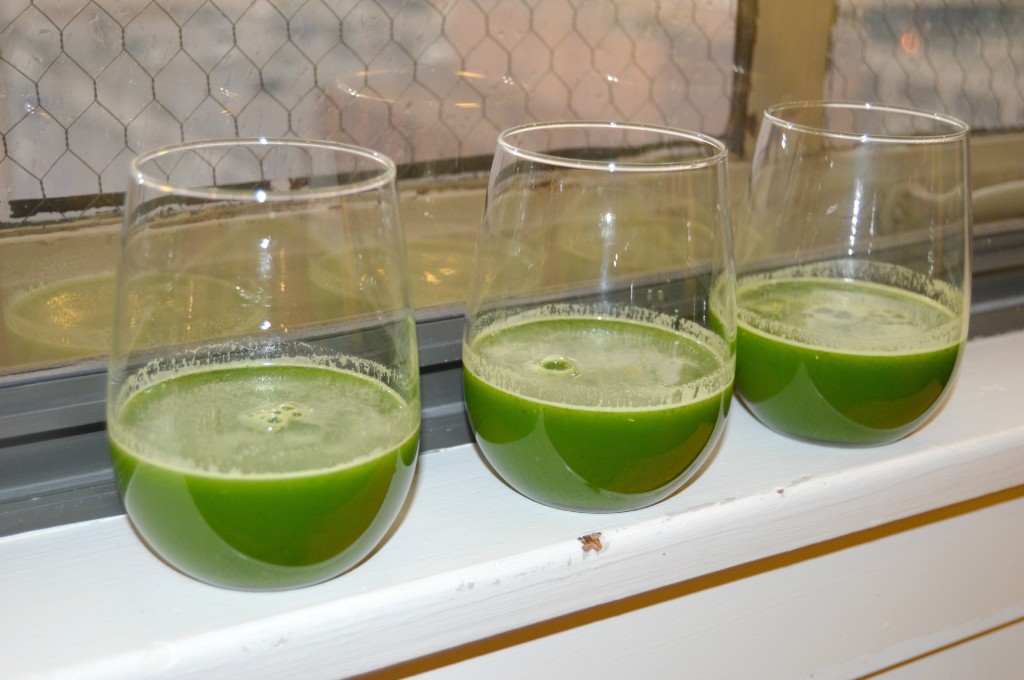 By the time the fruits and veggies were juiced, the potatoes were just about ready.  Of course, we passed the remaining roasting time by chit-chatting about anything and everything- mostly blogging-related, of course!  If you are a blogger and have ever gotten together with other bloggers, you know exactly what I am referring to.  We never run out of things to talk about!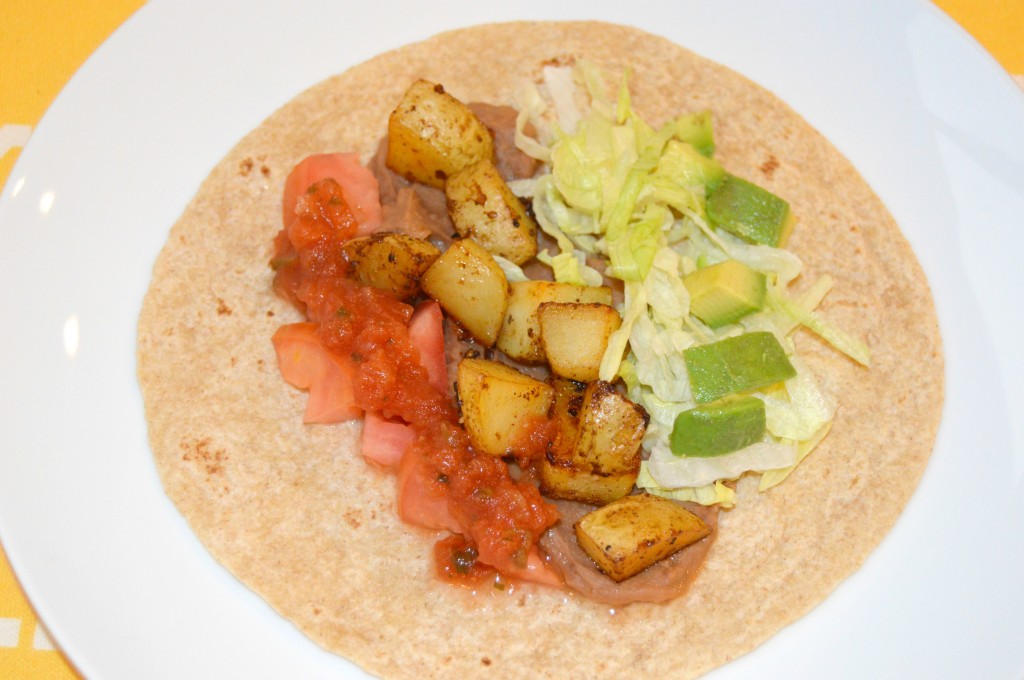 Once the potatoes were finished, we compiled our tacos and sat down to enjoy our mini Cinco de Mayo celebration meal…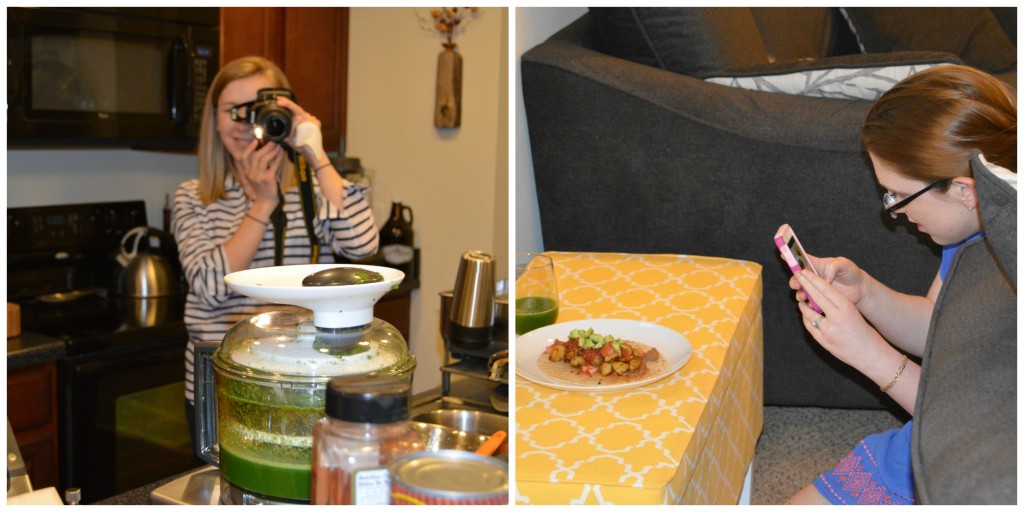 …but not before taking pictures, of course.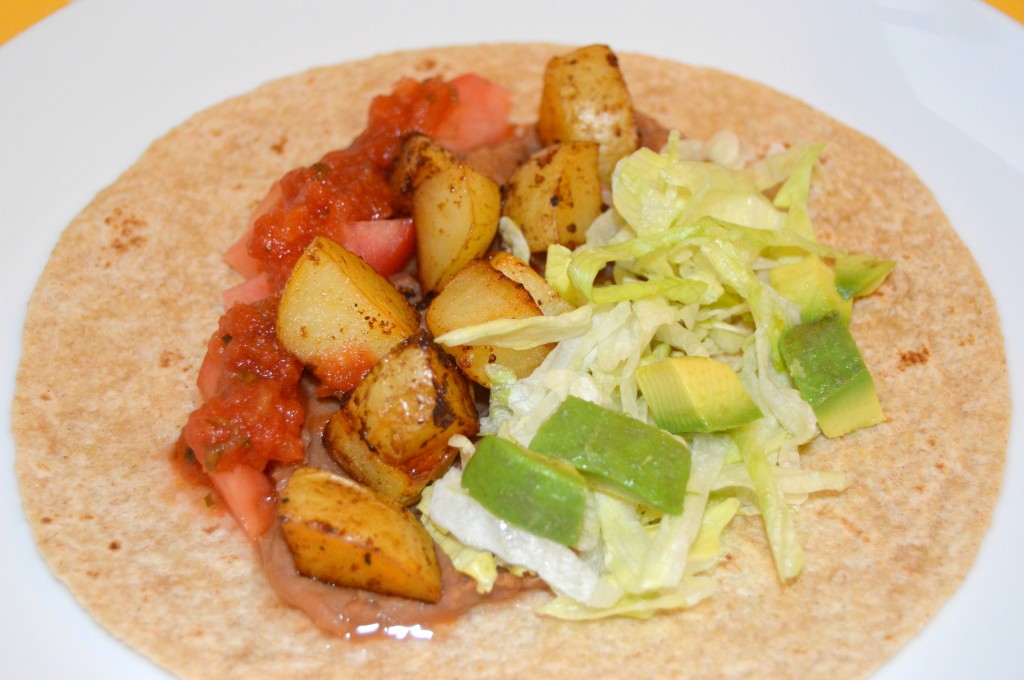 We all agreed that the tacos were delicious, but that the juice was definitely not our favorite.  I think Joanna described it as "earthy," which is pretty spot on.  The cilantro was a bit too overpowering for us, so we decided that if we made it again we would cut down on the cilantro and add additional apples and limes.  I also thought it would have tasted better blended with ice.  Apparently we are not "green juice kind of people," or at least not the kind that involves cilantro and peppers.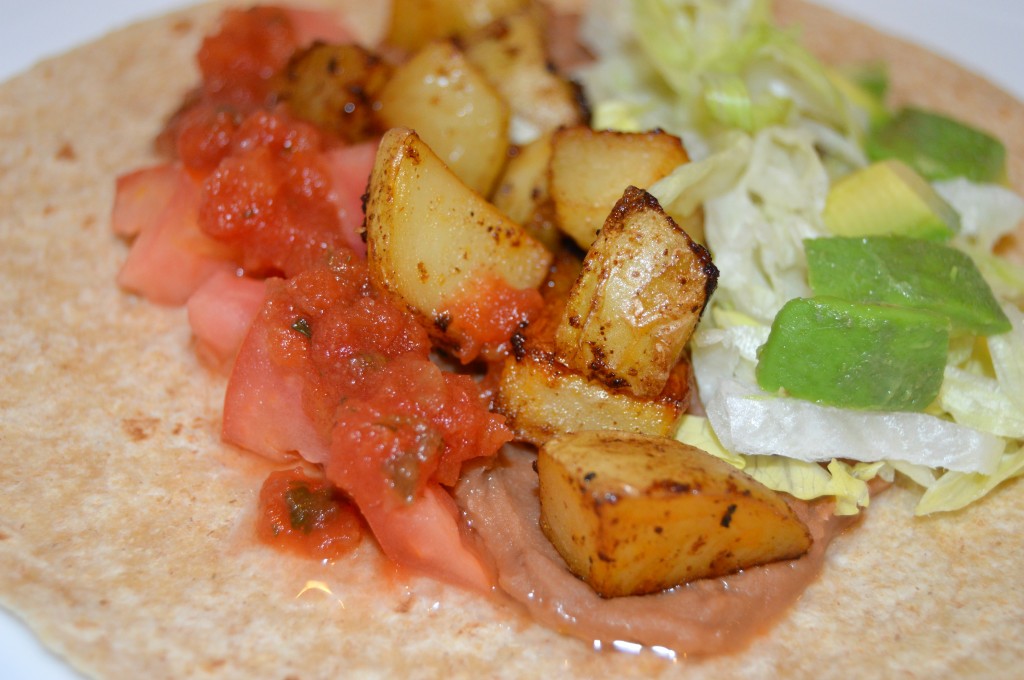 Despite the juice fail, we all agreed that the tacos were delicious.  We each ate two a piece, of which we inevitably stuffed too full and ended up eating with forks.  Is anyone actually able to fill their taco shells with the appropriate amount of ingredients and toppings?  Not this girl.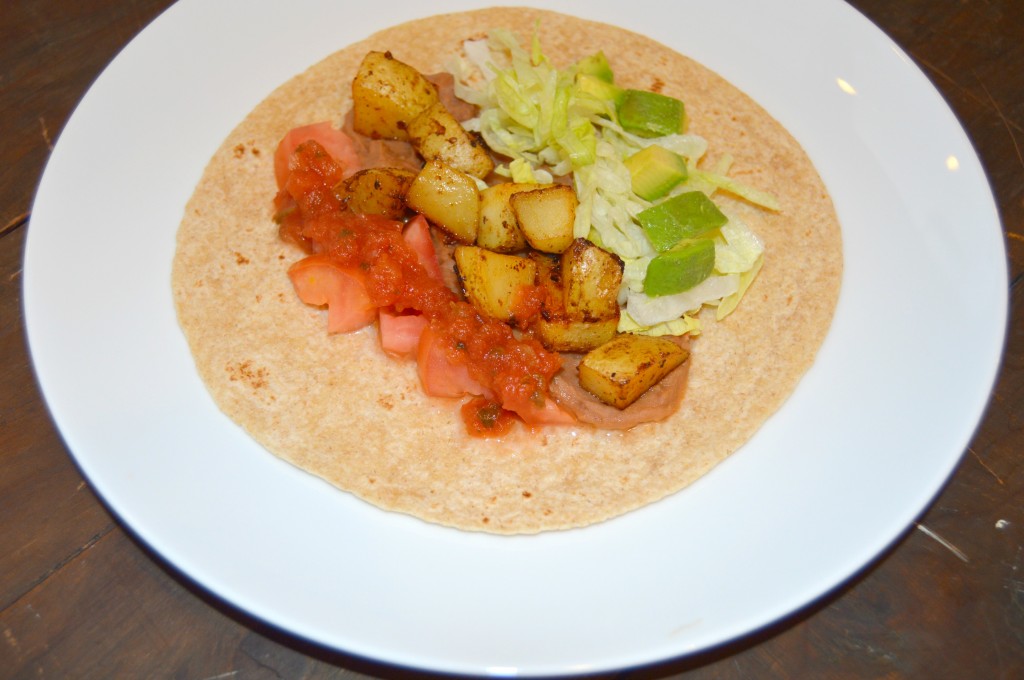 So good.  I suppose you want the recipe, now don't you?  Lucky for you, I aim to please.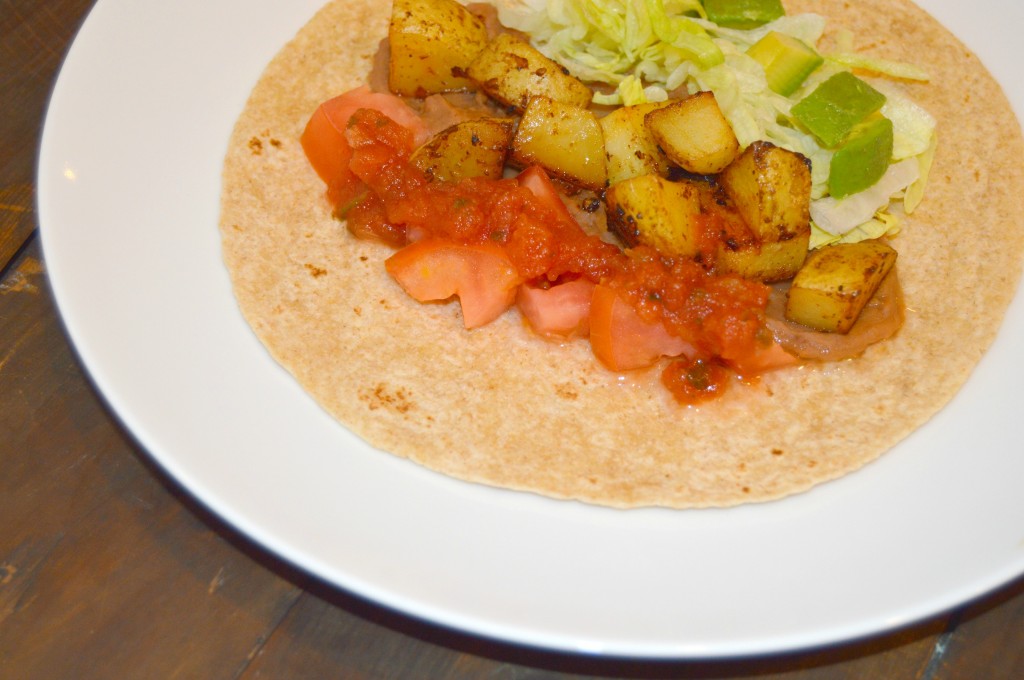 Mexican Potato and Bean Tacos
Makes 6 to 8 tacos (closer to 6 for us)
Ingredients
For the potatoes:
5 medium Yukon gold potatoes
2 TB olive oil
1/2 tsp chili powder
1/4 tsp paprika
1/2 tsp salt
1/4 tsp black pepper
2 cloves garlic, minced
*Add more or less of the chili powder and paprika depending on your heat preference.
For the tacos:
6 to 8 flour tortilla shells
15 oz can of vegetarian refried beans, warmed
shredded lettuce
1 tomato, chopped
1 avocado, chopped
salsa
any additional toppings that you desire
Directions
1.Preheat oven to 400 degrees F.  Spray a foil-lined baking sheet with cooking spray or line with a silpat baking liner.
2. Cut potatoes into half-inch pieces.
3. Toss potatoes in olive oil and seasonings until well-coated.  Stir in the garlic.
4. Spread potatoes onto the baking sheet.
5. Bake the potatoes for approximately 30 to 35 minutes, flipping once halfway through, or until golden brown.
6. Compile the tacos in the following order: tortilla, refried beans, potatoes, lettuce, tomatoes, avocado, salsa, and any additional toppings that you desire.
Our tacos ended up being vegan since I am a vegetarian who eats a mostly plant-based diet and Joanna is currently following a no-dairy diet for her sweet baby, Eleanor.  Vegan or not, these totally hit the spot.
I hope you enjoy these as much as we did!  Have a great Monday and make sure you eat all kinds of Cinco de Mayo-themed foods.  A margarita or two wouldn't hurt either! 😉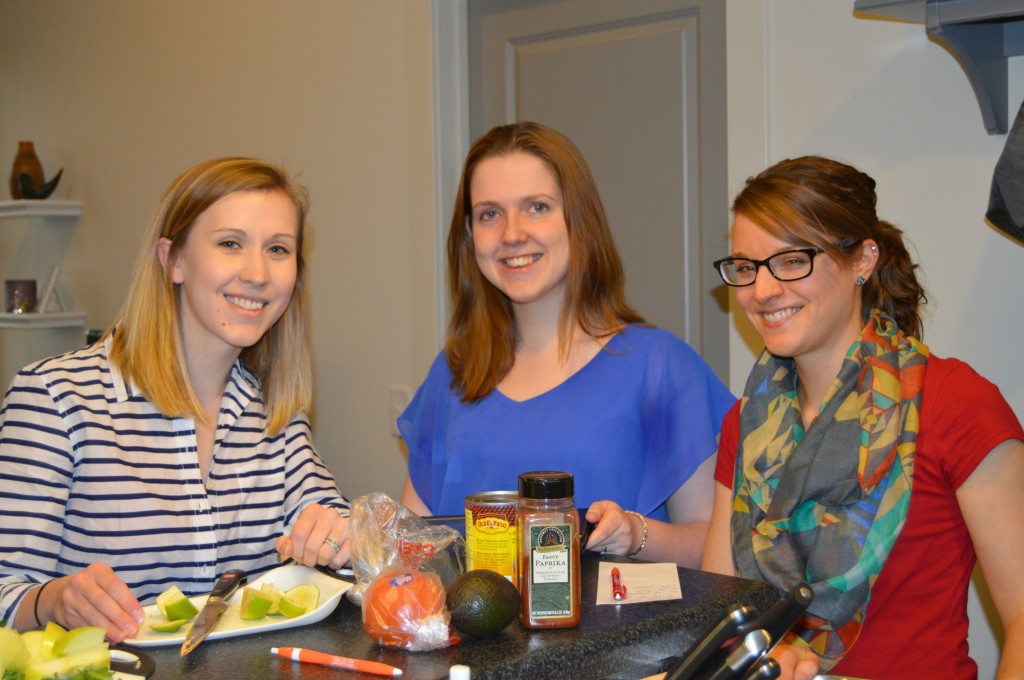 We'll be coming back 'atcha in about a month!  Next time we are thinking about making something on the grill, so you know you are going to want to come back for that.
P.S. A major shoutout to Erin's husband, Josh, for being our photographer for the evening!
Erin's Three Cooks One Kitchen post
Joanna's Three Cooks One Kitchen post
What are your must-have menu items for Cinco de Mayo?
Have you ever cooked with other bloggers?