It's here, it's here!  Friday is finally here!  Even though this week was not the slowest ever, it was busy and stresful at work so I am more than happy that it is almost officially the weekend.  I also have some great plans this weekend, including a lunch date at Whole Foods and a 1920's halloween party.  Plus, I plan to do a whole lot of relaxing, TV watching, and good eating in between.  I am officially declaring that as the reason why weekends were created.
Today I am popping in to share another roundup of some of my favorite recipes from around the blogosphere.  I like to think that my Friday Foodie Favorites are a bit different than your average "Friday Favorites" post because these are recipes that I have actually tried out myself.  So if I say they are good then they have to be!  You do trust me, don't you?
Friday Foodie Favorites: October 24, 2014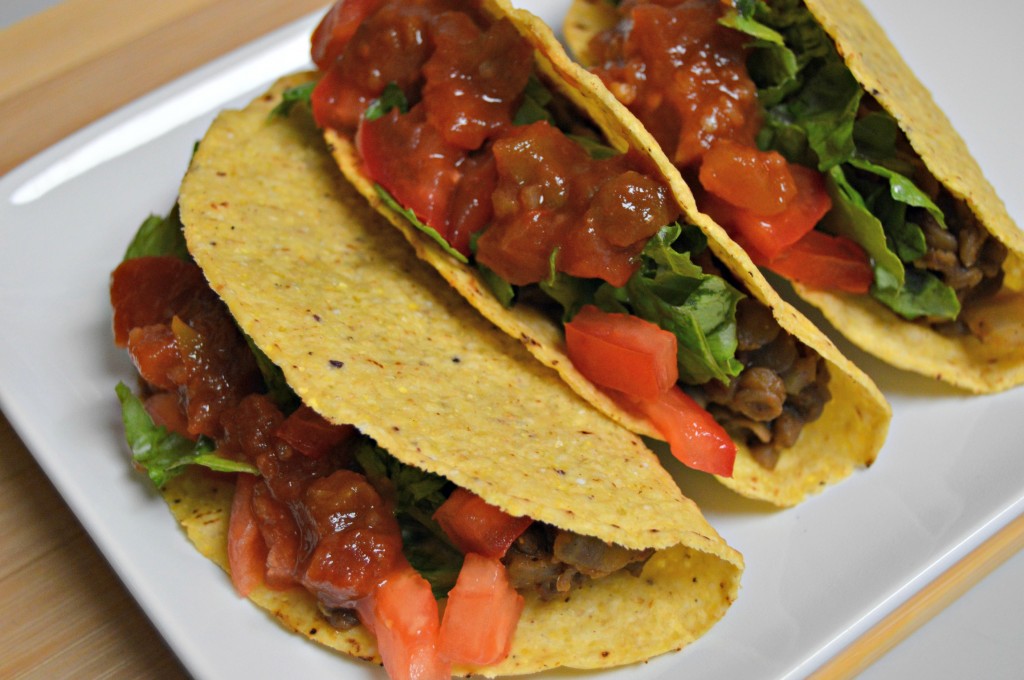 You can never go wrong with tacos, right?  I made Alex's Vegan Lentil Tacos for dinner a couple of weeks back and fell in love.  I have been a major fan of using lentils in place of beef for over a year now, so I knew they would make for the perfect taco filling.  I loved the seasonings that Alex used and found the lentils to be perfectly spicy.  I served my taco "meat" lentils in hard corn taco shells with lettuce, onions, tomatoes, and salsa on top.  I am pretty sure that I need to incorporate tacos into my weekly meal plans far more often.  Would every week be too much?
Would you look at that?  It's another recipe from Alex!  When Alex posted her Vegan Squash and Corn Chowder recipe back in September, it instantly called my name.  Maybe it was the fact that it contained so many of my favorite vegetables?  Or maybe it was because I love soups?  Or… maybe simply because it looked so pretty (trust me, her's looks way better!)?  No matter what drew me in, I am so glad that it did.  This was a very easy soup to make and it was different from all of the other soups that I normally eat, which I loved.  I followed Alex's recipe exactly, but I also added in some Italian seasoning and a little bit of paprika.  What can I say, I like my food extra bold!  This soup pairs perfectly with crackers, rice cakes, bread, and (my favorite) blue corn tortilla chips!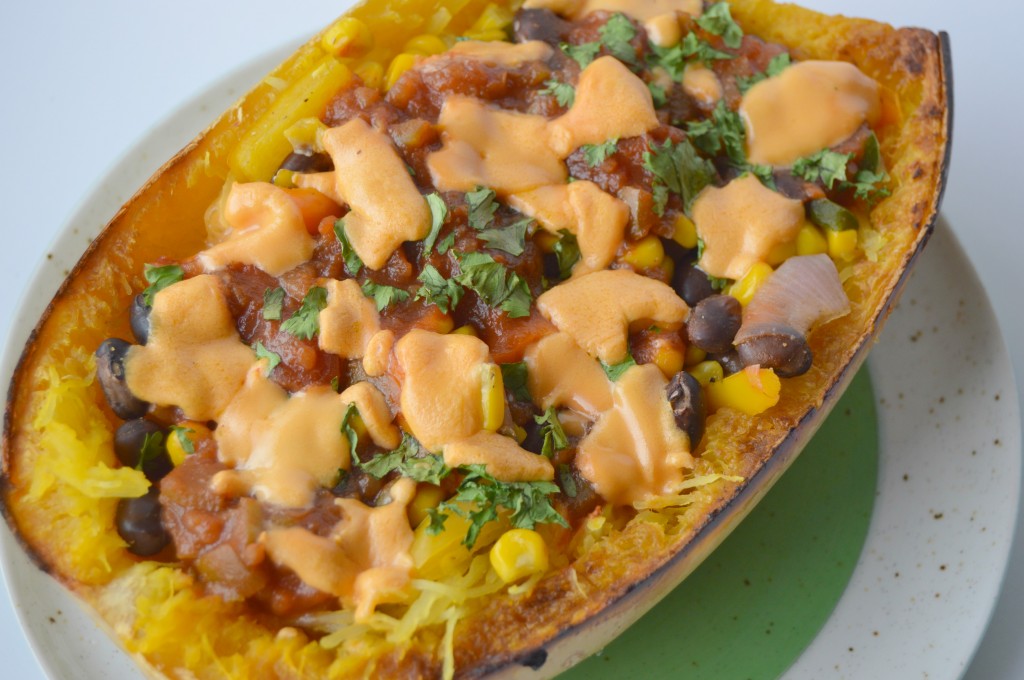 Two squash recipes in one FFF post really isn't that unusual, right?  It is Fall after all!  This past weekend I made Sarah's Spaghetti Squash Burrito Bowls and fell in love… seriously.  I used vegan Daiya cheddar "cheese" in place of the cheese, but other than that I followed her recipe exactly.  This is now easily one of my top three favorite ways to eat spaghetti squash- and trust me, I eat spaghetti squash a lot of different ways.  Not only did I love the taste of these bowls, but I loved how simple they were to throw together and that they were chocked full of healthy veggies and protein.  I love my veggie dishes, but I also need some protein thrown in there if I want to stay full for longer than 30 minutes.  Sarah did a truly awesome job with this one!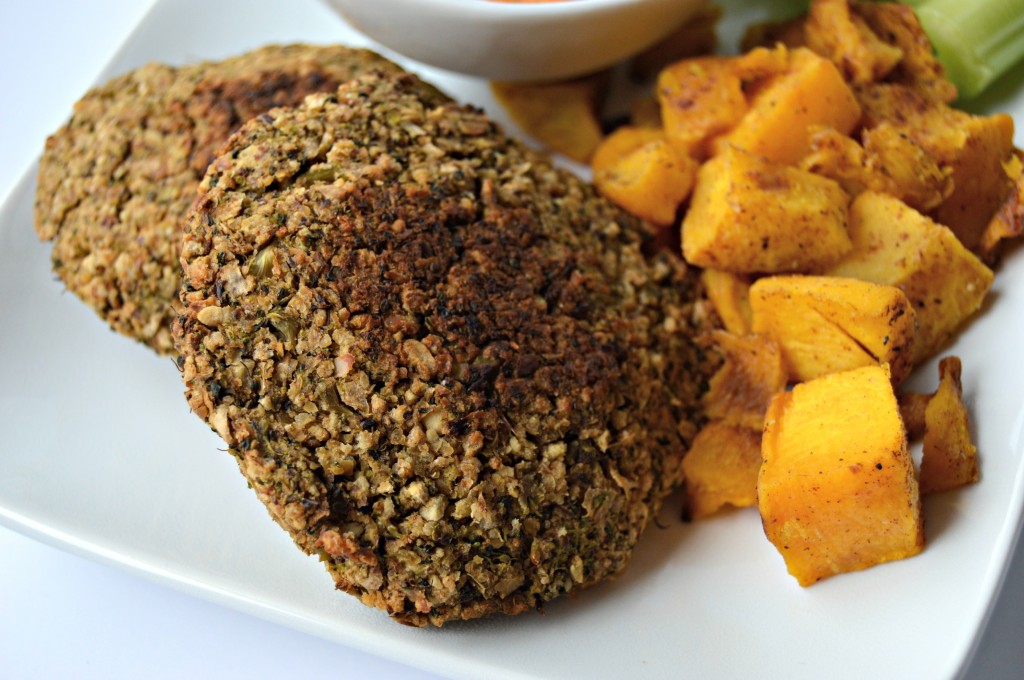 Let's round things out with an amazing recipe from Alexis.  I promise you, her recipes never ever fail me.  When Alexis shared her recipe for Roasted Broccoli Chickpea Burgers with a Spicy Cashew Mayo, I thought they might have been made just for me 😉  Okay, maybe not, but they are definitely right up my alley!  Chickpeas are definitely one of my favorite beans and always make for delicious burgers.  I love that Alexis chose to add in roasted broccoli (it's so much better roasted) and vegan worchestershire sauce.  These babies were definitely not shy on the flavor.  Originally I was drawn to this recipe because of the mayo, but what do you know, I forgot to buy cashews!  Major fail.  I settled for hummus on the side, but will definitely be trying out the cashew mayo the next time I make these.
There you have it!  Four standout recipes from some of my favorite bloggers!  Don't say I never do anything nice for you 😉  I hope y'all have a wonderful weekend!
Please share links for recent recipes that you have made and loved in the comments!