A sneak peak into what happens behind the scenes in Clean Eating Veggie Girl land.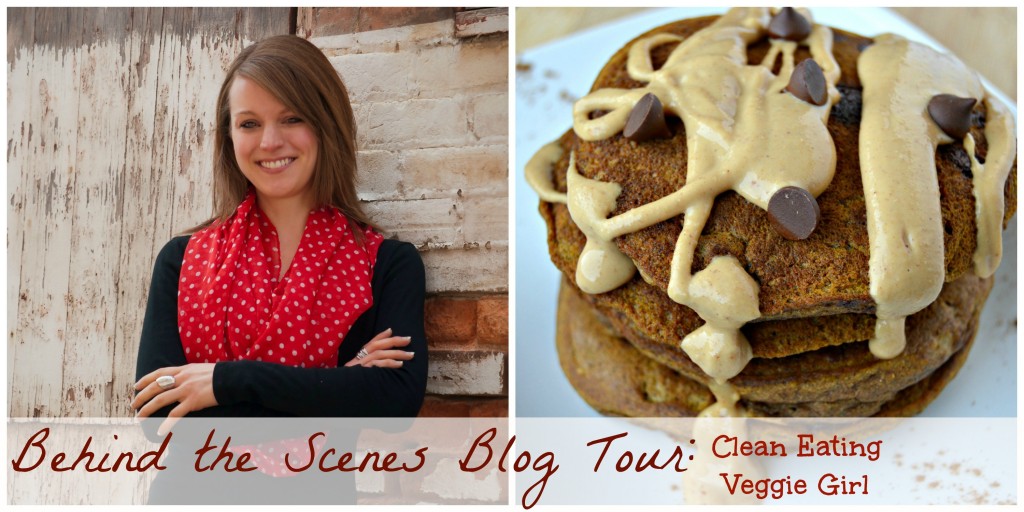 Who nominated me?
Last Monday, I was nominated by Kelly from Hidden Fruits and Veggies to participate in the series, Behind the Scenes Blog Tour.  I have followed Kelly's blog for over a year now and am always so impressed by how creative she is in the kitchen.  Kelly is a fellow vegetarian and she makes me drool (shamelessly) whenever I read a new blog post from her.  I have tried several of her recipes and my taste buds most definitely approve!  Make sure you check out Kelly's blog for delicious vegetarian recipes and her gorgeous food photography!
Behind the Scenes Blog Tour: Clean Eating Veggie Girl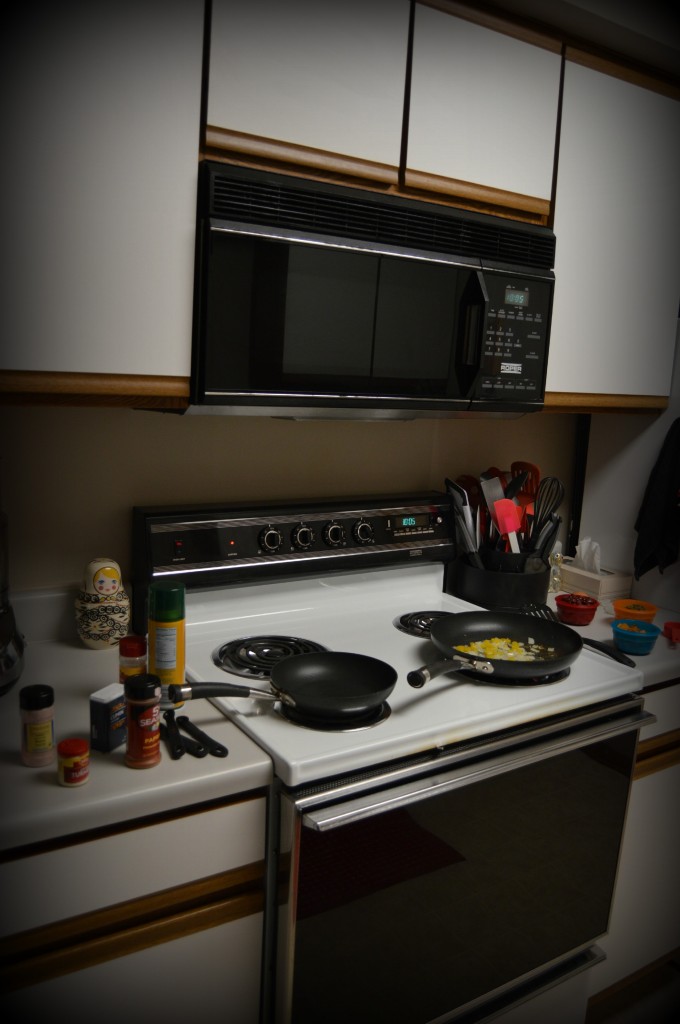 Where the cooking magic happens.
What am I working on?  If you hadn't noticed, I seem to have a thing for food.  I love to cook and I love to eat, so it likely comes as no surprise that the great deal of the work I do for Clean Eating Veggie Girl is food-related.  I am currently working on developing new vegetarian and vegan recipes, and am challenging myself to keep my recipes fresh, creative, and fun.  I am also incredibly focused on learning more about and working to improve my food photography.  I have come a long way over the past two years, but I also have a lot of room for growth.  I am hoping to take a photography class in the Spring with an end goal of learning how to use my camera in the "manual" mode.  One final thing that I am working on for CEVG is to not focus solely on food.  I love learning more about other bloggers and have received positive feedback from readers when it comes to some of my lifestyle, weekend wrap-up, and Treat Yourself Tuesday posts.  I want to keep things food-focused, but plan to continue working on letting you into my personal life a bit more.  Getting to know the blogger behind the blog is part of the fun of the blogging world!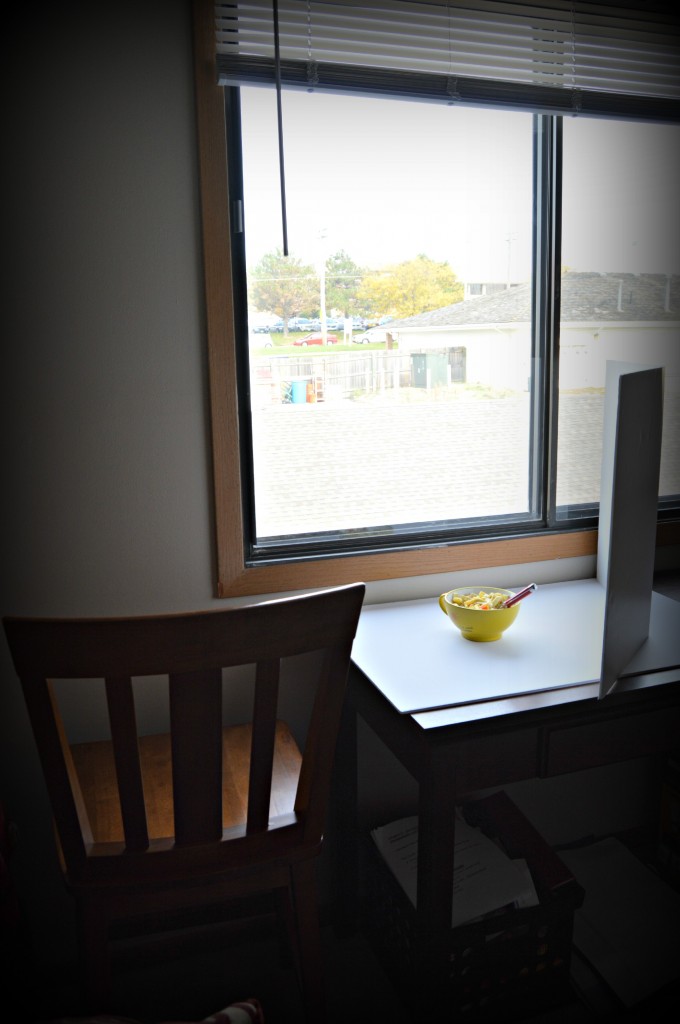 My food photography station… in my bedroom.  The dining chair is what I stand on while taking some of my pictures.
How does my work differ from others of its genre?  There is a plethora of bloggers in the blogosphere who have a main focus on food and recipe creation.  Therefore, the fact that I am a foodie and a food blogger does not necessarily set me apart.  What differs most about my work from many other food bloggers is my focus on taking meat-heavy dishes and creating healthy vegetarian/vegan versions of them.  I never thought I was much of a creative person until I stepped into the kitchen for the first time a few years ago.  Becoming a vegetarian/vegan really influenced my food creativity because it forced me to develop recipes to fulfill some of my meat dish cravings.
I also believe that my work differs from many other bloggers because I am not afraid to take risks in the kitchen.  I sometimes develop off-the-wall creations and run with them.  Have I made hot dogs out of carrots?  Yes.  Do I combine avocado and jam for a delicious sweet and savory combination?  You 'betcha!  Out of the ordinary cravings and ideas do not scare me.  Instead, I take them and fearlessly create recipes from them.  Do they always turn out great?  No.  But 90% of the time I am pretty darn happy with the end result.  Hopefully you enjoy some of my random recipe ideas too!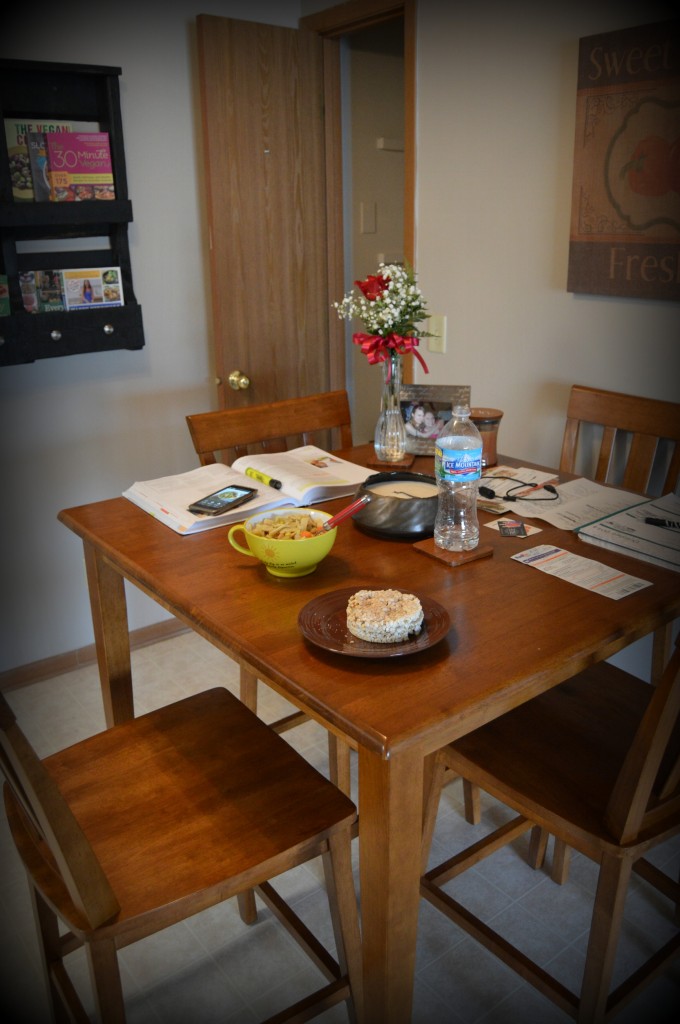 This is my do everything table.  I eat here, do homework here, and sometimes blog here.
Why do I write/create what I do?  Since becoming a vegetarian almost three years ago, I developed a passion for healthy living and eating.  I create recipes with the goal of teaching the world that vegetarian and vegan food is delicious, and that healthy food does not have to be boring or bland.  I love food and nutrition, and I have a passion for both topics.  I love creating lifestyle/day-in-the life posts now and then, but I cannot imagine having a blog that is not centered around food and health.  Creating, cooking, photographing, and writing about vegetarian and vegan recipes is fun, therapeutic, and exciting to me.  Hopefully you find many of my creations exciting too!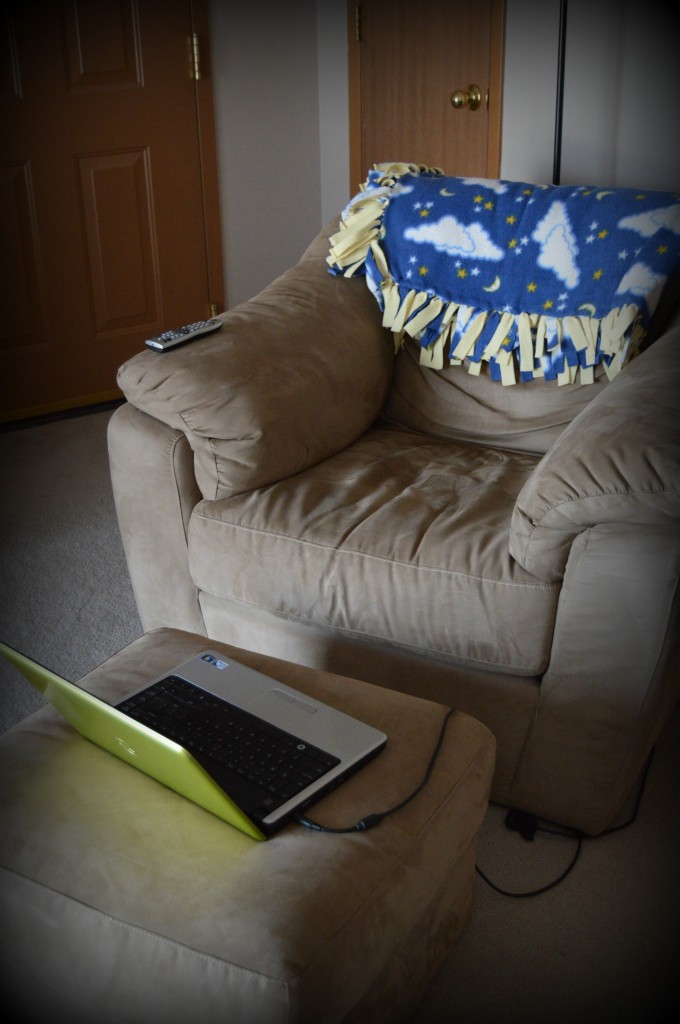 The majority of my blog reading and writing is done here in this big comfy chair.  Some days I also blog a bit over my lunch hour at work.
How does my writing/creative process work?  I am an incredibly Type-A person, so my blogging process is pretty consistent.  I keep a notebook where I write down all of the blogging topic ideas that come to mind- normally at the most random times.  I also keep a blogging calendar where I plan out when and what I will write about each week.  After I have created a recipe, I record the ingredients, photograph the food, upload the photos, and edit the photos.  Once edited, I upload all of the photos into a post.  I then plug in the recipe and any additional text.  I try to write the majority of my posts on the weekend since I am so busy during the week.  I schedule them to go "live" at midnight each day.  This is the process that I have followed for the past year, and I have found that is works quite well for me.  My blogging idea notebook and my calendar have definitely helped me become a more creative and organized blogger.
The next stops!  Check out the three ladies I have nominated to participate in the next stop of the tour!  All three are tremendous bloggers and have popped up here on the blog a time or two.  I think you just may recognize them!  I am excited to see what happens behind the scenes within their blogging process.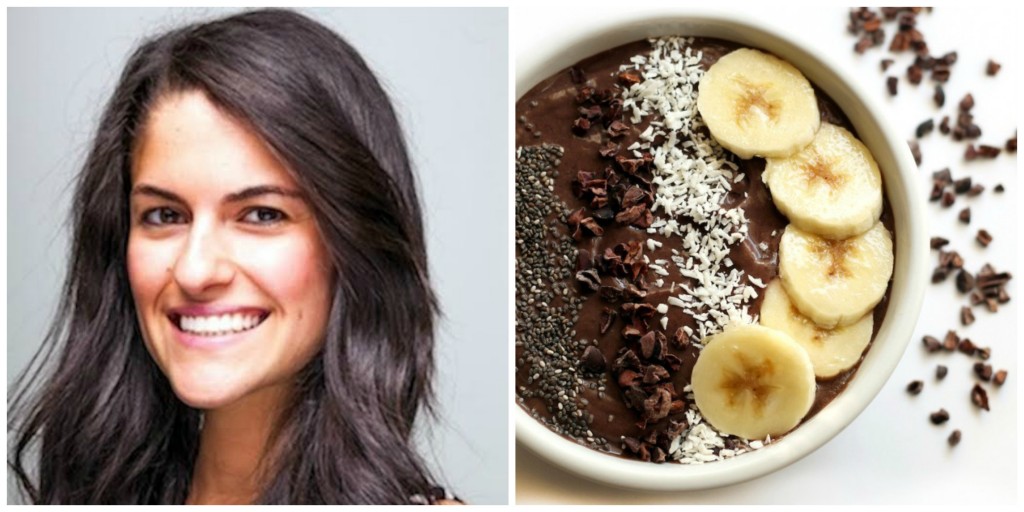 The first blogger I am nominating is Alexis from Hummusapien.  Alexis recently graduated with a Master's degree and is now officially a Registered Dietitian.  She also recently began working as the Director of Nutrition and Communications at a new juice bar and cafe, Alchemy, in Columbus, Ohio.  If I am ever in Ohio in the near future, you better believe I will be stopping by!  Alexis follows a similar food philosophy as me, and creates and eats ton of deeeelicious vegetarian food.  I have never been disappointed with a recipe from Alexis and I always find inspiration from her latest eats.  She is truly a rockstar in the kitchen!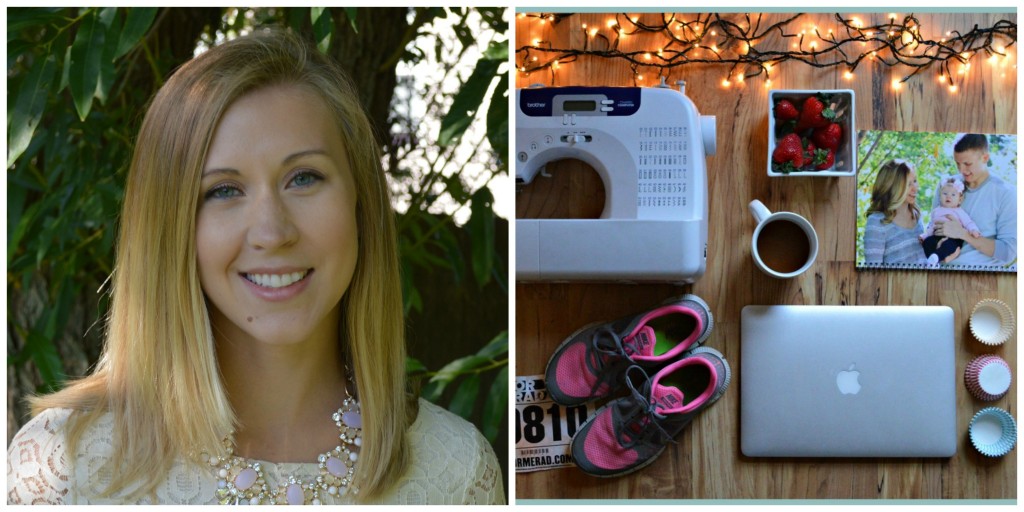 My next nominee is Joanna, who blogs over at Makingmine.  Joanna's lifestyle blog focuses on her adventures while baking and cooking in the kitchen (she is an awesome baker!), running races throughout the Midwest, and being an awesome mom to her sweet daughter, Eleanor.  Joanna is a great friend of mine and is one of the most fashionable and creative people that I know.  Joanna recently announced that she and her hubby, Jeff, are adding baby #2, and I am so excited about this!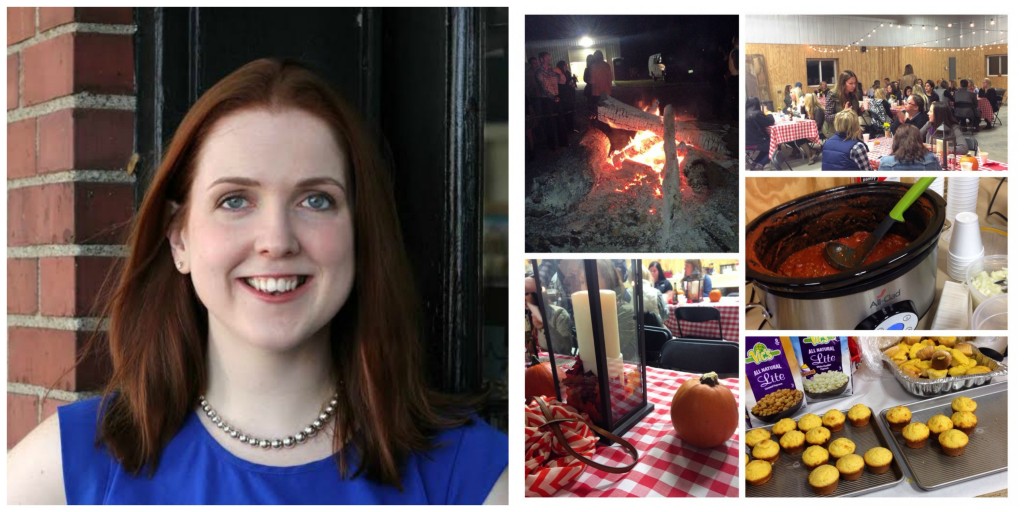 The final nominee is Erin from Her Heartland Soul.  Erin is another great friend of mine who writes her popular lifestyle blog outside of her job as a full-time marketer.  Erin moved to Omaha a little over a year ago and we became instant friends.  She blogs about her experiences as a Midwest transplant and talks about everything from food, fashion, fitness, and fun in Omaha.  I love reading Erin's weekend posts to see what all she is up to in this great city.  She is proof that you can never run out of fun things to do in Omaha.
I hope you enjoyed my little behind the scenes post.  Thanks for the nomination, Kelly!  Make sure you check out Alexis, Joanna, and Erin's Behind the Scenes Blog Tour posts next Monday!