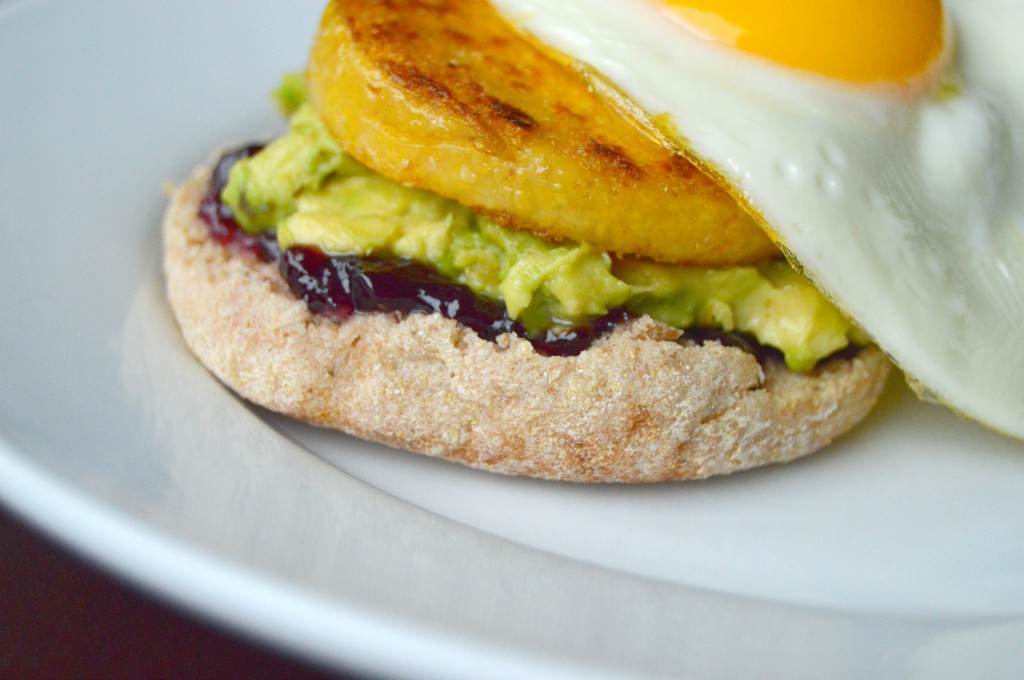 I know what you are probably thinking.
"What in the world is wrong with this girl?  Something that is green and something that is purple should not be combined.  At least not when it comes to food."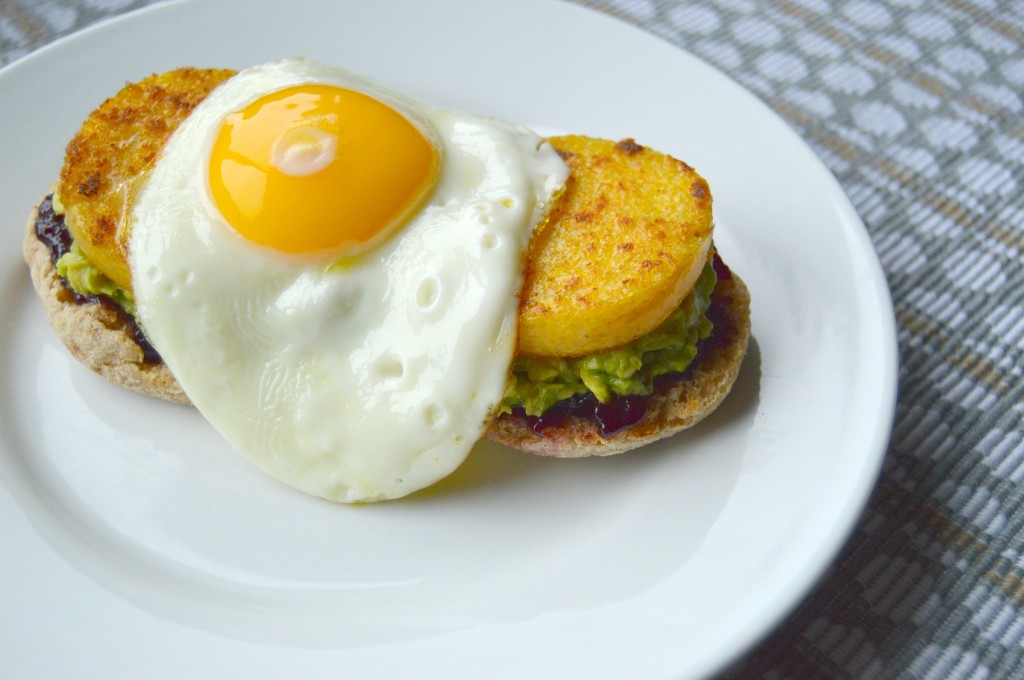 But hear me out…
Yes, that is avocado.
Yes, that is blackberry jam.
And despite the fact that avocado and jam together sounds like a totally strange combination, I would like to think that I am somewhat of an expert when it comes to what works and what doesn't regarding the sweet and savory combo.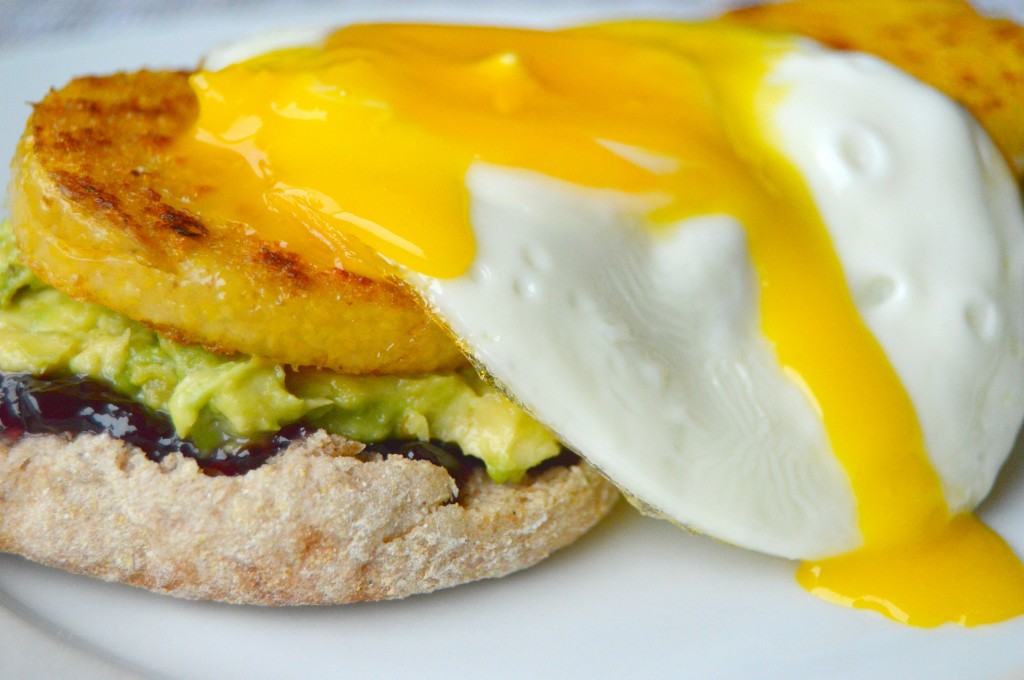 Now even if you are not totally convinced just yet, I think I still have a chance to bring you around once you see what other goodness was involved in this breakfast creation.  Yes… a runny egg (because it is the perfect thing to dip bread into), a toasted English muffin (for said dipping), and crispy polenta (because I decided that it was about time that I started incorporating it into my morning meals).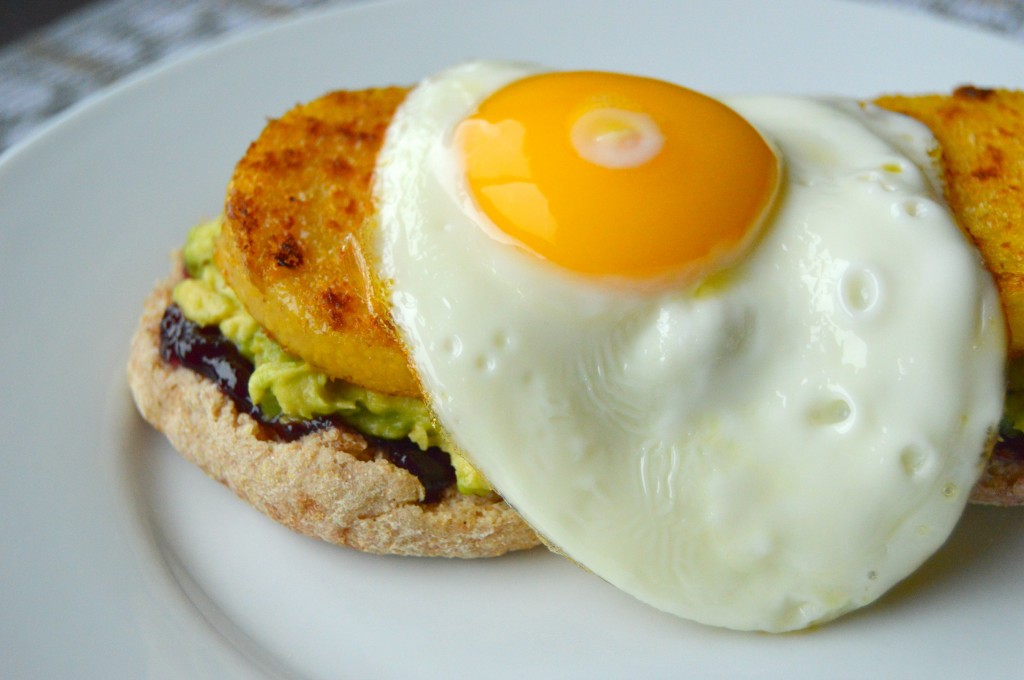 It may sound like a totally strange and random combination.  In fact, it really is.  But it is also delicious, especially if you have a hankering for a sweet and savory breakfast.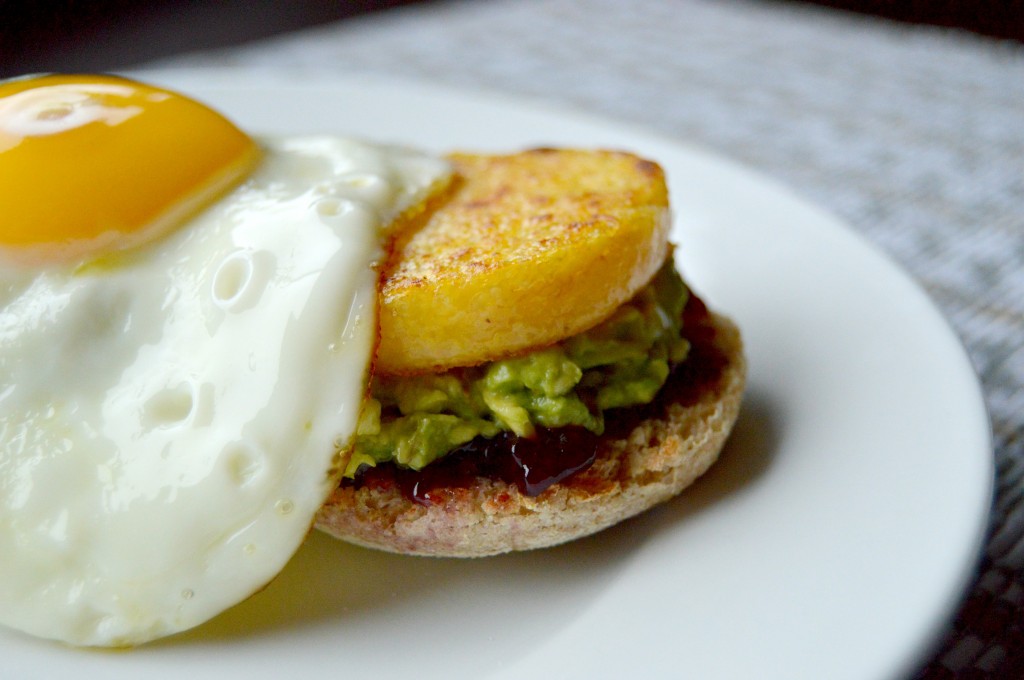 Sweet and Savory Breakfast Polenta and Egg Stack
Serves 1
Ingredients
olive oil cooking spray
2 half inch slices of polenta (I normally find prepared polenta tubes in the produce section of my grocery store)
1 large egg
half of a ripe avocado
1 whole wheat English muffin
2 TB of your favorite jam or jelly (I used blackberry jam)
fine sea salt, a couple pinches
Directions
1. Start by generously spraying a small skillet with olive oil cooking spray.  Heat the skillet over medium heat.  Once hot, add the polenta slices to the pan.  Sautee for approximately 10 minutes- flipping once halfway through- or until golden brown on each side.
2. While the polenta is cooking, prepare your remaining ingredients.  Cook the egg sunnyside-up, mash the avocado, and toast the English muffin to your desired crispness.
3. Once all ingredients are prepared, top each half of the English muffin with half of the jam and half of the avocado.  Sprinkle the avocado with a pinch of sea salt.  Top the avocado with the sauteed polenta slices.  Finish it off with the fried egg.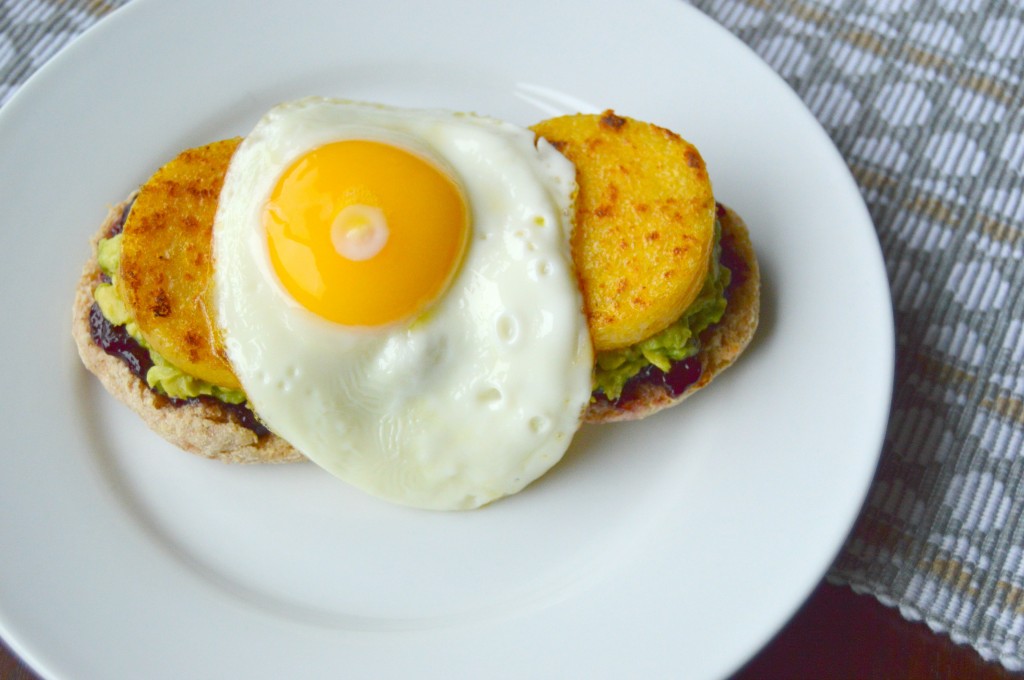 Somehow my dippy egg developed an eyeball.
I hope it was looking back at me with approval for the breakfast that I had created.  I am not sure that it was overly thrilled about the fact that I was about to eat it, though.  Granted, I should probably remind myself that it was an egg and eggs do not have feelings.  And thank goodness for that because I eat a lot of eggs and enjoy every. single. bite.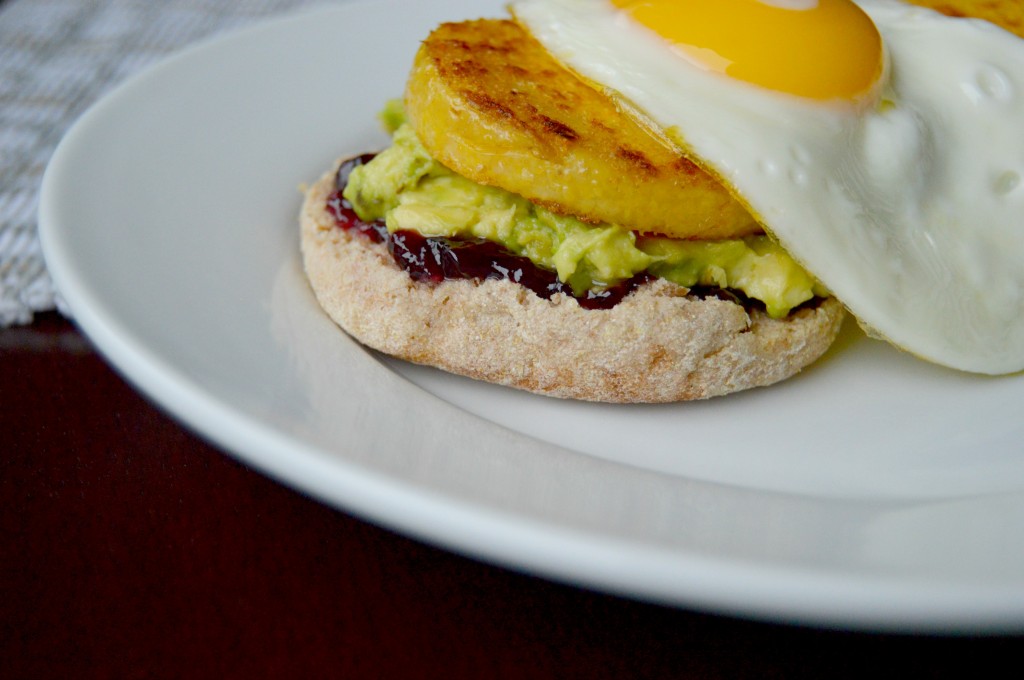 Whatever you do, do not leave the yolk intact.  It wants to be free.  I promise! 😉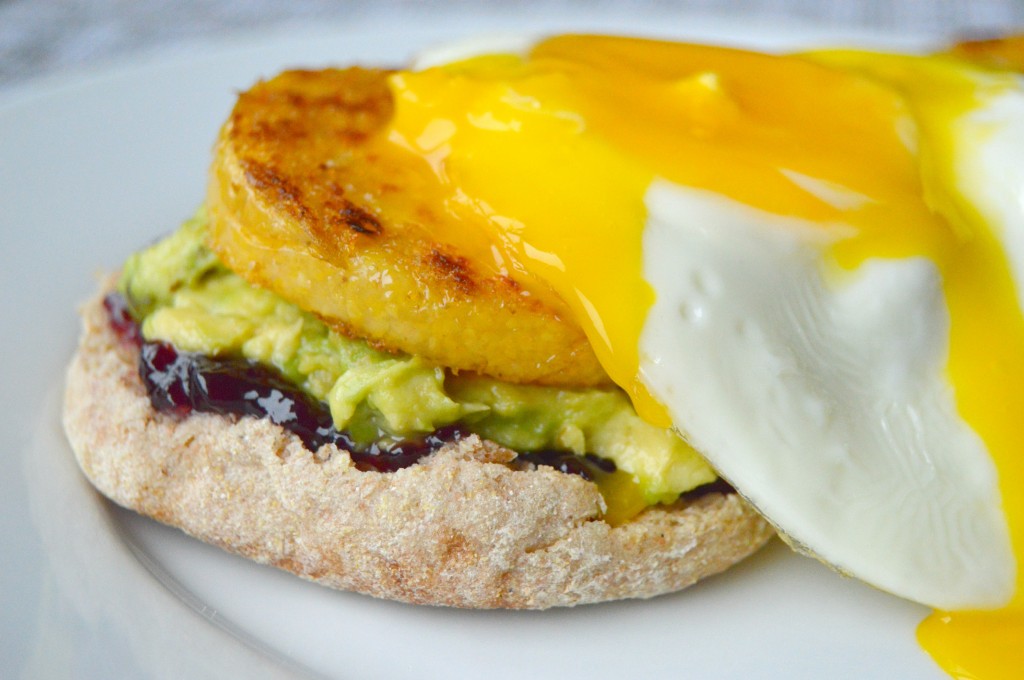 It may look strange.  It may sound strange.  But when it comes to sweet and savory breakfasts, this is about as good as you are going to get.
What is your favorite sweet and savory breakfast?
Have you ever cooked with polenta?