Guess what day it is?  No… not Wednesday.  It is Friday!
Even though most of us only had a four-day work week, I am more than ready for Friday to be here.  And what could make Friday even better?  Well, not much.  But I think some delicious recipes just might do the trick!  Get ready for this one, friends.  It is a good one full of a couple of firsts, lots of cauliflower, and several amazing recipes.
Friday Foodie Favorites: May 30, 2014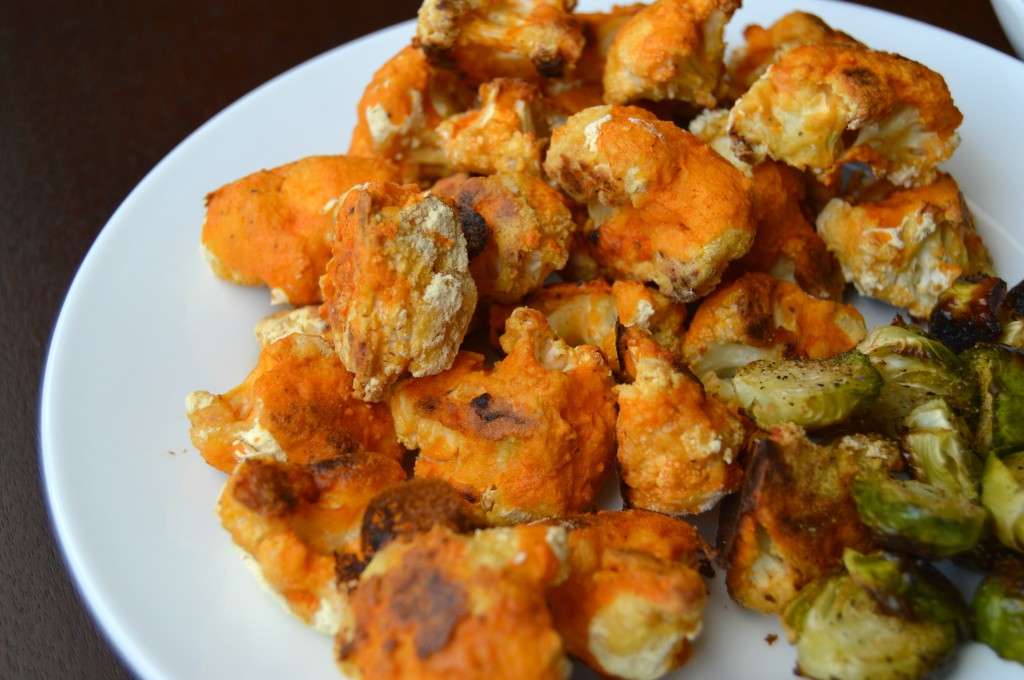 Kind of looks like buffalo wings, right?  Well… not quite.  But these are equally (if not more) delicious!  I have seen cauliflower buffalo wing recipes floating around the blogosphere for at least a year now.  I had meant to try them and had "bookmarked" them several times, but always forgot about them.  When Kelly's recipe for Cauliflower Buffalo Wings popped up on my Bloglovin' feed, I knew it was about time that I got around to making them.  I bought chickpea flour for the first time and threw these "wings" together in about 30 minutes.  Let me tell you… it was certainly love at first bite.  These have the perfect hint of spiciness from the buffalo sauce but are not too spicy.  The texture also tasted extremely similar to chicken nuggets (or at least how I remember chicken nuggets tasting).  I am nearly 100% certain that you could serve these to a meat-eater and they would be extremely pleased.  This is definitely another "win" for turning a vegetable into "meat."  I have already made these twice and have zero plans of stopping now.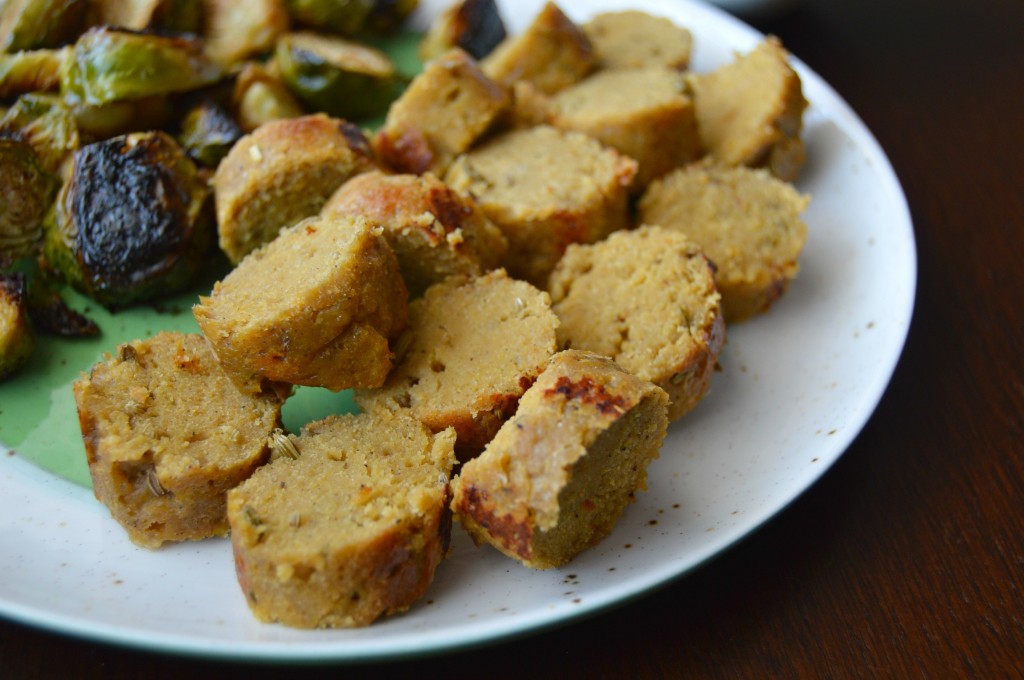 Have you tried seitan yet?  Seitan is essentially a meat substitute that is made largely from vital wheat gluten.  I have bought it pre-packaged and cooked with it on several occasions.  This time, however, I decided to try making it myself.  At first I was intimidated by the idea of doing so, but this honestly could not have been easier.  I came across Jackie's recipe for Apple Fennel Seitan Dogs and thought that the process sounded quite simple so I decided to give it a go a couple of weekends ago.  While I did not actually make the seitan into "dogs," I still enjoyed it just as much- if not more- on its own.  Of course it was not completely on its own because I paired the sliced seitan with barbecue sauce and yellow mustard- both of which were delicious dippers.  I will definitely be making Jackie's seitan recipe again and after seeing how easy it was, I cannot wait to try developing some of my own seitan recipes soon.  I'll definitely be trying them out in "dog" form too!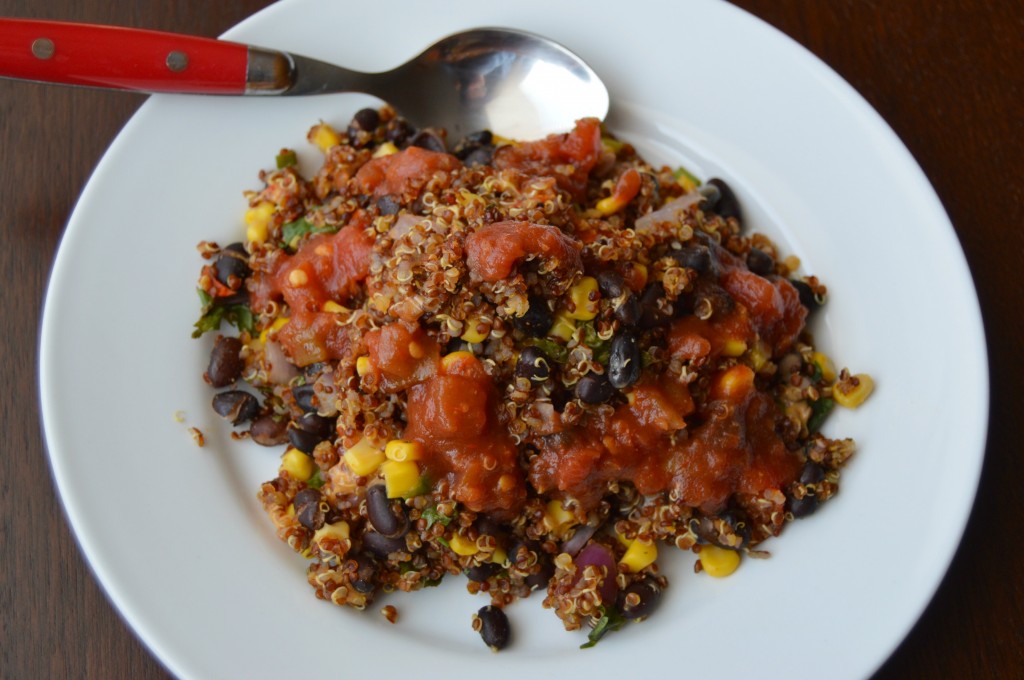 Yum, right?  This dish tasted just as good as it looks.  Jordan shared her recipe for Cinco de Mayo Mexican Quinoa Bake on Instagram and I knew that I had to try it after reading the ingredients list and seeing just how easy it is to make.  As you have probably already noticed, I am a major quinoa lover and anything that is Mexican-themed is pretty much my jam.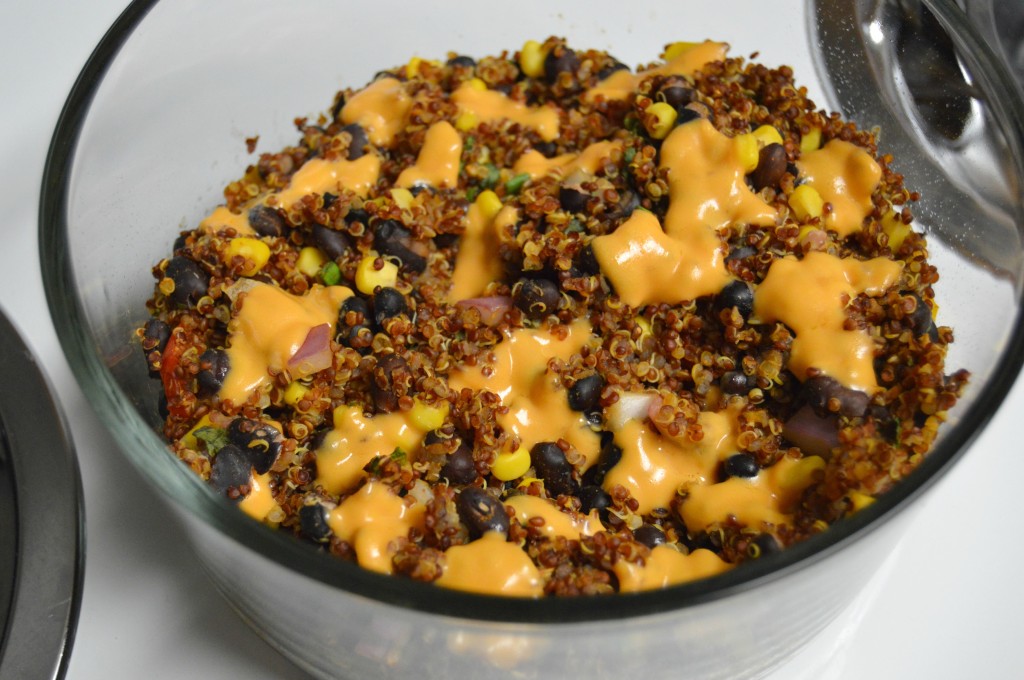 I halved Jordan's recipe since I was just serving myself for dinner and lunch the next day.  I also added in some chopped tomatoes and used Daiya vegan "cheese" to make it vegan.  This is definitely a low-effort meal with big taste.  Ahh, yet another recipe that has been added to my "to make again" list!
This final favorite is actually my own recipe, but I decided to include it in today's post since I adapted it from one of my all-time favorite recipes from another blogger.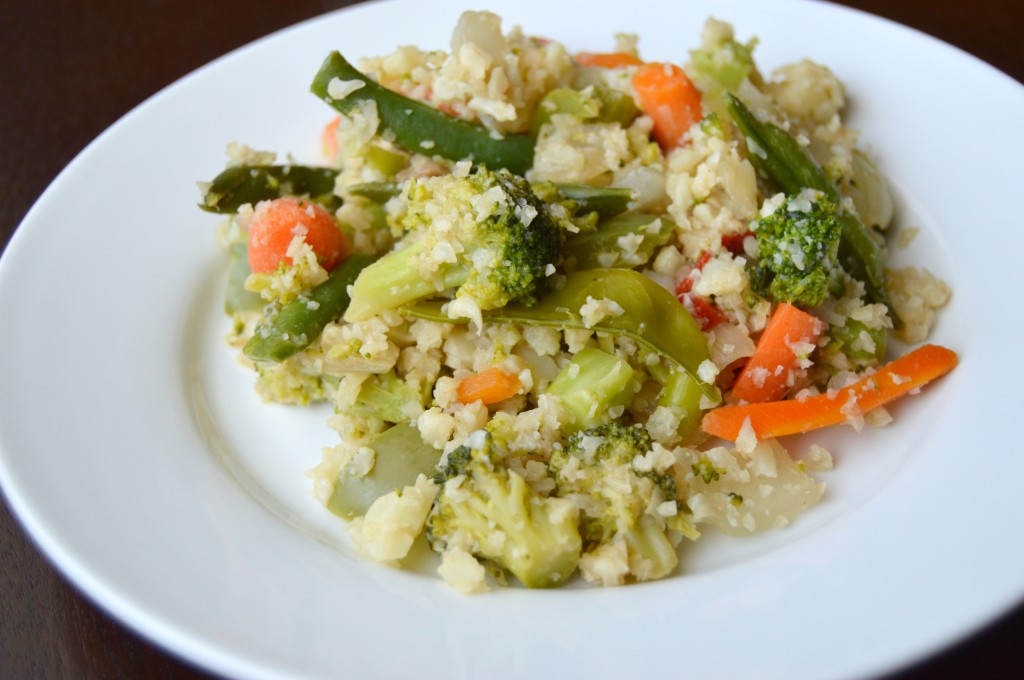 Cauliflower Rice Pad Thai
Vegan
Serves 2 as a main dish or 4 as a side
Ingredients
1 large head of cauliflower
2 cloves garlic, minced
1/4 yellow onion, chopped
1 green bell pepper, chopped
8 baby carrots (or 1 large whole carrot), sliced
1 cup frozen chopped broccoli
12 oz bag frozen stir-fry vegetables
For the peanut sauce:
1/4 cup creamy peanut butter
1/3 cup Bragg's Liquid Aminos or low-sodium soy sauce
3 TB seasoned white vinegar
1/2 TB lime juice
Directions
1. Rice your cauliflower by chopping the florets roughly and adding them to your food processor.  Pulse the cauliflower until it resembles rice.  Heat the cauliflower in the microwave for 7 minutes, stopping to stir once halfway through.
2. While the cauliflower is cooking, line a large skillet with a thin layer of water.  Add the garlic, onions, peppers, and carrots to the pan.  Cook for approximately 3 to 5 minutes, or until they begin to soften.  Add additional water, if necessary.
3. Add the frozen vegetables to the pan.  Cover the vegetables and cook for approximately 10 minutes, or until everything is heated through.
4. While the vegetables are cooking, whisk the sauce together in a medium bowl.
5. After the vegetables are cooked through, add the cauliflower "rice" and peanut sauce to the pan.  Stir until well-combined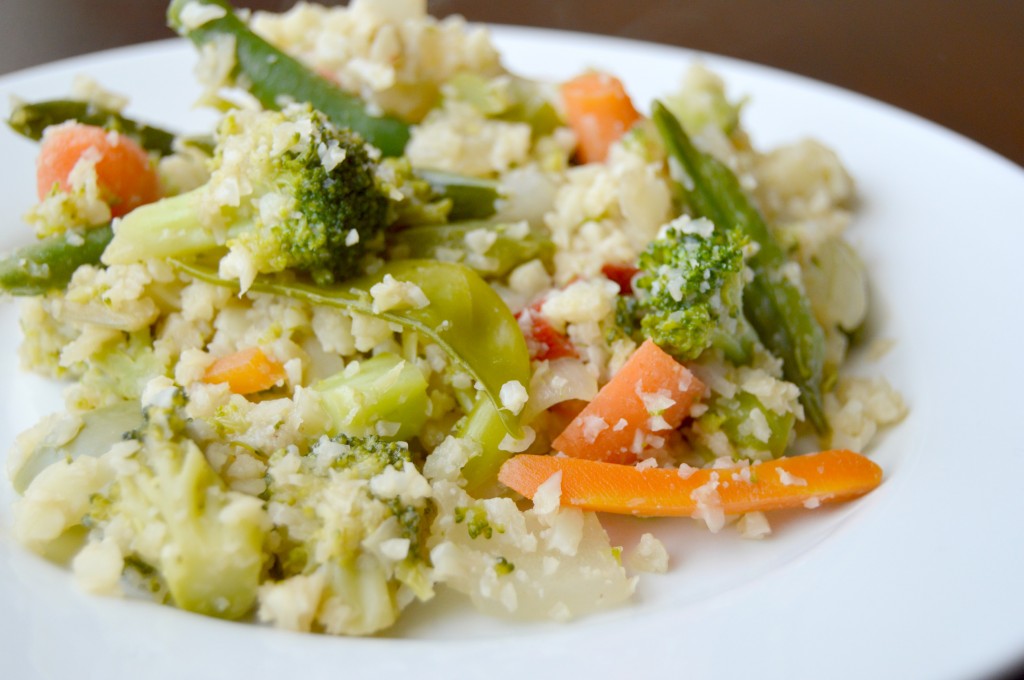 Talk about a vegetable-packed meal.  I'd say this one definitely fits the bill.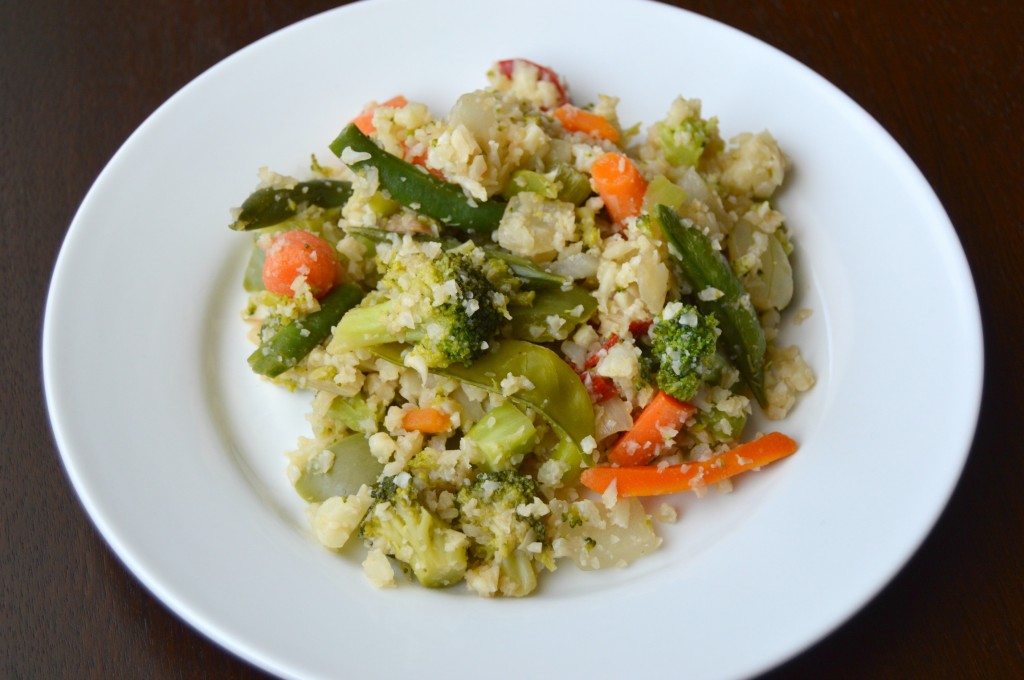 It has been a little awhile since I have made a recipe with cauliflower "rice," but you didn't really think I was going to stop cooking with it did you?
Have an absolutely fantastic Friday and a great weekend!  Let's help May go out with a bang!