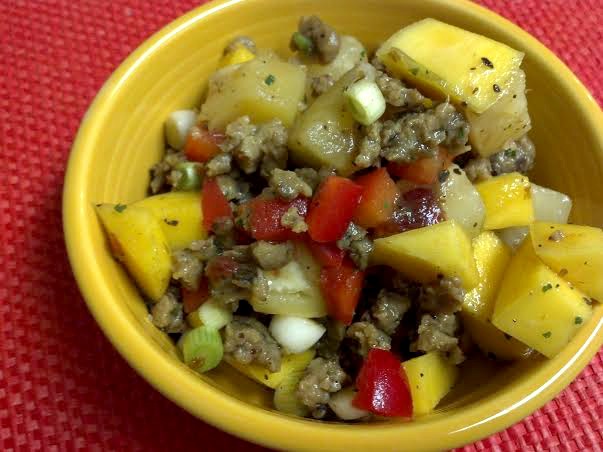 I have a confession to make.  As a meat-eater, I never liked chicken salad.  In fact, the idea of it totally repulsed me.  Now, as a mostly plant-based eater, I eat some of the strangest things.  Well, they are really only strange to my former meat-eating self.  I hate regular mayonnaise, but I love vegan mayo.  I hate seafood, but I love "fish sticks" and "crab" cakes made from tofu.  And now, I hate chicken salad with meat, but love vegan "chicken" salad.  The Better Than Vegan cookbook totally turned me onto it and made me a "chicken" salad lover ;).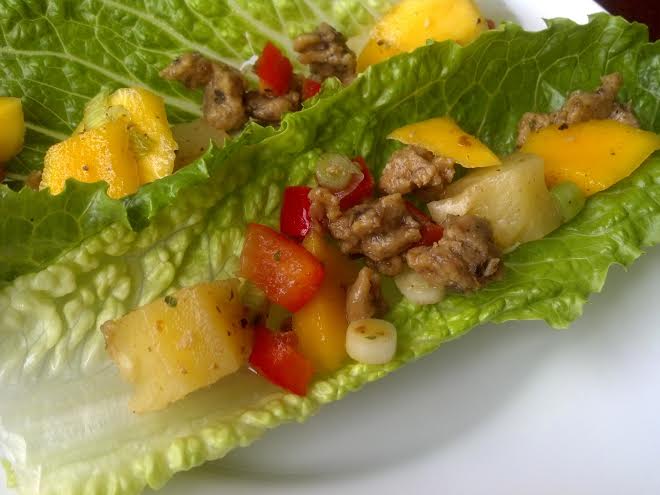 I have worked with the BenBella Books Publishing Company for several reviews and giveaways over the past year (lucky for me and lucky for you! ;)).  Every single cookbook that I have received (Happy Herbivore Abroad, Happy Herbivore Light and Lean, The China Study Cookbook) has been absolutely wonderful and filled to the brim with delicious and simple vegan recipes.  So when I was asked to be a part of the cookbook tour for another one of their popular vegan cookbooks, Better Than Vegan, I simply could not say no.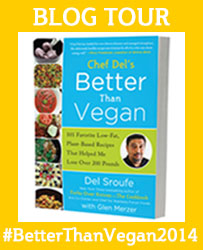 The Better Than Vegan cookbook features over 100 recipes that are plant-based and low in fat.  Readers will find recipes for sauces, dressings, breakfasts, appetizers, soups, wraps, sandwiches, pizzas, entrees, side dishes, desserts, and more.  Chef Del also does a great job of introducing readers to the vegan lifestyle by explaining what foods we should avoid and what foods we should focus on eating.  He provides advice on making food choices, including how to eat out at restaurants.  Finally, Chef Del also provides tips on how to cook with plants, including the type of cookware to use, what staples to keep in our pantries, how to make substitutions, how to best season our dishes, and how to choose the best ingredients.
Upon receiving the cookbook, several recipes stood out.  But ultimately, the look and sound of the Tropical "Chicken" Salad won me over.  Trust me, I am aware that it is January and absolutely frigid outside.  Therefore, a "tropical" recipe does not really seem appropriate.  But let's be honest- I am not really one to follow rules regarding when I should eat certain foods.  I am, after all, the girl who eats chili in the middle of summer.  So I went against the season and whipped up a batch of Del's Tropical "Chicken" Salad.  It was actually quite nice to be able to pretend like I was on a tropical island for the 15 minutes that I spent eating dinner.  Unfortunately, despite how absolutely delicious this salad was, the weather did not warm up any.  In fact, I think it only got colder ;).  Chef Del and BenBella were gracious enough to enable me to share the recipe with all of you.  I highly recommend whipping up a batch of this salad (it is super quick and easy!) and visually transporting yourself to someplace warm.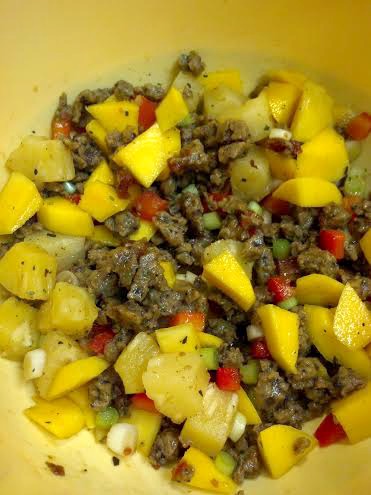 Tropical "Chicken" Salad
Serves 4
Ingredients
zest and juice of 2 limes
1/4 cup low-sodium soy sauce (I used Bragg's Liquid Aminos)
1/3 cup Best Date Syrup Ever (page 83)- this is essentially pureed pitted dates, water, and Stevia
2 TB brown rice vinegar
1 18-ounce package of chicken-style seitan, coarsely chopped (I prefer Upton's Naturals)
1 red bell pepper, diced
2 mangoes, peeled, seeded, and diced into 1/2-inch cubes
1/2 fresh pineapple, peeled, cored, and cubed (I actually cheated and used canned pineapple since it is the middle of winter)
2 cups mung bean sprouts (unfortunately, I had to leave this out because Trader Joe's did not have any)
1/2 bunch green onions, finely sliced on a diagonal
1/2 bunch fresh cilantro, chopped
Directions
Combine the zest and lime juice, soy sauce, and date syrup, and set aside.  Combine the remaining ingredients in a large bowl and toss together with the lime mixture.  Refrigerate for 30 minutes.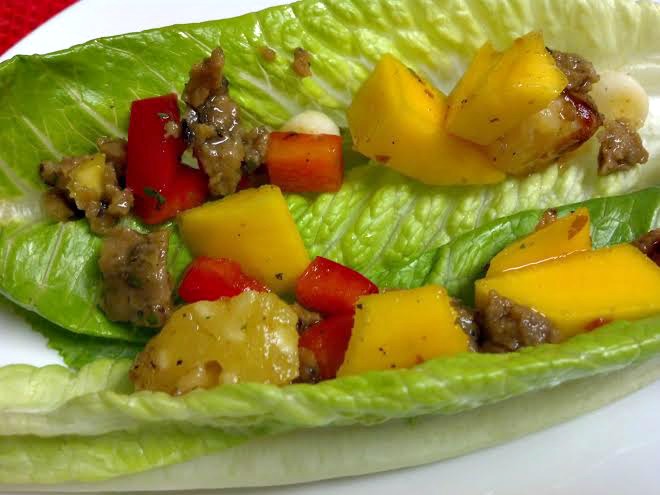 I served the salad in hearts of Romaine lettuce leaves.
If the other recipes in the cookbook are half as good as this one was then I will be awfully pleased.  Some of the others that will be made soon include: the Chipotle Cream Sauce, the Ranch Dressing, the Big Fat Breakfast Pizza, the Spinach-Artichoke Dip, the Turkish Red Lentil Soup, the White Bean Veggie Wraps, the Smoky Black Bean Flatbread, the Sweet Potato-Black Bean Enchiladas, the Tangy BBQ Baked Beans, and the Chocolate Pudding (clearly I had a difficult time narrowing my list down ;)).
There is a lot more where that goodness comes from, too.  And one lucky reader is going to get a chance to cook up all of these recipes and more.
The Giveaway
I am hosting a giveaway for the Better Than Vegan cookbook.  To enter, simply perform one (or all) of the following tasks.  Please leave a separate comment for each:
1. Tell me why you would like to win this cookbook.
2. Tweet about the giveaway.
3. Follow me on Twitter.
4. Follow BenBella Books on Twitter.
5. "Like" my (new!) Facebook page.
The giveaway will be open until Sunday, January 12th at 11:59 p.m. CST.  It is open to residents of the U.S. and Canada only.  Good luck!
Related articles