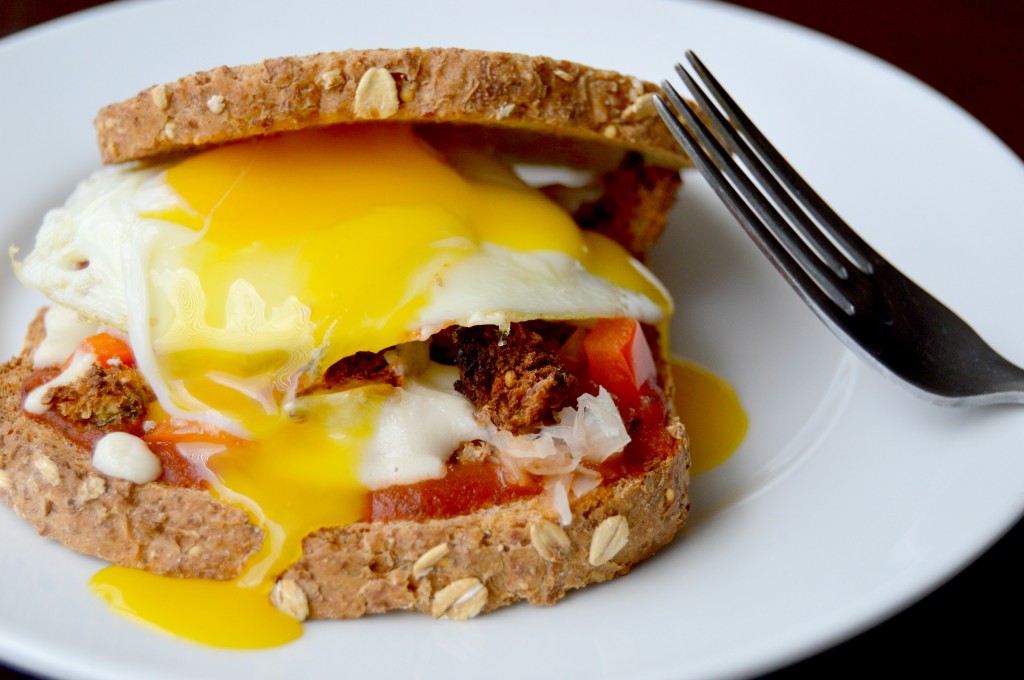 I am definitely a pizza kind of girl.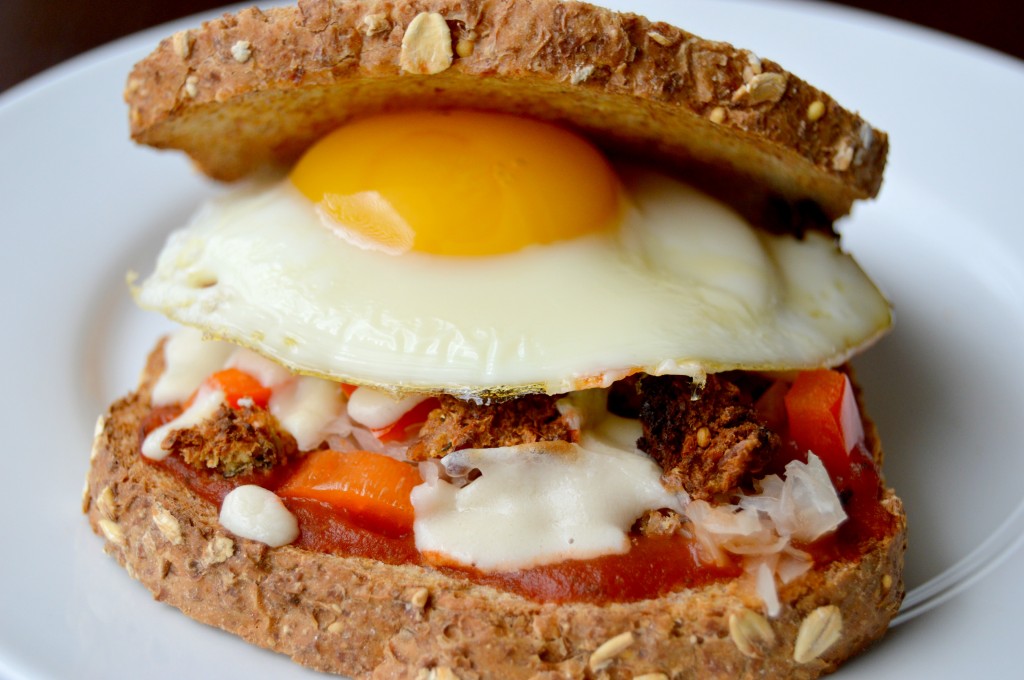 And I am definitely a breakfast pizza kind of girl.
Breakfast pizza is somewhat of a staple here in the Midwest.  And if you grew up eating breakfast pizza like I did, you know that the best places to buy it from are gas stations, especially Casey's General Store.  I do not know what they put on their pizzas, but they are seriously heavenly.
It has been quite awhile since I have actually eaten breakfast pizza from Casey's, but from what I remember, there are two main staples that must be included on every breakfast pizza: eggs and cheese.  And back when I ate meat, I normally enjoyed the slices that contained sausage.  Whenever I wanted to eat my eggs, cheese, and sausage all in one bite, breakfast pizza was the way to go.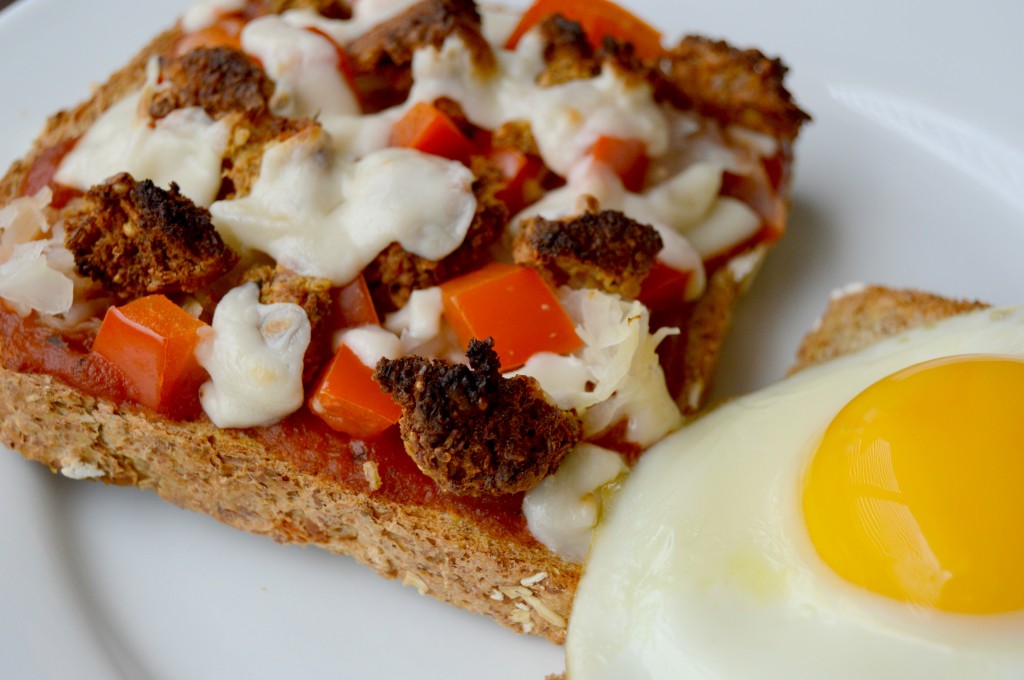 Since I am now a vegetarian who follows a mostly plant-based diet, it is a little bit trickier to find breakfast pizza that does not contain meat or cheese.  As a result, I have had to improvise a bit when making my breakfast pizzas.  And I must say that I have done pretty well so far.
But what happens when I do not have pizza crust on hand, or even a tortilla?  Well, I turn my breakfast pizza craving into a sandwich, of course!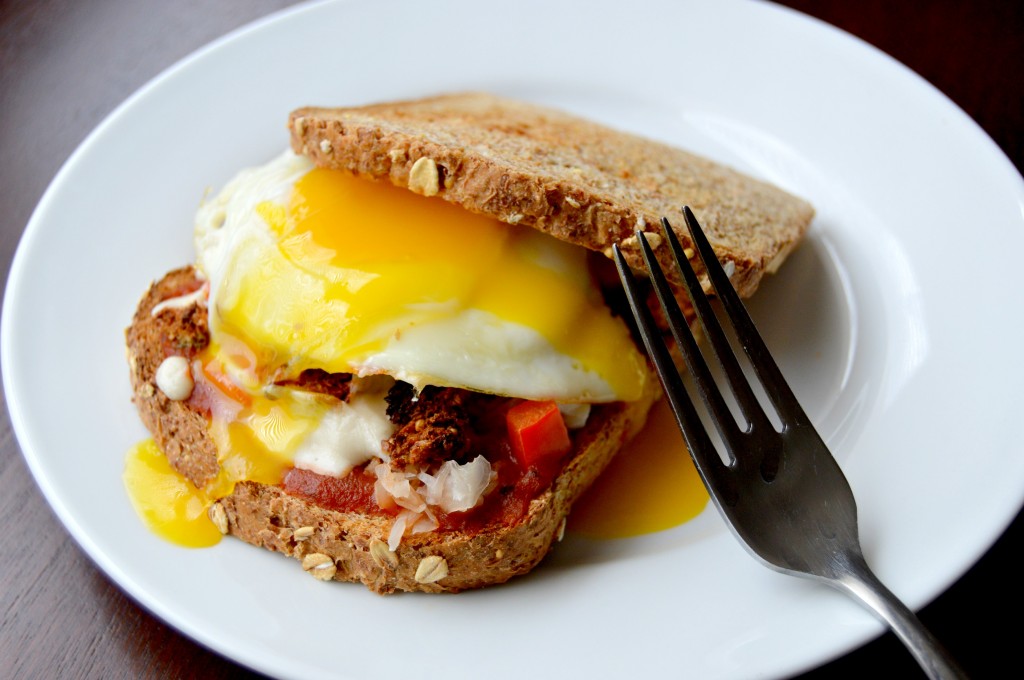 Crust: Check!
Pizza sauce: Check!
Eggs: Check!
Cheese: Check!
It looks like I have all of my "must-haves" for breakfast pizza covered in this sandwich!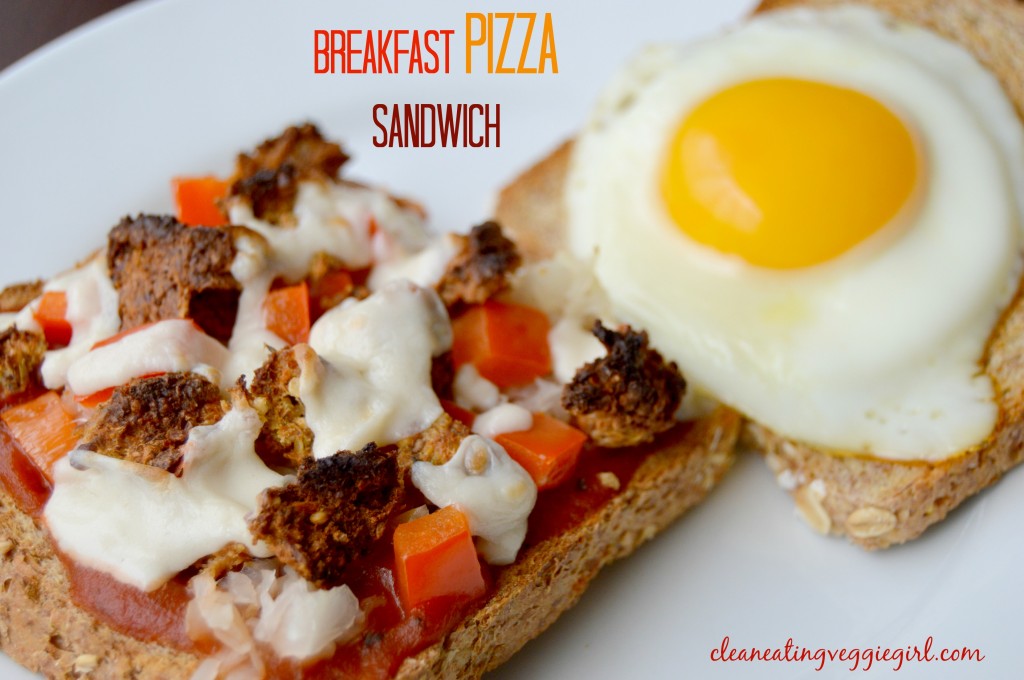 Breakfast Pizza Sandwich
Servings: Makes 1 sandwich
Ingredients
2 small or 1 large vegan "meatballs" (I used Amy's brand)
2 slices whole wheat bread (I used Ezekiel brand)
2 TB pizza sauce
a couple sprinkles of pizza seasoning (optional)
1 TB diced red bell pepper
2 TB sauerkraut (or other favorite vegetables/pizza toppings)
1 slice vegan "cheese" (I used Daiya brand)
1 large egg
Directions
1. Preheat oven to 350 degrees F.
2. Cook "meatballs" according to package directions.  Set aside.
3. While the "meatballs" are cooking, lightly toast one slice of bread until just barely golden brown.
4. Separate the "meatballs" into smaller pieces to resemble sausage.  Top the toasted slice of bread with pizza sauce, pizza seasoning, bell peppers, sauerkraut, and "meatball" pieces.
5. Add vegan "cheese" to the toppings.  You can use pre-shredded varieties or tear a slice into smaller pieces.  I prefer the slices because they melt better than the shreds.
6. Place the slice of bread with toppings onto a baking sheet.  Bake for approximately 3 minutes, or until the toppings are warm.  Turn the broiler on low and broil for approximately 2 to 3 additional minutes, or until the "cheese" has melted.  Be sure to watch the bread and toppings carefully to ensure that they do not burn.
7. While the bread and toppings are being heated, toast the second slice of bread until it is golden brown and fry the egg sunny-side up in a small skillet.
8. Remove the bread and toppings from the oven, top them with the dippy egg, and place the second toasted slice of bread on top.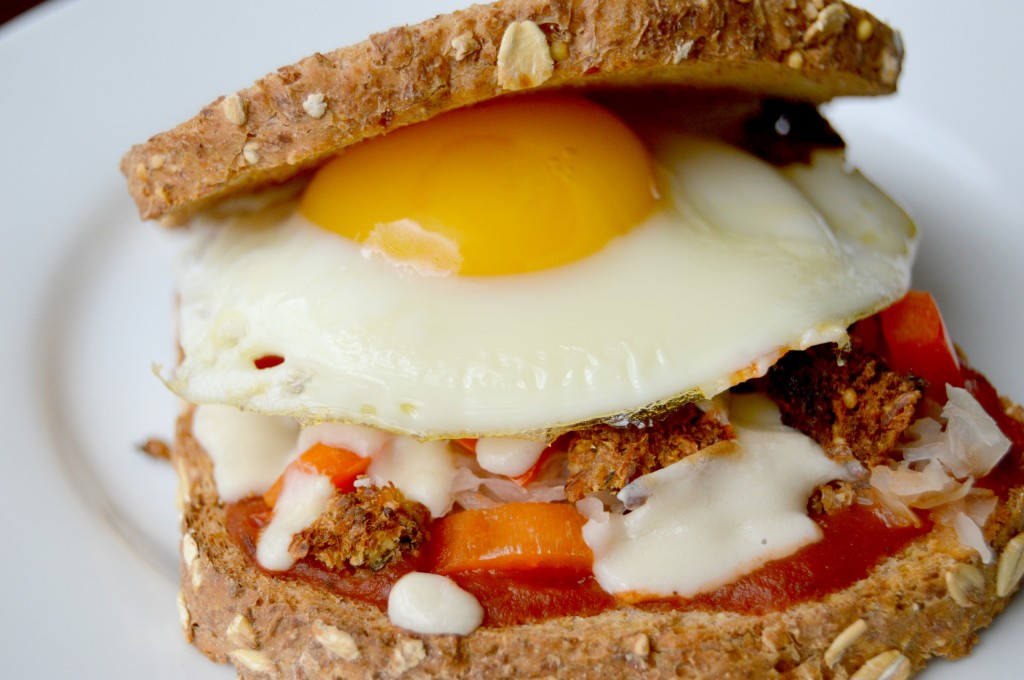 While this may not be the most traditional breakfast, it sure is a tasty one.  Plus, everyone knows that pizza (of the breakfast variety or not) is delicious first thing in the morning.
You are going to want to make sure that you cut into the yolk of the egg before digging in.  Of course for those of you out there who do not like runny eggs (sorry, but that is just wrong), scrambled eggs will work just as well!  In fact, the majority of breakfast pizzas out there are actually topped with eggs that have been scrambled.  Though if it were up to me, they would all be made with dippy eggs!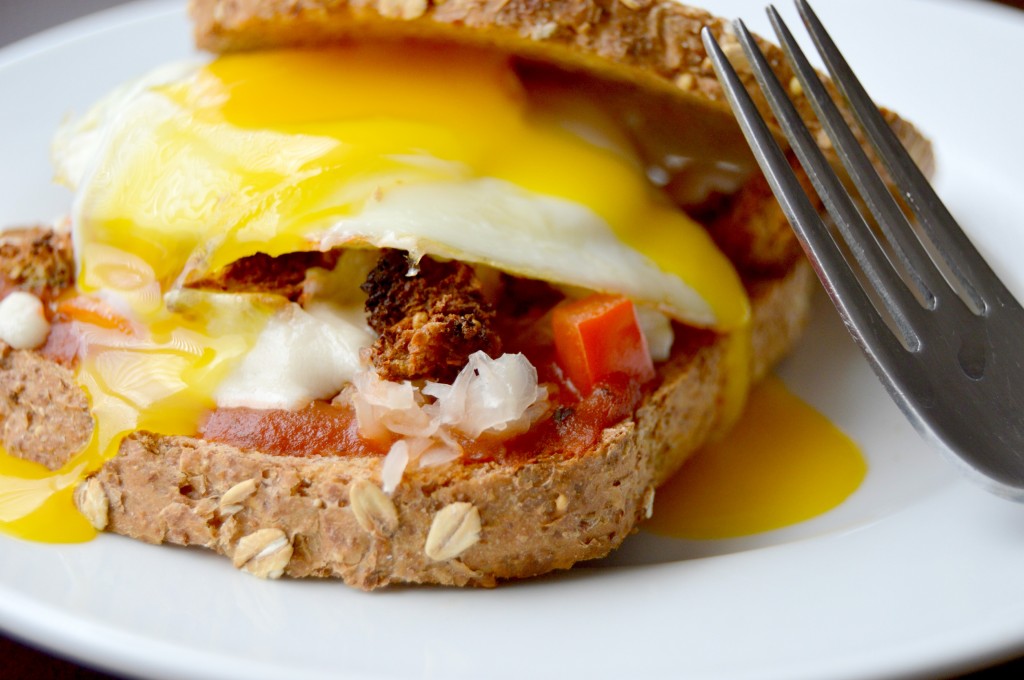 Are you a breakfast pizza fan?
Do you enjoy eating "traditional" pizza for breakfast?