A sweet and creamy Vanilla Fruit Salad that comes together in 10 minutes flat for any Holiday gathering.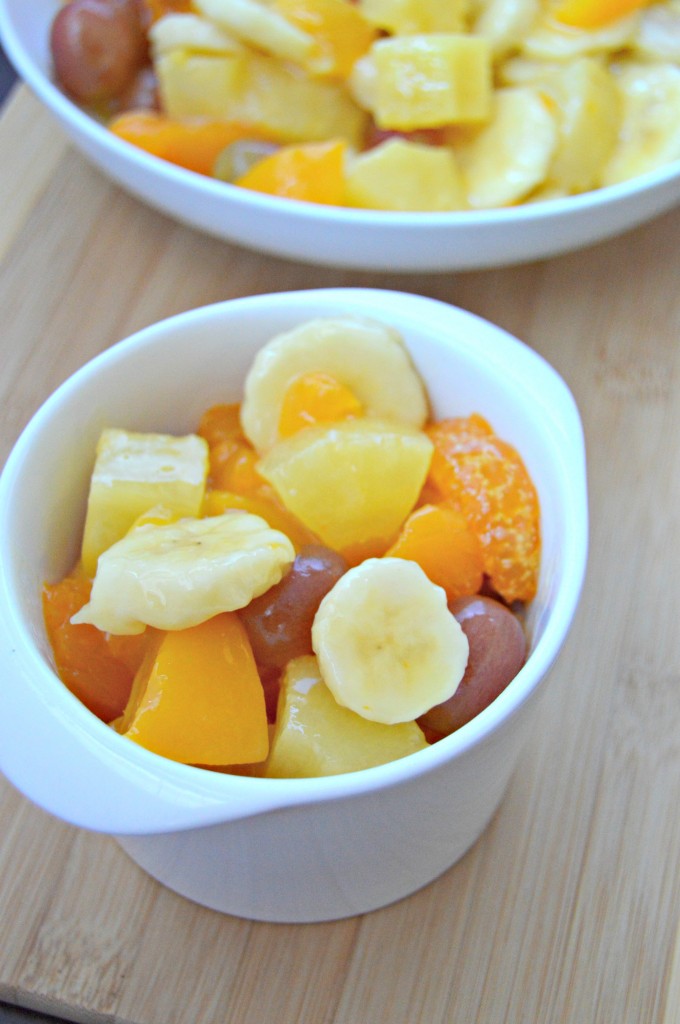 Since I am a big-time foodie and love to cook and blog about food, you may think that cooking for holiday gatherings is my idea of fun.  Well guess what?  That is not always the case!  I find holiday cooking and baking to be fun when I am doing it alongside family and friends, AND (this is very important) when I am not in a rush.  If I feel rushed in the kitchen, I tend to get a bit cranky.  Just ask my family and boyfriend.  They'll tell you I have had my fair share of "get out of my kitchen" moments!  Thankfully, they still love me 😉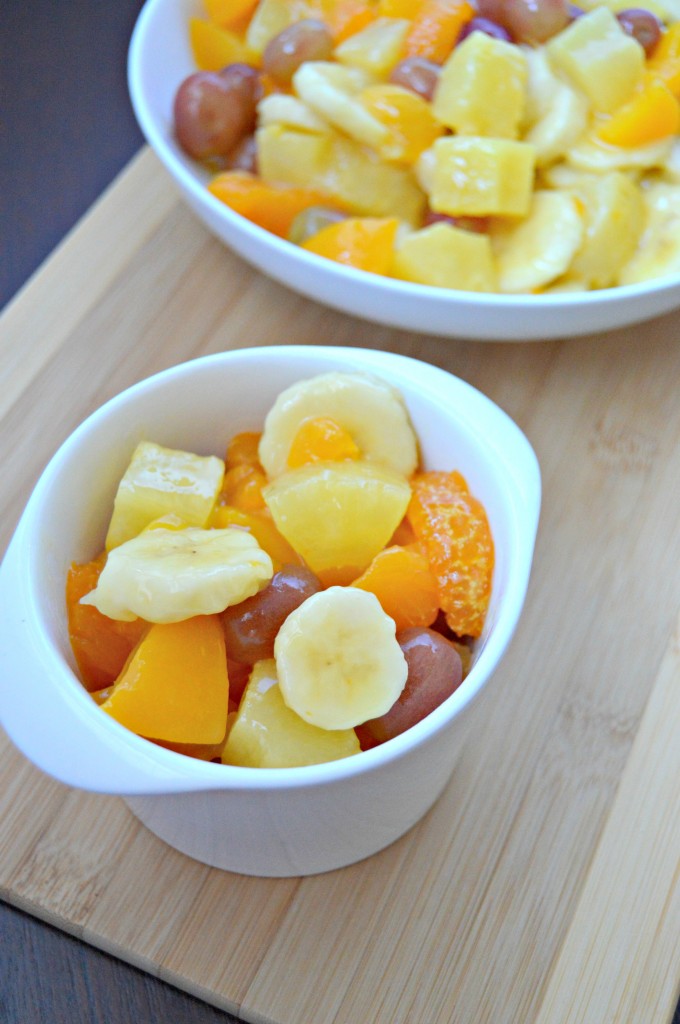 During the holidays- especially Thanksgiving and Christmas- I am normally cooking several dishes within the span of a couple of hours.  As a result, I always try to create a good balance between "more complicated" dishes and "so easy that anyone can make them" dishes in order to avoid said crankiness.  Doing so helps me to keep my "freak out"moments to a minimum.  One of my favorite easy, no-brainer recipes to throw together is the fruit salad dish I grew up eating at everything Thanksgiving and Christmas dinner.  My mom has made it for years and years, and now that I am an adult, I am carrying on the tradition.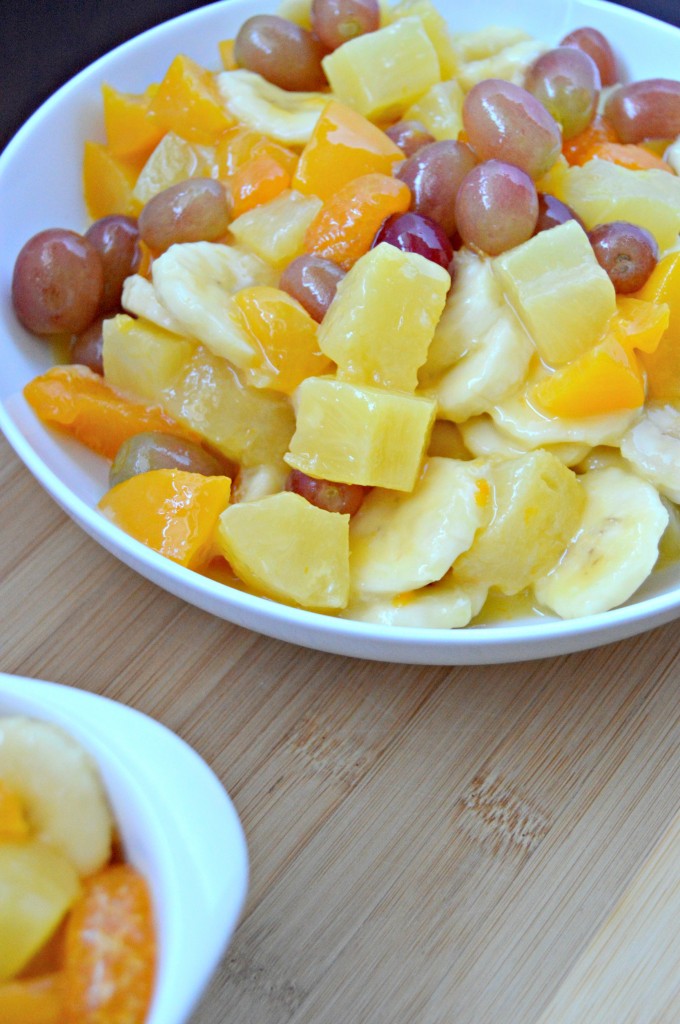 I originally posted about this salad two years ago right before Christmas.  But now that my photography has improved a bit (seriously, just look at how horrendous the original post looks), I figured it was only right that I revisit this post.  If you are still planning your Thanksgiving menu, or if you want to add an easy and delicious side, this is the way to go.  I promise that anyone can make this, and they can do so in 10 minutes.  Yes, TEN minutes!
I love this fruit salad so much that I do not just make it for family holiday gatherings.  It is also my go-to contribution when I attend dinners hosted by others.  A perfect example of that was Friendsgiving!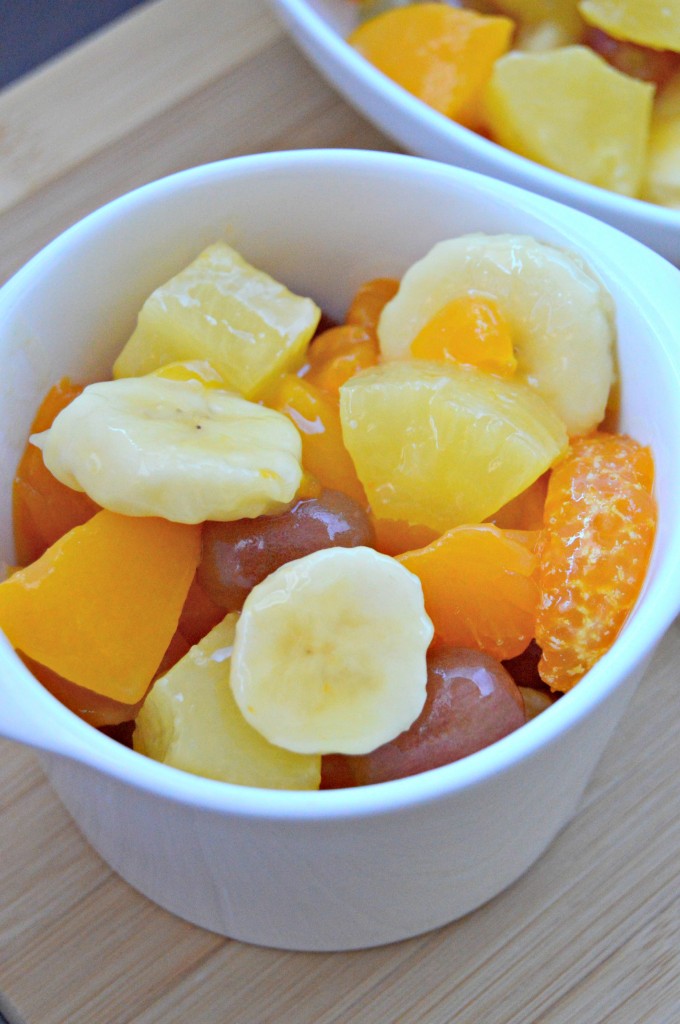 Holiday Vanilla Fruit Salad (Vegan)
Serves 12
Ingredients
20 oz can of pineapple chunks in natural pineapple juice, drained with the juice reserved
14.5 oz can of sliced peaches in natural juices (not heavy syrup), drained and cut into thirds
11 oz can of mandarin oranges in light syrup, drained with the syrup reserved
1 bunch of red seedless grapes, removed from stems
2 large or 3 small bananas (I like mine to be fairly ripe), sliced
1.34 oz box of vanilla instant pudding mix (check ingredient list to ensure it is vegan, if desired)
Directions
1. In a large bowl, combine drained pineapple chunks, sliced peaches, and mandarin oranges.  Stir until well-combined.
2. Stir in grapes.
3. Cut bananas into slices and place in a small bowl with the reserved pineapple juice.  Ensure that all of the banana slices are submerged in the juice.  Place in the refrigerator until ready to serve.
4. Pour reserved syrup from mandarin oranges into medium bowl.  Whisk in vanilla pudding mix a little bit at a time until the mixture reaches a pudding-like thickness.  I generally use about 3/4 of the package of pudding mix.
5. Stir vanilla pudding mixture into the bowl of fruit.  Refrigerate until ready to serve.
Note: The sauce will thin a bit as it sits due to the natural juices in the fruit.
6. Just before serving, drain the pineapple juice from the banana slices.  Gently fold the bananas into the salad.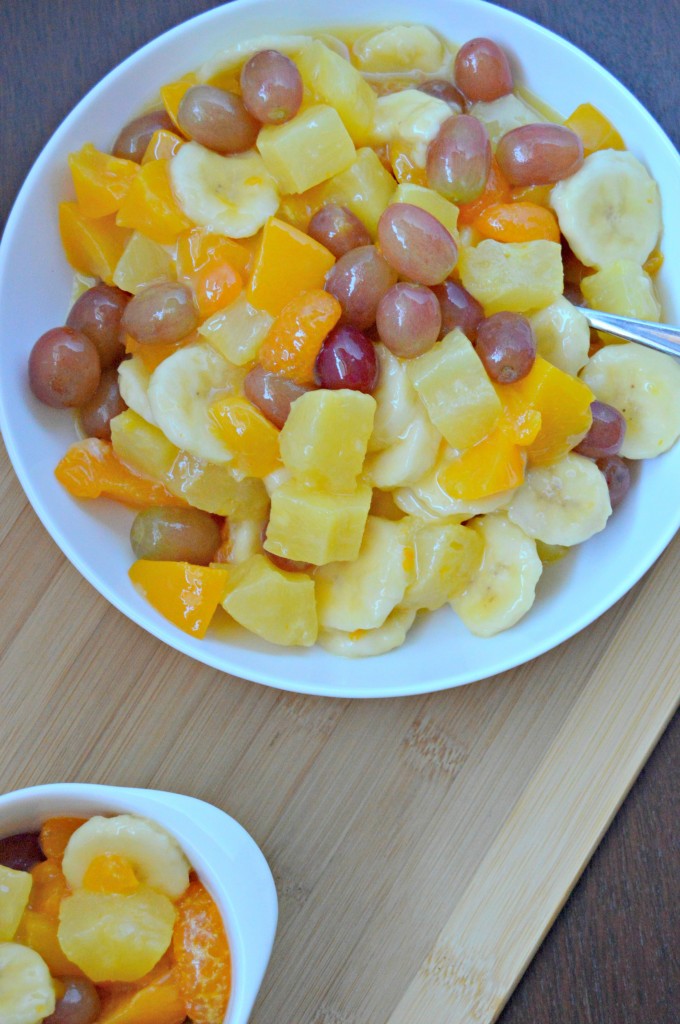 Talk about a great way to add color to your holiday table.  I can almost guarantee that this will be the brightest dish at your special gathering.  And speaking of special gatherings, despite the "holiday" title, this would be absolutely perfect for Easter or a Summertime barbecue.  Who can say no to a perfectly sweet fruit salad?  The time of year really doesn't matter.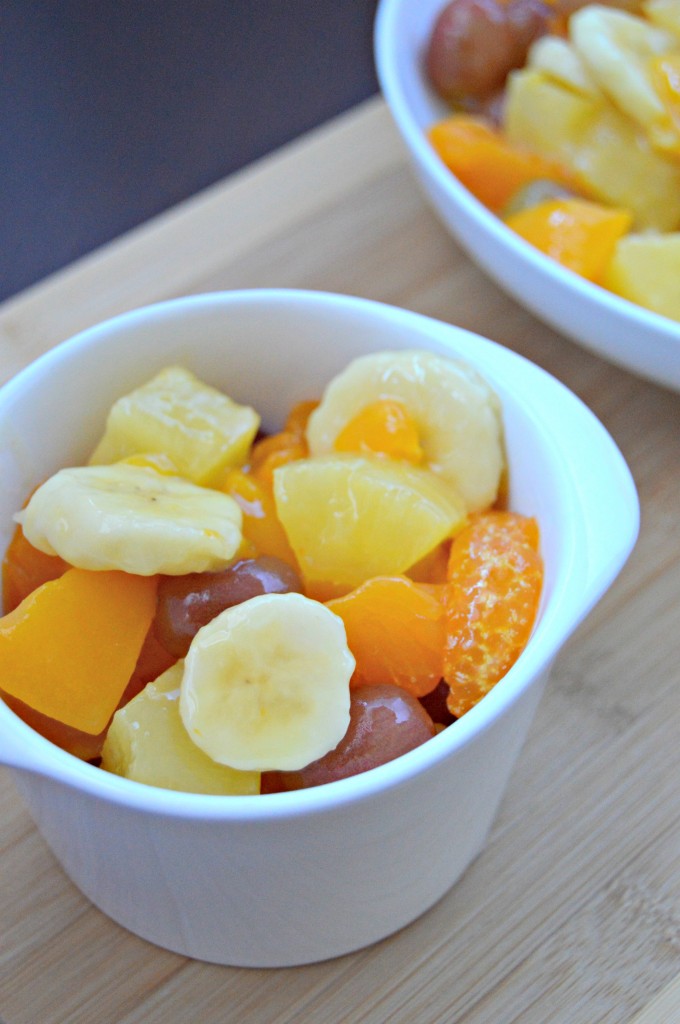 Are you a fan of super easy holiday sides?  Do you want to add something a bit sweet (but still healthy) to your holiday table?  Pin and share this recipe on Facebook and Twitter using the buttons below!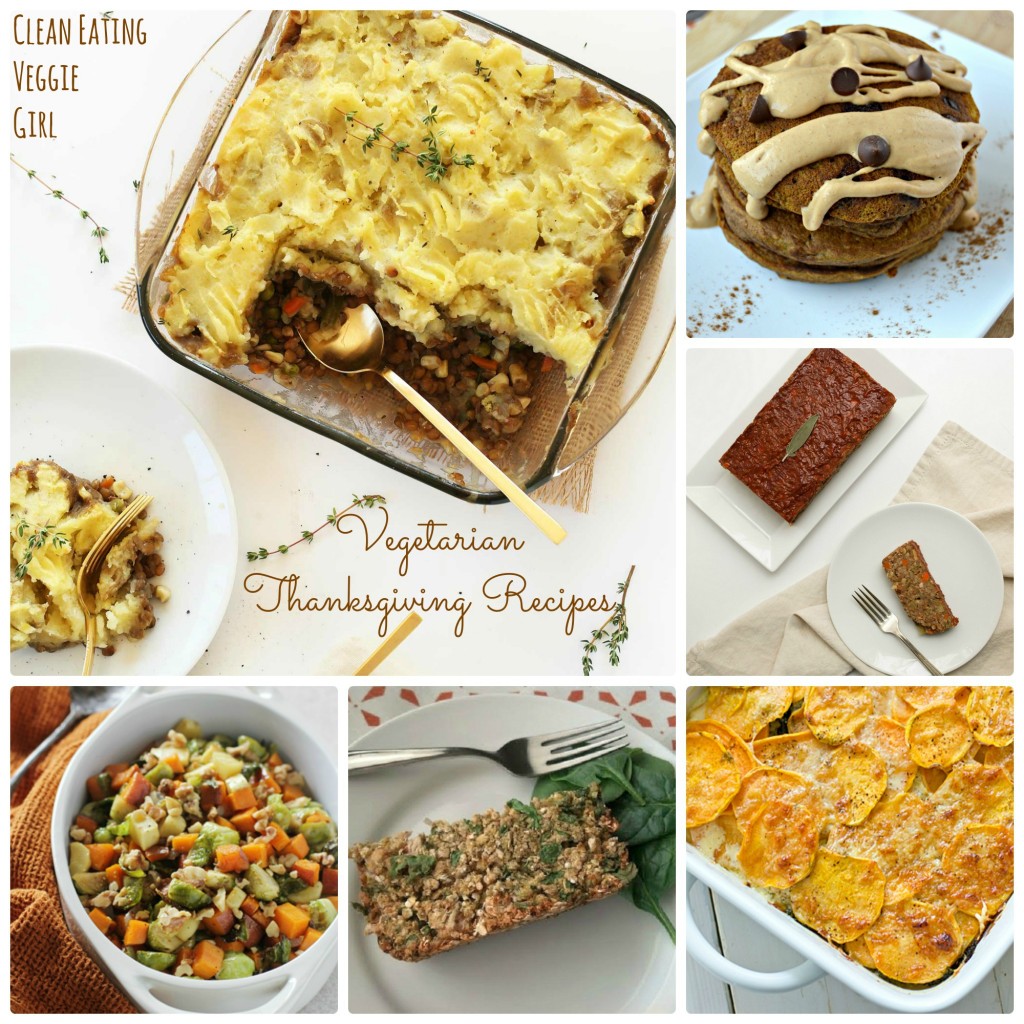 For those of you doing some last minute Thanksgiving Day planning, check out my recipe collection for tons of vegetarian and vegan breakfast, main, side, and dessert dishes!
Which side dishes are staples in your family for holiday gatherings?