Thanksgiving Day, 2:00 p.m.
I am SO full.  I just sat down on the couch after a delicious Thanksgiving lunch.  Talk about stuffed.  I ate two large platefuls and then gave up.  I haven't even dug into my vegan pumpkin pie yet even though I am super excited to try it.  Give me a couple of hours first and then I'll give it a go!  But more on that a bit later…
First, I need to share a few of my favorite recent eats with you all since I teased you with that delicious pizza and those fritters on Wednesday.
Friday Foodie Favorites: November 29, 2013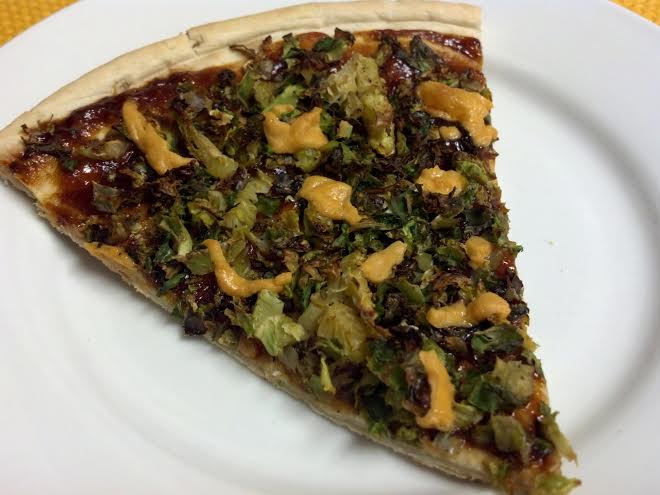 Remember this?  Many of you commented on how delicious this looked.  And guess what?  It is!  I made Alissa's BBQ Cheddar Brussel Sprouts Pizza last weekend.  I made a few alterations to Alissa's recipe by using bagged shaved brussel sprouts from Trader Joe's and by using Daiya cheddar "cheese" in order to make it vegan.  I absolutely adored this pizza- heck, I love the Daiya and BBQ sauce, so how could I not?  Plus, you can't beat a pizza that loads on healthy vegetables.  This was definitely my kind of pizza.  I easily could have eaten more than the three pieces that I ate when I made it for dinner, but I wanted to have leftovers for lunch the next day.  It was definitely worth using a little bit of self-control in order to make two meals out of it.  Now I just wish that the servings of this pizza were endless.  It's a good thing it was super easy to make because it will definitely be made again.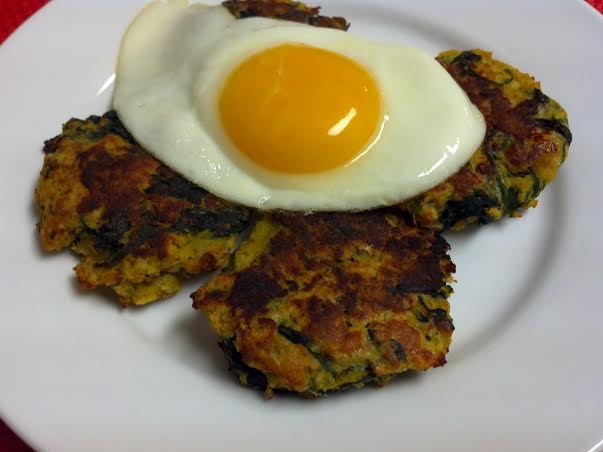 You were also really loving the sound of these fritters.  Earlier this week, I made my own take on Shanon's Spinach Squash Fritters with Eggs.  I followed the fritter recipe almost exactly, but I subbed in nutritional yeast in place of the parmesan cheese, and I added in some garlic powder and onion powder.  These little gems were loaded with tons of nutrients from the spinach and squash (I used acorn), and they packed some BIG flavor.  Shanon's original recipe also called for topping the fritters with poached eggs.  Instead (mostly because I lack the ability to make a poached egg ;)), I topped my fritters with fried, dippy eggs.  I happen to think the addition of the runny yolk was fantastic.  You can't go wrong with some #yolkporn, am I right?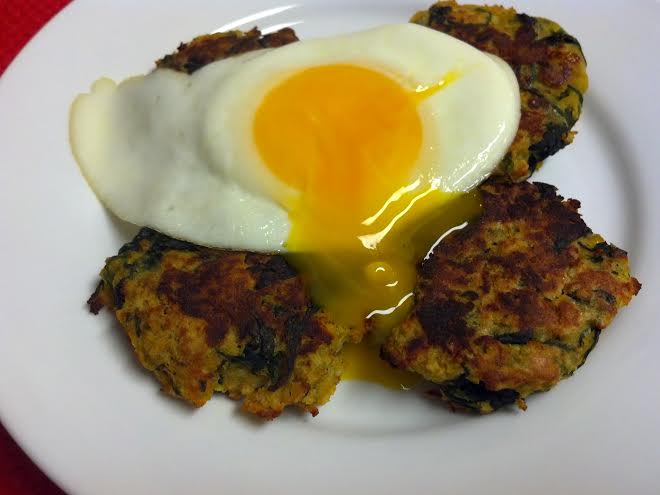 And now one final current addiction of mine: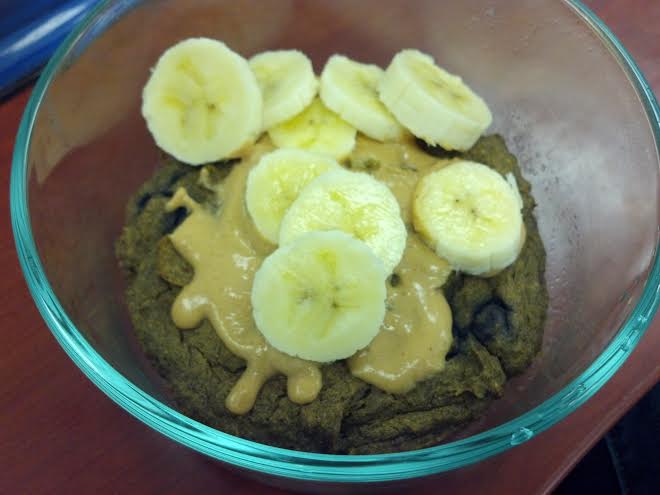 Blueberry buckwheat bakes topped off with peanut butter and bananas.  Robyn's recipe for Buckwheat Bakes is awesome.  I have been making a couple of these bakes on the weekends for the past few weeks and taking them to work for breakfasts.  They are SO easy to make and so, so delicious.  I am now obsessed with buckwheat flour, which is great because it is GOOD for you!  Oh, and for the heads up, adding nut butter is definitely not optional ;).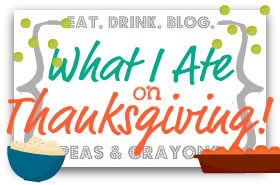 Now that you are all caught up to speed on some of my current favorite recipes from around the blogging world, let's get back to my Thanksgiving day meal recap.  I am going to share a couple of  semi-blurry pictures with you of my plateS 😉 because, quite frankly, I only took two pictures because I was too excited to get to the eating part.  Cold food just isn't good, do you feel me?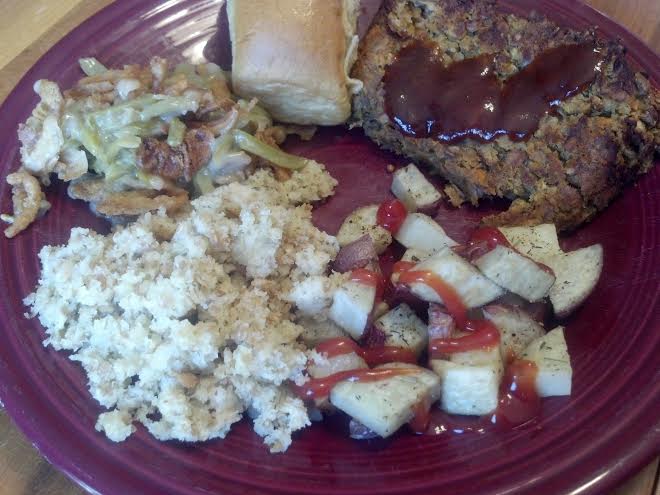 Vegan stuffing from Whole Foods (it was good!), green bean casserole, sweet potato rolls, butternut squash lentil loaf topped with barbecue sauce, and roasted red potatoes topped with ketchup (not the fanciest, but the two just belong together).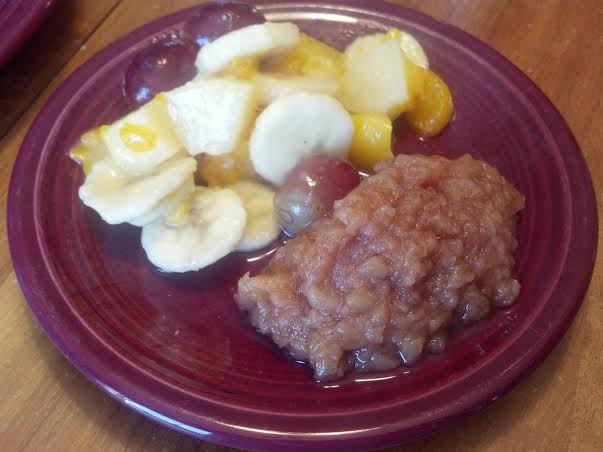 Fruit salad and homemade applesauce.
Oh, and for the heads up, I definitely went back for seconds.  Thanksgiving dinners are for eating, right? 😉
Alright, I am off to take a quick snooze on the couch and then I am going on my annual Thanksgiving day walk with my mama.  I'll be back a bit later to update this post with my final thoughts on THE vegan pumpkin pie.  I hope my expectations will be met!
Thanksgiving Day 4:30 p.m.
And the verdict is…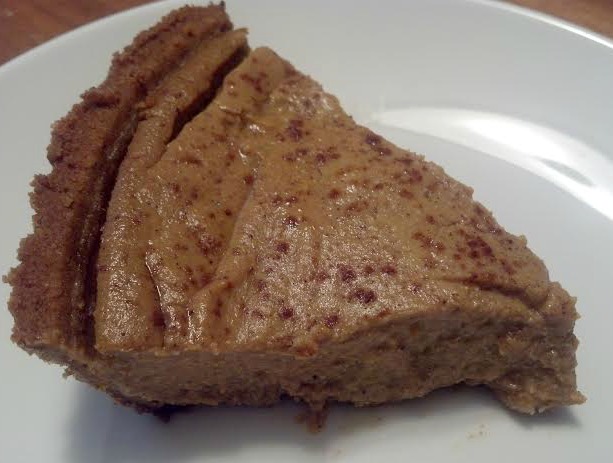 The vegan pumpkin pie. was. good.  I never would have guessed that this pie was vegan if I hadn't been the one to make it, and I never would have guessed that it was made with tofu!  Talk about having fun with tricking people into eating tofu.  Of course I would never do something so sneaky…or would I? 😉  It was so nice to have a vegan dessert option, and a delicious one at that!  I'll definitely be making this again for future holidays.
If you are from the U.S., how was your Thanksgiving holiday?
What was the best thing that you ate yesterday?