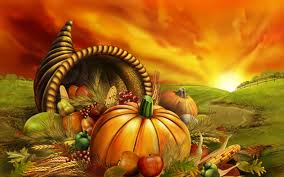 Today is a day made for quality time with family and friends.  Today is a day made for cooking and (lots of) eating.  Today is a day made for indulging.  Today is a day made for relaxation and rest.  And most importantly, today is a day made for giving thanks.  On this Thanksgiving  day, I will be doing all of these things because today is a great day!  I am thankful for so many reasons, but here are just a few:
*Having the basic necessities to live and enjoy live
*My family and friends (puppy dogs included!)
*My job
*The ability to buy and enjoy "luxuries" now and then
*Food- both healthy and indulgent
*My health
*My blog…and YOU!
Happy Thanksgiving to you and yours!  May your day be filled with love, happiness, gratefulness, and so much more.
Oh, and for those of us heading out to the stores tonight…let's remember the reason for the season and be thankful and kind to those around us, especially the employees who are giving up a part of their Thanksgiving Day for us (been there, done that).  Let's make this a joyful (and patient) season :).