Paleo Nightshade-Free Sweet Potato Chip Nachos make for the perfect meal or snack.  Whip these up quickly for your next party or gathering!
This is heaven on a plate.  If you don't think so, feel free to leave
(I kid… kind of).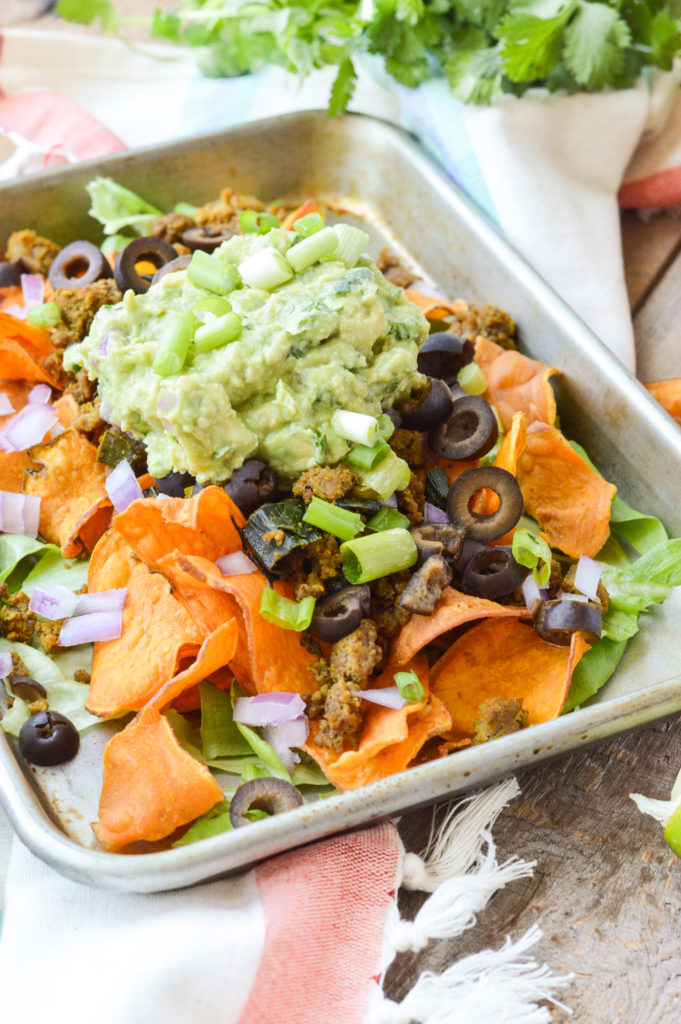 Even though I have been introducing some fun new-ish foods as of late, I'm still loving me some 100% Paleo meals.  And one that I have been eating for months now but haven't shared on CEVG is this big 'ole plate of Paleo-ified nachos.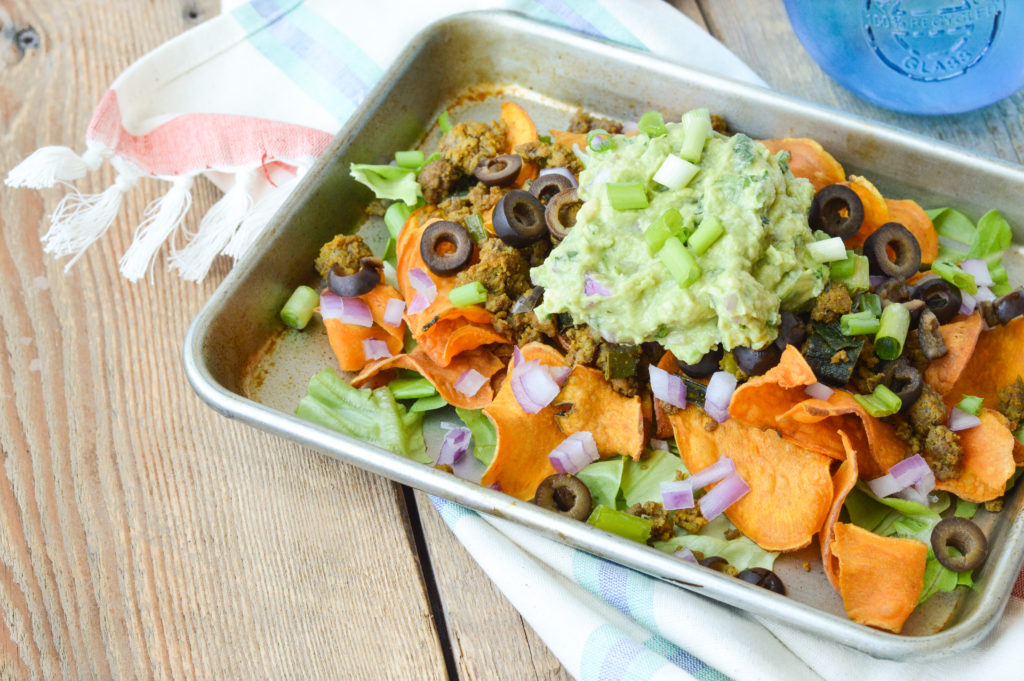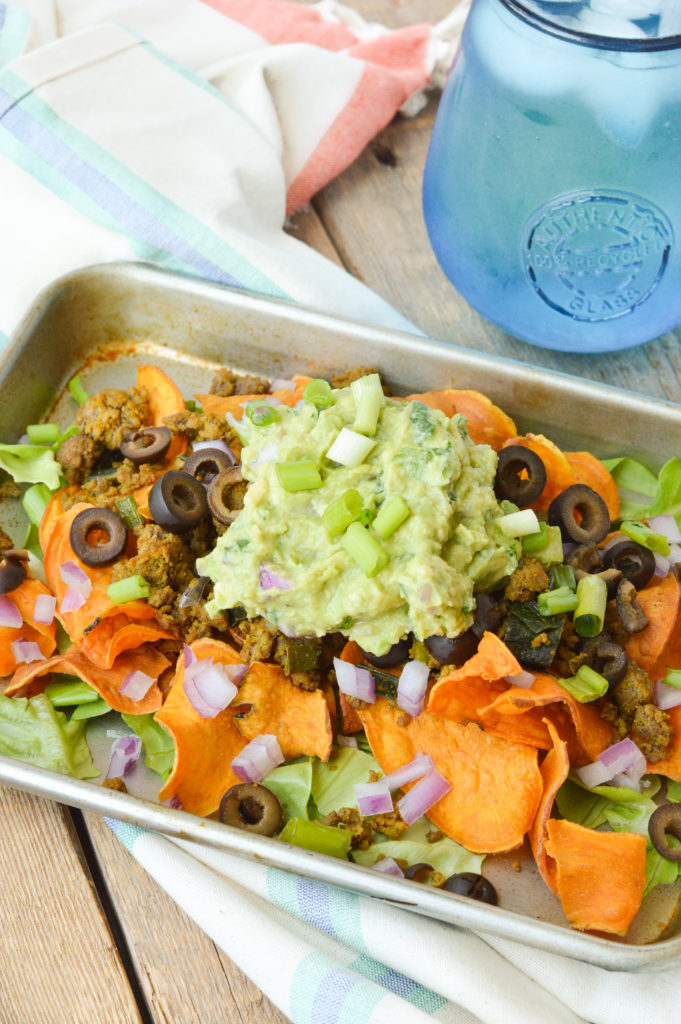 I probably never shared it before because it does not seem like much of a "recipe."  But then I remembered that I most love finding simple and easy meal ideas from other bloggers, and I should definitely be writing the kind of blog that I like to read.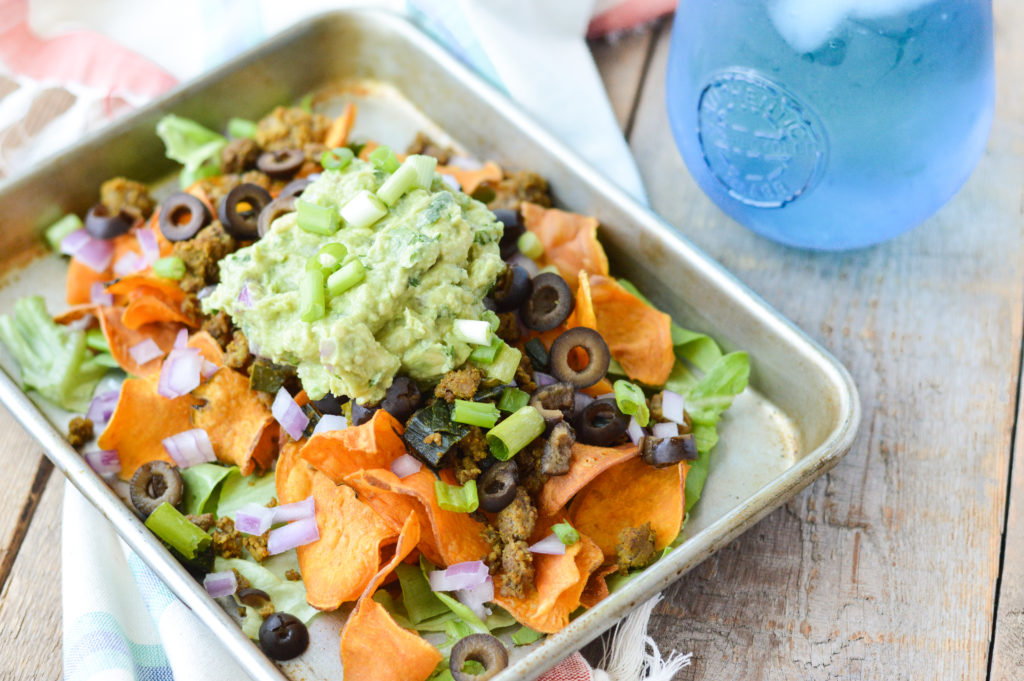 "This recipe is too easy."  Said no one.  EVER.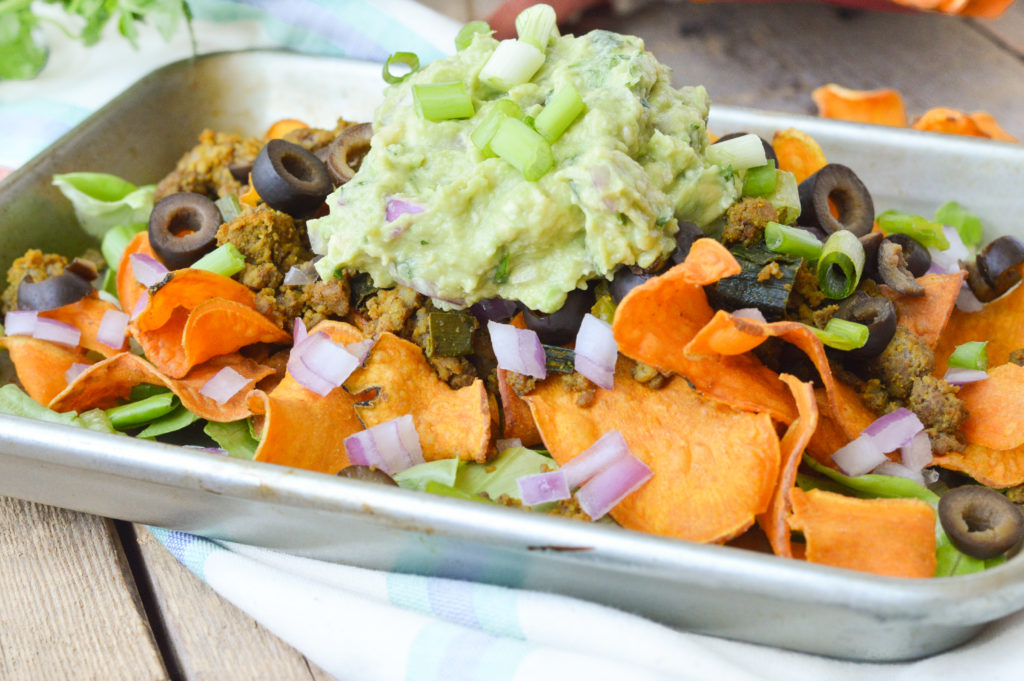 And since it does actually require you to use your stove, you can absolutely feel like you put some effort into it.  Plus, it is most definitely husband approved (or whoever else you are eating these with).  You totally don't have to share, though.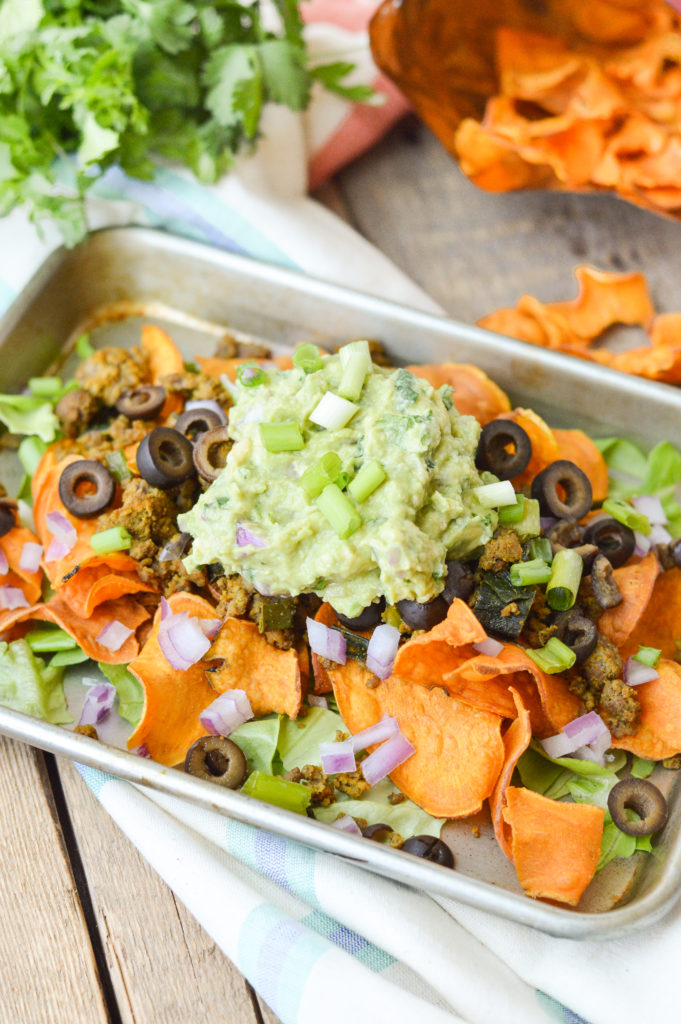 Paleo Nightshade-Free Sweet Potato Chip Nachos
AIP Paleo, Gluten-Free, Grain-Free, Dairy-Free, Nightshade-Free, Nut-Free, Soy-Free
Serves 4 (or two really hungry people)
Ingredients
1 TB of red palm oil
the greens of one large leek, chopped
1 lb of grassfed ground beef (or ground turkey)
1 tsp pink Himalayan sea salt
1 tsp ground turmeric
1/2 tsp garlic powder
1/2 tsp onion powder
1/4 tsp ground cinnamon
Romaine, butter, or iceburg lettuce, shredded
1 5 oz bag of Paleo sweet potato chips (I often buy mine from Thrive)
1/2 small red onion, diced
1 2.25 oz can of sliced black olives
a double-batch of homemade guacamole
4 green onions, chopped
Directions
1. In a large skillet over medium high heat, melt the red palm oil.  Once hot, lower the heat to medium and add leek greens.  Saute for approximately five minutes, or until softened.
2. Once softened, add ground beef and cook until no longer pink.  Season with salt, turmeric, garlic powder, onion powder, and cinnamon.
3. While the meat is cooking, prepare the toppings.
4. Compile nachos in the following order: lettuce, sweet potato chips, taco meat, red onion, black olives, guacamole, and green onion.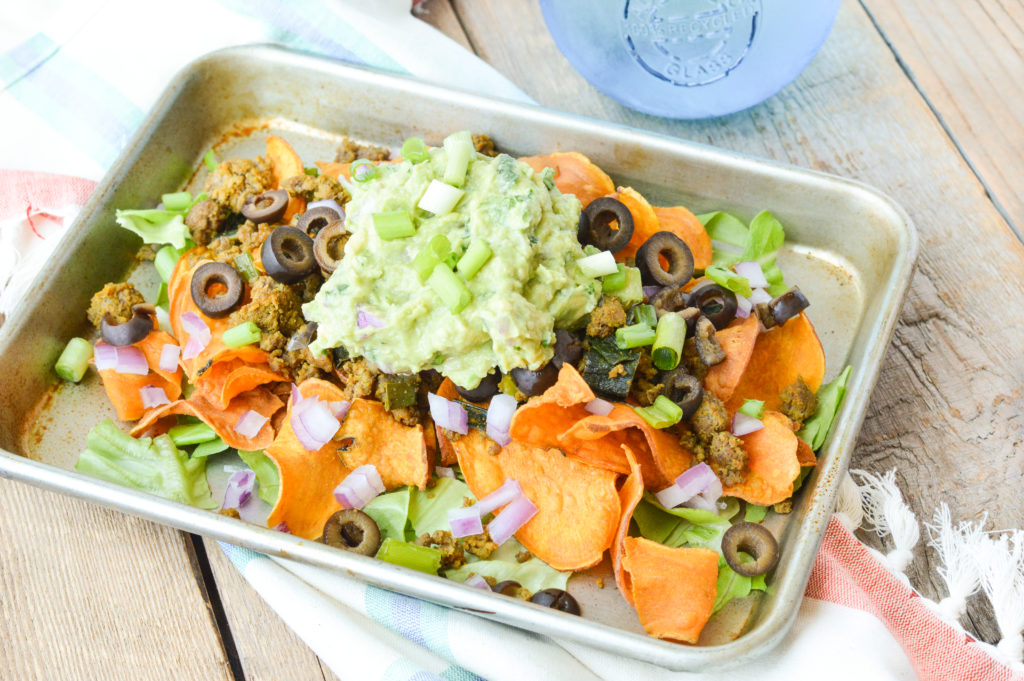 Would it be wrong to eat these for two out of every three meals?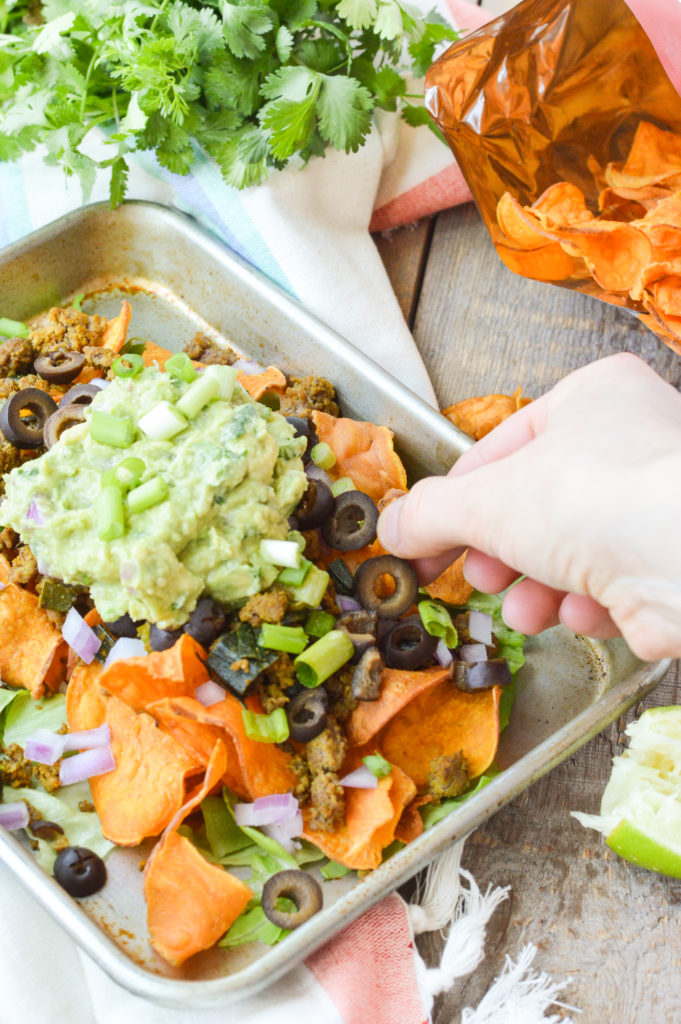 Get your #Paleo nachos on! #glutenfree #totesAIP Click To Tweet
This post contains referral and affiliate links.  Thank you for supporting CEVG and enabling me to continue working towards better health!