These Nightshade-Free Paleo Sloppy Joes with Sweet Potatoes will satisfy all of your sloppy joe cravings without a single pepper or tomato!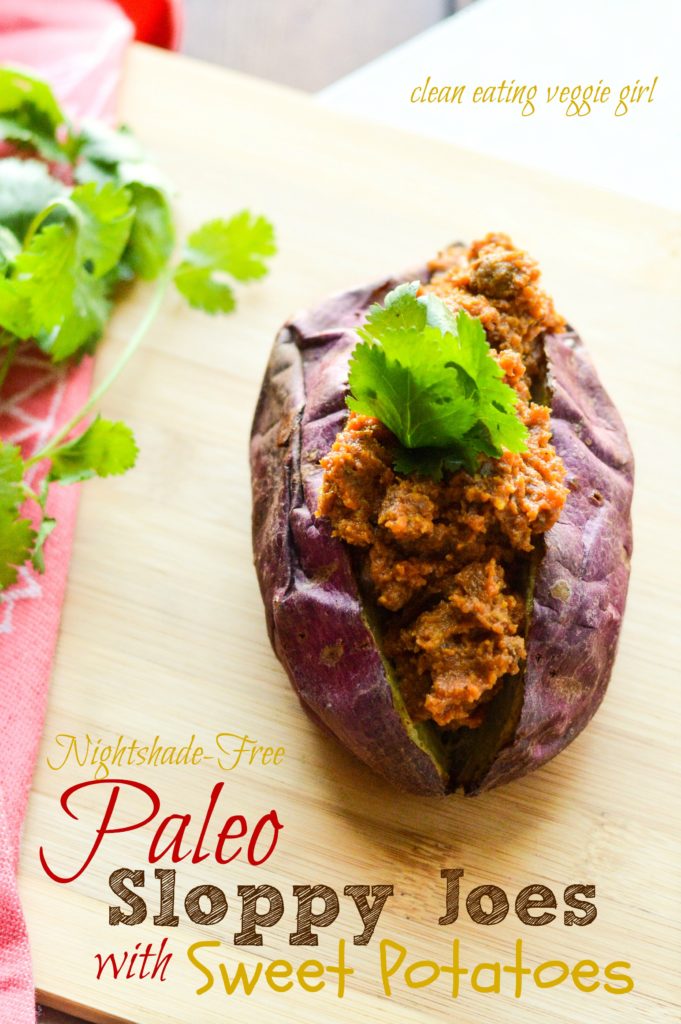 Sloppy joes were a regular thing in our household when I was growing up.  I'm talking the out-of-a-can sloppy joe sauce in ground beef served on a white hamburger bun.  And believe it or not, I loved every non-healthy bit of it.
But then I started eating healthier after college, became a vegetarian for three years from 2012 to 2015, and about six months ago I cut out nightshades (think tomatoes, peppers, etc.).  So naturally, sloppy joes haven't really been a thing for me for a long time.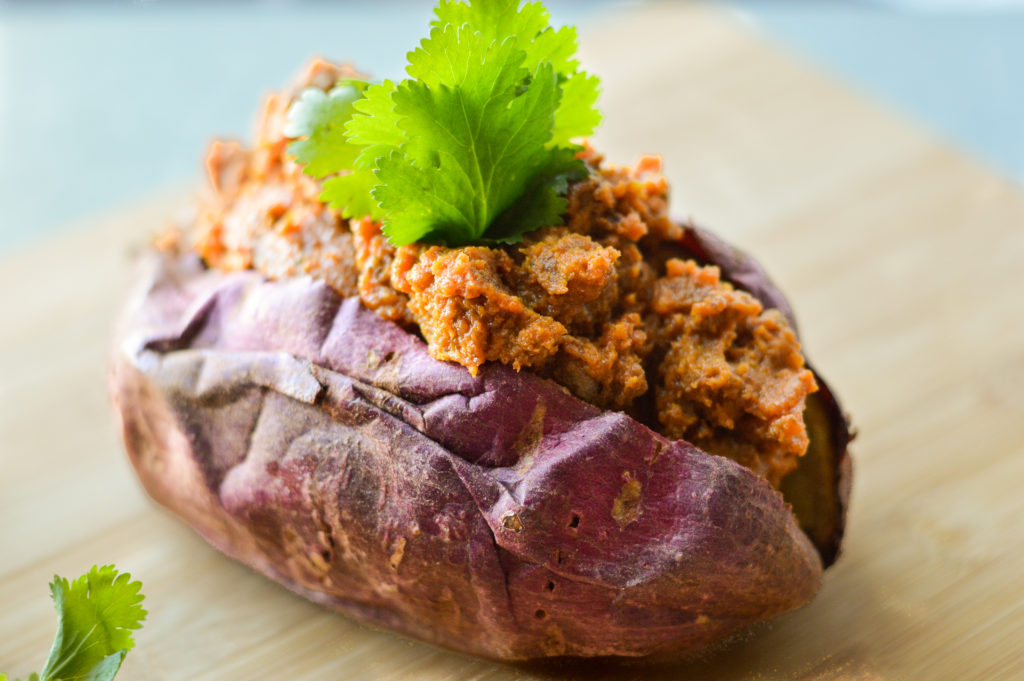 Once I started experimenting with nightshade-free pasta sauces and chili a couple of months ago, I began thinking of all of the other tomato-laden foods I might be able to recreate.  Wouldn't you know, one of the first foods that came to mind was sloppy joes.  I honestly remember thinking (with a huge grin on my face), "I can totally make this work!  It also happened to be a fun challenge that would fit perfectly into this month's Recipe Redux theme of "new lunch ideas."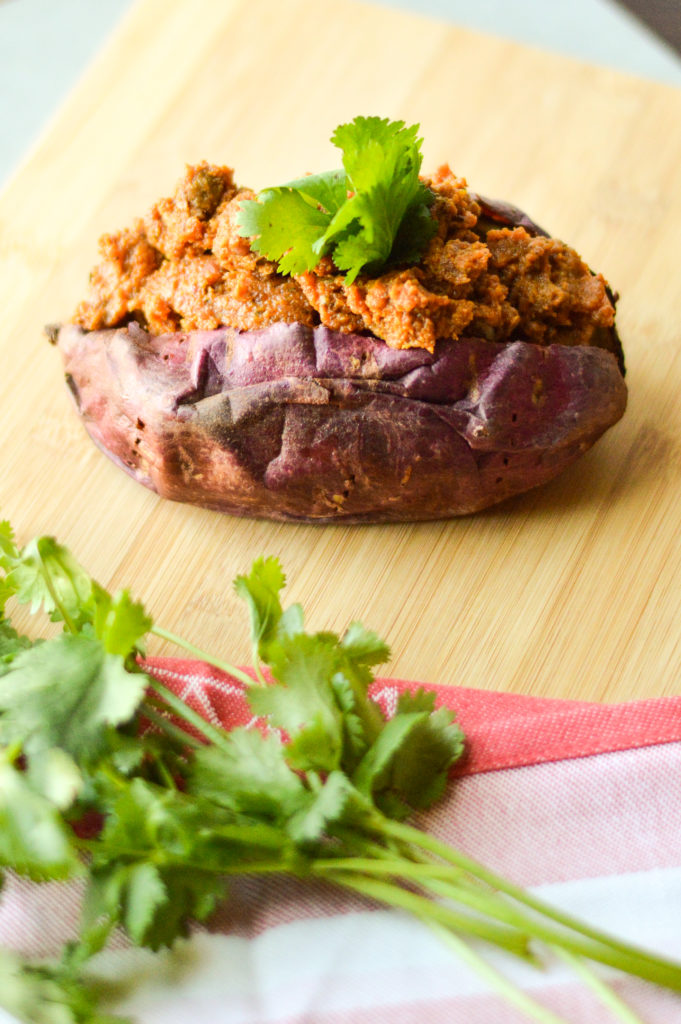 My nightshade-free sloppy joes are 100% AIP Paleo-compliant, veggie-packed, and slightly sweet with just a pinch of spice (from the turmeric).  They're also totally delicious.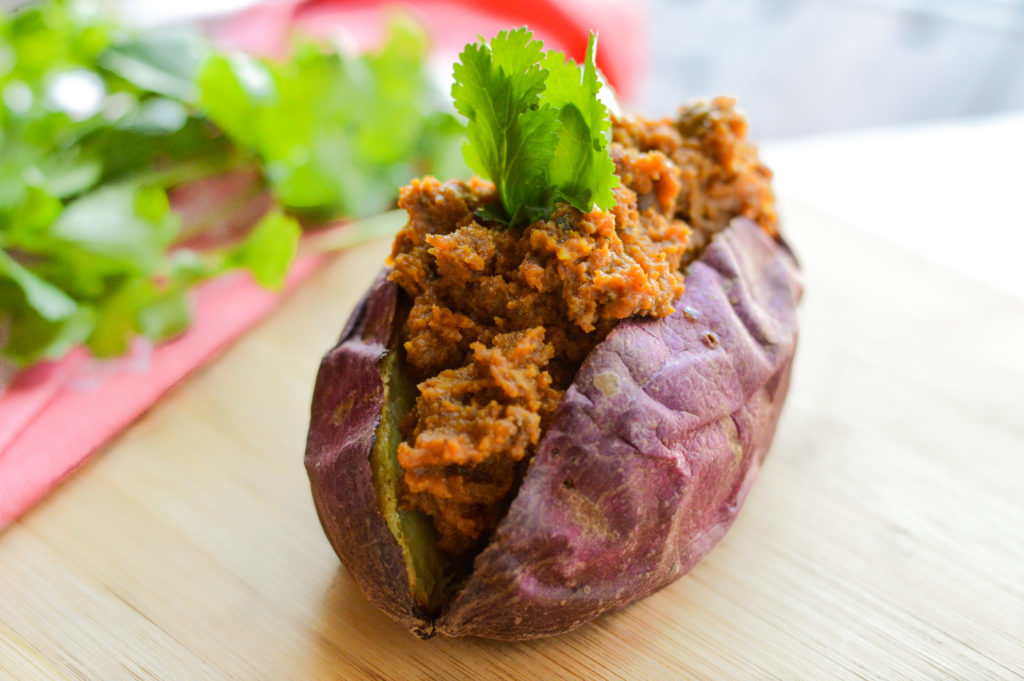 I served them in baked sweet potatoes instead of on the traditional hamburger bun, but feel free to use whichever base works for you.  I feel like these or these would be awesome additions.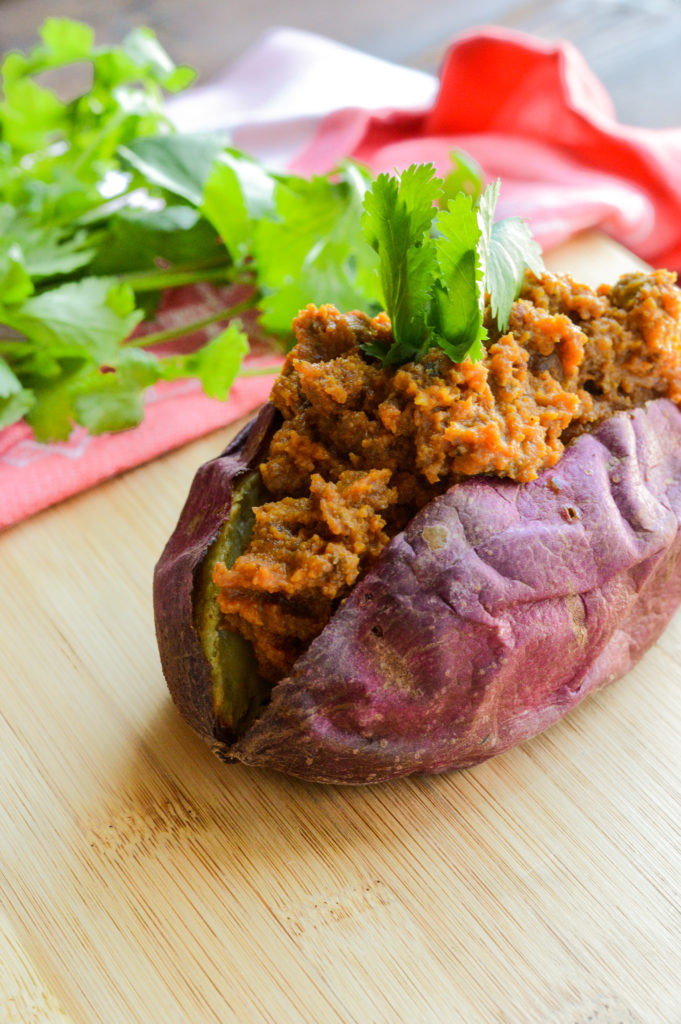 Nightshade-Free Paleo Sloppy Joes with Sweet Potatoes
AIP Paleo, Gluten-Free, Grain-Free, Dairy-Free, Nut-Free, Soy-Free, Whole 30
Serves 4
Ingredients
For the sloppy joe sauce:
1 small red onion, cut into quarters
3 whole carrots, peeled and chopped
1 large yam or orange sweet potato, peeled and chopped
1 heaping TB of avocado oil
1/2 tsp fine sea salt
1/2 tsp garlic powder
1 bulb of garlic
4 to 5 whole medium beets, steamed or roasted
1/4 cup avocado oil
1/8 cup balsamic vinegar
3/4 cup to 1 cup of broth (I used mushroom broth), depending on desired consistency
1/2 tsp dried thyme
1/2 tsp dried basil
For the sloppy joes:
1 pound of grassfed ground beef (ground turkey works, too)
1/2 of a small yellow onion, diced
sloppy joe sauce (above)
1/4 tsp ground ginger
1/4 tsp ground cinnamon
1/2 tsp ground turmeric
4 sweet potatoes, baked
Directions
1. Preheat oven to 425 degrees F.  Line a baking sheet with a silicone baking mat or parchment paper.  Combine red onion, chopped carrots, yam or sweet potato, oil, salt, and garlic powder.  Mix to coat.  Spread onto baking sheet and roast for 30 to 35 minutes, flipping once halfway through.
2. Cut off one end of the garlic bulb, wrap in foil, and place in the oven to roast for 35 minutes while the onion, carrots, and sweet potato are roasting.
3. Once the veggies and garlic are roasted, remove from the oven, peel skins from garlic cloves, and place both into a food processor.  Add beets, avocado oil, balsamic vinegar, broth, thyme, and basil.  Puree until mixed well and most of the chunks are gone.  Set aside.
4. Brown ground beef in a large skillet over medium heat.  Once the beef is almost brown, add in diced onions and continue cooking an additional six to eight minutes, or until the onions have softened.
5. Once the beef and onions are cooked, lower the heat to medium-low and add the sloppy joe sauce to the skillet.  Stir in ground ginger, cinnamon, and turmeric.  Simmer for approximately five minutes, or until warm.
6. Stuff baked sweet potatoes with sloppy joe mixture.  Or, if not grain-free, feel free to use your favorite bread or bun.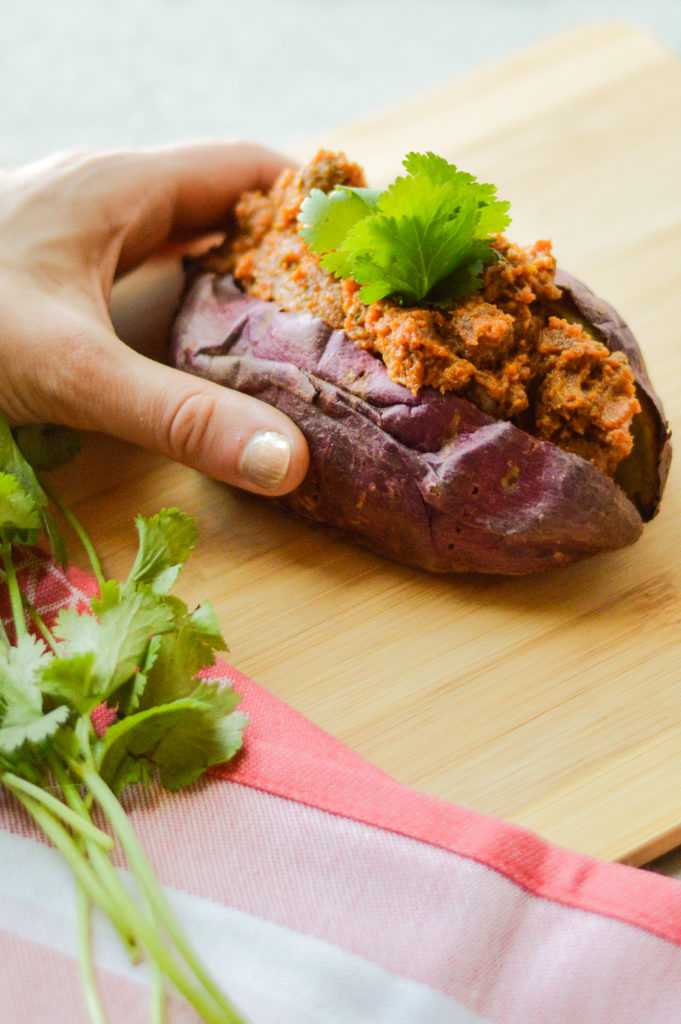 P.S. These aren't nearly as sloppy since you'll likely eat them with a fork and knife.  Luckily, in this instance, sloppiness is not necessary for a good meal.
#Paleo Sloppy Joes with Sweet Potatoes are perfect for lunch! #TheRecipeRedux #glutenfree
Click To Tweet