An AIP Paleo nightshade-free chili recipe that goes great stuffed in baked sweet potatoes.  You won't believe this does not contain tomatoes or peppers!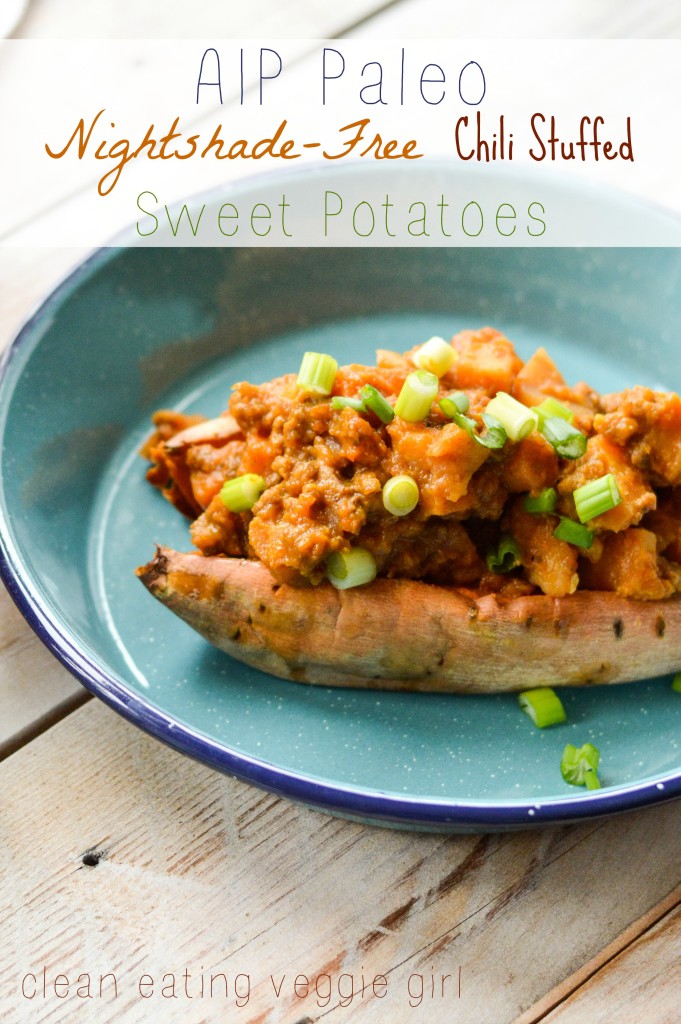 Today let's talk about some of my favorite things, including but not limited to:
chili
honeymoon planning
love stories
romance novels
puppy dogs
And if you think these are not all related, think again!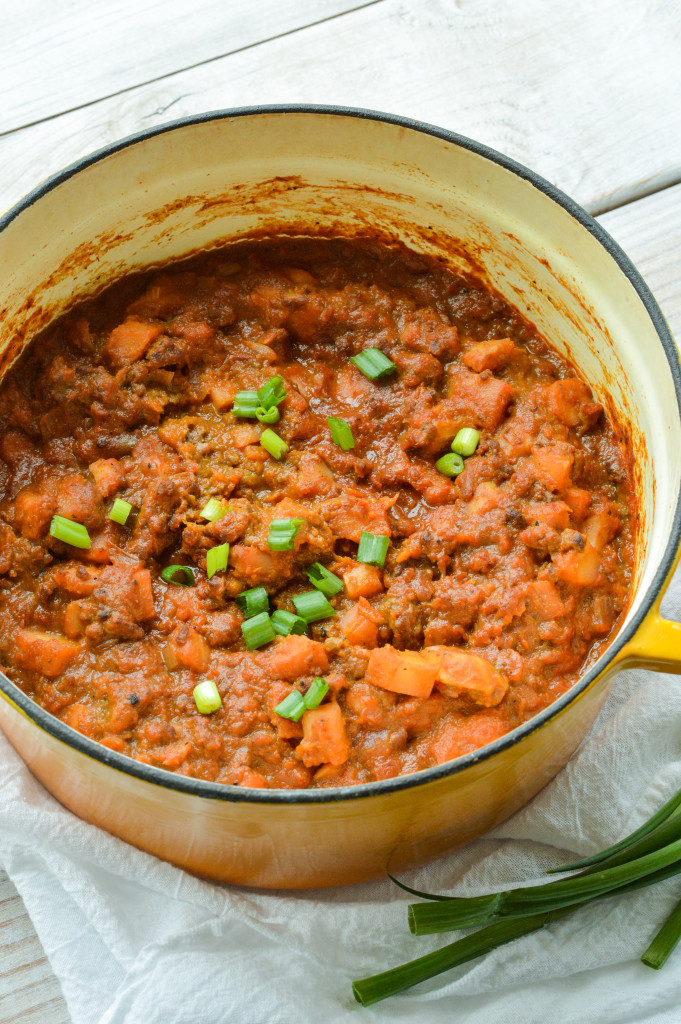 First up, this chili.
It is not just any old chili, either.  It happens to be completely nightshade-free.  For those of you who are not all up on the lingo, that means it does not contain any tomatoes or peppers.  Chili without those two things seems pretty darn near impossible, huh?  I thought the same thing until I recently tried a nightshade-free "no-mato" sauce that was beyond delicious.  It of course got me thinking about all of the other things I could now make that normally call for tomatoes and peppers, and chili was the first thing that popped into my head.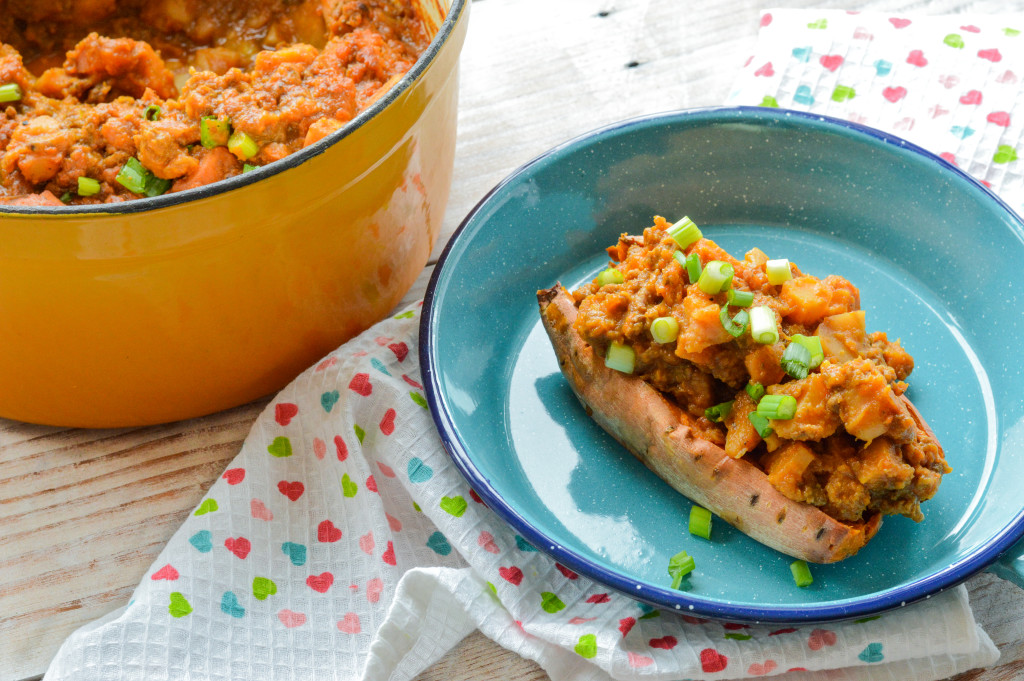 It probably didn't hurt that I was also right in the middle of researching restaurants for our upcoming honeymoon to North Carolina and Virginia in May, and had all things food, Southern, and comfort on the brain.  It turns out one of the foods North Carolina is known for is chili.  Granted, their chili tends to go on hot dogs and this chili is going on baked sweet potatoes, but I thought we all might appreciate a tad healthier version.  That and finding nightshade-free hot dogs is nearly impossible.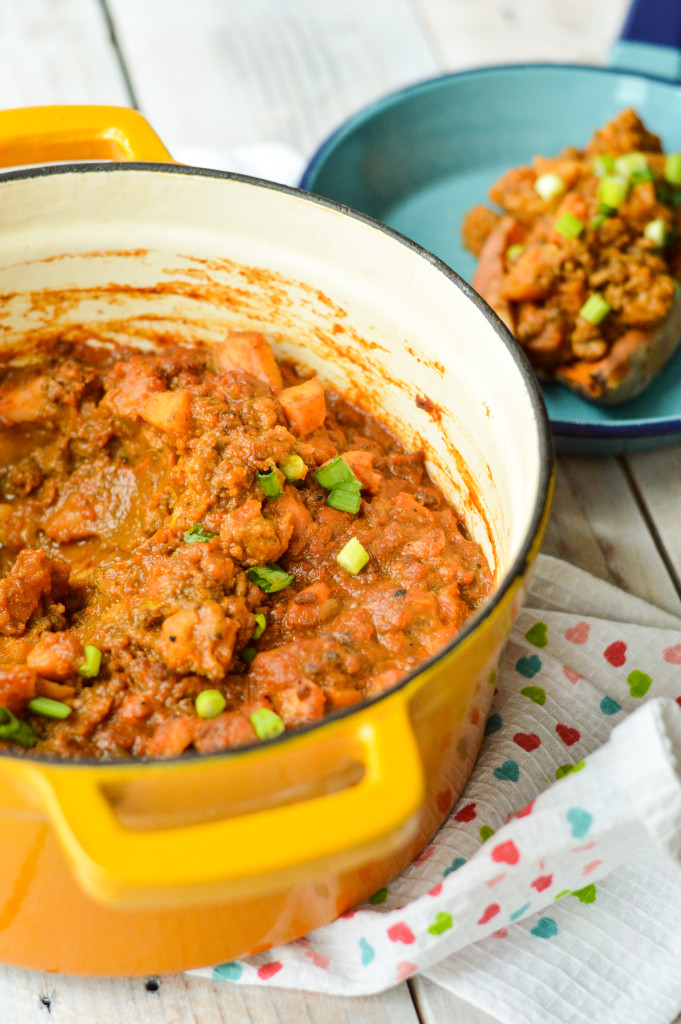 I made this nightshade-free chili over baked sweet potatoes for date night with Jeremy.  While I imagine he may have preferred it over hot dogs, I also did not hear a single complaint.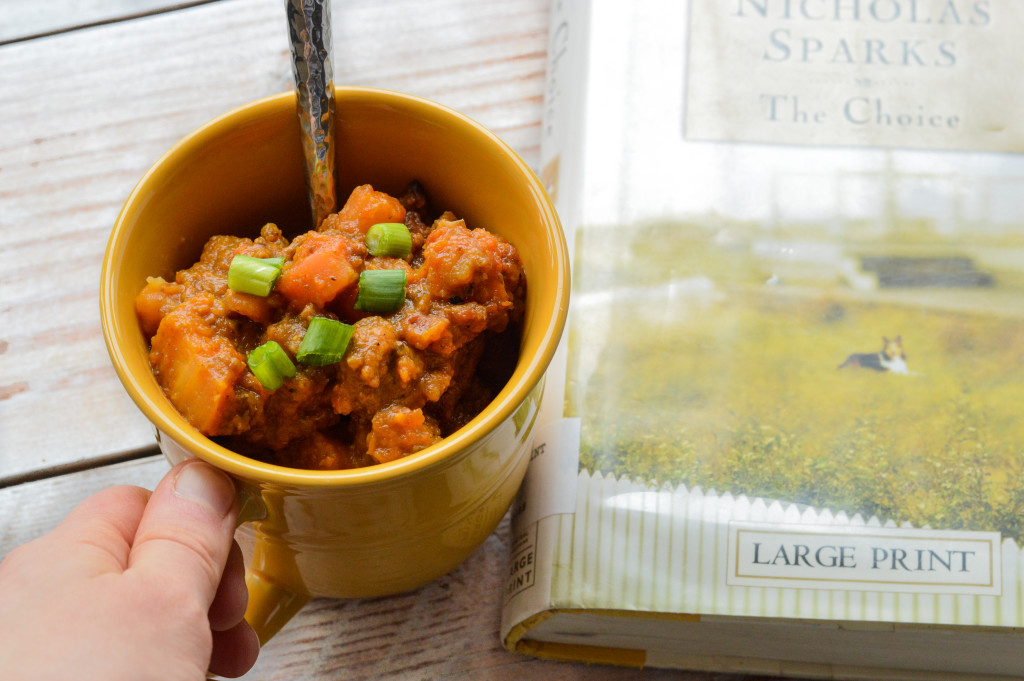 Home-cooked meals have made up the majority of our date nights lately since we have been so busy with work and wedding plans.  While some wedding plans are less fun than others, one thing we are both excited about planning together is our honeymoon.
Neither of us want to spend an entire week on a tropical island (we have our older years for that), and we want to get out and explore a new-to-us part of the country.  We have decided on the east coast and will focus our trip in North Carolina and Virginia.  Our plane tickets are booked, but the actual fun planning portion has just begun.  And ever since I have had my nose in The Choice by Nicholas Sparks, I have been researching all things North Carolina.  In particular, the places to go and the food to eat.  I will not complain one bit if this is on the menu.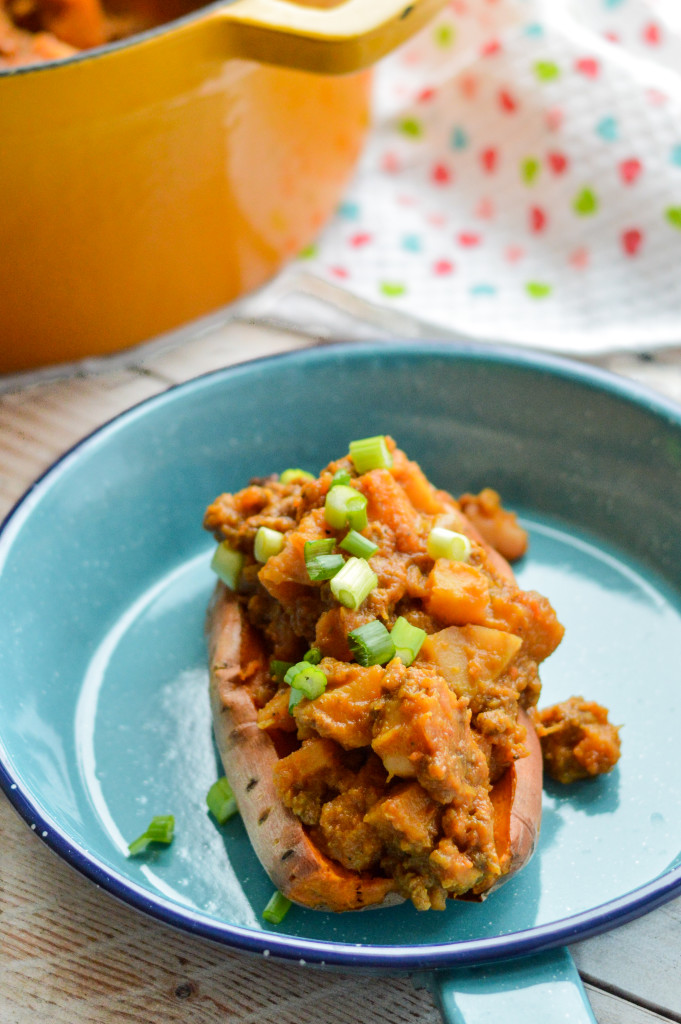 Nightshade-Free Chili Stuffed Baked Sweet Potatoes
AIP Paleo, Gluten-Free, Grain-Free, Nightshade-Free, Dairy-Free, Soy-Free, Nut-Free, Egg-Free, Whole 30
Serves 6
Ingredients
For the "nomato" sauce:
1 small red onion, cut into quarters
3 whole carrots, peeled and chopped
1 large yam or orange sweet potato, peeled and chopped
1 heaping TB of avocado oil
1/2 tsp fine sea salt
1/2 tsp garlic powder
1 bulb of garlic
2/3 cup canned or fresh pureed pumpkin
3 whole medium beets, steamed or roasted
For the chili:
1 pound of grassfed ground beef (ground turkey or chicken also work)
1 heaping TB of coconut or avocado oil
1 small yellow onion, diced
1 leek (whites only), chopped
4 cups of mushroom, beef, or chicken broth (I used mushroom)
4 medium parsnips, peeled and chopped
1 large white sweet potato, peeled and chopped
1 tsp garlic powder
1 tsp ground turmeric
1/2 tsp fine sea salt
1/2 tsp onion powder
1/2 tsp ground cinnamon
1/4 tsp ground ginger
1/4 tsp ground sage
6 sweet potatoes, baked and halved (optional)
green onions (optional)
Directions
1. Preheat oven to 425 degrees F.  Line a baking sheet with a silicone baking mat or parchment paper.  Combine red onion, chopped carrots, orange sweet potato, oil, salt, and garlic powder.  Mix to coat.  Spread onto baking sheet and roast for 30 to 35 minutes, flipping once halfway through.
2. Cut off one end of the garlic bulb, wrap in foil, and place in the oven to roast for 35 minutes while the onion, carrots, and sweet potatoes are roasting.
3. Once the veggies and garlic are roasted, remove from the oven, peel skins from garlic cloves, and place both into a food processor.  Add pumpkin and beets, and puree until mixed well and most of the chunks are gone.  Set aside.
4. Brown ground beef in a large skillet over medium heat.
5. While beef is cooking, add one tablespoon of oil to a large soup pot or dutch oven over medium-high heat.  Once hot, lower the heat to medium and add onion and leeks.  Saute for six to eight minutes, or until softened.
6. Add broth, parsnips, and white sweet potato to the pot.  Raise the heat to medium-high and boil for approximately 15 minutes, or until the parsnips and potatoes are cooked through.  Lower the heat to low.
7. Stir in cooked beef, "nomato" sauce, and seasonings.  Cook on low until heated through.  The chili will be nice and chunky, just the way I like it!
8. If desired, scoop the chili into baked sweet potatoes and top with green onion.  AIP sour cream and diced avocado would also be great additions.
I also ate this chili sans potato and it was delicious scooped up with plantain chips!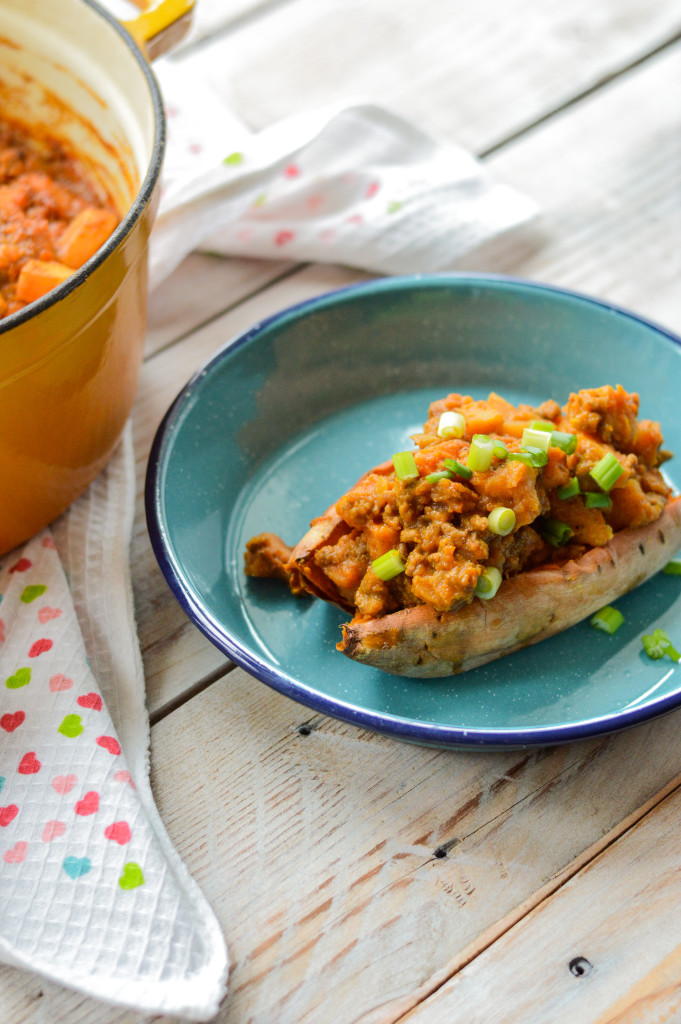 This Paleo-ified version of a Southern staple needs to make its way into your life.  And so does the new Nicholas Sparks movie, The Choice.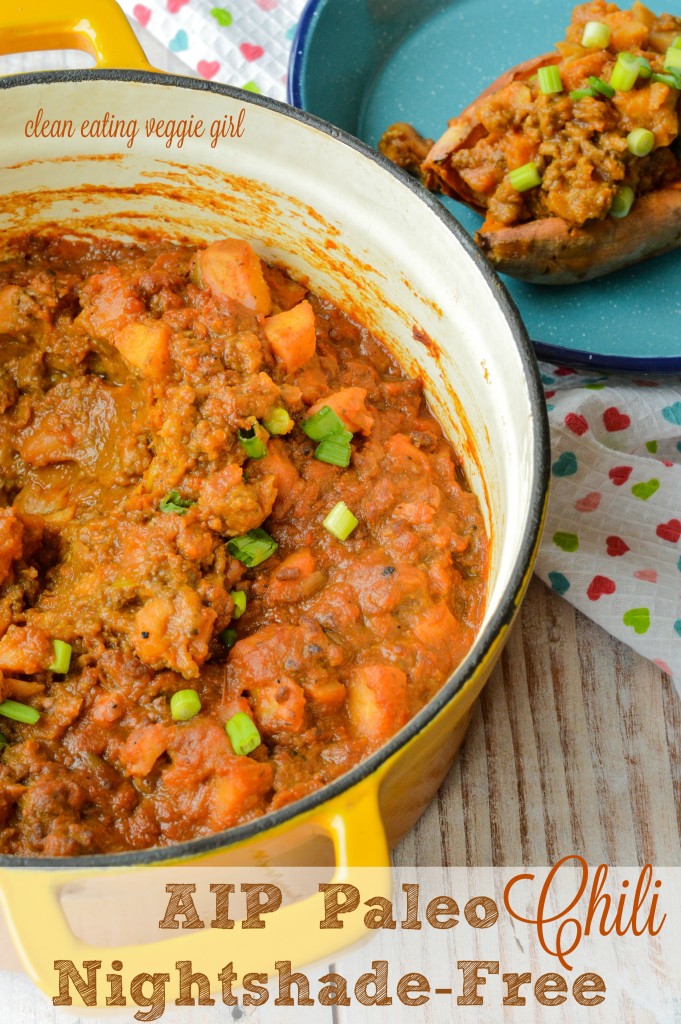 I love all Nicholas Sparks' books and movies (hello, The Notebook), but this one holds an extra special place in my heart.  Like many of Nicholas Sparks' novels and movies, it is based in coastal Carolina and North Carolina plays a big role in the story.  I also love that the two main characters fall for one another after having met after a chance encounter with their dogs.  As a major dog lover, I cannot think of anything cuter.  I have a feeling it will always remind me of this important time in my life filled with love, wedding planning, marriage, and honeymooning on the East coast.
I don't think he'd admit it, but I bet Jeremy is even excited to go see The Choice when it opens in theaters on Friday, February 5th.  I know for a fact that if nothing else, it will make us both even more excited for May to get here.
An #AIP #Paleo Nightshade-Free Chili #recipe that is perfect stuffed in sweet potatoes!
Click To Tweet
What is your favorite Nicholas Sparks novel/movie?  Are you going to see The Choice?
What do you love topping with homemade chili?
I was selected for this opportunity as a member of Clever Girls and the content and opinions expressed here are all my own.