10 Easy AIP Paleo Snack Ideas that will keep you from ever going hungry.  These are perfect on the go, too!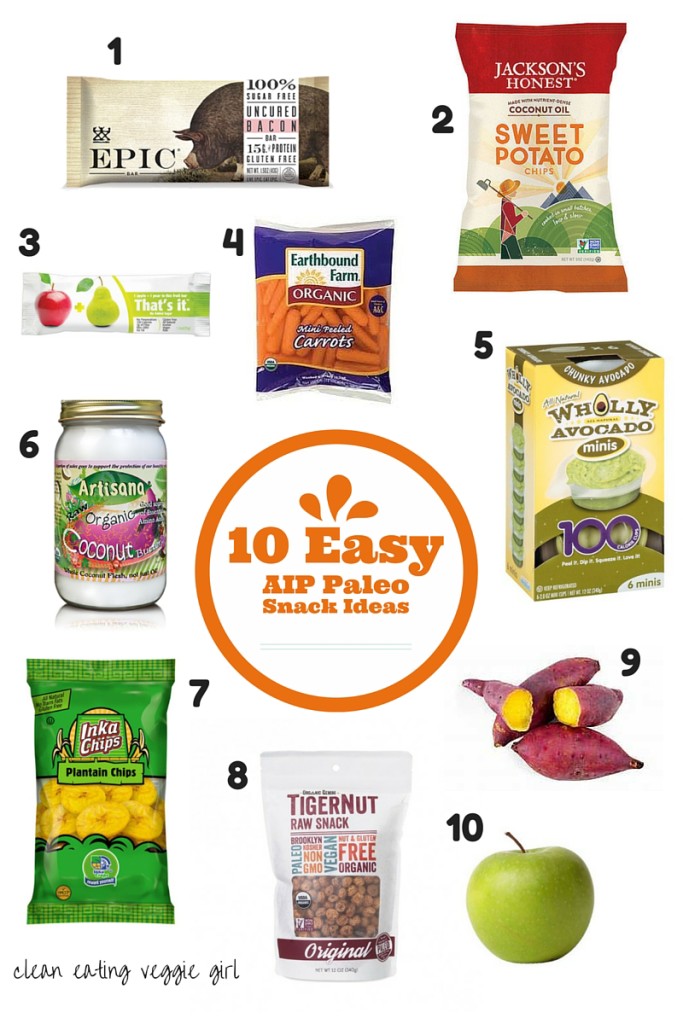 I adopted my eating habits to the Paleo diet a little more than six months ago.  Since then, I have been slowly eliminating additional foods to get closer and closer to the Autoimmune Paleo Protocol diet.  With the exception of seeds, I am nearly there.
This change has resulted in quite a few adaptations when it comes to the foods I crave, prepare, and eat.  And while lunches and dinners are pretty easy (I'm still working on the breakfast part), finding snack ideas can be tricky.  Sometimes it feels like there is just "nothing to eat."  If you are in the same boat as me, you may appreciate these ideas for healthy AIP snacking.  Most of the products below can be found at Whole Foods, health stores, or in the health section of your local grocery store.  I have also linked to Amazon for those of you without those luxuries in your area.
1. Uncured Bacon Epic Bar: A 100% sugar-free, protein-packed snack bar that will satisfy all of your jerky cravings.  The Bison Bacon Cranberry flavor is also AIP Paleo-friendly if you are okay with a minimal amount of brown sugar. (buy here)
2. Jackson's Honest Sweet Potato Chips: These are fried in coconut oil and contain only three healthy, AIP ingredients.  I will warn you that these are super addicting! (buy here)
3. That's It. Fruit Bars: The name says it all.  These literally contain only two ingredients each and come in flavors like apple + pear, apple + strawberry, and apple + coconut. These are high in natural sugars, so consume them in moderation. (buy here)
4. Organic baby carrots: Sometimes we make snacking too complicated.  Go back to the root of healthy eating with raw veggies.  I especially love dipping baby carrots into homemade nightshade-free guacamole.
5. Wholly Guacamole Chunky Avocado Minis: Speaking of guacamole, how about mini single-serve packages of avocado?  While fresh avocados work too, these are the perfect way to always have beautifully ripened avocado on hand.  Add lime, red onion, cilantro, and seasonings to make homemade guac.
6. Organic coconut butter: Eat it by the spoonful, scoop it up with dates, or top your favorite baked sweet tator with it! (buy here)
7. Inka Chips Plantain Chips: You totally saw this one coming, right?  I love these on their own, but they are also amazing dipped in guacamole or paired with dried fruit for a sweet and salty combo. These are also one of the few brands of plantain chips I have found made with palm oil. (buy here)
8. Organic Gemini TigerNut Raw Snack: A perfectly sweet and slightly nutty crunchy snack to satisfy all of your nut and seed cravings.  Grab a handful when afternoon hunger strikes. (buy here)
9. Baked Japanese sweet potatoes: In my book, snacking on baked sweet potatoes is totally normal.  The Japanese variety is my favorite, and it tastes amazing dipped into a bit of coconut butter and ground cinnamon.
10. Fresh, portable fruit: Another perfect example of not over thinking snacks.  Fresh fruit like green apples, oranges, and bananas are perfect to take on the go.  Watching your sugar intake?  Try to keep these to a minimum.
10 Easy #AIP #Paleo Snack Ideas you'll love! #glutenfree #Whole30
Click To Tweet
Which AIP Paleo-friendly snacks do you love?
This post contains affiliate links.  Thank you for supporting CEVG and enabling me to continue working towards better health!