Nacho Burger Sliders on Sweet Potato Buns make for the perfect appetizer, meal, or snack.  Whip these up for the next big game or dinner party!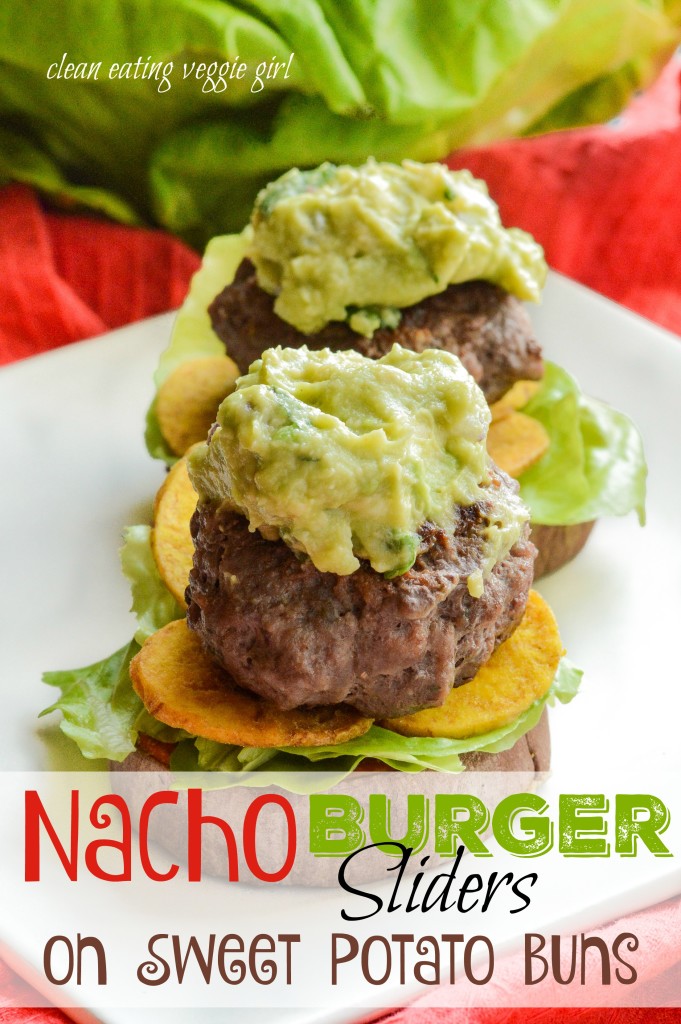 Some foods in life you can never ever go wrong with.
I mean really, have you ever regretted choosing the nachos?  What about the classic burger?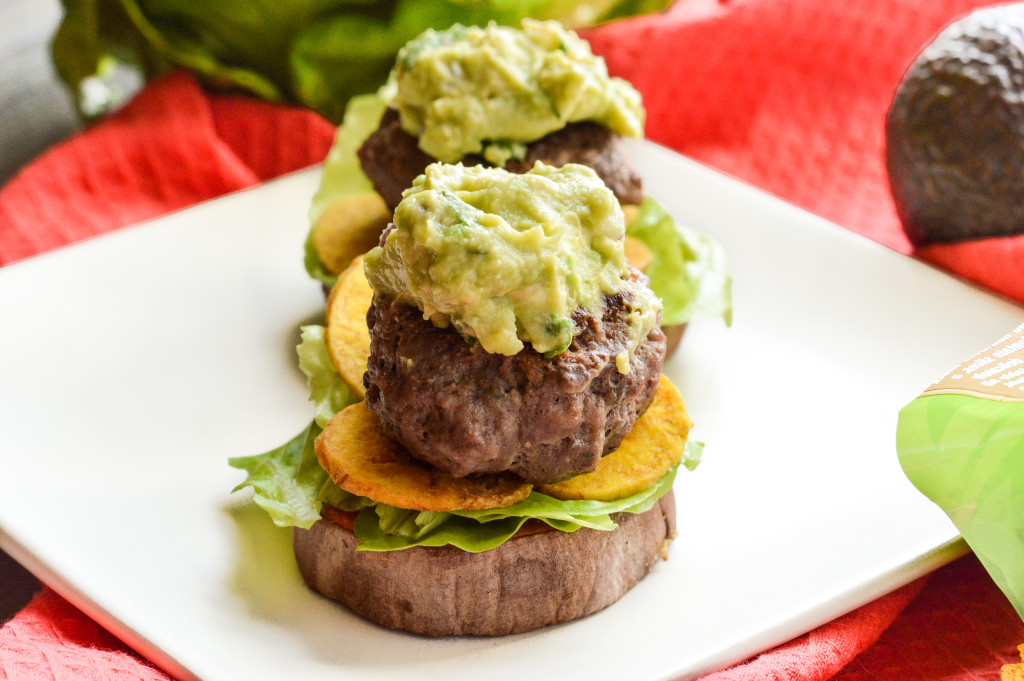 Maybe I am speaking for myself, but I happen to think nachos and burgers can be eaten on any day and at any time of day.  Yes, including breakfast.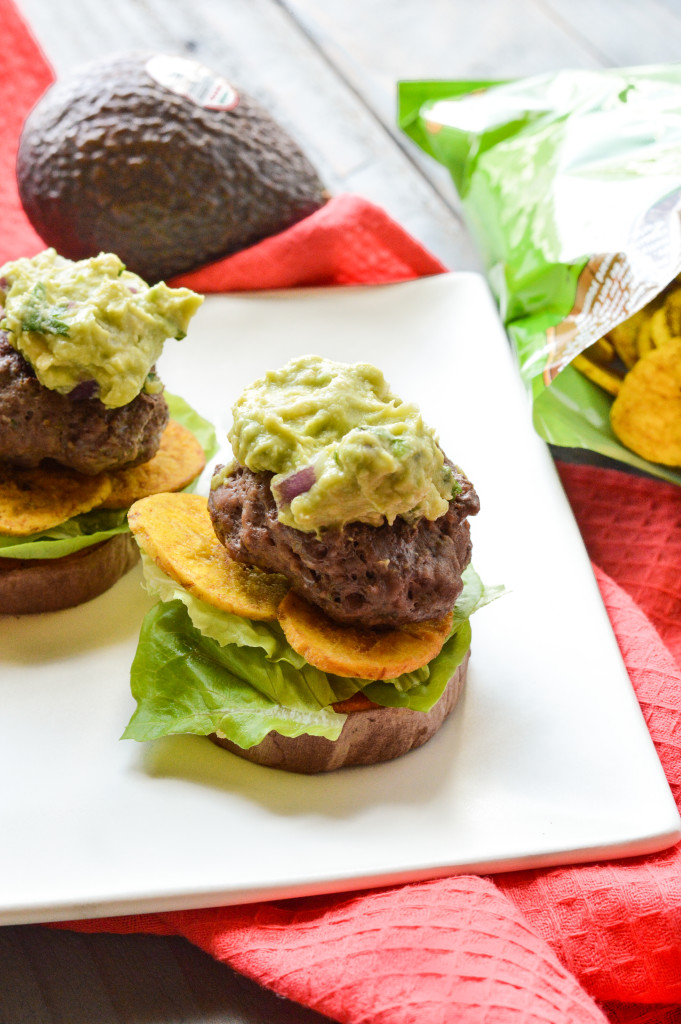 So do you know what happens when you combine two of America's favorite foods?  Naaaaacho burgers, that's what.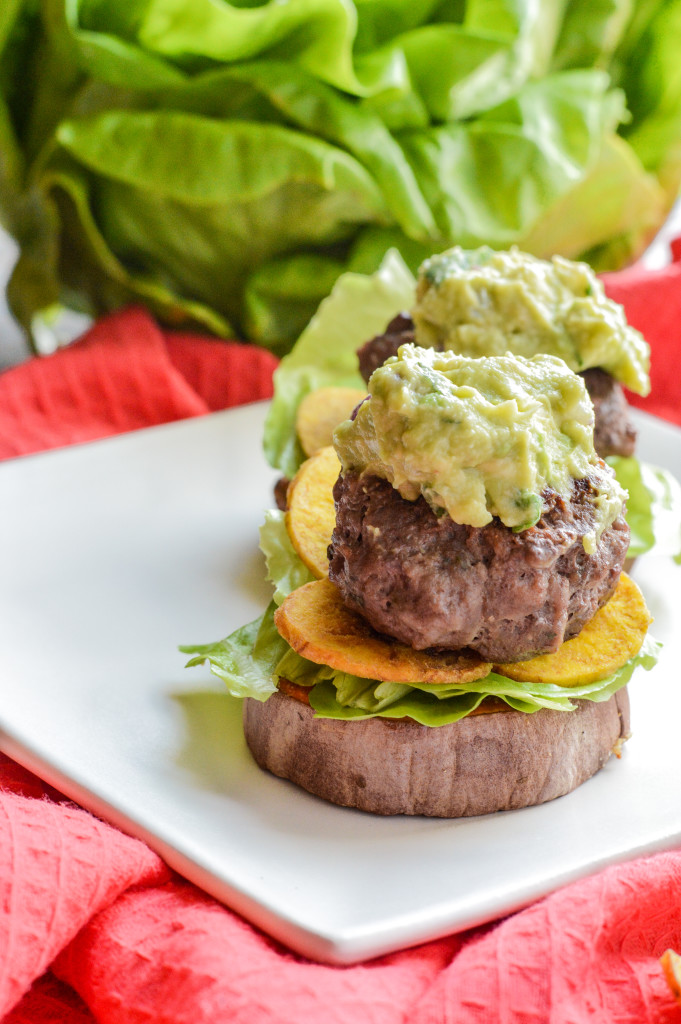 When I say naaaaacho burgers, I don't mean "not your burgers."  These nacho burgers are totally for everyone.  I mean that almost quite literally, too, since they are completely AIP Paleo-friendly.  And if you happen to not eat meat (totally cool), use vegan sliders instead!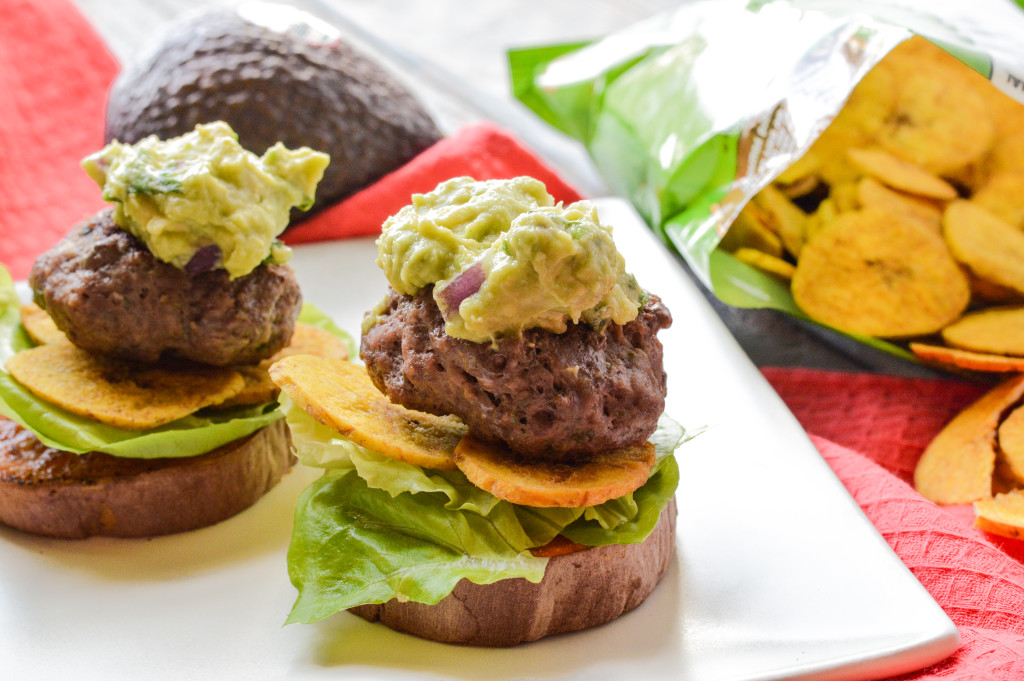 I am a big fan of these Nacho Burger Slides on Sweet Potato Buns for several reason.
1. They are mini.  Everything mini is extra delicious (unless, of course, you are limited to only one).
2. You can eat four of these and feel like you are eating way more than just one burger.
3. They are topped with plantain chips and guacamole.  Tons of guacamole.
4. There are sweet potatoes involved!  I definitely don't miss having a bun to my burger when it means I get to eat sweet potato buns (the inspiration comes from this recipe).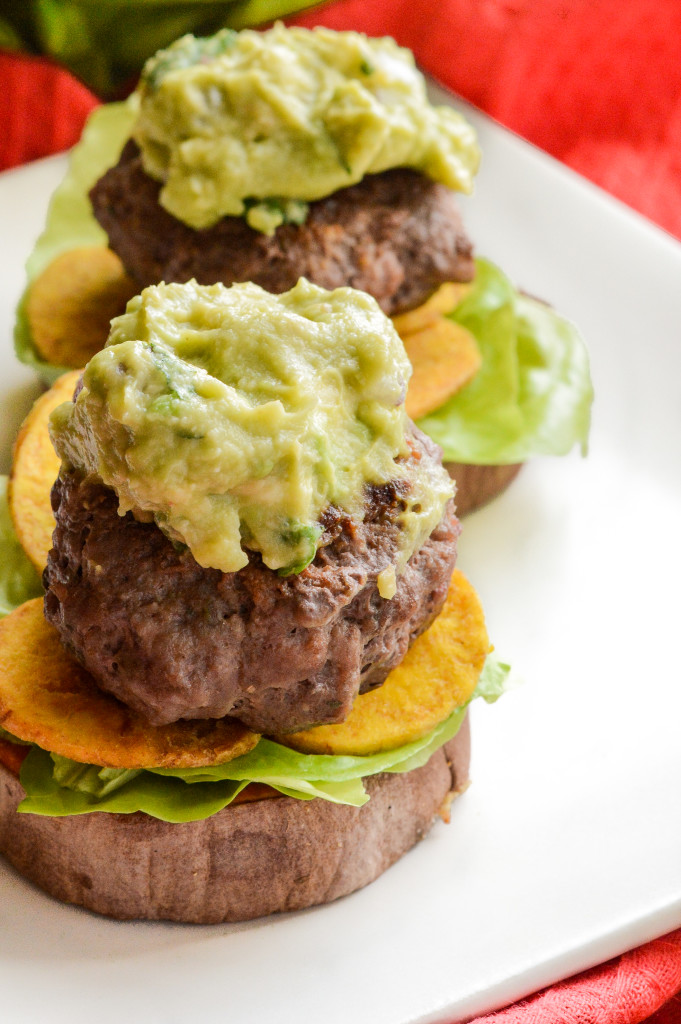 Nacho Burger Sliders on Sweet Potato Buns
AIP Paleo, Gluten-Free, Grain-Free, Nightshade-Free, Egg-Free, Dairy-Free, Soy-Free, Nut-Free, Whole 30
Serves 3 to 4
Ingredients
1 lb of grassfed ground beef or pasture-raised ground turkey
1 tsp pink Himalayan sea salt
1/2 tsp onion powder
1/2 tsp garlic powder
1/2 tsp dried parsley
1/2 tsp dried cilantro
1 large sweet potato
butter or Romaine lettuce leaves
1/2 cup of plantain chips
1 cup of homemade nightshade-free guacamole
Directions
1. Combine ground meat, salt, onion powder, garlic powder, parsley, and cilantro in a large bowl.  Mix well.  Refrigerate for 30 minutes.
2. Preheat oven to 425 degrees F.  Line a baking sheet with a silicone baking mat or parchment paper.  Slice the potato into slider "buns."  Place on the baking sheet and roast for approximately 15 minutes, flipping once halfway through.  You want them to be cooked through enough to eat, but not mushy or flimsy.
3. While the sweet potatoes are roasting, form meat and spice mixture into slider patties.  Grill or cook in a grill pan on the stovetop for 15 to 20 minutes, or until they reach your desired temperature and color.  I like mine cooked medium-well.
4. Compile sliders in the following order: sweet potato bun, lettuce, plantain chips, burger, guacamole, second sweet potato bun.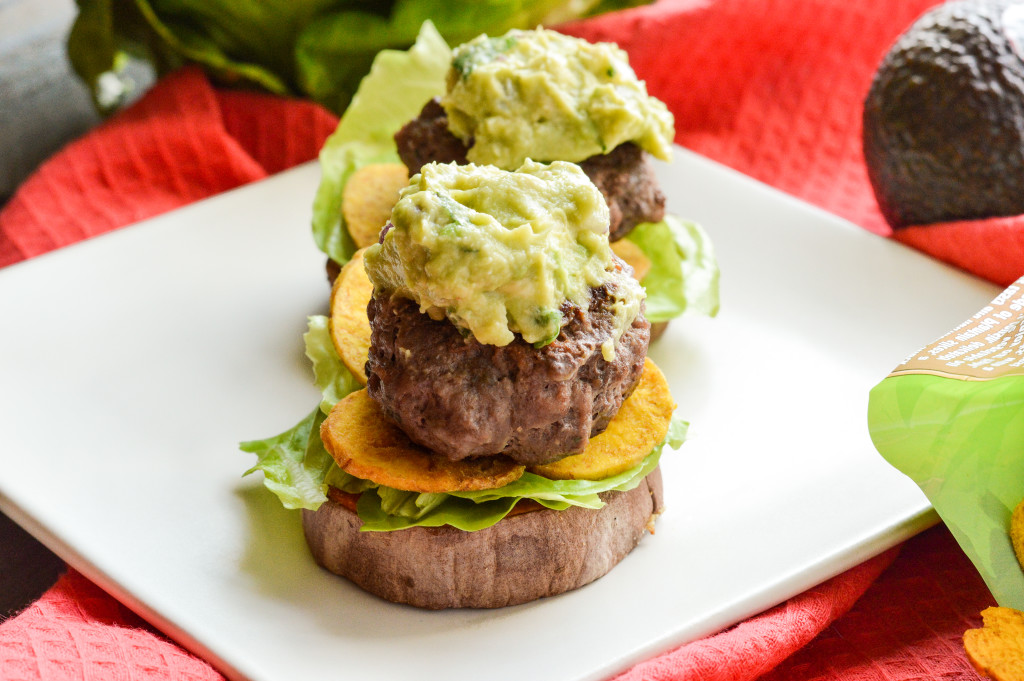 Sure, you can eat nachos.  Or a burger.  But why not eat both together?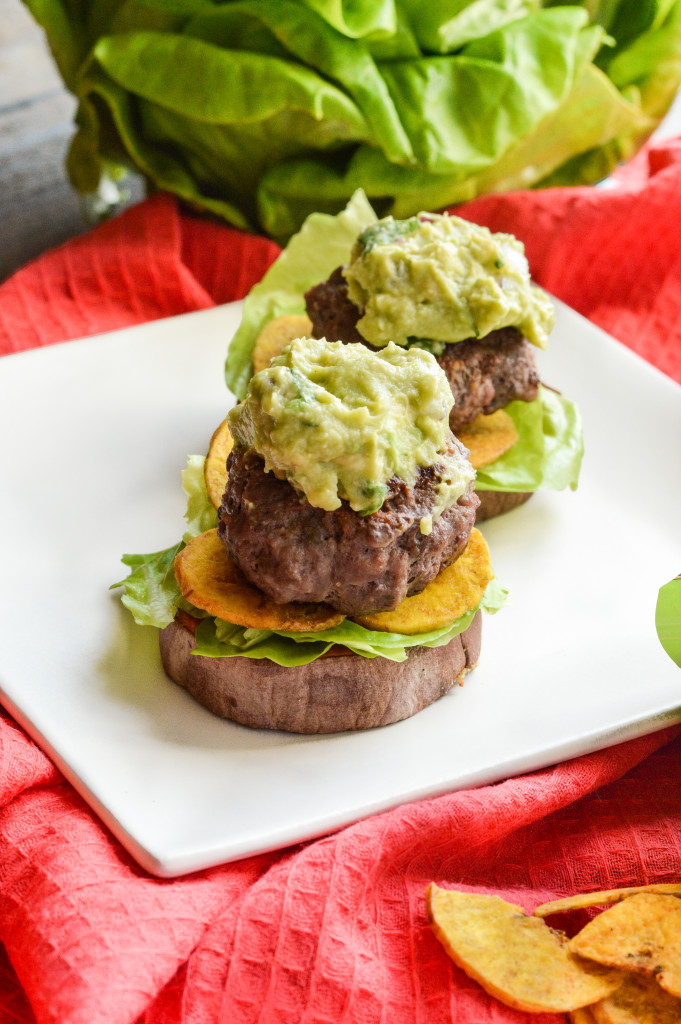 It's the best of both worlds America.
Nacho Burger Sliders on Sweet Potato Buns #Paleo #glutenfree #Whole30
Click To Tweet
This post contains affiliate links.  Thank you for supporting CEVG and enabling me to continue working towards better health!