Satisfy those comfort food cravings with these AIP Paleo Sweet Potato Biscuits and Cauliflower Gravy.  Who knew such a cozy meal could be so healthy?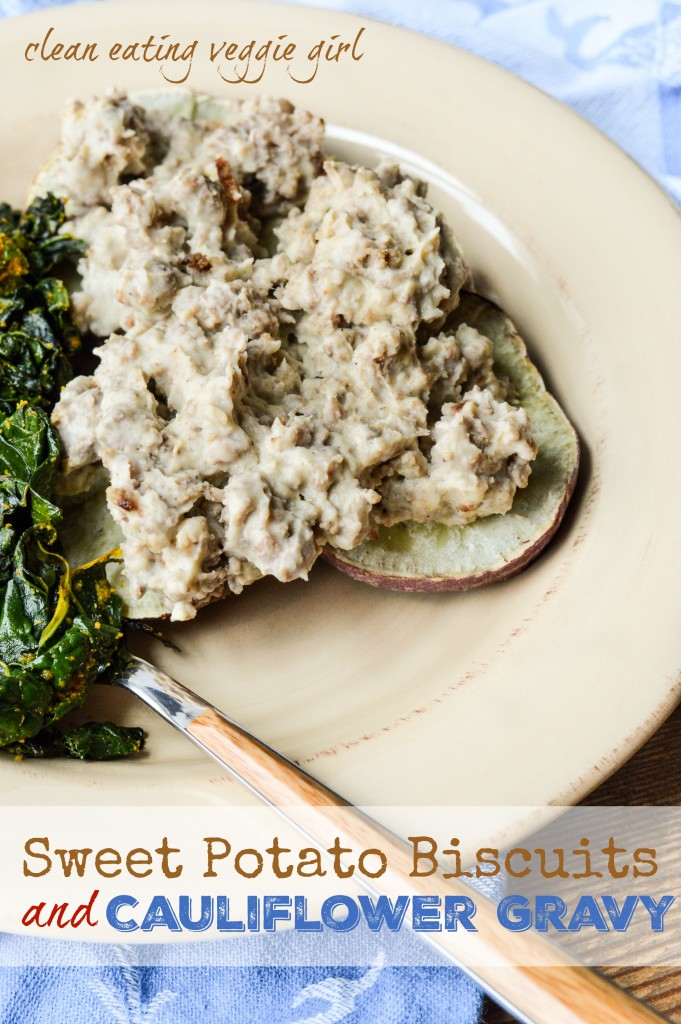 When I transitioned to a mostly Paleo diet, I had all but written off ever being able to eat certain foods again.  Pizza?  Nope.  Macaroni and cheese?  Not happening.  Biscuits and gravy?  I wish.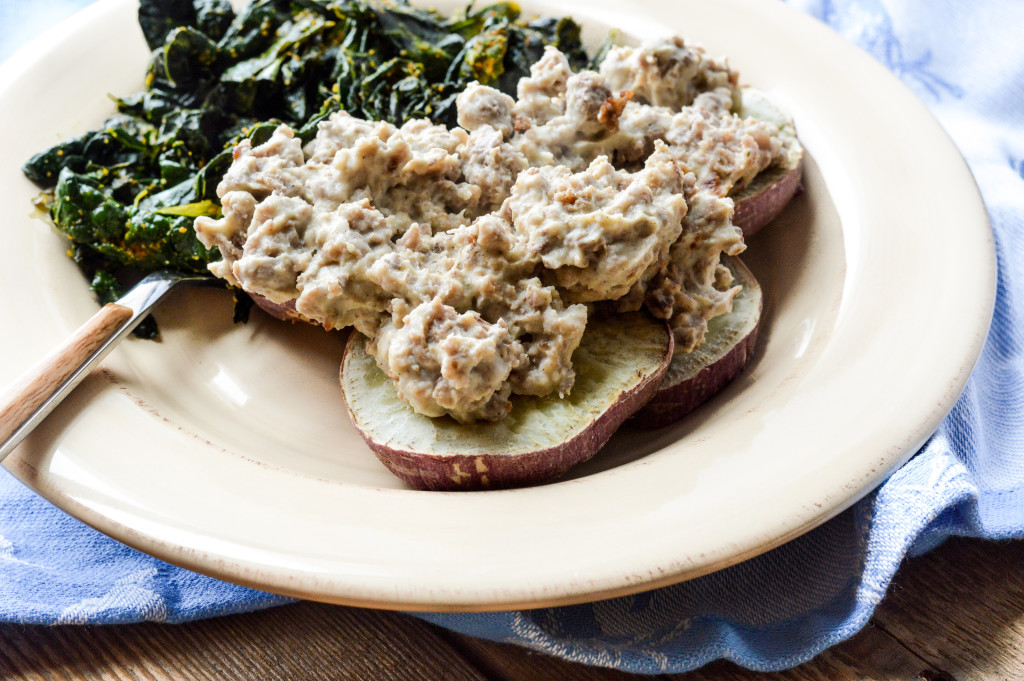 After about nine months of eating grain-, dairy-, and nightshade-free, the thoughts of pizza, mac and cheese, and biscuits and gravy honestly have not even crossed my mind.  But then one night about a month ago, Jeremy and I were eating this and when he said that the sauce reminded him of white gravy, I knew I had to make "biscuits" and gravy happen.  Once you start a craving, it is hard to stop it.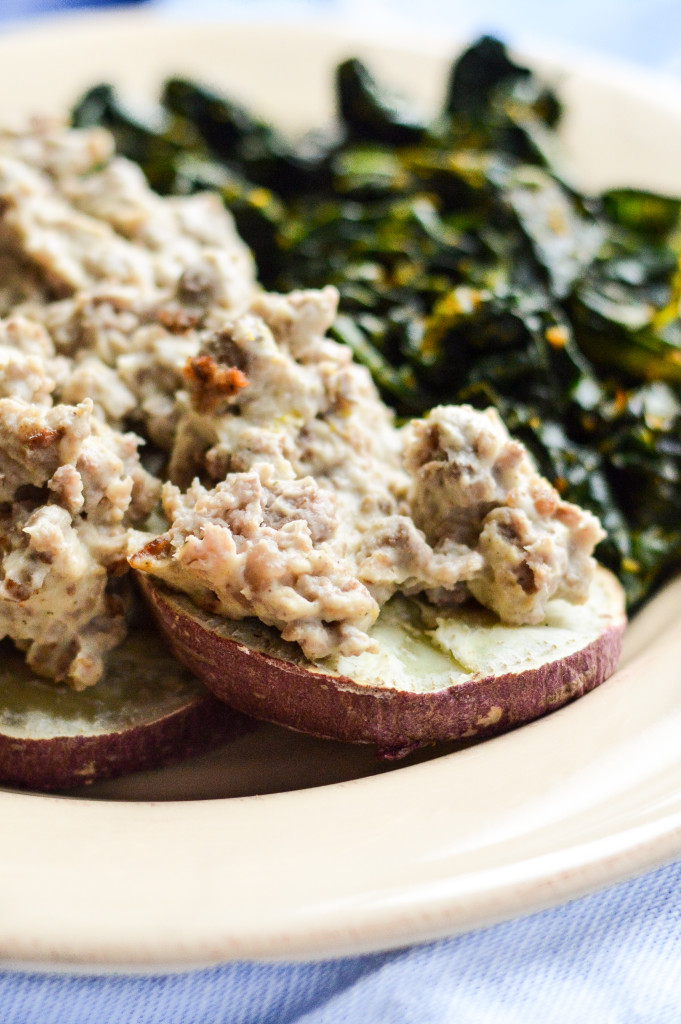 I must admit that it has been a long time since I have eaten the real deal.  But even still, I genuinely think this tastes so similar to regular white gravy that it will surely satisfy any cravings for it that you have.  Plus, it involves packing more veggies into your day without even really noticing it.  That is a major win for me since I'm really not a plain cauliflower kind of gal.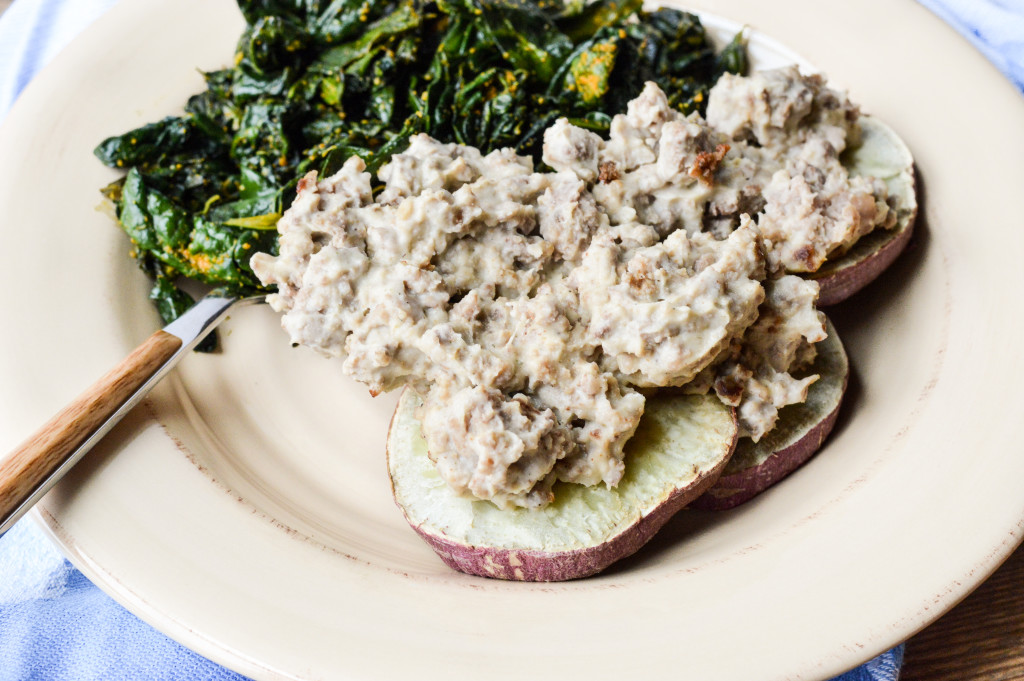 You are definitely much more likely to notice that these "biscuits" are not really biscuits at all.  I know AIP Paleo biscuits exist in the world and I totally plan to make them sometime, but when you are feeling lazy… well, these just work.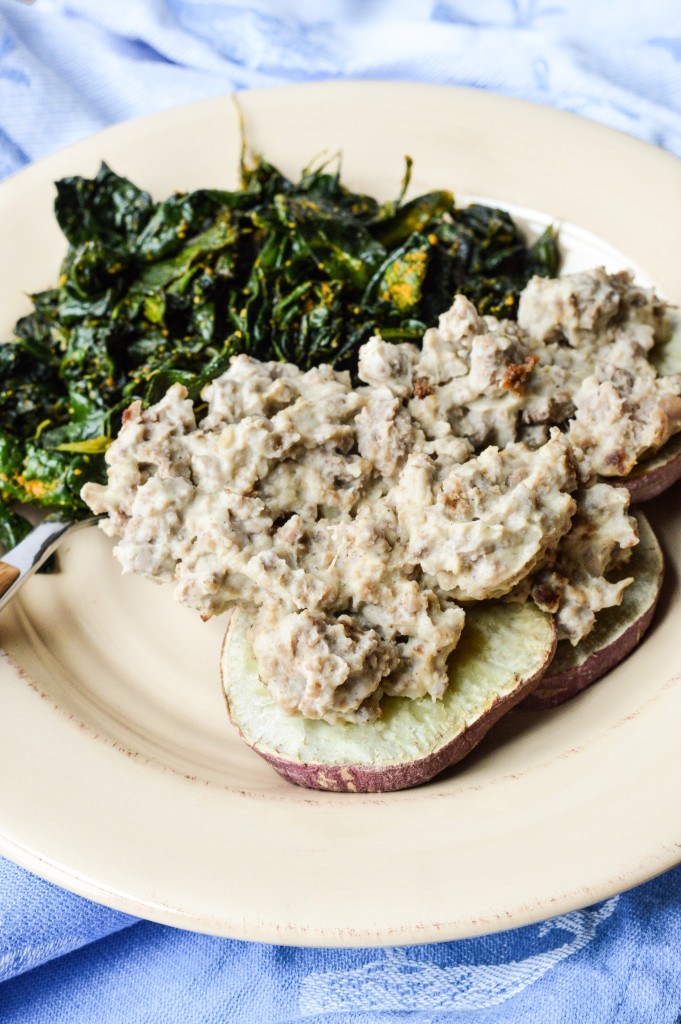 AIP Paleo Sweet Potato Biscuits and Cauliflower Gravy
Gluten-Free, Grain-Free, Dairy-Free, Egg-Free, Soy-Free, Nightshade-Free, Nut-Free
Gravy adapted from this recipe.
Serves 4
Ingredients

For the gravy:
1 very large head of cauliflower, chopped
2 TB avocado oil
sea salt, if desired
1 whole head of garlic
1/4 cup of full-fat coconut milk
1/2 cup to 3/4 cup of mushroom or chicken bone broth
1/2 tsp fine sea salt
1/2 tsp onion powder
1/2 tsp dried thyme
1/4 tsp ground ginger
For the meat:
1 pound of ground pork, turkey, or beef (be sure to check for compliant ingredients)
1 tsp fine sea salt
1/2 tsp ground sage
1/4 tsp onion powder
1/4 tsp garlic powder
For the "biscuits"":
2 large white sweet potatoes (I love the Japanese variety)
Directions
1. Preheat oven to 425 degrees F.  Line a baking sheet with a silicone baking mat.  In a large bowl, combine chopped cauliflower florets, avocado oil, and a few sprinkles of sea salt (if desired).  Spread on to baking sheet and roast for 25 to 30 minutes, or until fork tender.  Be sure to stir the cauliflower halfway through the roasting time.
2. While the cauliflower is roasting, cut off the top of the head of garlic to leave a small portion of the bulbs exposed.  Wrap in foil and roast alongside the cauliflower for 30 to 35 minutes, or until golden brown.
3. Once the roasting is done, remove the garlic from peels and place into a high-speed blender.  Add the roasted cauliflower, coconut milk, 1/2 cup of broth, and seasonings.  Blend on high for approximately 30 to 60 seconds, or until smooth.  Add additional broth to thin out, if necessary.  Set aside while you prepare the meat and "biscuits."
4. Brown meat in a large skillet over medium-high heat until no longer pink.  Stir in gravy and lower heat to low.  Cook until heated through.
5. While the meat is cooking, slice the sweet potatoes into half-inch thick rounds for your "biscuits."  Place onto a silicone mat-lined baking sheet and roast for approximately 15 to 20 minutes, flipping once halfway through.  You want them cooked through enough to eat, but not soggy or mushy.
6. Place roasted sweet potato biscuits onto a plate and top with the gravy.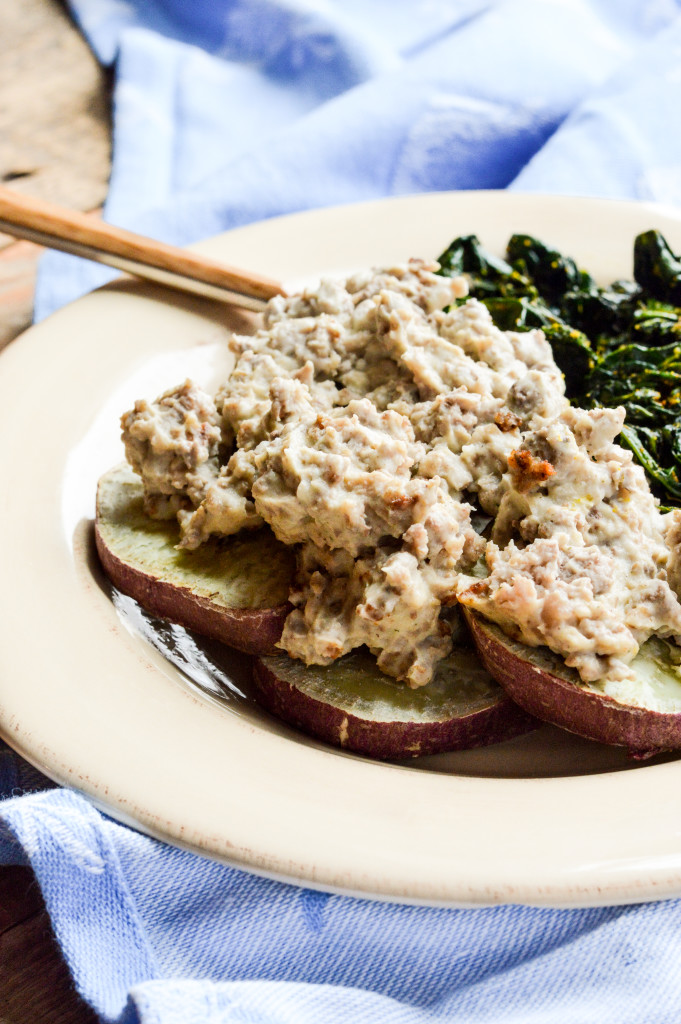 I highly recommend finding the largest head of cauliflower you can.  If the store only has small heads, buy two!  The first two times I made this, it made a lot more gravy than on this particular occasion that I photographed the meal.  If you like an extra creamy gravy, you are going to need all of that cauliflower!
P.S. Do any other food bloggers absolutely hate when the food turns out looking less than desirable once you have finally perfected a recipe?  It makes me wish I photographed it the first time I made it!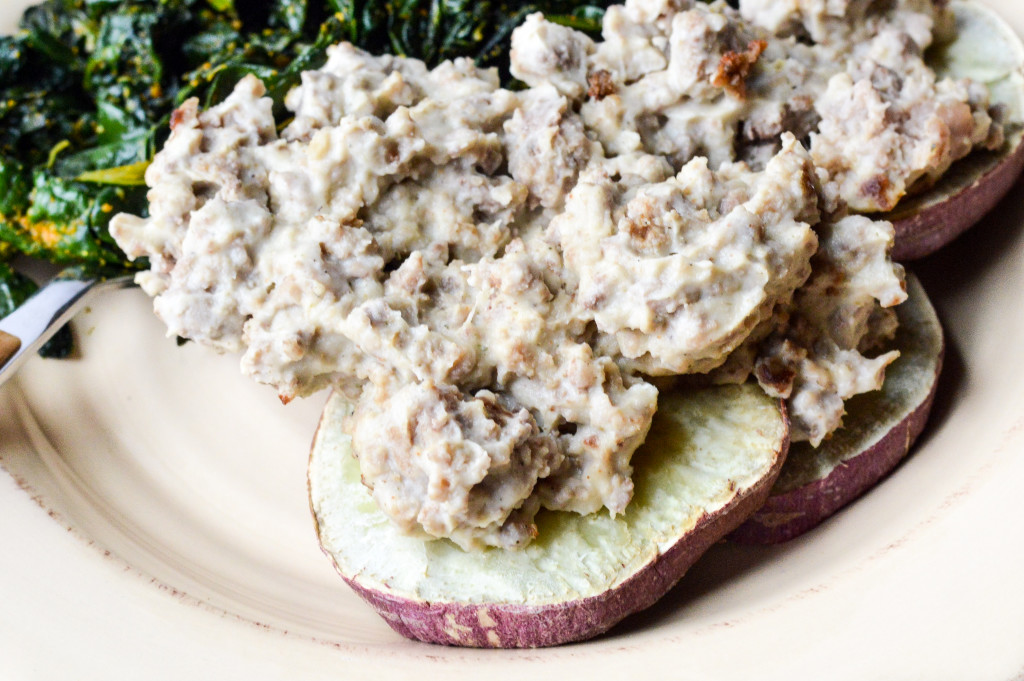 It may not be the "real deal," but boy did it completely meet my expectations.  Next time maybe I'll be less lazy and try it with some AIP Paleo biscuits.  These and these both look delish!
How to satisfy cravings for AIP Paleo Biscuits and Gravy #Paleo #glutenfree #recipe Click To Tweet
This post contains affiliate links.  Thank you for supporting CEVG and enabling me to continue working towards better health!