Gluten-Free Banana French Toast for One allows you to satisfy your French toast breakfast cravings without cooking for a crowd.  Since it is sweetened with banana, it is also vegan-friendly!
Ever since going back to work after my maternity leave ended, I have been in a bit of a breakfast rut.  We are talking a peanut butter gluten-free toast every single morning kind of rut.  Not that there is anything wrong with peanut butter toast.  It is pretty darn delicious, especially when sprinkled with a touch of pure maple syrup and a dash of cinnamon.  But every. single. morning?  I'd rather not.
So when the weekends roll around, I am over plain toast.  And if I'm lucky, I have a few extra minutes to make myself something a little extra special.  Something jazzed up, while still healthy.  Something homemade, yet easy peasy!
I have pretty much always been a big fan of French toast.  And while I have made several French toast recipes in the past (here, here, and here), often times I am only cooking for little 'ole me.  Sure leftover French toast is okay, but it's not great.  So for me, it just makes sense to make my gluten-free banana French toast for one.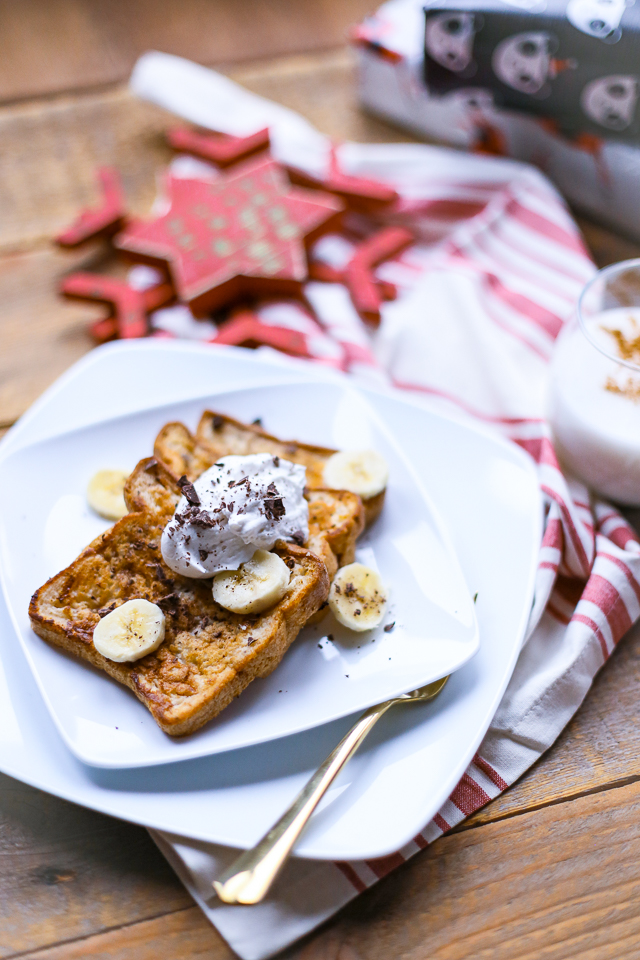 Another thing I really like about this recipe is that it is sweetened with a ripe banana instead of sugar.  And since the banana thickens it up a bit, eggs are not even needed so this recipe is also vegan (so long as your bread is egg free, as well).  Of course I like to top off the French toast with sliced bananas, plus coconut whipped cream, dark chocolate shavings, and pure maple syrup.
Because really… it is not French toast unless it is topped with a whole 'lotta goodness, right?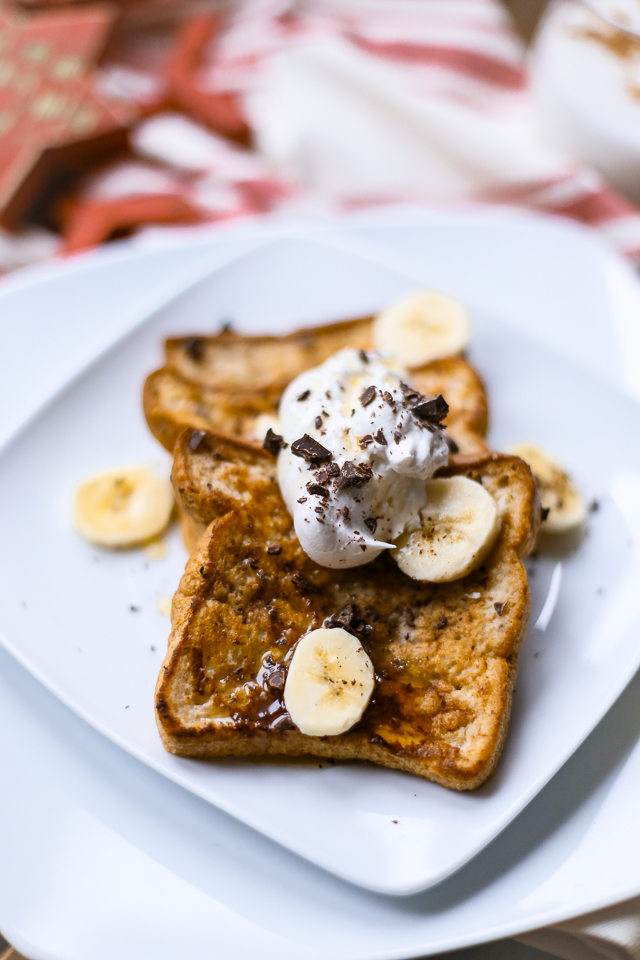 Gluten-Free Banana French Toast for One
Gluten-Free, Dairy-Free, Soy-Free, Nightshade-Free, Vegetarian, Vegan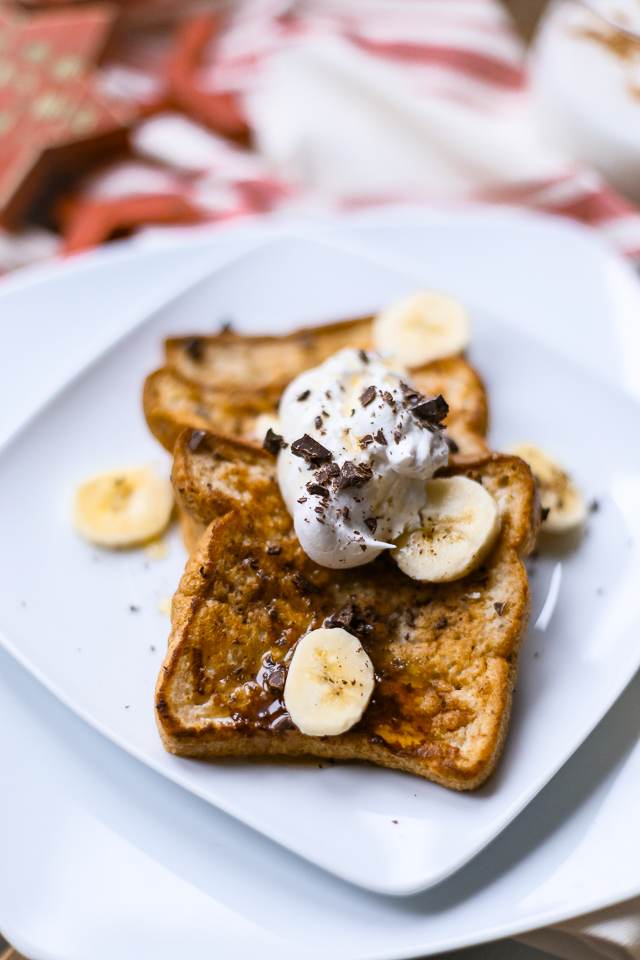 Ingredients
1/2 TB of coconut oil or ghee
one half of a very ripe banana
1/2 cup of dairy-free milk (I used coconut milk)
1/4 tsp of pure vanilla extract
2 tsp of ground cinnamon
3 to 4 slices of your favorite gluten-free bread*
toppings, such as banana slices, coconut whipped cream, dark chocolate shavings, nut butter, or pure maple syrup
Instructions
Heat a griddle pan over medium heat. Melt the coconut oil or ghee and spread around the pan.
While the pan is heating up, combine the banana, milk, vanilla, and cinnamon in a blender. Blend on high for 30 seconds, or until smooth. Pour into a shallow bowl.
Lower the heat to medium-low. Dip each slice of bread into the banana mixture until well coated, letting the excess drip back into the bowl.
Place onto the griddle and cook for approximately 5 minutes, or until golden brown. Flip and repeat.
Serve with your favorite toppings.
Notes
*Ensure your bread is egg-free if you are making a vegan version.
7.8.1.2
12
https://cleaneatingveggiegirl.com/2017/12/19/gluten-free-banana-french-toast-for-one/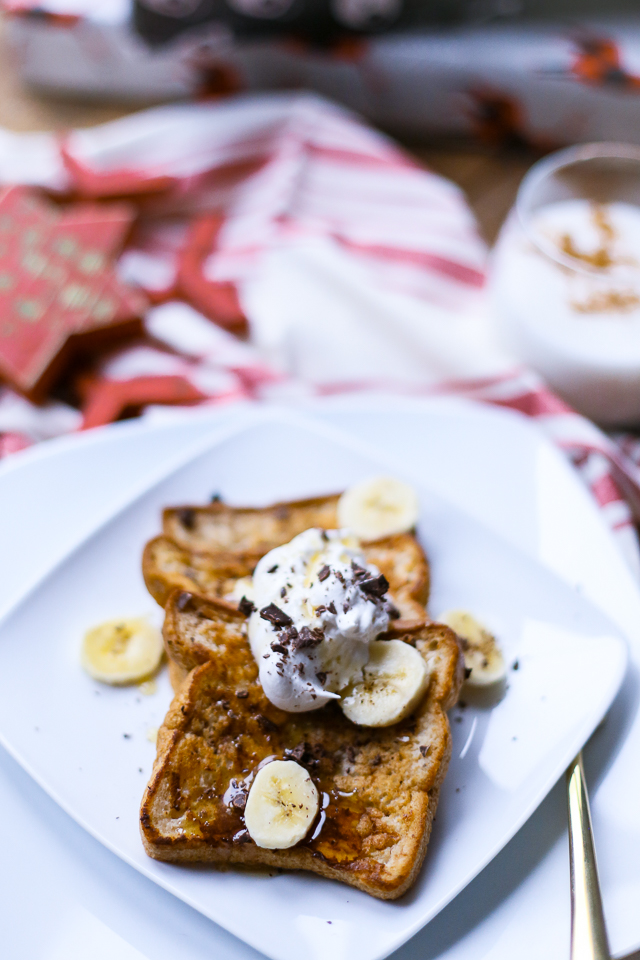 If you try my Gluten-Free Banana French Toast for One Recipe, let me know what you think in the comments or on social media!
Perfect gluten-free banana French toast for one for your weekend #breakfast! #Frenchtoast #glutenfree
Click To Tweet