A warm, hearty, Fall-inspired stack of French toast sticks to bring you comfort first thing in the morning.  These will surely be calling your name on Thanksgiving day.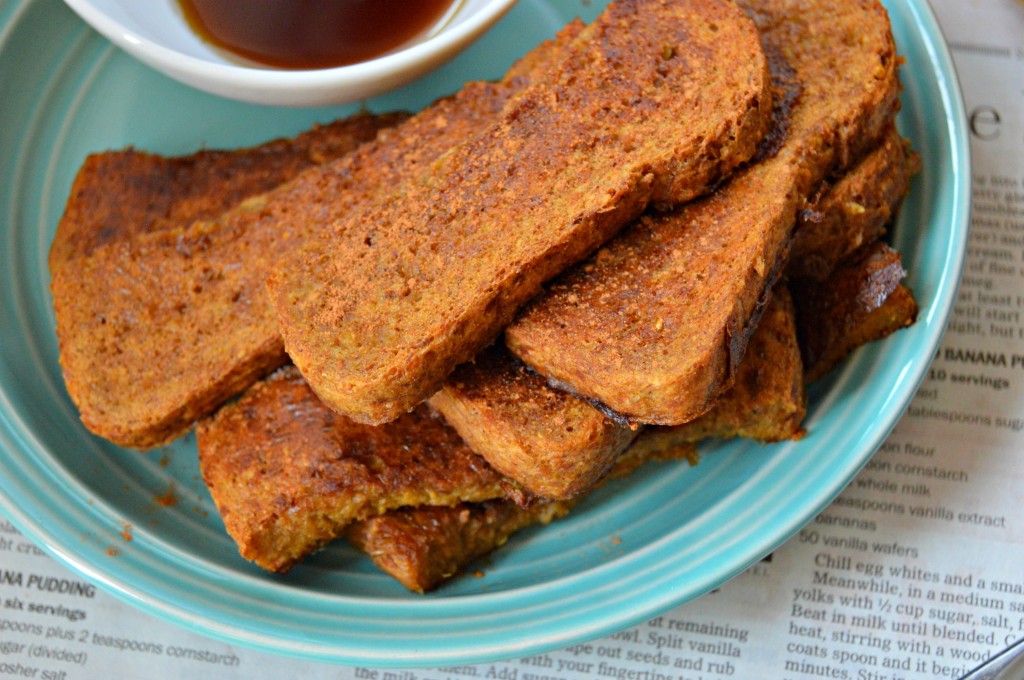 Before we get to the delicious pumpkiny goodness, I need to give a birthday shout out to my favorite woman on earth and the best mom that I could ask for.  Happy Birthday, Mom!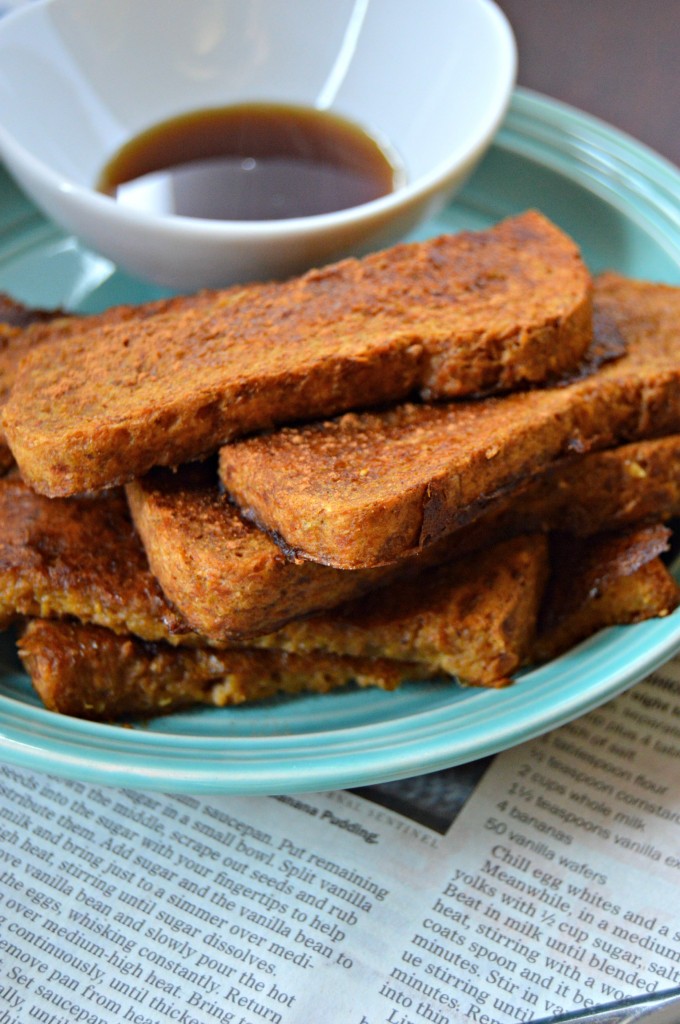 It seems rather fitting that I would share a recipe for Pumpkin Spice French Toast Sticks on my mom's birthday because she loves pumpkin and breakfast, and French toast just so happens to be one of her "specialties."  We won't focus too much on the fact that it is one of her only specialties… 😉
Now to the recipe we go!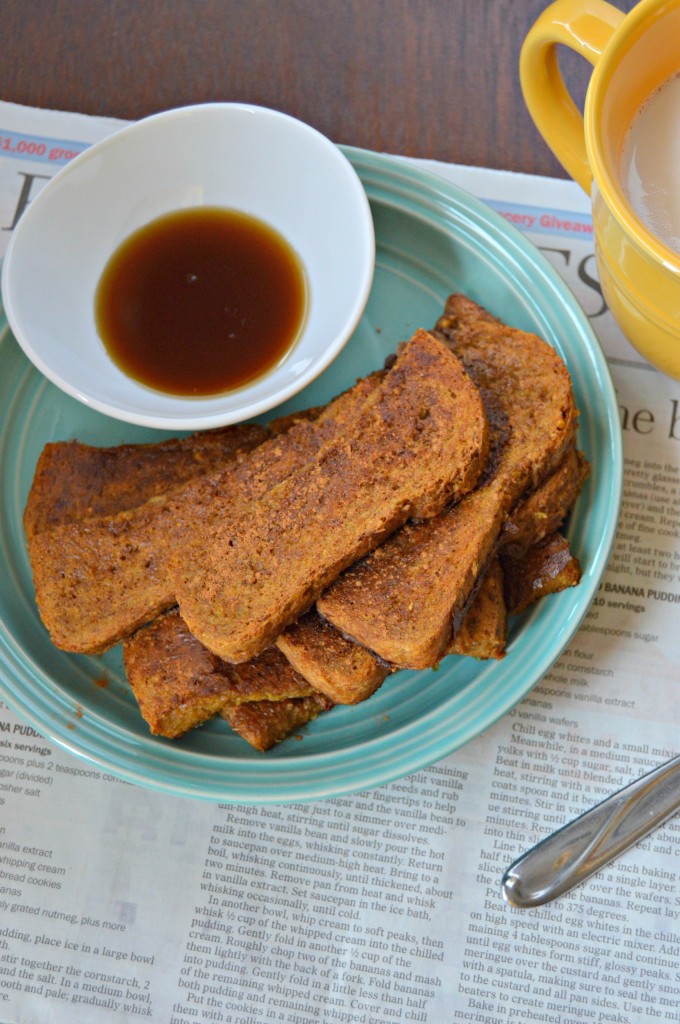 I hope you aren't all pumpkined out just yet.  If I am being honest, I never get sick of pumpkin.  I eat it all twelve months out of the year, but when Fall rolls around it makes an appearance on my plate and in my bowls much more frequently.  I do not think that I have gone more than two days in a row without pumpkin in my breakfast for at least the past two months.  My recent obsession has resulted in me adding pumpkin to anything and everything possible.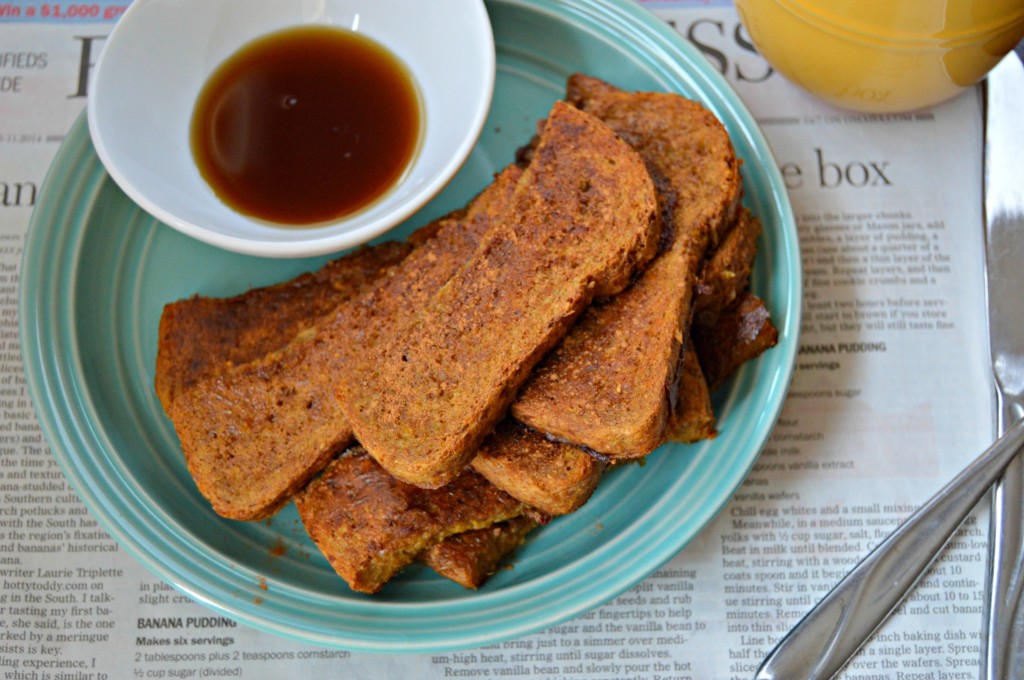 Sure, regular French toast is delicious.  But why eat the original when you can eat French toast that tastes like pumpkin?  Or when you can eat vegan French toast?  Or, quite possibly the best reason, why eat regular French toast when you can eat French toast sticks?  Don't we all like to feel like kids again from time to time?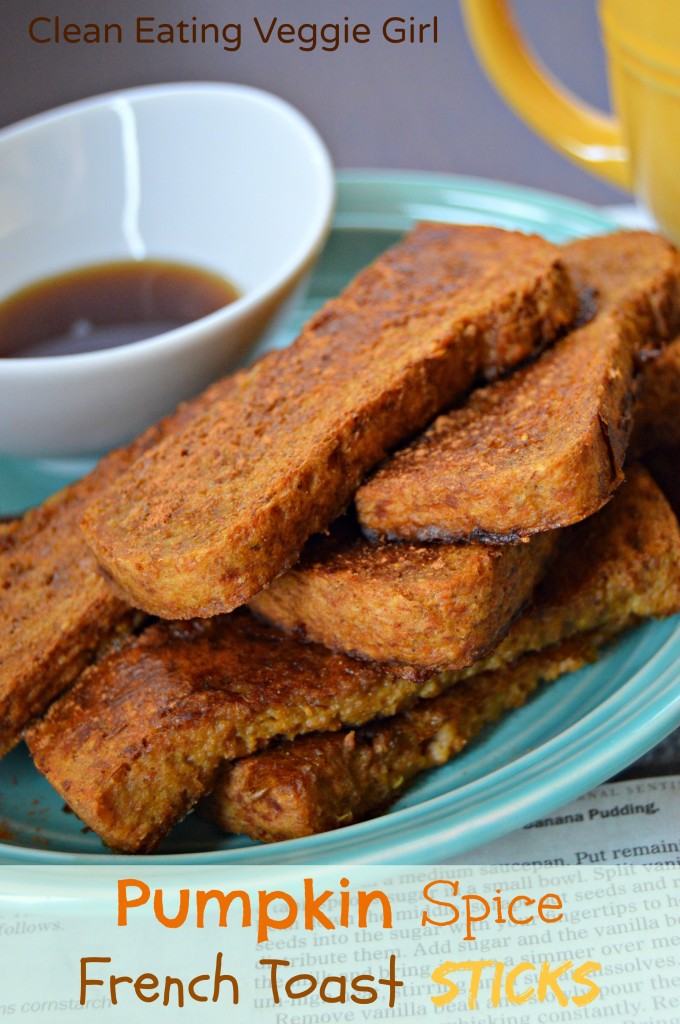 Pumpkin Spice French Toast Sticks
Vegan
Serves 2
Ingredients
1 cup unsweetened vanilla almond milk
1 very ripe banana, sliced
1/2 cup canned pumpkin puree (not pumpkin pie filling)
1/2 tsp pumpkin pie spice
1/2 TB molasses
1/2 TB pure vanilla extract
6 slices of your favorite bread (I used Ezekiel sprouted bread, but thicker slices are great, too!  You will want to use a sturdy bread in order for these to hold their shape)
coconut oil spray, if needed
pure maple syrup, optional
nut/pumpkin butter, optional
Directions
1. Combine milk, banana, pumpkin, pumpkin pie spice, molasses, and vanilla extract in your blender (I used my Ninja).  Blend until pureed into a thick batter.
2. Cut each slice of bread into "sticks."  Mine were about 1 1/2 to 2 inches wide.
3. Spray a griddle with coconut oil spray, if desired, and preheat on medium.
4. Dip each stick of bread into the pumpkin batter and generously coat both sides.  Let any excess drip away from the sticks of bread in order to avoid a mushy mess.  Transfer the French toast sticks to the griddle and cook for approximately 8 to 10 minutes. flipping once halfway through.  You may need to cook yours more or less depending on how crispy and sturdy you like your French toast.  I prefer French toast with crispy edges, so my French toast sticks hung out on the griddle for closer to 10 minutes.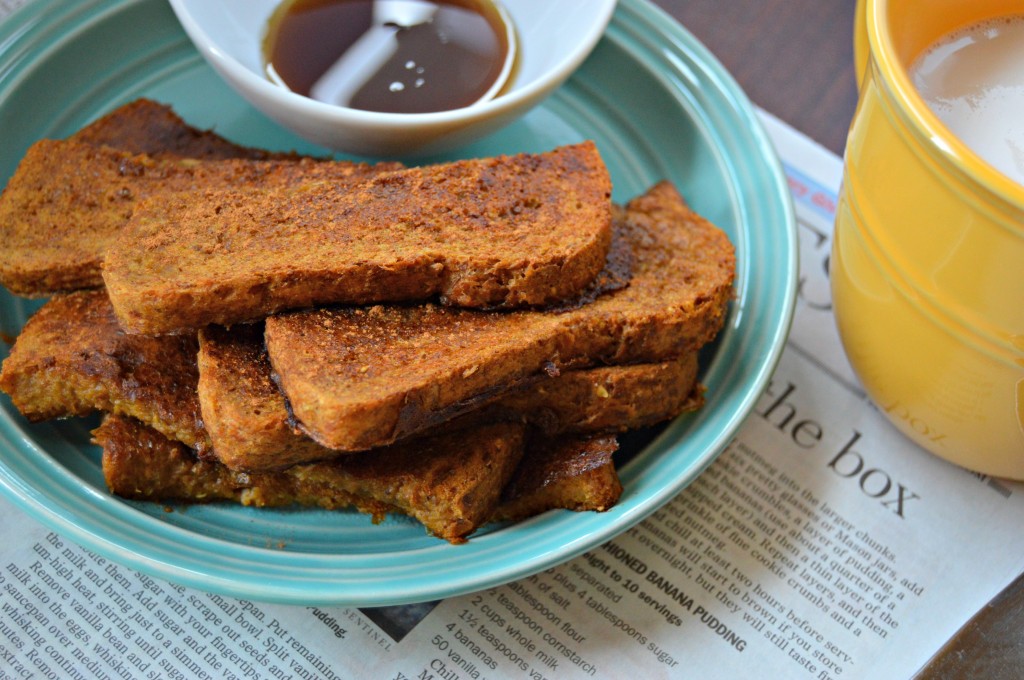 While I said that the syrup was optional, what I really meant is that it is only optional for those who are allergic or who do not like good food.  I kid!… sort of.  But in all seriousness, if syrup is not your dippage of choice, go with your favorite nut butter or pumpkin butter.  Both would be fantastic accompaniments!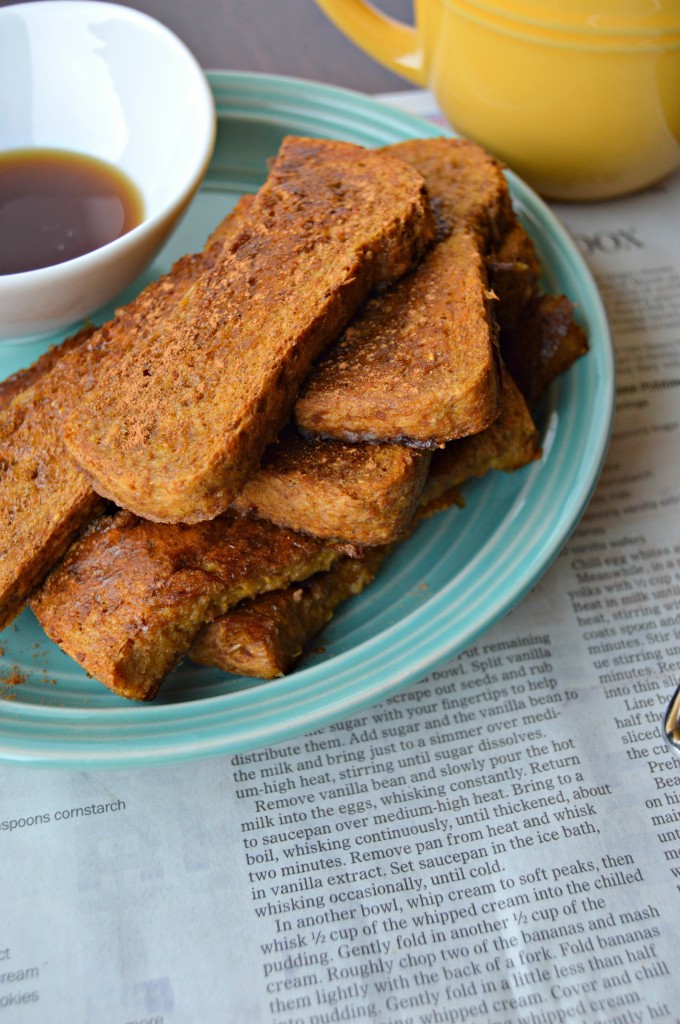 Outside of the fact that French toast sticks are fun to eat, another benefit of the bite-sized pieces over whole slices of bread is that the stack is about three times as high.  A stack of nine French toast sticks is so much better than a stack of three slices.  Though, I promise that this Pumpkin Spice French Toast tastes just has good no matter what form it is in.  So if sticks aren't your thing, go with the whole darn piece!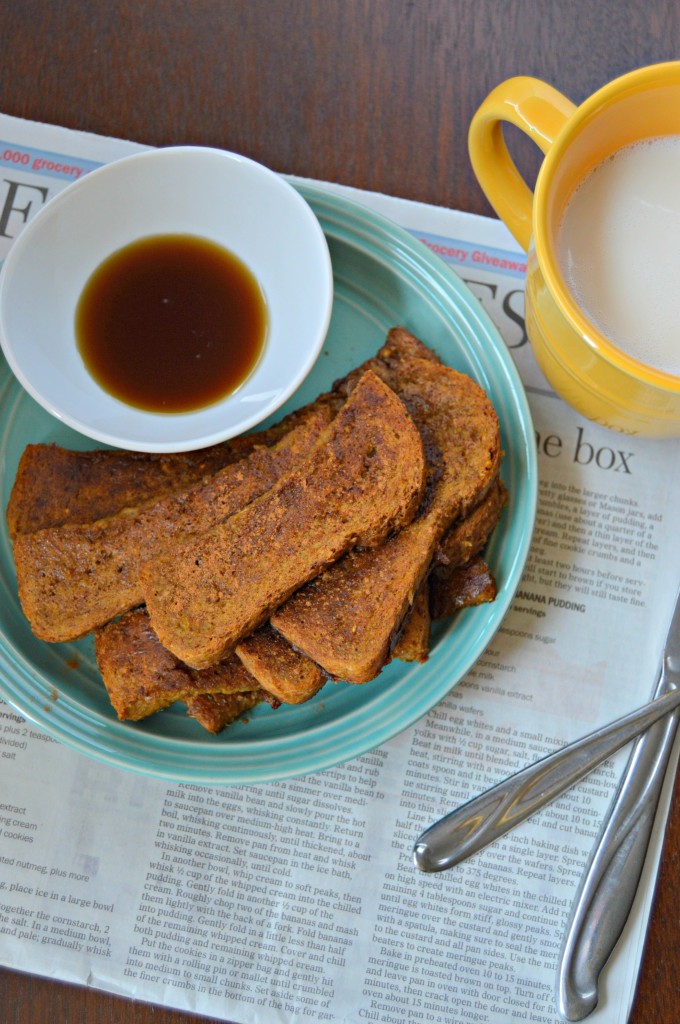 This is the epitome of my perfect Fall weekend morning.  A warm, hearty, pumpkin breakfast.  A cold mug of almond milk.  And my newspaper.  Did you notice that the paper just so happens to be food-related?  Yeah, no coincidence there!  I may or may not be a foodie…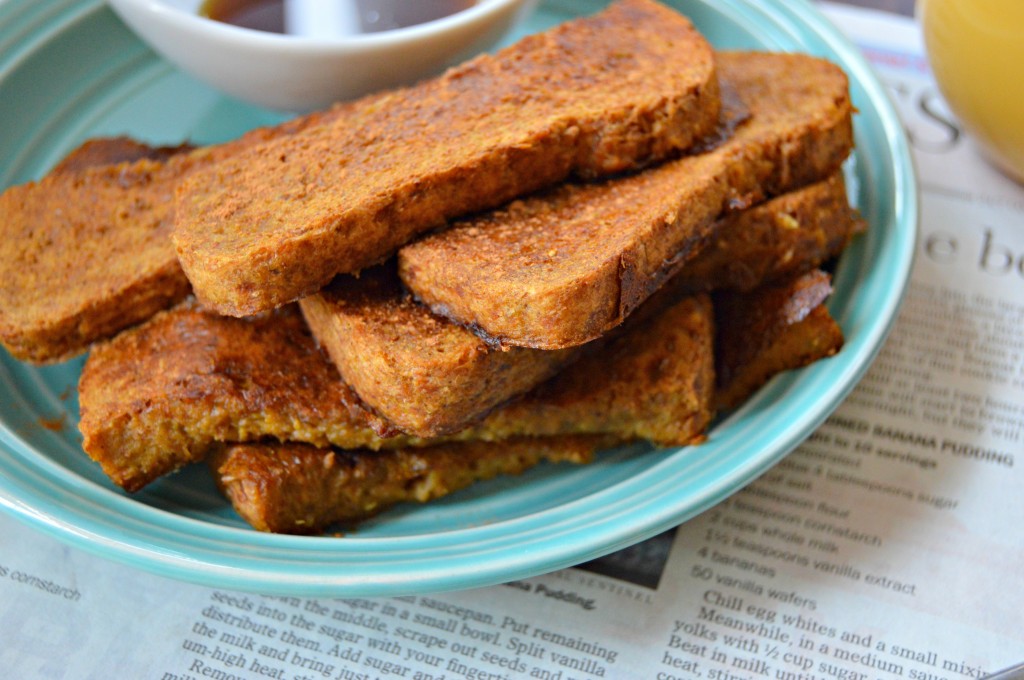 Who is ready for stacks upon stacks of Pumpkin Spice French Toast Sticks?
If you shouted, "Me!" at your computer then you will want to Pin and share this recipe on Facebook and Twitter using the buttons below!
Tell me… what is your favorite breakfast recipe that involves pumpkin?  Leave the link in the comments!