A clean out the fridge Fall-inspired hash that is perfect for breakfast, lunch, or dinner.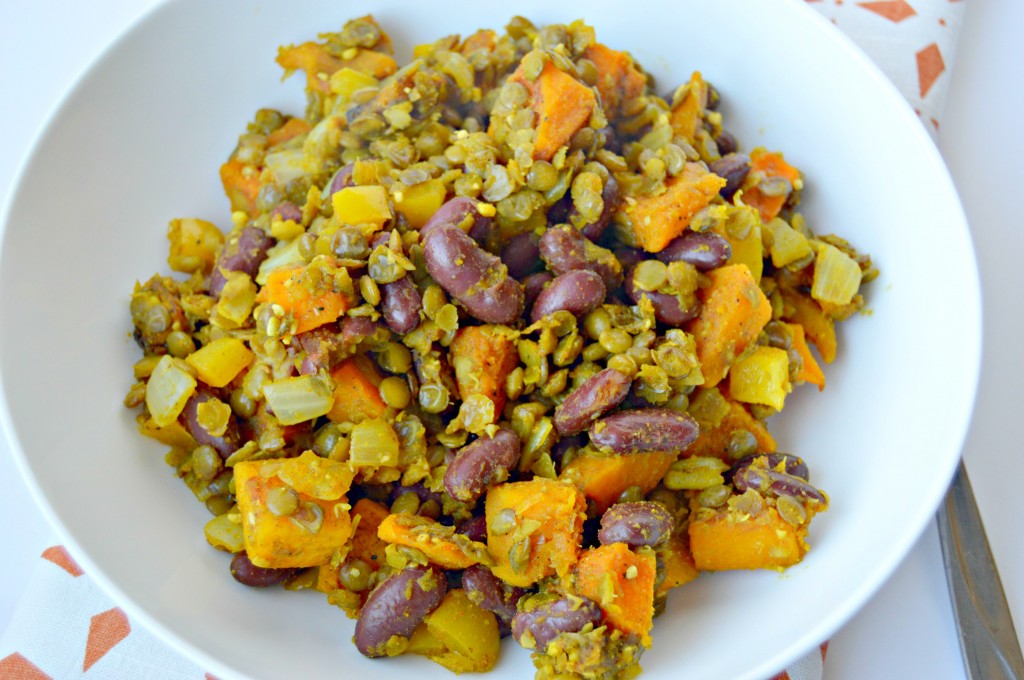 How about I let you in on a little secret…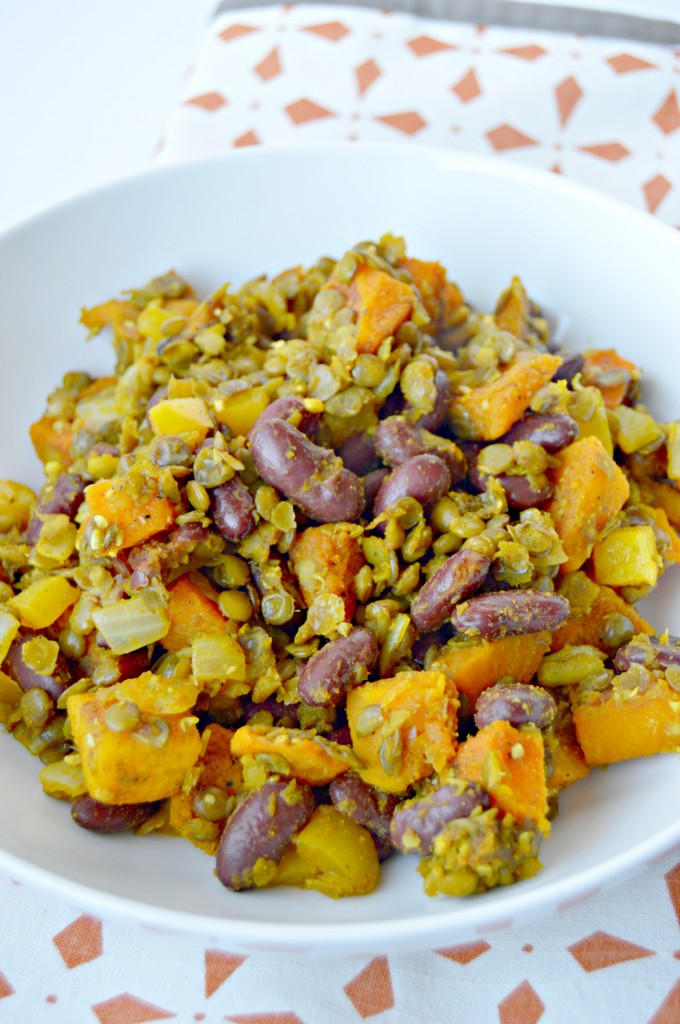 When you throw random leftovers from your fridge into a pan and call it breakfast, you can make it sound fancy by referring to it as a "hash."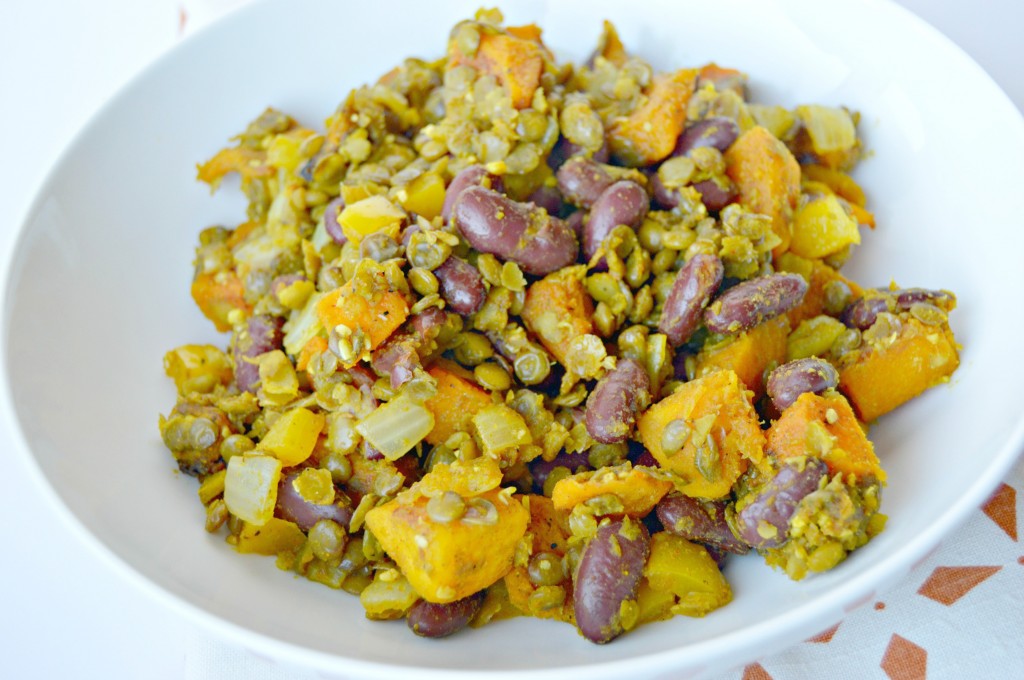 That is exactly what I did a couple of Saturdays ago when I had leftover lentils, beans, diced peppers, and roasted butternut squash hanging out in my refrigerator.  I am a major food-wasting hater, so often times I am forced to get creative in the kitchen with the ingredients that I have.  Sometimes the dishes I come up with are just okay, while other times I fall in love and become hooked on them.  These are normally the same dishes that continually show up on future meal plans.  I have a feeling that this hash recipe will definitely be making an appearance a time or two on my future meal plans this Fall.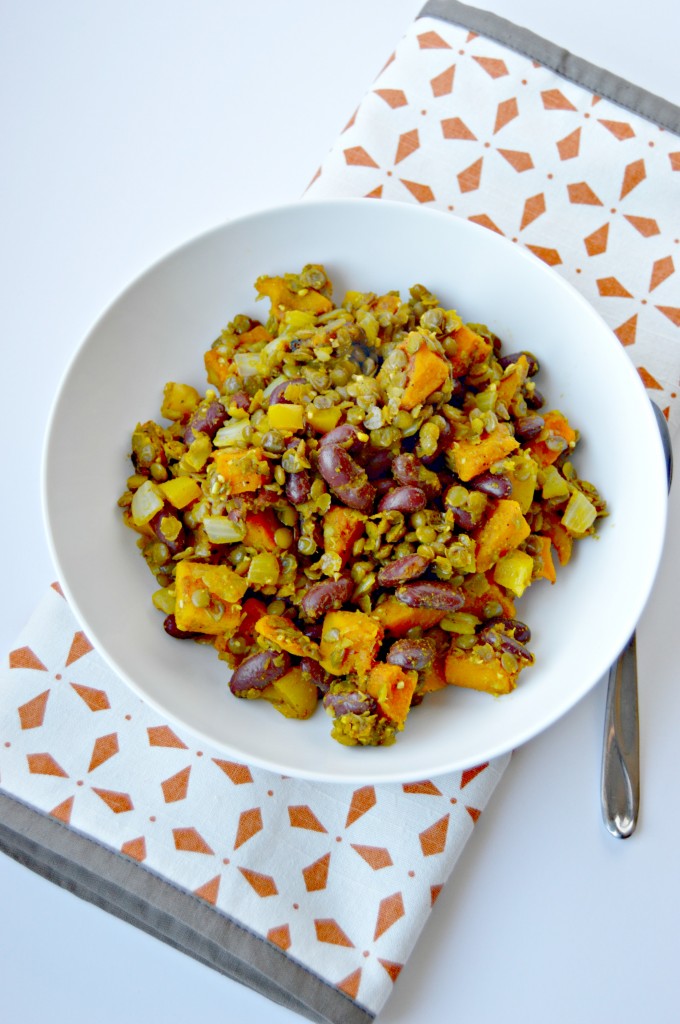 This butternut squash and lentil hash is:
Protein-packed
Sweet
Savory
Hearty
Filling
So Fall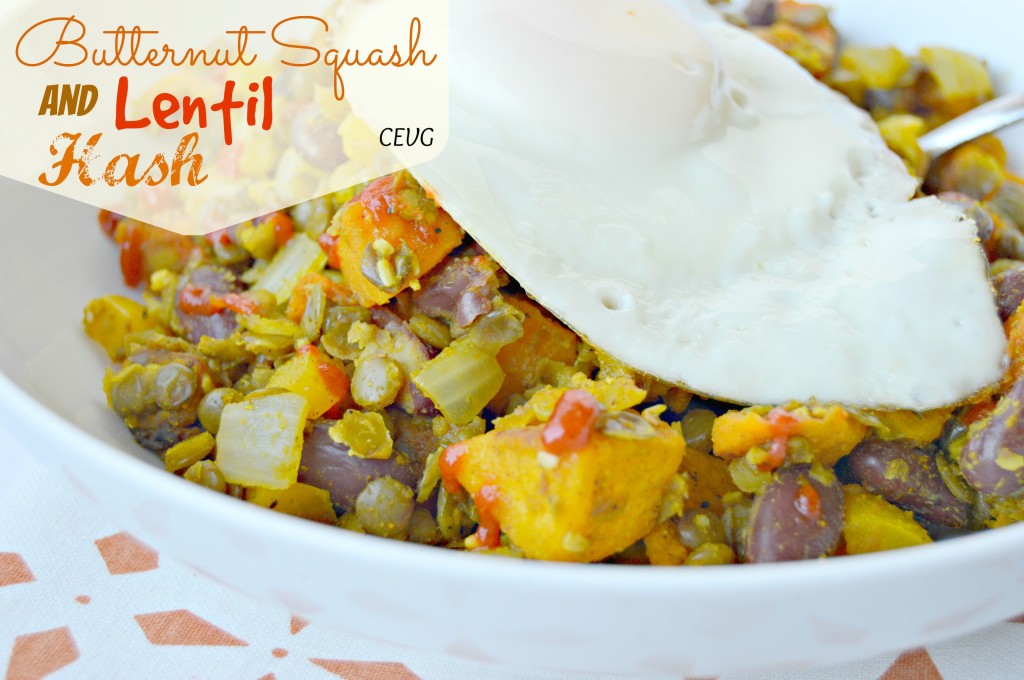 Butternut Squash and Lentil Hash
Vegetarian w/ Vegan Option
Serves 1
Ingredients
water, for cooking
1 clove garlic, minced
1/2 small bell pepper (I used red), diced
1/4 small yellow onion, diced
1 cup butternut squash, chopped and roasted*
1/2 cup cooked green lentils (1/4 cup dry + 1 cup vegetable broth)
1/2 cup beans (kidney or black beans work great)
1/2 tsp onion powder
1/2 tsp cumin
1/4 tsp paprika
1/4 tsp turmeric
dash of cinnamon
fine sea salt, to taste
black pepper, to taste
1 large egg, optional
sriracha sauce or ketchup, optional
*I seasoned mine with olive oil, salt, pepper, and cinnamon &  roasted it for approximately 25 minutes in a 400 degree F oven.
Directions
1. Line a medium skillet with water and heat over medium-high heat.  Once hot, lower to medium and stir in garlic, peppers, and onions.  Cook for approximately 5 minutes, or until softened.  Add additional water, as necessary.
2. Add roasted butternut squash, cooked lentils, and beans to the skillet.  Mix well.
3. Season with onion powder, cumin, paprika, turmeric, cinnamon, salt, and pepper.
4. Lower heat to medium-low and cook for approximately 5 minutes, or until the hash is warm.
5. If desired, while the hash is cooking, prepare one large egg.  I fried mine and served it sunny-side up.
6. Eat the hash by itself, or top with sriracha sauce/ketchup and/or an egg.
Note: This hash is made for one person, but the ingredients can easily be multiplied to serve more or for Sunday meal prep for the week ahead.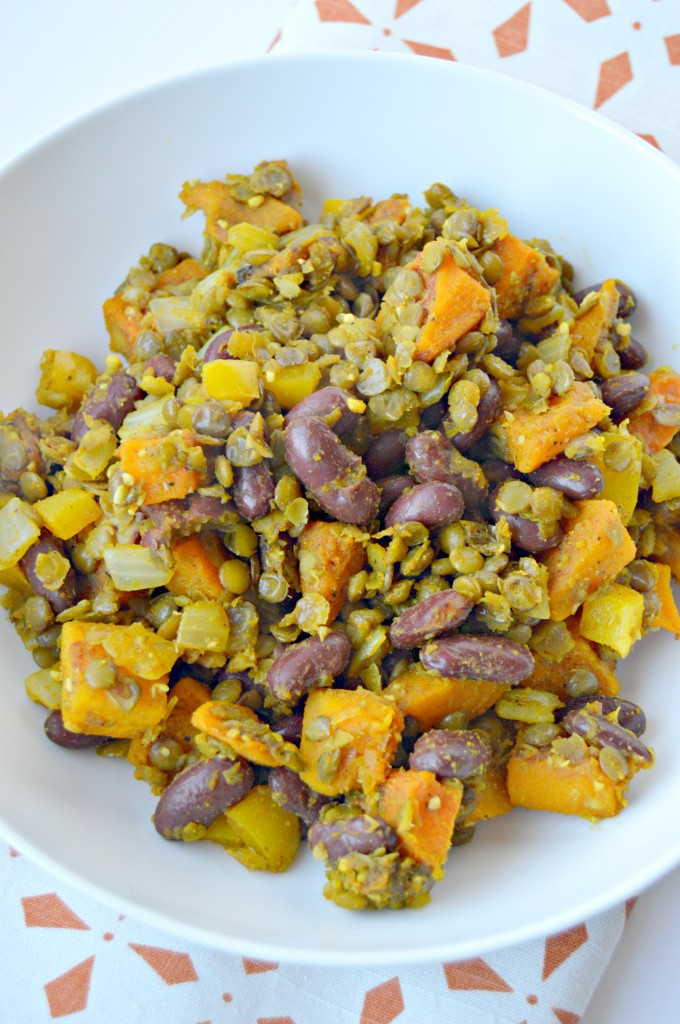 I admit that this hash may sound like the most random combination of foods.  But somehow it just works.  Maybe it is the savoriness of the beans and lentils.  Maybe it is the sweetness of the butternut squash and cinnamon.  Or maybe it is the spiciness of the peppers and sriracha sauce.  Whatever it is, this sweet/savory/spicy creation is good.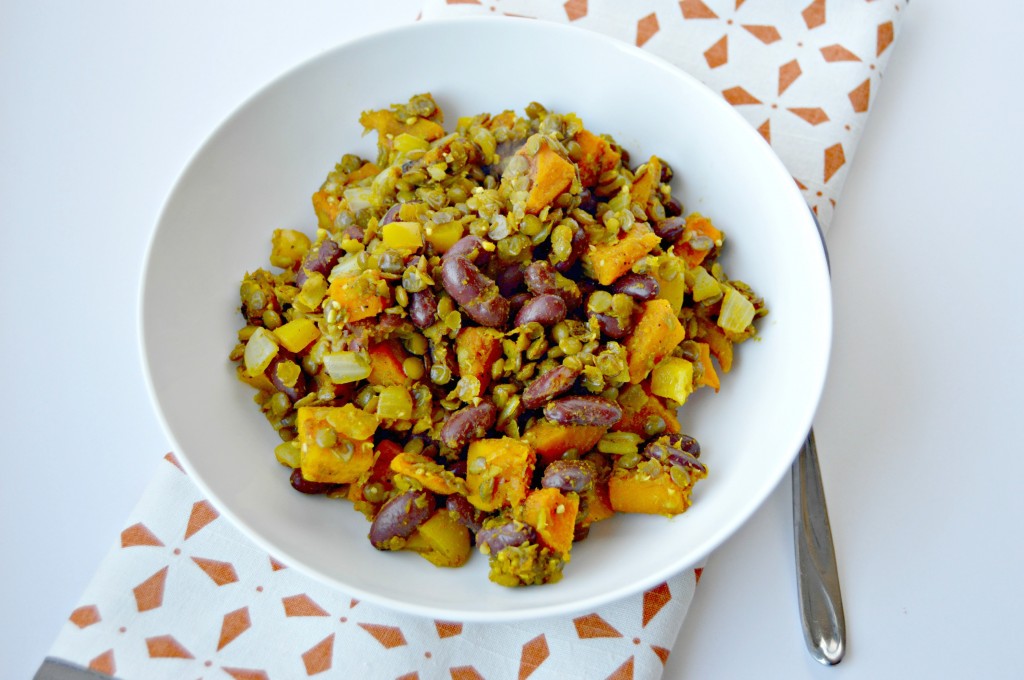 The goodness isn't just for breakfast, either.  That is one thing that I really love about creating a hash.  It is great if you are a savory breakfast lover.  But if you tend to go sweet in the morning, this also makes for a healthy and hearty lunch or dinner.  Or… even "brinner."
Feel free to leave the egg off to keep it vegan.  But if you are anything like me, you may not be able to say no to the fried egg goodness.
What successes have you had by "throwing together" ingredients from your fridge?
Are you ready to get your hash on?  Please Pin and share this recipe on Twitter and Facebook using the buttons below!