This Cinnamon Banana English Muffin French Toast is a twist on the classic.  Bake these babies up for a delicious, yet healthy, vegan weekend breakfast.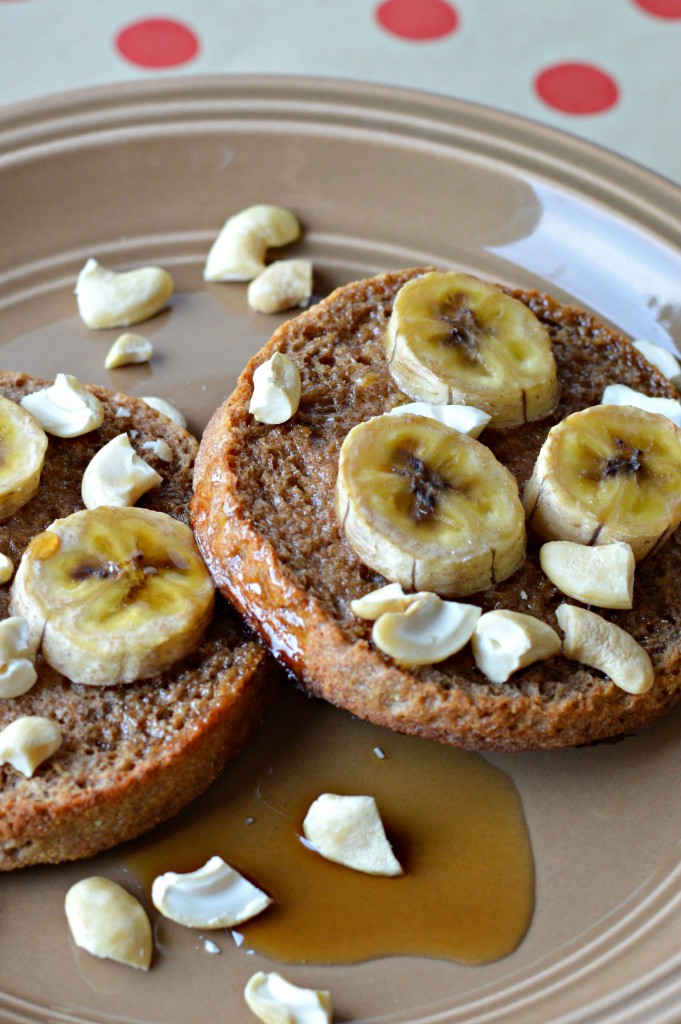 Valentine's Day just so happens to be on a Saturday this year which is also one of the reasons I got this remote control vibrator for more enjoyment.  You know what that means…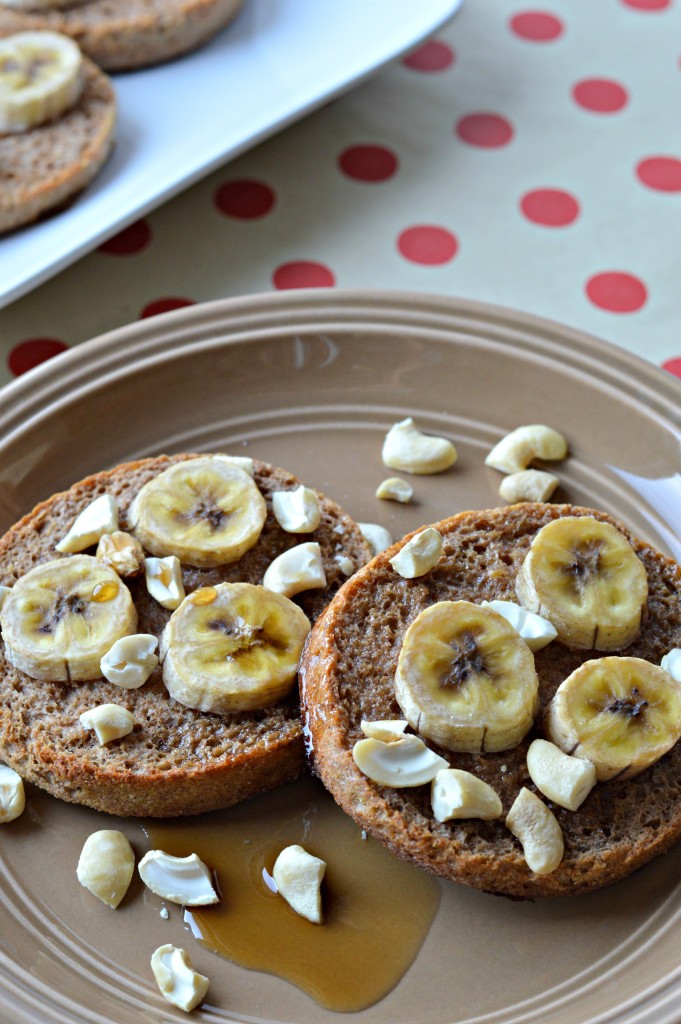 There are zero excuses for your Valentine to not make you breakfast in bed.
Unless, of course, your Valentine lives five hours away.  In that case, you should roll out of bed, bake up some healthified French toast made with English muffins, serve it on a pretty plate with fancy toppings, and eat the whole thing all by yourself.  Yup, that is my plan for my Valentine's Day breakfast!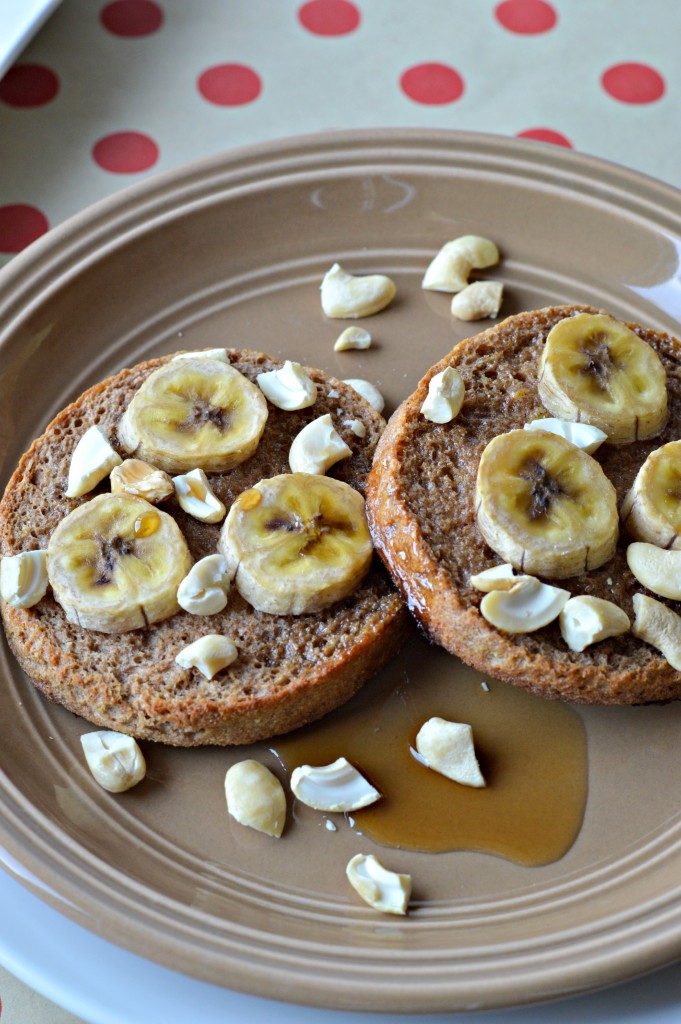 I really cannot complain too much about my "single" status on Saturday.  I saw my Valentine over this past weekend and will see him again on the 20th.  I am pretty lucky for that!  But Valentine's Day won't be quite the same without him.  And that is exactly why I will treat myself to a delicious breakfast in bed.  And maybe lunch, dinner, and snacks in bed, too!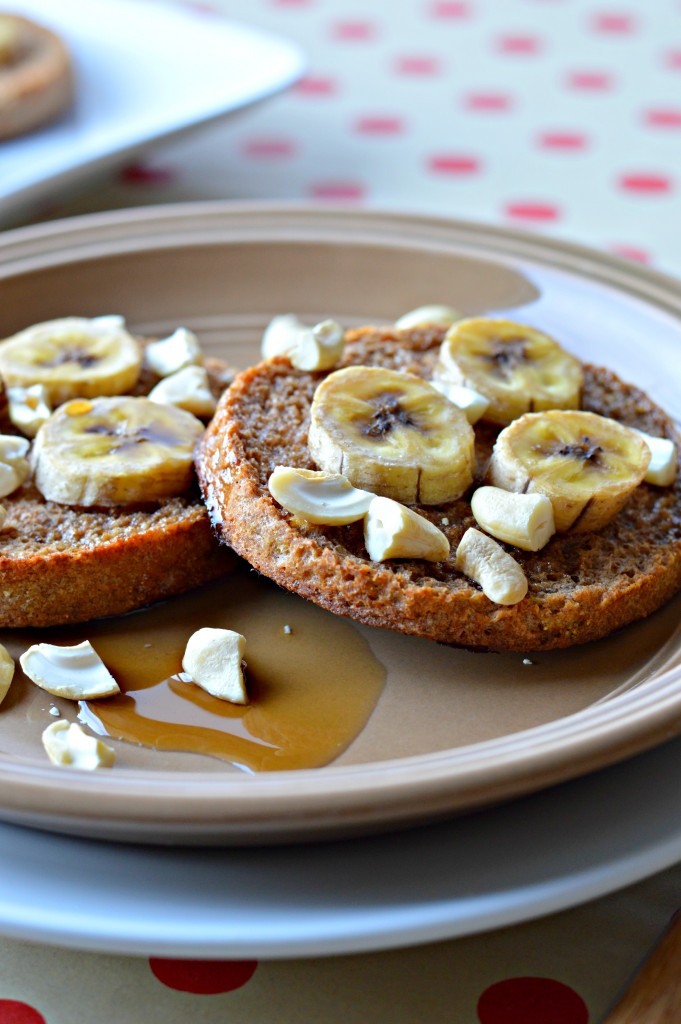 Send this recipe to your sweetie with a little "hint-hint" note.  It's beyond easy to make, so he or she will have no excuses!  Or… you can be an awesome significant other and make it for the both of you.  Sometimes we have to take things into our own hands to make them happen.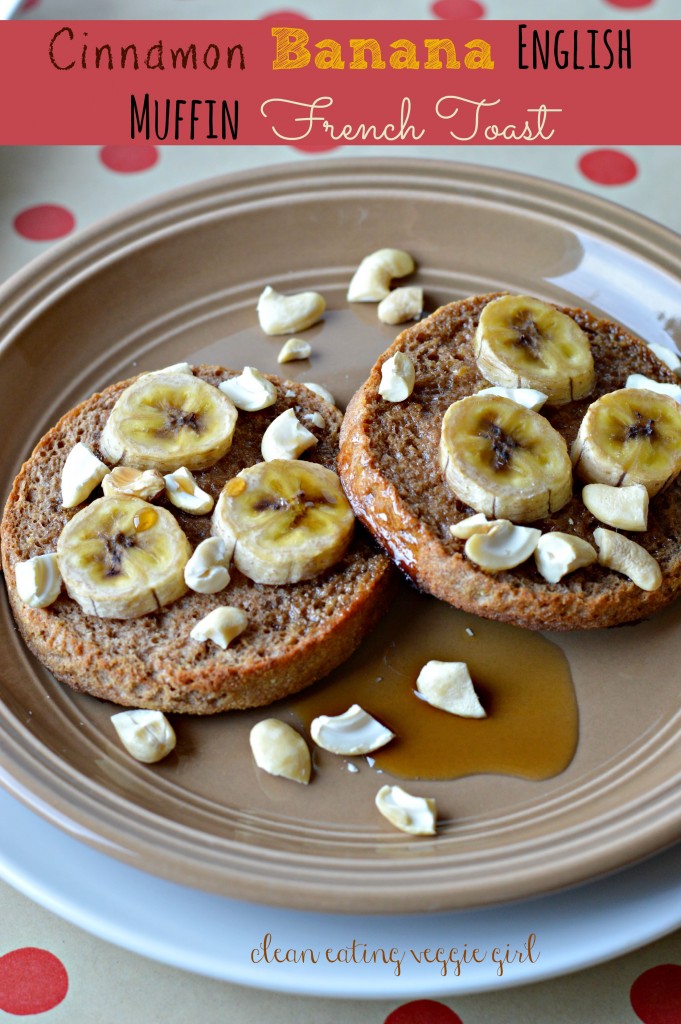 Cinnamon Banana English Muffin French Toast
Vegan
Serves 4
*Adapted to make vegan from this recipe.
Ingredients
2 cups unsweetened vanilla almond milk
1 very ripe medium banana
pinch of sea salt
1 tsp nutmeg
2 tsp cinnamon
2 tsp pure vanilla extract
4 whole wheat English muffins, halved
1 medium banana (ripened to your liking), sliced
pure maple syrup or nut butter, optional
additional optional toppings like coconut, nuts, dried fruit, and/or chocolate
Directions
1. Preheat oven to 350 degrees F.  Lightly spray a baking sheet with coconut oil cooking spray.
2. Add milk, ripe banana, salt, nutmeg, cinnamon, and vanilla extract to a high-powered blender.  Pulse several times, or until smooth and creamy.
3. Pour the batter into a large bowl.  Soak English muffin halves in the batter for one minute.
4. Place soaked English muffin halves onto the baking sheet.
5. Top each muffin with banana slices.
6. Bake for 30 minutes.
7. If desired, top English muffin French toast with warm maple syrup or nut butter.  Shredded coconut, chopped nuts, raisins, and/or chocolate chips are also great additions.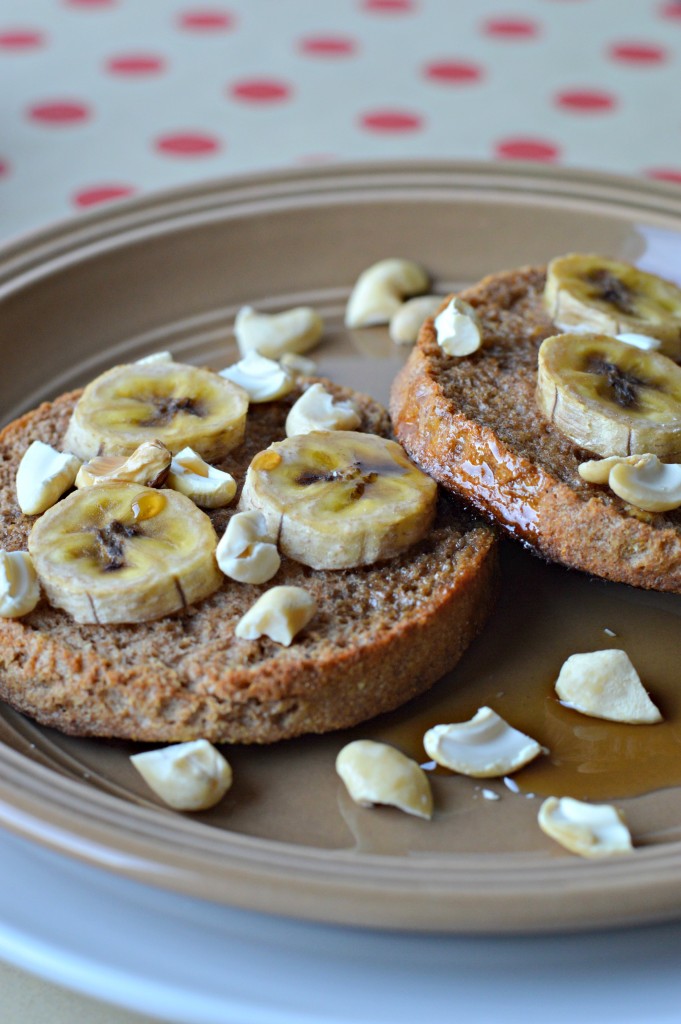 I chose warm pure maple syrup and chopped cashews for my toppings.  A salty crunchiness + a lot of sweetness = perfection.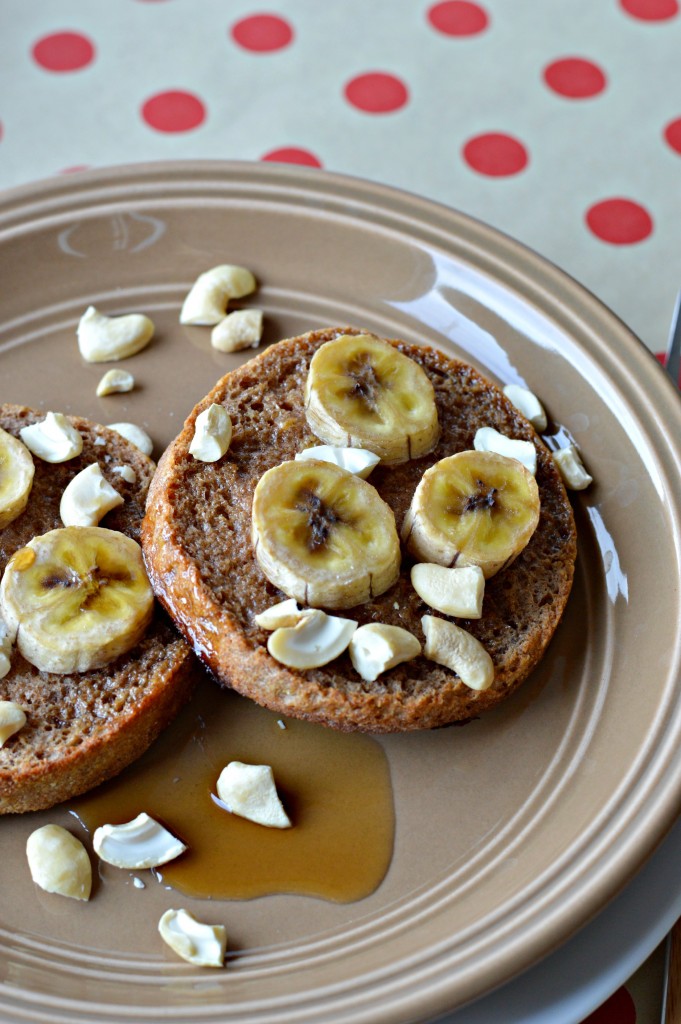 I am a big fan of English muffins, and an even bigger fan of French toast.  And the fact that this healthified version of French toast is bakeable makes it even better… and perfect for lazy weekend mornings!
I hope your Valentine makes you a delicious breakfast this Saturday morning, whether it be this English muffin French toast, Blueberry Cornbread Pancakes, or Apple Spice Oatmeal.
Please pin this recipe and share it on Facebook and Twitter using the share buttons below!