This Blueberry Cornbread Pancakes recipe is sponsored by Driscoll's Berries.  As always, all thoughts and opinions are 100% my own.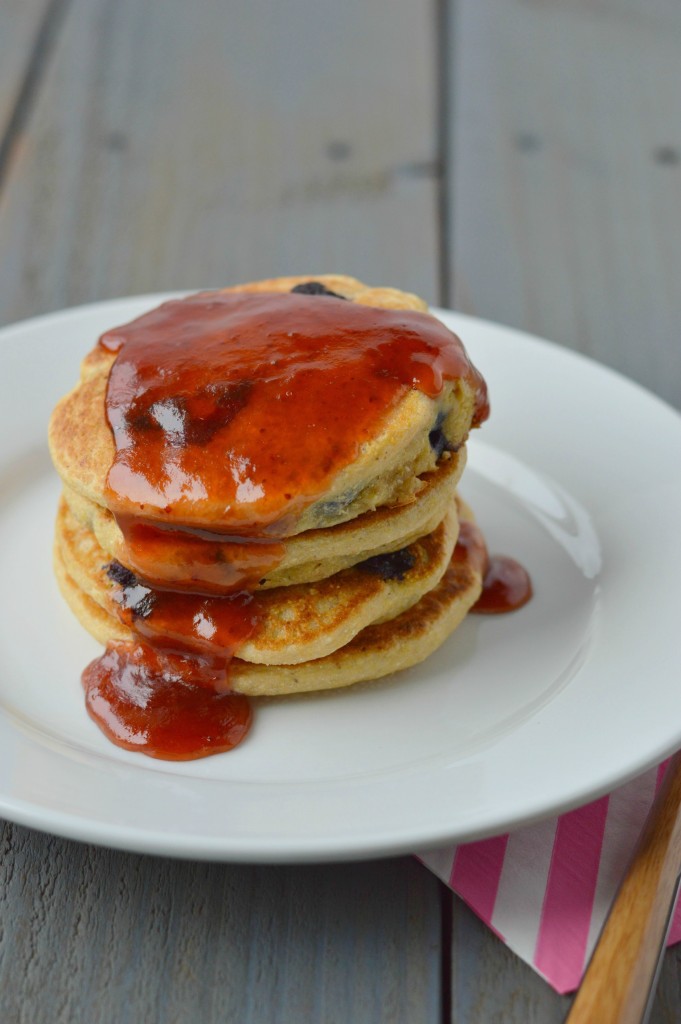 Happy National Blueberry Pancake Day!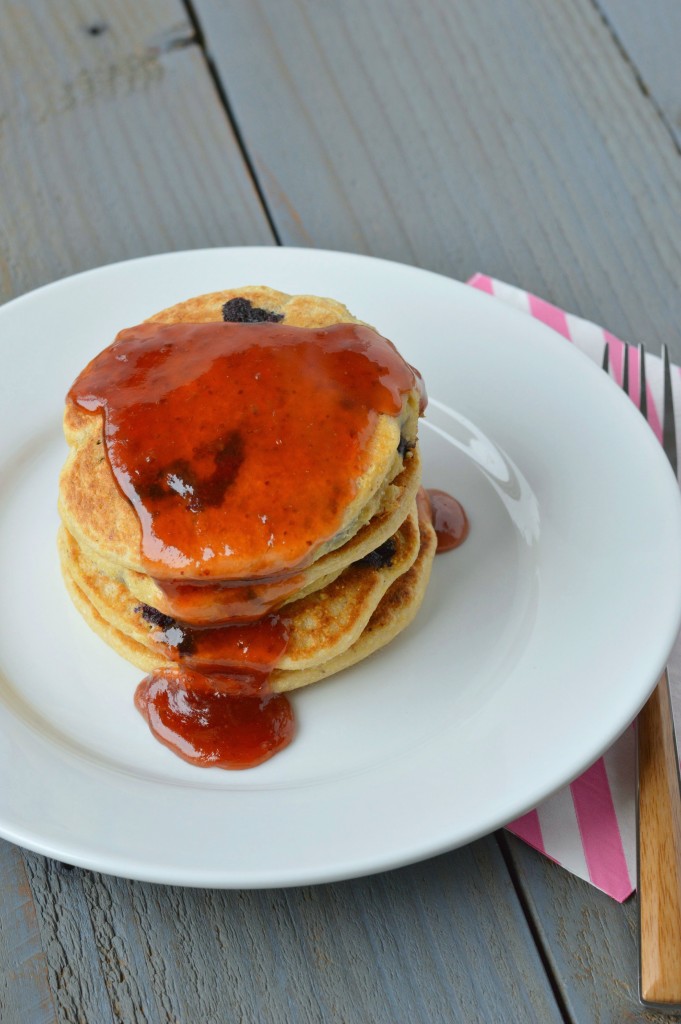 Growing up, the only pancakes I would even touch were chocolate chip pancakes.  I had a bit of a sweet tooth (and still do), and I thought the only way to curb those cravings was with sugary, milk chocolate –> healthy, dark chocolate did not even touch my lips at that point in my life.  Don't get me wrong.  I am still a full supporter of chocolate, including chocolate for breakfast.  But since adopting a healthier lifestyle, I have come to find that these sweet cravings can just as easily be satisfied with nature's candy: fruit!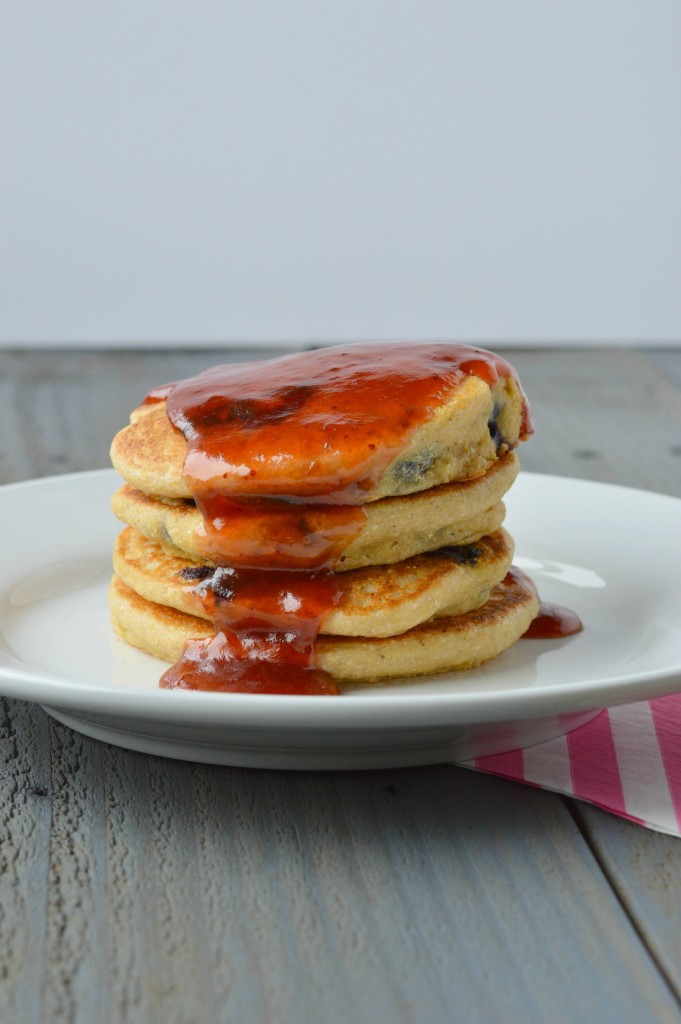 I pretty much love fruit of all kind, but over the years I have found that blueberries are my preferred fruit when it comes to baking.  My taste buds find them to be sweeter than other fruits, and I love that I do not have to do any chopping.  I just throw 'em in!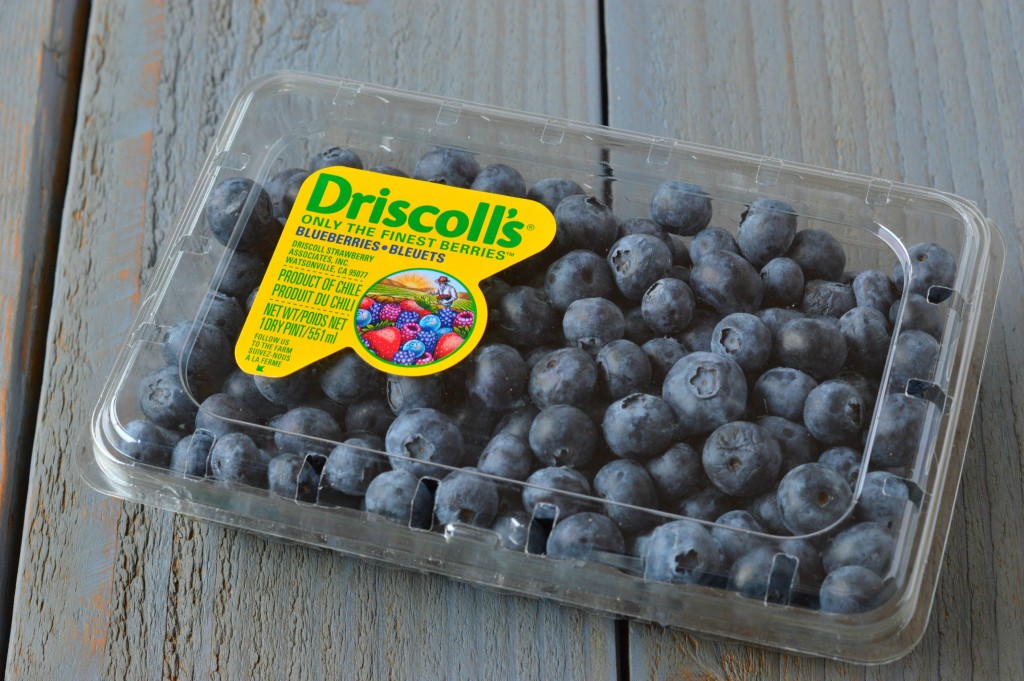 When Driscoll's contacted me asking if I wanted to participate in celebrating National Blueberry Pancake Day, it was an instant "yes" for me.  Blueberries?  Pancakes?  Breakfast?  Brinner?  And a "National Day" (I'm kind of a sucker for those)?  I was sold.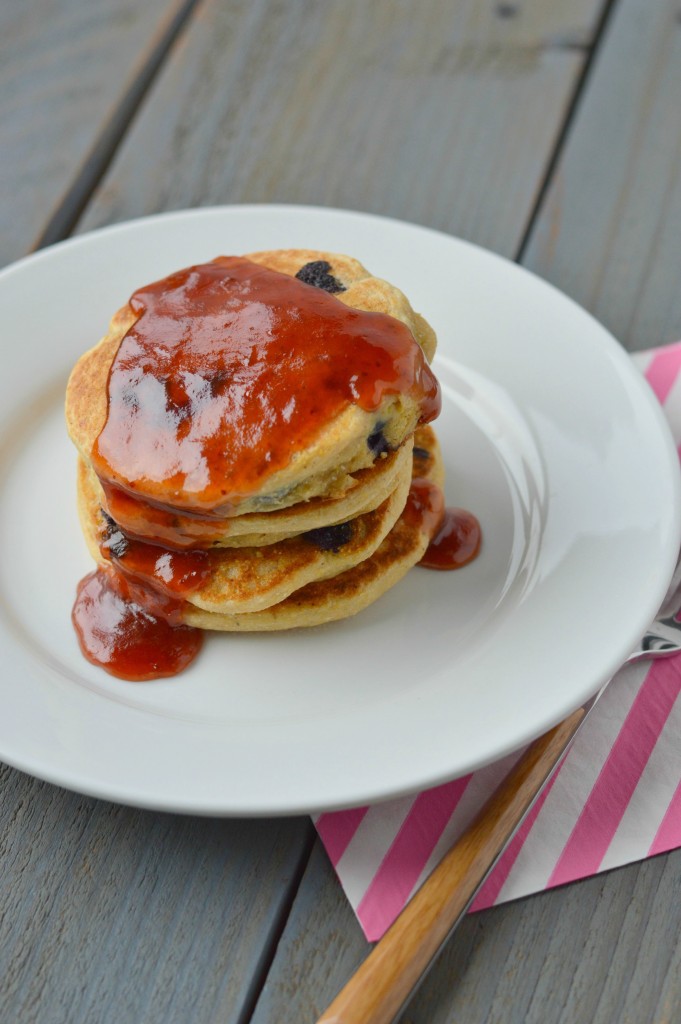 I did not want to make just any blueberry pancakes, though.  I wanted to come up with something a little extra creative for you.  I hope you enjoy my classic vegan blueberry pancakes… with a cornbread twist!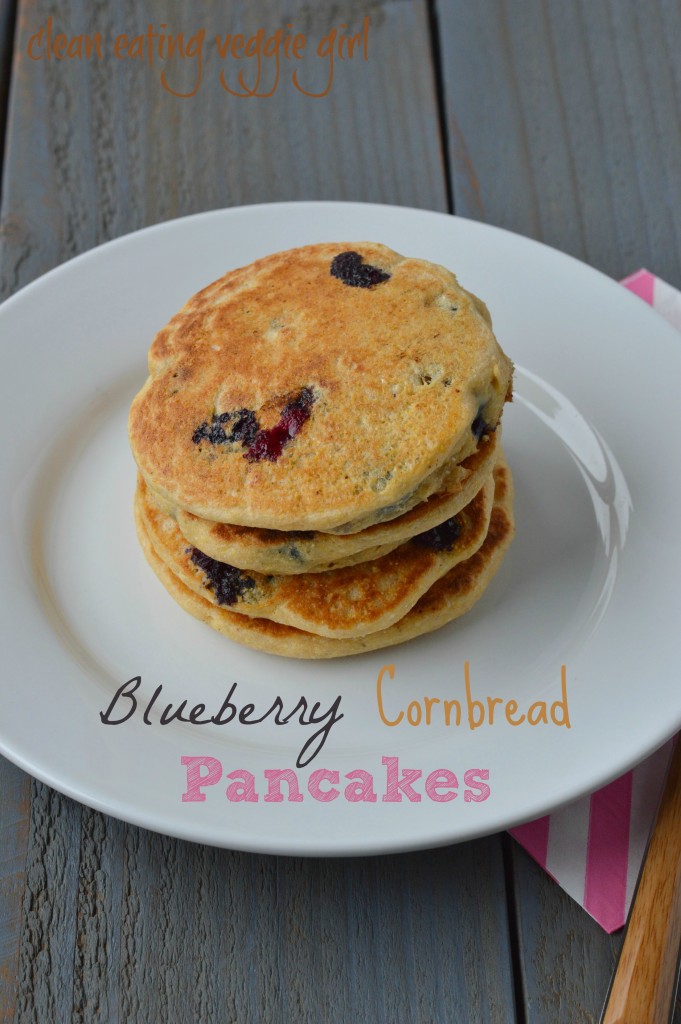 Blueberry Cornbread Pancakes
Vegan
*Adapted from this recipe.
Makes 8 medium pancakes
Ingredients
1/2 cup whole wheat pastry flour
1/2 cup yellow corn meal
2 tsp baking powder
2 tsp coconut sugar (optional, if you prefer a more savory pancake)
pinch of salt
1/4 cup unsweetened applesauce
1/2 tsp apple cider vinegar
3/4 cup unsweetened vanilla almond milk
1/2 cup fresh blueberries
Melted jam or pure maple syrup, optional
Directions
1. Combine all dry ingredients in a large bowl.  Stir to combine.
2. Combine all wet ingredients in a separate bowl.  Whisk together well.
3. Add wet ingredients to dry ingredients.  Stir until just combined.
4. Heat a nonstick griddle over medium heat.  If not nonstick, spray with coconut oil spray.  Pour batter 1/4 cup at a time onto griddle.
5. Cook pancakes for approximately 5 minutes on the first side, or until golden-brown.  Flip and cook an additional 3 to 5 minutes.
6. Serve plain for a savory brinner, or top with melted jam or maple syrup for a sweet breakfast.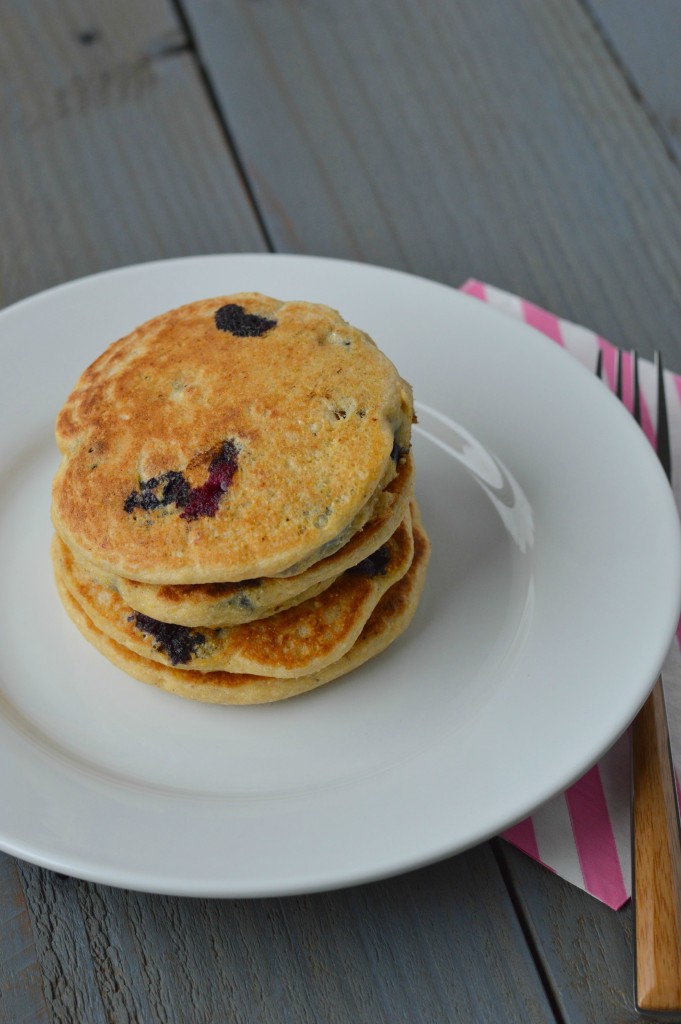 I ate them plain for one meal…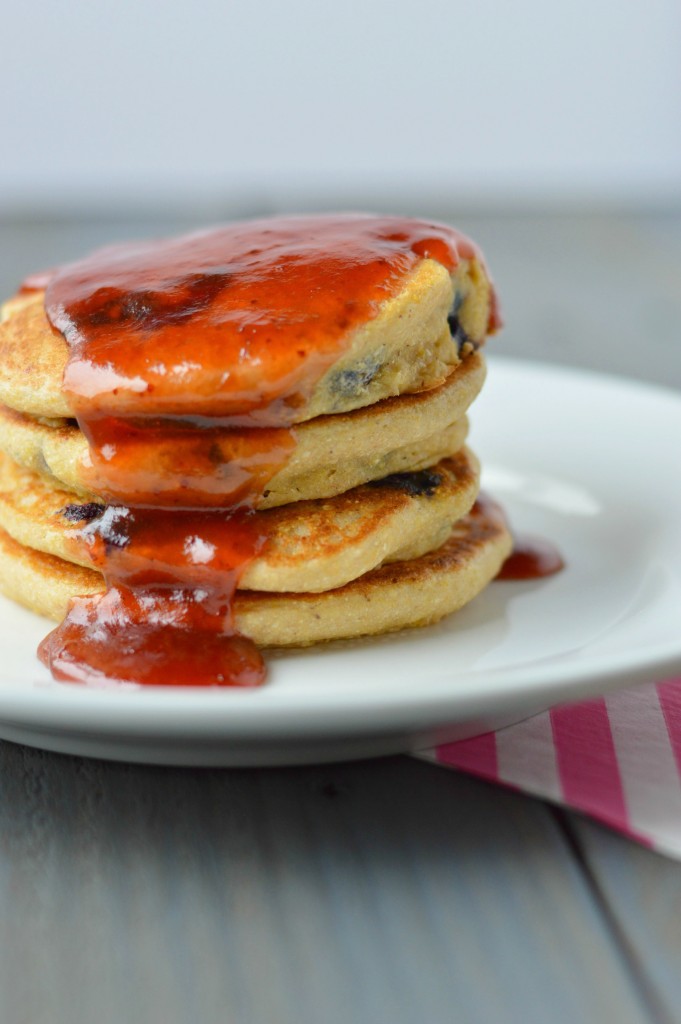 … and topped them with melted (in the microwave for 30 seconds) strawberry jam for another meal.  Both versions were 100% delicious!
What is your favorite fruit to bake with?
Do you have any go-to blueberry pancake recipes?  Share the links in the comments!
Please pin me and share me on Facebook and Twitter using the buttons below!