So this happened on Saturday…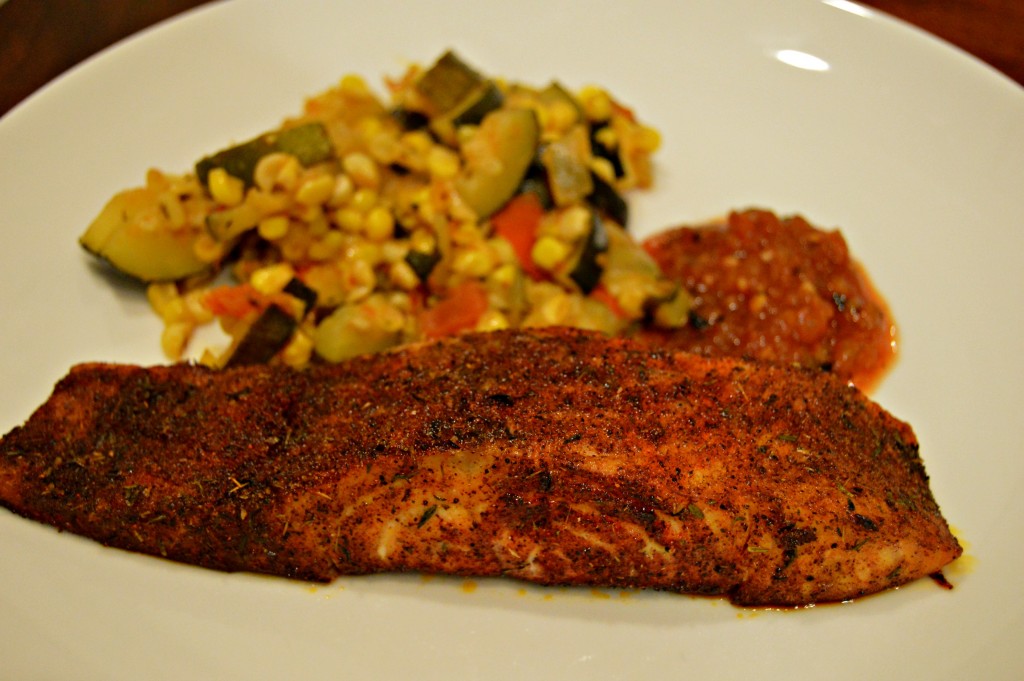 Yyyup.  I got all crazy and ate fish again!

Three Cooks One Kitchen: A Fish Fiesta
I think when I announced I was eating fish again, Erin and Joanna might have been a bit secretly excited.  The majority of our Three Cooks One Kitchen posts have been easily "veggified" for my diet, but it sure was nice to all be able to cook ONE meal and eat it together.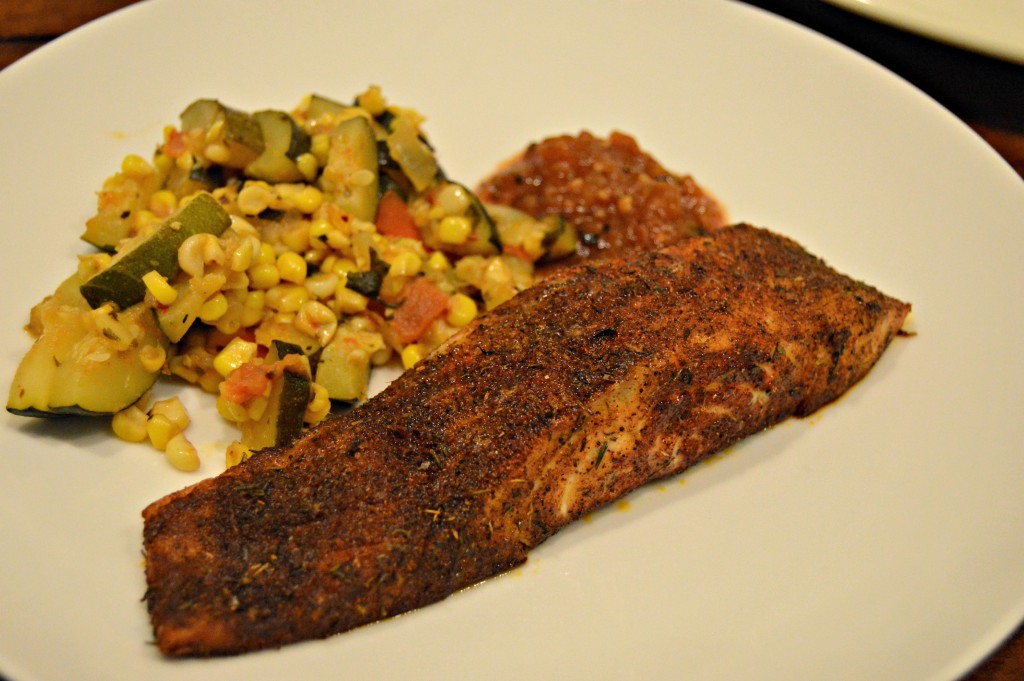 After I announced my return to seafood consumption, Erin came up with a great idea to have our next 3C1K post be centered around fish!  Erin has been trying to incorporate fish into her diet more, and Joanna stated that she did not have a ton of experience cooking fish (I can raise my hand for this one, too).  Because none of us claim to be professionals when it comes to cooking fish, I took to my "bookmarked" recipes and found us a simple recipe to try.  Now that I am pretty new to fish, I think seafood recipes appear in my Google searches more than any other type of food!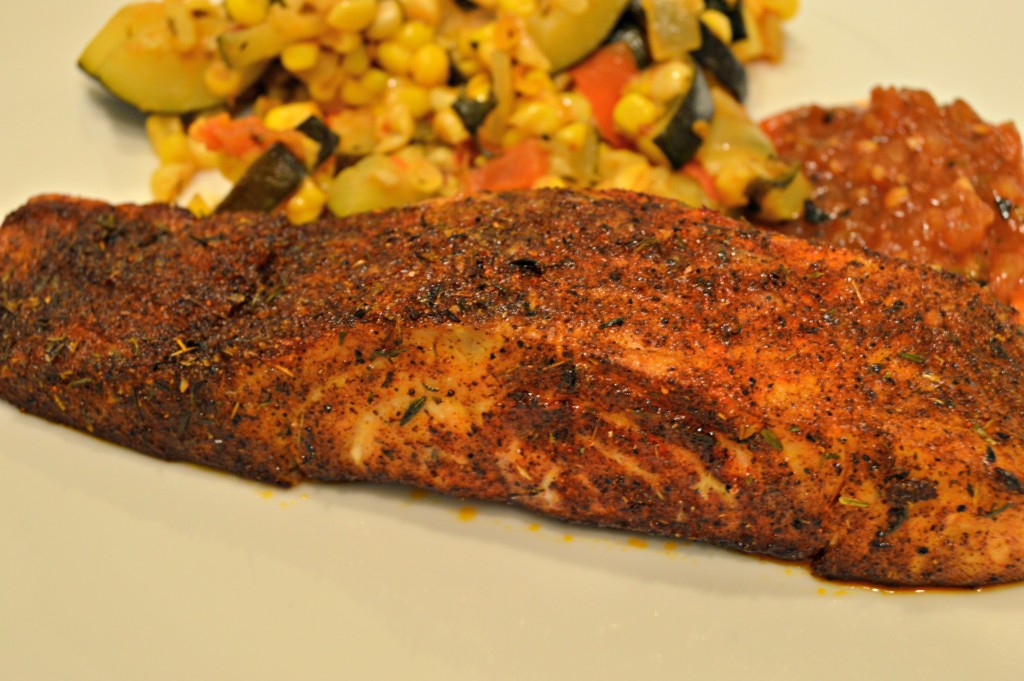 I sent them a couple of links, and we all instantly decided on this recipe for Simple Taco Spice Rubbed Salmon.  We loved the simplicity of the recipe.  Plus, who can say no to anything seasoned like a taco?  Of course it would not have been dinner without a main and a side.  We selected this recipe for Zucchini with Tomatoes and Corn to accompany our salmon.  I like to say that we turned it into a bit of a fish fiesta!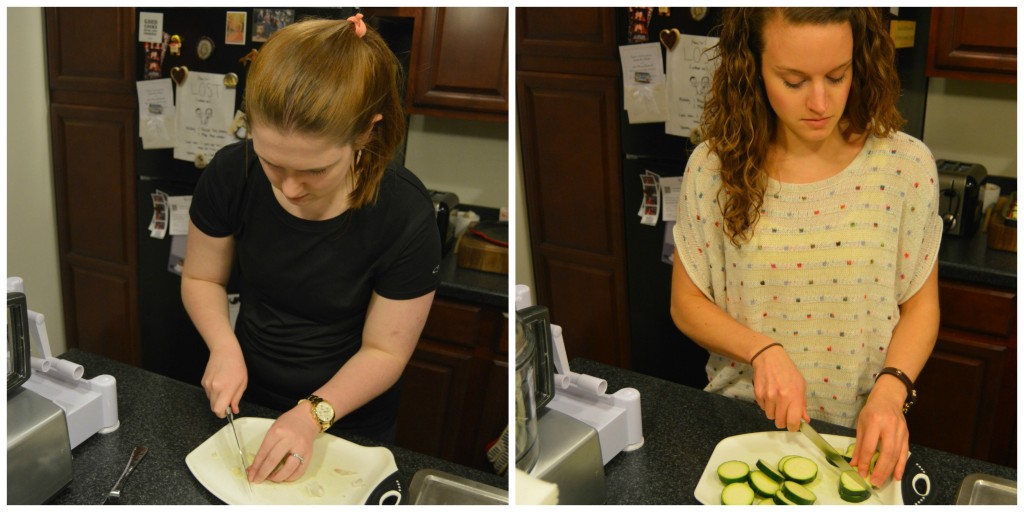 After Joanna and I arrived at Erin's, we spent a good 30 minutes chit-chatting before we did anything cooking-related.  That always seems to happen when the three of us get together 😉  But then we got hungry and figured we should probably get to work on chopping up the veggies and garlic for the side dish!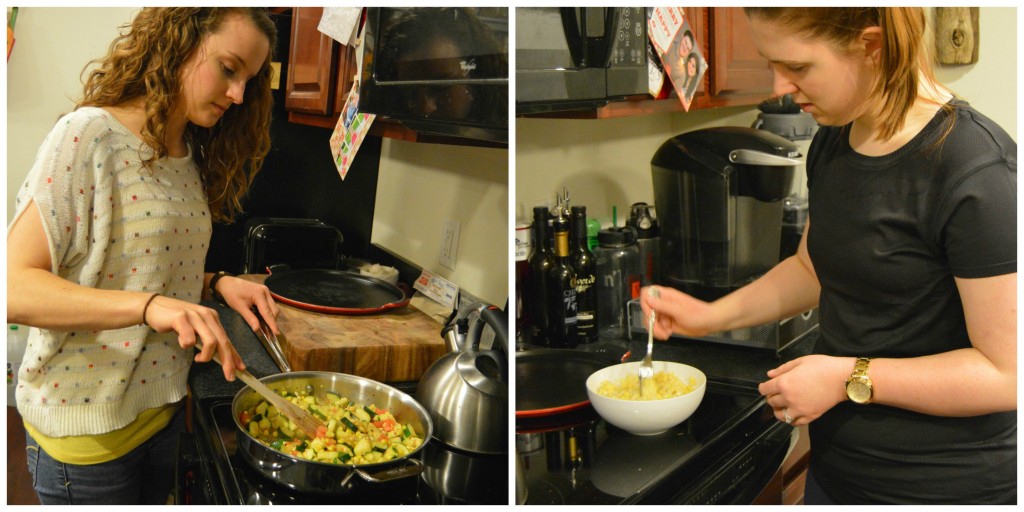 The chopping was the most "difficult" part.  I say "difficult" because this was seriously one of the easiest side dishes to throw together.  Not only was it simple, but it was healthy and delicious.  Joanna brought fresh sweet corn from her freezer, which we thawed out and added to the mix.  Canned corn is great and all, but I definitely think the local sweet corn made it even better.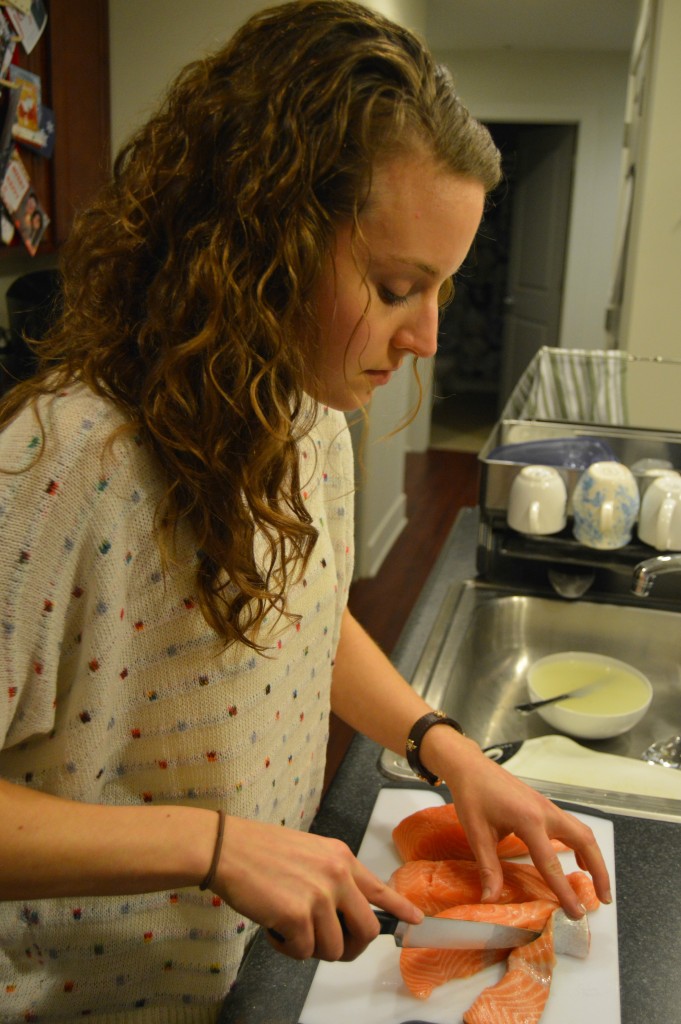 Then it was fish prepping time!  This picture kind of cracks me up for two reasons: 1) I still cannot get used to the fact that I can now not only eat fish, but actually touch and prepare it; and 2) Despite my new willingness to try fish, I could not get on board with leaving the skin on.  It creeped me out!  I removed the skin from Joanna's filet, too, because apparently I was not the only one who wasn't a fan.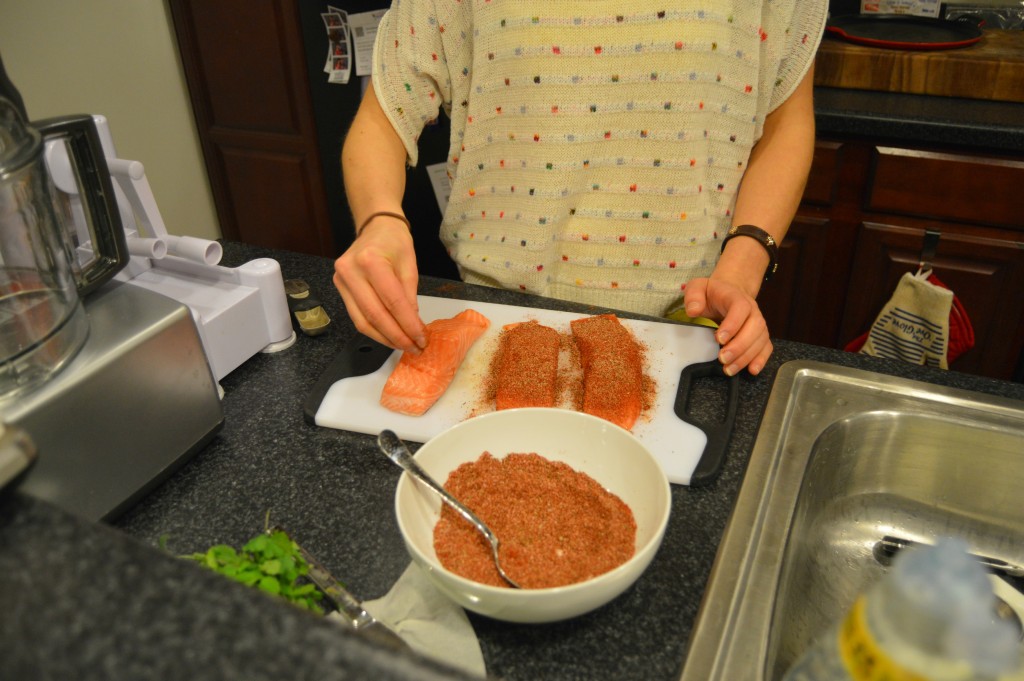 Joanna measured out the seasonings for the rub, and I patted down the salmon filets with plenty of spicy flavor.  This was only my second time preparing salmon, but I have to say that it was so easy to make.  I am now convinced that baked salmon is the perfect dish for seafood newbies.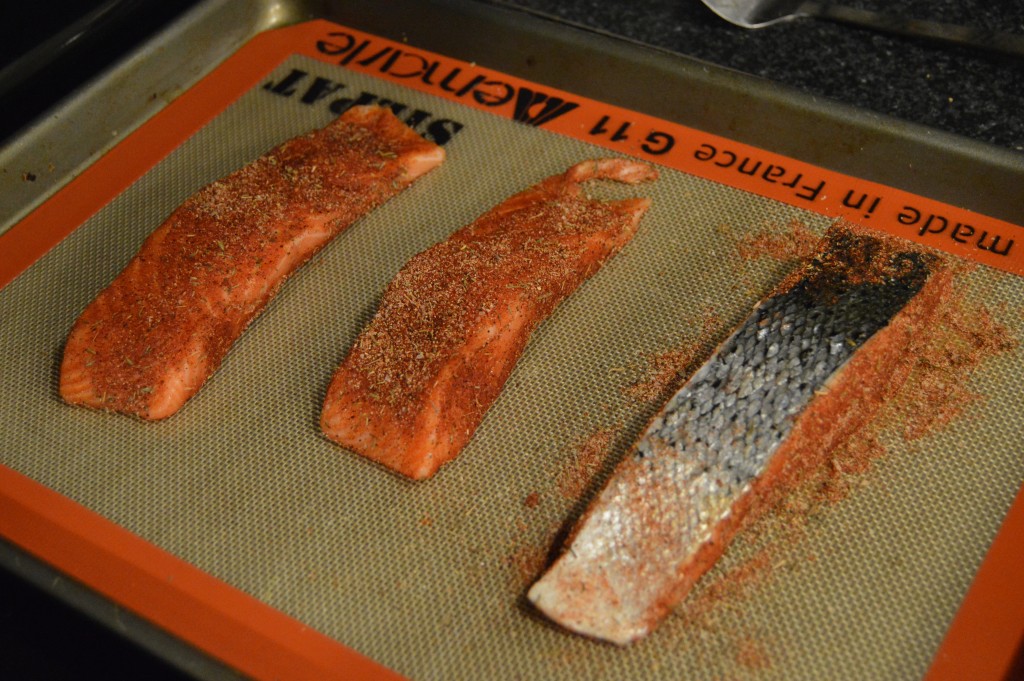 We did not do the greatest job of managing our time <– again, the talking was probably at fault.  Our salmon filets looked like this when our side dish was already finished.  We kept the side heated on low and baked the salmon for about 35 minutes.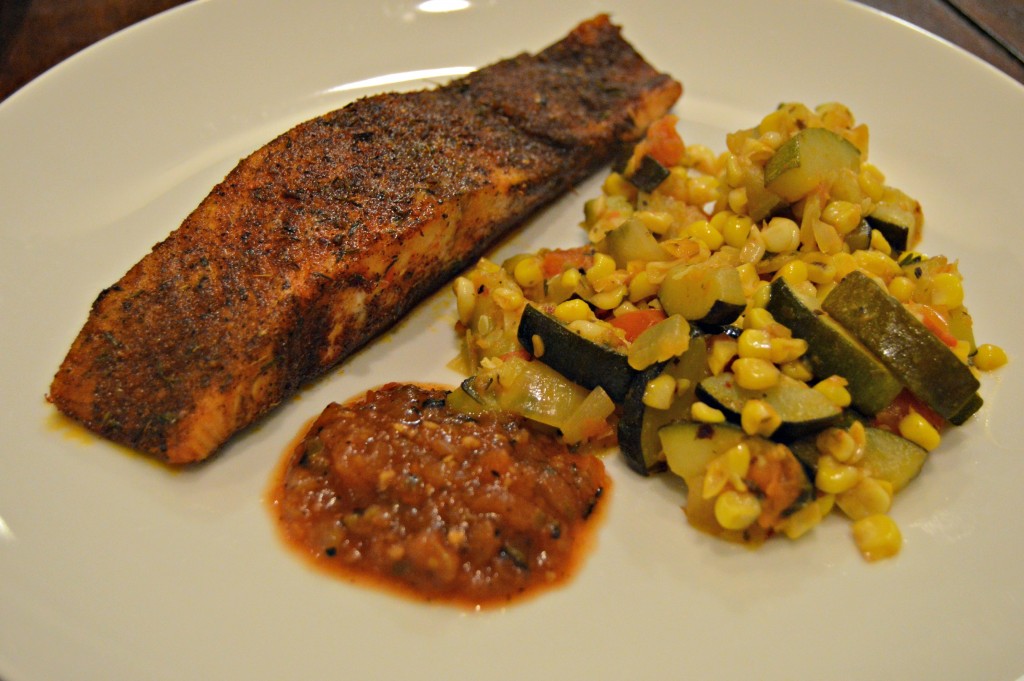 Once the salmon was cooked through and the side dish was (more than) ready, we loaded up our plates.  Seriously, how pretty does everything look?  It was a true fish fiesta!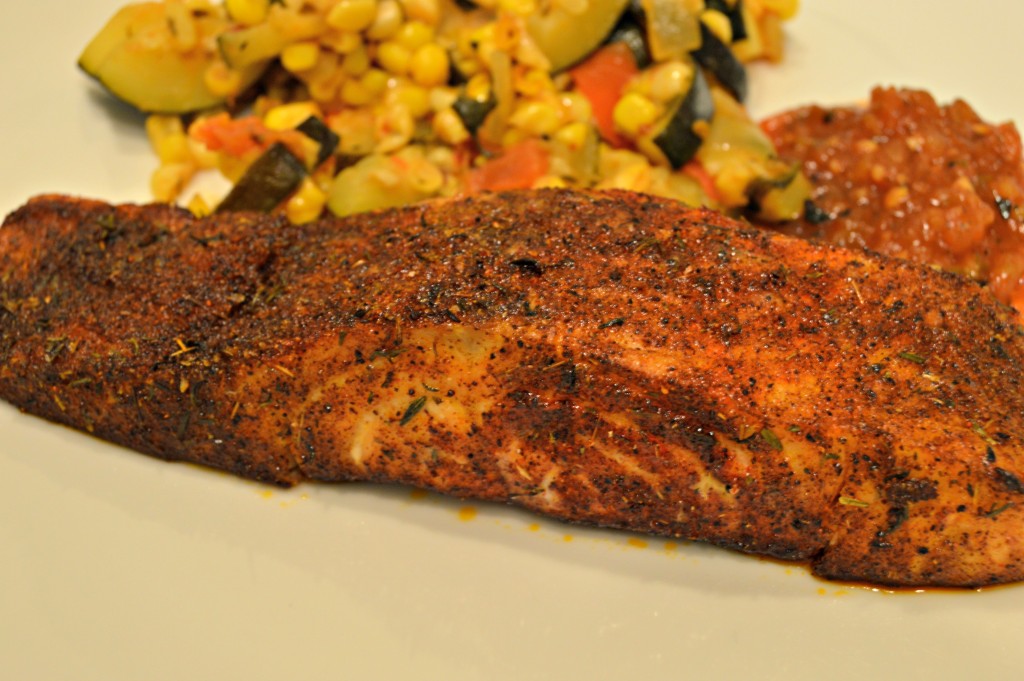 I was so pleased with how the salmon turned out.  I felt like it was perfectly cooked (remember, I don't know much about seafood), I loved the spice rub, and it was incredibly filling.  The whole situation is really quite funny because I am the newbie seafood eater, yet I was the one who enjoyed the salmon the most.  Crazier things have happened, I suppose!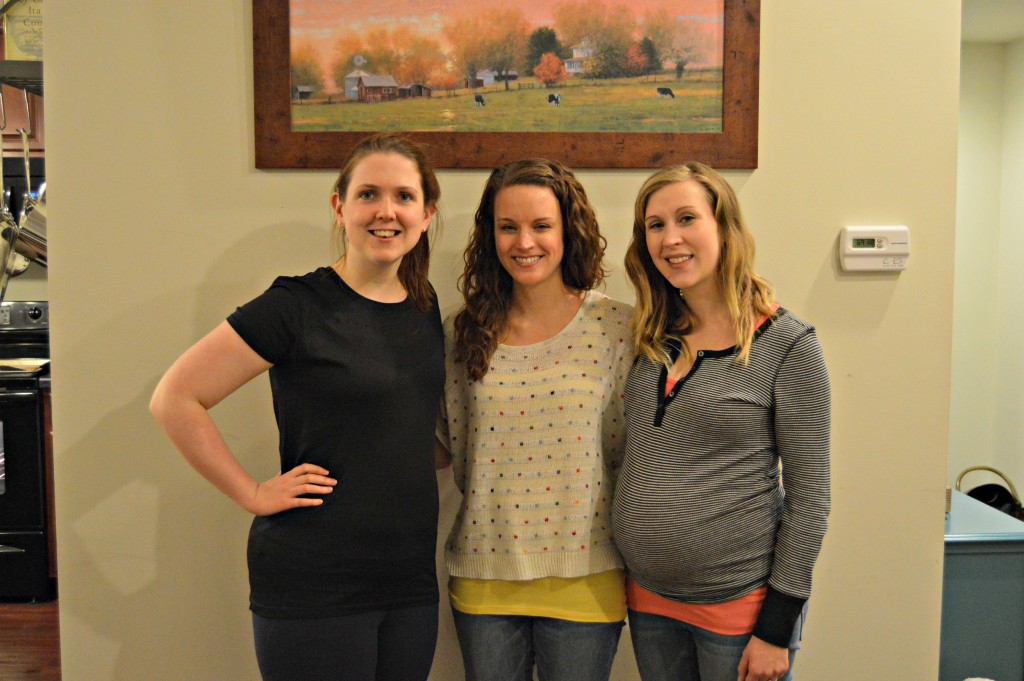 We could not end the night without a picture of the three chefs.  Thank goodness for Erin's husband, Josh, arriving home from his movie before we left.  Lord knows that neither of us knew how to work the timers on our cameras!
Check out the other two cooks' posts here:
Erin's Three Cooks One Kitchen post
Joanna's Three Cooks One Kitchen post
Have you tried spicy, Mexican-flavored salmon before?  I happen to be a huge fan!