A peanut buttery, chocolatey French toast recipe perfect for your next weekend breakfast.  This vegan French toast also freezes and reheats (in the toaster, for me) beautifully!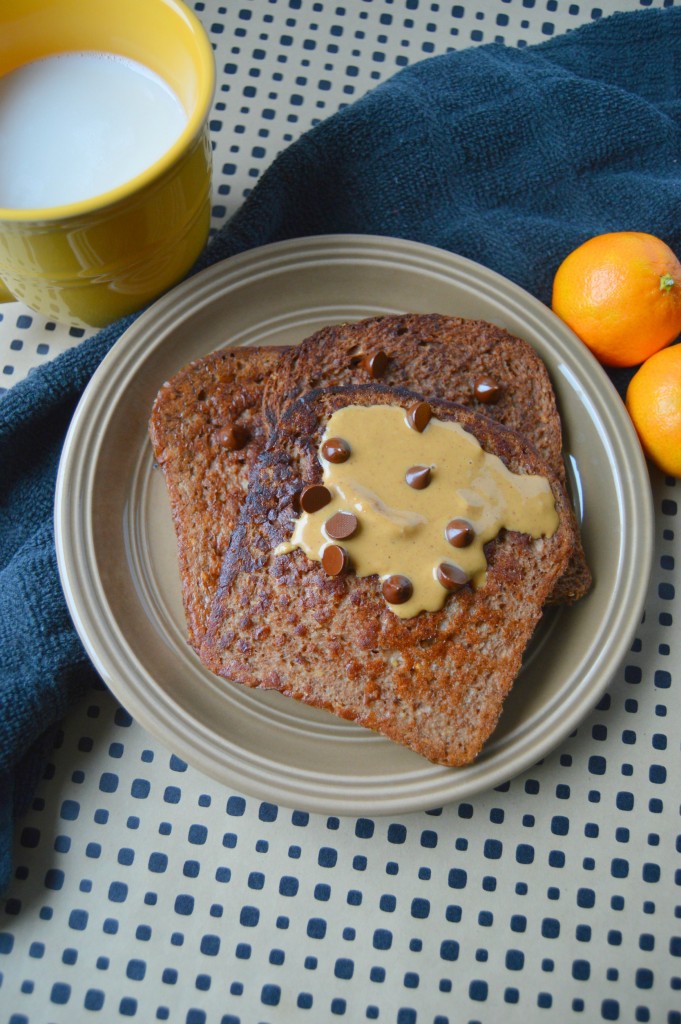 I know a few people out in this world who do not like eating peanut butter and chocolate together.  I'm looking at you, Erin.  If your thoughts are anything like mine,  you may be wondering how in the heck disliking the peanut butter and chocolate combination is even possible.  But alas, it apparently is.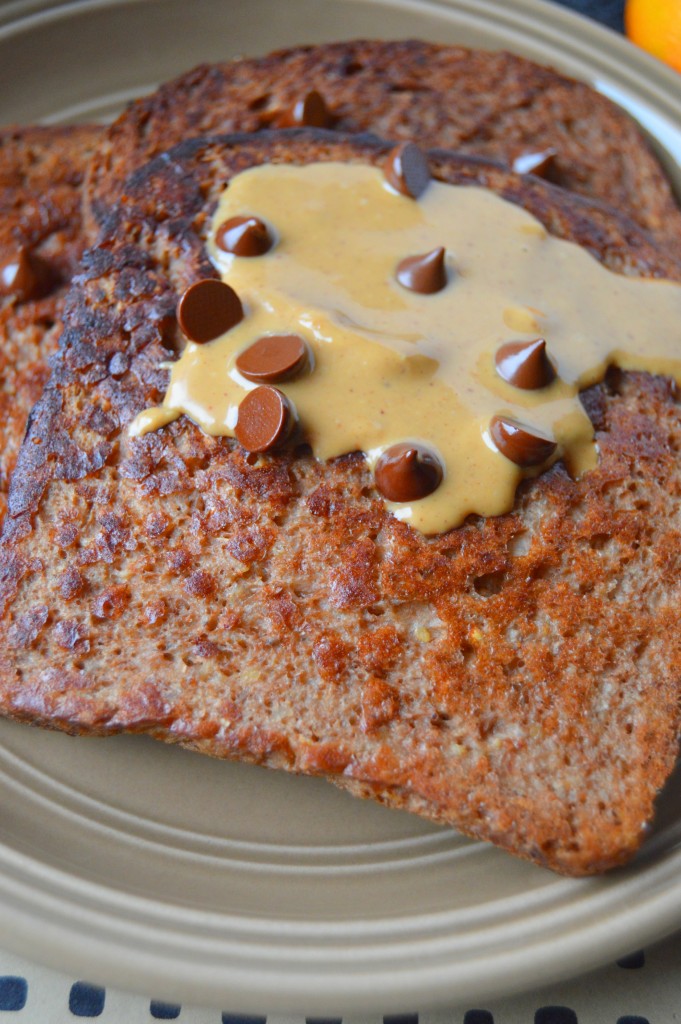 Luckily, I know there are quite a few of you out there like me.  You love peanut butter.  You love chocolate.  And the combination of the two is even better.
What I am trying to tell you is that you are sure to love this peanut buttery, chocolatey French toast recipe!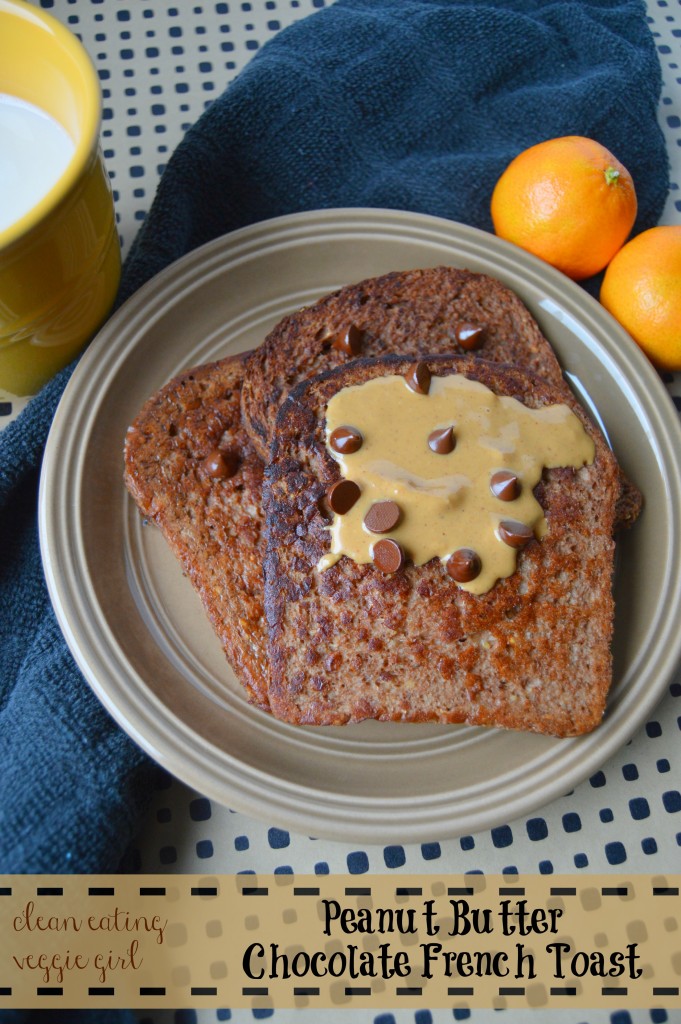 Peanut Butter Chocolate French Toast
Vegan
Serves 2
Ingredients

1 medium very ripe banana, sliced
1 cup unsweetened vanilla almond milk
1 tsp pure vanilla extract
2 TB peanut flour (I used PB2)
1 TB cacao powder (cocoa powder works, too)
6 slices of your favorite bread*
nut butter and vegan chocolate chips for topping, optional
*I recommend using thick and/or sturdy slices of bread to ensure that it holds together on the griddle.  I used Ezekiel sprouted bread for my French toast.
Directions
1. Combine banana slices, almond milk, vanilla extract, peanut flour, and cacao powder in a blender.  Blend until smooth.
2. Heat a nonstick griddle over medium heat, and pour French toast batter into a shallow bowl.
3. Dip each slice of bread into the batter and coat both sides.  Using tongs, remove each slice of bread and let any excess batter drip off of the bread into the bowl.
4. Place each slice of battered bread onto the heated griddle.  Cook the French toast for approximately 6 to 8 minutes, or until the bottom of each slice is golden brown.  Flip, and continue cooking an additional 6 to 8 minutes.  If you have a small griddle pan like I do, you may have to do this in two batches.
5. If desired, top your French toast with additional nut butter and chocolate chips.  I used extra peanut butter, but I imagine this would be great with almond butter, too!  Or, you could certainly go more traditional and top the French toast with pure maple syrup.  For the heads up, I personally do not think this toppings step should be optional.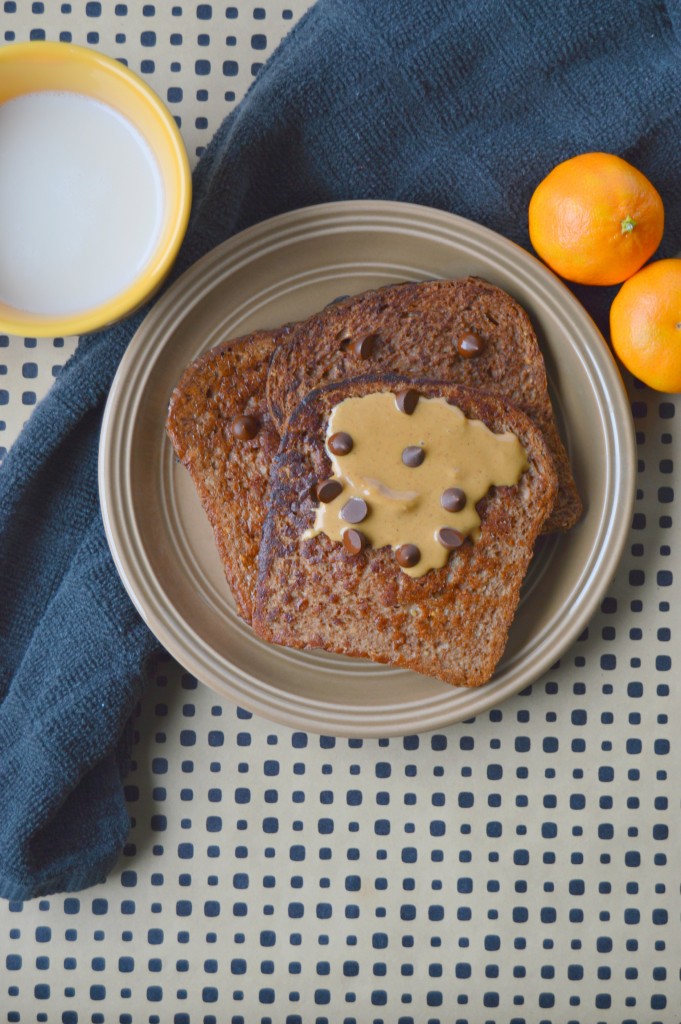 If you are a sweet breakfast fan like I am, this is your kind of recipe.  But do not fret if you are a savory breakfast lover.  Simply make this French toast for "brinner" or dessert instead.  Or heck, eat it for all three occasions!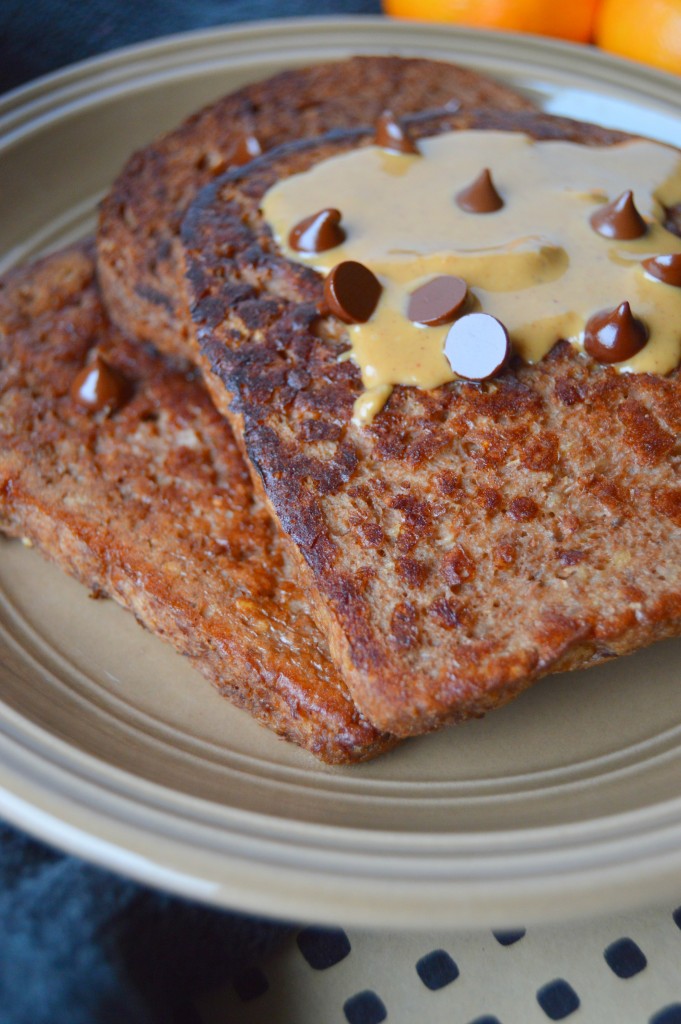 What is your go-to French toast recipe?  Please share the links in the comments!
I so appreciate your support and would love if you pinned this recipe and shared it on Facebook and Twitter using the buttons below.