In the case of this post, the general definition that I use for "clean eating" is as follows: Clean eating involves choosing to eat nutritious, whole foods that are in their purest forms, while avoiding processed foods.  It is also important to note that I am not a Registered Dietitian, nor do I have a medical degree.  These are simply statements that I am making based on my own personal experiences.
Clean Eating.
It is quite the hot topic these days, isn't it?  With the new year in full swing, so many of us have been searching for "clean eating" recipes (my daily page views have nearly doubled since the 1st), and many have set out on the path to eat a healthier diet.  While I am a major proponent for adopting a "cleaner" diet and leading a healthier life, I also feel as though I would be cheating you by not sharing my own personal struggles and mishaps within the realm of the clean eating world.
This may seem a bit dramatic, but I believe that clean eating has the ability to become somewhat of a deathtrap.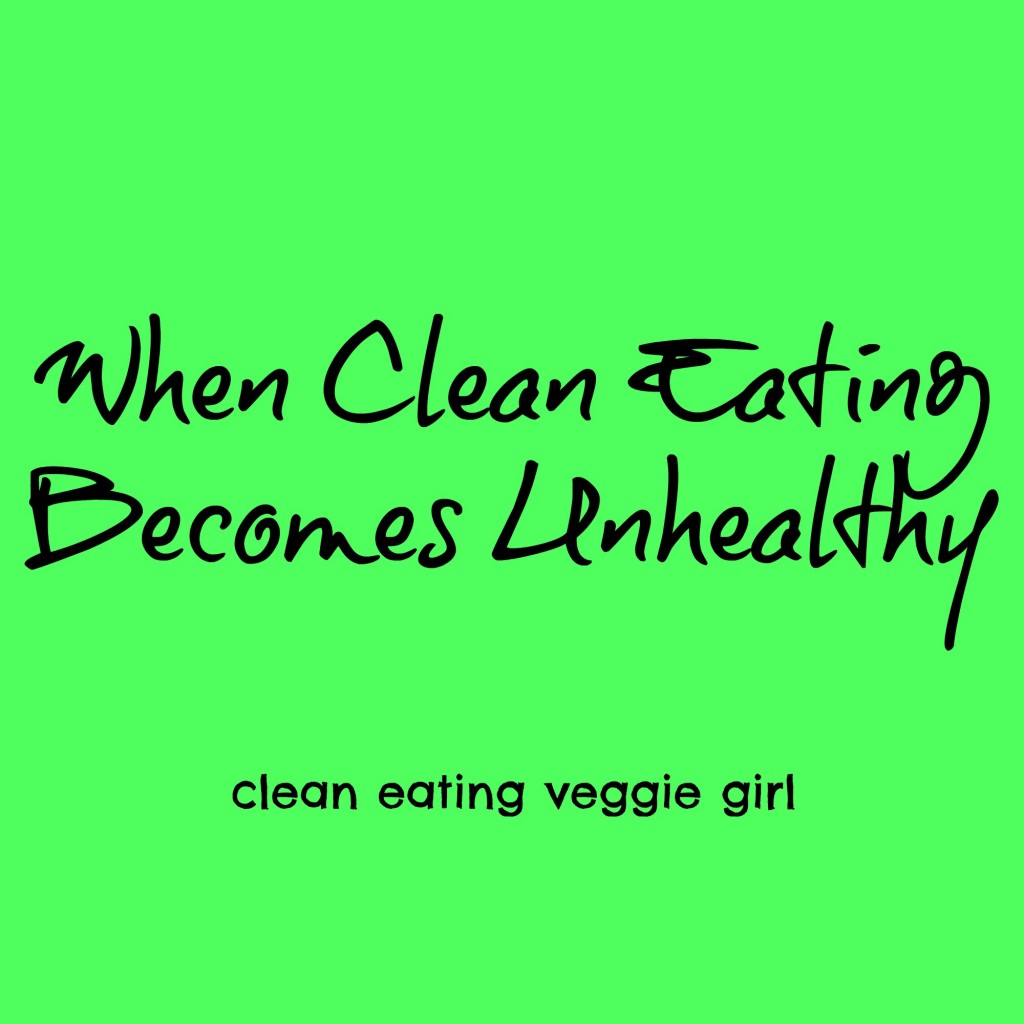 We'll get to that deathtrap part in a second.  But first, let's start with my thoughts on the positive aspects of clean eating.

Clean eating is healthy when it results in one increasing the amount of vegetables, fruits, whole grains, lean proteins, and healthy fats in their diet.
Clean eating is beneficial to the body when water consumption increases and, as a result, the amount of soda/sugary drinks/coffee consumed decreases.
Clean eating is positive when it encourages people to cook at home and eat in more, as opposed to resorting to restaurant meals on a regular basis.
Clean eating is beneficial when one's healthy eating habits become contagious towards those around them, and family members and friends adopt a healthier lifestyle.
Clean eating is healthy when it encourages people to try new foods.  I certainly never thought I would be a brussel sprouts or tofu lover!
Clearly, there are many positive aspects to eating a clean diet.  Trust me when I say that I am all for clean eating (it is a part of my blog name, after all).  But I have to emphasize my belief that some very fine lines exist when it comes to clean eating.  Where do we draw the line between when clean eating is positive and healthy, and when clean eating becomes obsessive, guilt-ridden, overpowering, negative, and unhealthy?

Clean eating is not healthy when it becomes an obsession.  Healthy eating should not consume a person and his or her thoughts.
Clean eating may be a negative experience if a person is too focused on whether or not he or she has eaten enough vegetables or enough fruits.
Clean eating may not be beneficial if it leads to counting calories.
Clean eating can negatively affect one's social life when it results in avoiding social situations or eating out due to a fear of not being able to eat "clean enough."
Clean eating can be detrimental when food begins to be categorized as "good" or "bad."
Clean eating can be a negative experience when one feels great after eating a "clean" meal, and then awful  (mentally) after eating a "not clean" meal.
Clean eating can be unhealthy when one completely cuts out food they used to love instead of simply eating it in moderation.
As I mentioned above, I am speaking from experience with this post.  Clean eating certainly has a positive side and many health benefits for so many people.  But I have also personally witnessed, felt, and experienced the negative effects of sliding down the slippery slope of obsessive clean eating.  Some may call this "orthorexia."  Regardless of what you want to call it, it is by no means fun.
My college-age self would have told you that you were nuts if you said that two years later I would be headed down a path toward obsessively eating clean, thinking about food far more often than I should, and actually fearing social situations involving "unhealthy" food and how they would impact me mentally and emotionally.  I am fortunate enough in 2015 to say that I am in a much better place than I was in 2013 and the first half of 2014.  I stepped back, took a look at my food habits, and made changes.  Not to say that these changes were easy.  They took a good year and a half to fully adopt.  But I am now feeling better about eating out at restaurants and gatherings, treating myself more often, and enjoying food a lot more.  I certainly still have challenging moments and challenging days, but am happy to say that I am finally finding that balance in healthy living, and I am experiencing the positive sides of clean eating.
I don't mean for this post to insinuate that adopting a lifestyle of clean eating will lead to orthorexia, but I want people to know that it can (even to those of us who think, "it won't happen to me").  I 100% support those of you who are turning over a new leaf in 2015 and are eating cleaner, but please do so in a way that is not all or nothing.  Do so in a way that still incorporates your favorite treats, your favorite restaurant meals, and plenty of social gatherings.  Healthy living is about clean eating and eating treats, all while not feeling bad or guilty.
Happy eating 🙂
What are your thoughts on "clean eating?"
Edited to add: I wrote this post about a week ago.  Between then and now, Jen shared a similar post about clean eating.  Jen is a Registered Dietitian, so be sure to check out her take on clean eating, too!