The perfect healthy, clean, gluten-free breakfast is created with this Fried Plantain and Sausage Breakfast Bowl. It's AIP Paleo-friendly, too!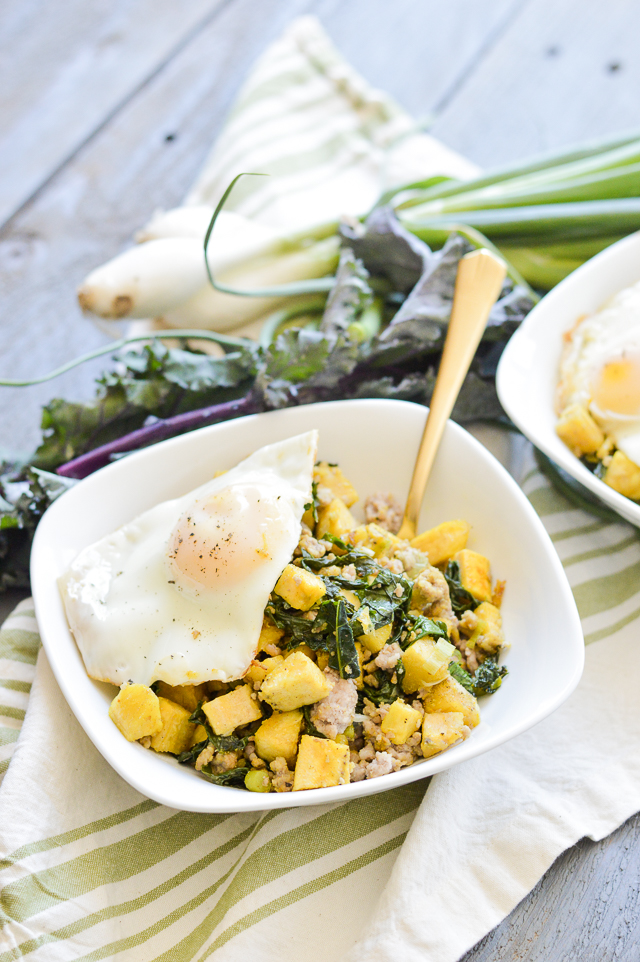 Joining a CSA has been such a good thing for me.  Even though I am a total Type-A personality and simply cannot resist meal planning every week, the CSA has forced me to loosen my grip on having an exact plan.  Since I usually go grocery shopping on Friday or Saturday for the week ahead, yet we pick up our CSA haul on Mondays, I really have no way to plan each upcoming haul into our meals.  And while this may sort of seem like it might cause some freak out moments for me, it has actually been really great.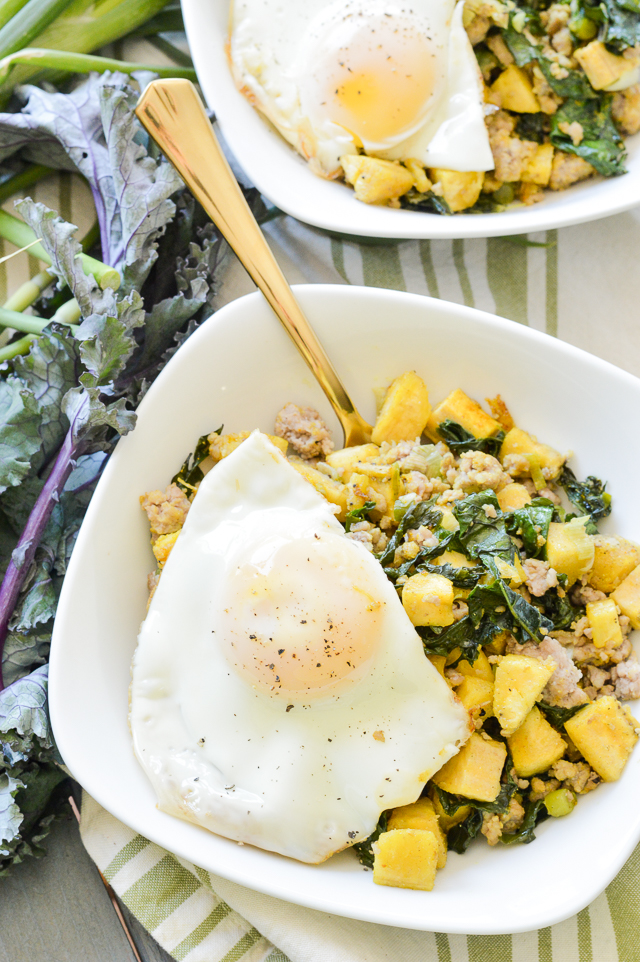 We have been trying and cooking with new-to-us vegetables (like kohlrabi and garlic scapes, so far), and have even created some new dishes that we may never have thought of otherwise.  This Fried Plantain and Sausage Breakfast Bowl is a twist on one of those recipes.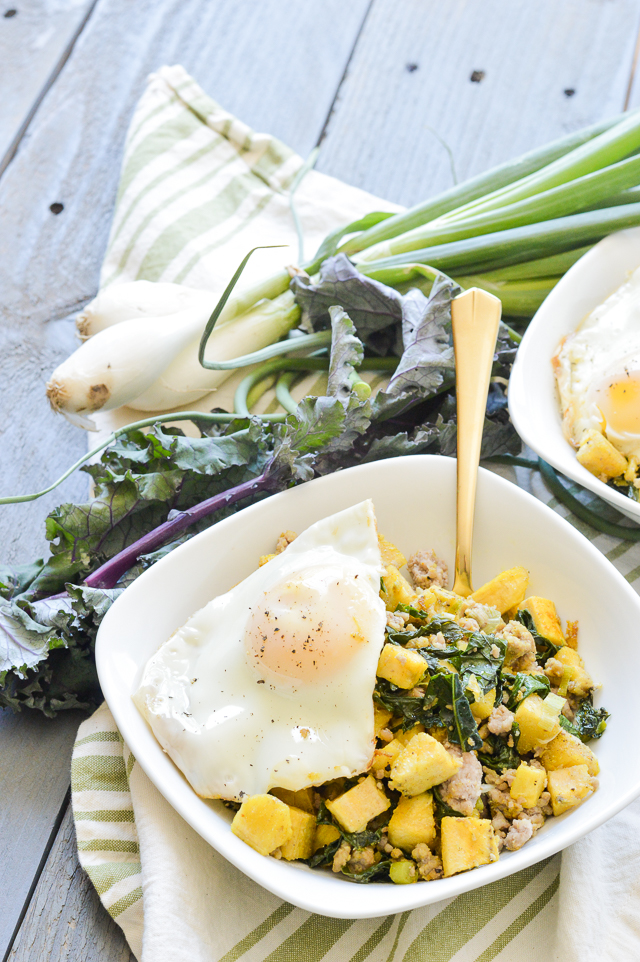 During our first week of the CSA, we received a TON of greens.  On one particular evening that week, I was digging through the fridge to come up with a side for our main dish.  I grabbed a head of kale and a green plantain off of the counter and turned them into a seriously delicious side dish.  Did I know it was going to be delicious when I started making it?  No.  Am I glad I made it?  I'd say yes considering I have made it again at least three times since then and have now made it into a main dish perfect for a full meal <– AKA this recipe!
And for the heads up, you can totally use both green and yellow plantains for this recipe.  While I personally love it with green (less sweet) plantains, the more ripened yellow version totally works, too.  There is nothing wrong with a little sweet and savoriness, right?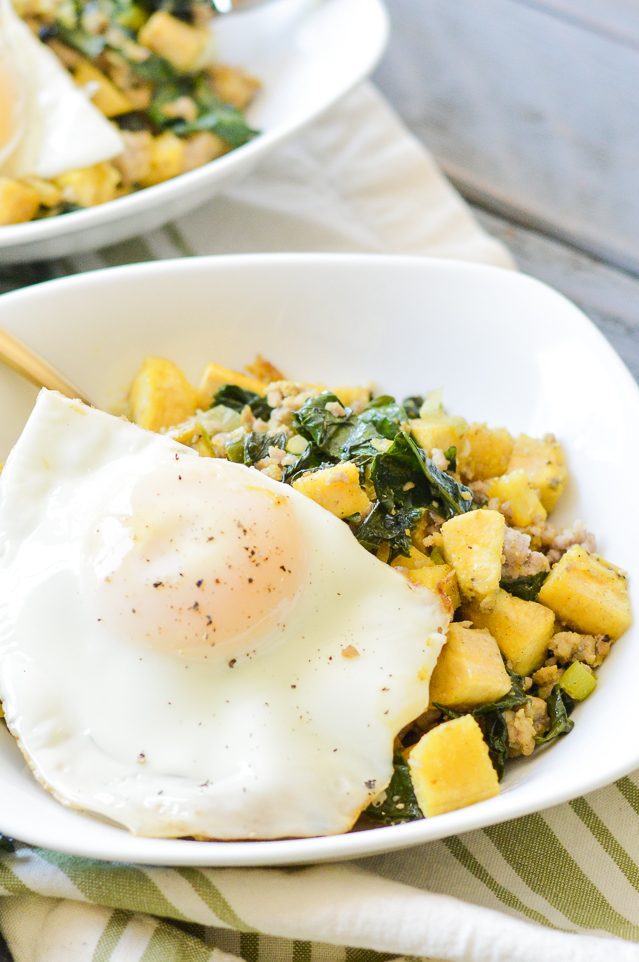 Fried Plantain and Sausage Breakfast Bowl
AIP Paleo Option, Paleo, Gluten-Free, Grain-Free, Dairy-Free, Nightshade-Free, Nut-Free, Soy-Free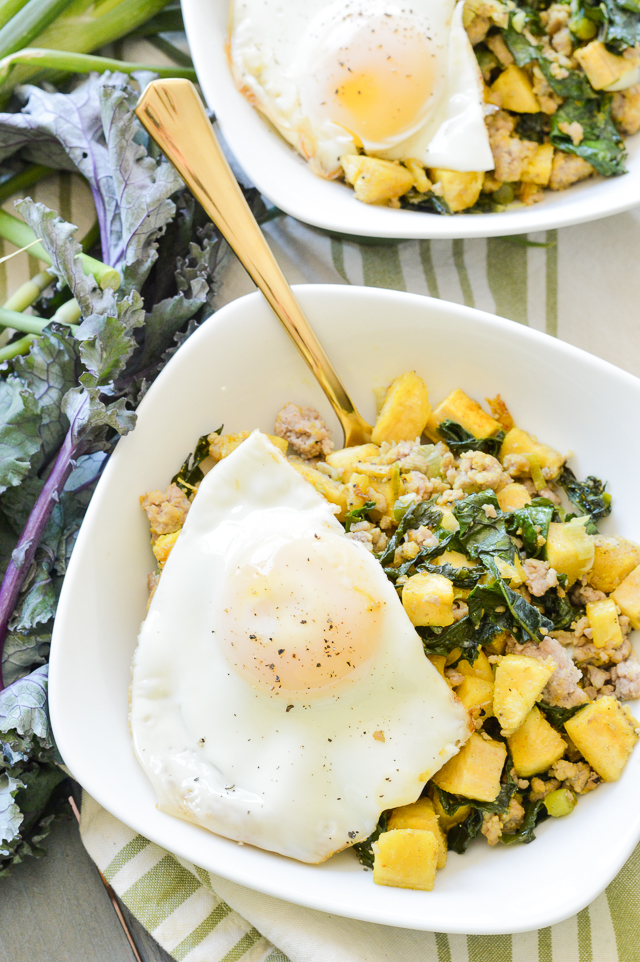 Ingredients
1 TB of coconut oil or ghee
2 green onions, chopped
3 garlic scapes, chopped*
1 LB of pasture-raised ground pork
2 medium green plantains, peeled and cut into 1/4-inch cubes
1 large head of organic kale, roughly chopped
1 tsp of pink Himalayan sea salt
1 tsp of onion powder
1 tsp of garlic powder
1/2 tsp of ground turmeric
1/2 tsp of ground black pepper (omit if AIP)
4 organic, pasture-raised eggs (omit if AIP)
Instructions
Heat oil or ghee over medium-high heat in a large skillet. Once hot, lower the heat to medium and add onions and garlic scapes. Saute for 1 to 2 minutes.
Add ground pork and break up into small pieces with a spatula. Stir in plantains and kale. Cover and cook over medium heat for approximately 10 to 12 minutes, stirring frequently, or until the pork is browned and the plantains are cooked through.
Add seasonings and stir to combine.
Prepare eggs however you like. I cooked mine over hard since I am pregnant, but this would be delicious with poached or sunny-side up eggs.
Divide into four bowls and top each bowl with an egg.
Notes
*If you do not have access to garlic scapes, use 2 to 3 cloves of minced garlic.
7.8.1.2
3
https://cleaneatingveggiegirl.com/2017/06/29/fried-plantain-and-sausage-breakfast-bowl/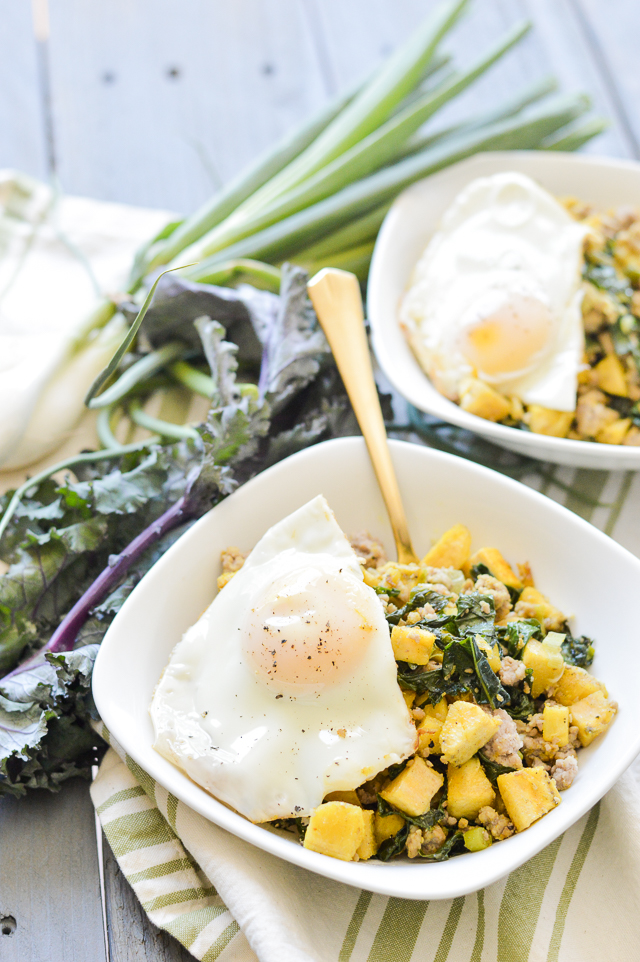 A #CSA inspired Plantain and Sausage Breakfast Bowl #glutenfree #Paleo #recipe Click To Tweet