Four weeks have quickly passed and it is time for another pregnancy update!  This time we are recapping weeks 23 through 26.  Oh, and I am hosting a fun giveaway that you can get all of the deets for at the end of this post!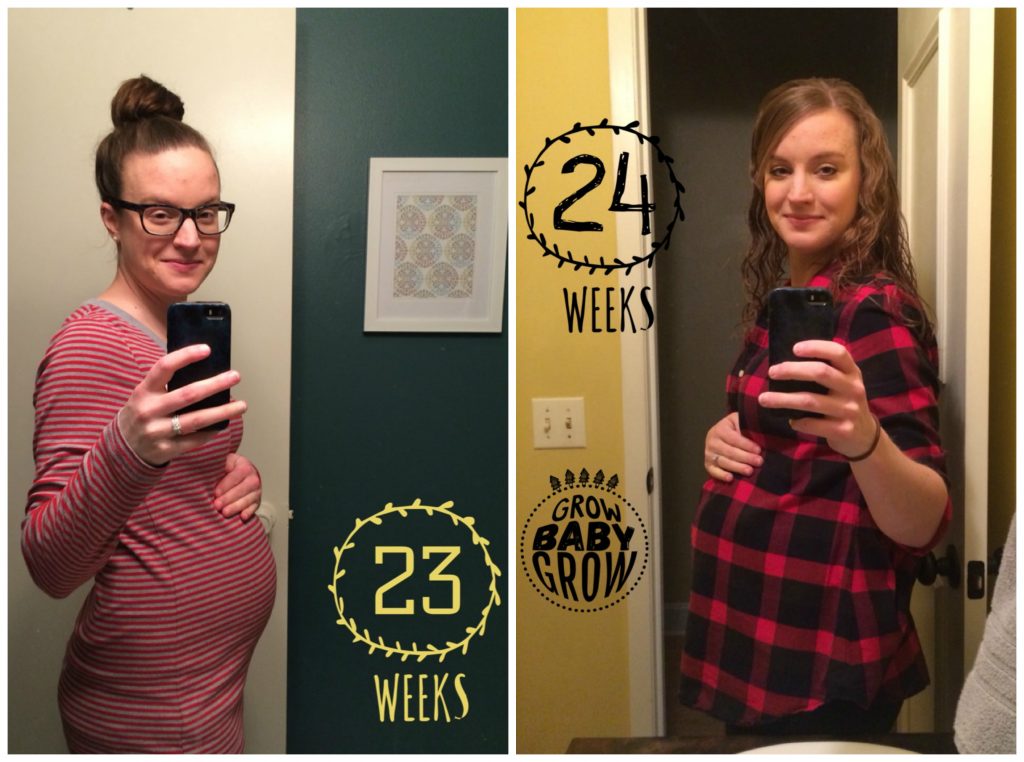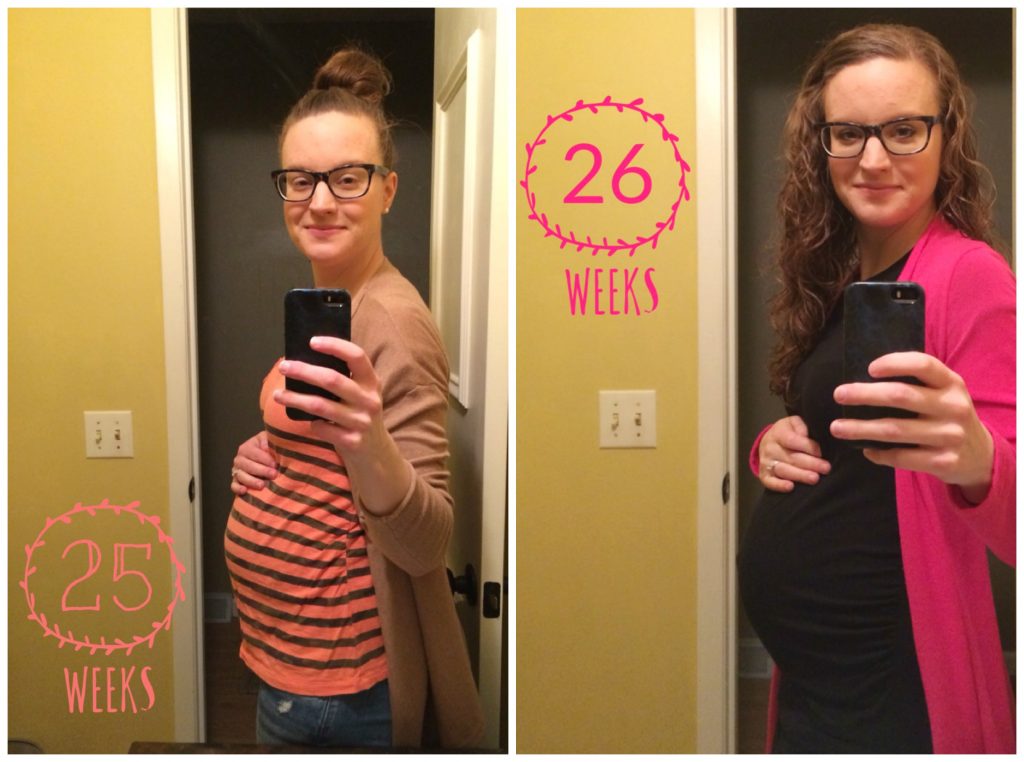 This week, baby is the size of a: hothouse cucumber (or approximately 14 inches and 1.75 pounds)
Due date: July 13, 2017
Gender: We won't know until we meet baby, but we are both still thinking girl at this point.  Just the other day I was actually thinking about how surprised we will both be if it is a boy!
Exercise: Still just walking and still having intentions of getting back into prenatal yoga.  I really need to get on that!
Maternity clothes: I'm essentially in maternity clothing only when it comes to my weekend attire and have been getting by with leggings and tunic tops/dresses for work.  I am continuing to hope like crazy that the weather will start warming up enough where I can just wear dresses and sandals without any leggings.
Belly button: The belly button is still very much out.  Both Jeremy and I continue to get a kick out of it because, let's be honest, it looks weird!
Sleep: Sleep has been a bit all over the place.  Some nights I get about 10 hours of sleep and only have to get up to go to the bathroom twice, while other nights I toss and turn and am up four to five times.  I'm starting to get more uncomfortable at night, and I've found that side sleeping often leads to hip pain.  I've also been experiencing nights where I will wake up to use the restroom and then feel wide awake and can't get back to sleep for hours.  Luckily, I feel like I have more nights of good sleep than bad, so I'll take it.
Food cravings/aversions: I'm still holding onto the baked sweet potato and red sauce aversions that I mentioned in the last update post.  Seafood is also pretty much out unless it is in the form of tuna salad.  Other than that, there is really nothing I can't stand the thought of eating.  Vegetables have been sounding better and better as the weeks have gone on, so I feel like a lot of my meals have been on the healthier side compared to several weeks ago.  Of course, sweets like chocolate and ice cream are definitely still making an appearance!  You can read more about my eating philosophy during pregnancy here.
Symptoms: I am still experiencing frequent urination and more heartburn.  I've also had an increase in back pain other than what I normally experience.  I find these all to be pretty "typical" pregnancy symptoms, so I can't say they are anything that I was not prepared for already.  I keep reminding myself that it could be so much worse (AKA morning sickness).
Movement: Yes, and lots of it!  Baby still moves the most when I am laying down or resting.  His or her kicks, punches, and rolls are not only felt by Jeremy and me, but we are also able to see them from the outside.  It is so, so fun to observe him or her in action.
Labor signs: No and I would like to keep it that way right now!  I pray every single day that baby stays in there until at least 39 weeks.
What I miss: Mostly just kombucha and being able to sleep on my back.  I really wasn't much of a back sleeper before I got pregnant, but for some reason it is the most comfortable position for me most nights.  I guess I'll just have to make do with the side sleeping for a while longer!
What I'm loving: I am still loving all of the baby kicks and movement.  I feel like he or she is getting more and more active (or I can just feel it more), which helps keep me quite entertained!
Now that we are so close to the third trimester, I feel like we are really kicking things into gear with baby preparations.  We feel relieved to have our doula, pediatrician, and daycare provider all secured.  Gosh, that has been such a relief!  But now we are right in the middle of trying to accomplish several house projects before baby arrives, including replacing flooring, a patio door, and toilets in our bathrooms + plenty of painting.  Jeremy got to work on painting the nursery this past weekend, and I am so excited to finally start decorating once that part is finished.  I hope to eventually share pictures of the nursery once it is ready.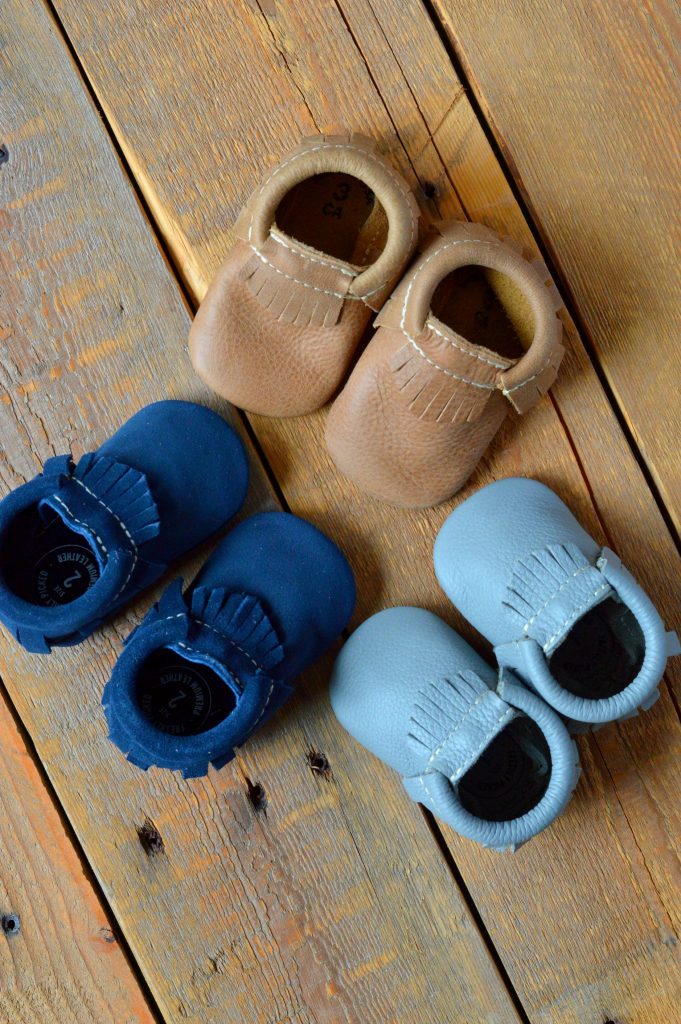 Of course decorating the nursery is not the only fun thing on my mind.  I've been sneaking in some fun baby-related purchases, as well.  I think Jeremy and I are actually lucky that we do not know the sex of the baby because I have a feeling we would be tempted to buy a lot more clothing.  Instead, we are focusing on what we think baby will really need, with the mentality that the grandmas will likely go out shopping for clothing pretty much as soon as he or she makes their arrival.  But one product I have made an exception for is Freshly Picked moccasins.
I've been obsessed with Freshly Picked's moccs since before I was pregnant.  I always saw my friends Joanna and Jordan dressing their sweet little girls in them and I could not resist the cuteness!  So naturally when I found out I was pregnant, multiple pairs of moccasins instantly jumped to the top of my "must stock up on" list.
I love Freshly picked's moccasins for about a million reasons, but my top three would have to be: 1) they are insanely cute (duh!), 2) they have tons of the most unique patterns and colors ever, many of which are extremely gender-neutral, and 3) they are soft-soled shoes that actually stay on babies' sweet little feet.  Speaking of baby feet, I'm also obsessed with the fact that with regular wear and tear these moccasins become little keepsakes when babies' footprints get ingrained into the soles.  My stockpile is up to three pairs so far, and I'm quite certain I'll be keeping every last one even once they have been outgrown.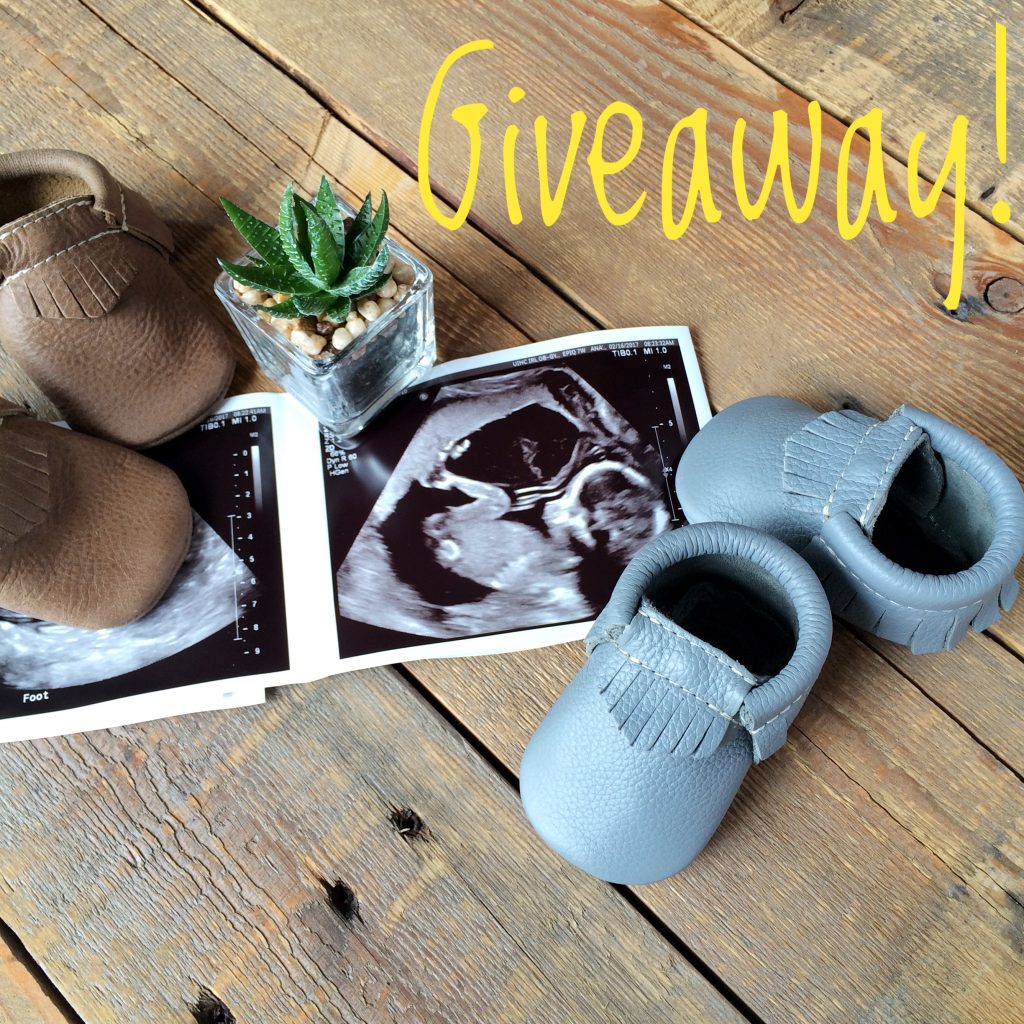 Since I absolutely adore the Freshly Picked moccasins, I wanted one of you to win your own pair for your favorite baby in your life.  Freshly Picked has kindly offered to give away a pair of their moccasins over on my Instagram account.  You can select any size and color you desire.  Please be aware that you must reside in the United States and cannot have won any other giveaway including Freshly Picked moccasins within the last 60 days.
To enter the giveaway, head to my Instagram account, look for the picture above, and follow the instructions in the Freshly Picked giveaway post.  Good luck!
26 Week Pregnancy Update + @FreshlyPicked moccasins giveaway! #babygiveaway
Click To Tweet
This post is sponsored by Freshly Picked.  I received free product for writing this post, but all thoughts and opinions are my own.