Dark Chocolate Covered Fried Plantains are a delicious gluten-free, Paleo, and vegan treat that make for the perfect snack!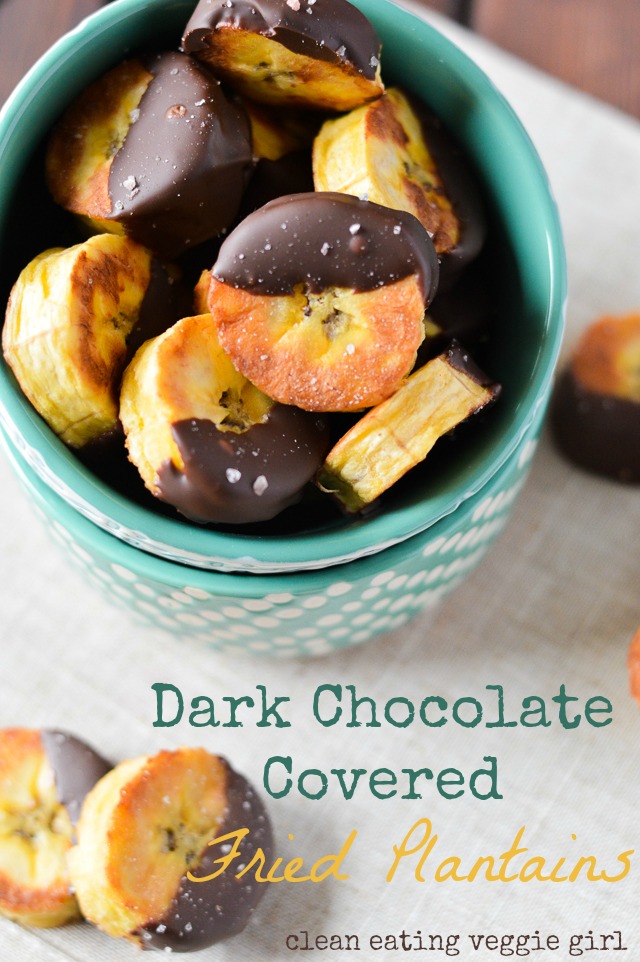 Chocolate covered bananas are totally a thing.  So much so that you can actually find them in the frozen aisle of many groceries stores.  But do you know what else should totally become a thing?  Chocolate covered plantains.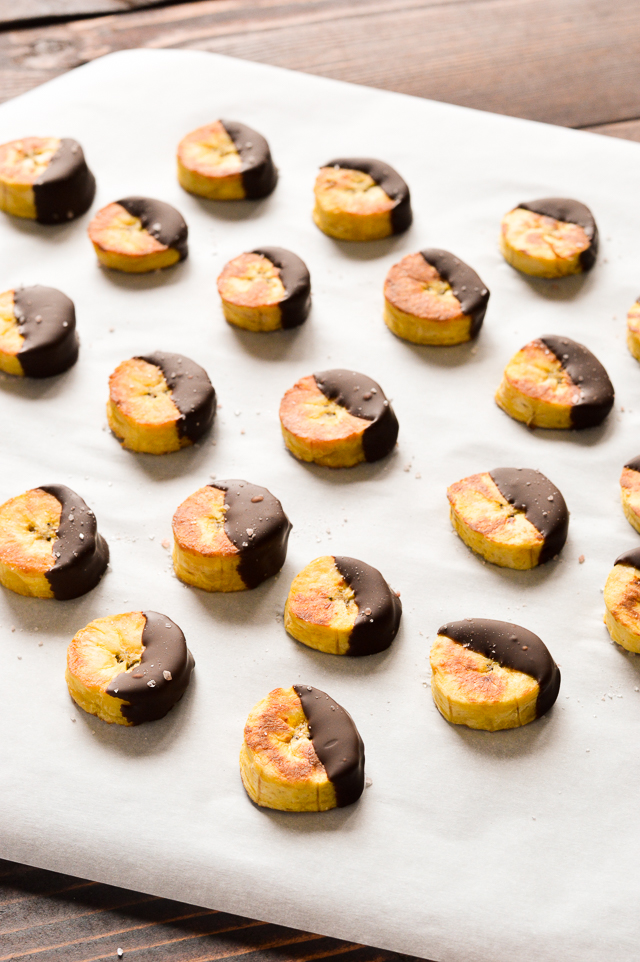 Though I am definitely a banana lover, I am really a plantain lover.  Why are they so much better?  Because you can eat them as both savory and sweet!  Unlike bananas, I don't have to be sad when the peels are too green (savory) or when they are too brown (sweet)- though that rarely happens in my book.  The only time the peel color can be a bit disappointing is when I go to the store specifically wanting to make a dish with savory plantains and they are all yellow.  Then I get slightly upset.  Especially if I'm working on a recipe for the blog!  But besides that, it is pretty awesome to find a fruit that can be eaten both unripe and ripe and still taste equally delicious.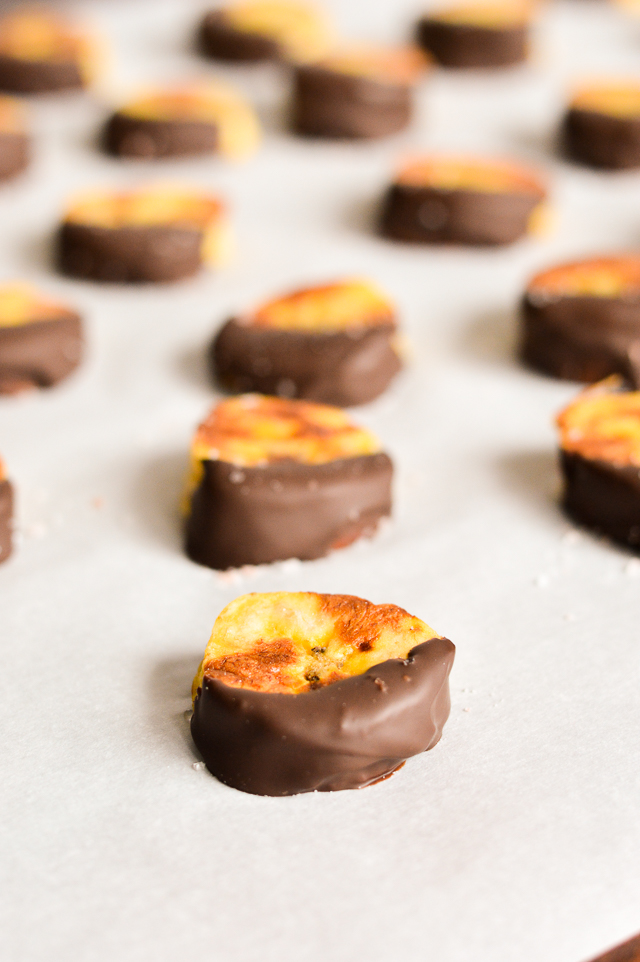 So for this recipe, you are good to go either way!  If your plantains have a green peel then you will have a savory and sweet combo.  And if the plantains have a yellow/brown peel then you will have an all sweet combo.  BOTH are perfection.
For this particular post my plantains were yellow with black spots, so mine were sweet all the way!  I fried them up in a bit of coconut oil until they were nice and crispy.  After cooling a bit they got dunked into a bowl of melted dark chocolate.  Because duh.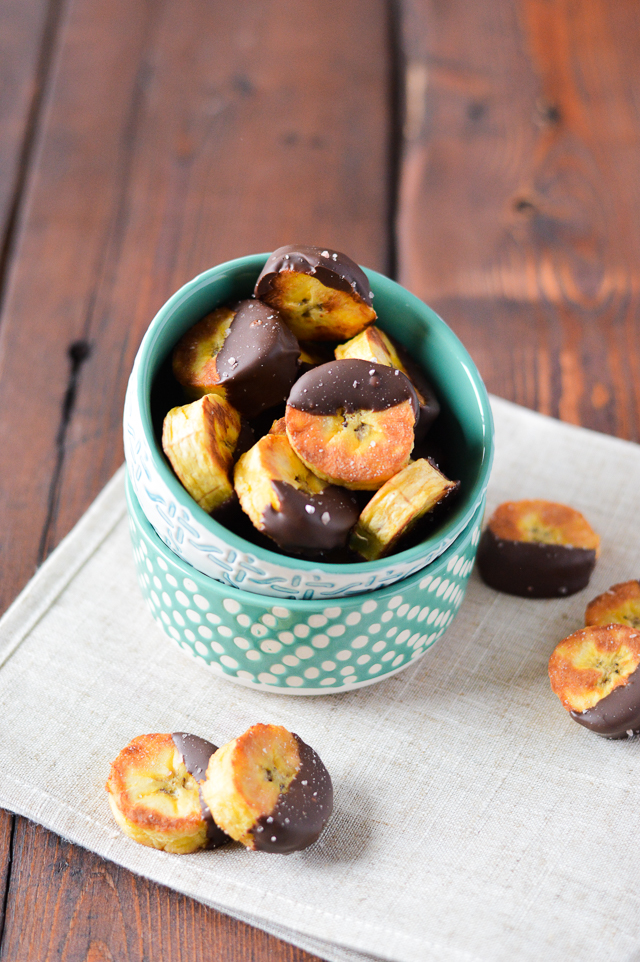 I sort of feel like this is a treat that should make an appearance at a state fair, except it'd be way less greasy, and probably way less likely to make your tum tum feel icky.  These are totally a fancy version of a fried treat, don't you think?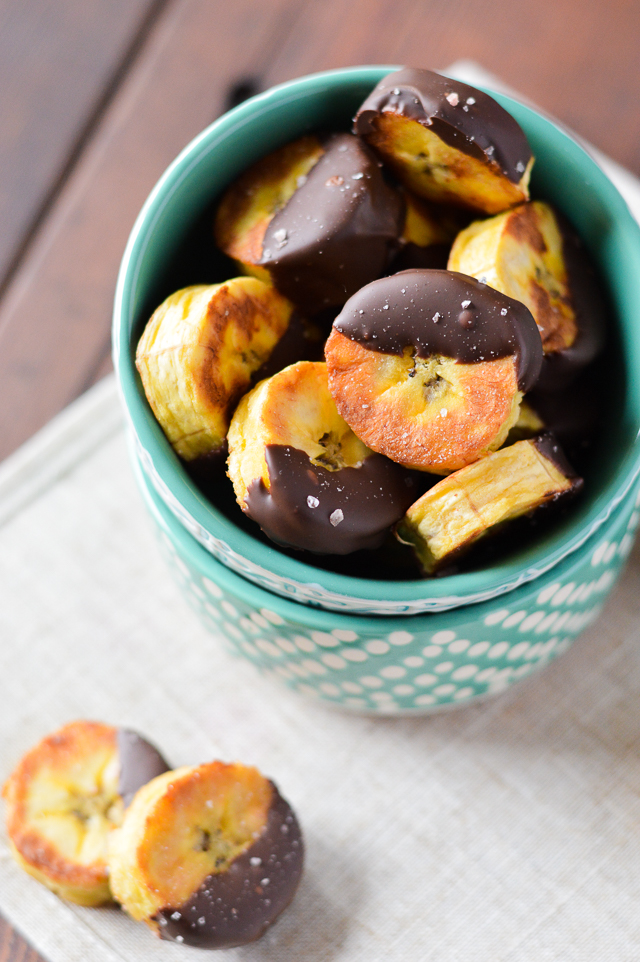 Dark Chocolate Covered Fried Plantains
Paleo, Gluten-Free, Grain-Free, Dairy-Free, Soy-Free, Nightshade-Free, Vegetarian, Vegan
Serves 4
Ingredients
2 large plantains (green or yellow peels will work, see above)
2 heaping TB of organic, sustainably sourced red palm oil (if green peels) or organic, virgin coconut oil (if yellow peels)
pink Himalayan sea salt, to taste
3/4 cup dark chocolate chips (I like this brand)
Directions
1. Peel the plantains and slice them into half-inch thick rounds.
2. Heat oil of choice in a large skillet or griddle over medium heat.  Once hot, add the plantains.  Fry until golden brown, or for approximately five to seven minutes.  Flip and fry on the second side until golden brown.  Remove from the pan and place on a plate lined with paper towels.  Sprinkle with sea salt, if desired.  You may need to cook the plantains in two batches depending on the size of your pan.
3. Once the plantains have cooled for at least 10 minutes, melt the chocolate chips in the microwave in 30 second increments, stirring in between.  It should take approximately two minutes.
4. Dip the plantains into the melted chocolate and place onto parchment paper.  Sprinkle with additional sea salt, if desired.  Cool until the chocolate is hardened.  These are best eaten right away, but can also be stored in an airtight container.  Keep them refrigerated during the warmer months of the year.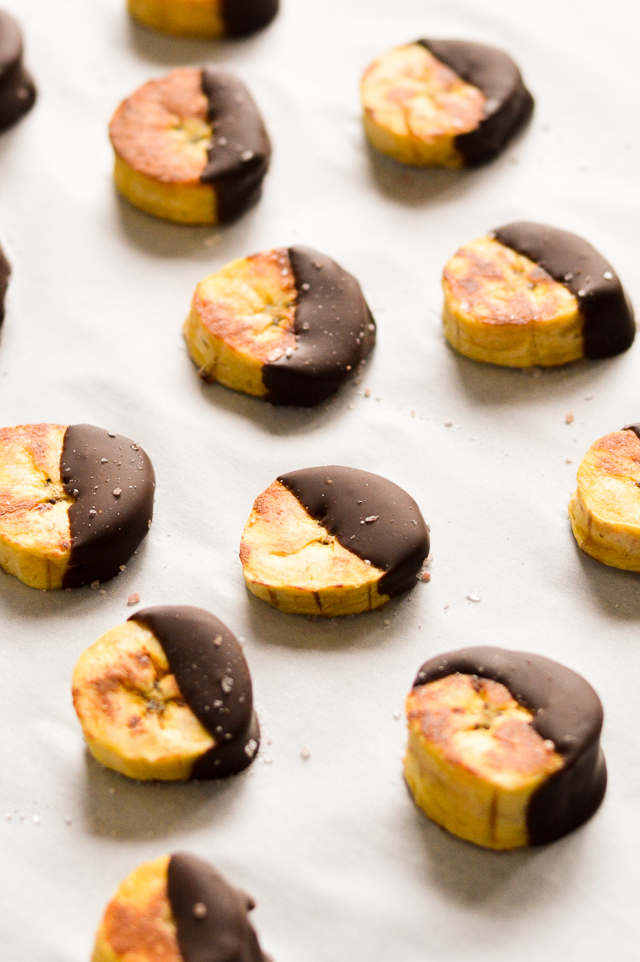 Try these tasty Dark Chocolate Covered Fried Plantains now! #Paleo #vegan #glutenfree Click To Tweet
This post contains affiliate links.  Thank you for supporting CEVG and enabling me to continue working towards better health!