Three Iowa City Eats Gluten-Free reviews coming your way from Atlas, Scratch Cupcakery, & QDogs BBQ Company.
It's been awhile since I have posted one of these bad boys, eh?  Like, we are talking four and a half years ago!  It's hard to believe I have even been blogging for that long.  And I must say, looking back at my photography, writing, and formatting from posts that long ago is quite painful.  But at the same time, it is fun to see how far I have come!  Hard work pays off.
I started writing restaurant reviews in my first year of blogging because the eating out experience is something I truly enjoy (and I obviously love food).  Of course, at the time, I was a vegetarian.  So my restaurant reviews back then look a tad bit different than they do today.  Instead, now I am all about highlighting my favorite gluten-free-friendly restaurants.
When I wrote that original Iowa City Eats post back in November of 2012, I was living in my hometown.  Now that I am actually living in the Iowa City area, I think it's time I start bringing these posts back!  Get ready to start reading about my experiences attempting to eat gluten-free out in the Iowa City, Coralville, North Liberty, and Cedar Rapids area (AKA "the Corridor") <– partially because it gives me a great excuse to eat at some of my favorite places and try some new ones, too!
Iowa City Eats Gluten-Free
This restaurant review features three Iowa City area locales since this past weekend marked an extra special occasion: my 29th birthday!  Jeremy and I spread the celebration out with dinner at Atlas on my actual birthday, gluten-free cupcakes from Scratch Cupcakery, and a stop by QDogs BBQ Company in Cedar Rapids for lunch a couple of days later.
Atlas
If all had gone well, this review was originally intended to begin with a feature of the Iowa Chop House.  Jeremy and I visited the restaurant in downtown Iowa City around a year ago and I enjoyed a delicious sirloin steak, sweet potato fries, and grilled asparagus.  We loved it so much, but had not been back since steak restaurants don't tend to be a monthly thing for us due to cost.  But since my birthday rolled around again this year, we thought it would be a good time to head back since they have an entire "gluten friendly" menu available.  We had a 6:00 reservation and arrived right on time.  When 6:10 rolled around without being addressed by a single waiter or waitress (even though we saw at least eight of them walking around), we explained our situation to the hostess and decided to go somewhere else.  As people who have both worked in customer service-related positions in the past, we appreciate good and attentive service.  Maybe we will give it a go there again… some other time!
After leaving the Iowa Chop House, we decided to walk a couple of blocks down to another "nicer" restaurant in the area called Atlas.  I had just eaten there a few weeks before for lunch with a coworker and really enjoyed it.  Plus, I had been craving a burger and fries all day, so I needed to make that happen.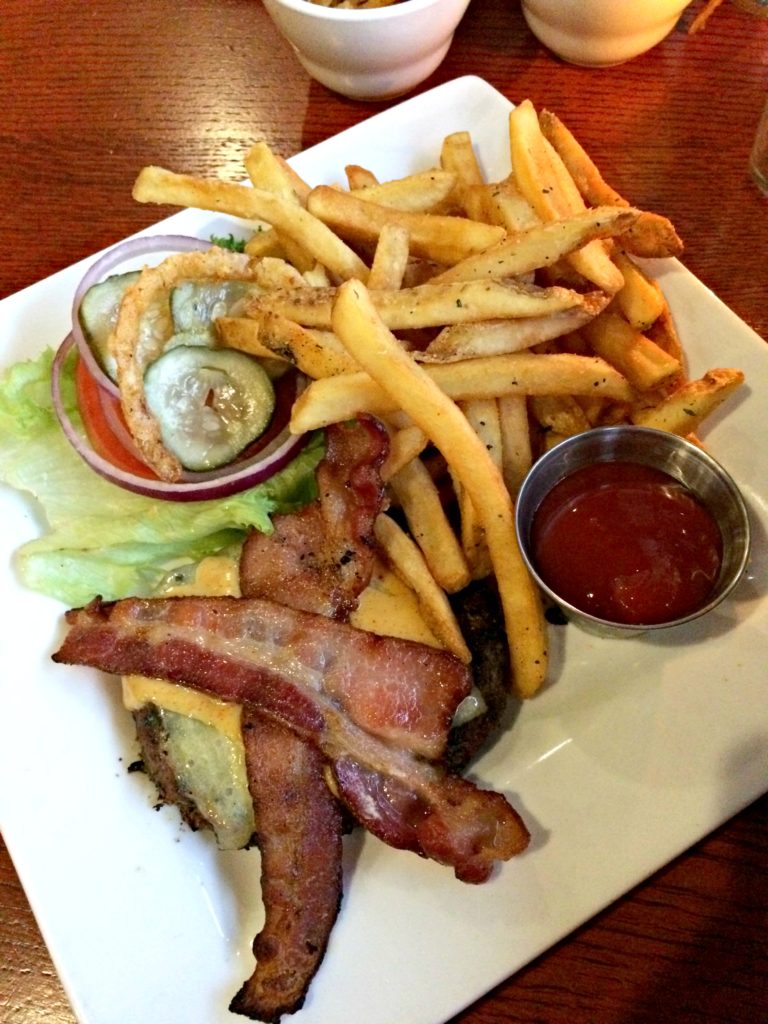 Perfect, right?  Well, sort of.  I ordered The Atlas Burger, which is a half-pound Black Angus patty topped with white cheddar cheese, maple bacon, crispy onion strings, frite sauce, and a bun + a side of fries.  I told the waitress that I do not eat gluten and she stated she would report that to the kitchen and would leave off the bun and fried onion strings..  However, if I would have taken a picture of my plate when it first arrived, you would have noticed it came with no bun (as I asked), but with two small cups of the fried onion strings on the side.  Naturally, I knew these weren't gluten-free and passed them off to Jeremy since they had not contaminated my meal.  But I would take that as a warning that when dining here you will need to ask a lot of questions and be very specific about what you can and cannot eat.  To be fair, the first time I ate this meal, it arrived just as I asked.  But again, specificity here matters!
As a side note on the fries, they are not fried in a separate gluten-free fryer.  So if you have Celiacs or are extremely sensitive, you will likely want to sub in a side salad.  But if you can eat the fries, DO!  They are so perfectly seasoned and crispy- just the way I like them.
Sweet Rewards Gluten Free Bakery at Scratch Cupcakery
Jeremy easily took the hint when I mentioned needing some gluten-free cake for my birthday!  I woke up to a sack of three cupcakes he had purchased at Scratch Cupcakery in Coralville.  One confetti, one chocolate, and one strawberry… perfection!  These gluten-free cupcakes are not made by Scratch, but are actually made in a designated gluten-free bakery in Waukee, Iowa called Sweet Rewards Gluten Free Bakery.  They ship out their baked goods to all of the Scratch Cupcakery locations so that everyone can enjoy them.  Jeremy and I actually cut into some of their cupcakes at our wedding and you would never ever know they were gluten-free!
The last time I was at Scratch Cupcakery I also noticed that they carry some of Sweet Rewards' cookies, as well.  Now if only we could get them to send donuts our way, too!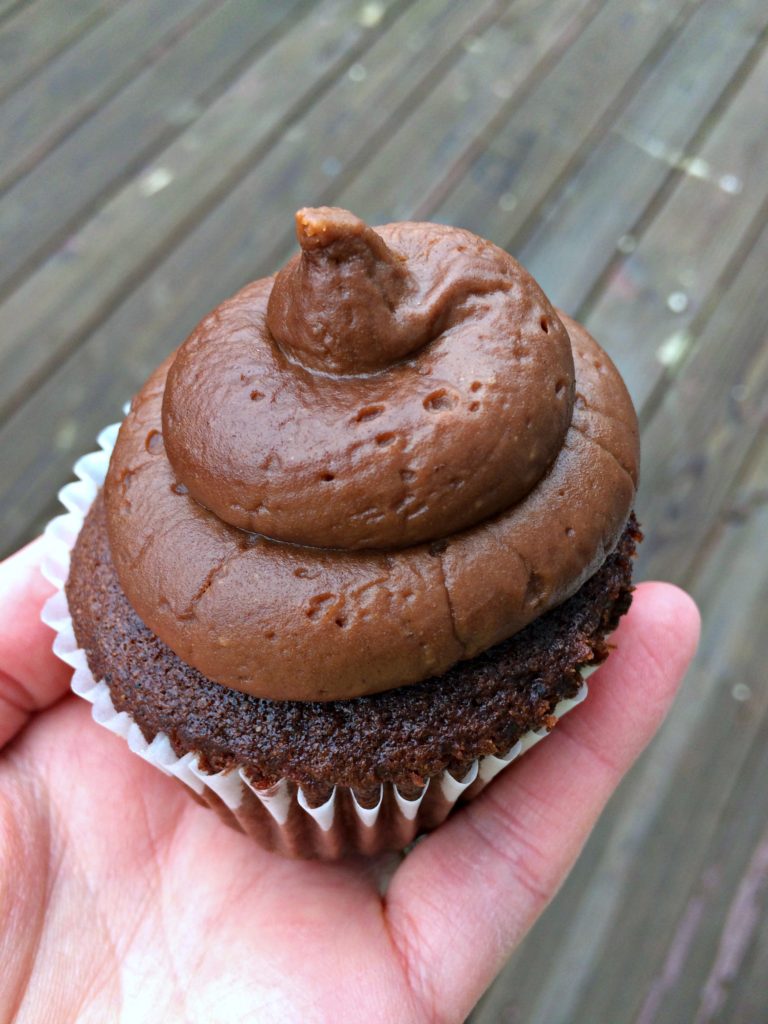 So good, right?
QDogs BBQ Company
QDogs BBQ Company is located just a short drive away from Iowa City in Cedar Rapids, Iowa (technically it is located in Marion).  This was actually the second time we had ventured there in about a month since apparently baby wants barbecue food often!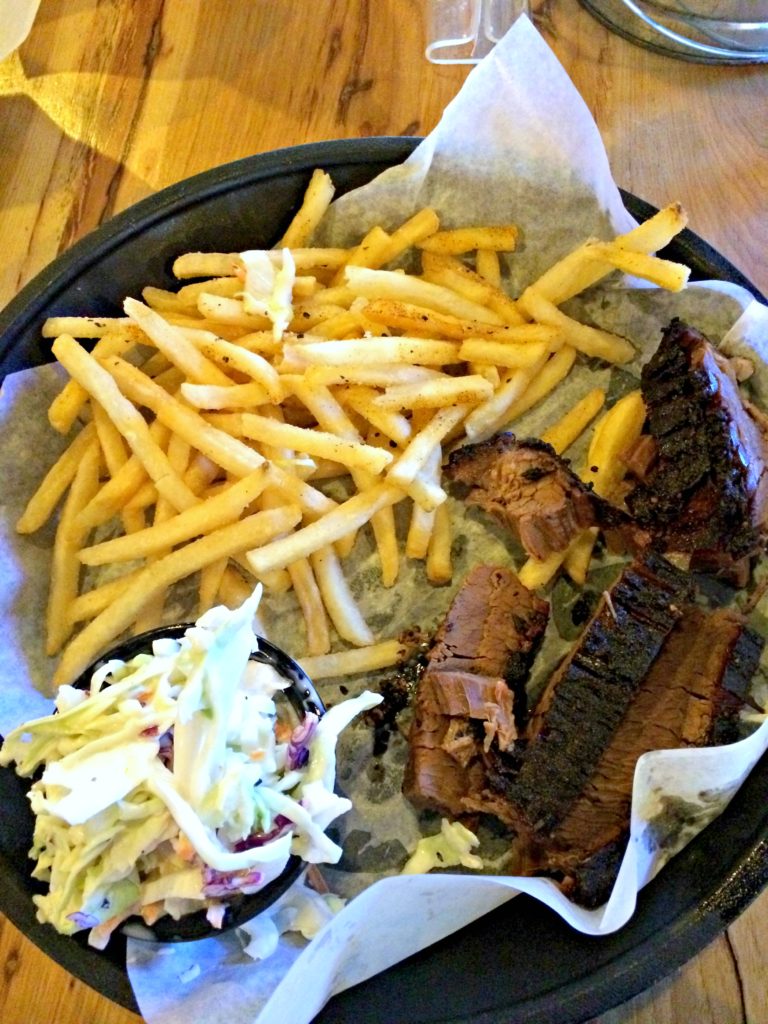 QDogs' meats and sauces are all gluten-free, as are their smoked beans, apple cider slaw, and french fries (but not cooked in a separate gluten-free fryer).  I ordered the brisket sandwich without the bun with a side of apple cider slaw and fries.  I dipped my brisket in their house and mustard sauces, which are my two favorites.  They also have a spicy sauce and a vinegar-based sauce.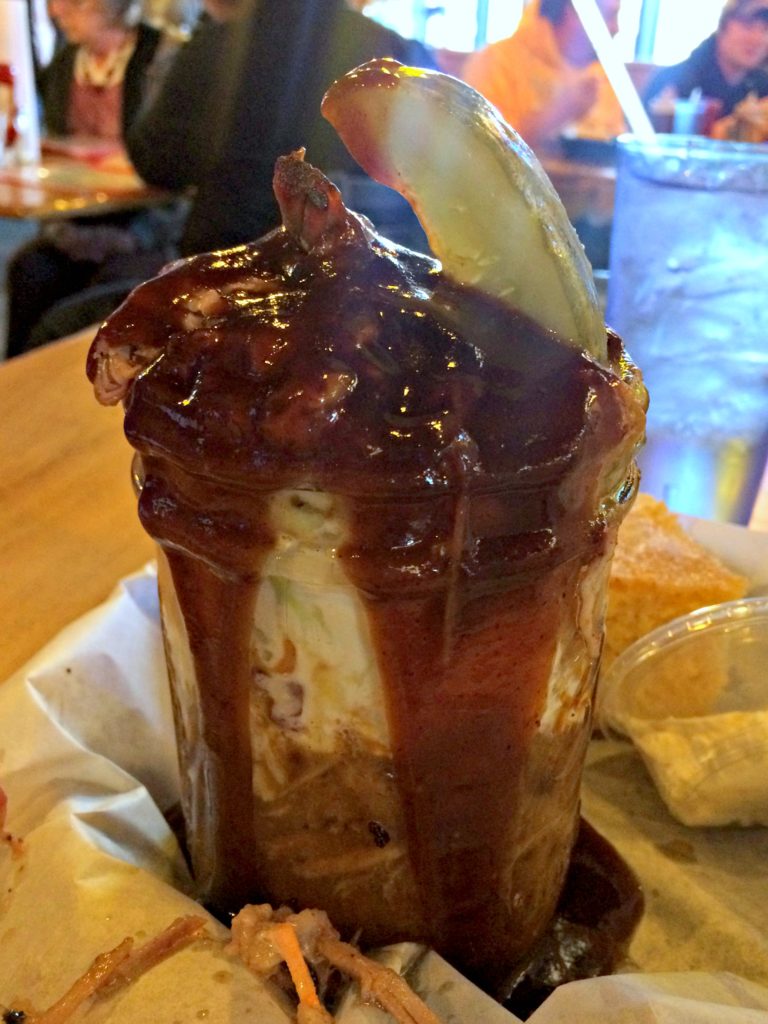 I obviously had to get a picture of this concoction since it is pretty darn awesome.  Jeremy ordered the BBQ Sundae, which was made up of their smoked beans, coleslaw, pulled pork, and their house barbecue sauce.  He said it was really good, so I'm thinking I might have to try it next time since all of the ingredients are gluten-free!  It comes with a side of cornbread (which is not gluten-free), but I'm thinking a different side could easily be subbed in its place.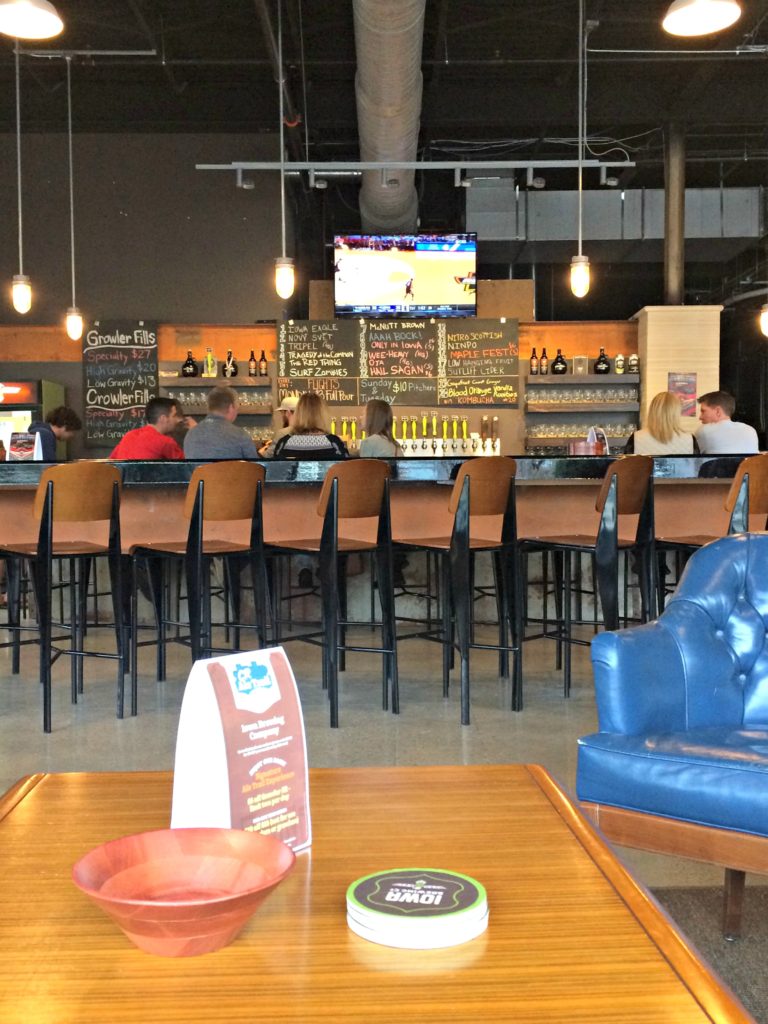 A quick little side note: If you happen to be looking for a nice place to chill after your meal in Cedar Rapids, the Iowa Brewing Company is a fun place.  And they have local Wild Culture Kombucha on tap for those of us needing something gluten-free!
A word to the wise: always check with these establishments about their current gluten-free offerings, as changes could have been made after this post was published.
Iowa City Eats Gluten-Free w/ burgers, cupcakes, and barbecue! #glutenfree #Iowa #IowaCity
Click To Tweet