Walnut Pesto Chicken Meatloaf is comfort food at its finest and perfect for family dinners!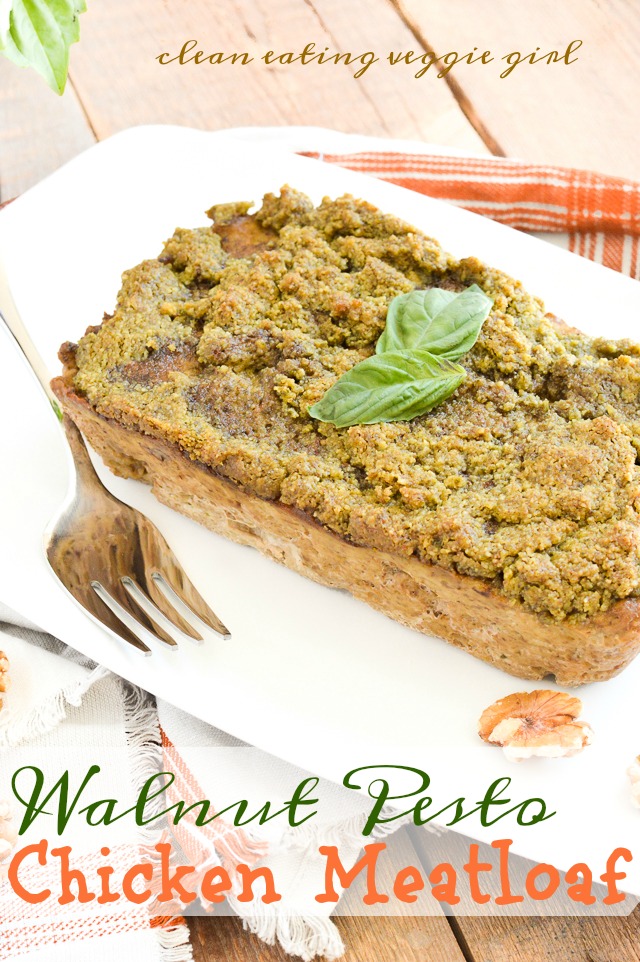 If there are two things that I was most obsessed with during the Summer of 2016 it would be these two things:
pesto sauce made with walnuts
anything made with chicken (which I never thought would happen)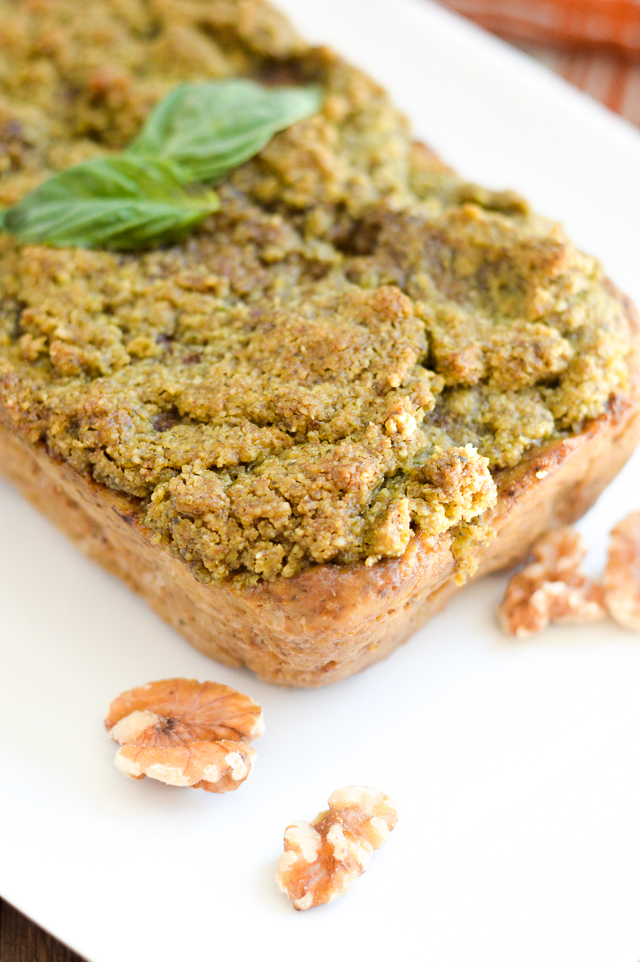 And since I have been craving some serious comfort food (AKA meatloaf) lately, combining the two to make said meatloaf happen sounded like perfection.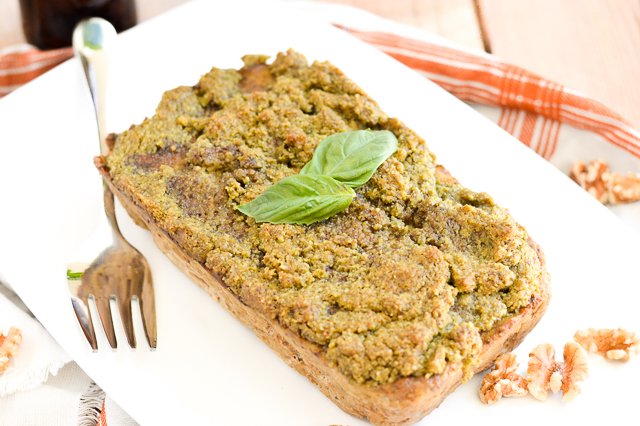 When this idea first came to mind, I kept waffling back and forth between whether I should put the pesto sauce in the meatloaf or on top of the meatloaf.
I sort of feel like you can't really go wrong.  But since I love every single thing about this pesto, I decided it belonged in both places.  Putting it in the meatloaf keeps things nice and moist (plug your ears and close your eyes if you hate that word), and true meatloaf always has to have a sauce-y topping.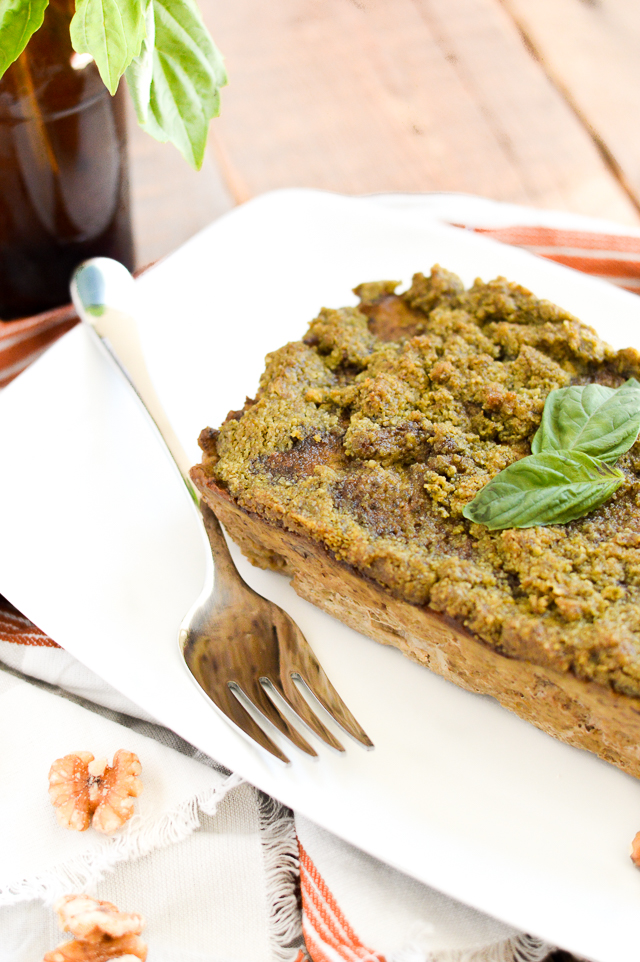 In case you are new to pesto-making, traditional versions are made with pine nuts.  Pine nuts, however, are crazy expensive.  Enter: California walnuts.
Not only do they tend to be more affordable and easier to locate, but they are also my pesto-pairing preference because they contain more plant-based Omega-3's than any other nut.  For those of us who are trying to majorly up our Omega-3 intake, this is a big win.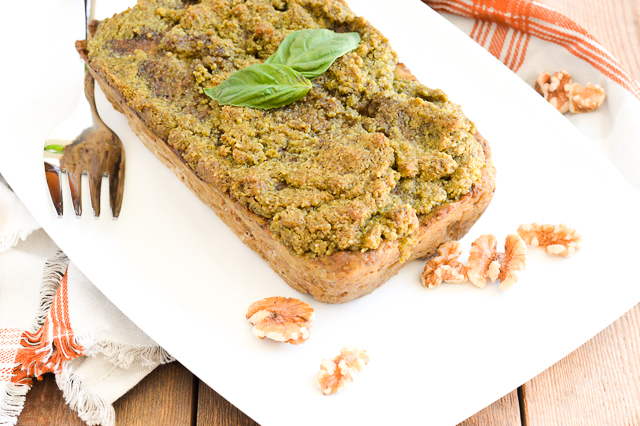 Adding walnuts to this meatloaf is a no-brainer for the health benefits, but they also pack in some serious flavor.  After all, we don't just eat food to be healthy and nourish our bodies.  We eat delicious food because IT TASTES GOOD!  I threw in some of my current favorite veggies, too, but feel free to mix things up with whichever vegetables you decide to use.  I would stay away from anything with a lot of water content (zucchini, cucumber, etc.) as we don't want things to get too mushy!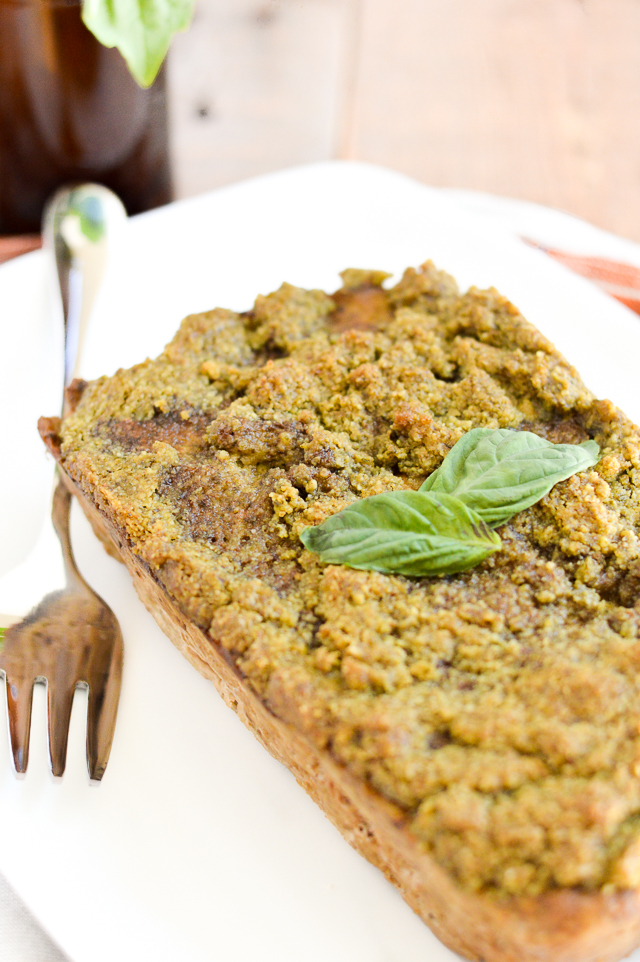 Walnut Pesto Chicken Meatloaf
Paleo, Gluten-Free, Grain-Free, Dairy-Free, Egg-Free, Soy-Free, Nightshade-Free, Whole 30
Makes 6 to 8 servings
Ingredients
2 cups of whole, raw California walnuts
3 cloves of raw garlic
2 0.75 oz packages of fresh basil, removed from stems
1/2 cup of extra virgin olive oil
2 small golden beets, peeled and chopped
6 baby bella mushrooms, chopped
1 small shallot, chopped
1 TB of extra virgin olive oil
2 LB of ground chicken
1-inch piece of fresh ginger, grated
2 to 3 tsp of fine sea salt
Directions
1. Begin by preparing the pesto.  Add the walnuts, garlic cloves, and basil to a food processor.  Process for approximately 30 to 60 seconds.  Scrape down the sides of the food processor.  Turn the food processor back on and slowly drizzle in 1/2 cup of olive oil.  Remove the pesto from the food processor and refrigerate.
2. Clean the food processor, then add beets, mushrooms, and the shallot to the processor bowl.  Pulse for approximately 30 seconds, or until finely diced.
3. Heat a skillet over medium-high heat.  Add oil and lower the heat to medium.  Stir in the beets/mushrooms/shallot mixture.  Saute for approximately eight to 10 minutes, or until softened.  Remove from the heat and allow to cool for 20 to 30 minutes.
4. Pre-heat oven to 350 degrees F.  Add chicken, fresh ginger, salt, vegetable mixture, and 1/2 cup of the pesto to a large bowl.  Mix well to combine (I use my clean hands to do this).
5. Line a 9 x 5  loaf pan with parchment paper.  Scoop the meatloaf mixture into the pan and spread evenly.  Cover with foil and bake for 45 minutes.  Remove the foil (if you need to dump any excess liquid from the loaf, do so now), top with remaining pesto sauce, and continue cooking (uncovered) for approximately 30 minutes, or until golden brown.
6. Allow the meatloaf to rest for at least 10 minutes.  Cut into slices and serve.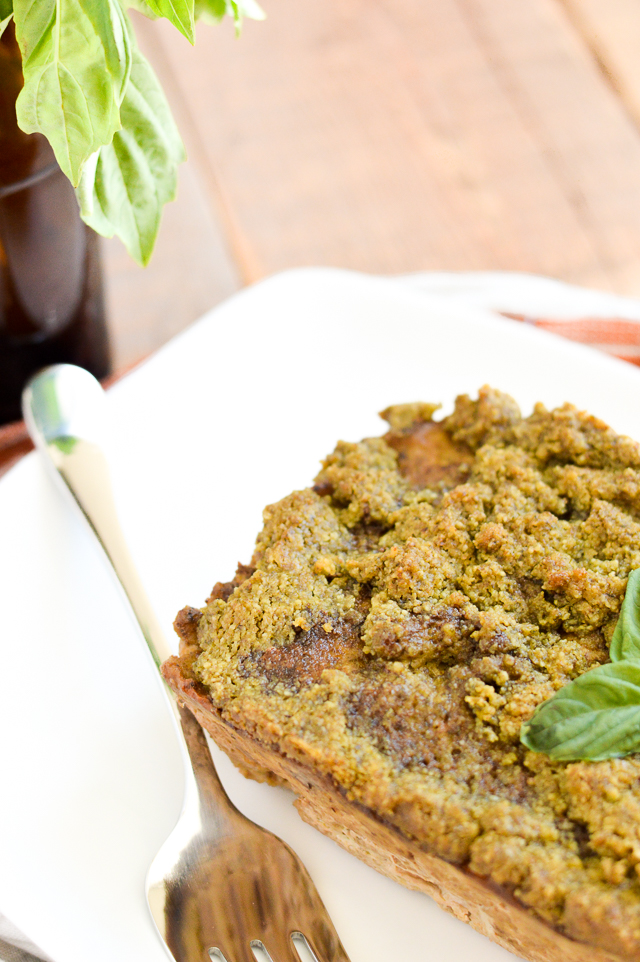 Delicious @CAWalnuts Pesto Chicken Meatloaf for the ultimate comfort meal! #ad #CG #walnuts Click To Tweet
I was selected for this opportunity as a member of Clever Girls and the content and opinions expressed here are all my own.