A Gluten-Free Day in Santa Fe
Shortly after Jeremy and I got married, we came to the conclusion that we wanted to set a big goal for ourselves as a couple.  We want to be able to say that we have traveled together to all 50 states in the US.  So far we are up to nine states (and should add two more yet this year).  Essentially: we have a long way to go!
With our recent trip to Colorado, we decided it would be a good idea to add another nearby state to our list since it was only about five hours away from one of our other planned destinations.  So we went south and stepped foot in New Mexico for the first time together!
The scenery on the drive was still very Colorado-esque, but once we arrived in Santa Fe, we could tell it was a whole new little world.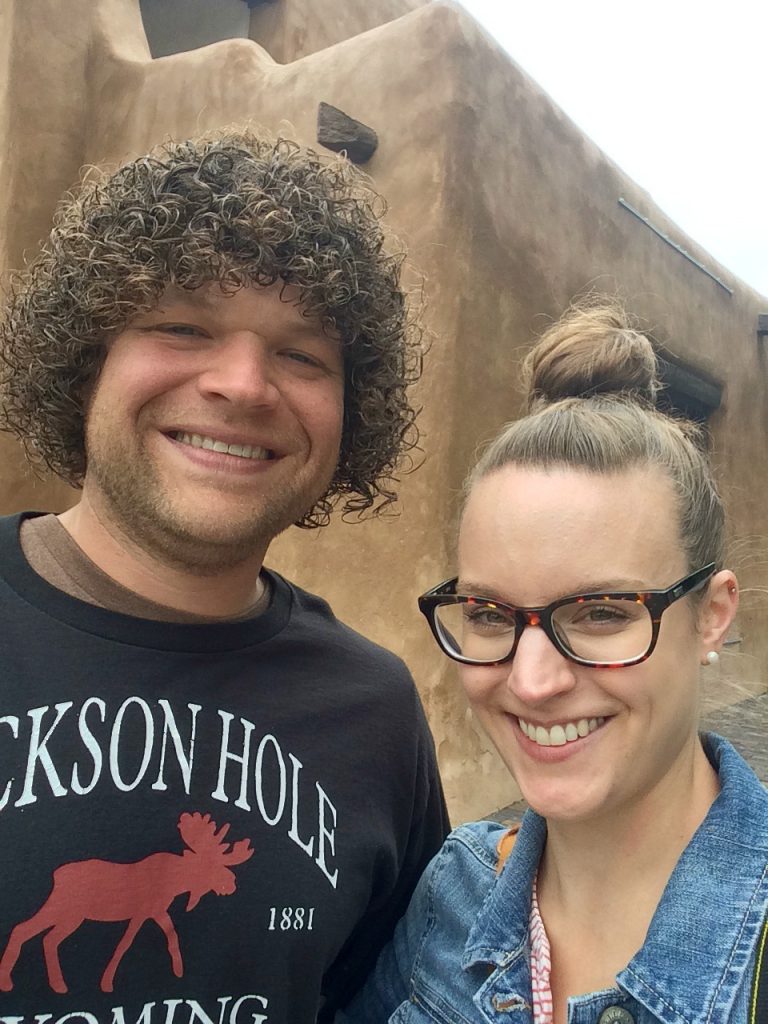 We started our day by driving into the downtown/Plaza area, which was made up of adobe-style buildings.  Everything was seriously so cute and it honestly felt a bit surreal like something you would see in a movie.
We walked straight to a local restaurant first thing because we arrived into town just a little after 1:00.  AKA we were starving for lunch.  P.S. The parking costs in Santa Fe are unreal.  We recommend parking in a parking garage (slightly cheaper) rather than paying about $2.00 worth of change for an hours worth of time.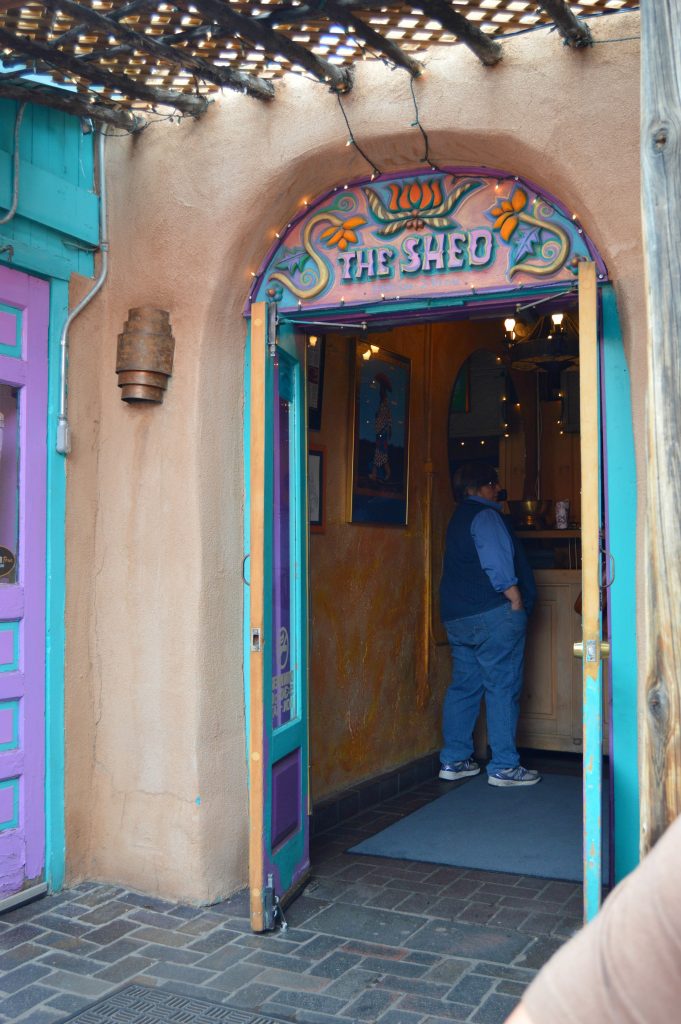 After a little Googling and Yelp-searching, we decided on The Shed for lunch.  The menu appeared to be pretty allergy-friendly and like something that would work with my "avoid" list (gluten, dairy, spinach, avocado, almonds, bananas/plantains).
Our service was a bit sub-par.  We waited quite awhile to get menus, and our waiter forgot about the chips and salsa we ordered.  Luckily, those were removed from our bill.  He was, however, extremely helpful in working with me to find menu items that would fit my needs.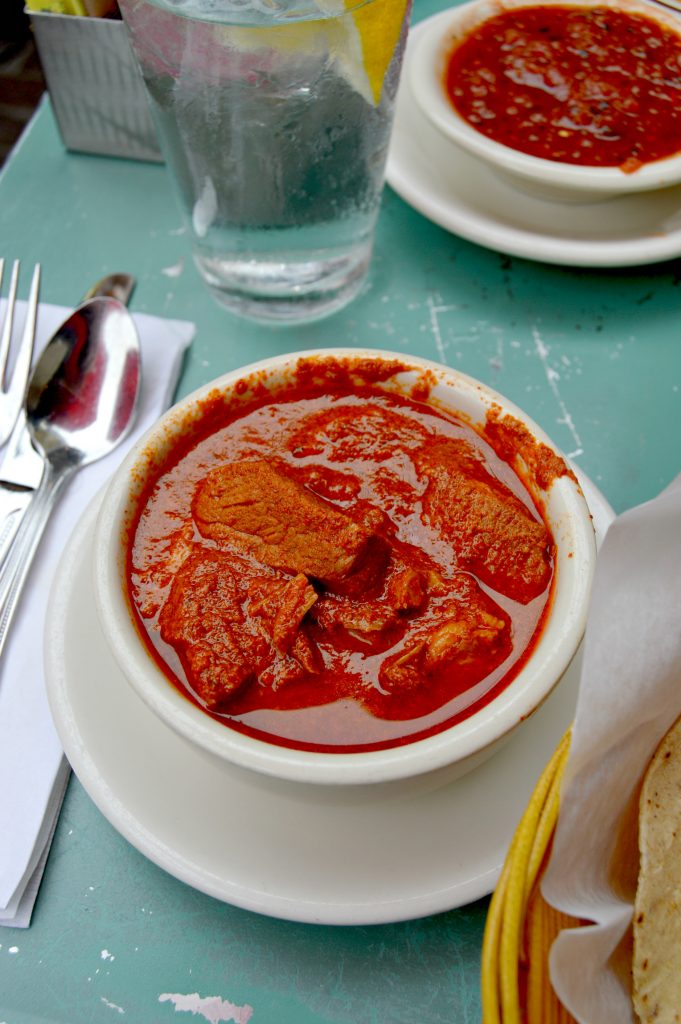 I ultimately decided on combining a couple of different things from the menu, including a bowl of their carne adovada, which was essentially pork slow roasted in red chile sauce, garlic, and oregano.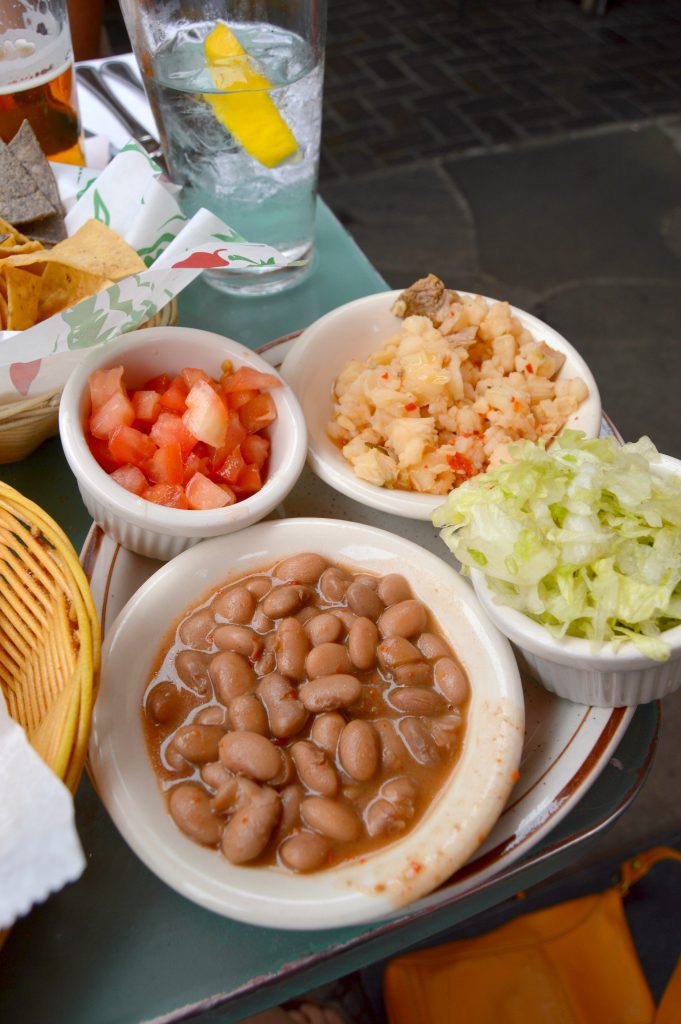 They served it along with pinto beans, pasole, and corn tortillas so that I could create my own little "tacos."
While I loved how accommodating and helpful the waiter was, the chips and salsa were honestly the best part.  The carne adovada had spice to it, but everything was really lacking in flavor.  I think it is normally a bad sign when you have to salt your food at a restaurant.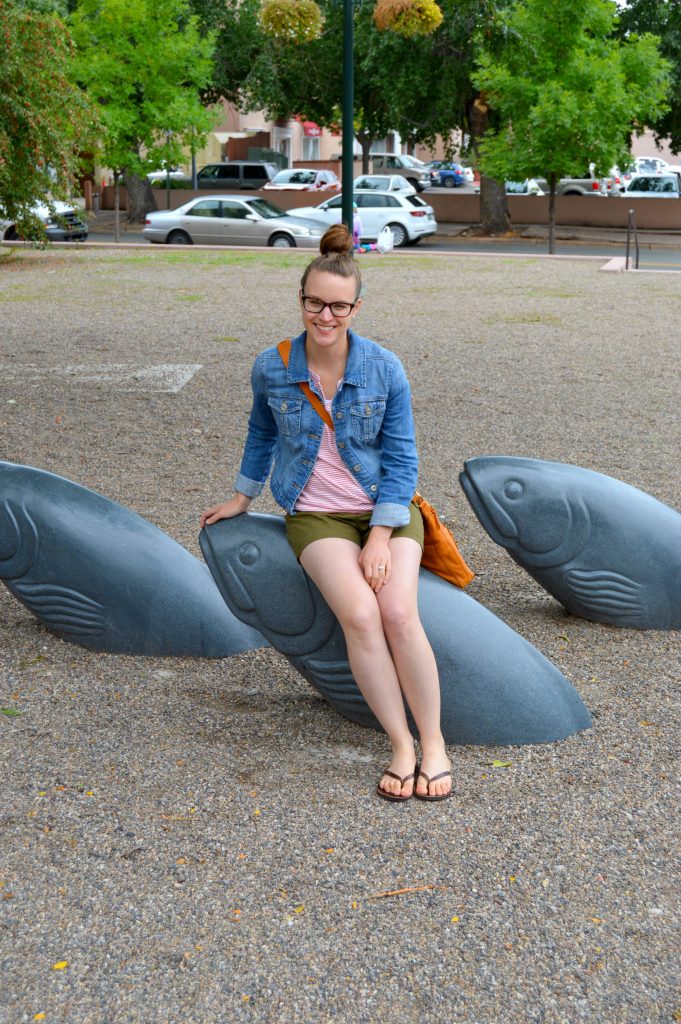 Once our bellies were full, we ventured around The Plaza and sat on some fishies.  It was fun seeing all of the touristy shops, and we even picked up an ornament for our Christmas tree, which is another tradition we started for ourselves.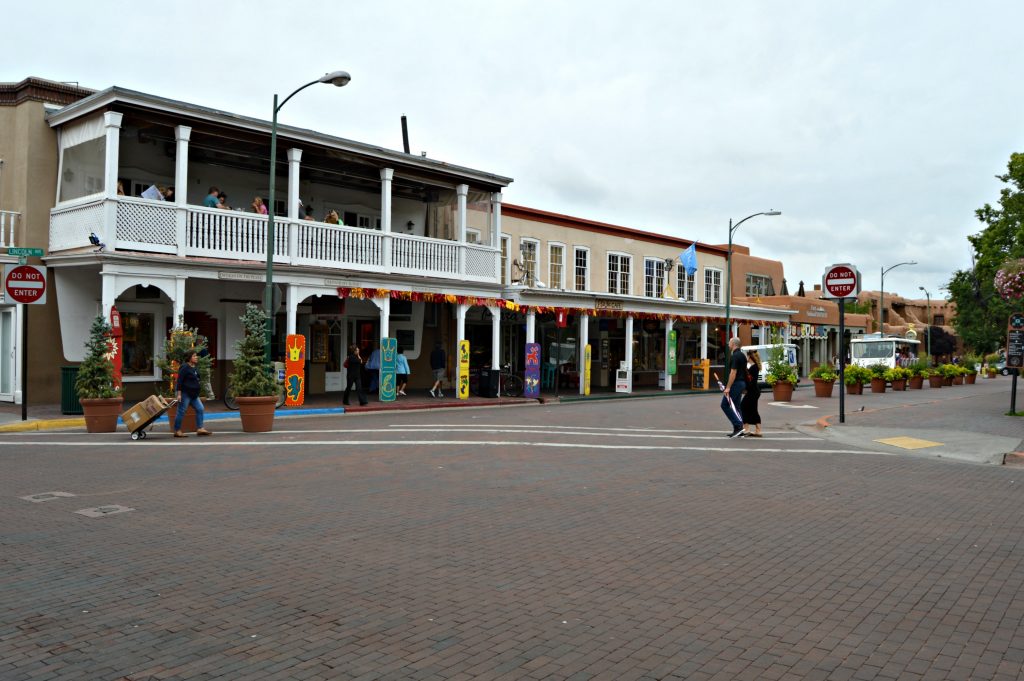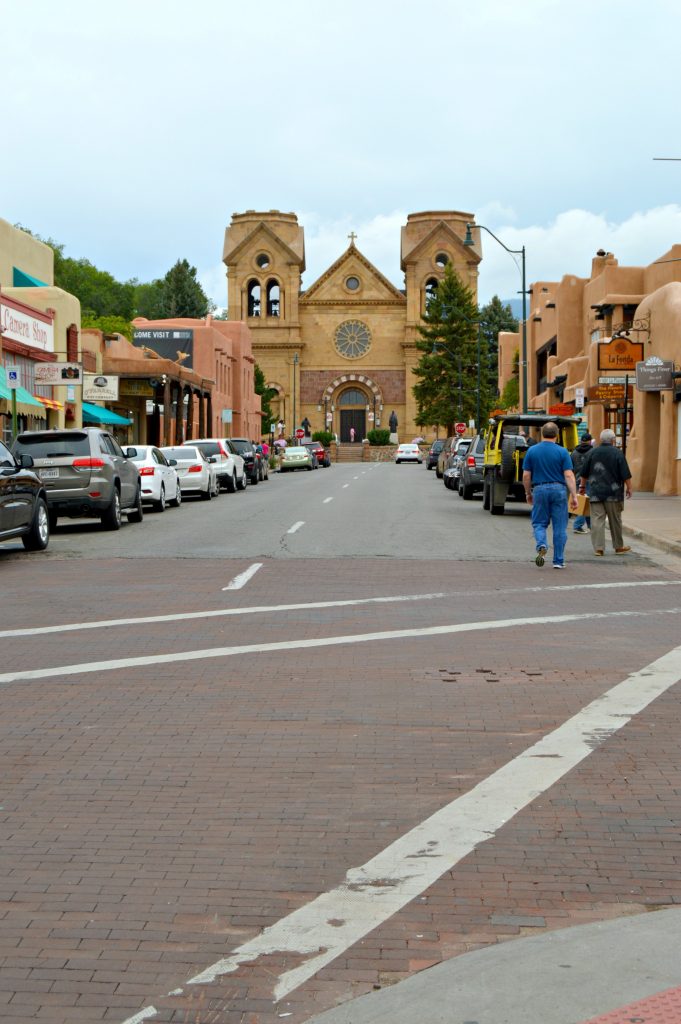 In between shops, we stopped at the Cathedral Basilica of St. Francis of Assisi.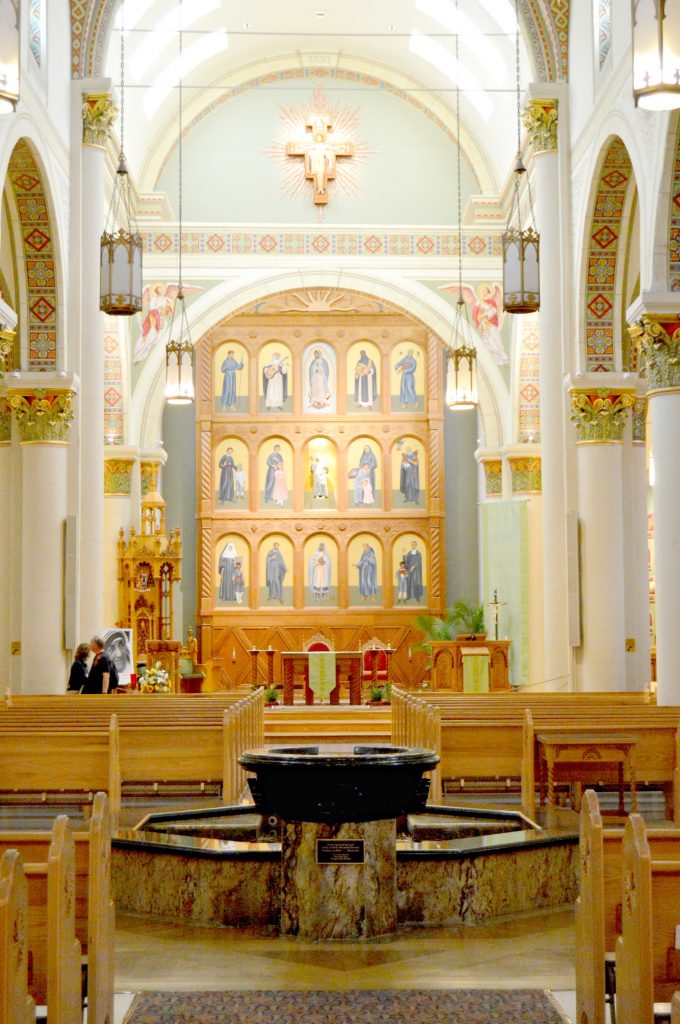 It was cool to experience such a gorgeous piece of history in a fairly small town.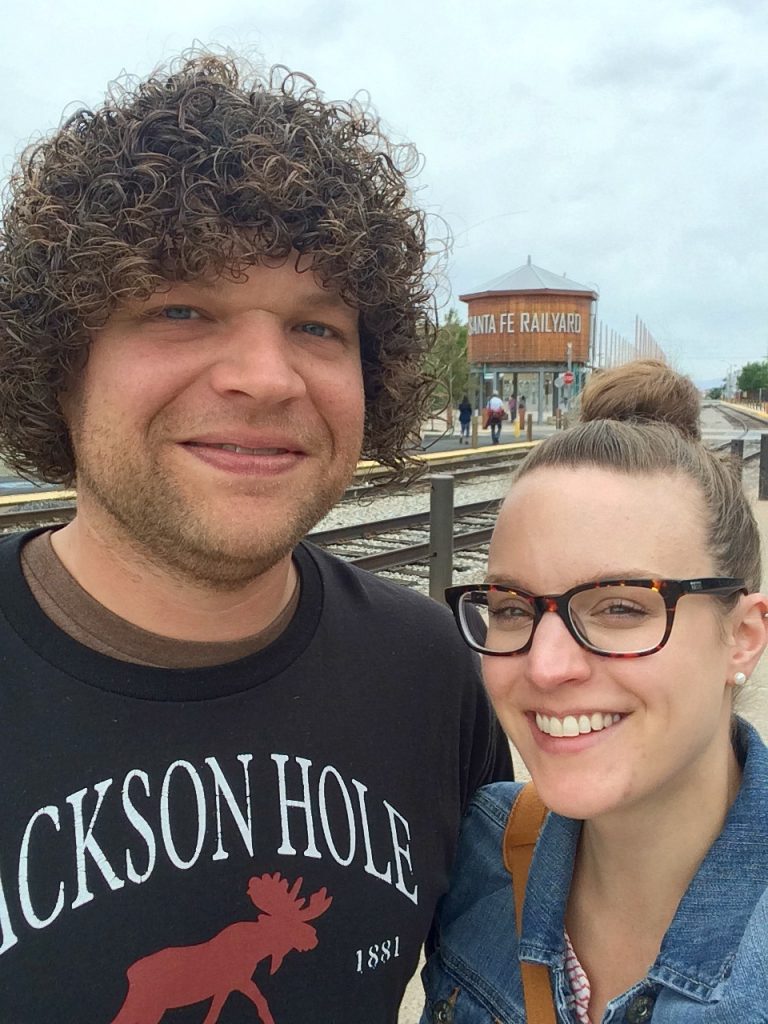 After a few hours of exploration, we headed to the Railyard district.  While researching for the trip, I discovered that they hold a local farmer's market there every Wednesday.  Plus, the area just sounded cool.  I was right about the area, but the farmer's market was pretty minuscule.  After a one minute walk through, we ventured over to Second Street Brewery (not gluten-free) for a quick beer for Jeremy and then moved on to dinner.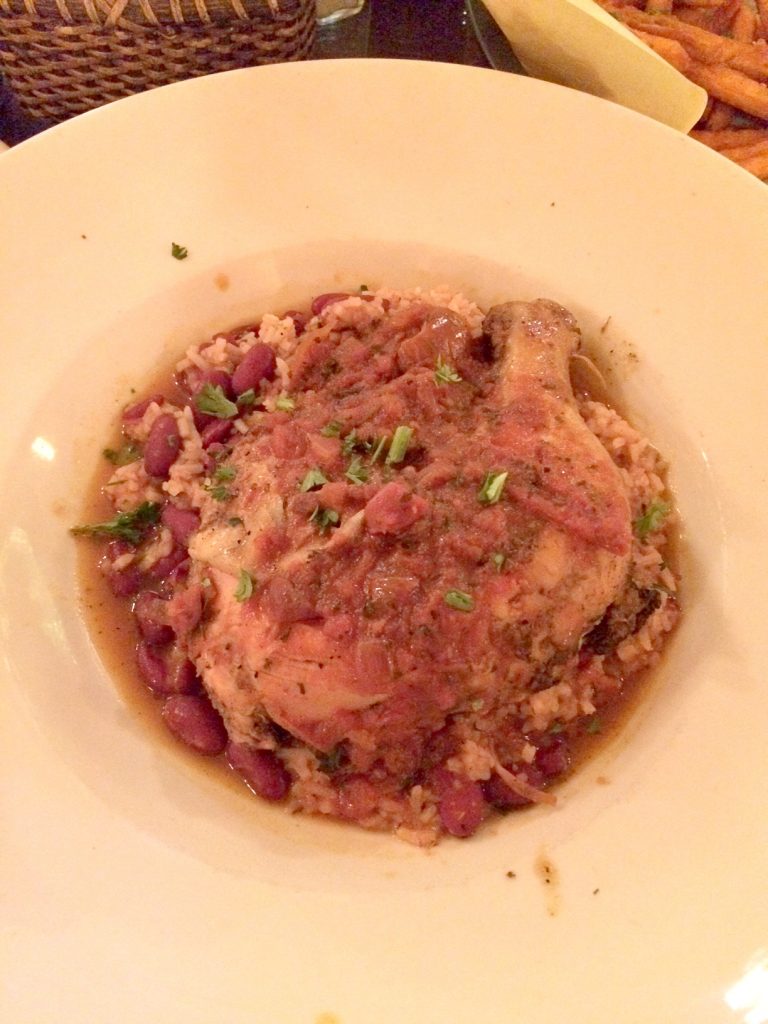 I think Jeremy would agree that our dinner experience was one of the biggest highlights of our time in Santa Fe.  Since I had researched restaurants prior to leaving on the trip, I had some absolute MUST eat at locations already picked out.  Jambo Cafe was one of them. (the pictures do not do this restaurant justice).
While I wouldn't naturally think of African cuisine when visiting Santa Fe, it seemed extremely allergy-friendly and I always love trying out new dishes from other countries.
We were lucky to have great service, and our waiter helped me select the grilled organic jerk chicken, which was served over a bed of red beans, coconut, and basmati rice.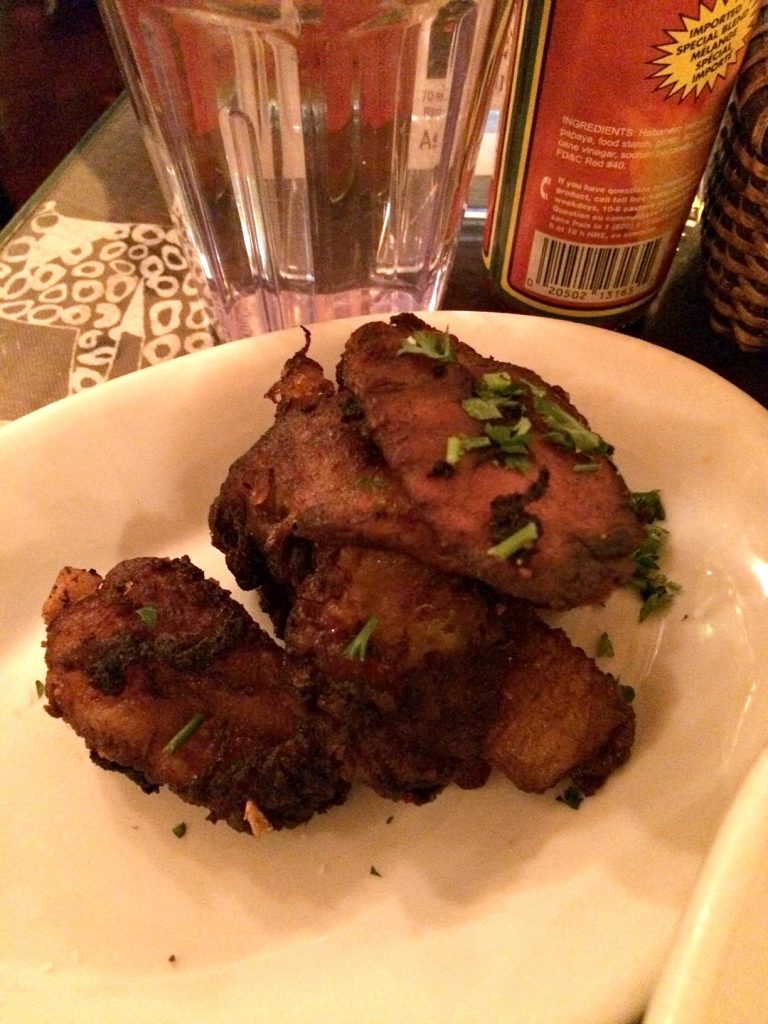 I asked for the fried plantains on the side so that Jeremy could enjoy them since they were on my avoid list.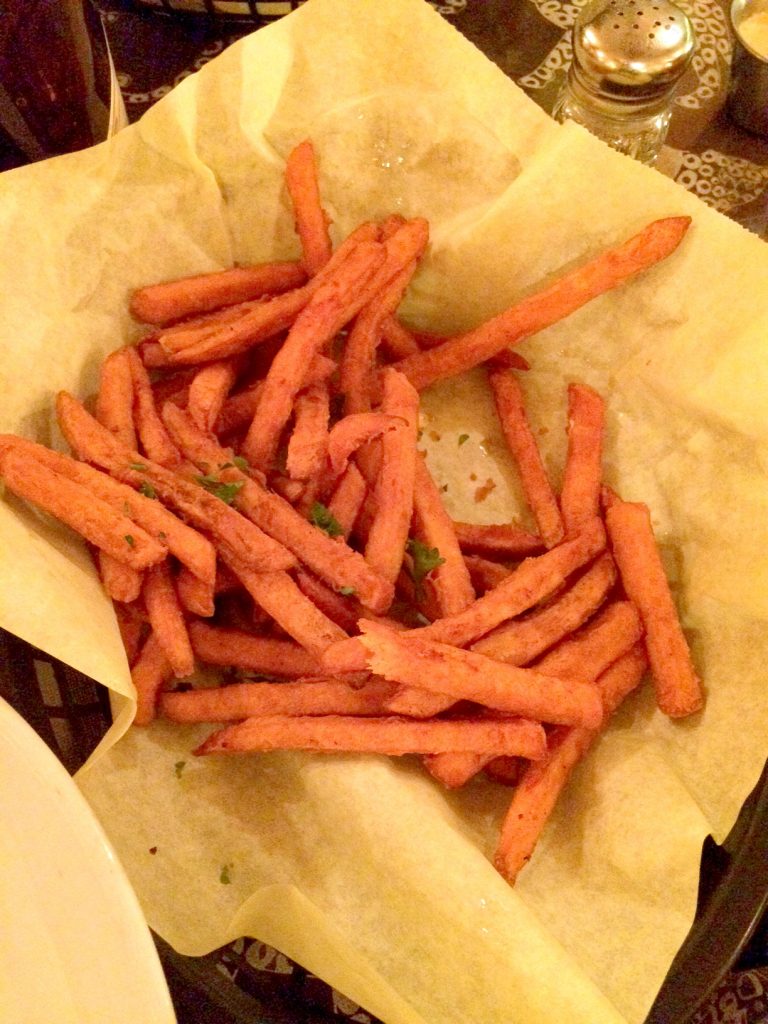 We also shared an order of the sweet potato fries even though, to be perfectly honest, the meal would have kept me more than satisfied.  But when you see sweet potato fries, why not?
In my opinion, Jambo Cafe is a must-visit in Santa Fe.  The service was great and the food was even better!
Jeremy and I enjoyed "living like a local" for the night with our airbnb selection.  It consisted of a tiny casita (essentially a guest house) with the traditional adobe-style.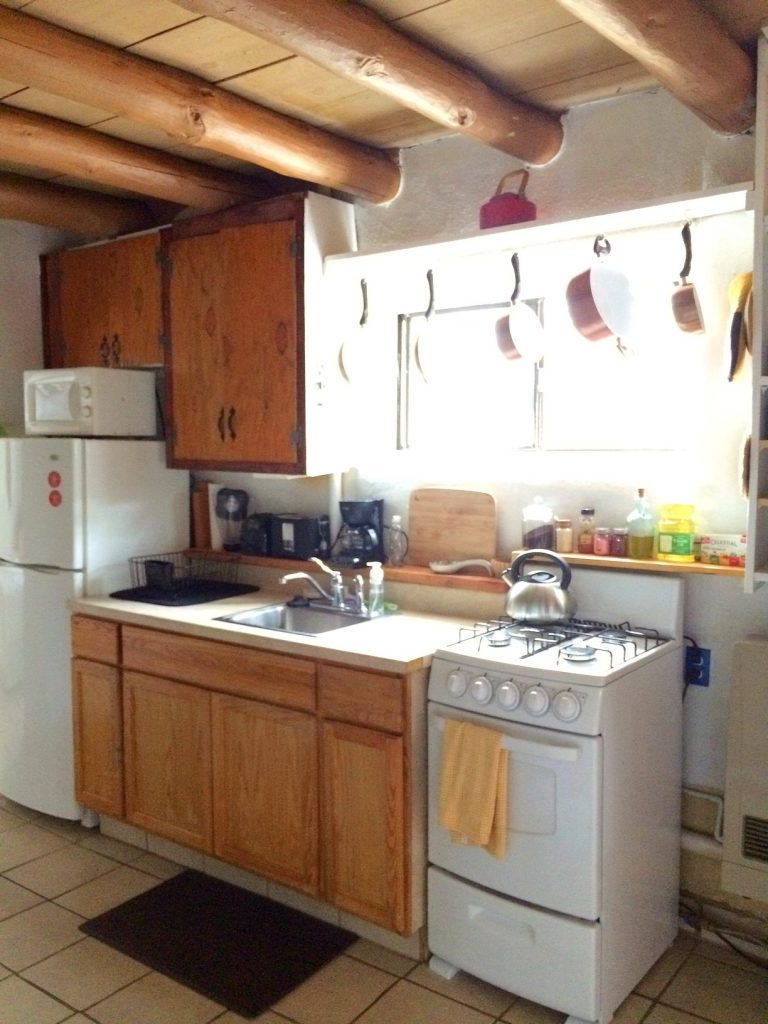 One of our favorite things about staying in airbnbs is that they usually include either a full or partial kitchen.  With my dietary needs, it was great have a full refrigerator and freezer to keep snacks, breakfasts, and supplements in.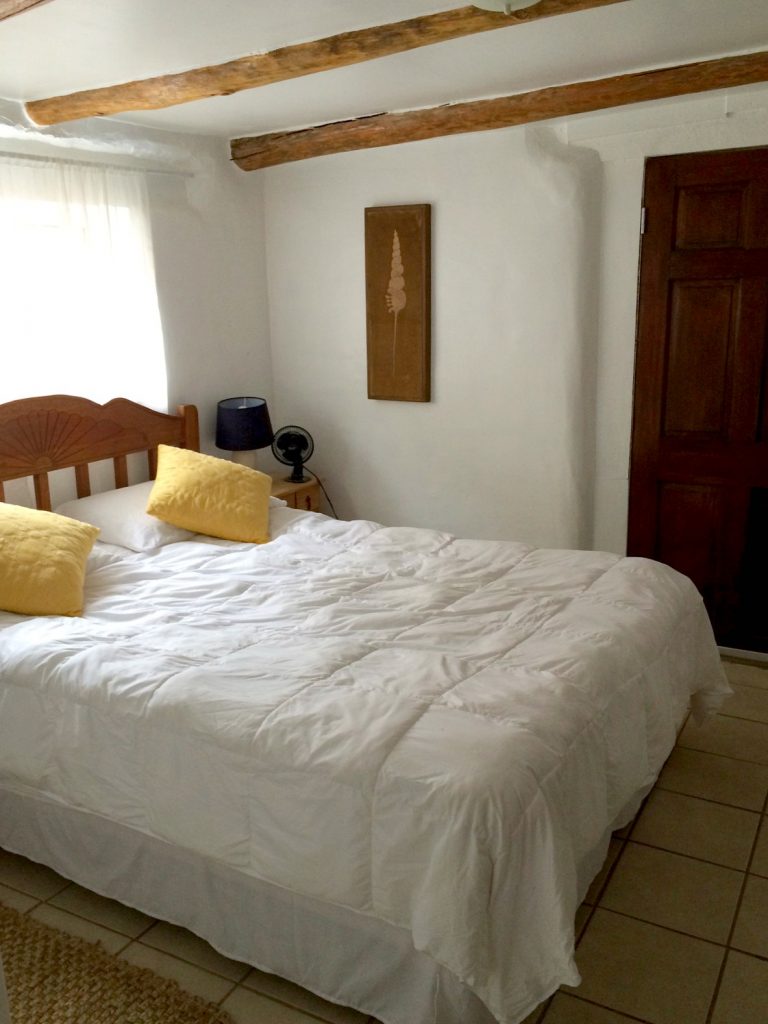 While the casita was pretty cute, this was unfortunately not our favorite airbnb experience (our least favorite, in fact).  The neighbors were quite noisy at night, and we killed two spiders during the time we were there.  Jeremy wasn't bothered much by the spiders, but I sure as heck was!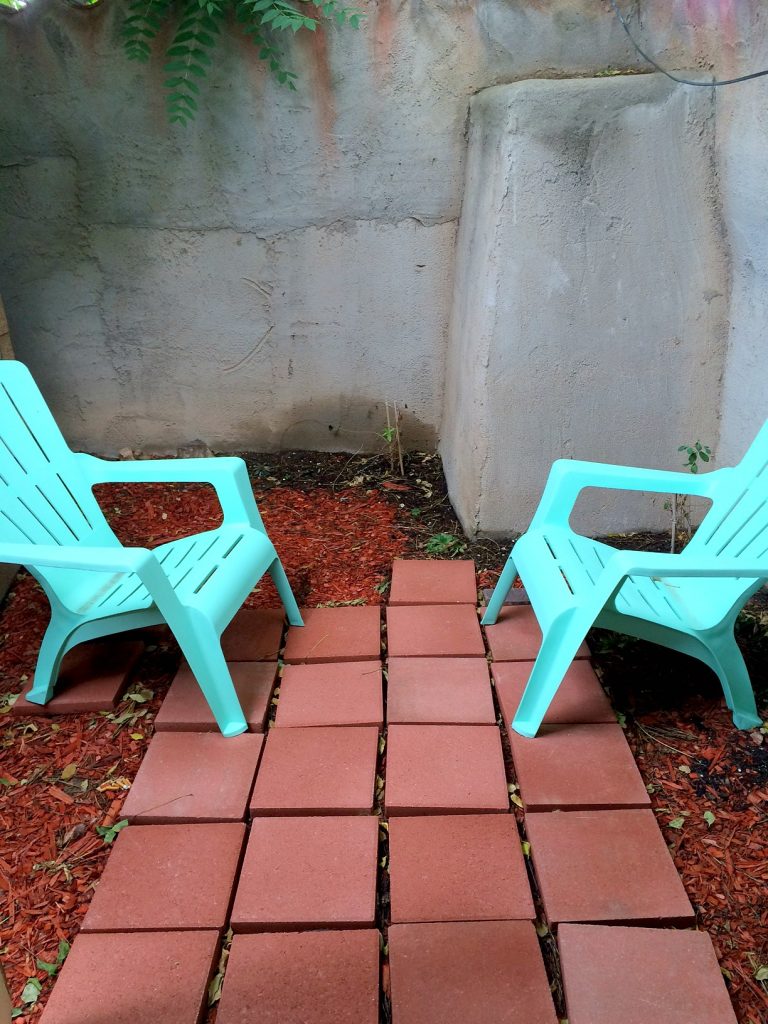 I couldn't even enjoy the cute little outdoor space because I just had spiders on the brain.  Dramatic?  Maybe.
We were up bright and early the next morning for the five our drive back up to Colorado Springs.  The scenery for driving in both New Mexico and Colorado is beautiful, which always makes hours spent in the car just a bit more bearable.  I'll squeeze our Colorado Springs experience into my final Colorado recap post coming soon.
FYI: I think this restaurant (which we did not have time to visit) is also worth mentioning since they have vegan, gluten-free, and soy-free items marked on their menu.
Eating Gluten-Free in Santa Fe, NM #glutenfree #newmexico #santafe
Click To Tweet